Dezember to Januar 2017 Uluru, Melbourne, Sydney, East Coast OZ and first days New Zealand
It is the beginning of December and I am in Darwin. I just broke my arm, which is one of the worst things that could happen to me. In front of the door my van Billy is waiting to continue my journey around Australia and I am not able to drive it. It takes a while to accept the new circumstances. In the end I am lucky that only my arm is broken and not my leg. In that case I would be pretty f*****. In general I try to see the positive aspects in everything. A long time I annoyed myself about the behavior of my ex travel mate Zohab. But as I can't change the past anyway I am now happy about the broccoli dish she once cooked for us and I cook it from time to time. :)
My previous travel mates have left and I met Kathrin, my new companion. She is nice, pics me up from the hospital and changes her plans according to the new circumstances. She is keen to travel on with my through Australia. So everything is alright. I settle myself in the Downunder Hostel in Darwin, until I have my checkup for the arm.
Es ist Anfang Dezember und ich bin in Darwin. Gerade habe ich mir den Arm gebrochen. Für mich erstmal eines der schlimmsten Dinge, die passieren könnten. Vor der Tür steht mein Van Billy, mit dem ich die nächsten anderthalb Monate meine Reise in Australien fortsetzen will, doch ich kann nicht. Es dauert einen Moment sich mit dem Gedanken abzufinden. Inzwischen bin ich froh, dass es der Arm und nicht das Bein war. Denn mit gebrochenem Bein wäre ich wirklich aufgeschmissen. Generell versuche ich ab jetzt in allen Dingen das Positive zu sehen. Ich habe mich lange über meine Mitfahrerin Zohab geärgert, doch nun habe ich eingesehen, dass ich die Vergangenheit nicht ändern kann und sie uns ein leckeres Brokkoli Gericht gezeigt hat, welches ich hin und wieder selber koche. :)
Meine bisherigen Mitfahrer haben sich verabschiedet und ich lernte Kathrin, meine neue Begleiterin kennen. Sie ist nett, holt mich im Krankenhaus ab und ändert ihre Pläne nach den neuen Umständen. Sie ist entschlossen mit mir gemeinsam durch Australien zu reisen. Also ist alles okay. Ich richte mich bis zum Checkup des Arms in Darwin im Downunder Hostel ein.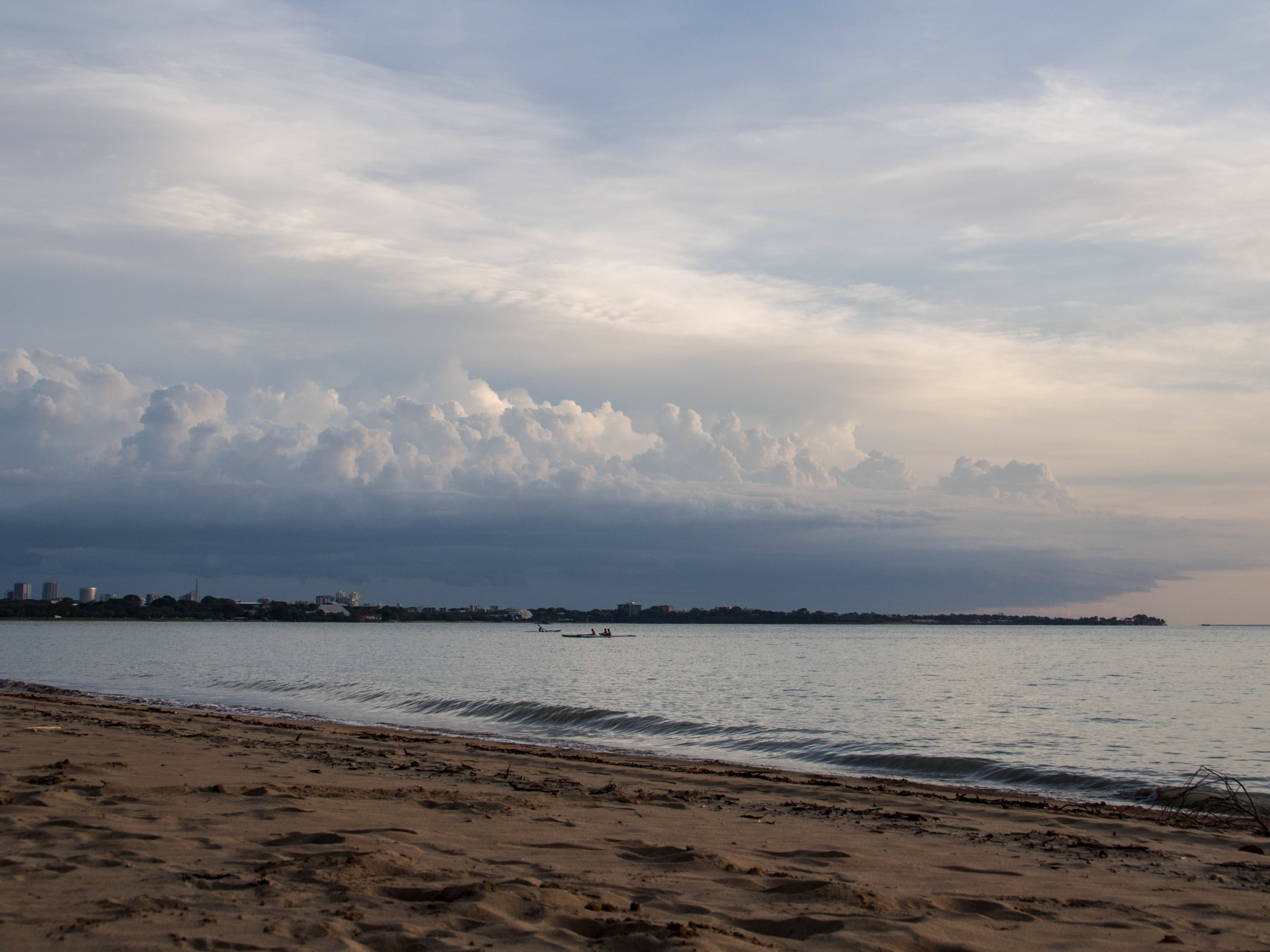 Darwin is known as one of the best places in the world to photograph lighting. Here you can see how some clouds are building up over the city.
Darwin ist bekannt als eine der besten Orte auf der Welt um Gewitter zu fotografieren. Hier sieht man wie sich eine Wetterfront über der Stadt aufbaut.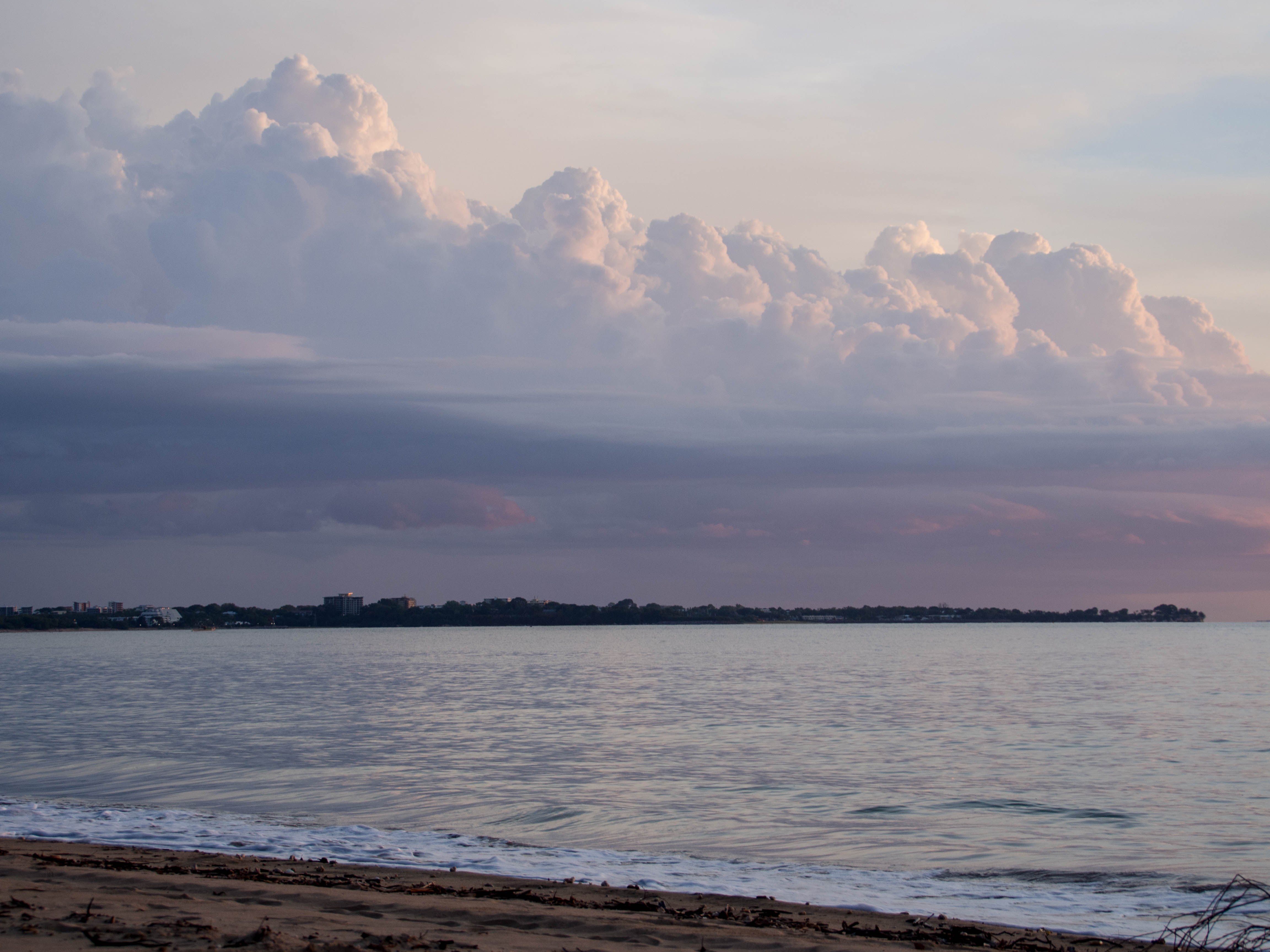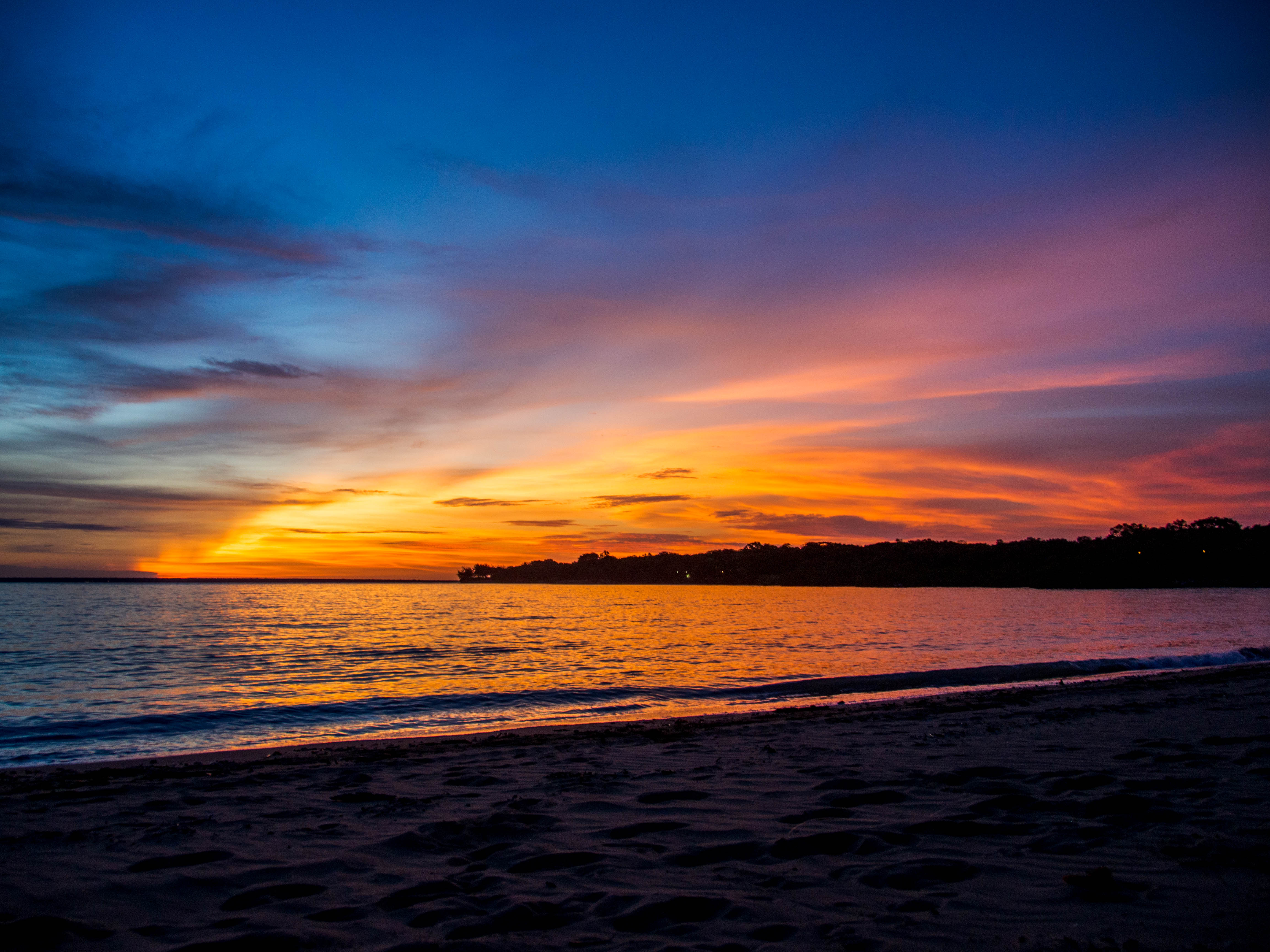 No filter! Again a stunning sunset in Australia!
Kein Filter! Wieder ein Atemberaubender Sonnenuntergang in Australien!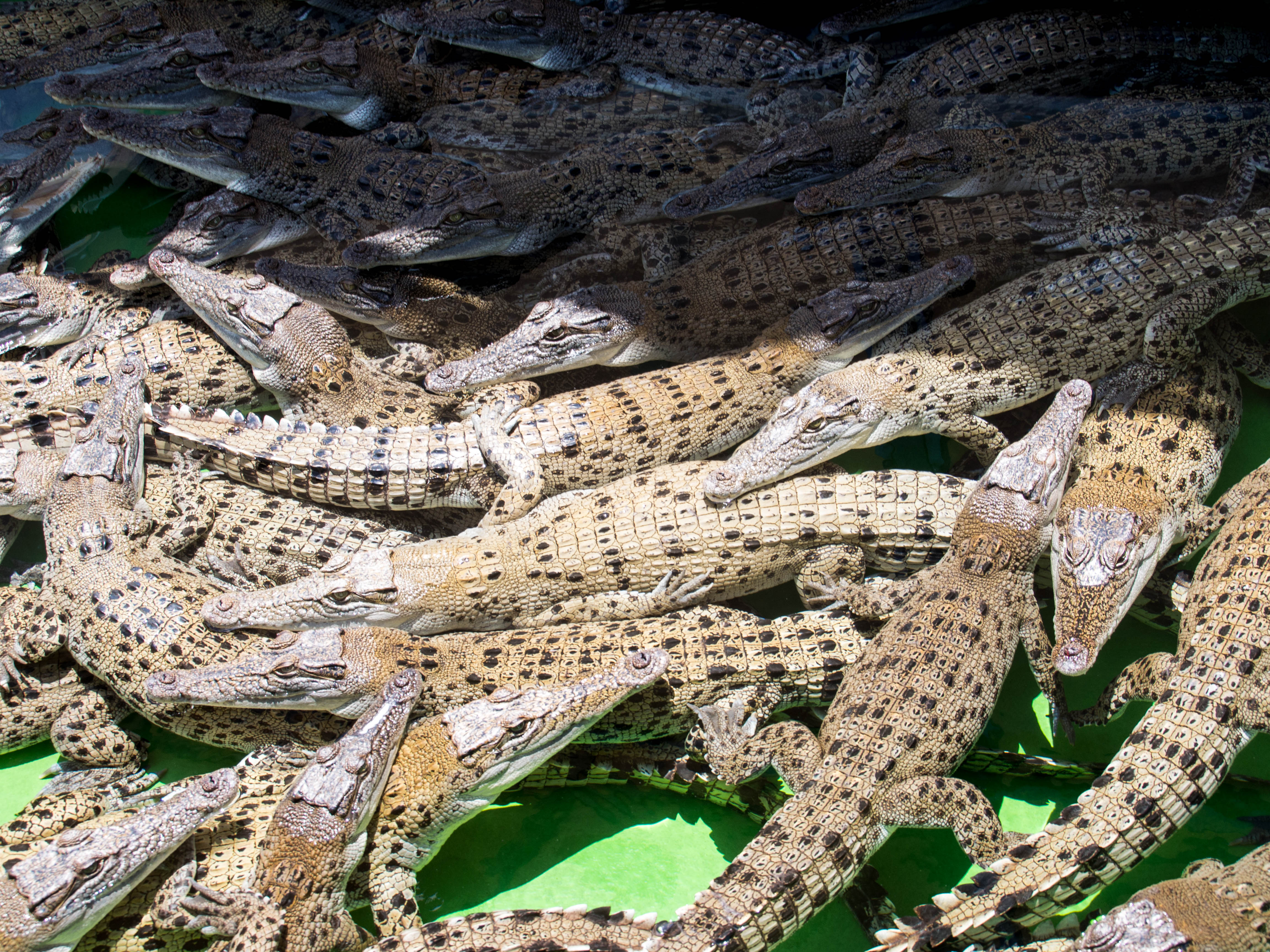 Here we went to the crocodile center. Since the 70's it is forbidden to kill crocodiles. When one of this fellas is getting spottet, they catch them and bring them to the crocodile center in Darwin. I don't really like zoos and stuff like this, but this approach is better than killing.
Hier sind wir im Krokodilzentrum. Seit den 70gern ist es verboten Krokodile zu töten. Wenn also eine dieser Kollegen gesichtet wird, wird er gefangen und ins Zentrum in Darwin gebracht. Ich bin kein Freund von Zoos und Co, doch wenigstens ist es so besser als sie zu töten.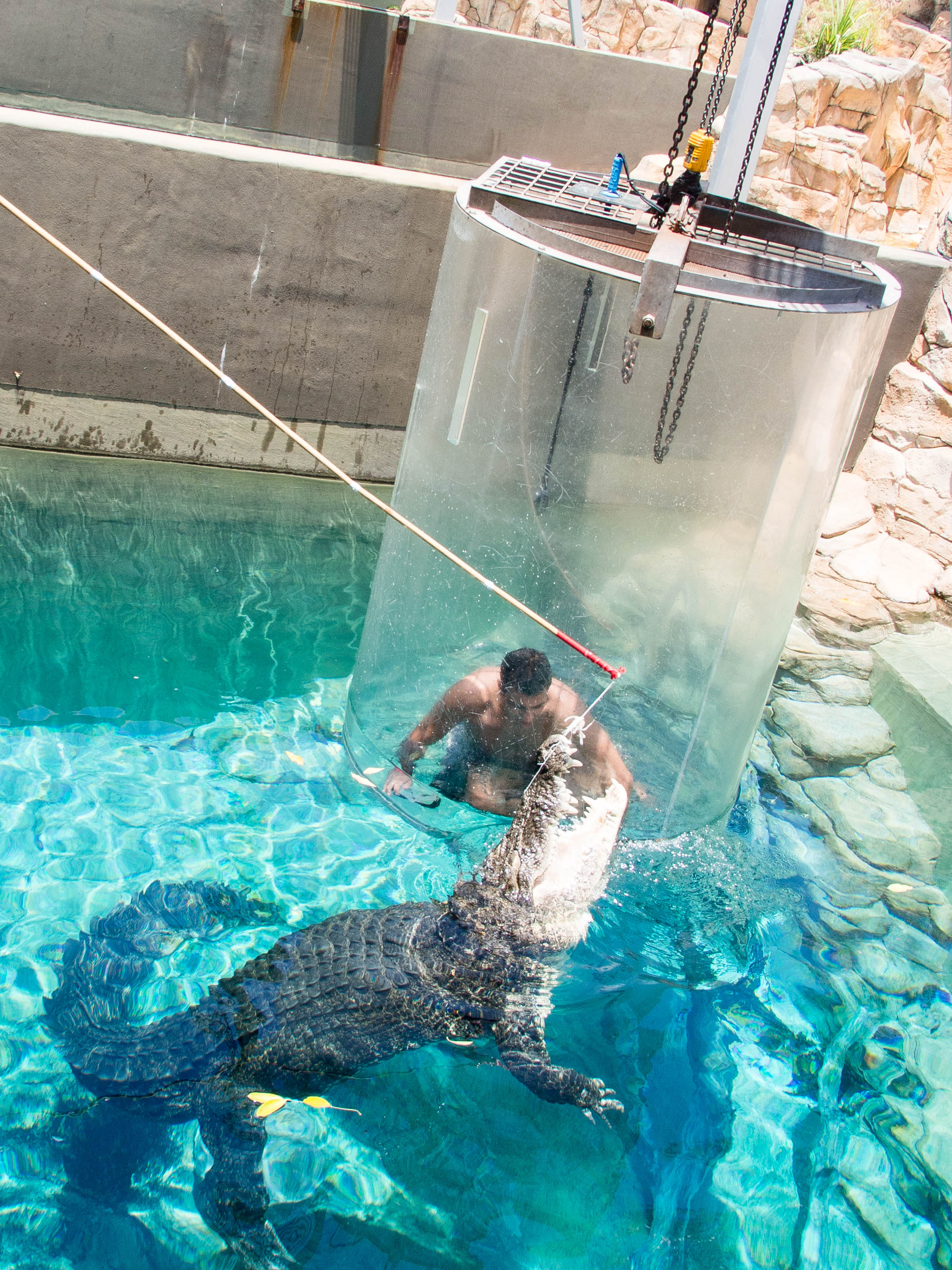 For a lot of money you could go for a swim with the crocodiles during their feeding.
Für eine Menge Geld konnte man hier mit den Krokodilen während der Fütterung schwimmen gehen.