October to December - Tasmania and Melbourne to Perth
First of all I want to welcome you on my new page. The page should now be accessible from all mobile phones and has a view more pages itself for a better overview. Many thanks to my friend Levin Scheips who installed everything on the server, made the layout and supported me with the data migration! If you need a professional hand for your internet presence or other media support just contact him. For an overview of his work just visit his page www.slevin-gfx.de.
After a long time of work, pain, rain but also gain I finally hit the road again. With my van Billy I traveled Australia. In this blog entry I will report about the first part of my travel in Australia. I started in Tasmania for a week. Afterwards heading westwards from Melbourne over Adelaide, the Flinders Rangers, Esperance and Denmark to Perth.
So the first stop on the trip was Tasmania. Via the internet page www.hophopride.com.au I found my trvelmate Sabrin. This is a similar page than "blablacar" in Germany, so a portal to offer or find a ride though Australia. Sabrin is from Finland and traveled already the east coast of Australia. Now she want to see Tasmania before she goes to San Francisco for a while. So we booked tickets for the Spirit of Tasmania, a ferry that brought us from Melbourne to Devenport. Around 90$ per person and another 90$ for Billy (my van) each way. One week time and a lot to see. We started with the east coast, headed down to Hobart and drove up to Cradel Mountain. So here are some impressions...
Zu allererst möchte ich Euch auf meiner neuen Seite willkommen heißen. Diese sollte nun von allen Mobilgeräten aufrufbar sein und hat ein paar mehr Seiten, um die Übersichtlichkeit zu verbessern. Vielen Dank an der Stelle an meinen Freund Levin Scheips, der mir alles auf dem Server installierte, das Layout gestaltete und mich beim Übertragen der Daten unterstützt hat! DANKE! :) Falls Ihr mal einen Profi für eure Internetpräsenz braucht oder ander Medien unterstützung schreibt ihn an. Für eine Übersicht seiner Arbeiten könnt ihr gerne auf seiner Seite www.slevin-gfx.de vorbei schauen.
Nach einer lange Zeit der Arbeit, Schmerz, Regen aber auch Wachstum bin ich wieder unterwegs! Mit meinem Van Billy reiste ich durch Australien. In diesem Blogeintrag möchte ich euch über den ersten Teil meiner Reise in Australien Berichten. Los ging es mit einer Woche Tasmanien. Anschließend gen Westen von Melbourne über Adelaide, den Flinders Rangers, Esperance und Denmark nach Perth.
Erster Stopp des Trips war also Tasmanien. Über die Internetseite www.hophopride.com.au habe ich meinen Reisepartner Sabrin gefunden. Diese Seite ist das Pendant zum deutschen Blablacar, also ein Portal auf dem man Mitfahrgelegenheiten durch Australien anbieten oder finden kann. Sabrin kommt aus Finland und hat schon die Ostküste Australiens bereist. Nun möchte sie Tasmanien sehen, bevor sie für eine Weile nach San Francisco geht. Also buchten wir uns Tickets für die Spirit of Tasmania, eine Fähre die uns von Melbourne nach Devenport brachte. Rund 90$ pro Kopf und nochmal 90$ für Billy (meinen Van) pro Fahrt. Eine Woche Zeit und jede Menge zu sehen. Auf Tasmanien angekommen starteten wir entlang der Ostküste und fuhren dann runter nach Hobart und wieder rauf Richtung Cradel Mountain. Hier einige Eintrücke...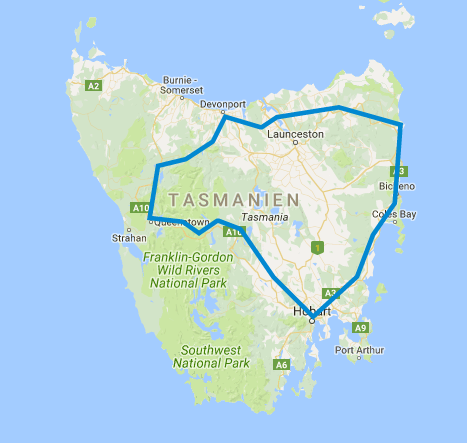 We made almost 1.000KM in seven days on Tasmania.
Wir fuhren knapp 1.000KM in sieben Tagen auf Tasmanien.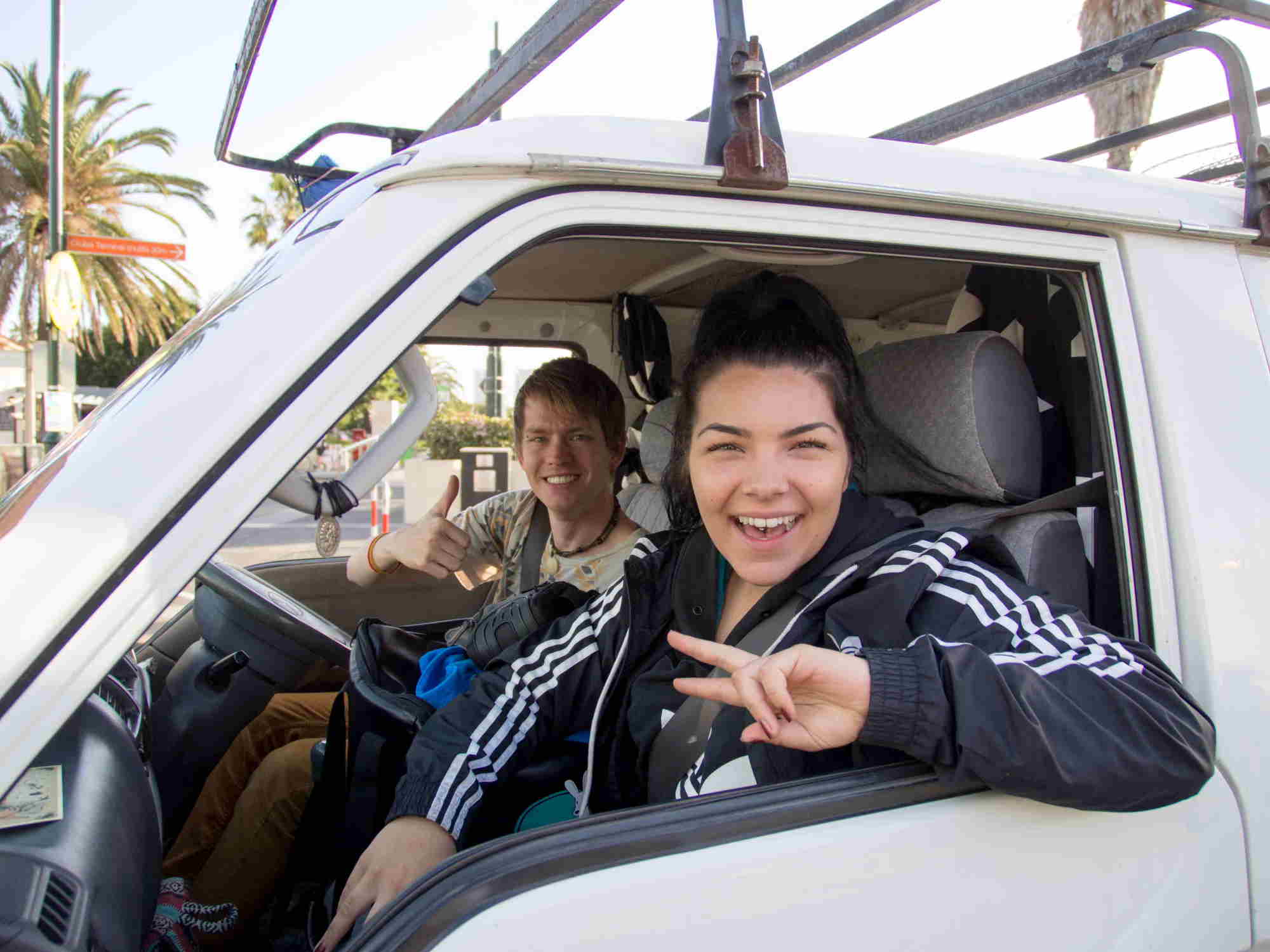 Getting started - me and Sabrin.
Los gehts - ich und Sabrin.
To have a relaxed transfer the Spirit of Tasmania offers this practical childrens boxes. So you can leave your children in the basement and enjoy a nice time on the ship.
Um eine entspannte Überfahrt zu haben bietet die Spirit of Tasmania diese Kinderboxen an. So kann man sein Kind im Untergeschoss verwahren um eine schöne Zeit auf dem Schiff zu haben.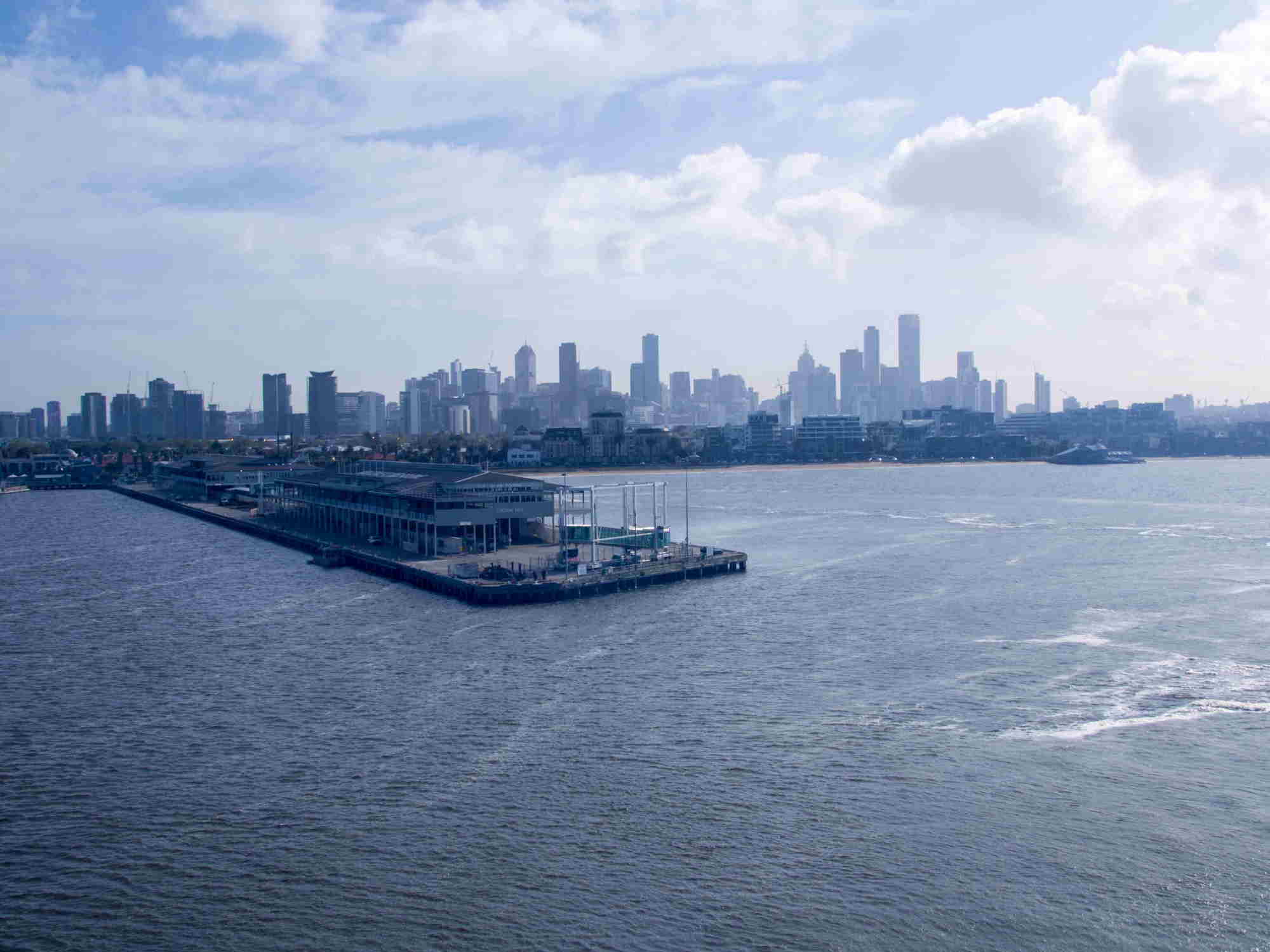 Melbourne Habour.
Melbourne Hafen.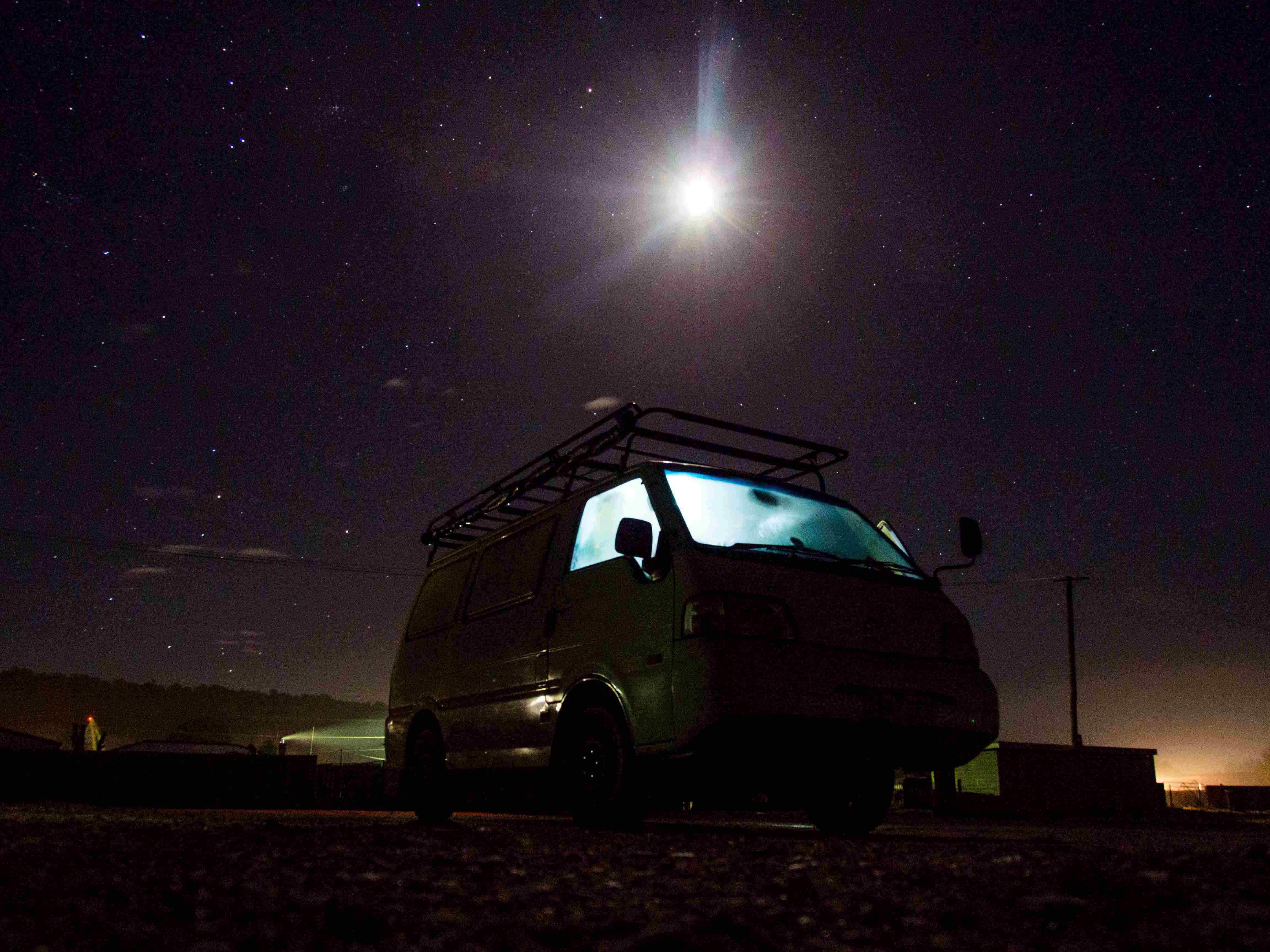 First night in Tasmania. First tries of catching the stars. :)
Erste nacht in Tasmanien. Erste versuche die Sterne einzufangen. :)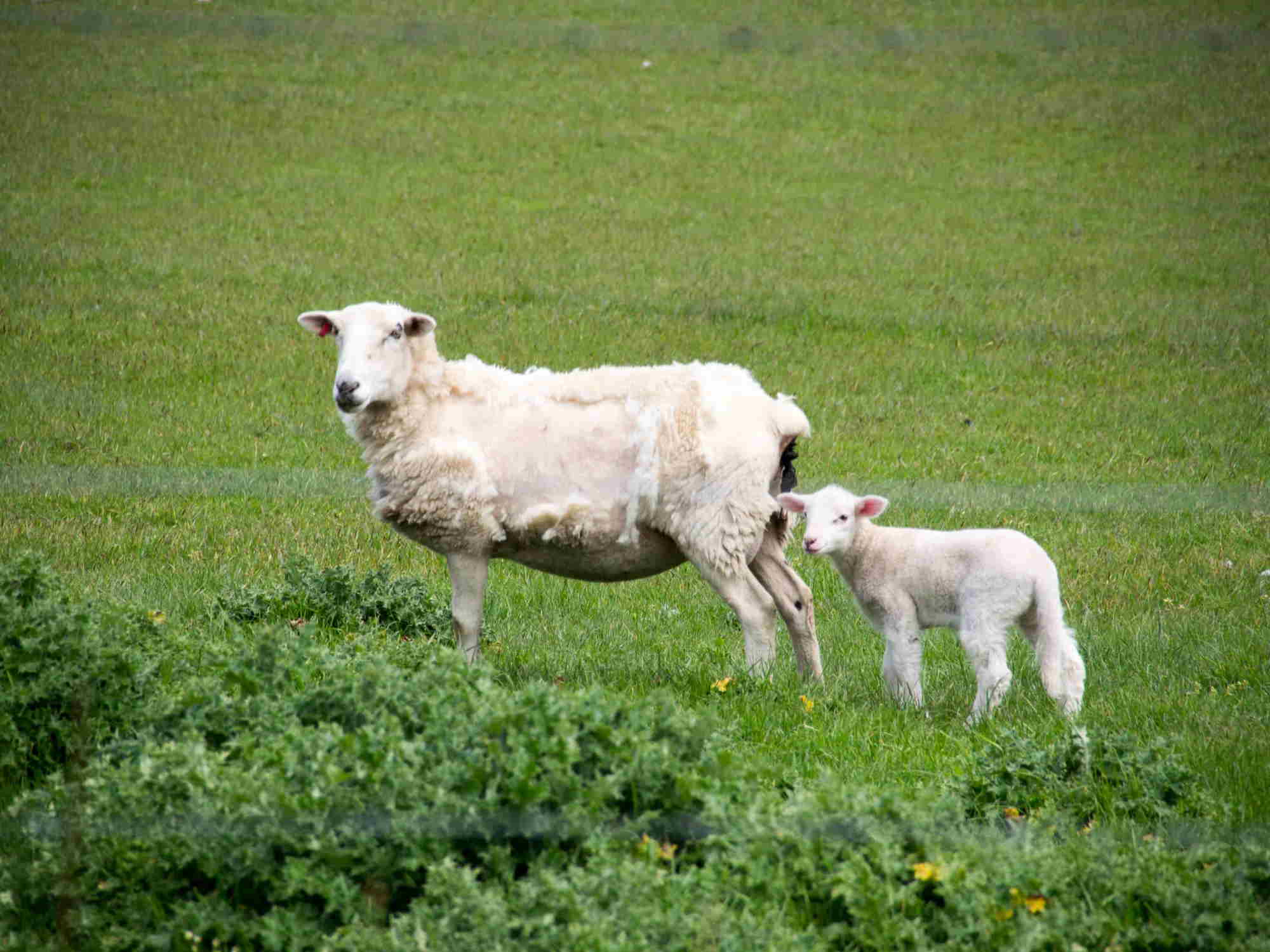 Möööööhhhhh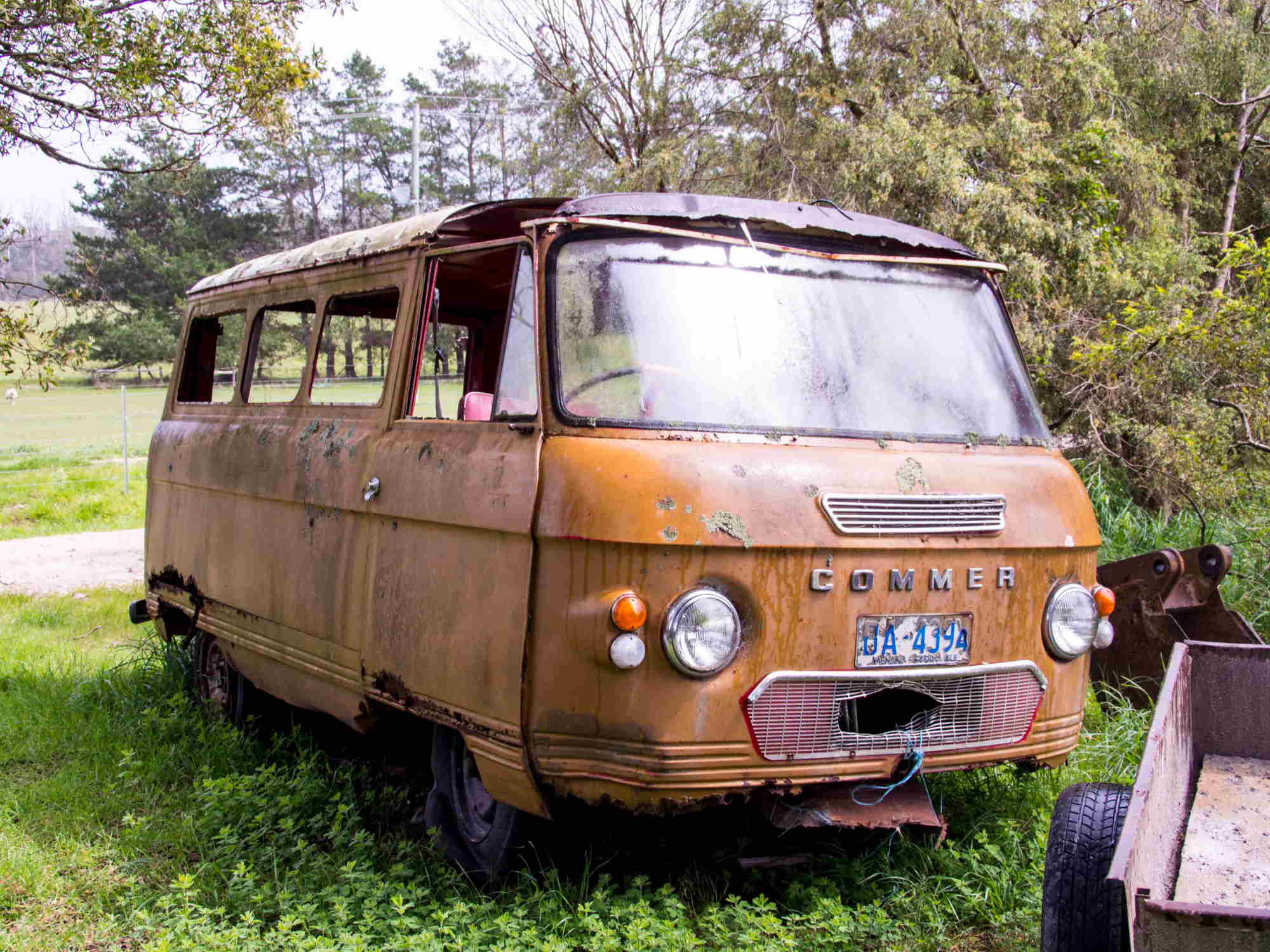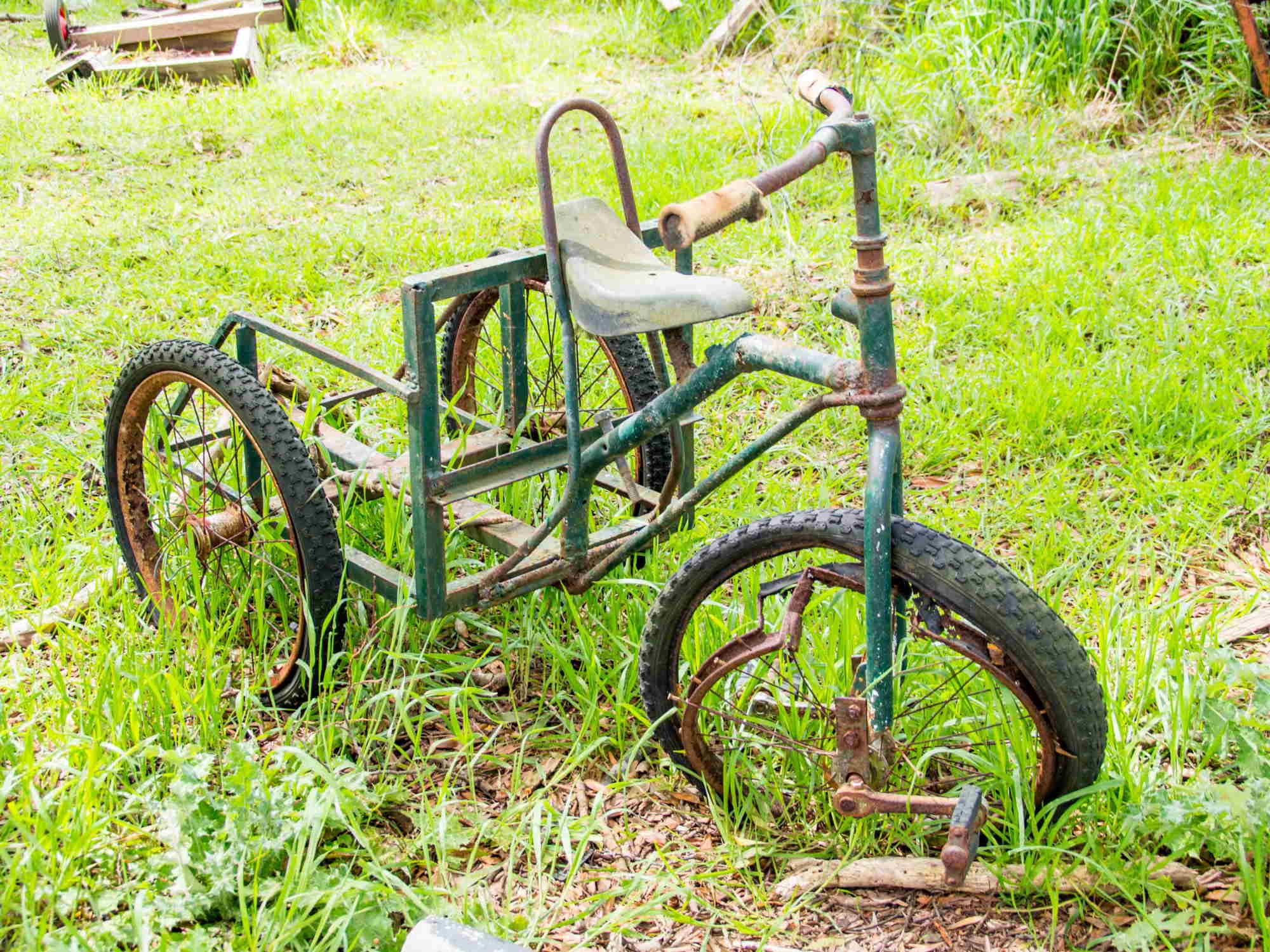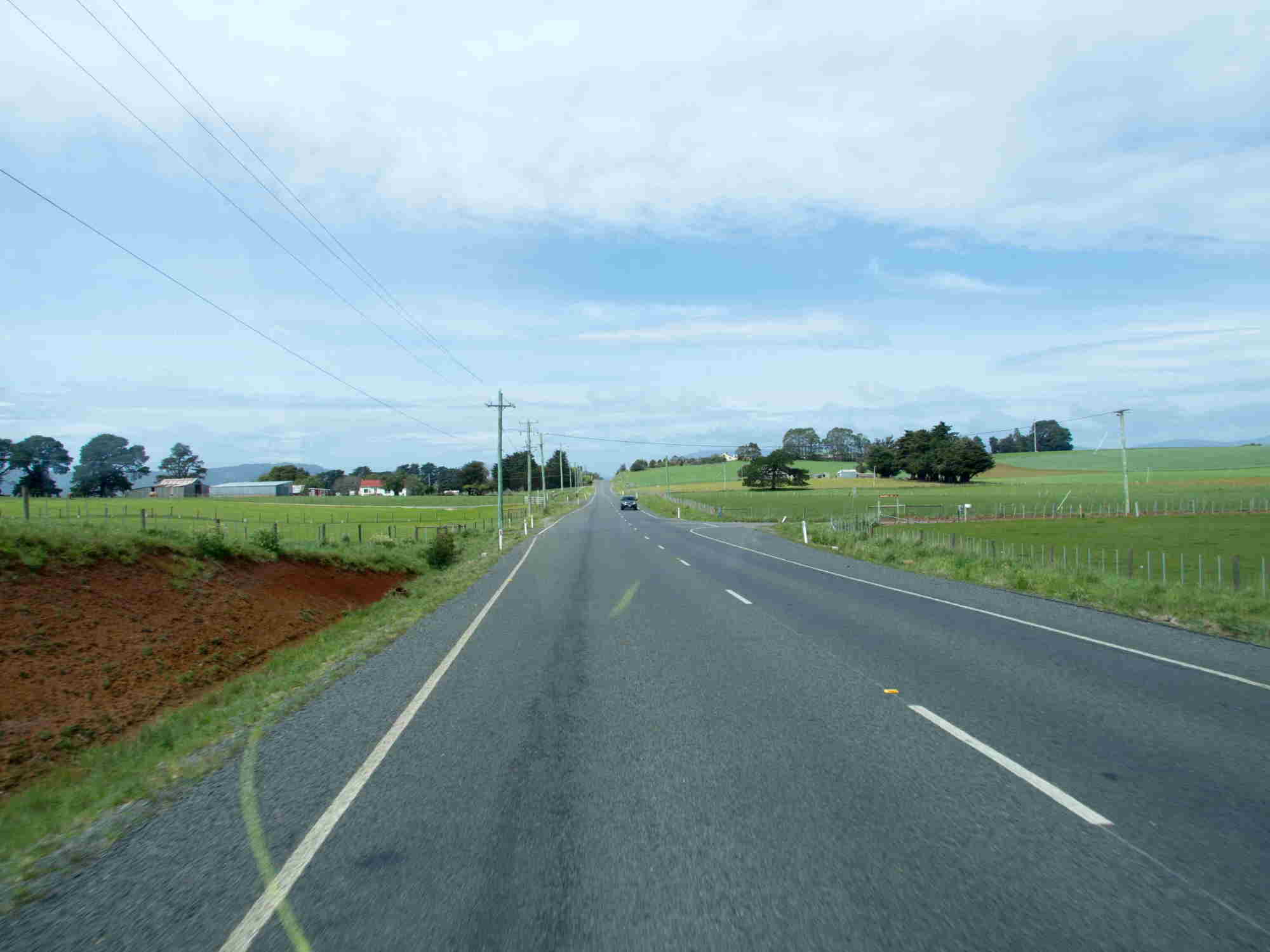 Back in time, where the earth was one continent (continentia) Tasmania was connected to South America, Asia and Australia (not to mix up with a plate :P ). So the vegetation here is an interesting mix between all of them. The weather changes even quicker than in Melbourne and is characterized by a lot of wind and a rough see.
Weit vor unserer Zeit, als die Erde noch einen großen Kontinent hatte (Kontinentia), war Tasmanien mit Südamerika, Asien und Australien verbunden. Daher ist die Vegetation hier sehr vielfältig und ein Mix aus allen Dreien. Das Wetter wechselt noch schneller als in Melbourne, und ist geprägt von Wind und einer rauen See.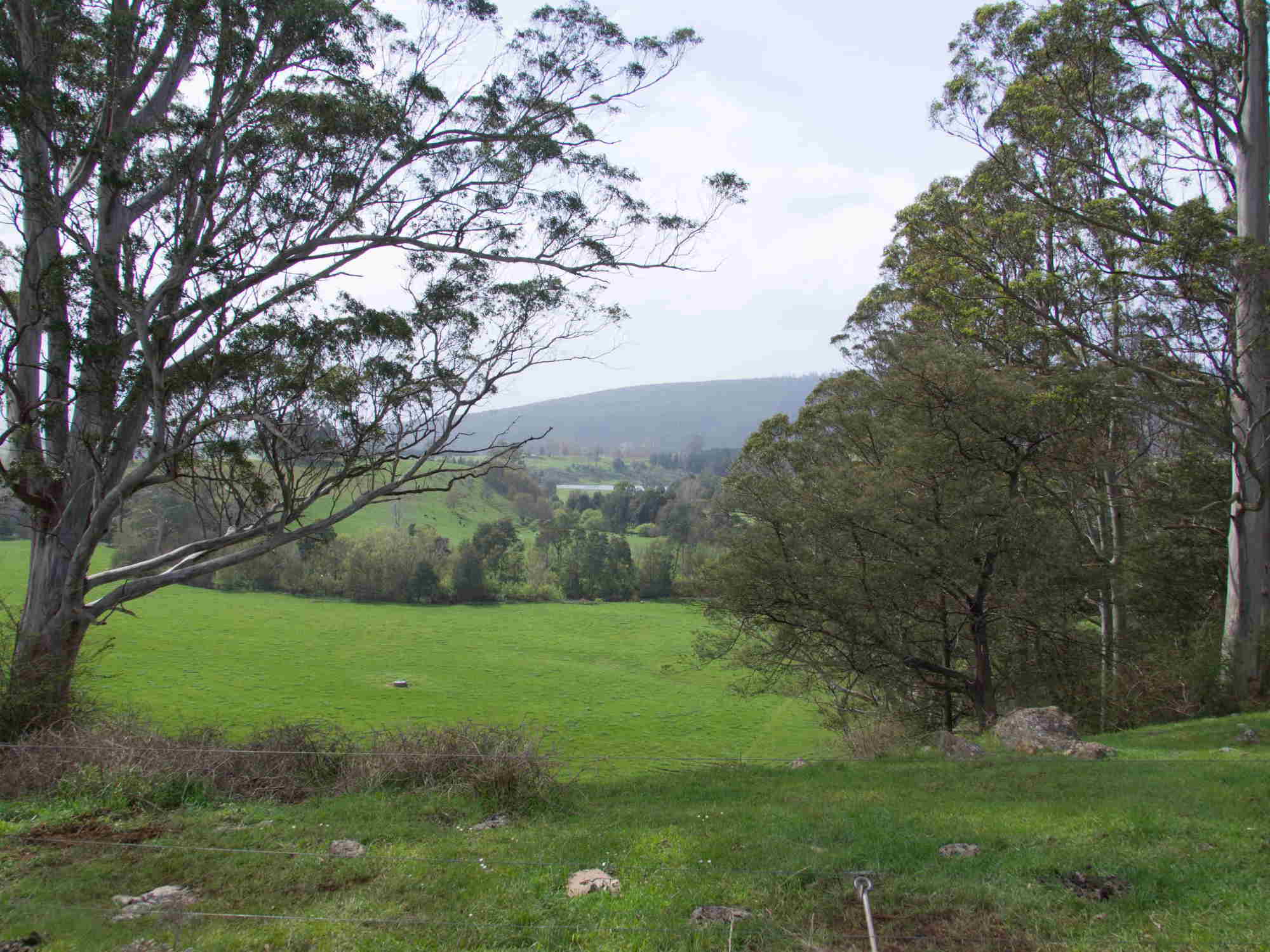 Here the vegetation reminded me of Germany.
Hier hat mich die Vegetation an Deutschland erinnert.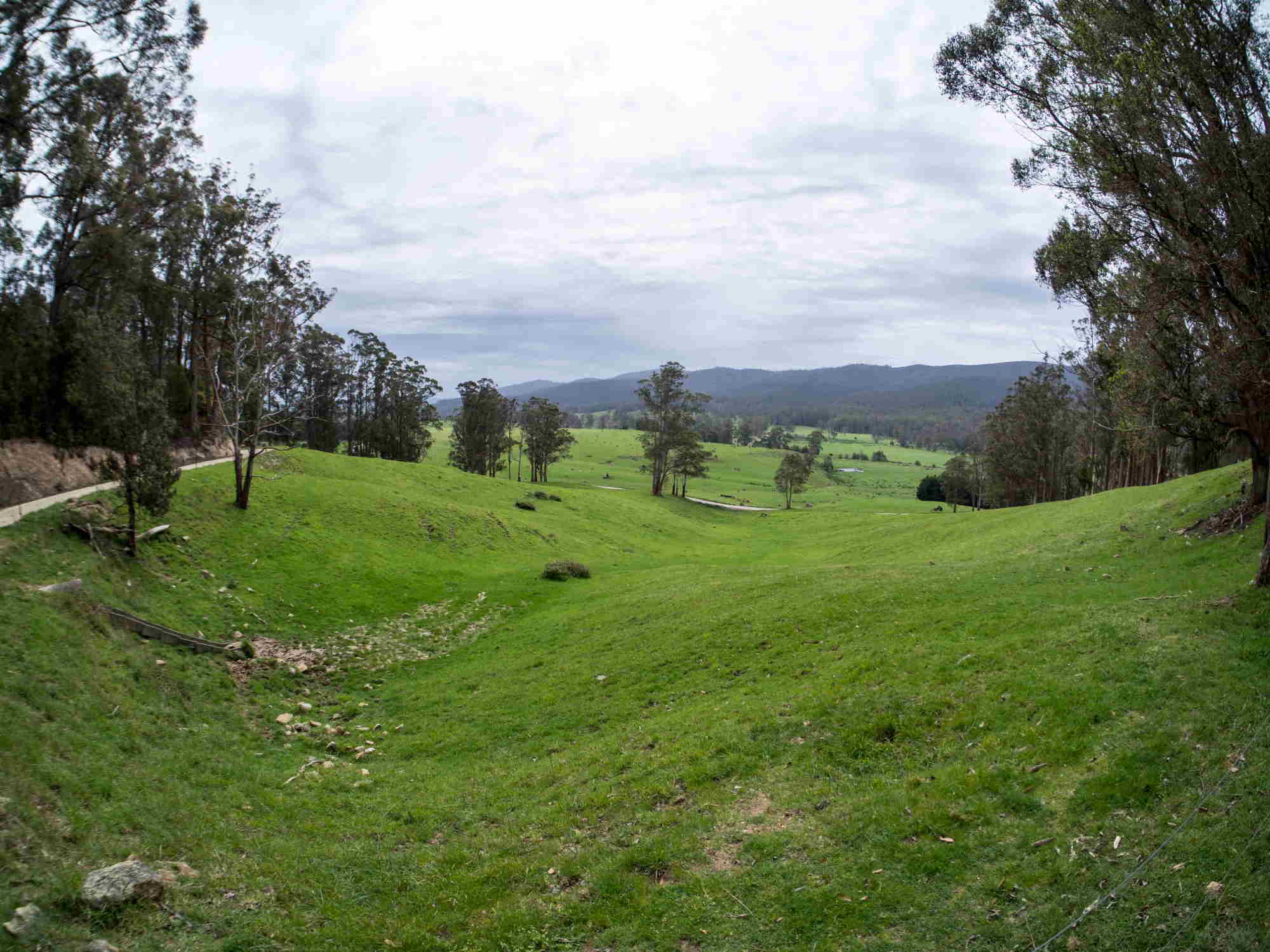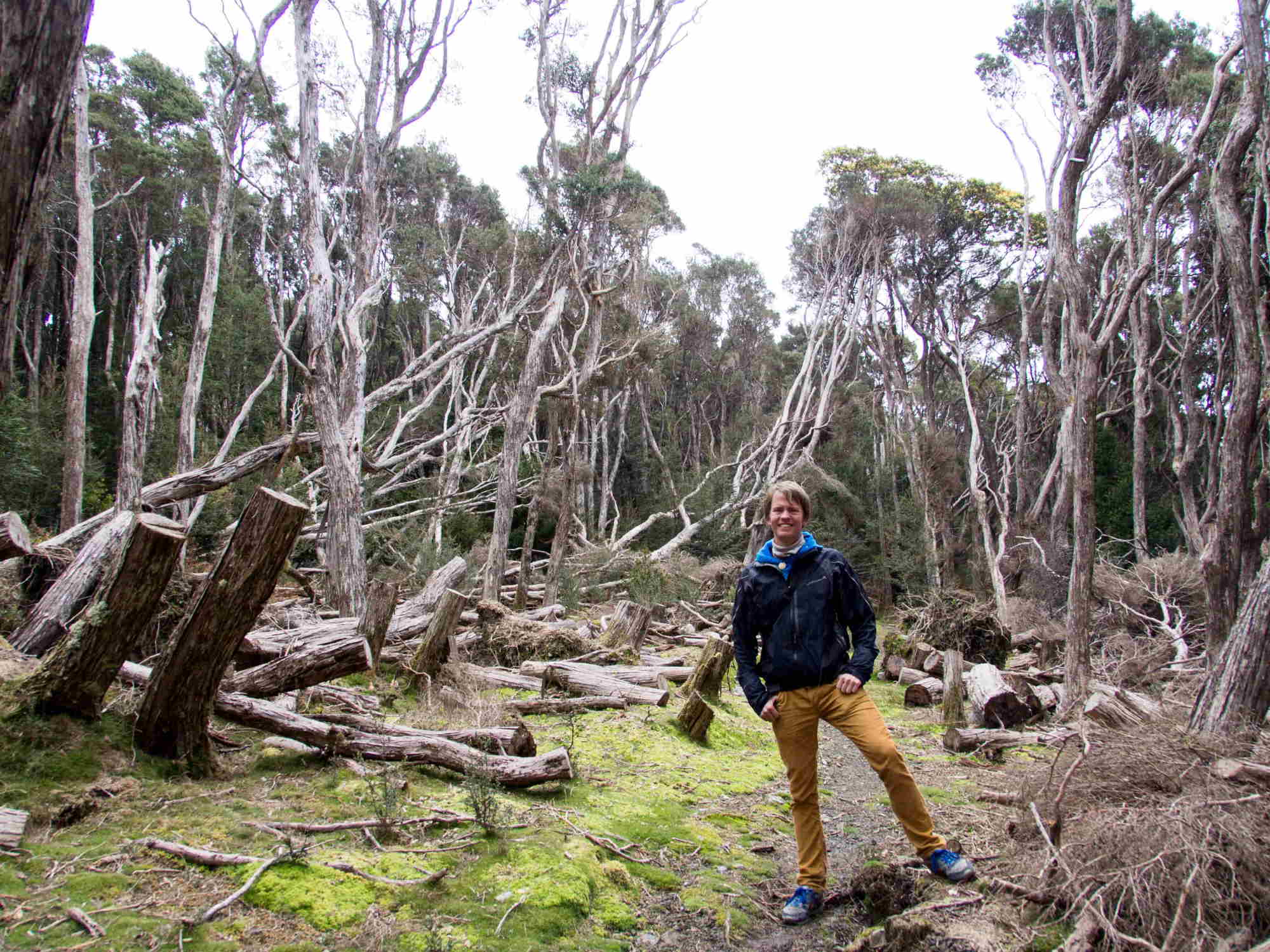 Walking through the mystical forests at the Ralph falls.
Wandern durch die mystischen Wälder bei den Ralph Falls.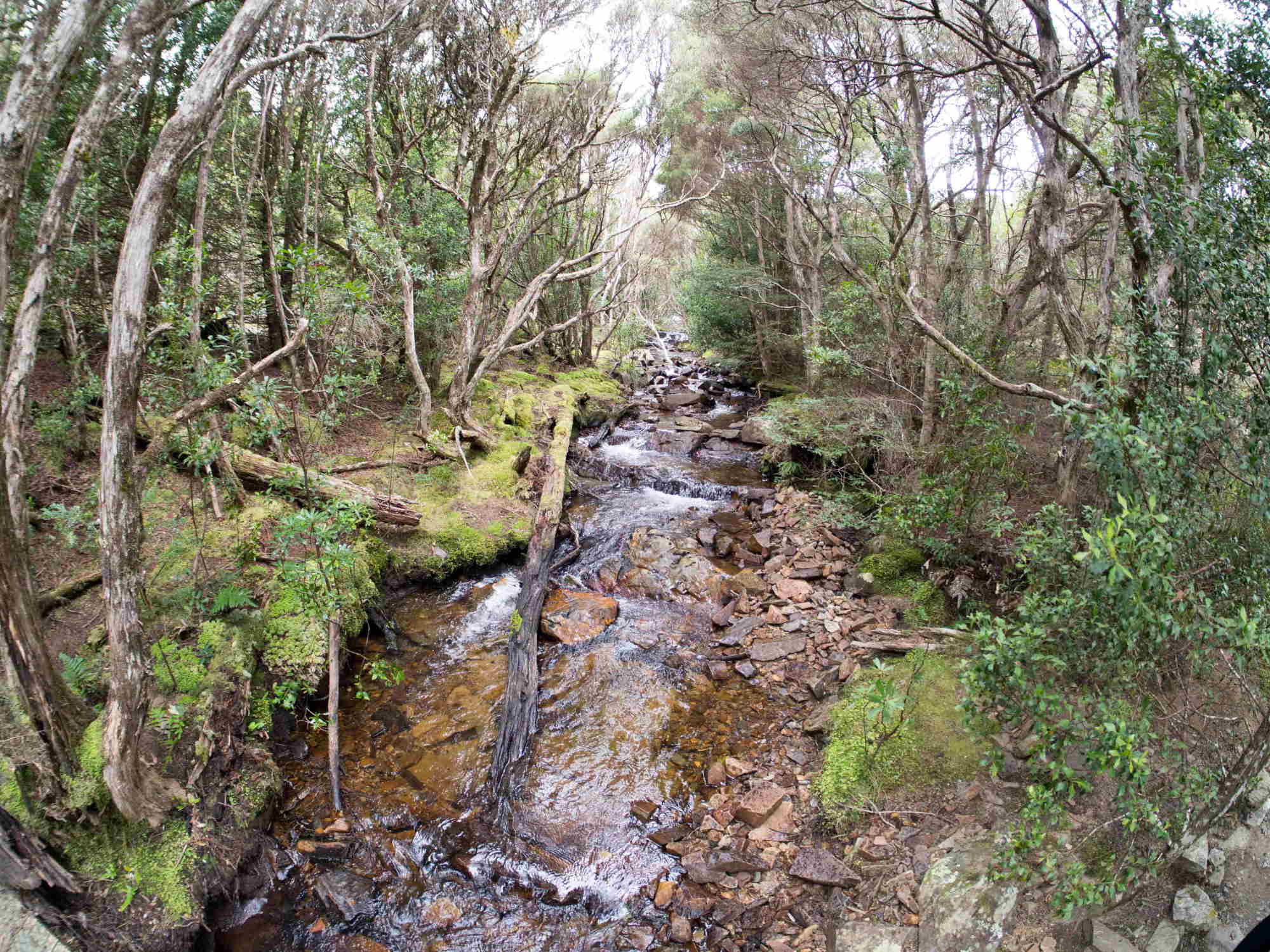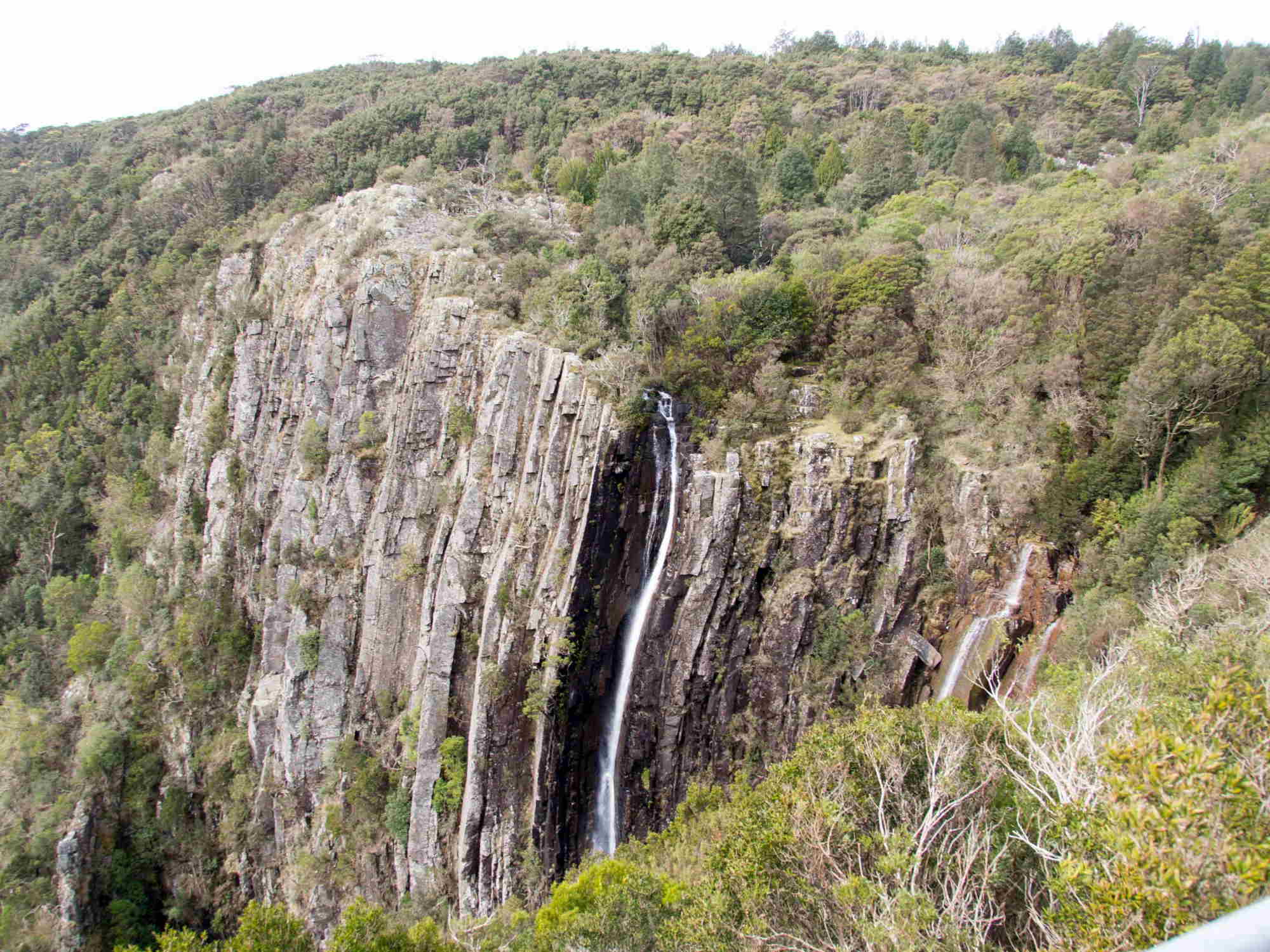 Ralph falls.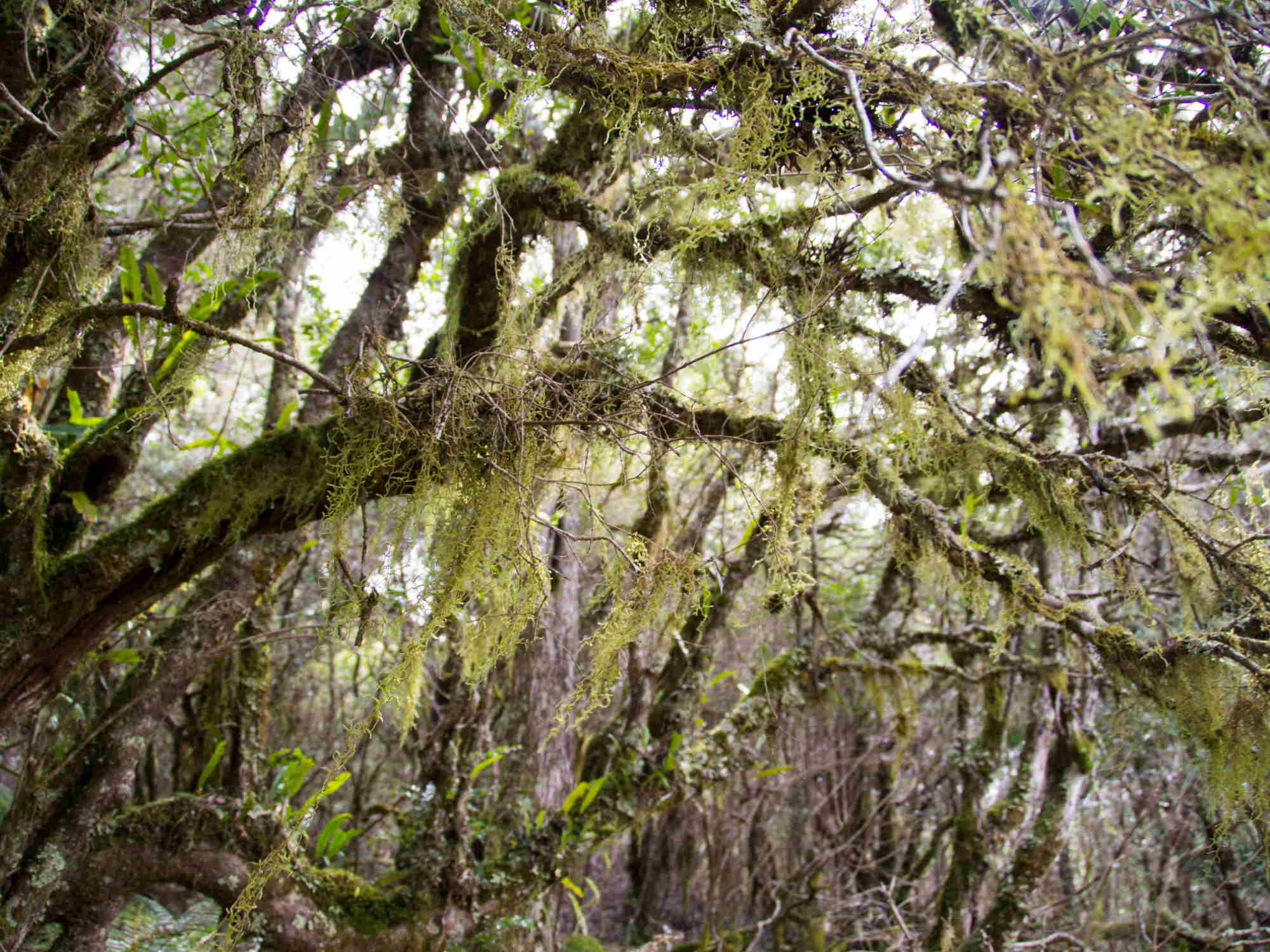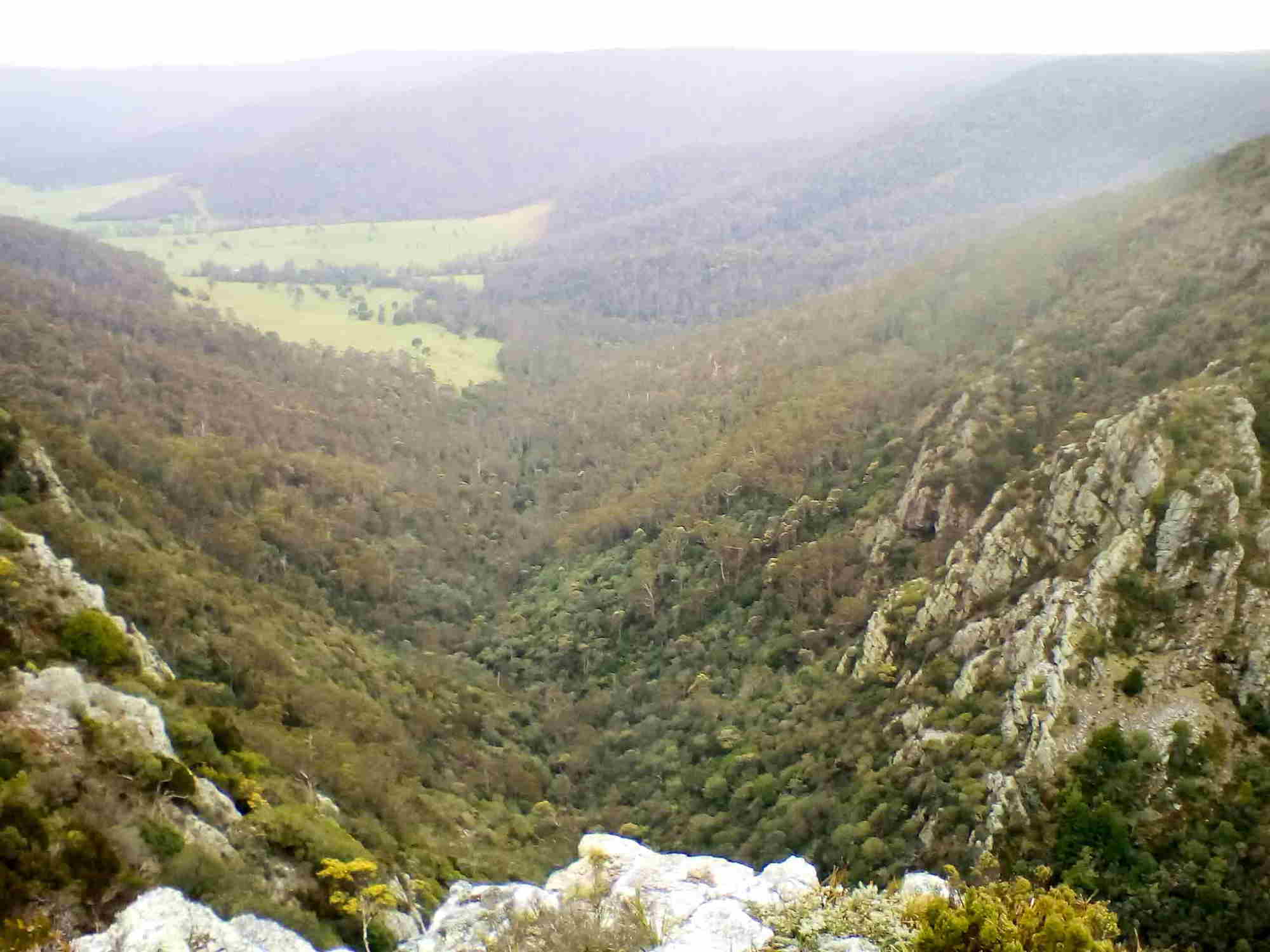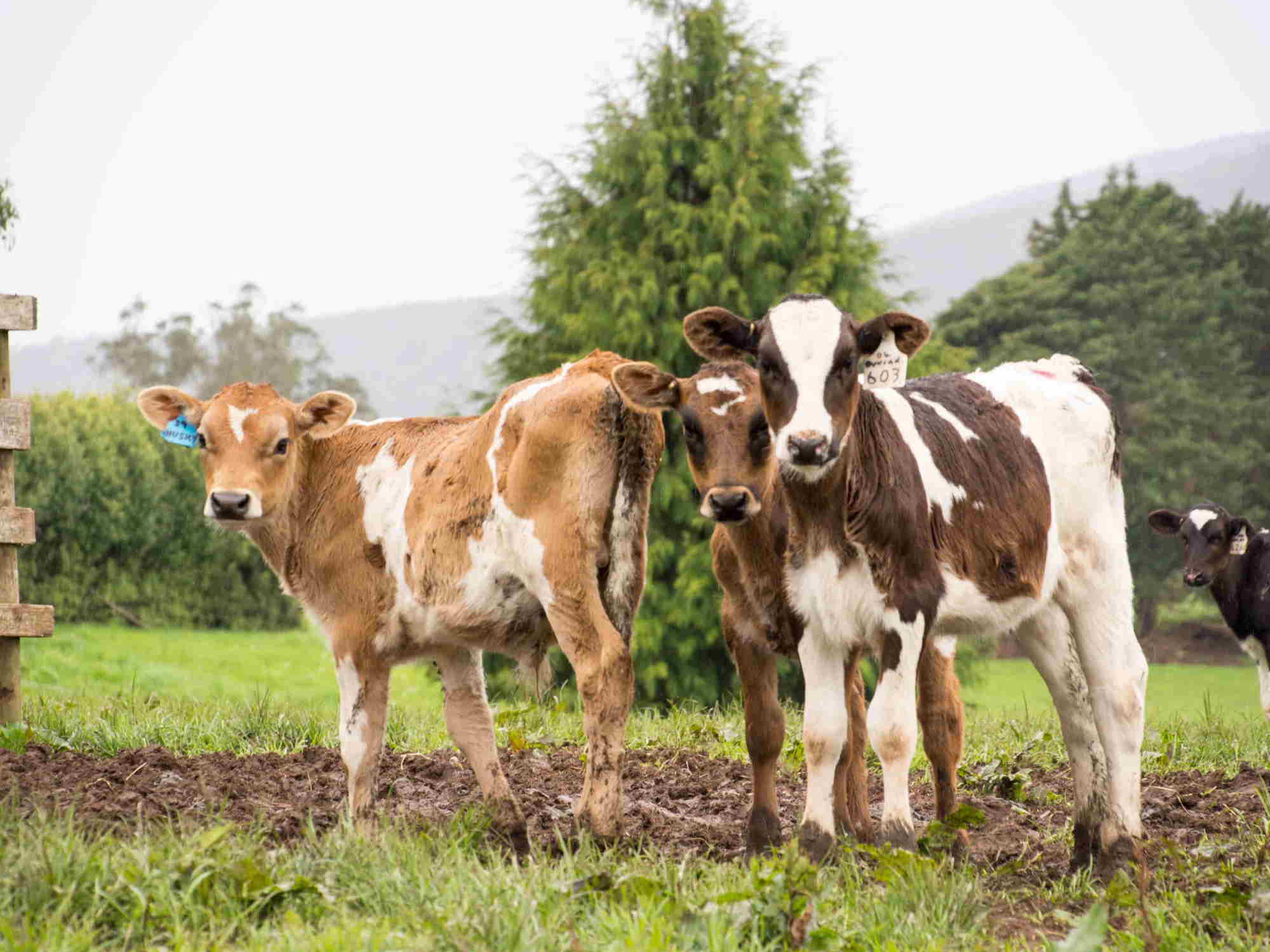 After we forgot our lid for the petrol tank at the gas station luckily when I asked in the next one, we where not the only ones forgetting it. :P
Nachdem wir unseren Tankdeckel an der letzten Tankstelle vergaßen stellte sich glücklicherweisean der nächsten heraus, dass wir nicht die einzigen waren, die den Deckel vergaßen. :P
At the bay of fires we meet Paul and Karma. They live since a long time on this camping ground and Paul has some funny stories to tell. For almost a year he lived in a three house with three levels he build by himself.
Am Bay of Fires trafen wir auf Paul und Karma. Sie leben schon seit langer Zeit hier auf dem Campingplatz und Paul hat einige lustige Geschichten zu erzählen. Für knapp ein Jahr lebte er in einem dreistöckigen Baumhaus, das er selber gebaut hatte.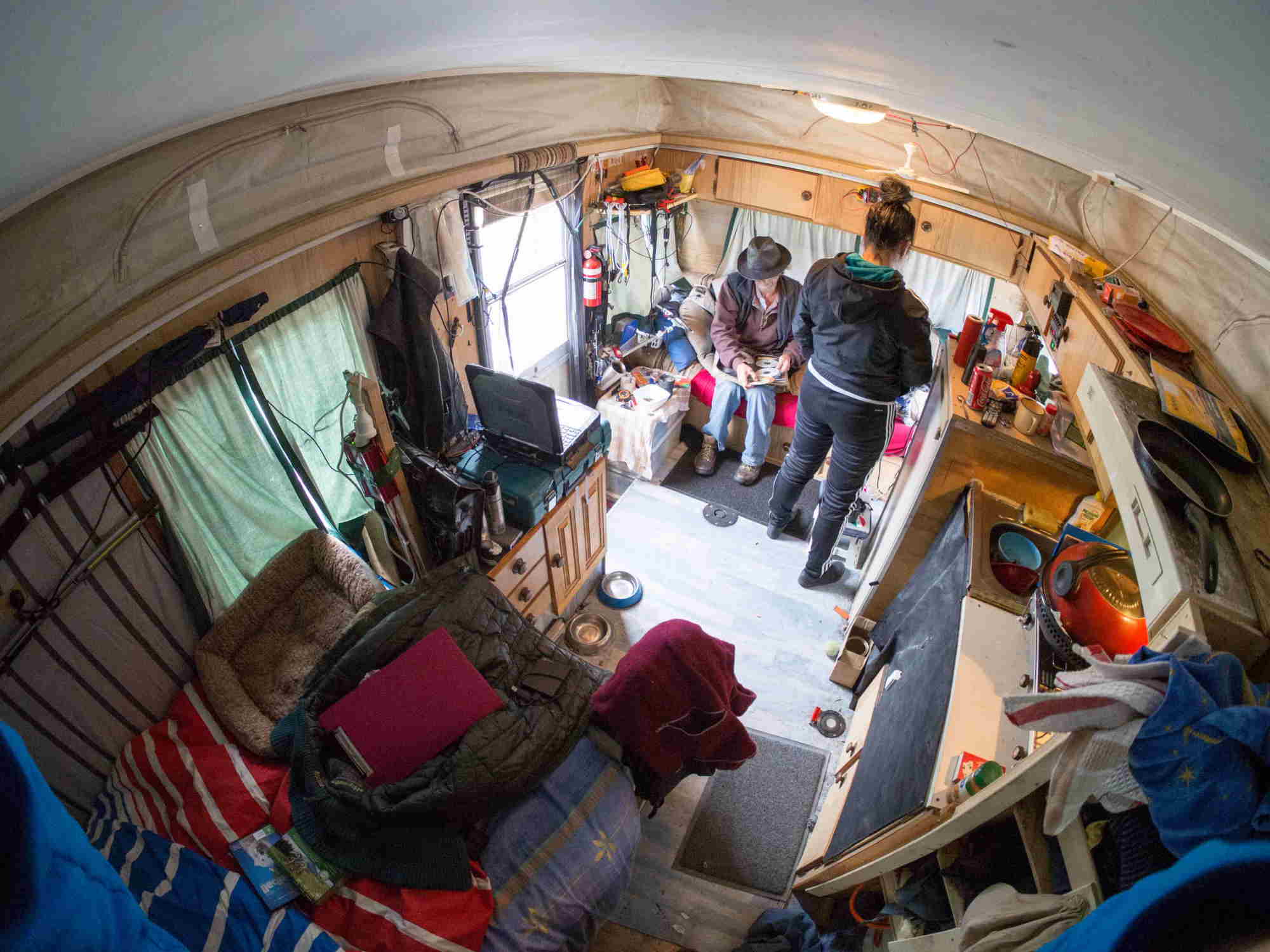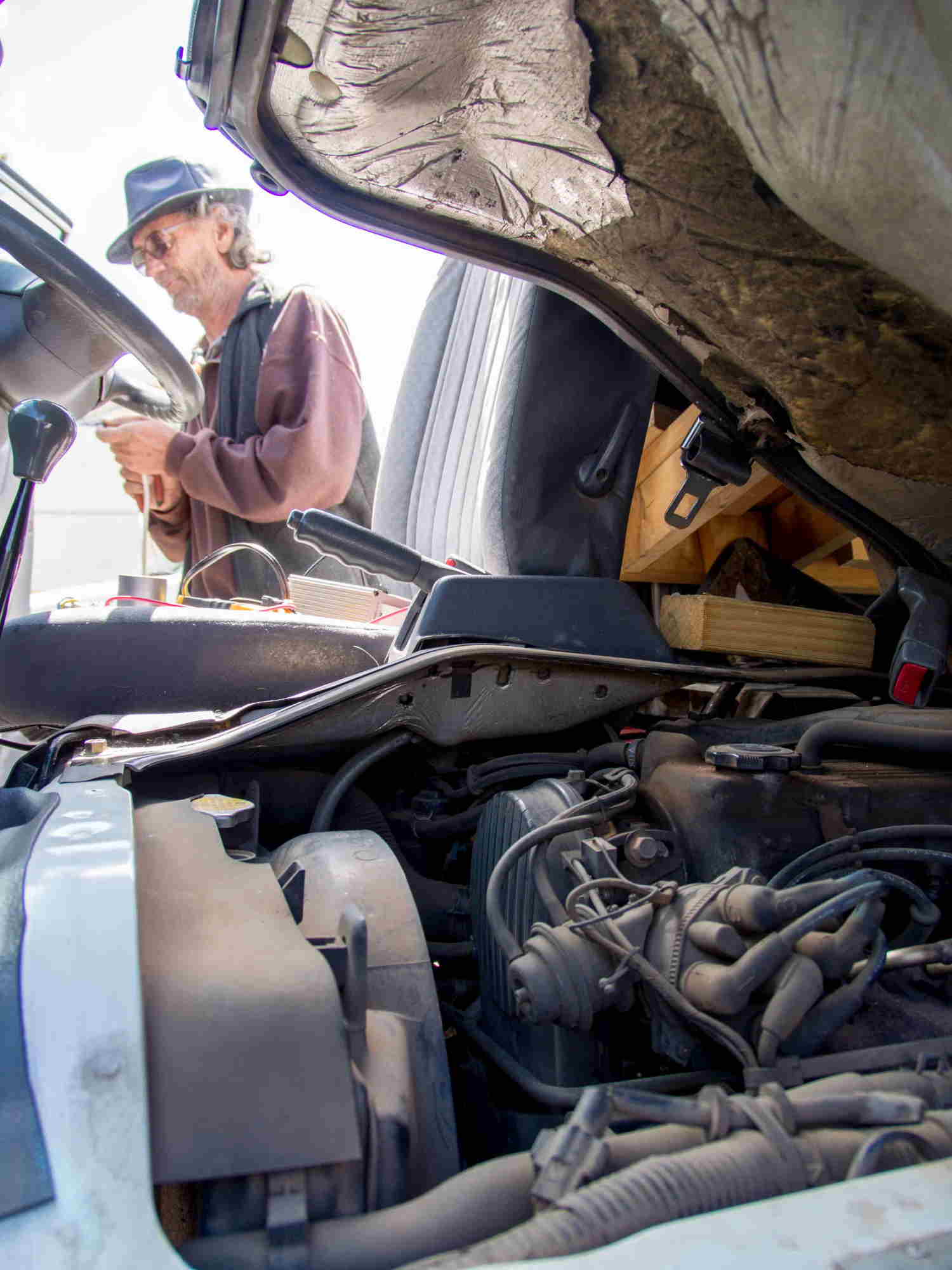 Paul helped me to connect my power converter to my battery. Cheers Paul!
Paul half mir, meinen Stromwandler direkt an die Batterie anzuschließen. Danke Paul!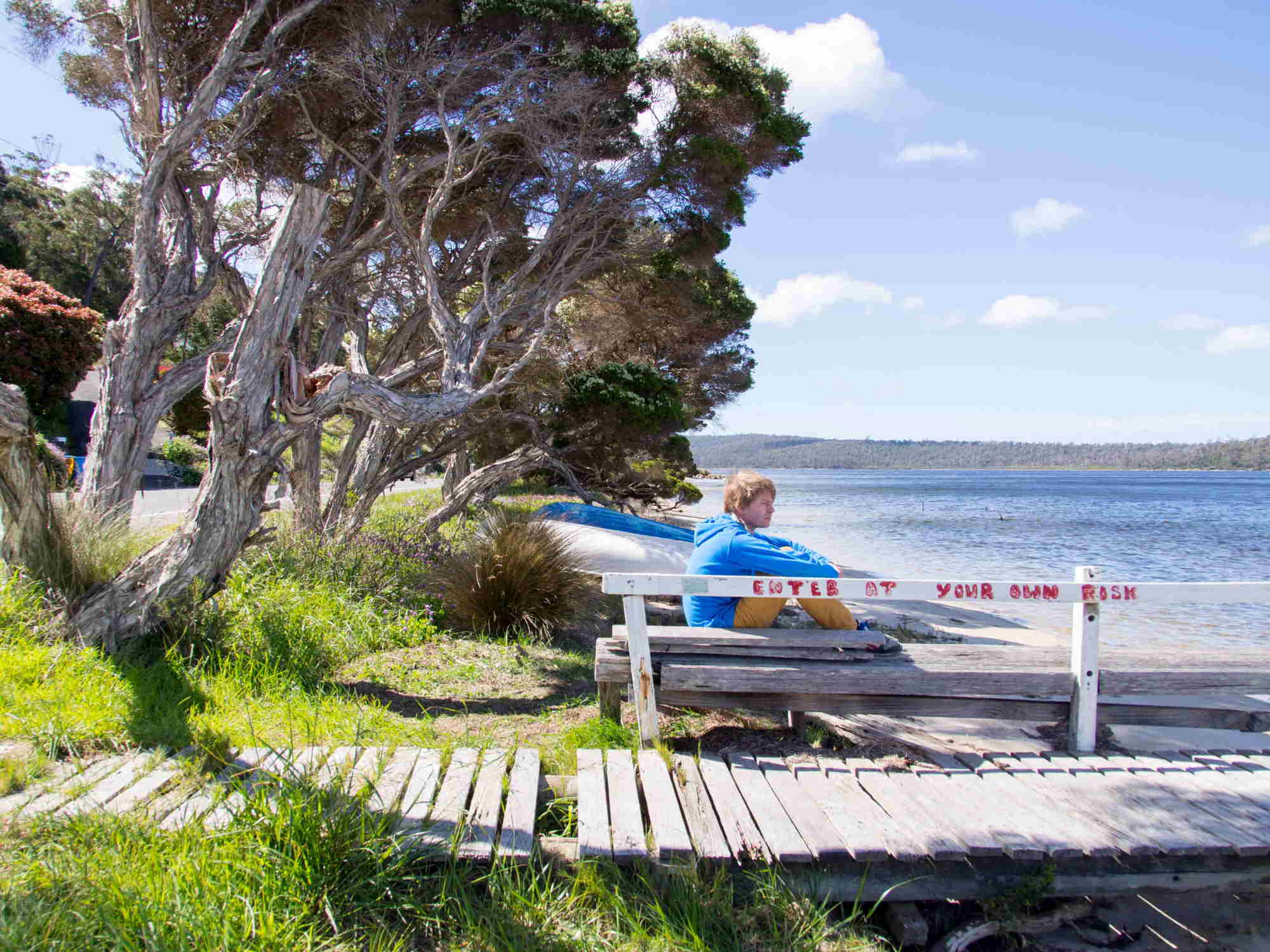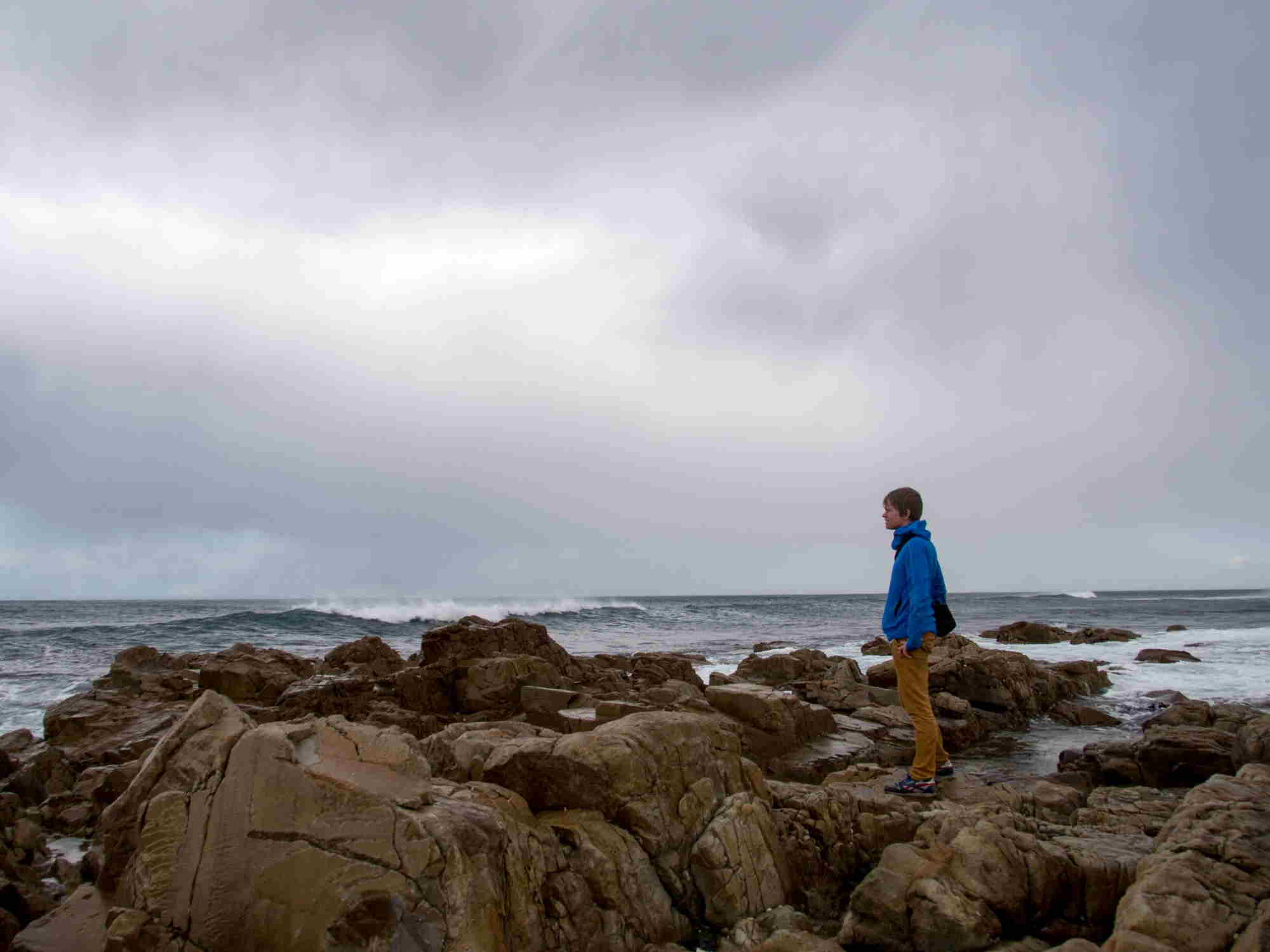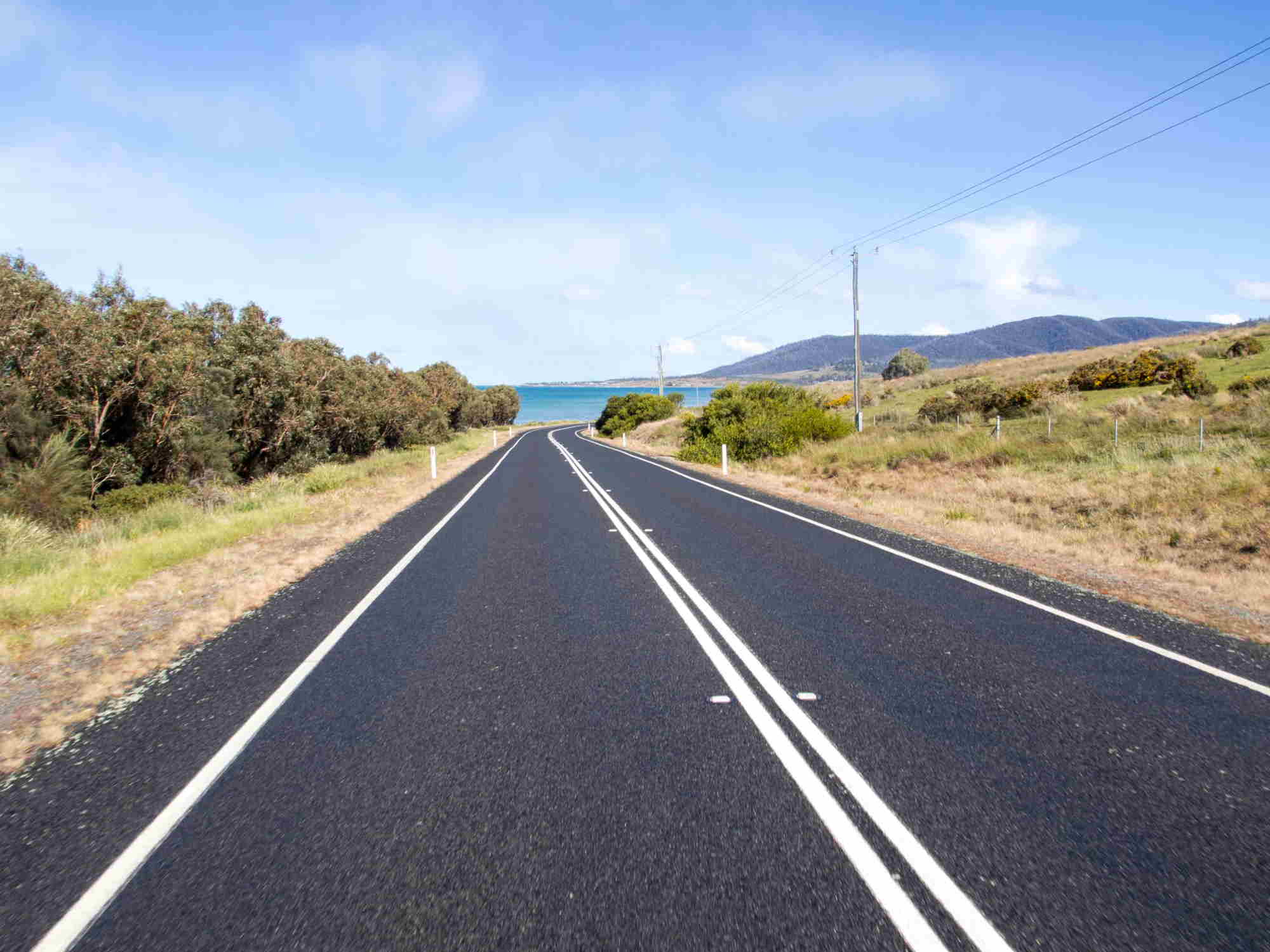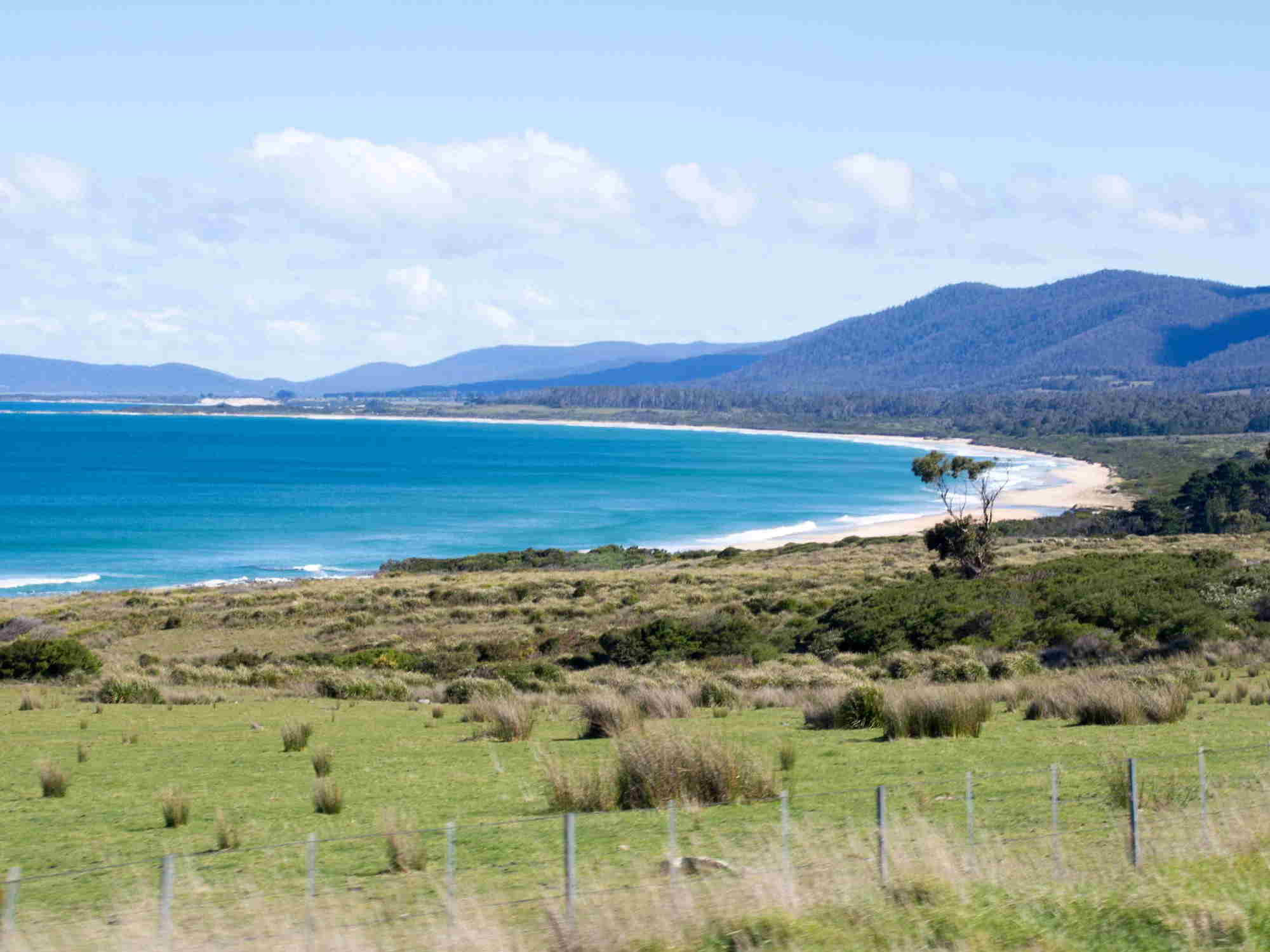 What an impresive landscape. :)
Welch beeindruckende Landschaft. :)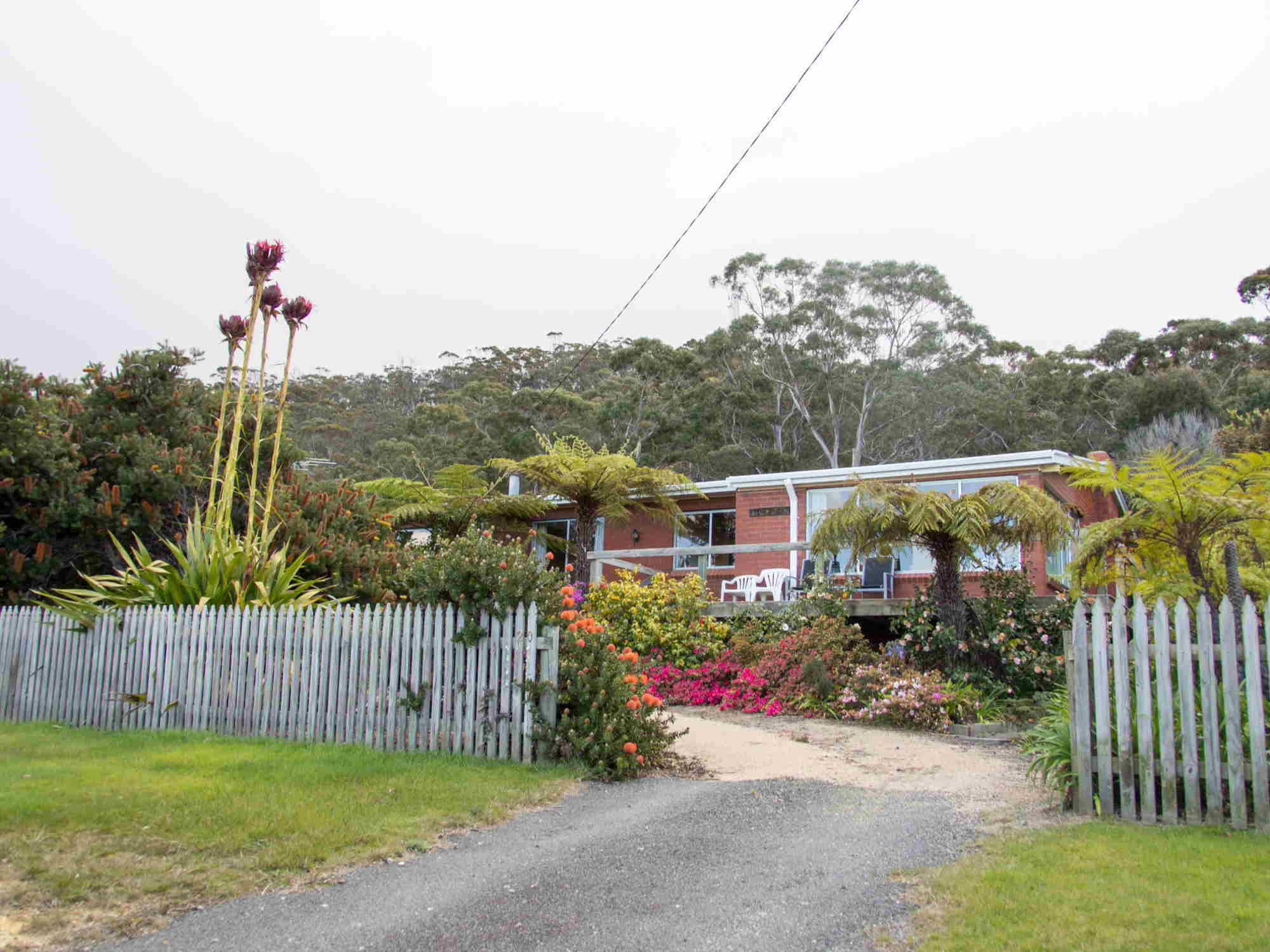 Look at the flowers in the left. :P
Man beachten die Blumen links.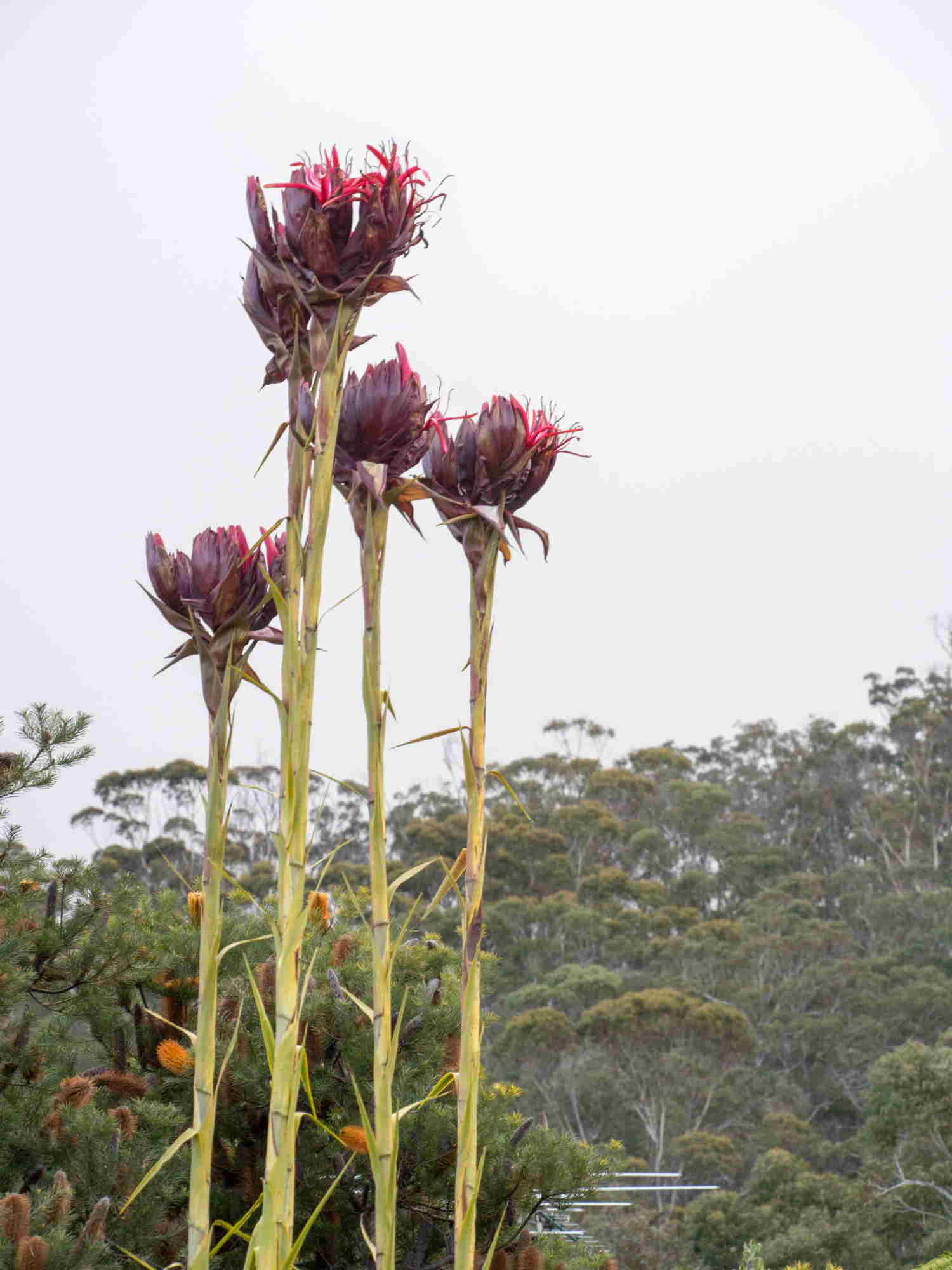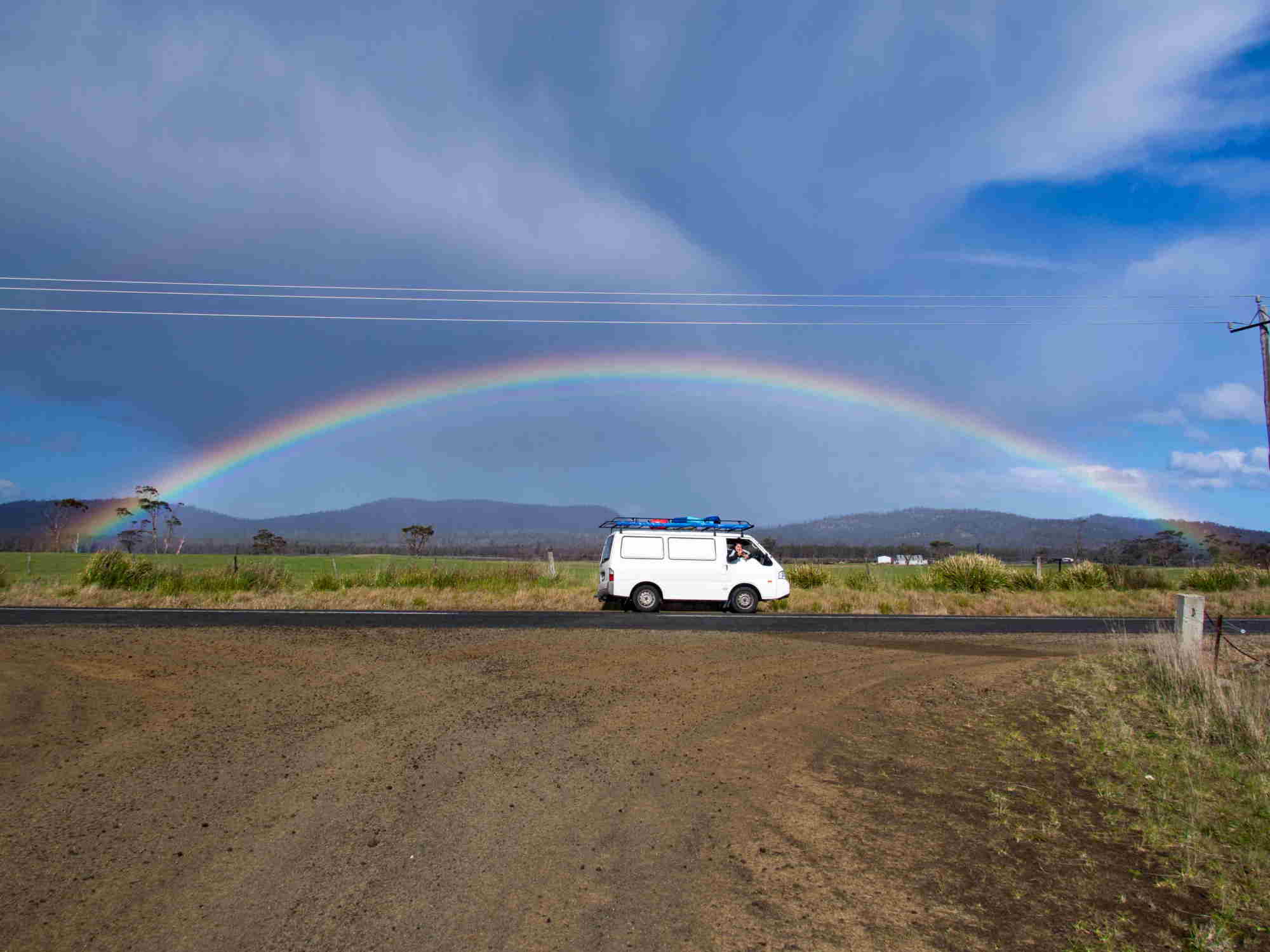 Mixed weather, but you can always see it from the bright side. :)
Gemischtes Wetter, aber man kann es immer von der schönen Seite aus betrachten. :)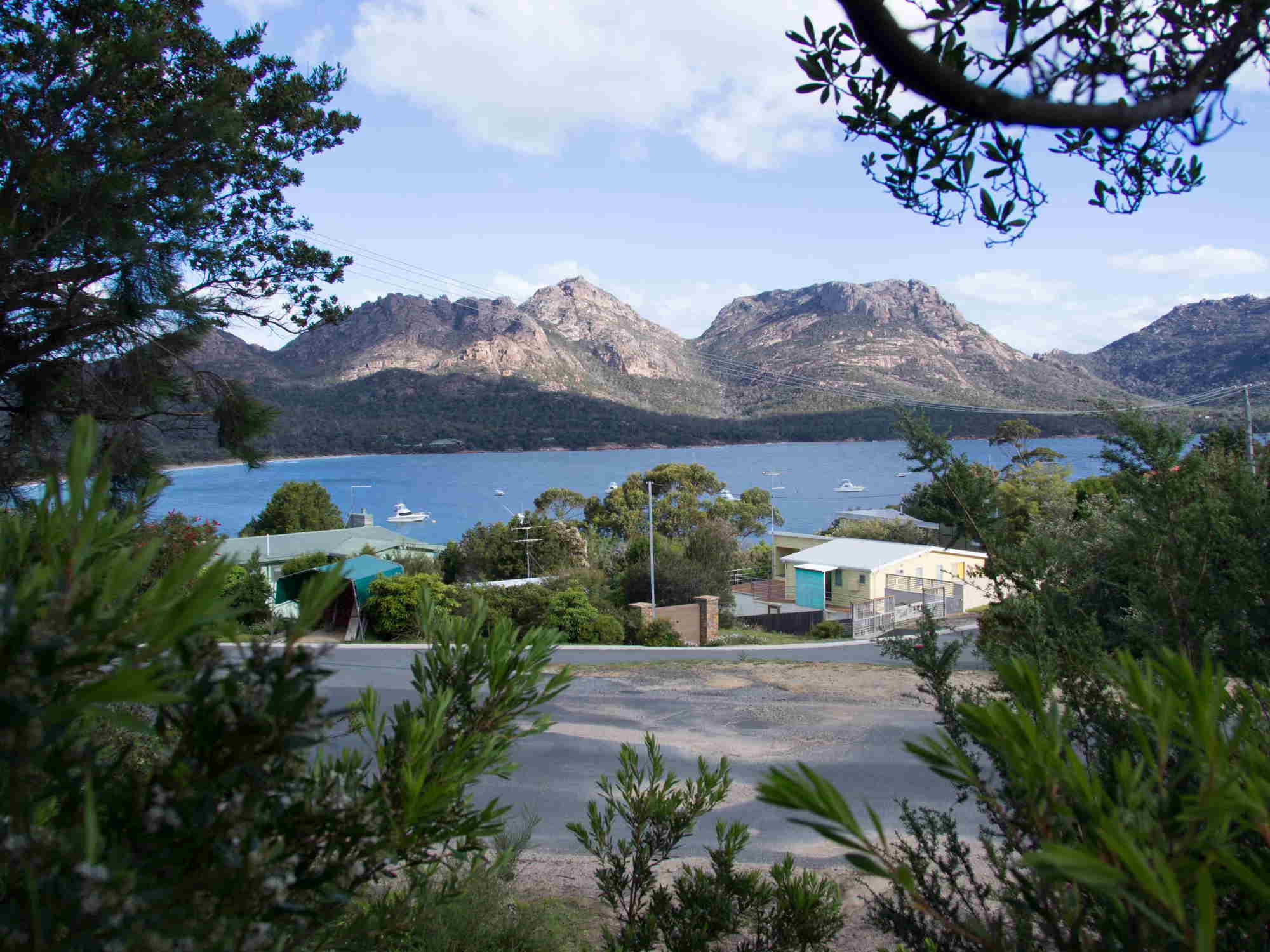 The area around Wineglass Bay.
Die Gegend um Winglass Bay.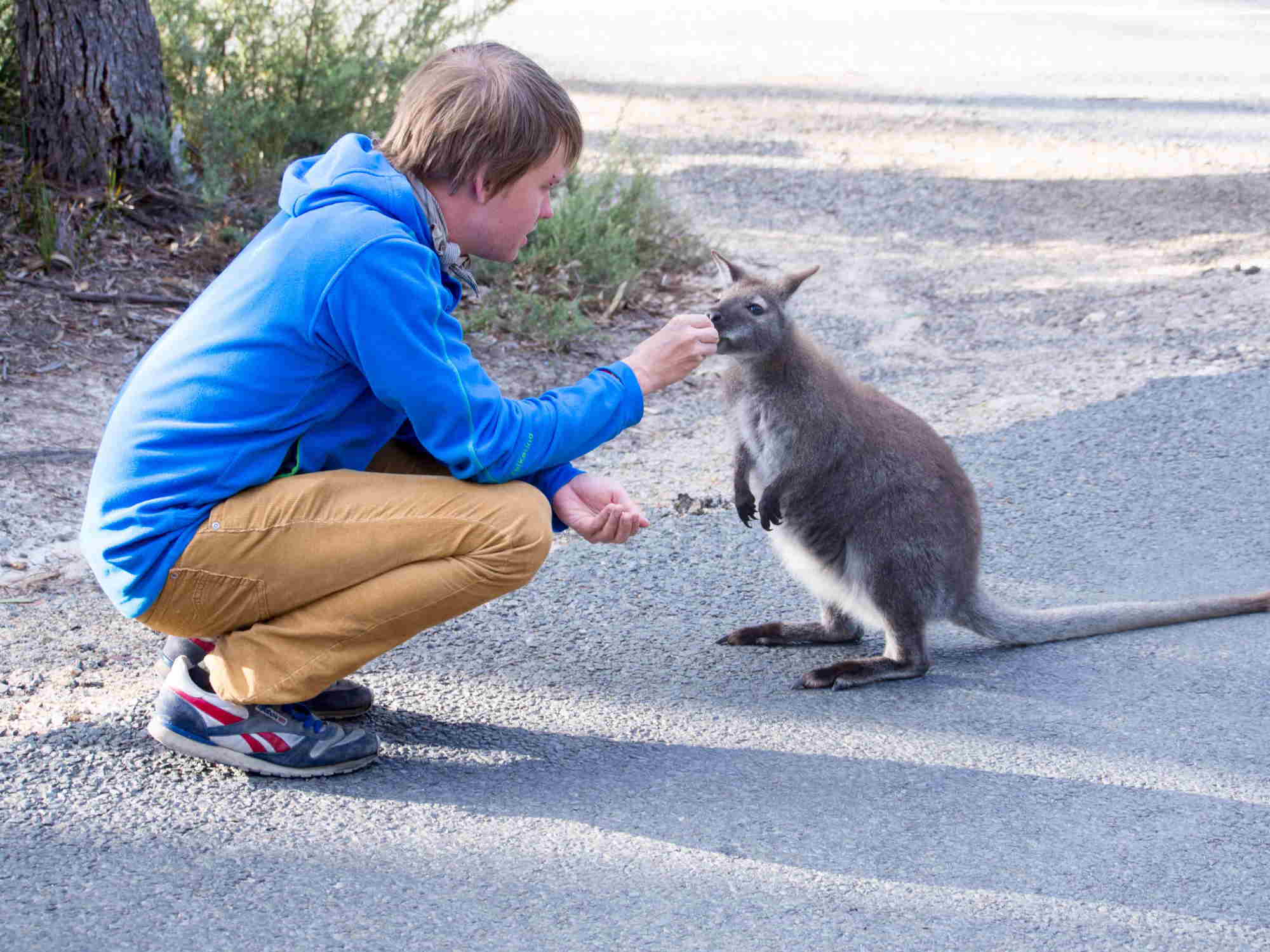 Helloooo little wallabie. (Wallabies are a smaller version of a kangoroo) :)
Hallo kleines Wallabie. (Wallabies sind die kleinere Version eines Kanguruhs) :)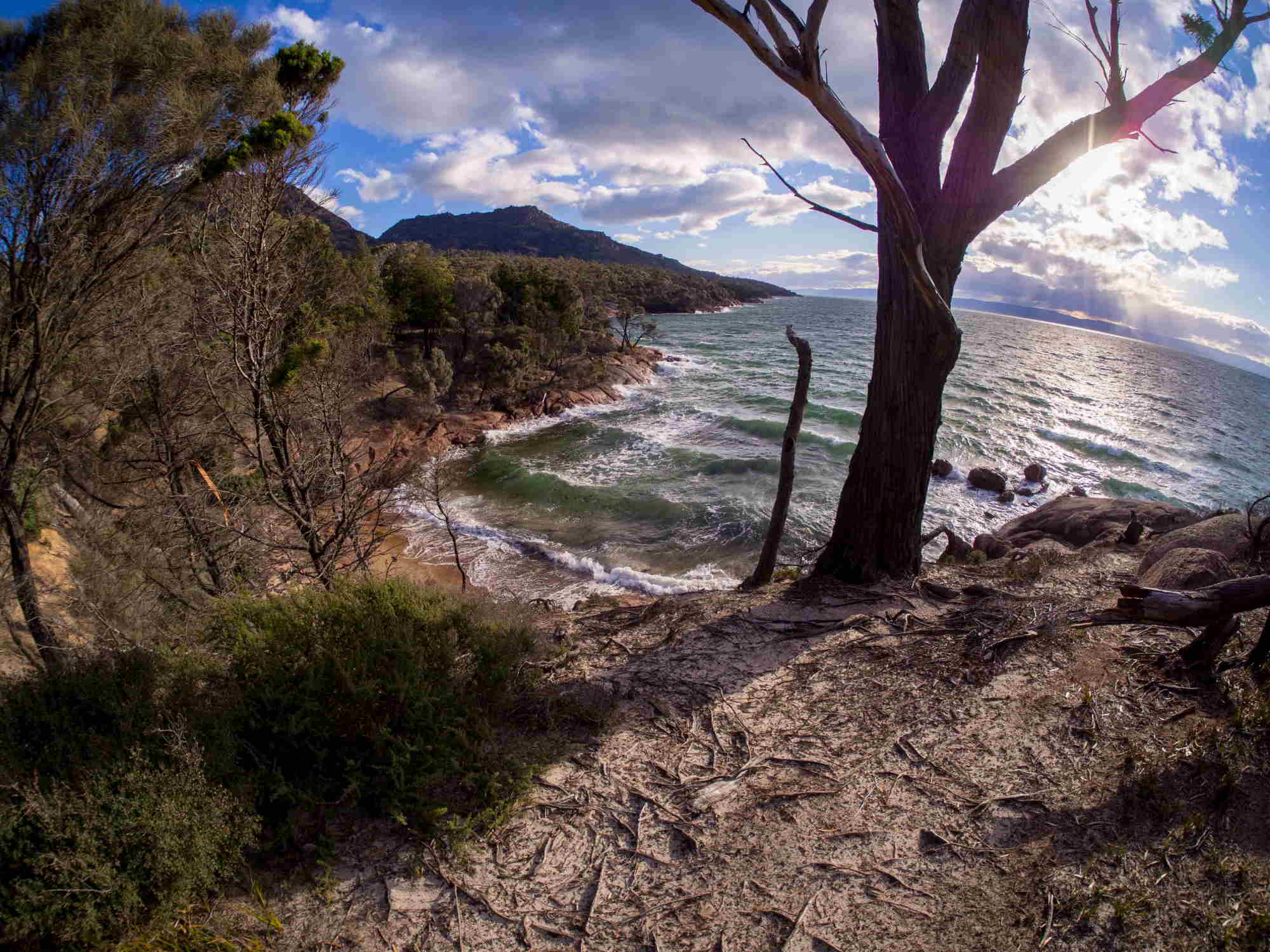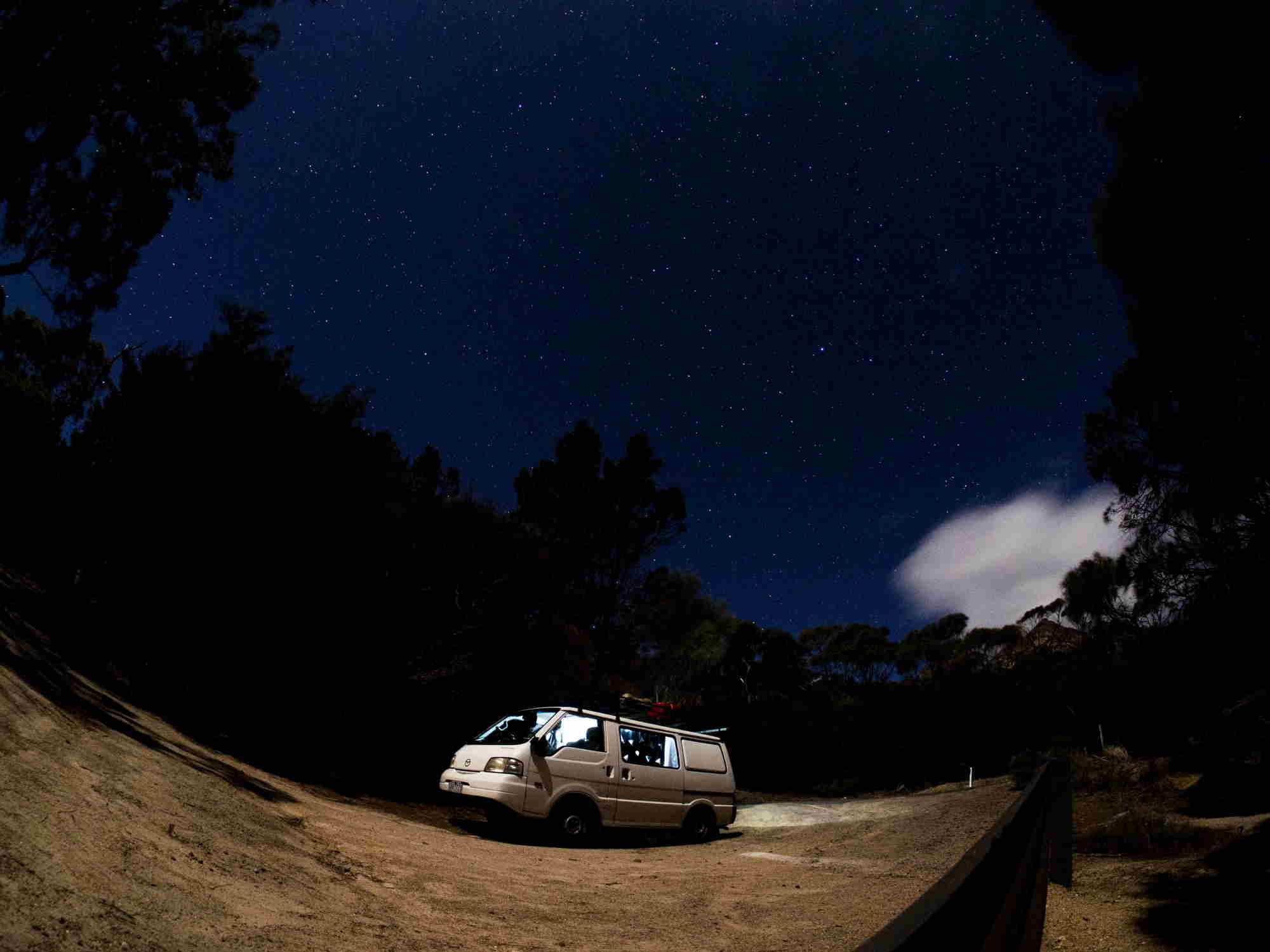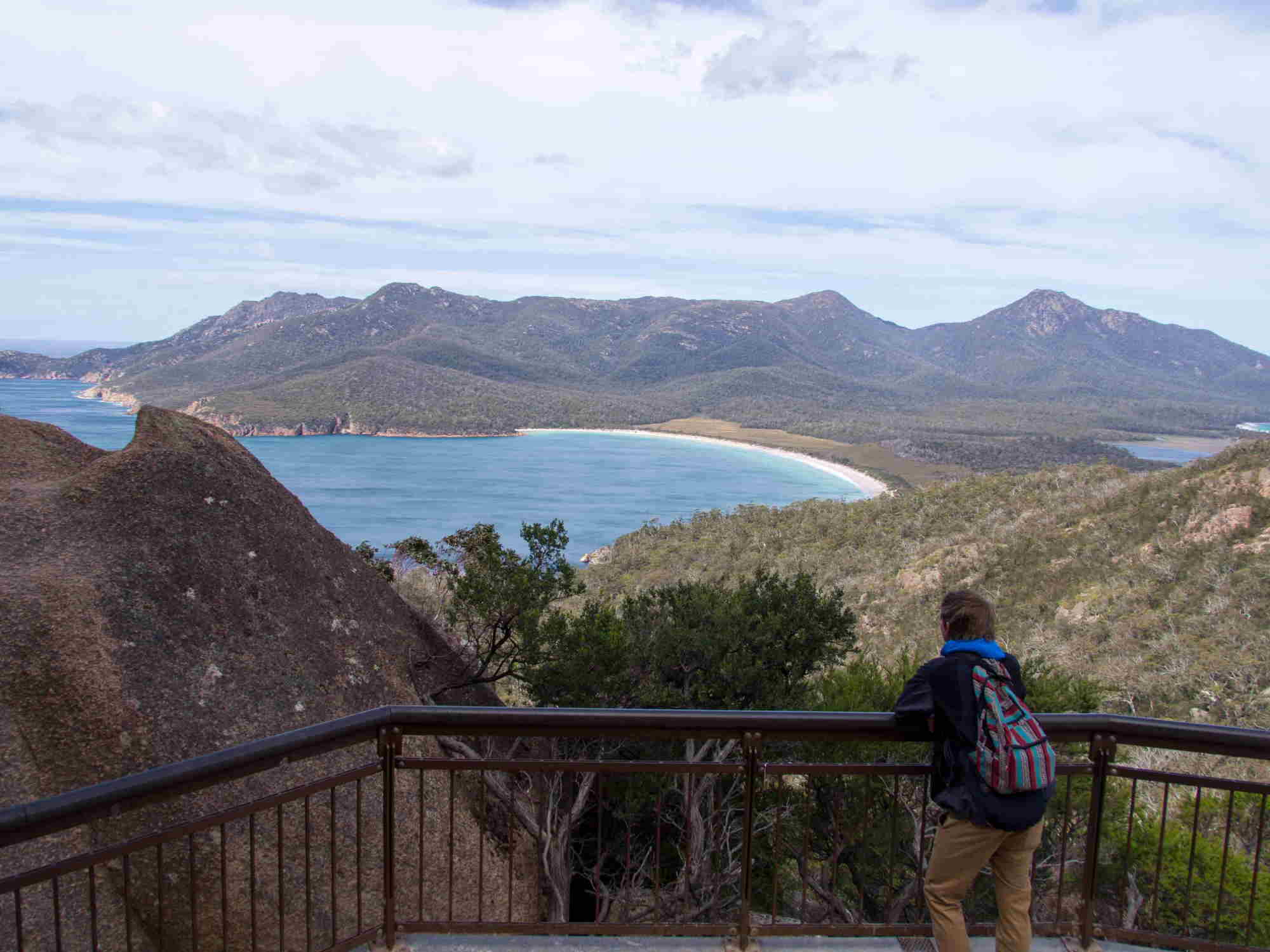 Wineglass Bay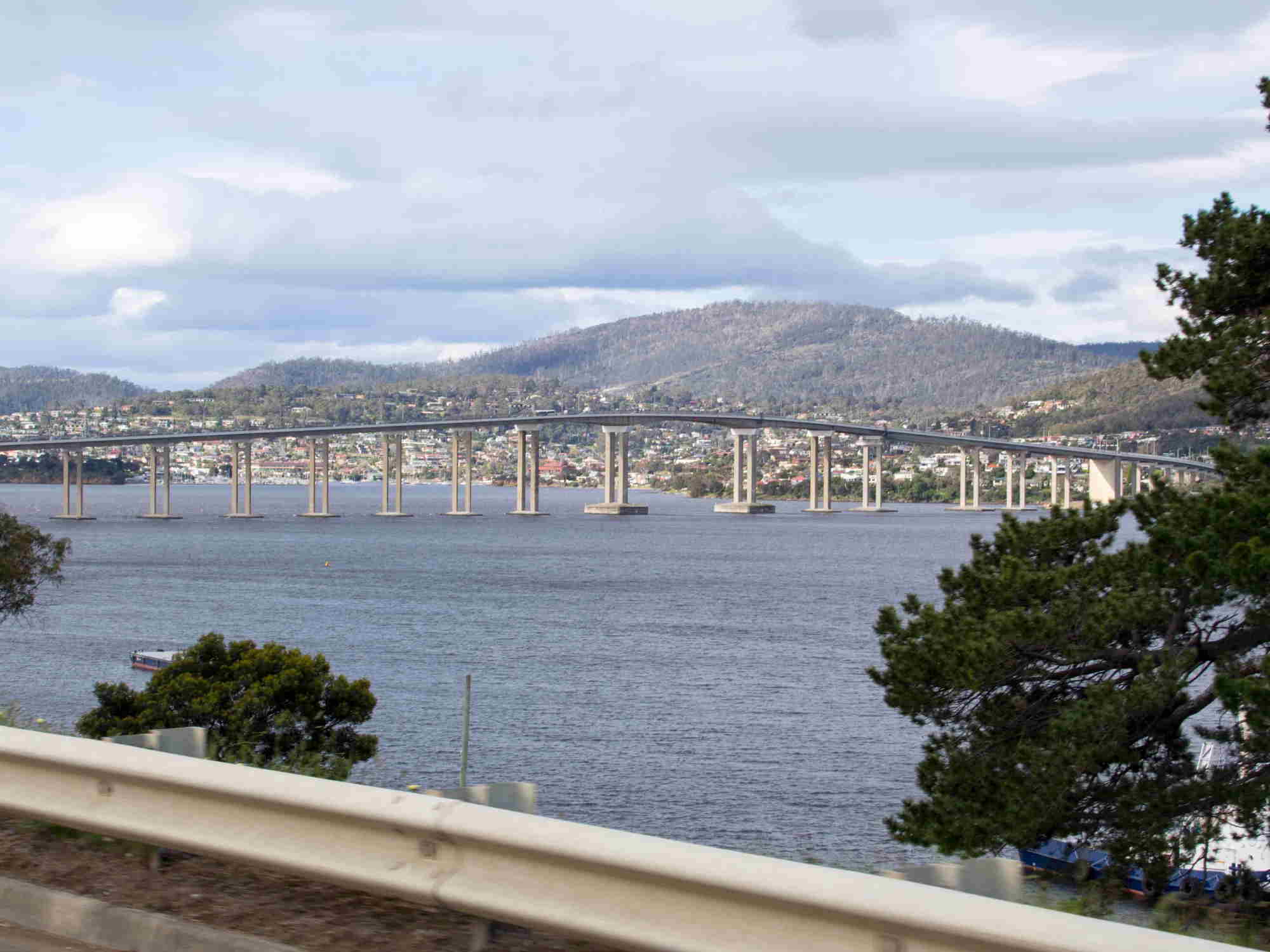 Hobart is known as one of the most pictorial cities in the world. We stayed here for two nights and discovered the Museum of old and modern art (MONA) and enjoyed the hostel life at the Pickled Frog.
Hobart ist als eine der malerischsten Städte der Welt bekannt. Hier blieben wir für zwei Nächte, erkundeten das Museum für alte und neue Kunst (MONA) und genossen das Hostel Leben im Pickled Frog.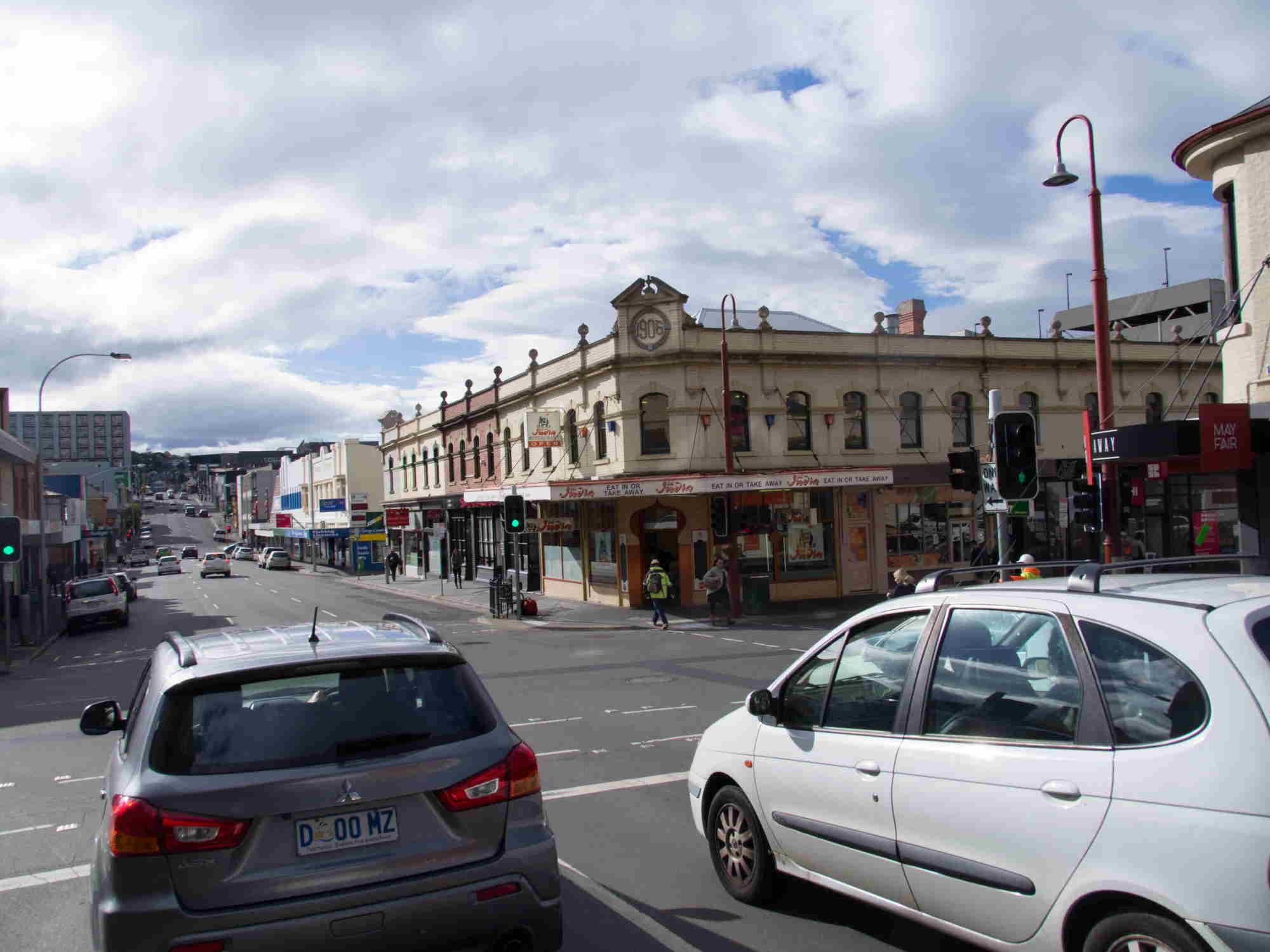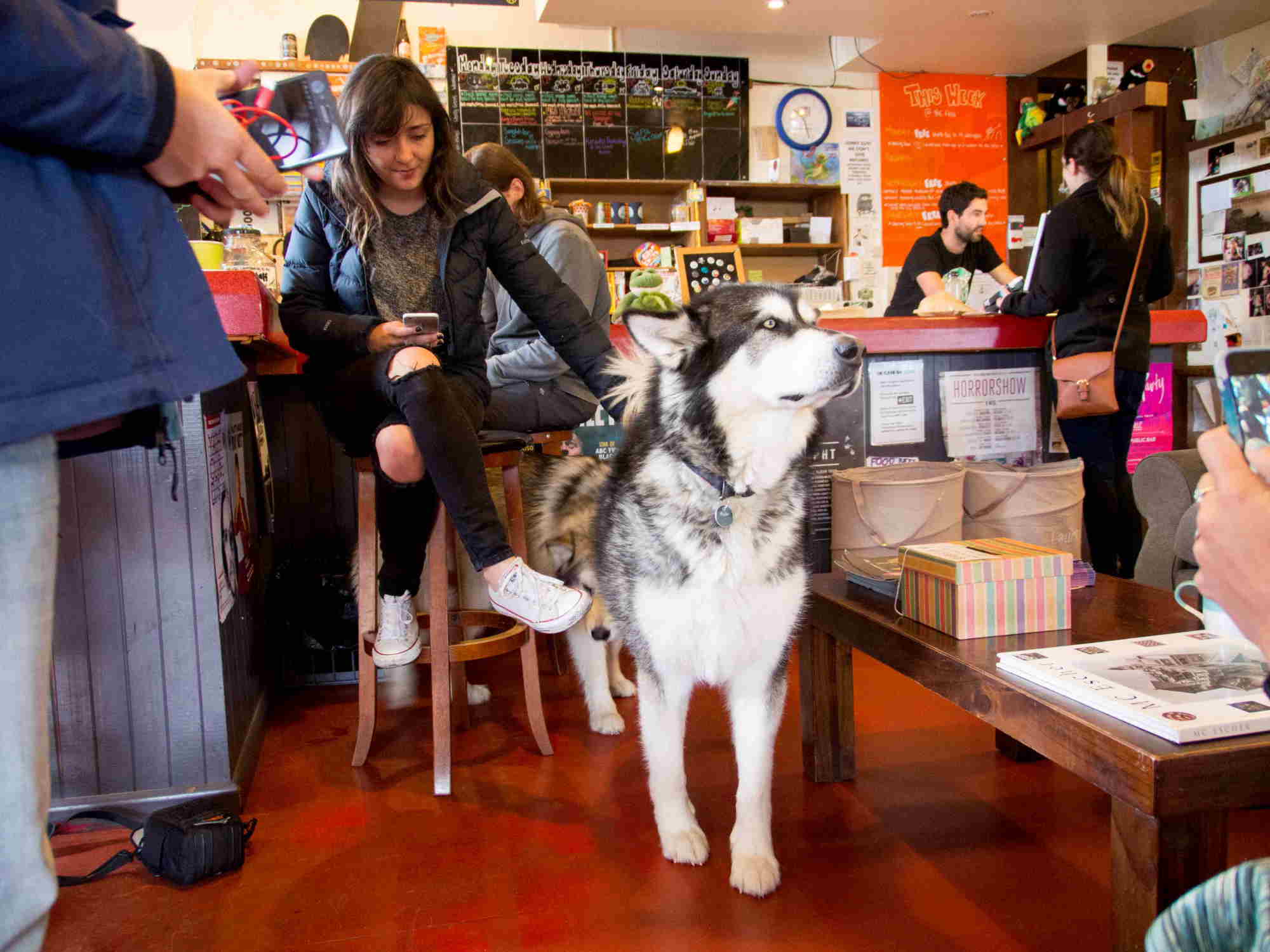 The Pickled Frog Guesthouse.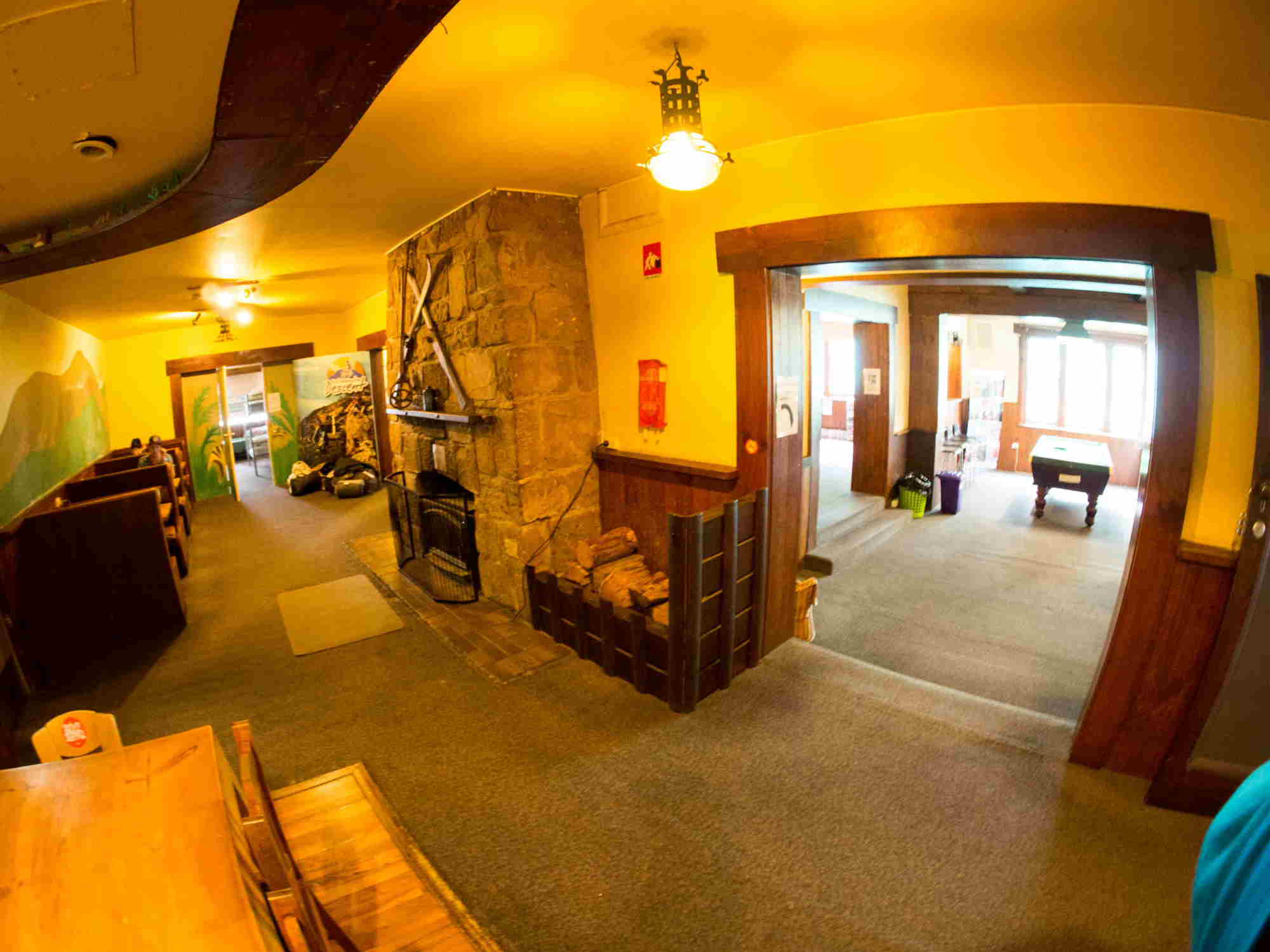 A cosy and nice hostel with plenty of space.
Ein gemütliches und schönes Hostel mit jeder Menge Platz.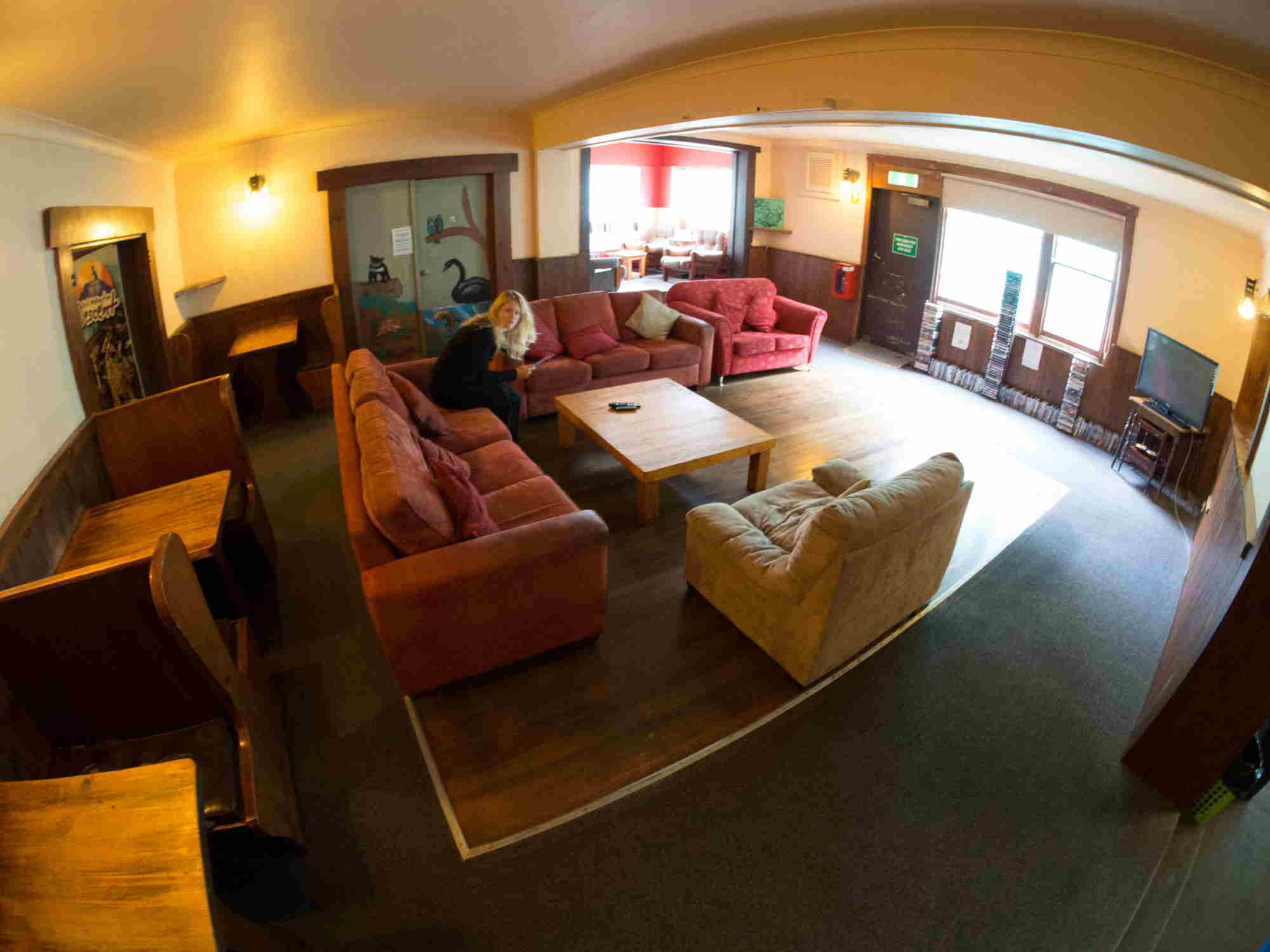 Here you see Celine, who joined us from now on to Melbourne.
Hier ist Celine, die uns von Hobart aus bis Melbourne begleitete.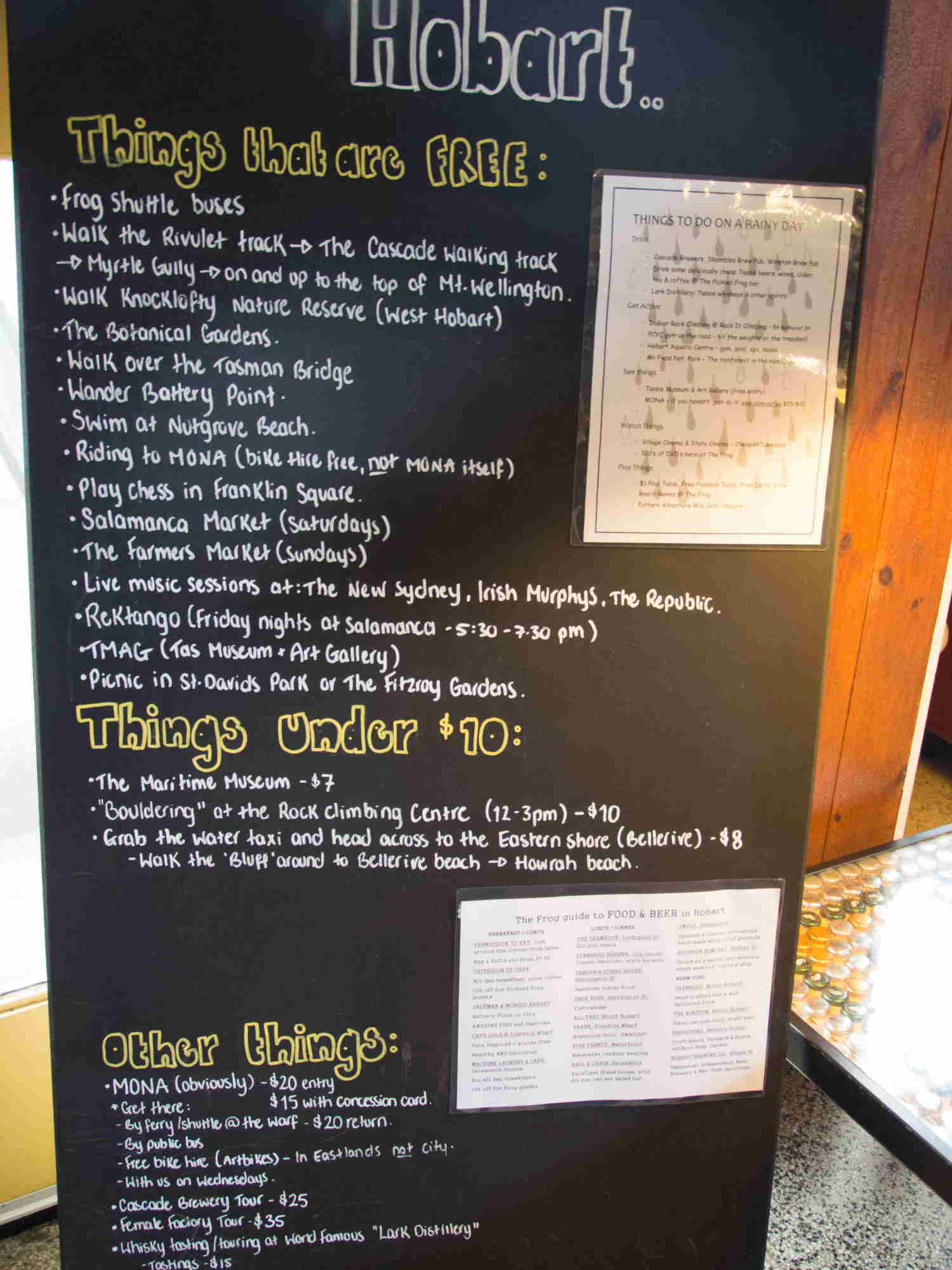 Tips for your visit in Hobart. :)
Tips für deine Reise nach Hobart. :)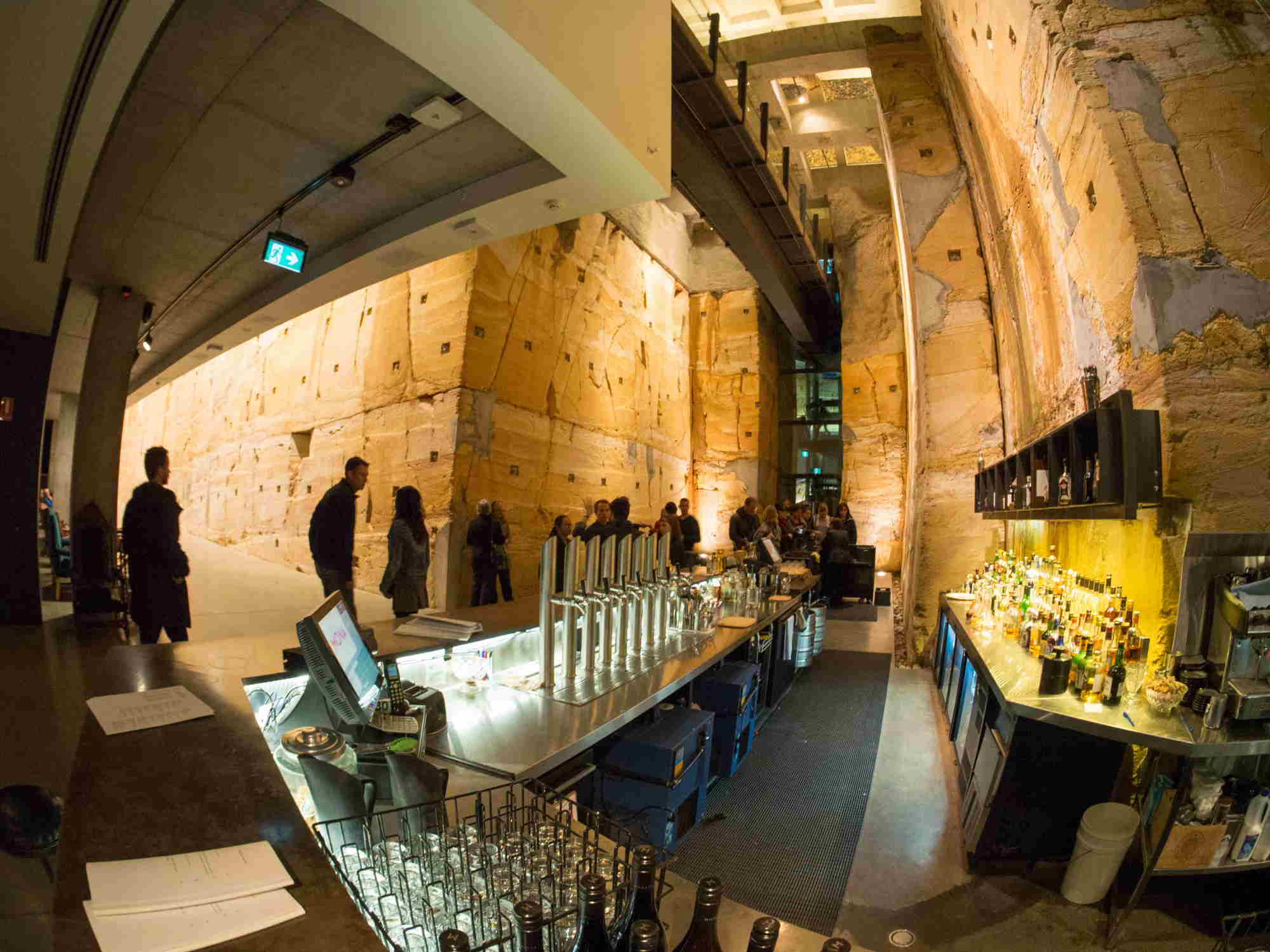 The Museum of old and new art (MONA).
Das Museum für alte und neue Kunst (MONA).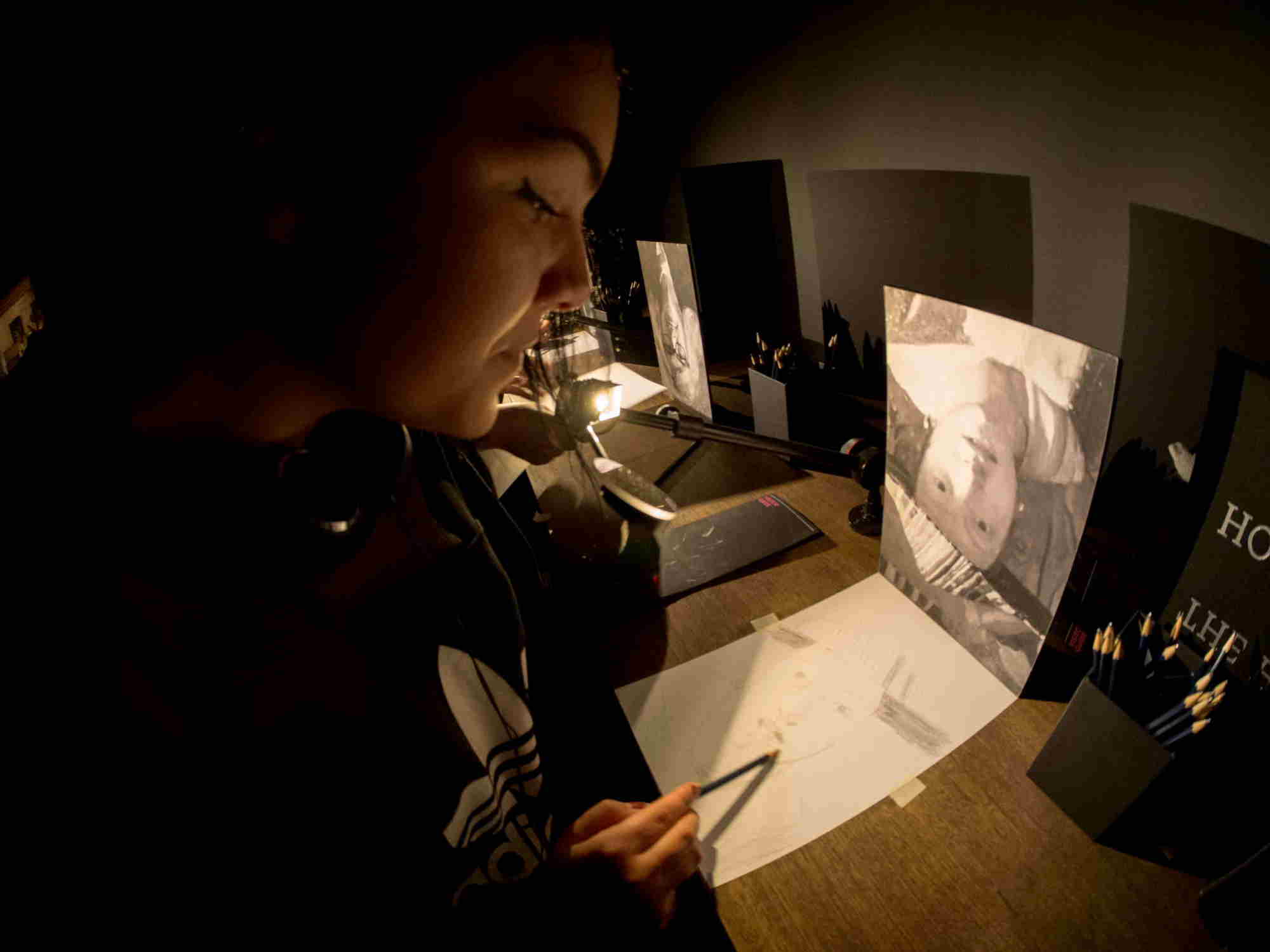 Sabrin painting with the mirror trick. :)
Sabrin malt mit dem Spiegeltrick. :)
Impressive how good it works. I am really not a drawer and the beginning here is not to bad! *clap on my own shoulder*
Beeindruckend wie gut es funktioniert. Ich bin wirklich kein Zeichner, aber der Anfang hier ist echt nicht schlecht! *sich selbst auf die Schulter klopf*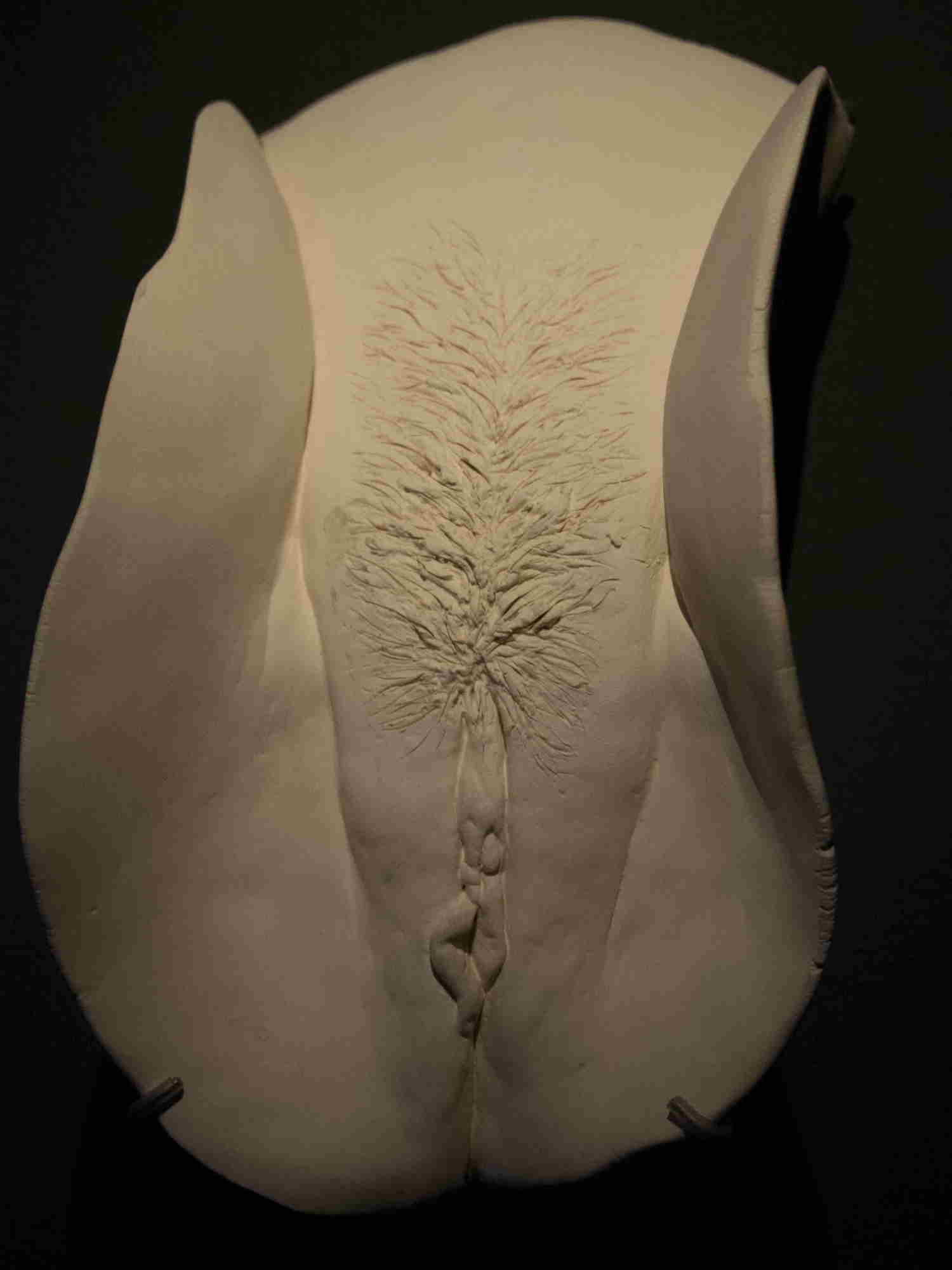 Yes this is what it is. The artist want to point on the bad relationship wimen often have with they're best things. A man just makes a joke about it "smells like a big one - haaa?!". Wimen are threated different in our society and a joke like this would not work. So the hole relationship from wimen to sex changes through this, so the artist.
Ja das ist was es ist. Der Künstler wollte hier auf die schlechte Beziehung von Frauen zu ihren Vaginas hinweisen. Ein Mann macht Witze wie "Stinkt wie n großer, was!?". Frauen werden in unserer Gesellschaft anders behandelt und ein Witz dieser art würde nicht funktionieren. Daruter leidet die gesamte Beziehung der Frau zum sexuellen, so der Künstler.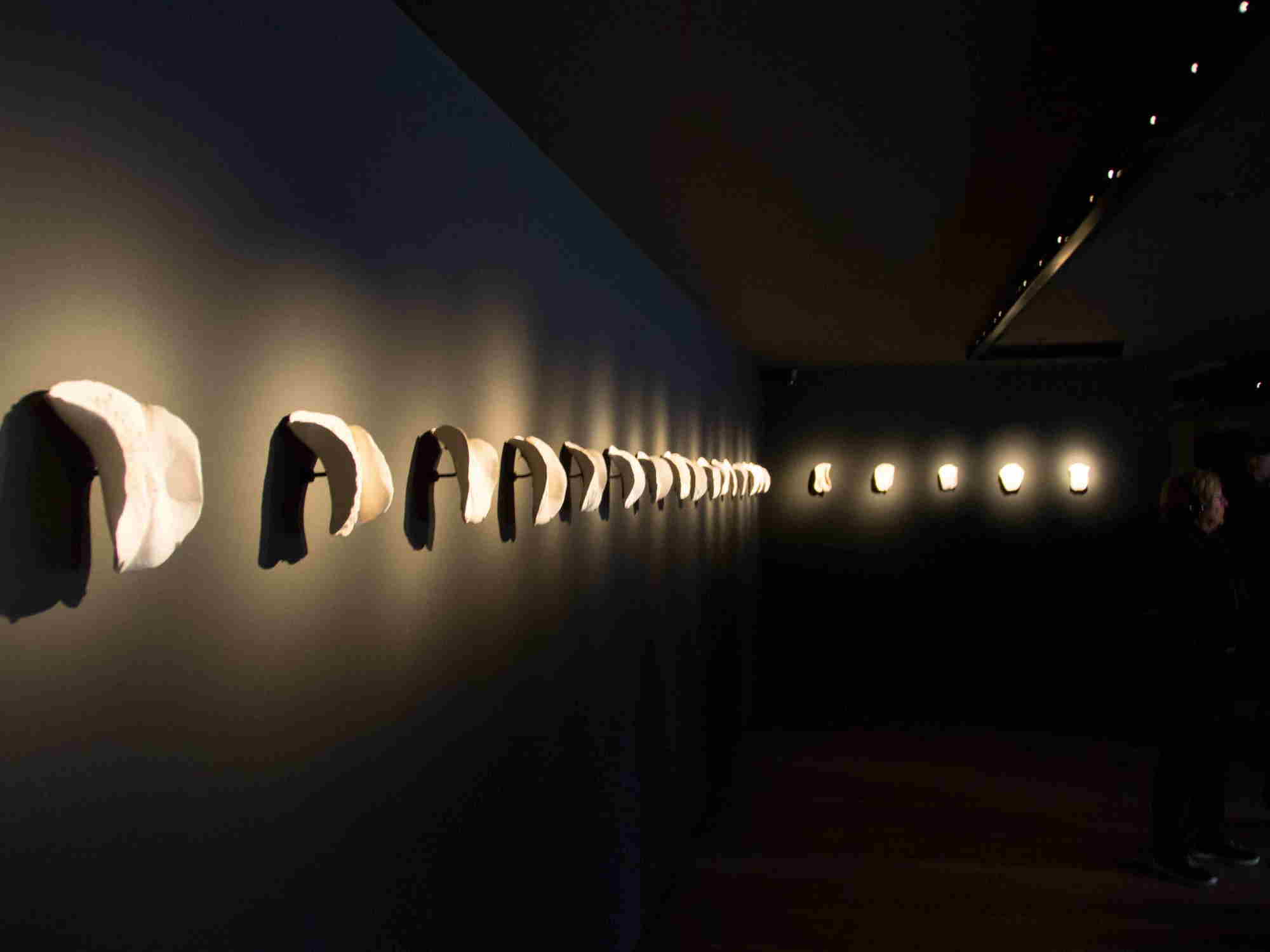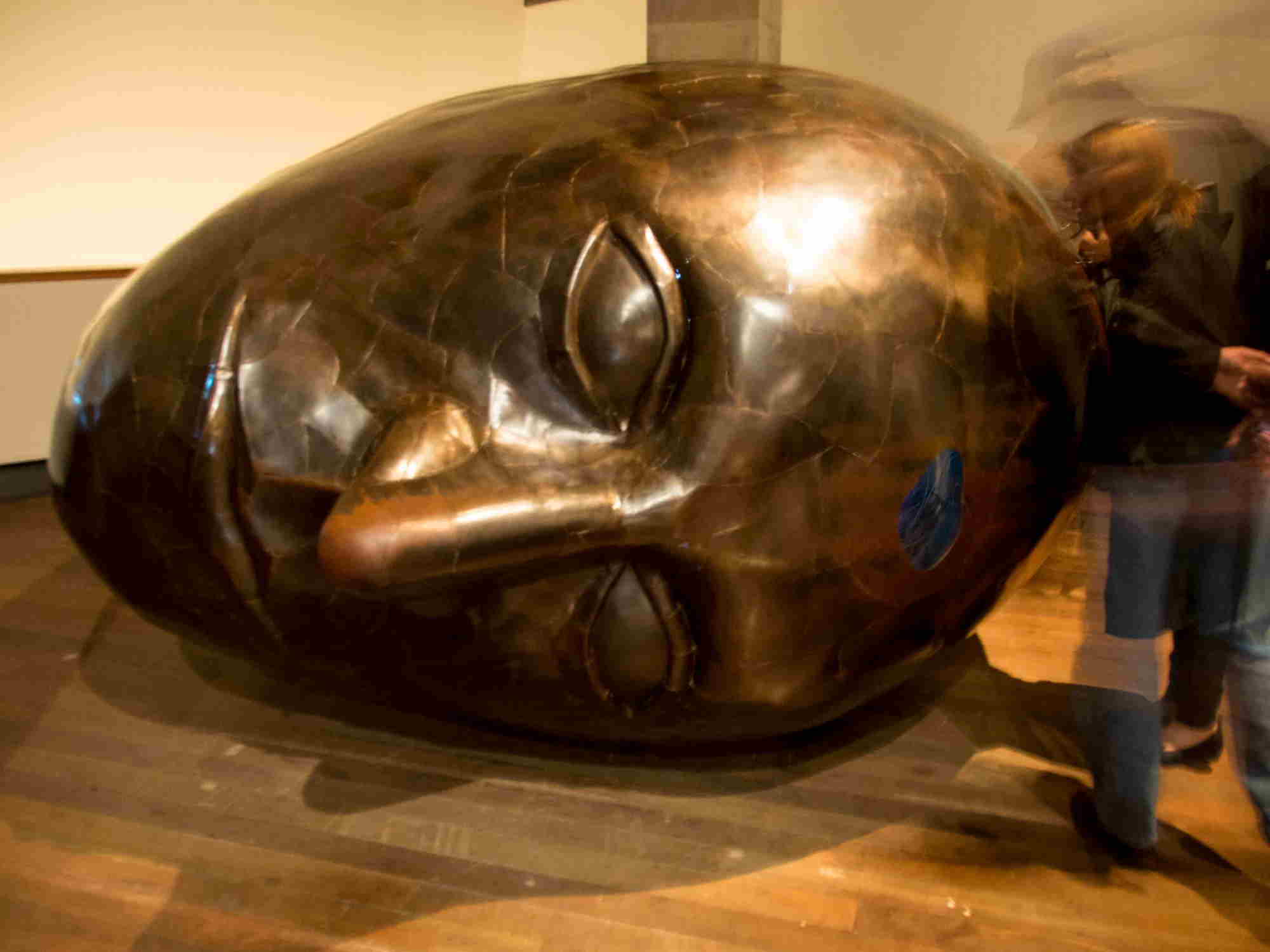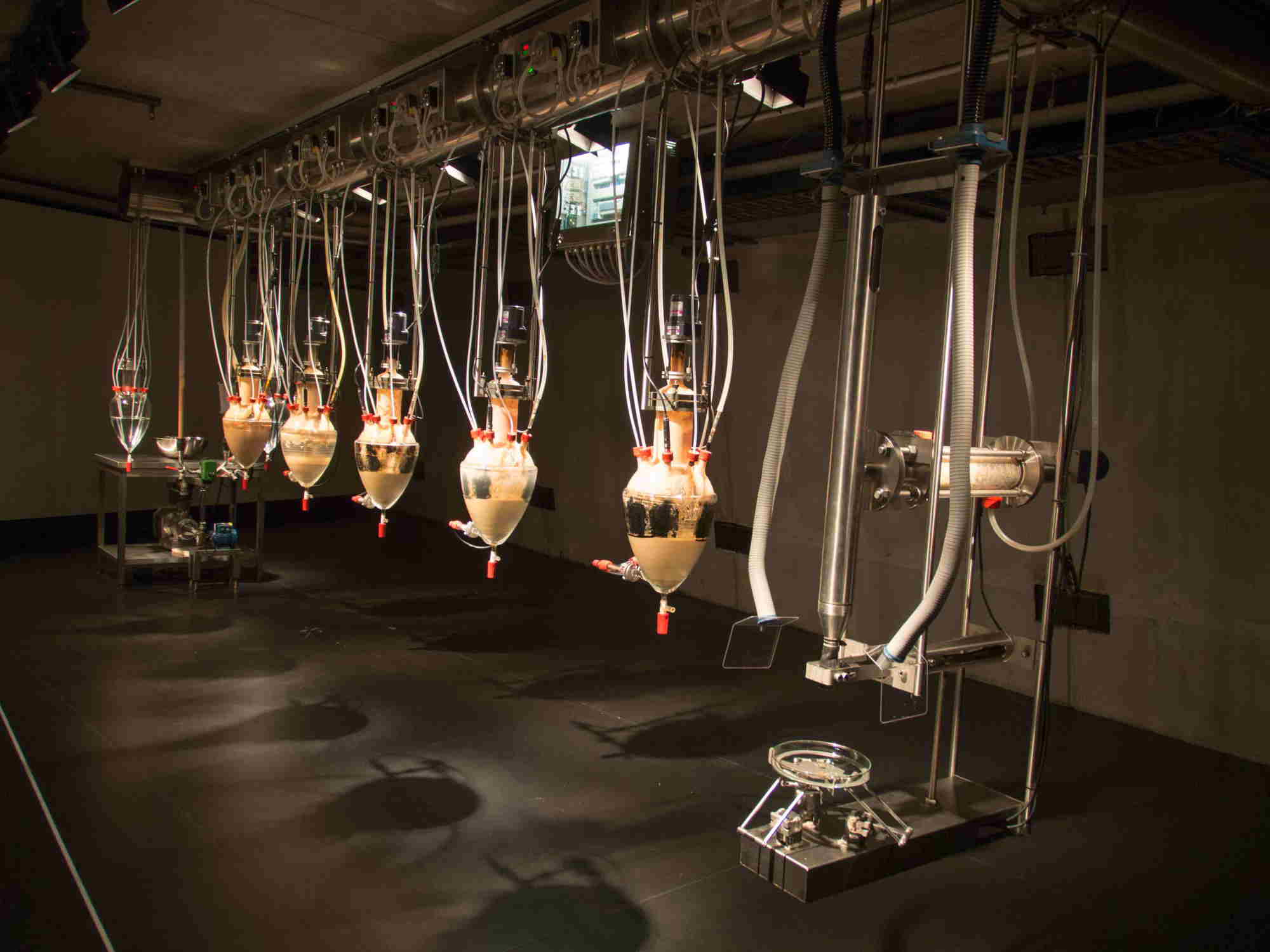 Ladies and gentleman, what you see here is what was missing in the world - A poo mashine! In the beginning some food gets smashed and inserted in the left side to run through all the stadiums of digestion...
Ladies and gentleman, was Sie hier sehen ist was der Welt noch fehlte - eine Scheisse-Maschine. Zum Anfang wird Essen gemahlen, in der linken Seite eingegeben, um durch die verschienden Stadien der Verdaung zu laufen...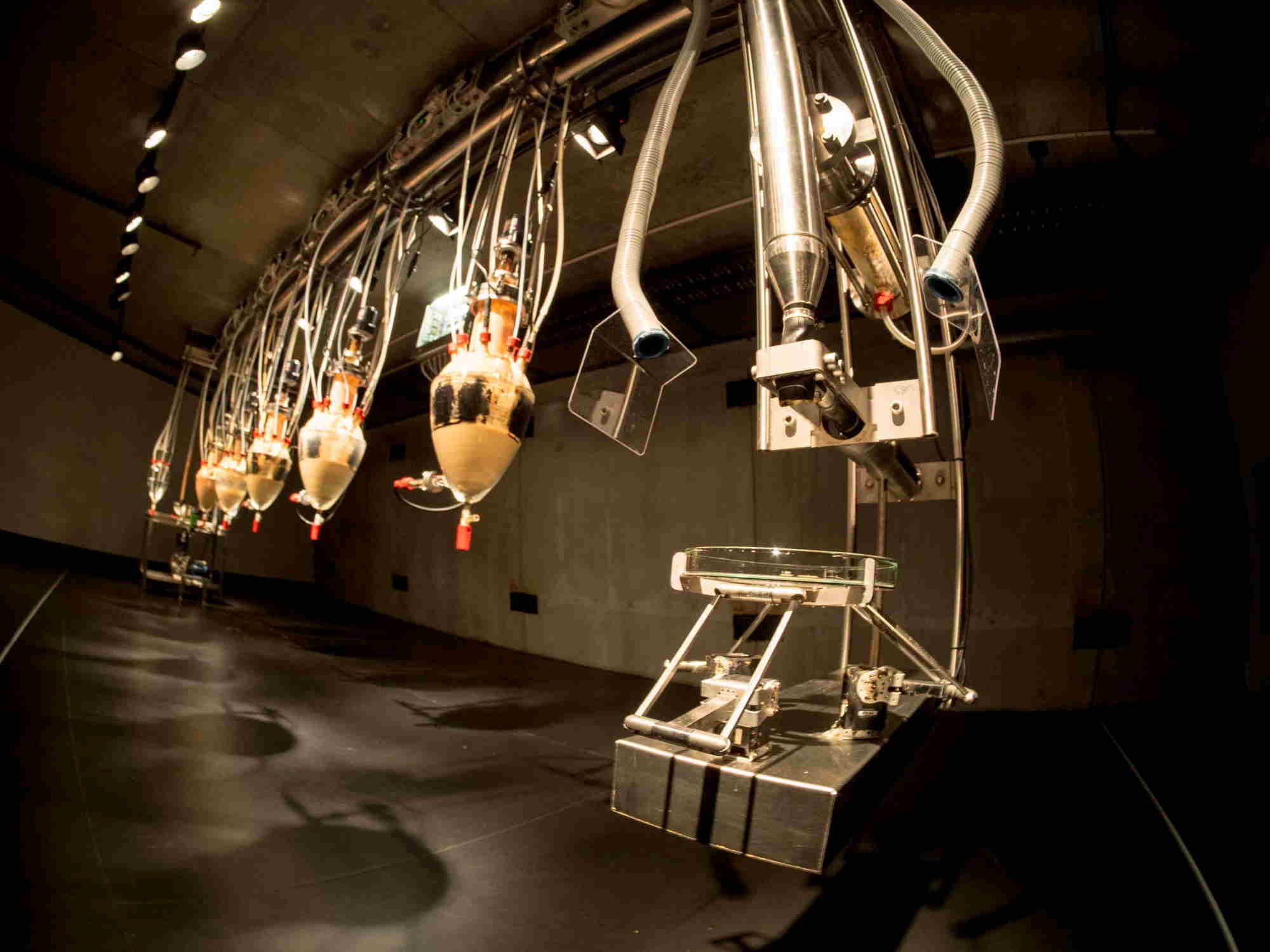 ...and end up as poo!!! Demonstration once a day. It smelled pretty real without demonstration already... we skipped that show...
...und als Scheisse zu enden!!! Vorführung einmal am Tag. Es roch schon ziemlich echt auch ohne Vorführung... wir ließen die Vorstellung aus....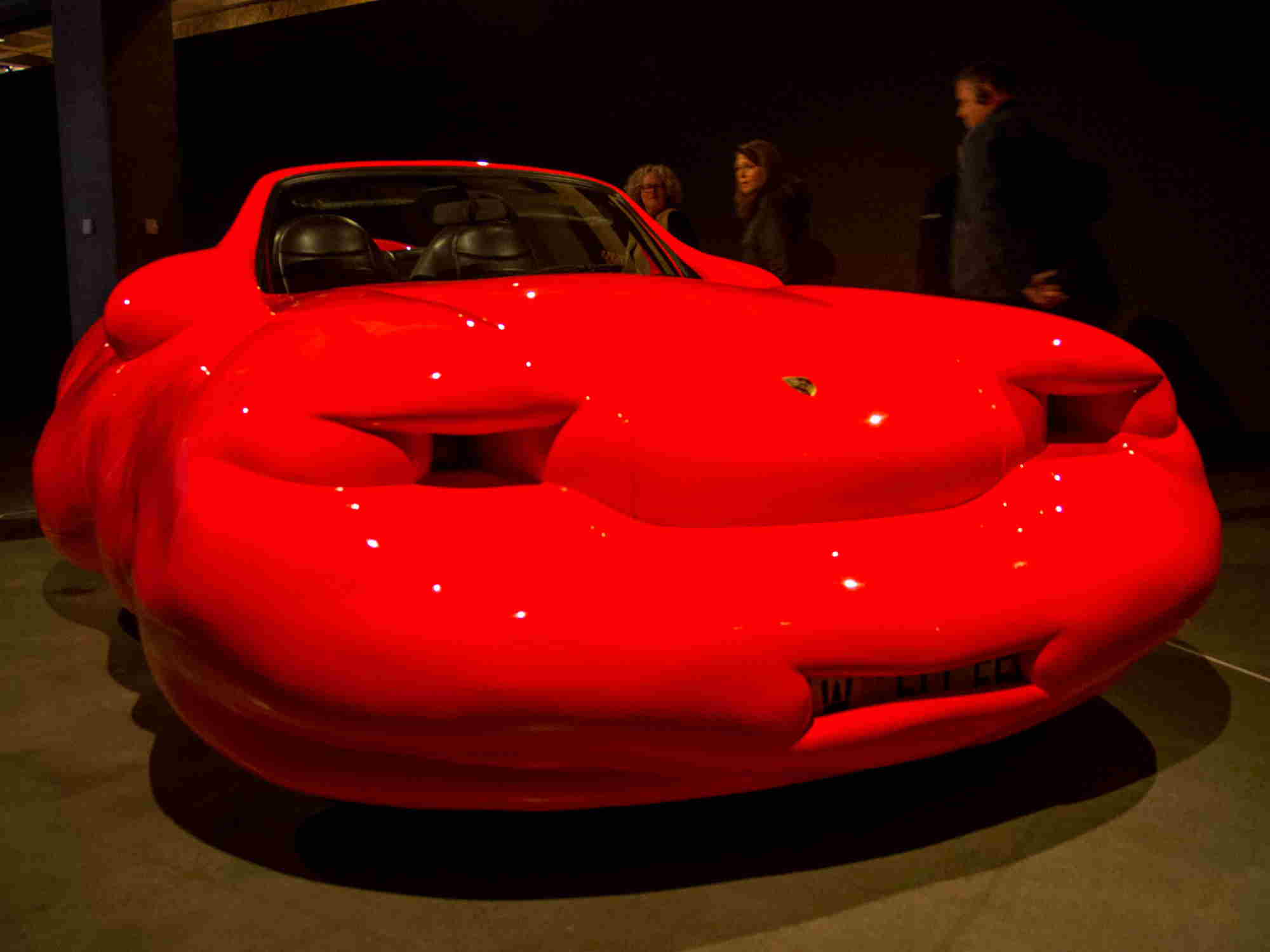 MORE! We need MORE!
MEHR! Wir brauchen MEHR!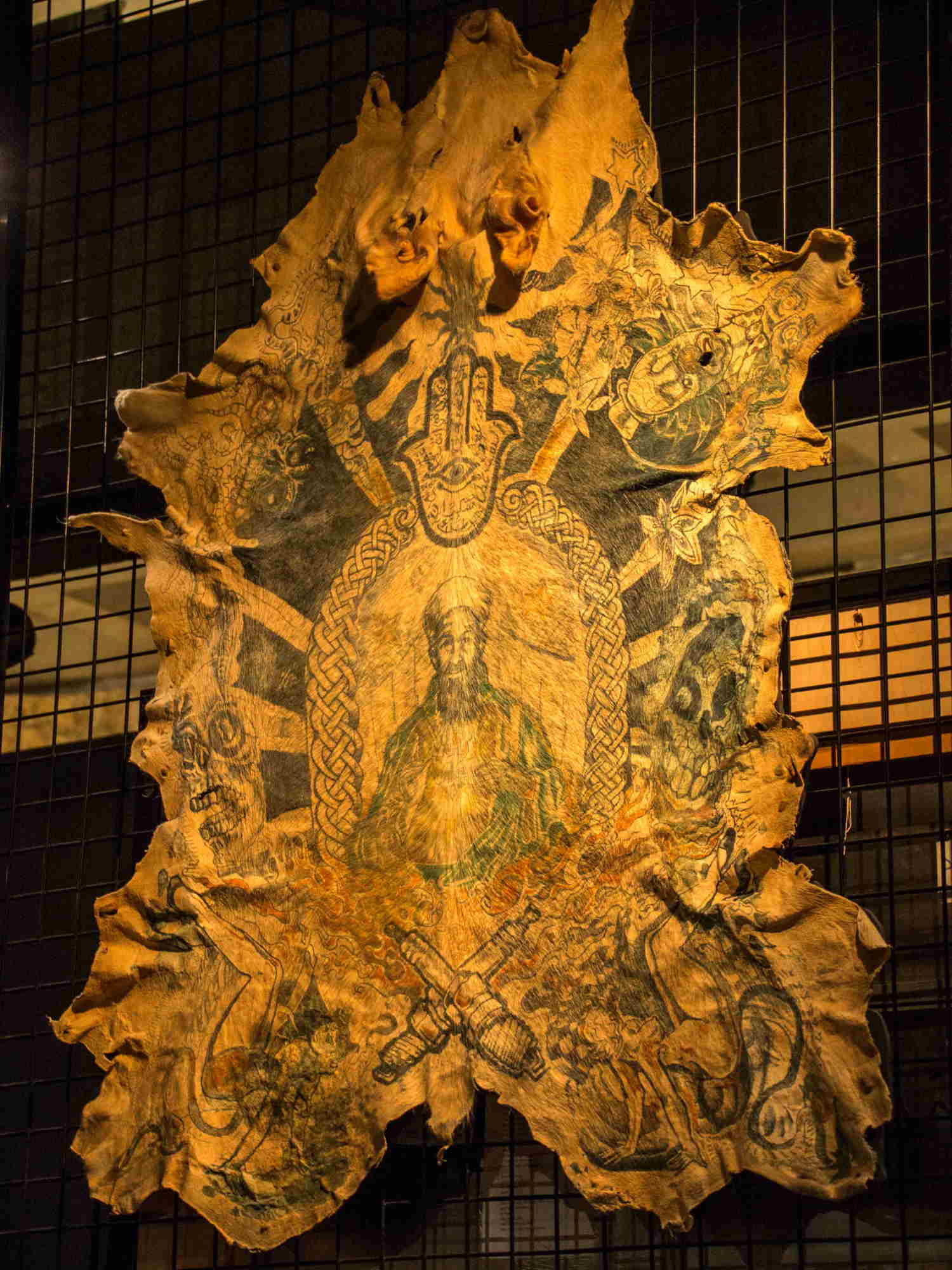 Osama bin laden tattooed on a pig.
Osama Bin Laden auf ein Schwein tättoowiert.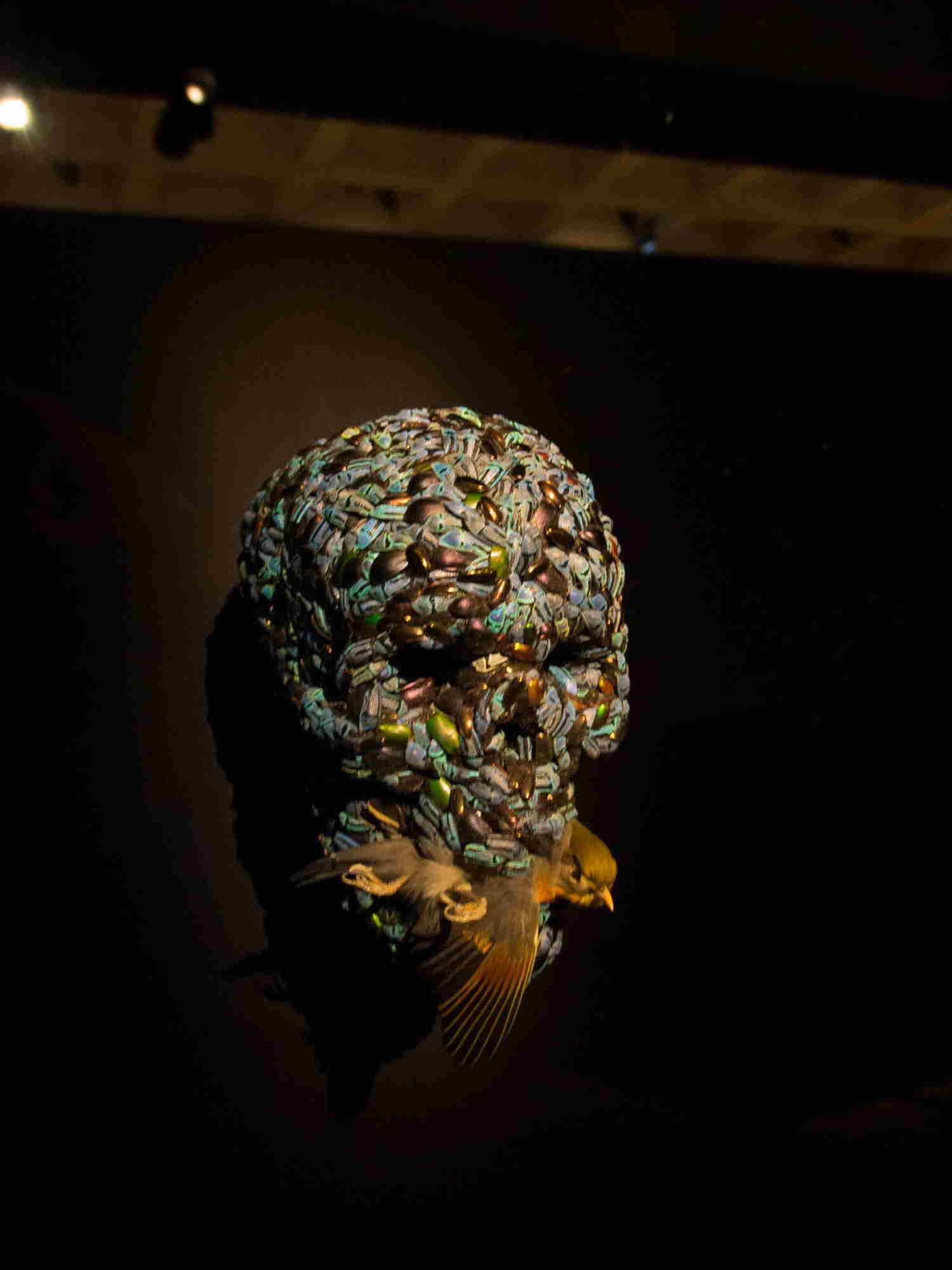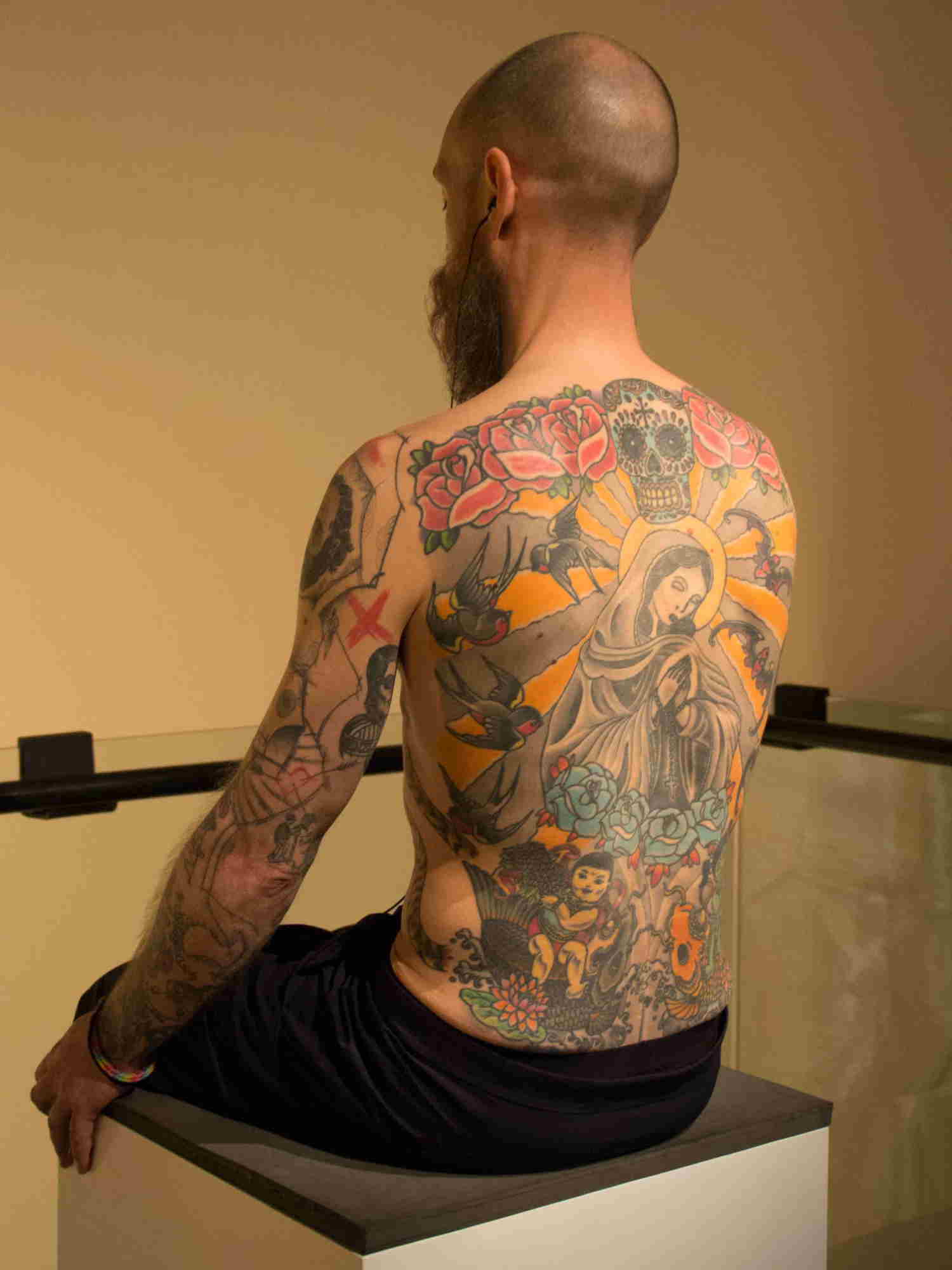 He sold his body to the art. For I think it was around 150.000€ he will travel the world to sit in different museums to show his body. Around 6 hours a day, 5 days a week he has to sit there and meditate (last part is up to him for sure).
Er verkaufte seinen Körper an die Kunst. Ich meine es waren rund 150.000€ die er dafür bekam die Welt zu bereisen um seinen Körper zu präsentieren. Um die sechs Stunden am Tag, fünf Tage die Woche muss er sitzen und Meditieren. (letzteres ist ihm überlassen)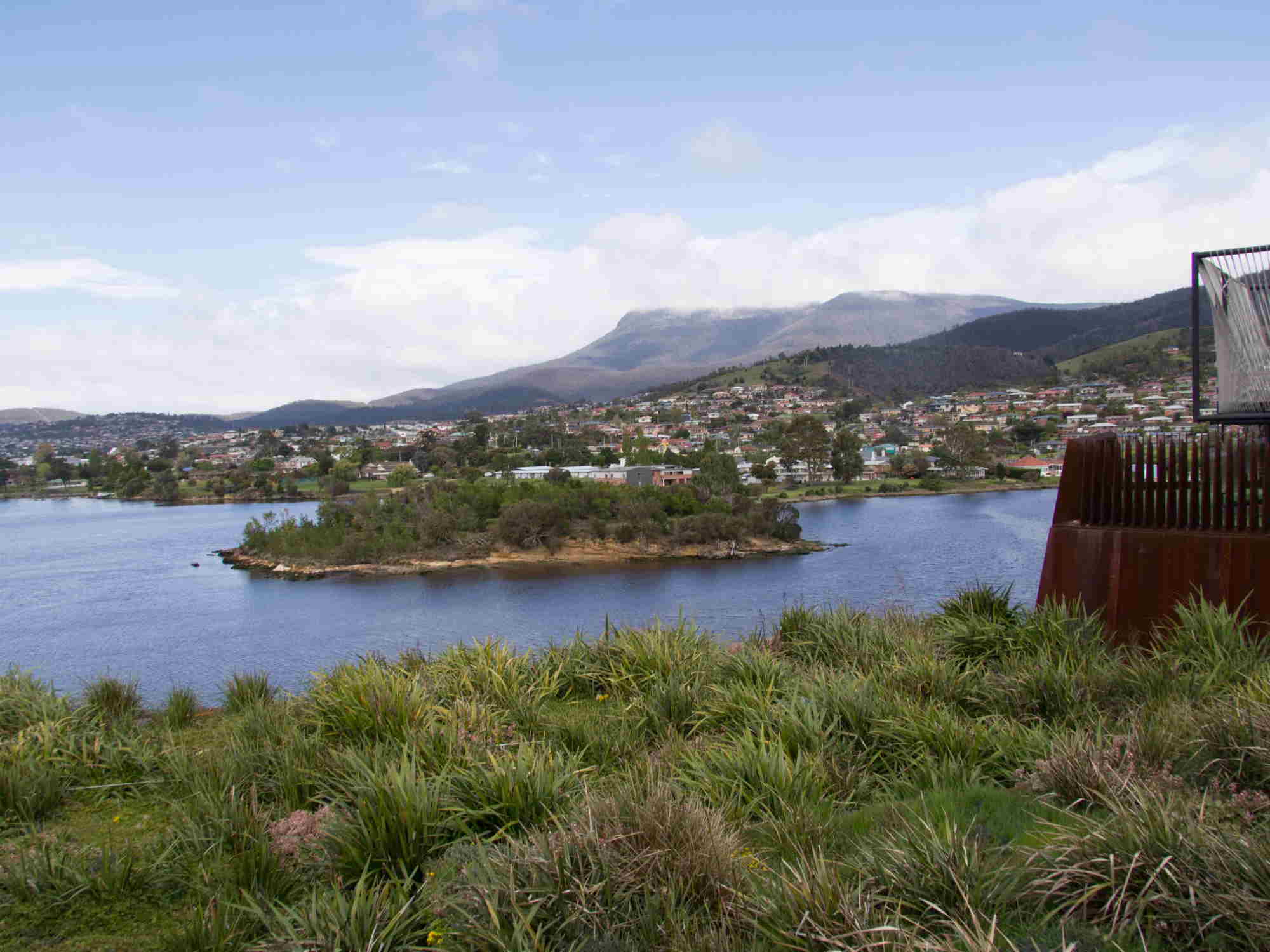 The picturesque Hobart.
Das malerische Hobart.
From the hostel in Hobart Celine joined us until Melbourne.
Vom Hostel in Melbourne aus kam dann Celine mit uns bis Melbourne.
I really love this giant farn!
Ich liebe diesen risen Farn!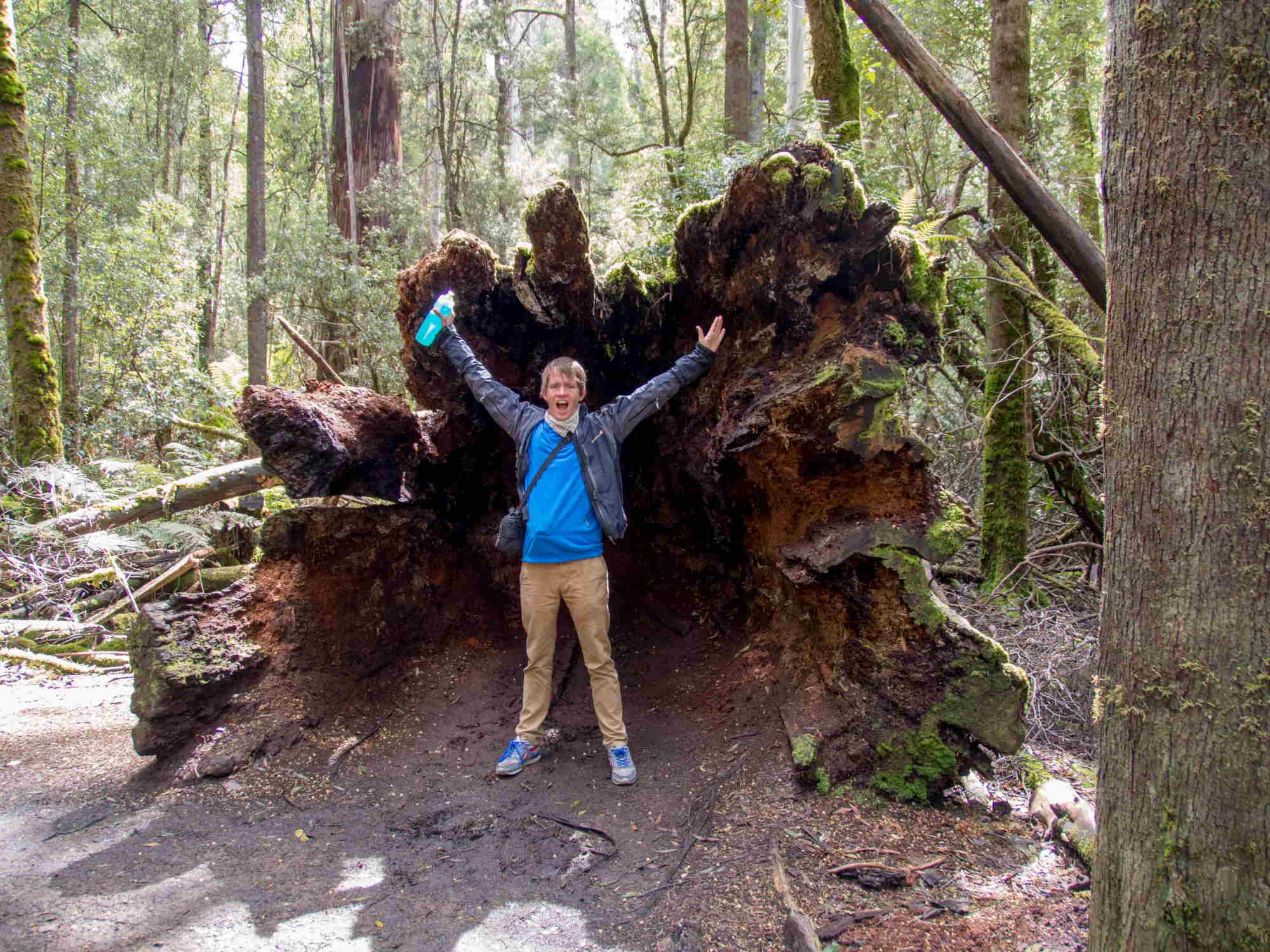 Giant trees. The second biggest in the world.
Riesenbäume. Die zweitgrößten der Welt.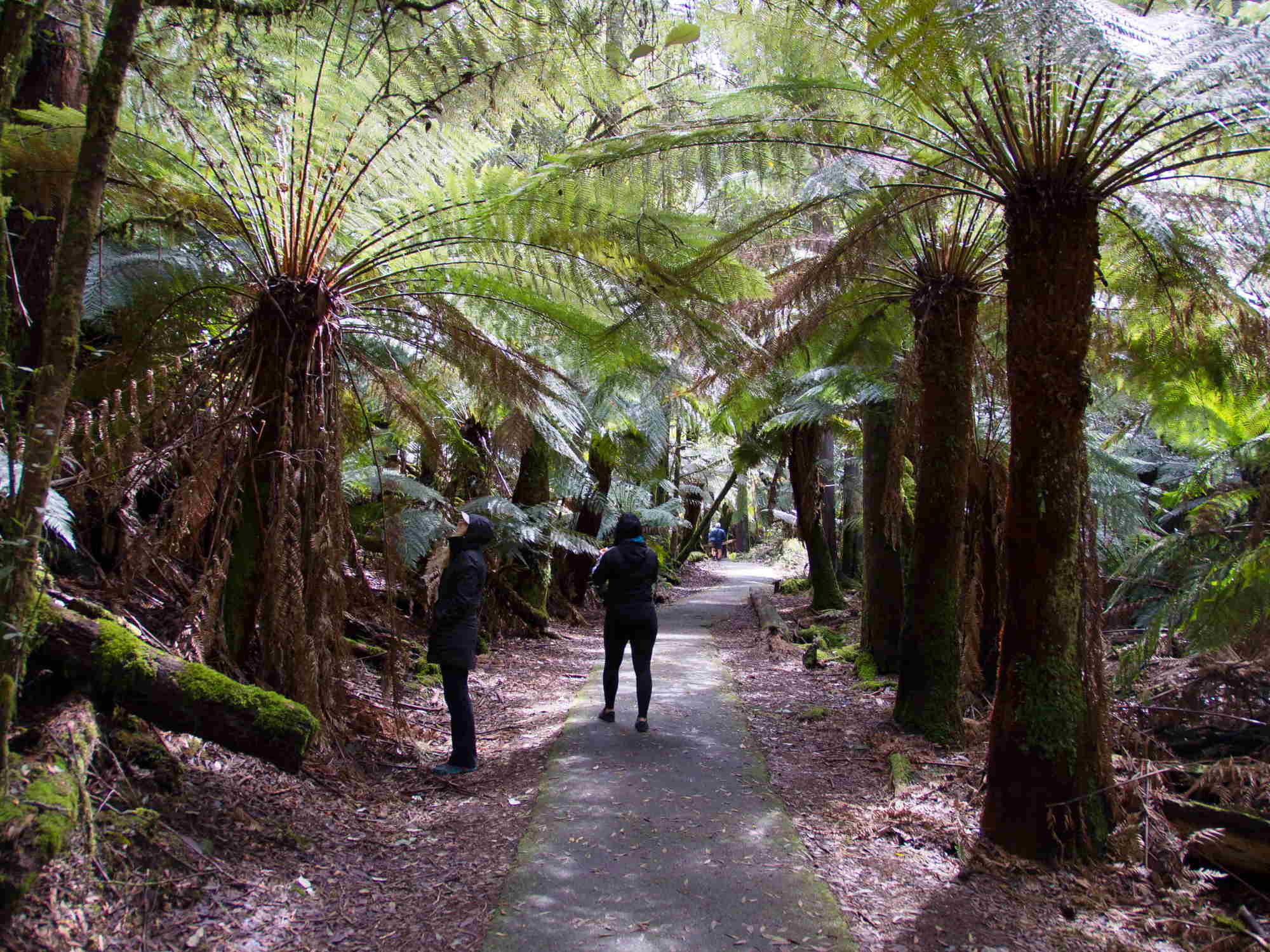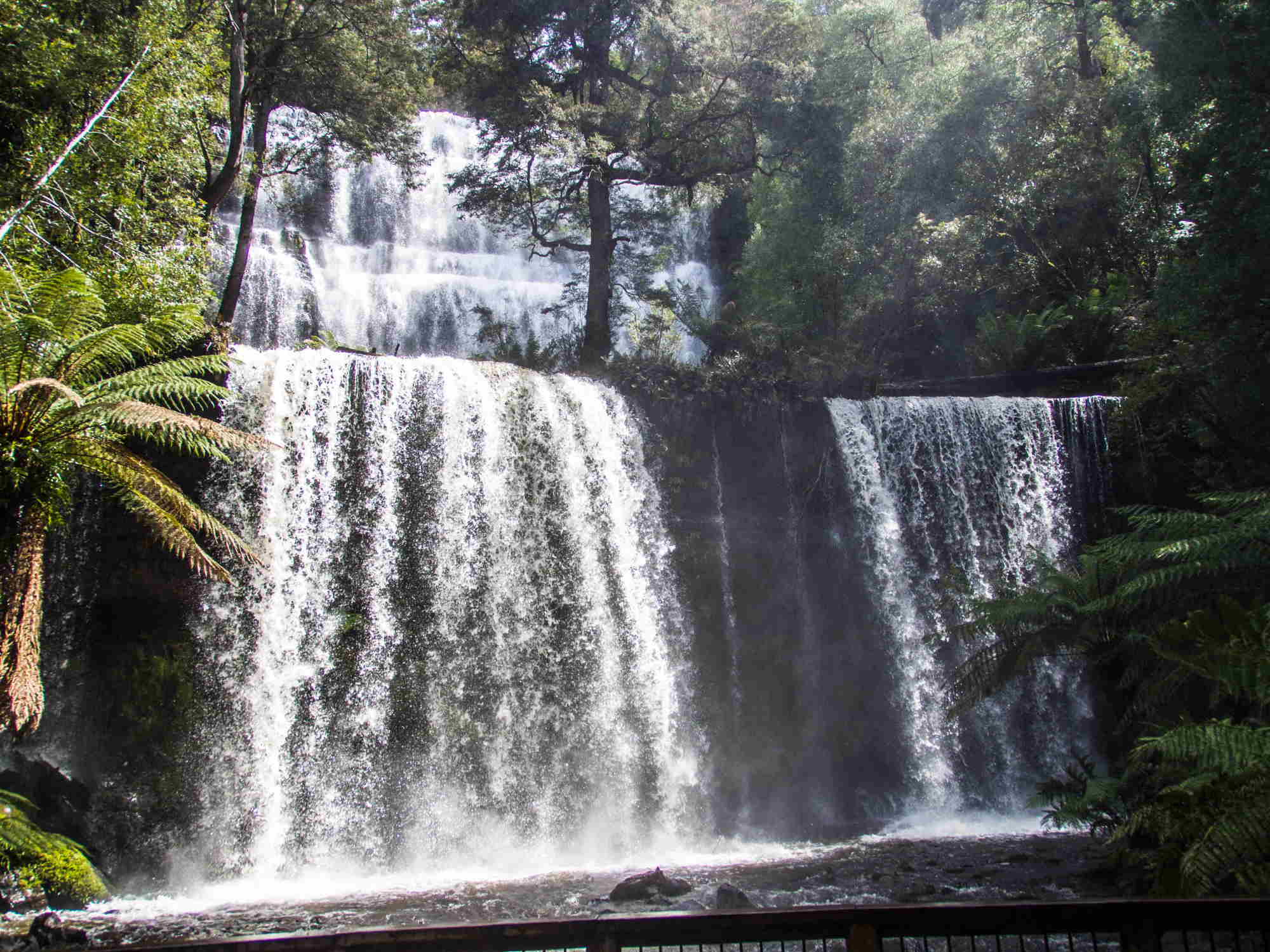 Russle falls.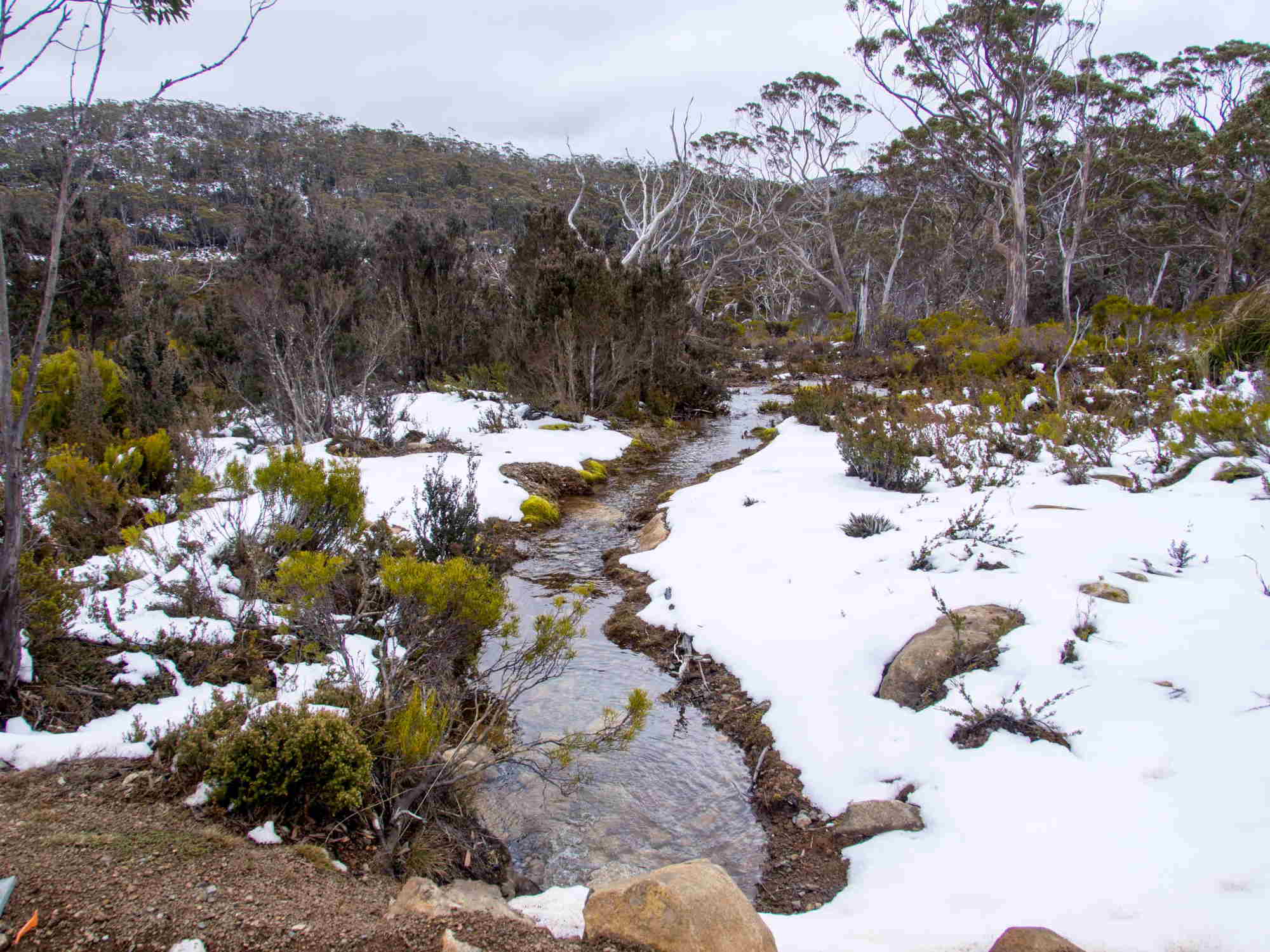 And again the vegetation changed completley.
Und wieder ein komplett andere Vegetation.
:P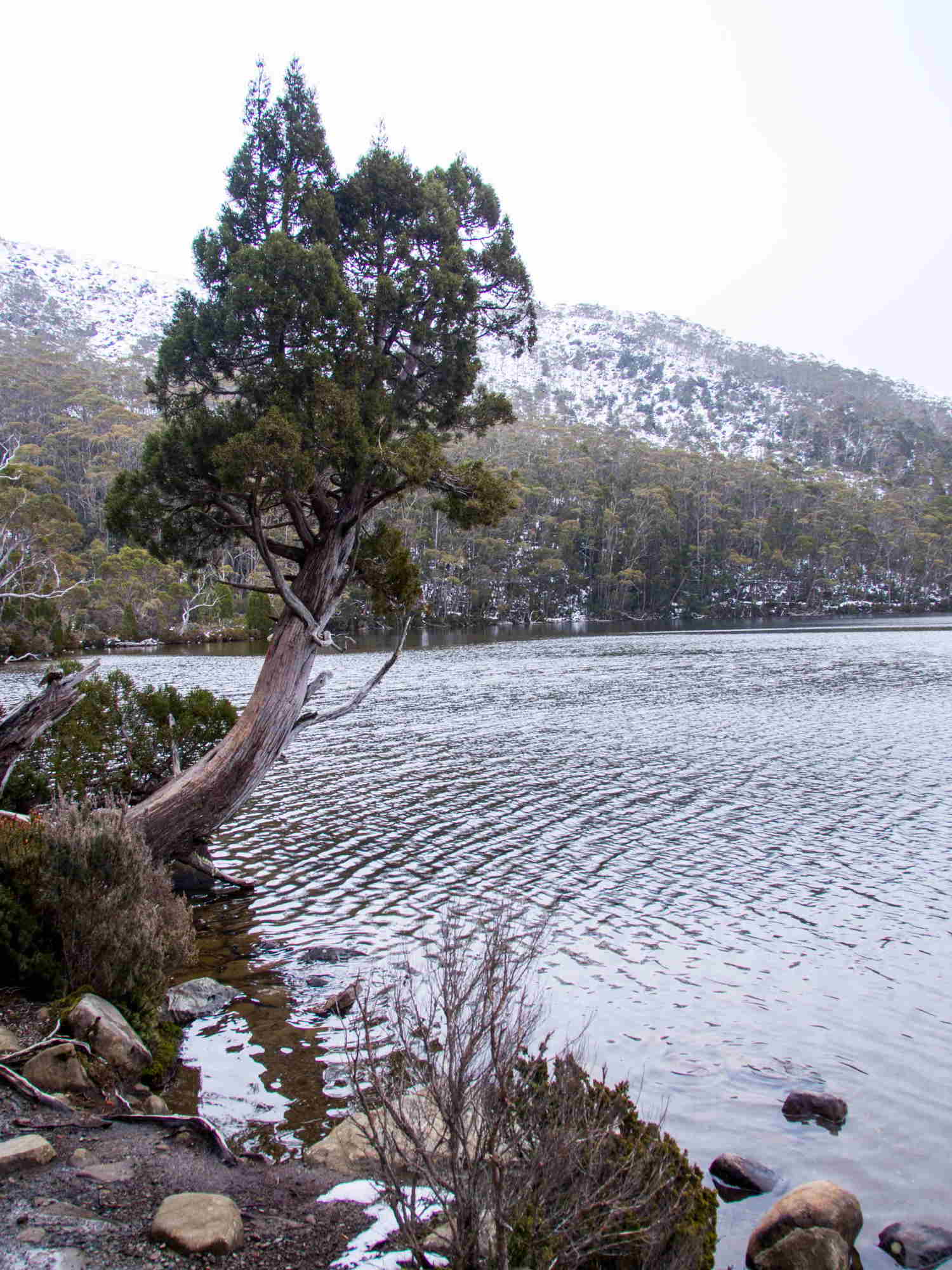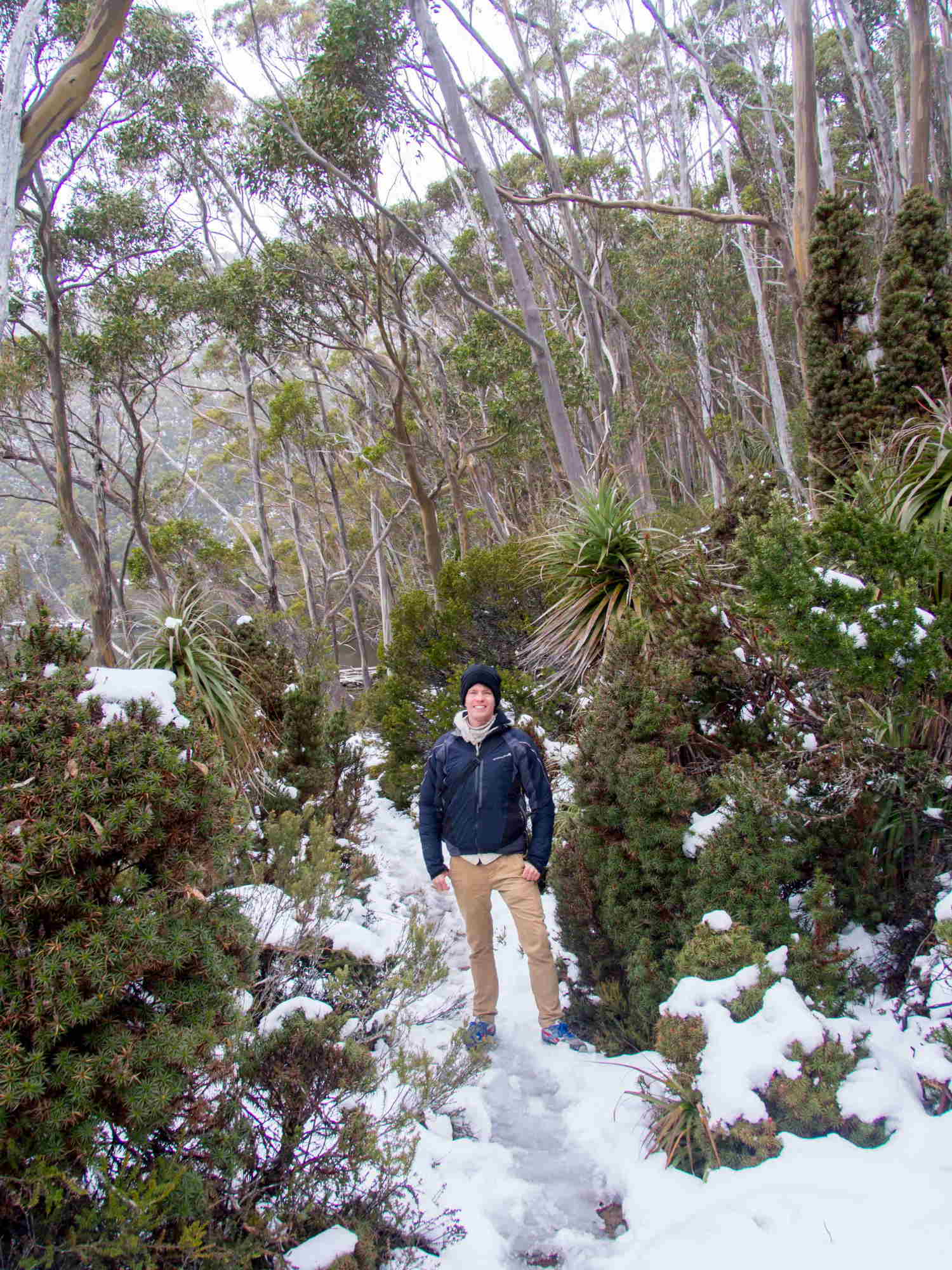 The nice thing when you travel with a van is - you have everything with you. :)
Das schöne am Reisen mit einem Van ist - man hat alles dabei. :)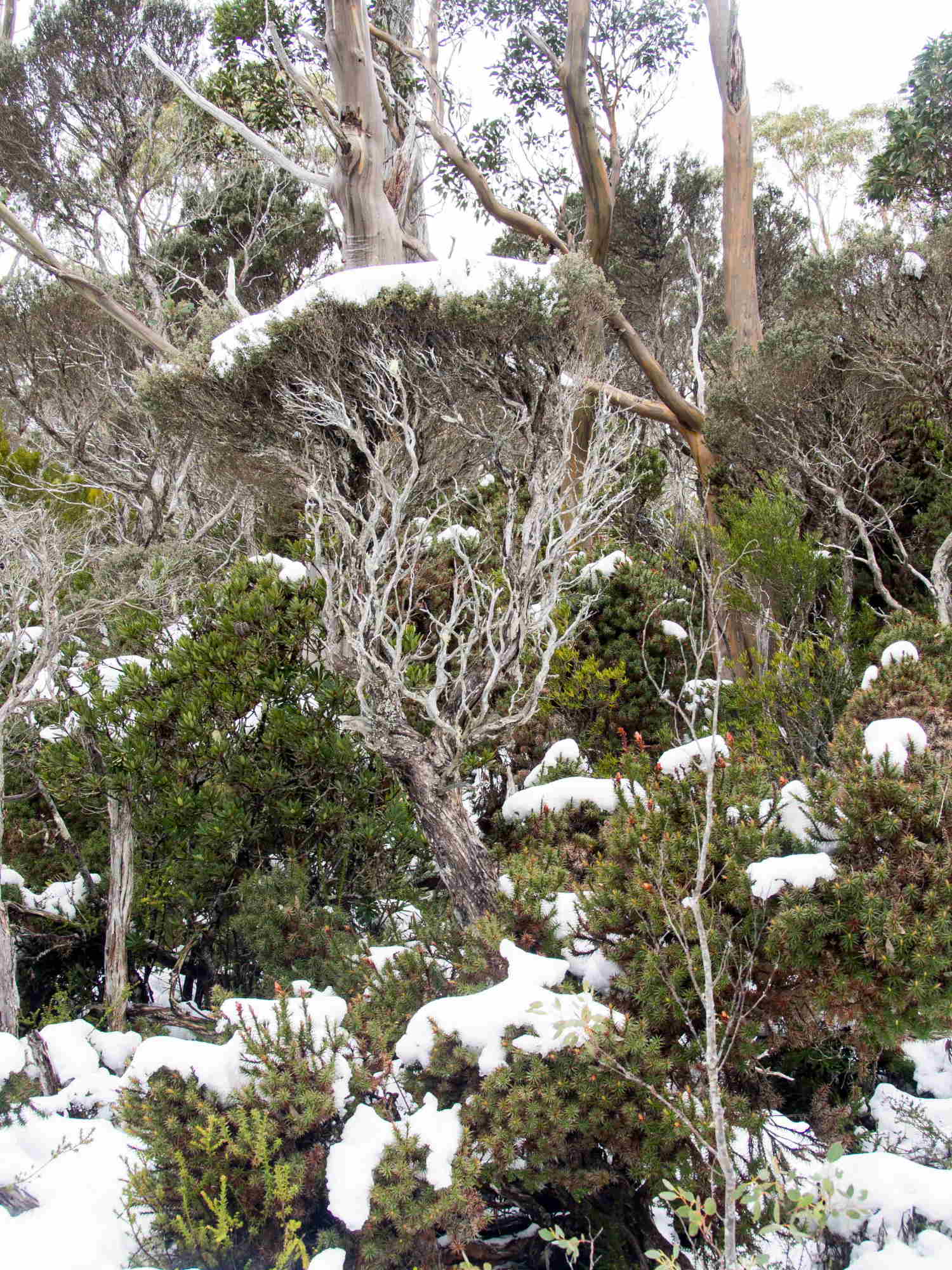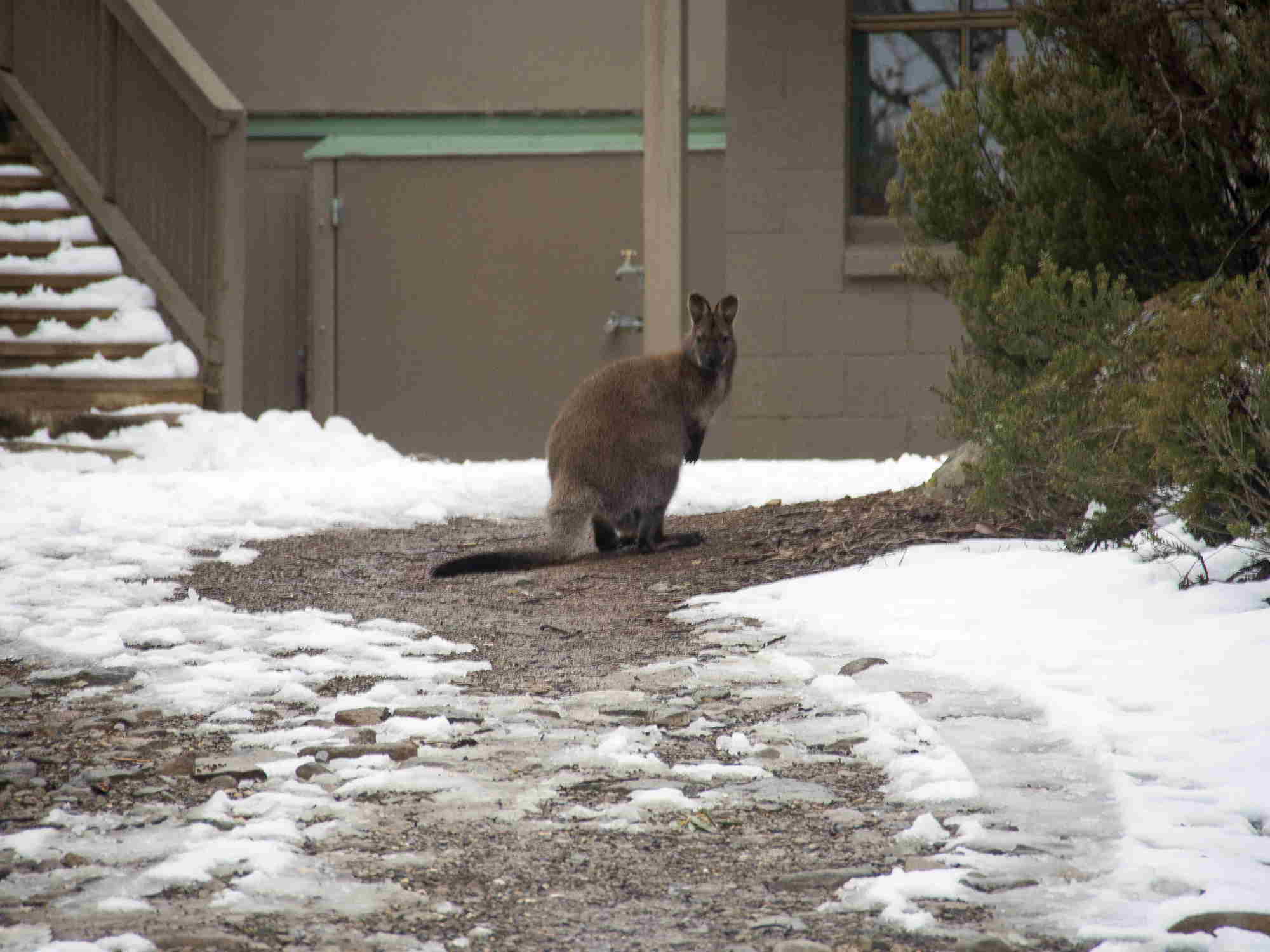 A snow-wallabie. :)
Ein Schnee-Wallabie. :)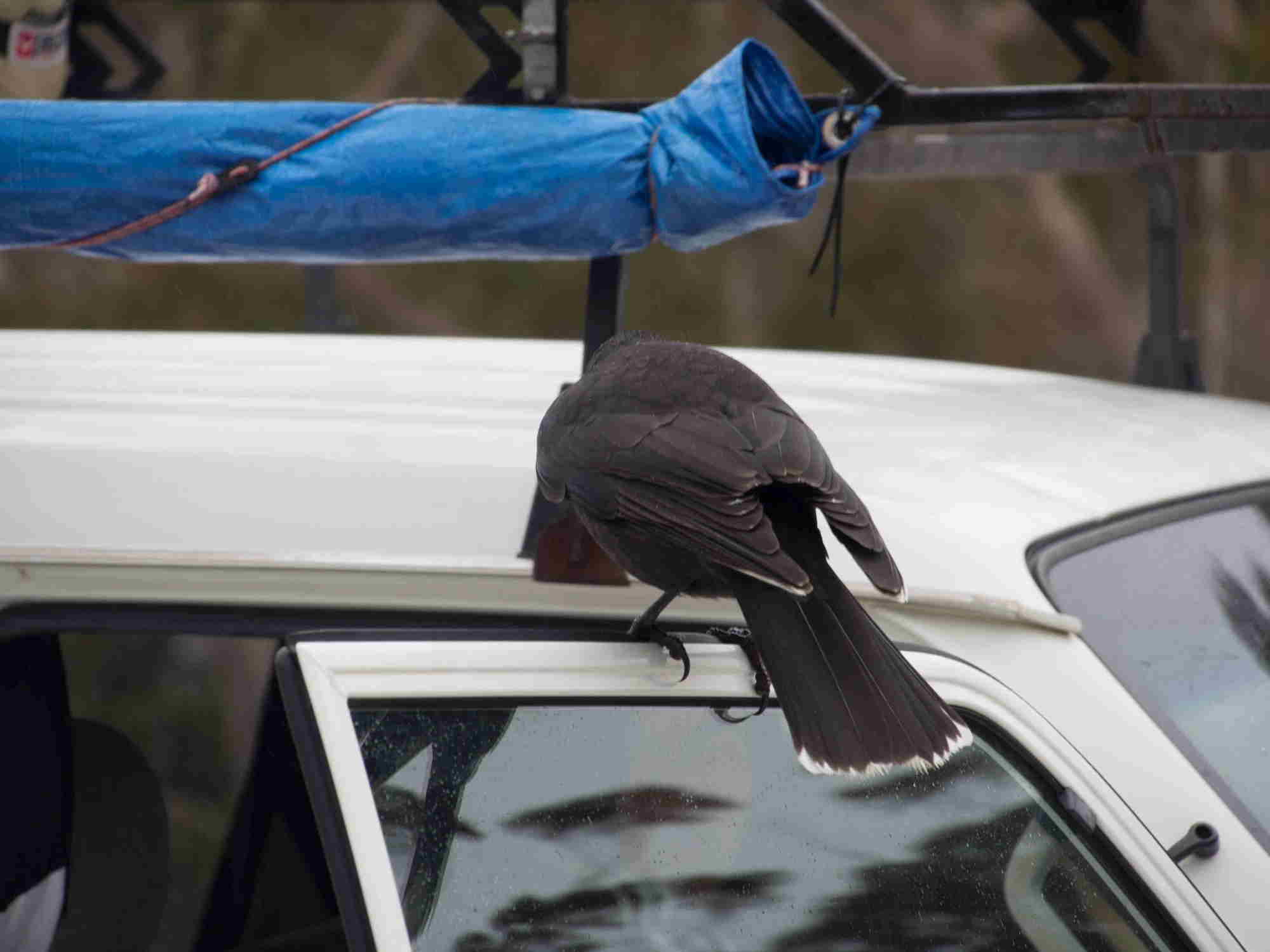 Yeah the girls screamed for quiet a while in the car, but the crow wasn't impressed. :P
Ja die Mädels im Auto schiehen eine ganze weile, dass ließ den Raben aber unbeeindruckt. :P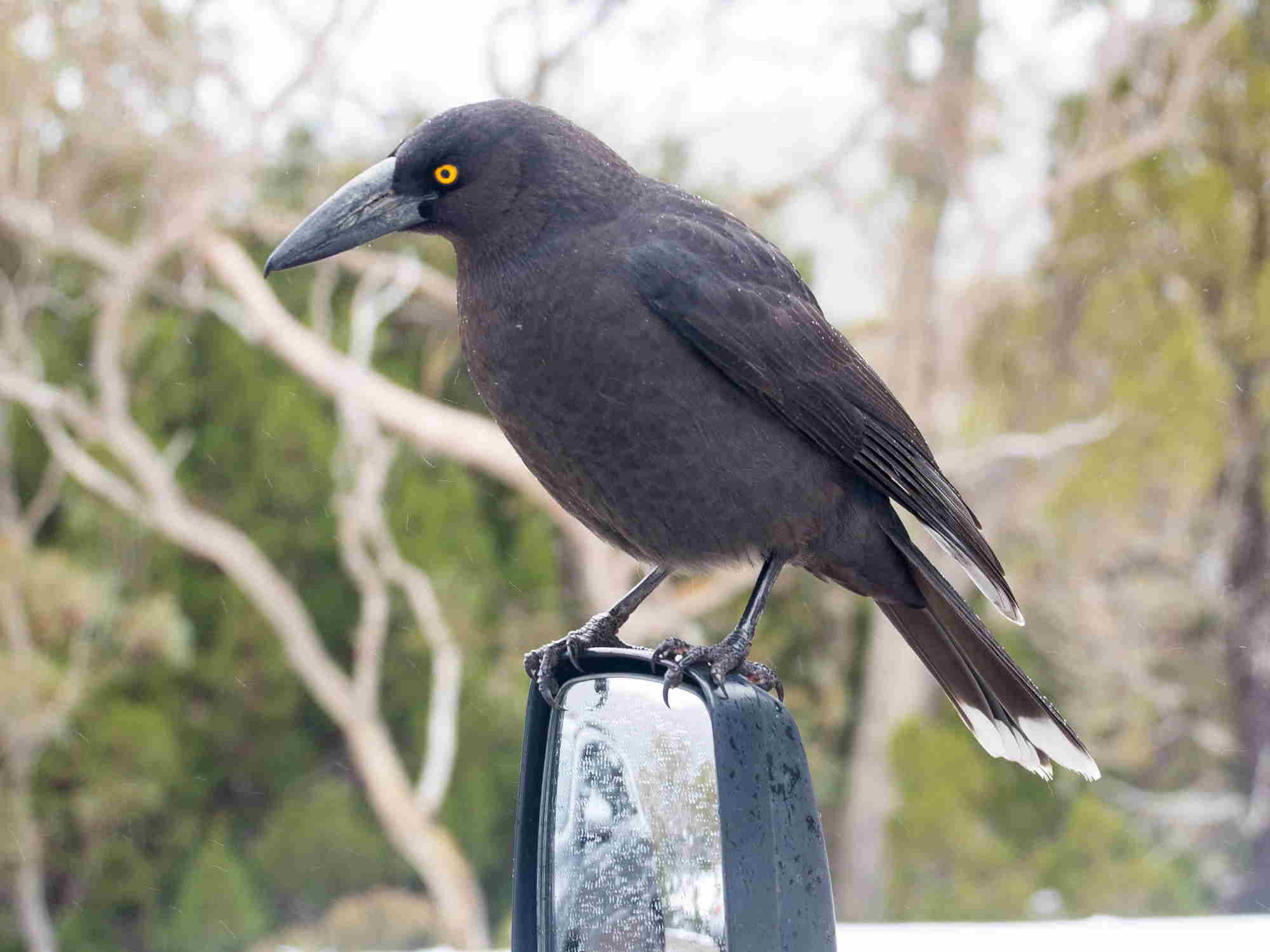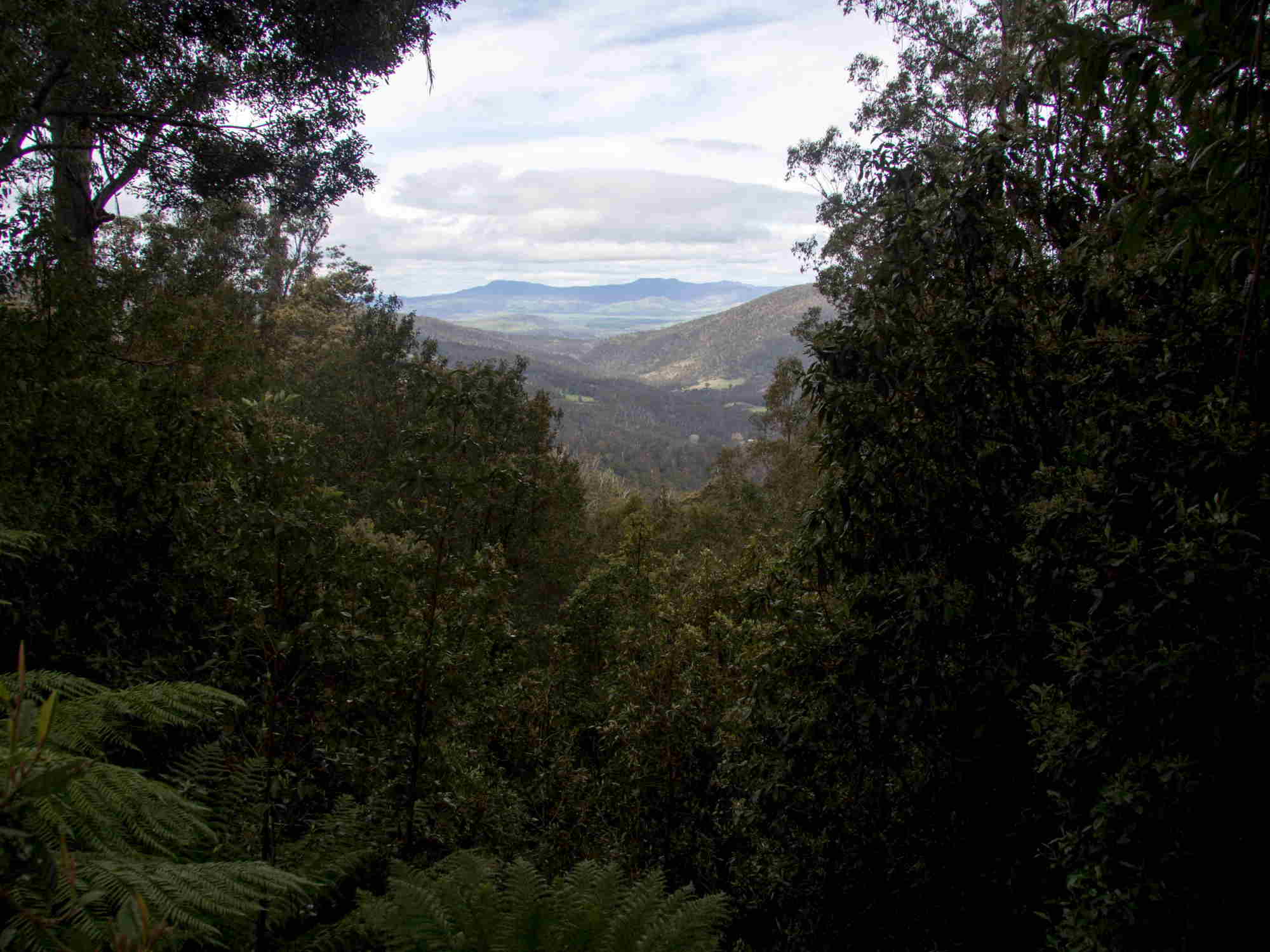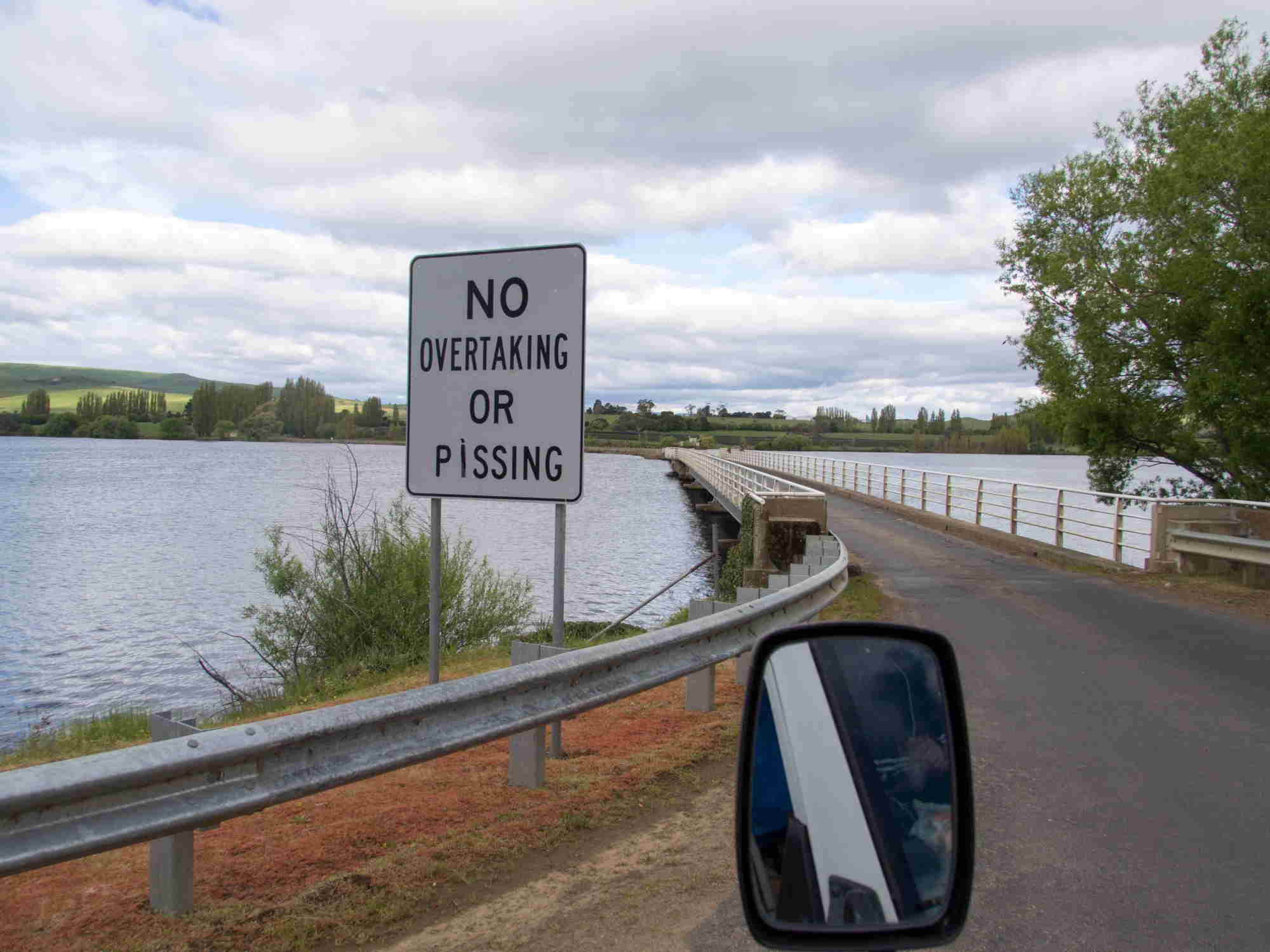 !!!
WE FOUND IT! The field where the Teletubbies live!
WIR HABEN ES GEFUNDEN! Die Wiese auf der die Teletubbies leben!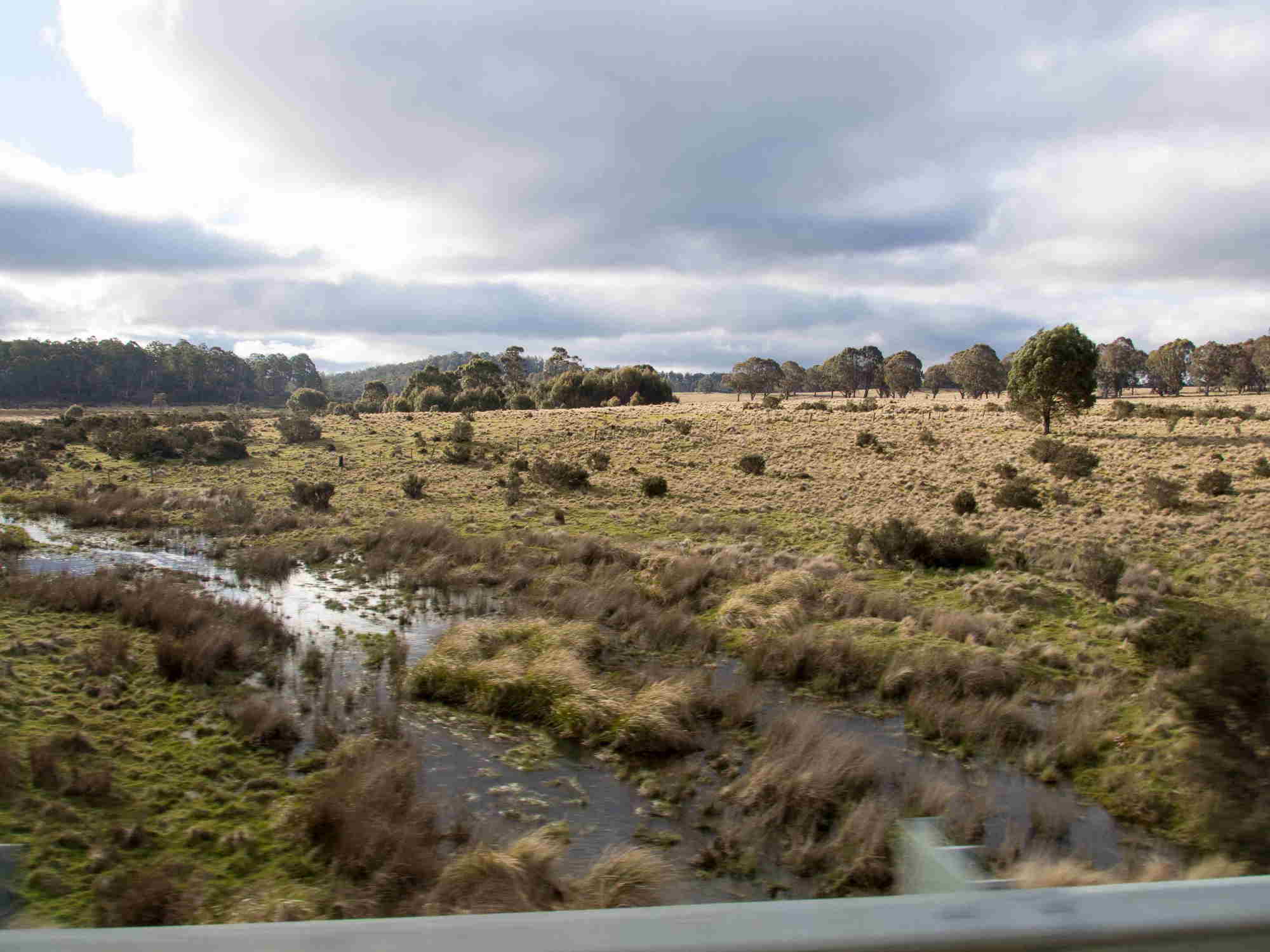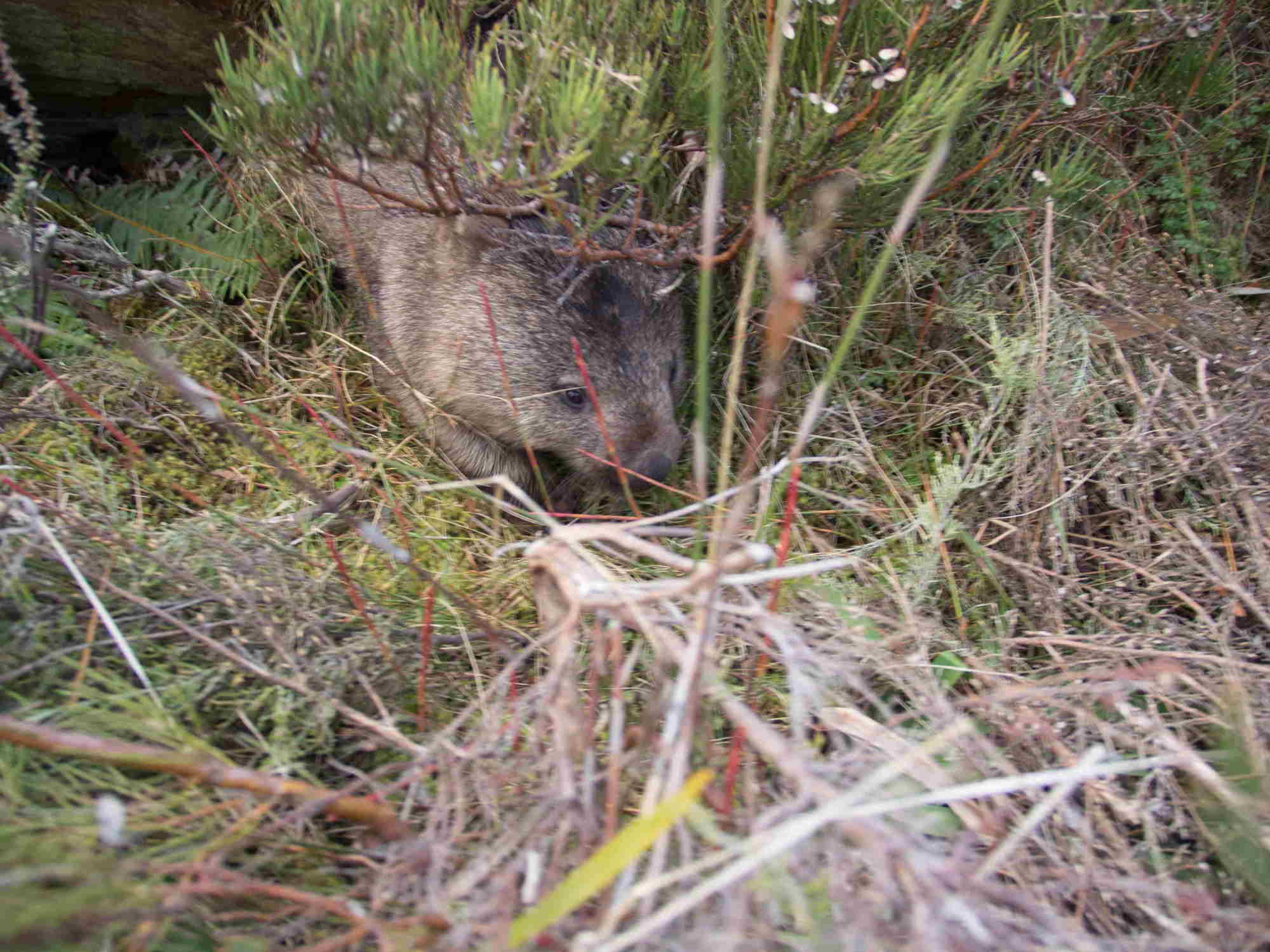 Saw my first wild Wombat! (you wouldn't think how quick those guys can run, if you run behind them :P )
Ich sah meinen ersten wilden Wombat! (ihr würdet nicht glauben wie schnell die Kerle rennen können, wenn sie verfolgt werden :P )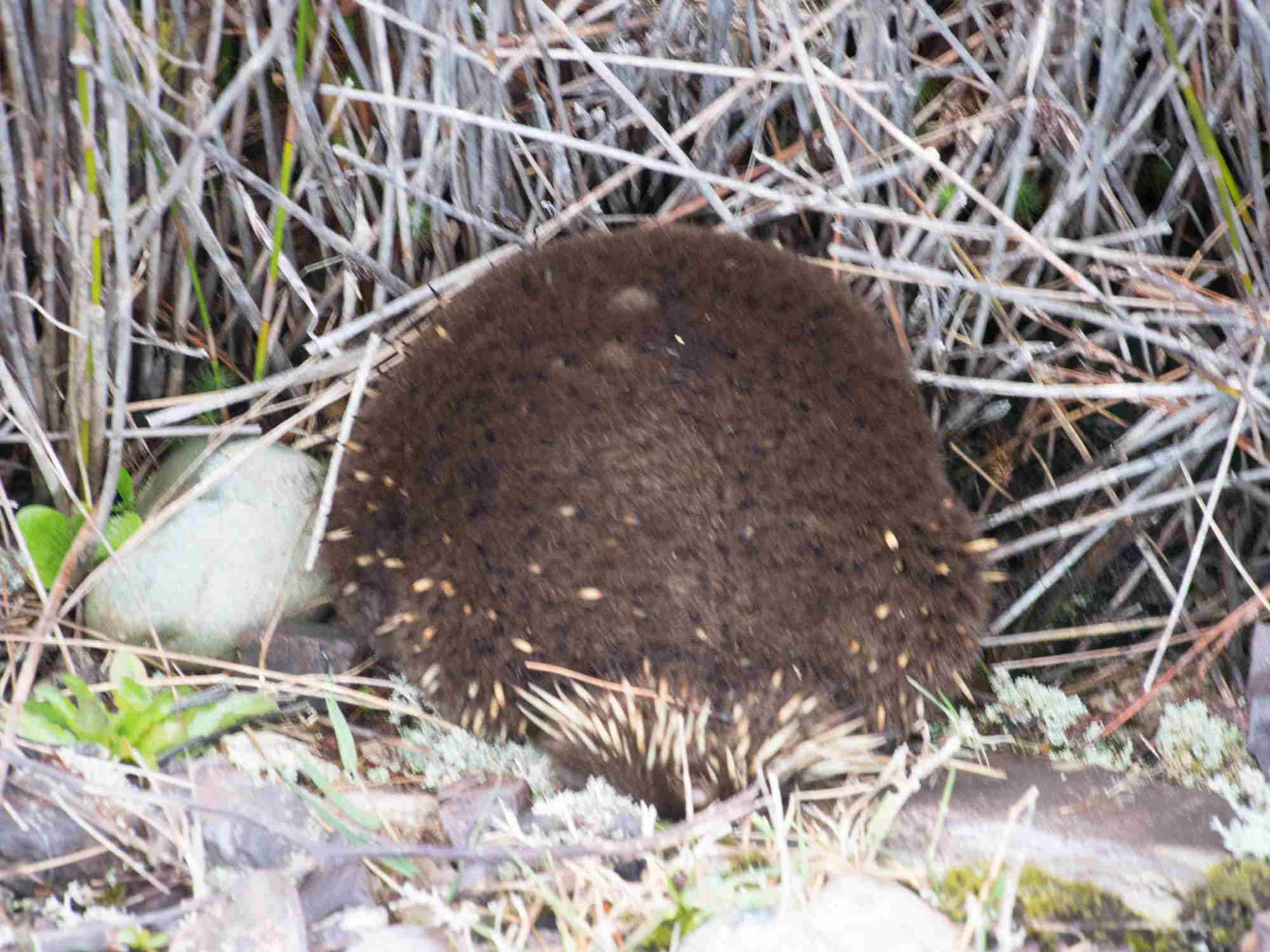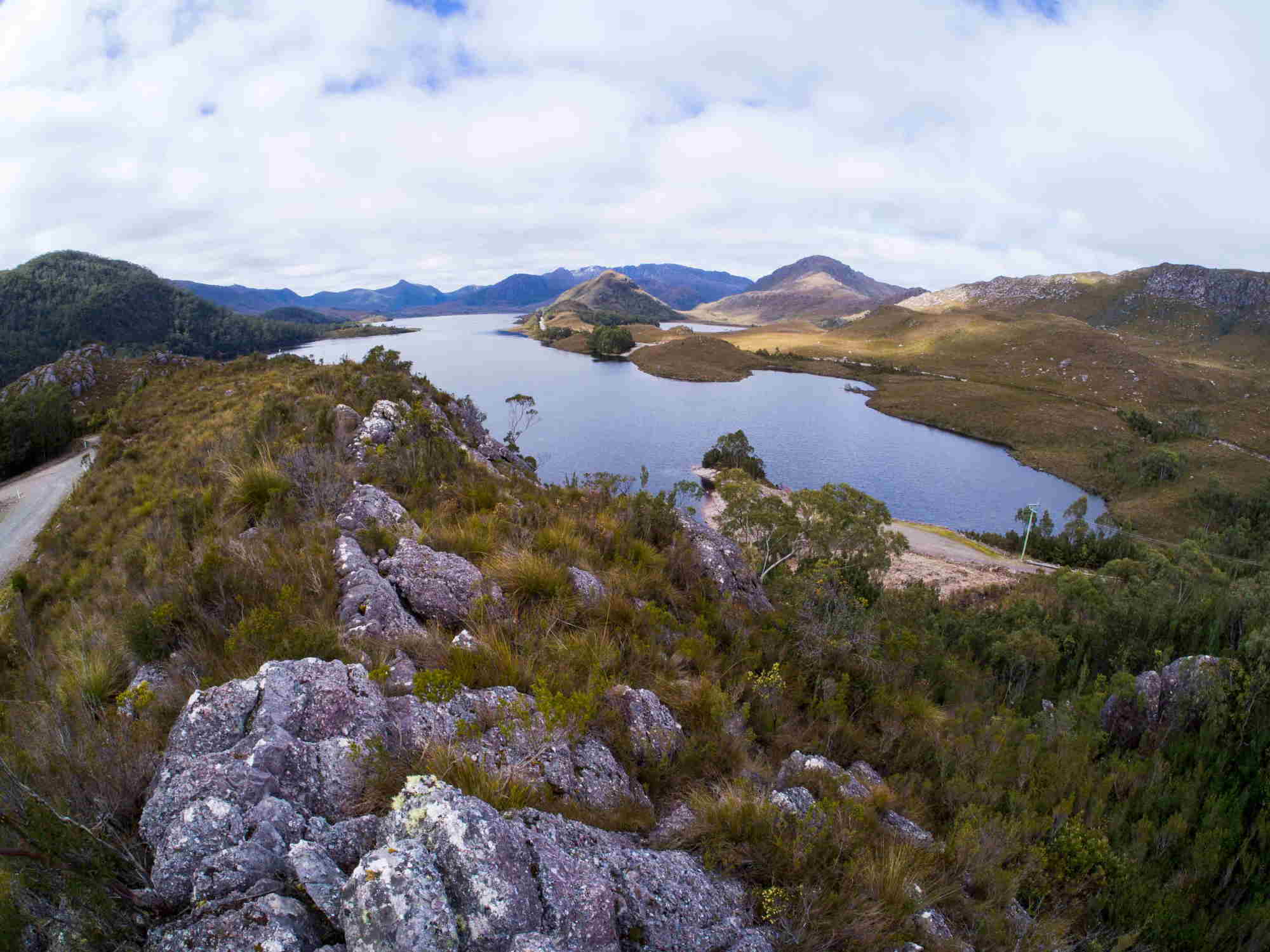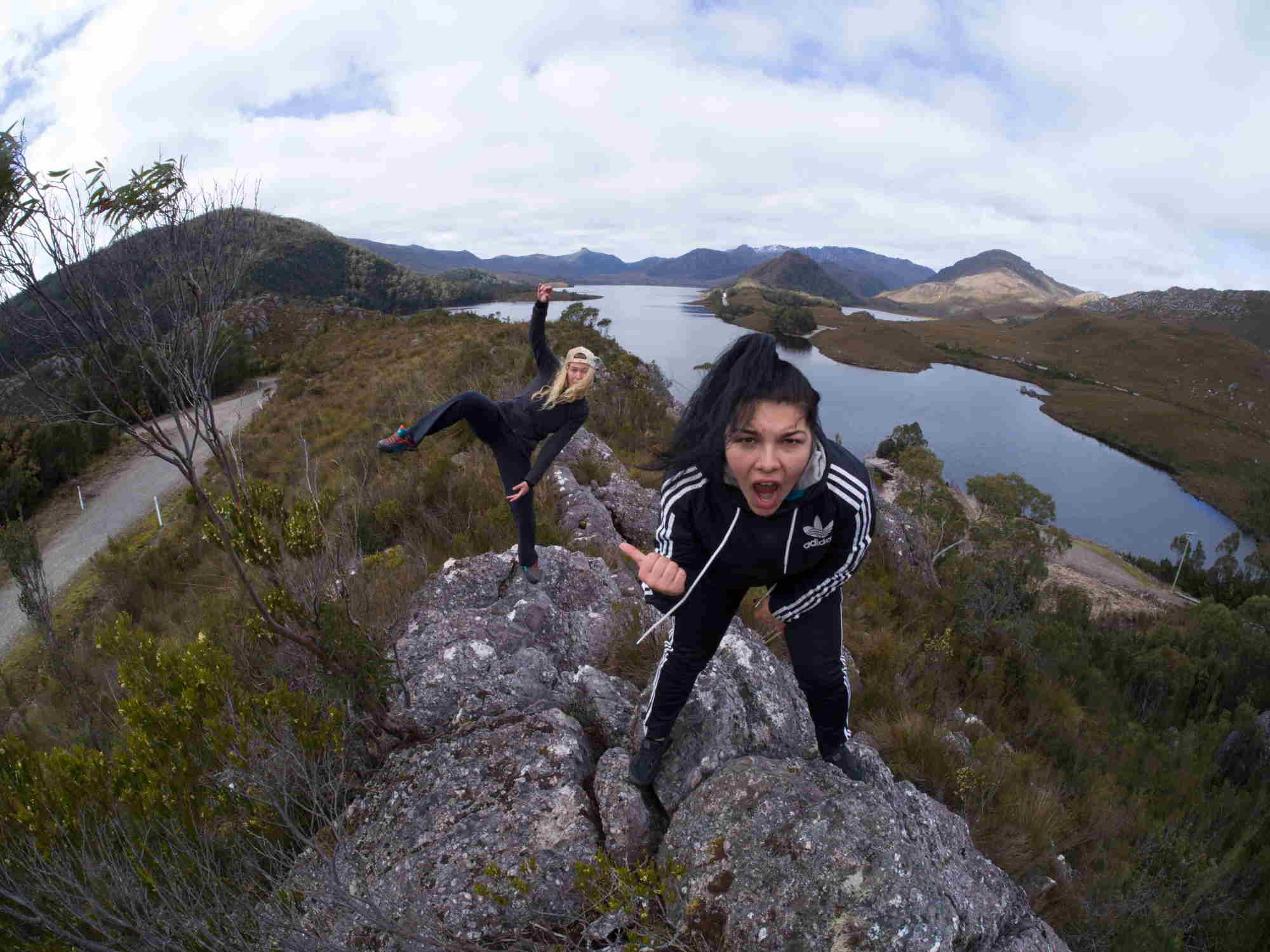 PARTY ON :P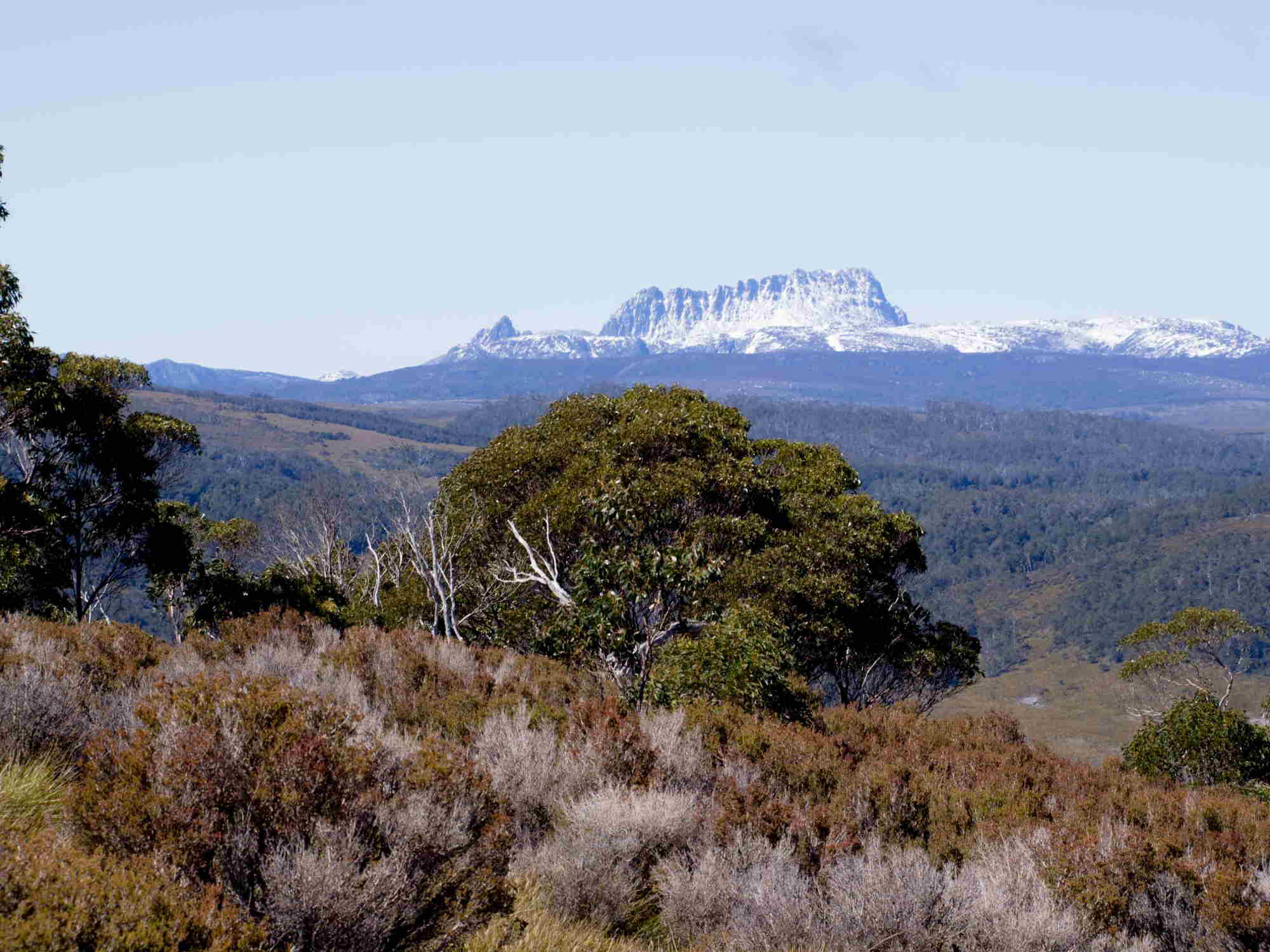 View point Craddle Mountain.
Aussichtspunkt Craddle Mountain.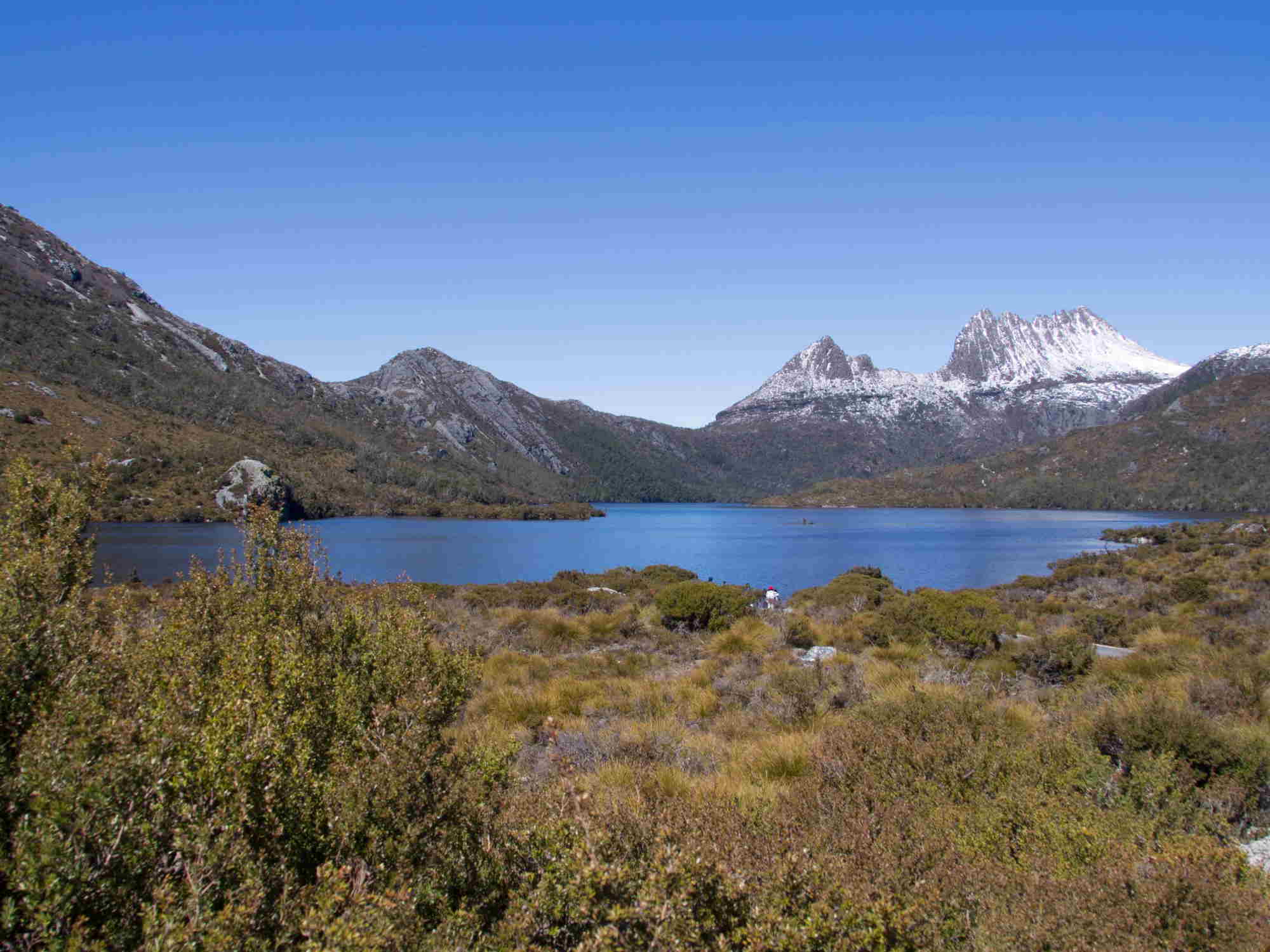 Nice idea of Celine to use the reflection of the water. :)
Schöne Idee von Celine die Reflektion im Wasser zu nutzen. :)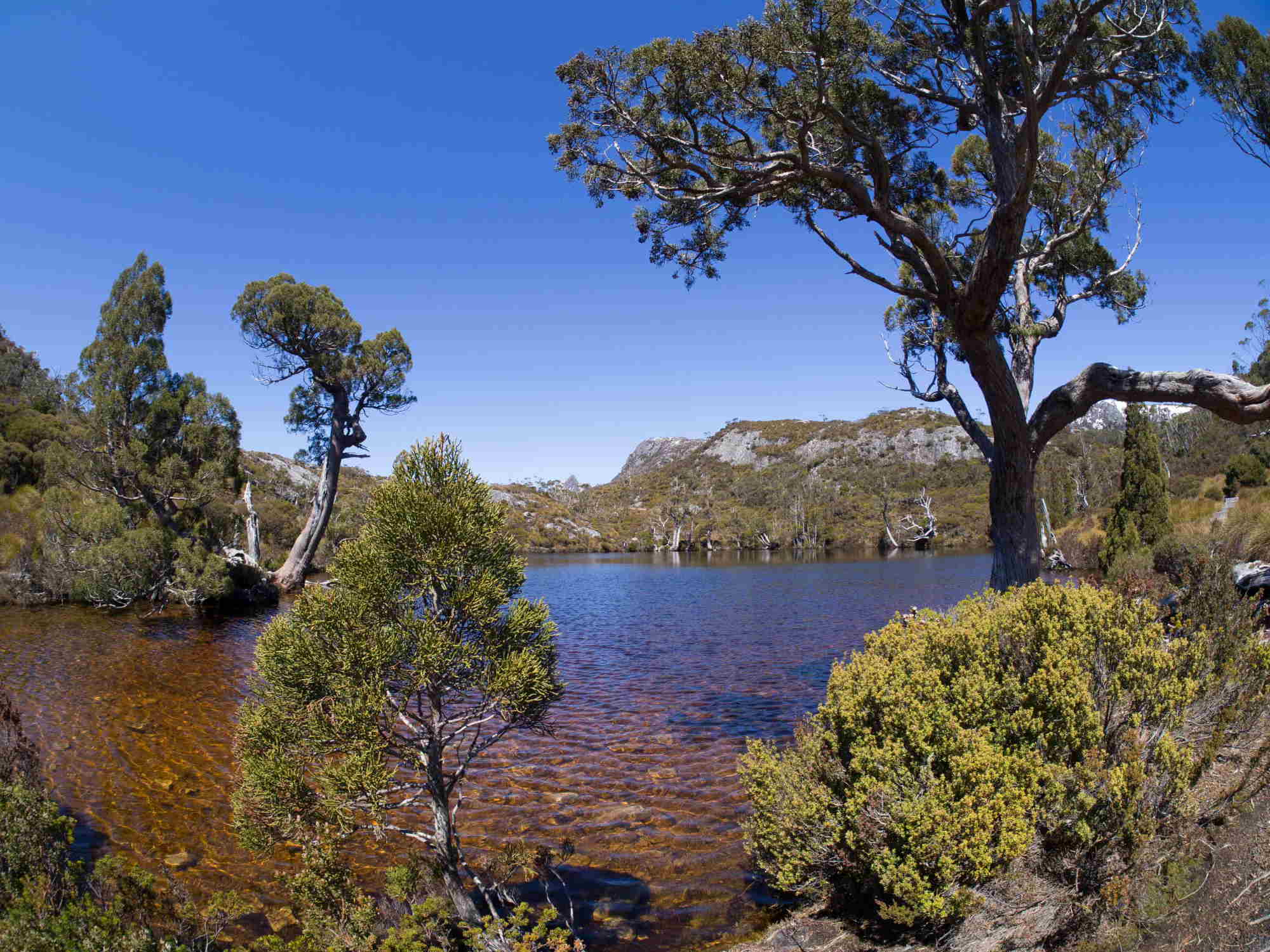 Stunning nature!
Beeindruckende Natur!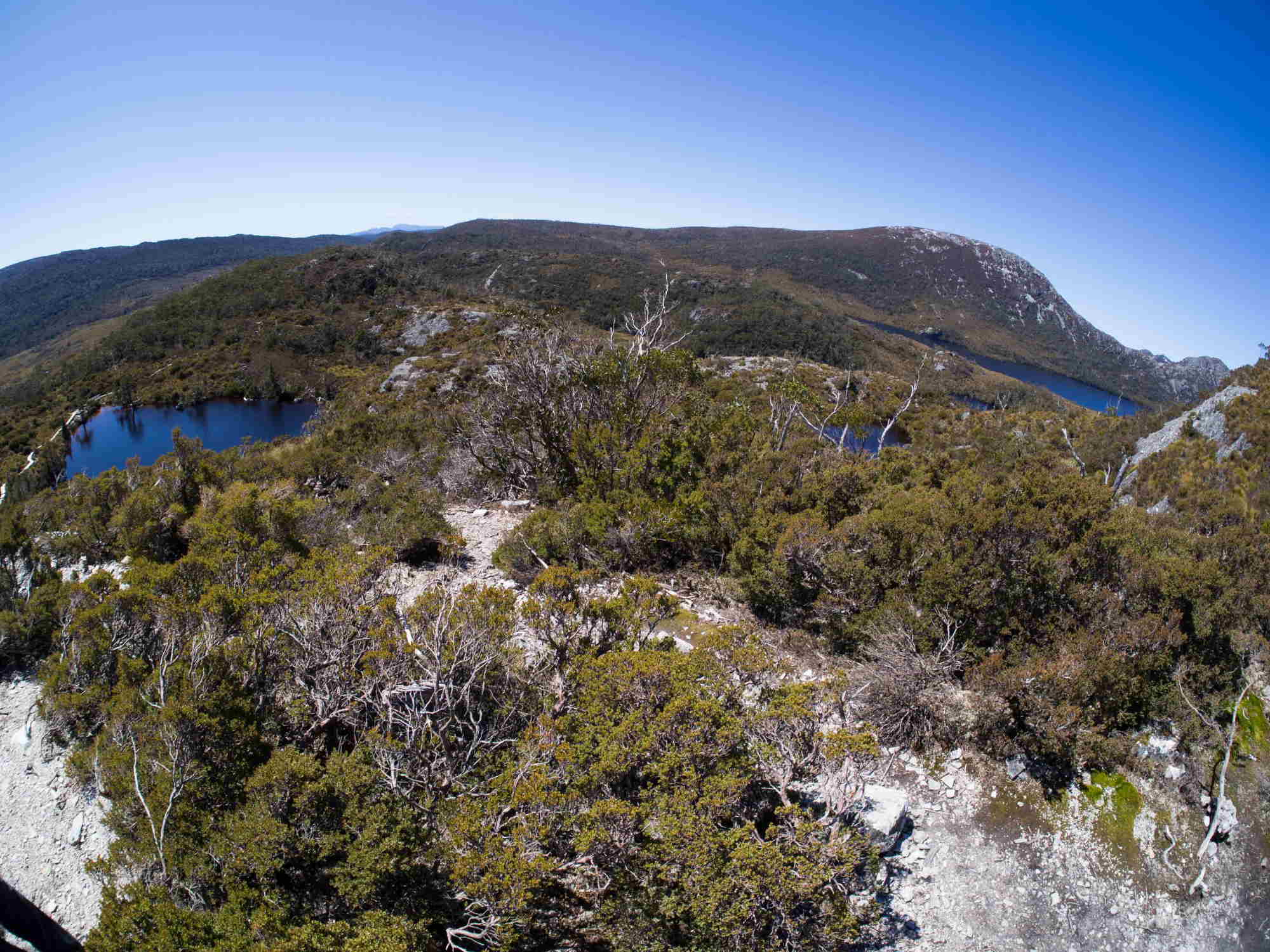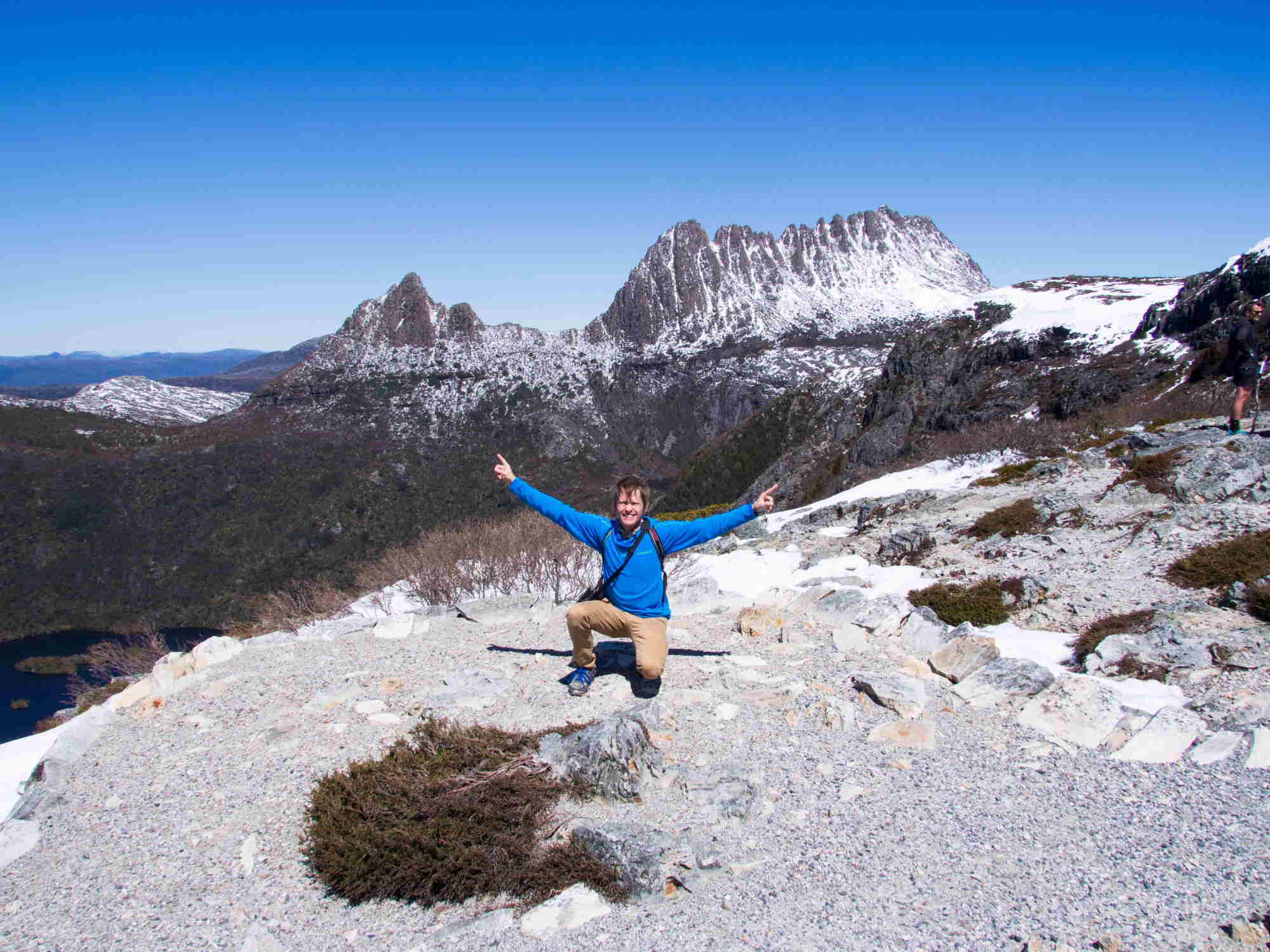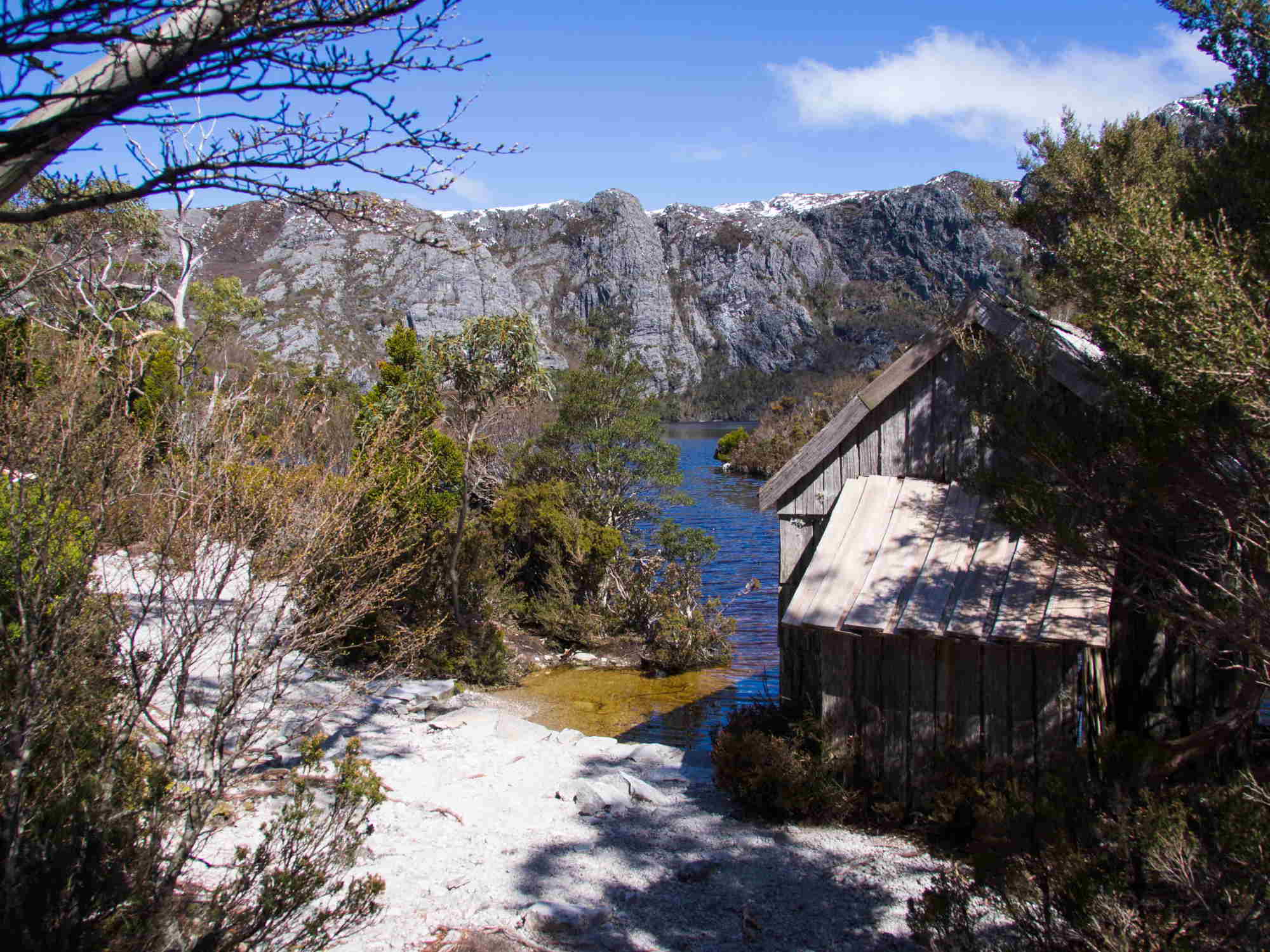 House at the lake. :)
Haus am See. :)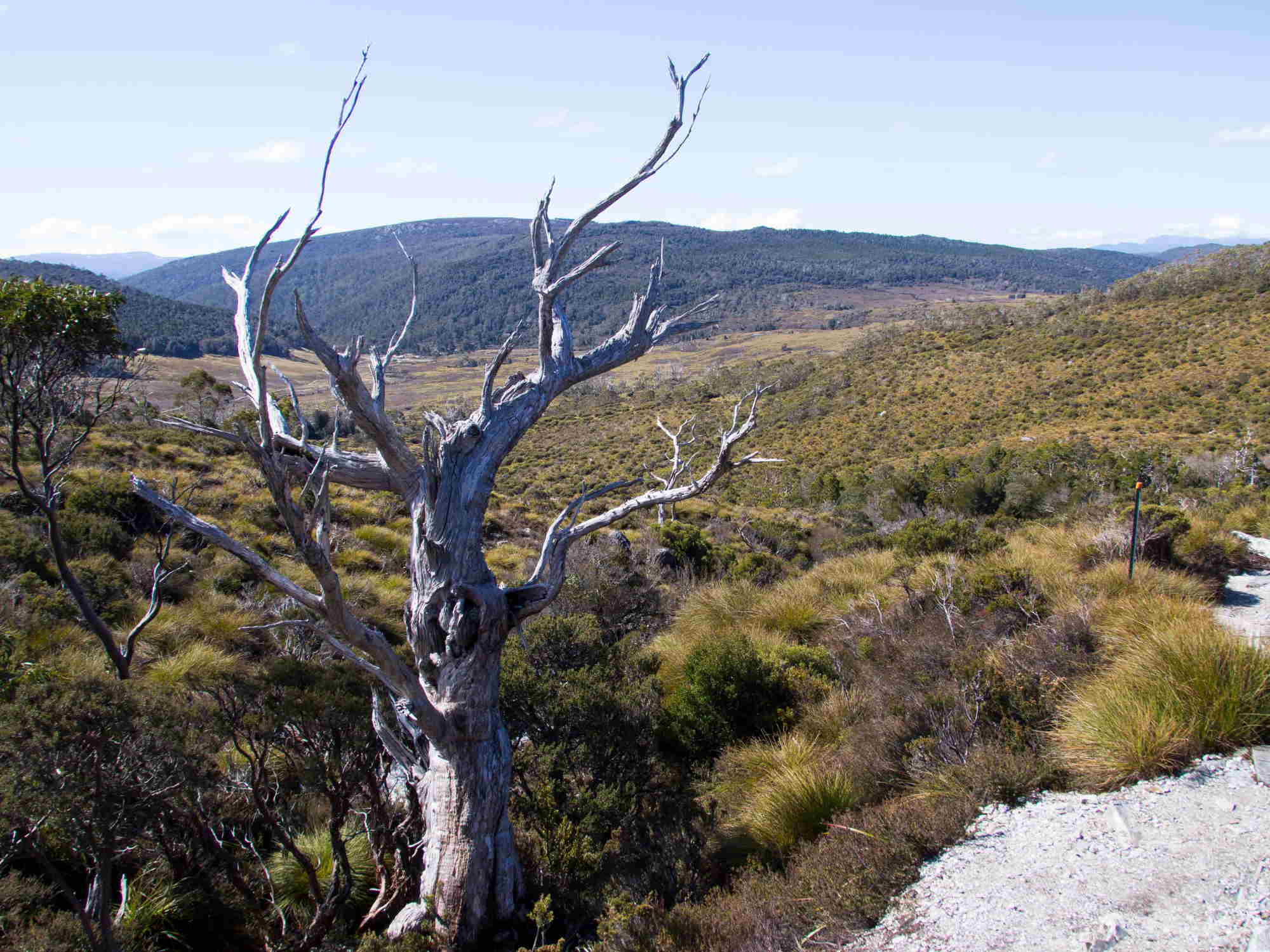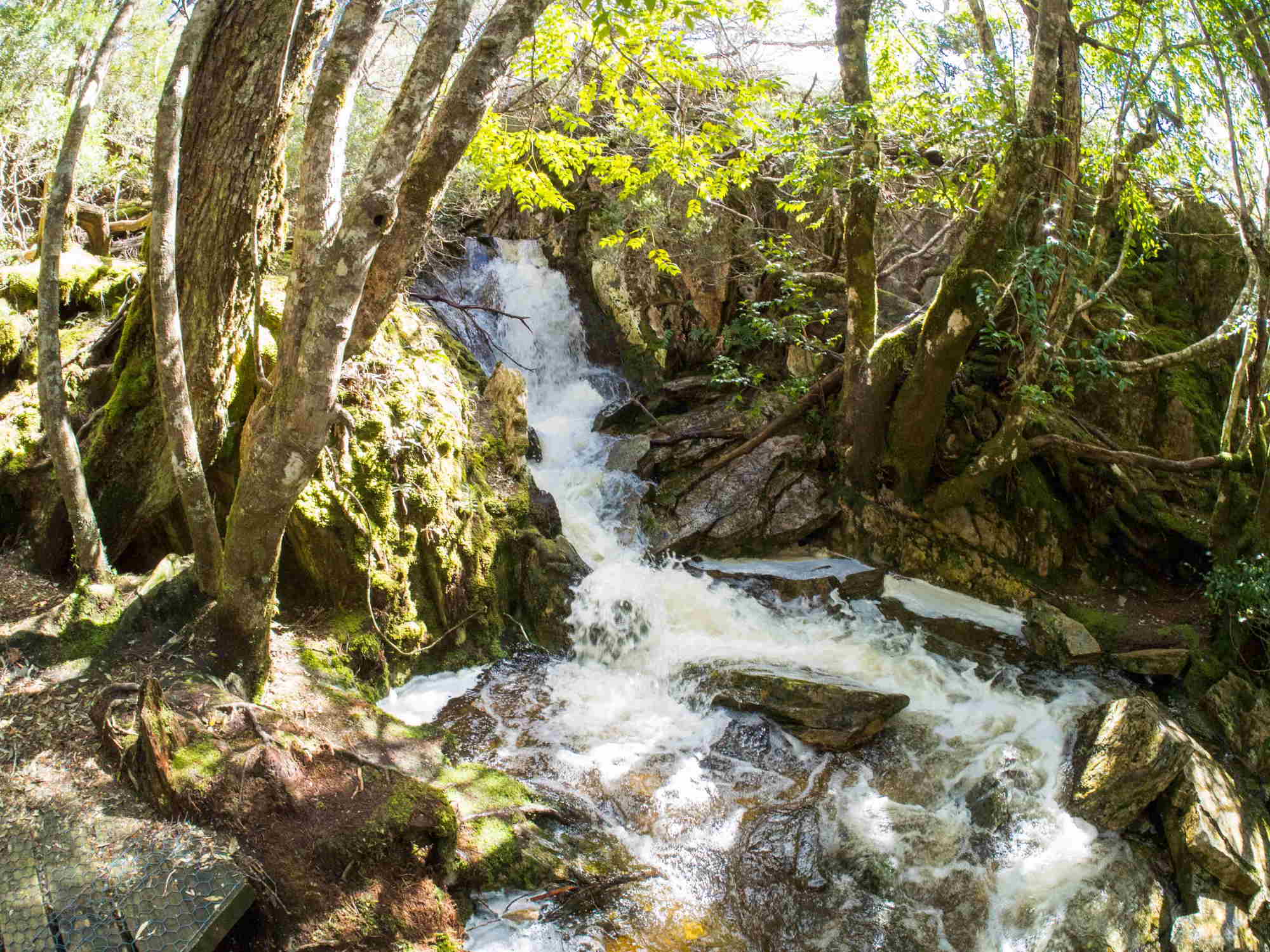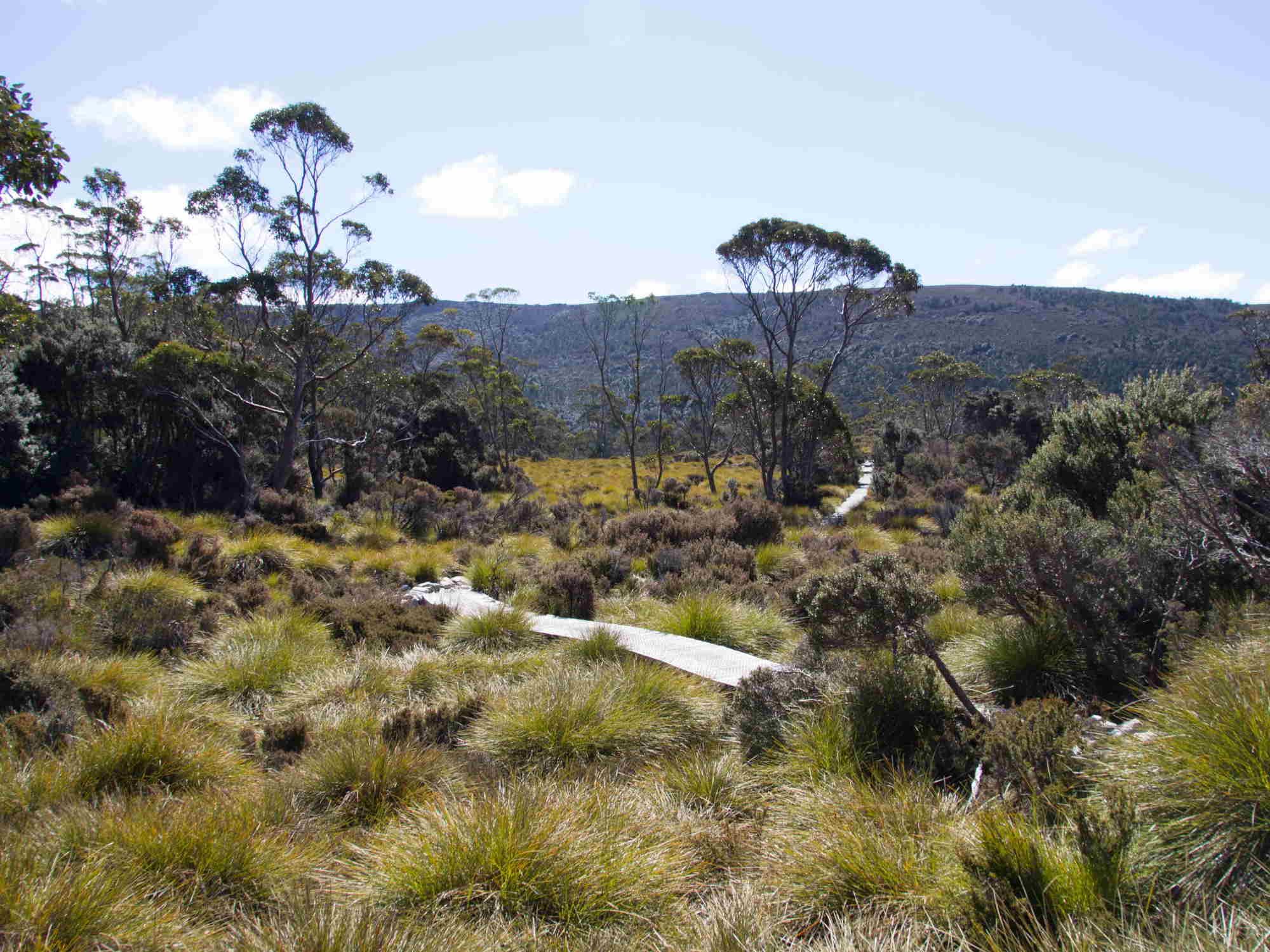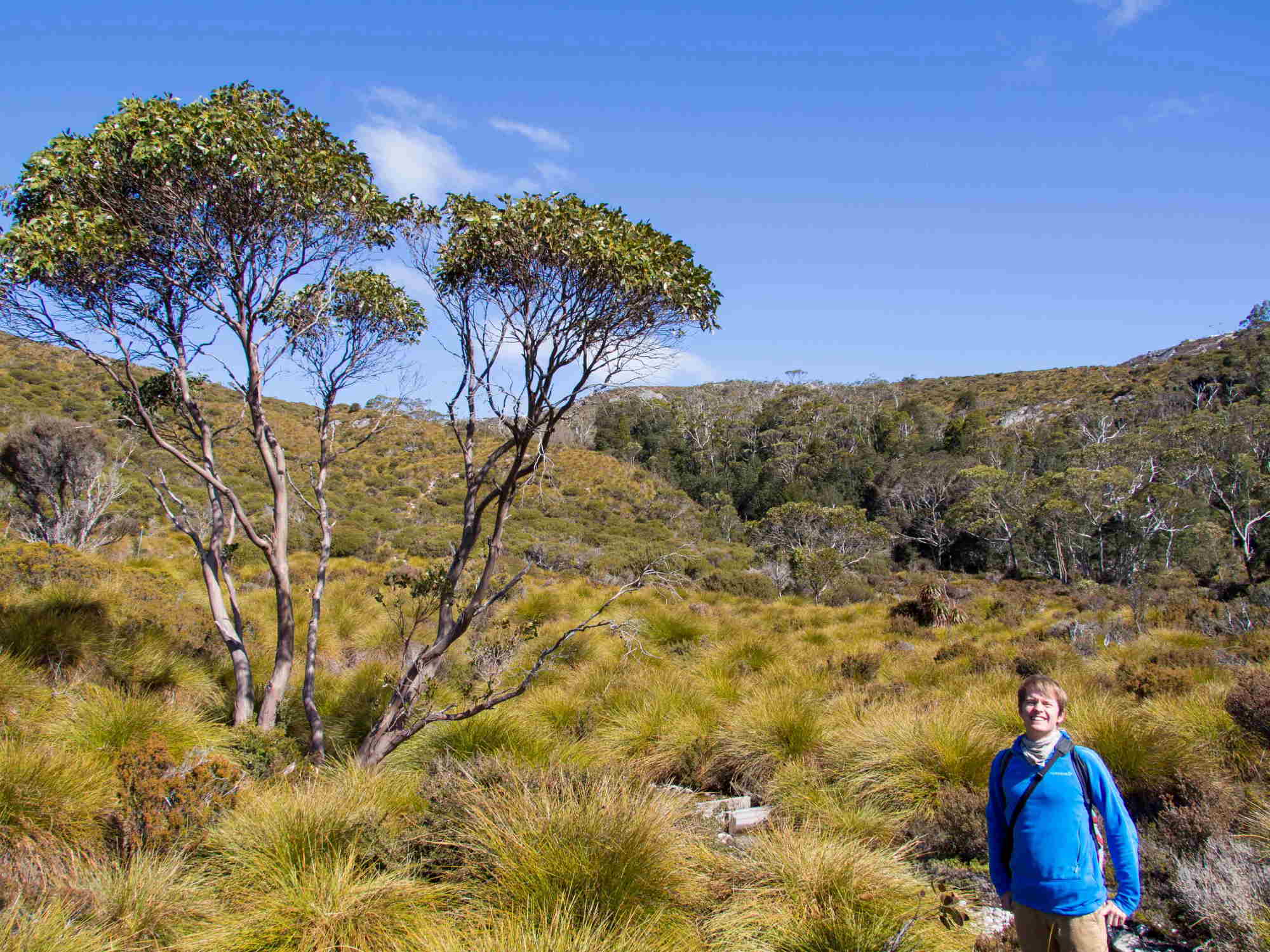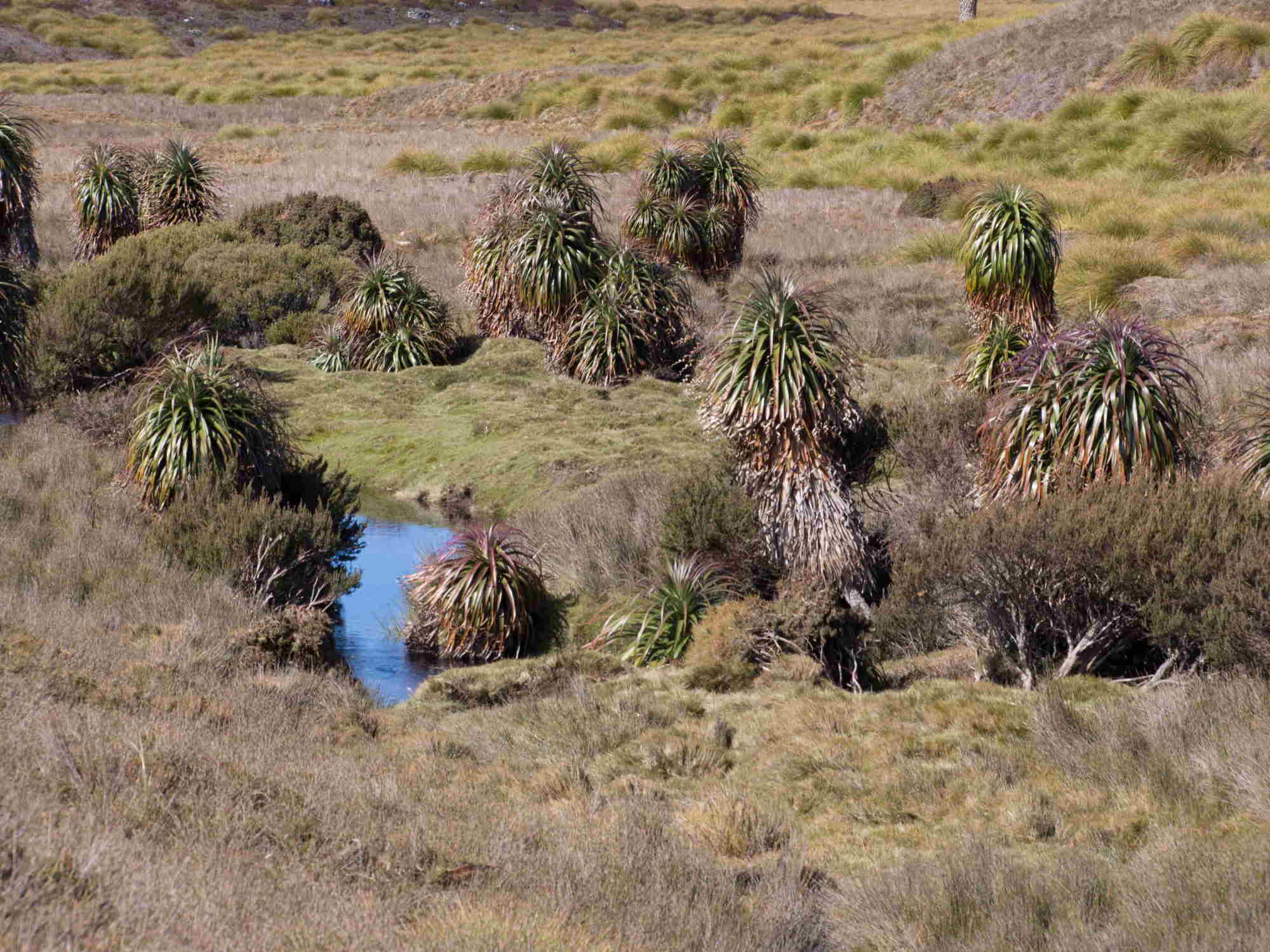 This vegetation is how I imagine it to look like in South America. :)
So wie diese Vegetation stelle ich mir Südamerika vor. :)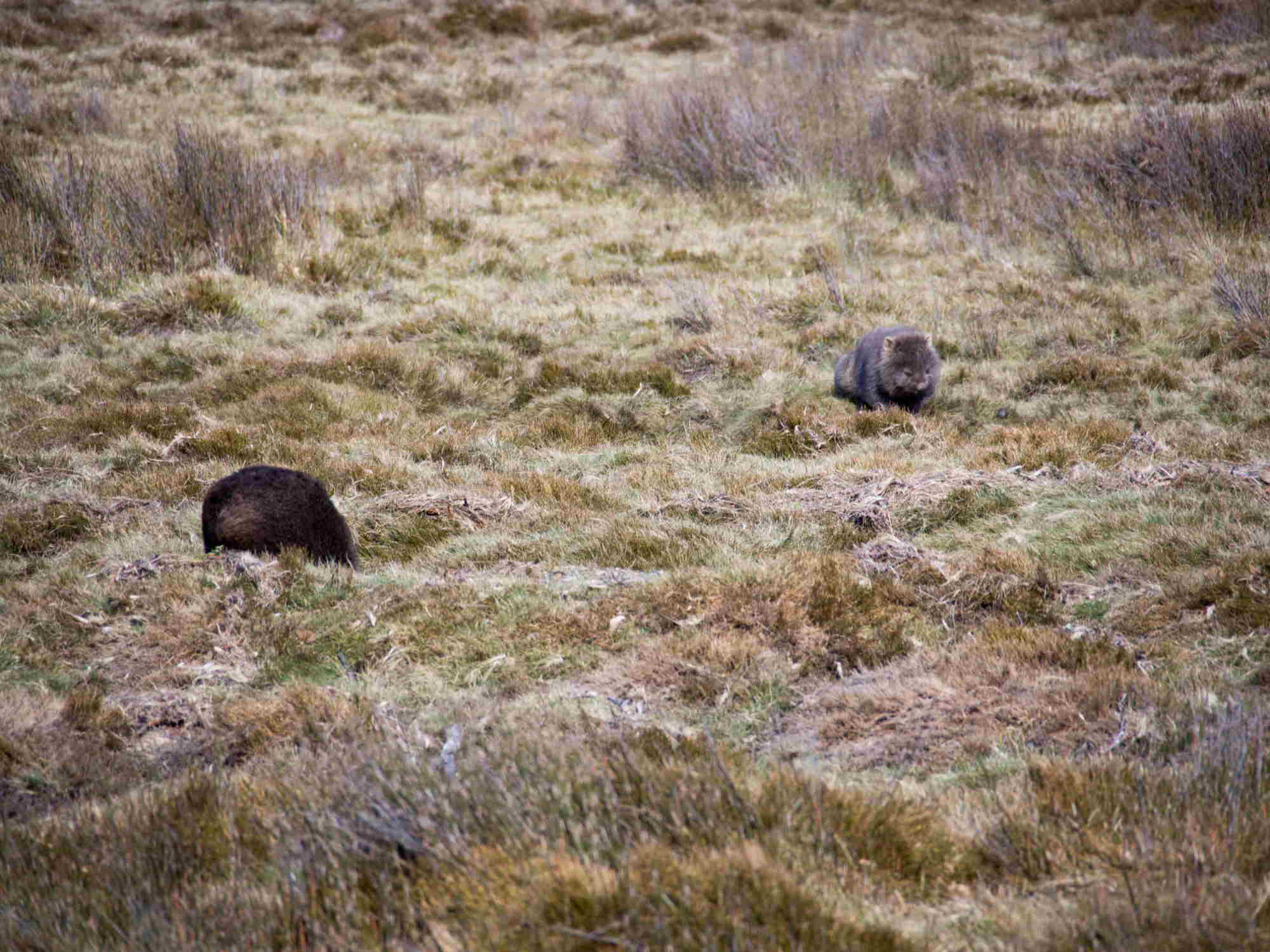 Wooombaaaats. :)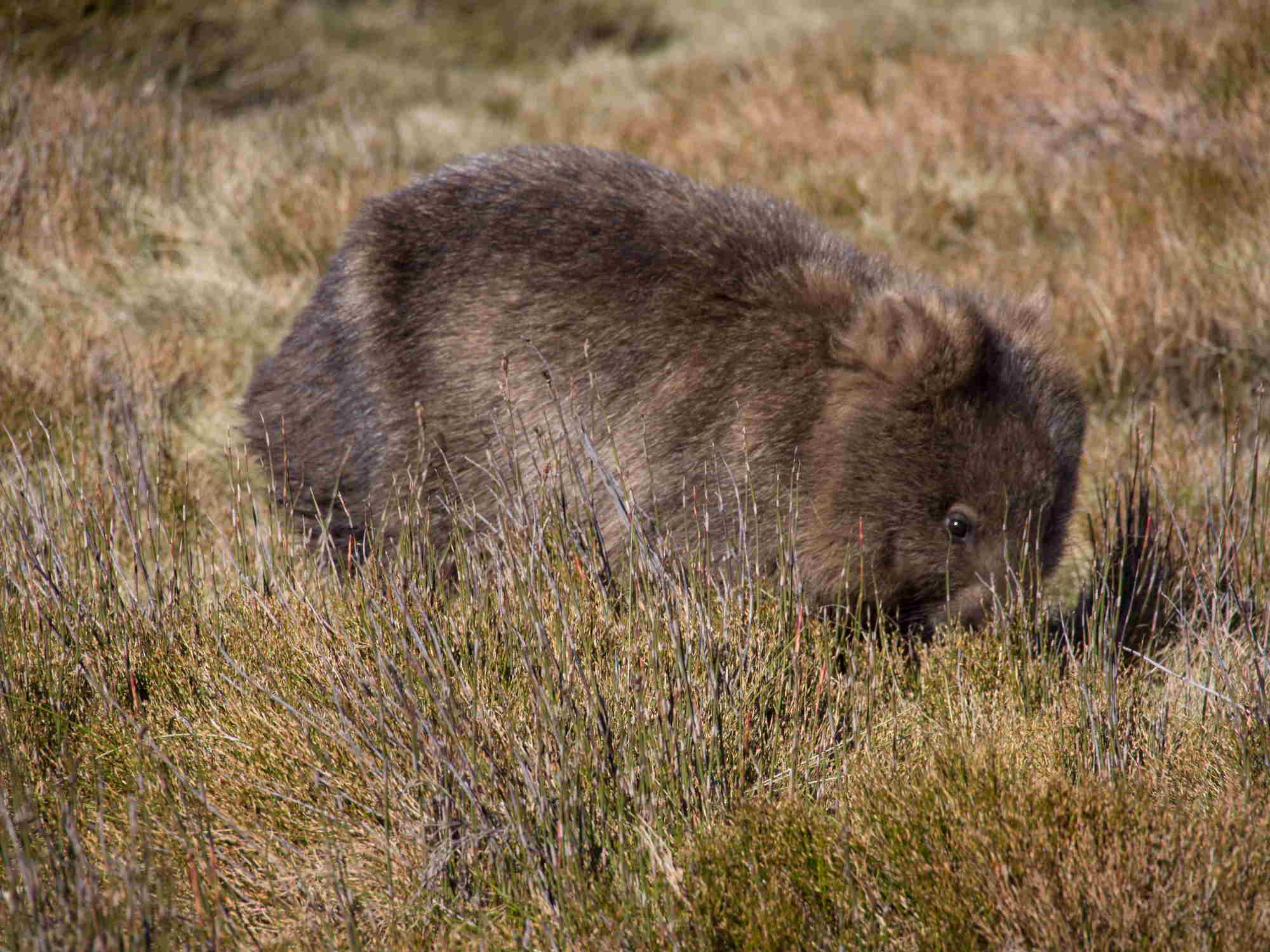 Ooooohhhhhhhhhhhh :)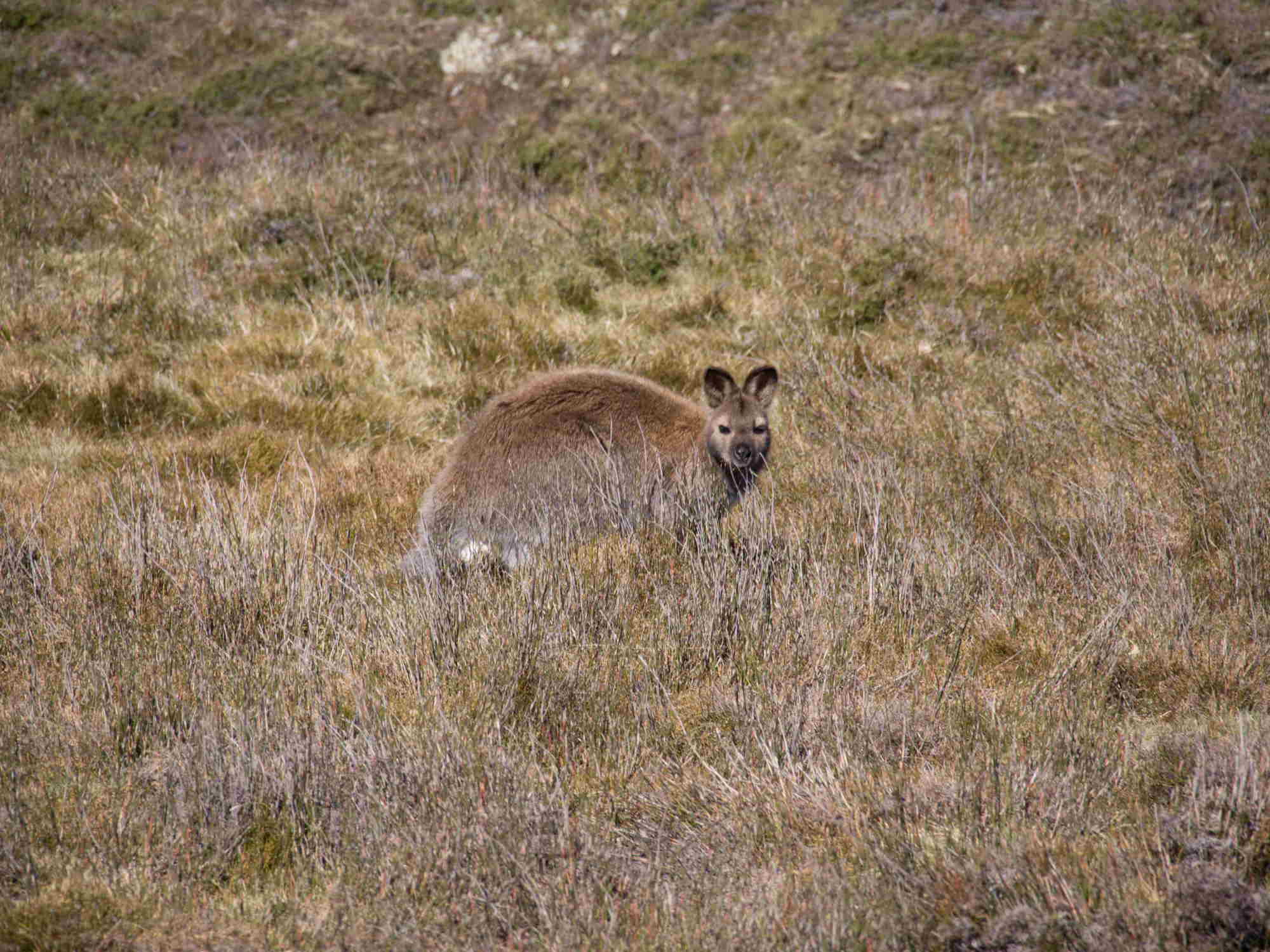 OOOooooooooooooooooooooohhhhh :D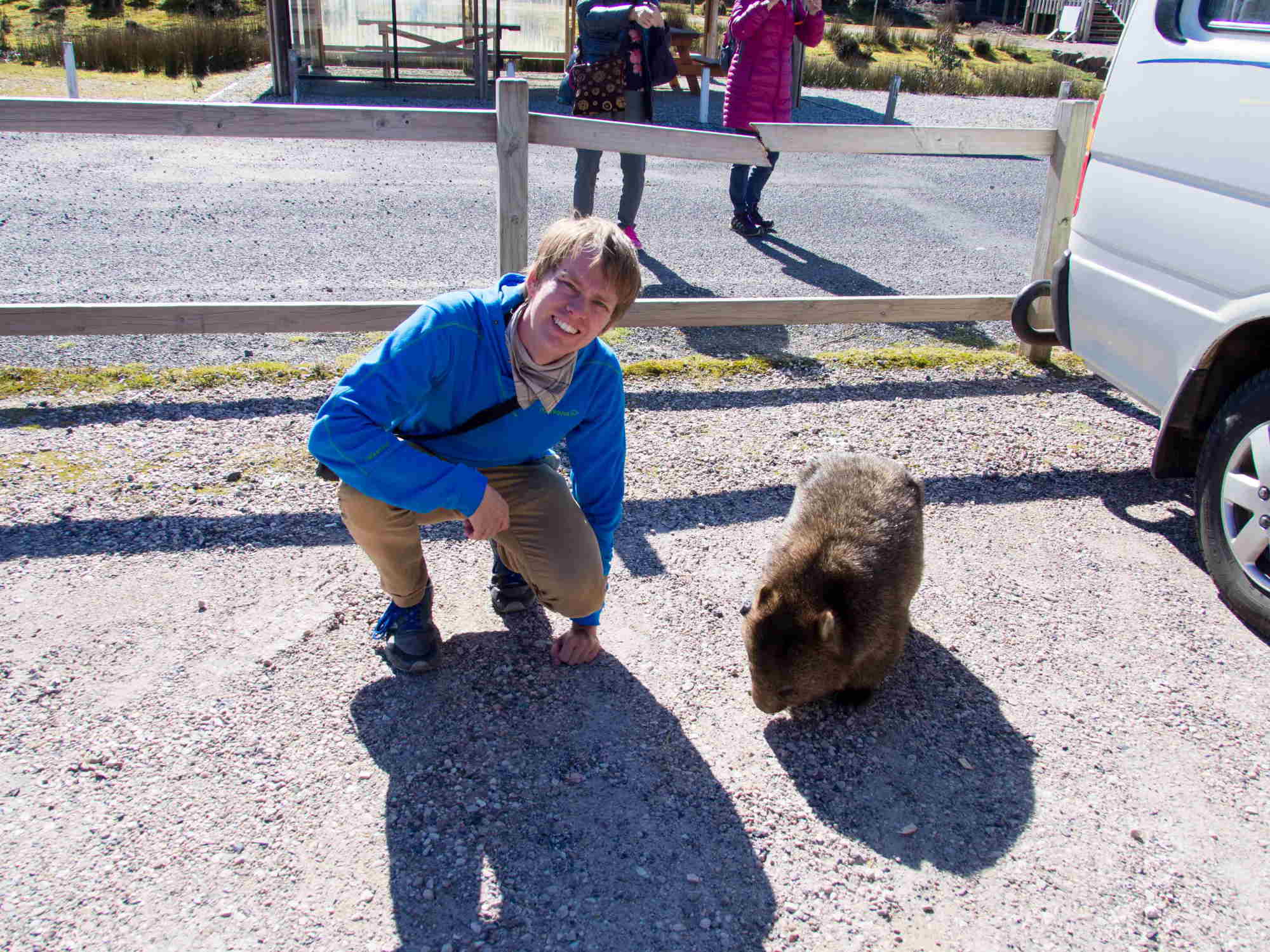 Woohoooo Wombaaat :)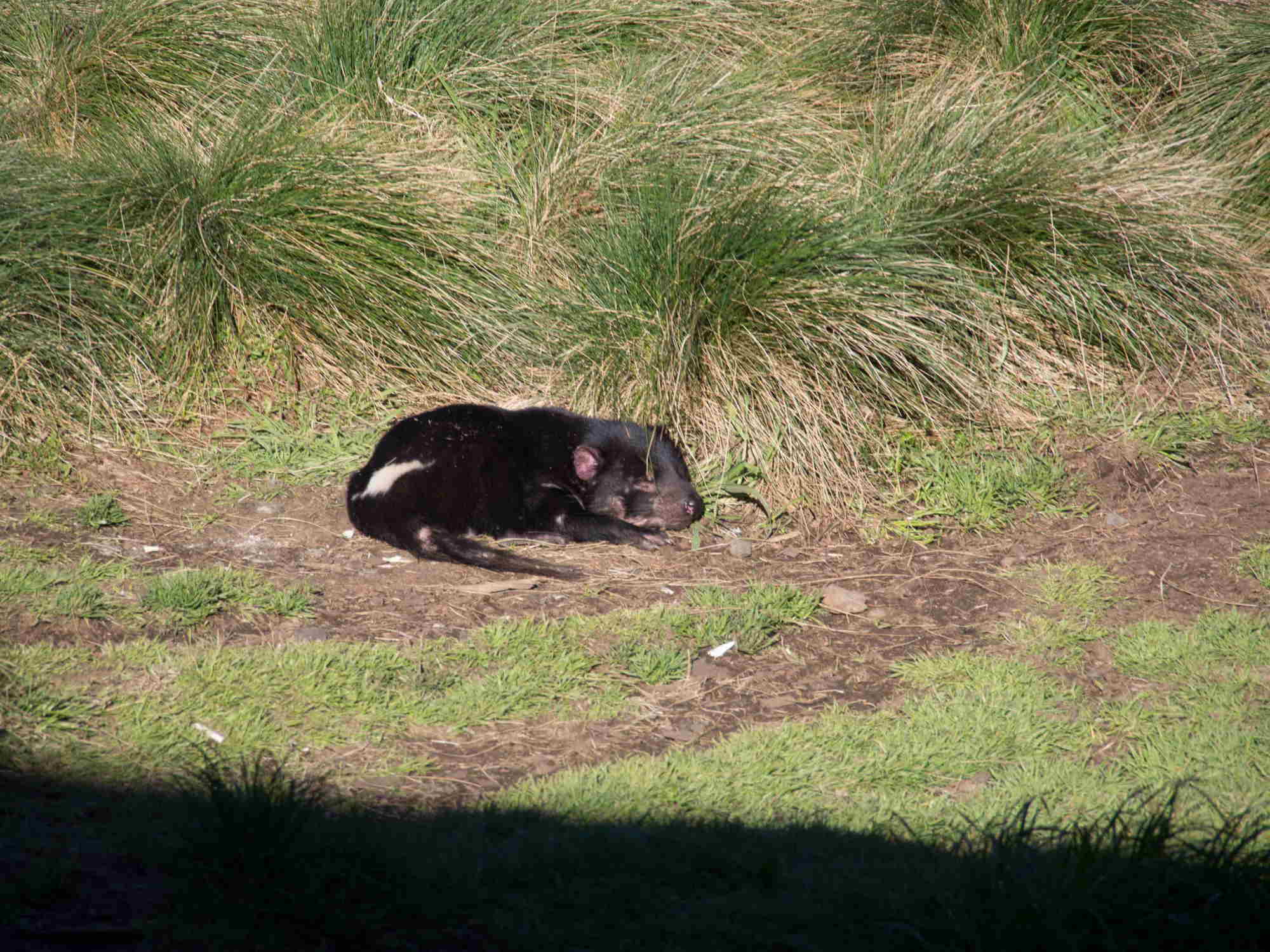 Here the Tasmanian Devil. A personal highlite for me! Maybe just cause they're name contains the word "devil" I was impressed as young child already. Now I have seen them live! If you just hear them in the dark it is pretty fearing! From a closer look they are more like big rats... maybe a bit more stupid when it comes to the food fight. :P
Actually Tasmania has such a big problem with the overpopulatoin of the Wallabies cause the Tasmanian Devil is suffering from a desease that killed almost the hole wild population. But as the Devils now have to travel further to find a new mate the gen pool is mixed through and it seems that nature lets them survive and some seem to be resistant. :)
Hier der Tasmanische Teufel. Ein persönliches Highlite für mich! Vielleicht einfach nur weil das Wort "Teufel" darin steckt war ich als kleines Kind davon begeistert. Nun habe ich sie mal live gesehen. Wenn man sie im dunkeln einfach nur hört sind sie schon sehr furchteinflößend! Aus der nähe betrachtet ähneln sie eher großen Ratten... vielleicht ein bisschen Dümmer wenn es um den Essenskampf geht. :P
Aktuell hat Tasmanien ein großes Problem mit der Überbefölkerung von Wallabies da der Tasmanische Teufel an einer Krankheit leidet die beinahe den gesamten Wildbestand umgebracht hat. Doch da die Teufel jetzt weiter wandern müssen um einen Partner zu finden wurde der Gen-Pool durchgemischt und es scheint, als würde die Natur sie überleben lassen und erste Tiere eine Resistenz entwickelt haben. :)
Here you see how they got fet.
Hier seht ihr wie sie gefüttert werden.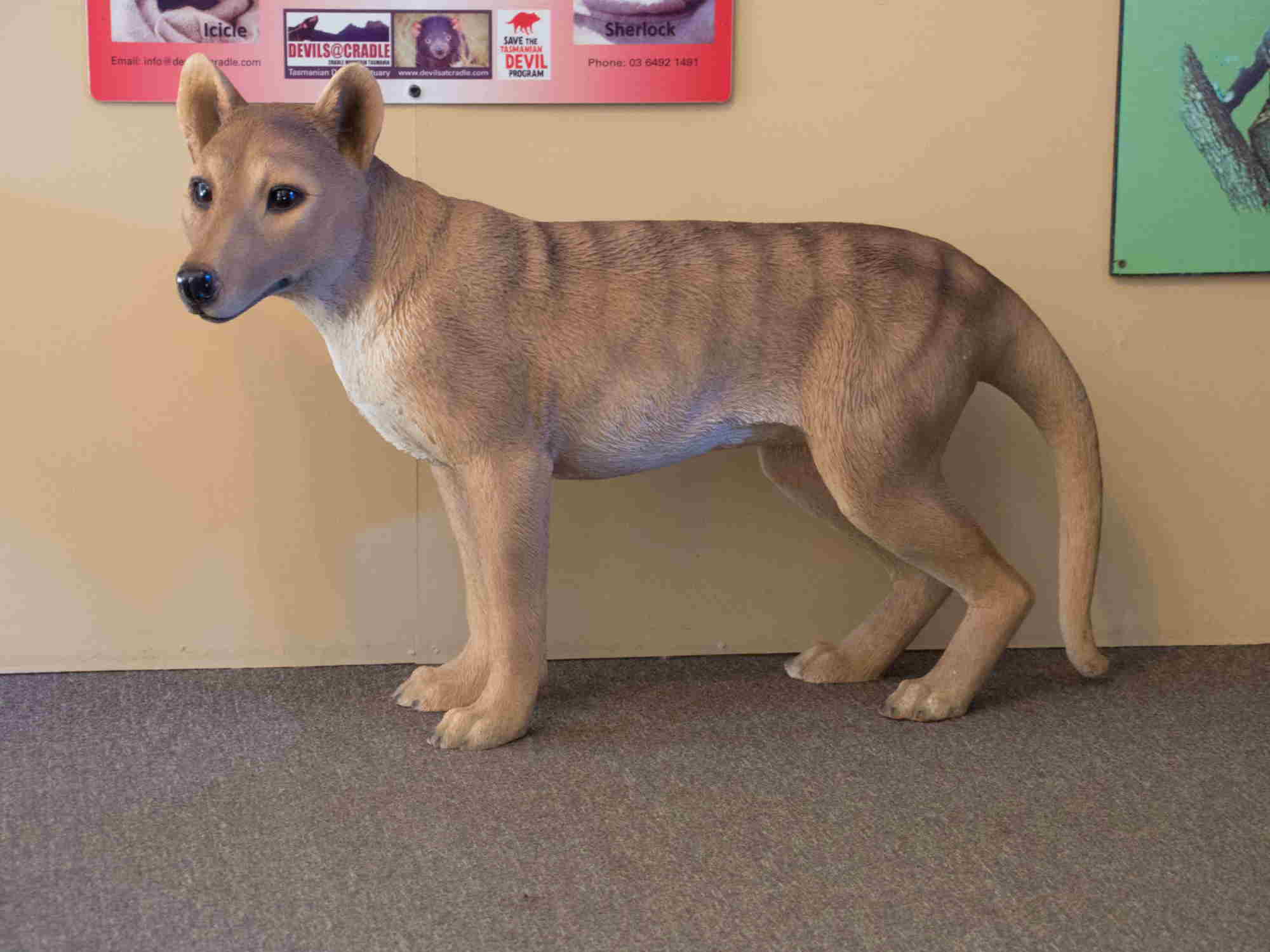 This is a Tasmanian Tiger, which was distinct in the last century.
Das ist der Tasmanische Tiger, der im letzten Jahrhundert ausgerottet wurde.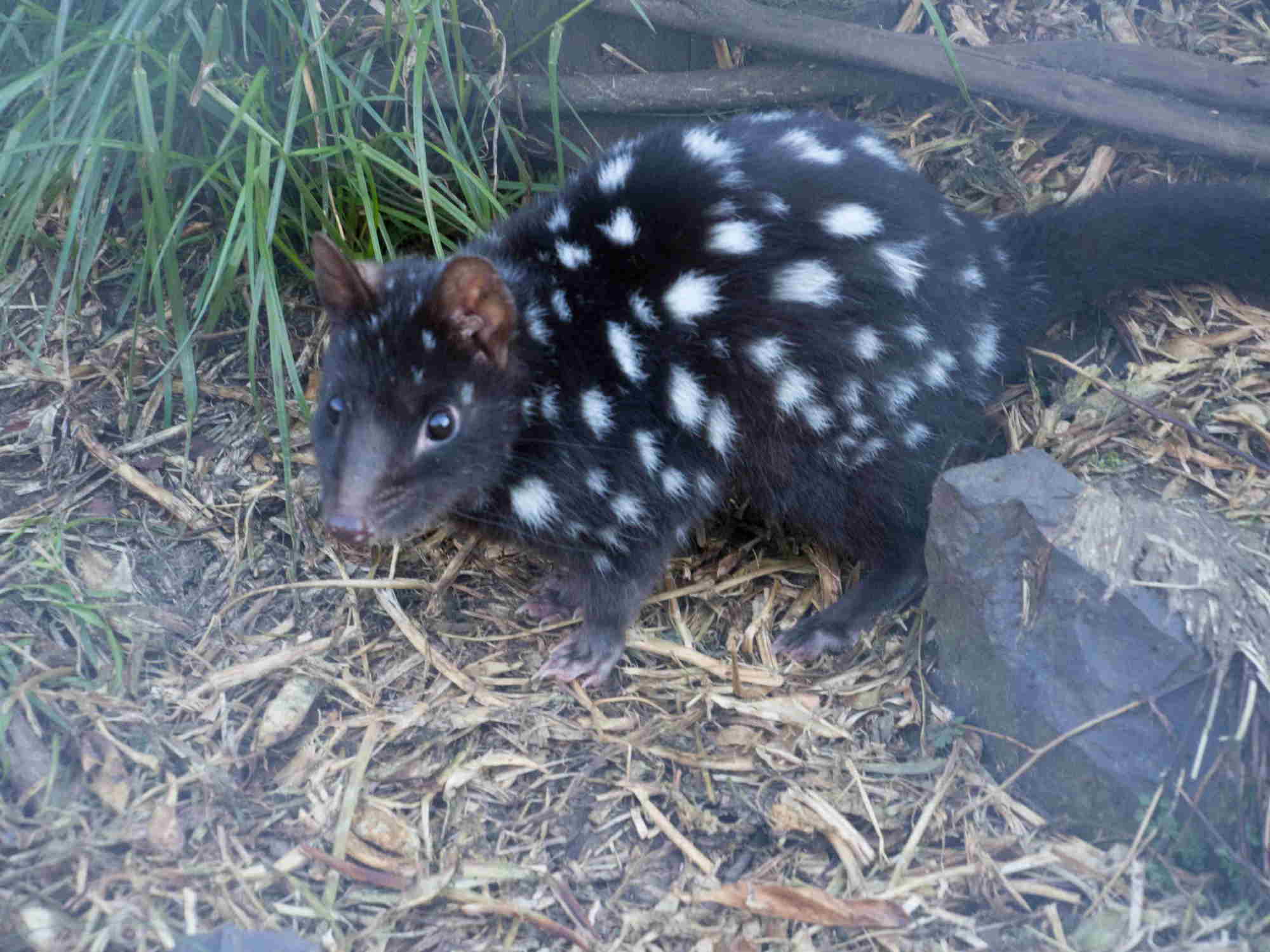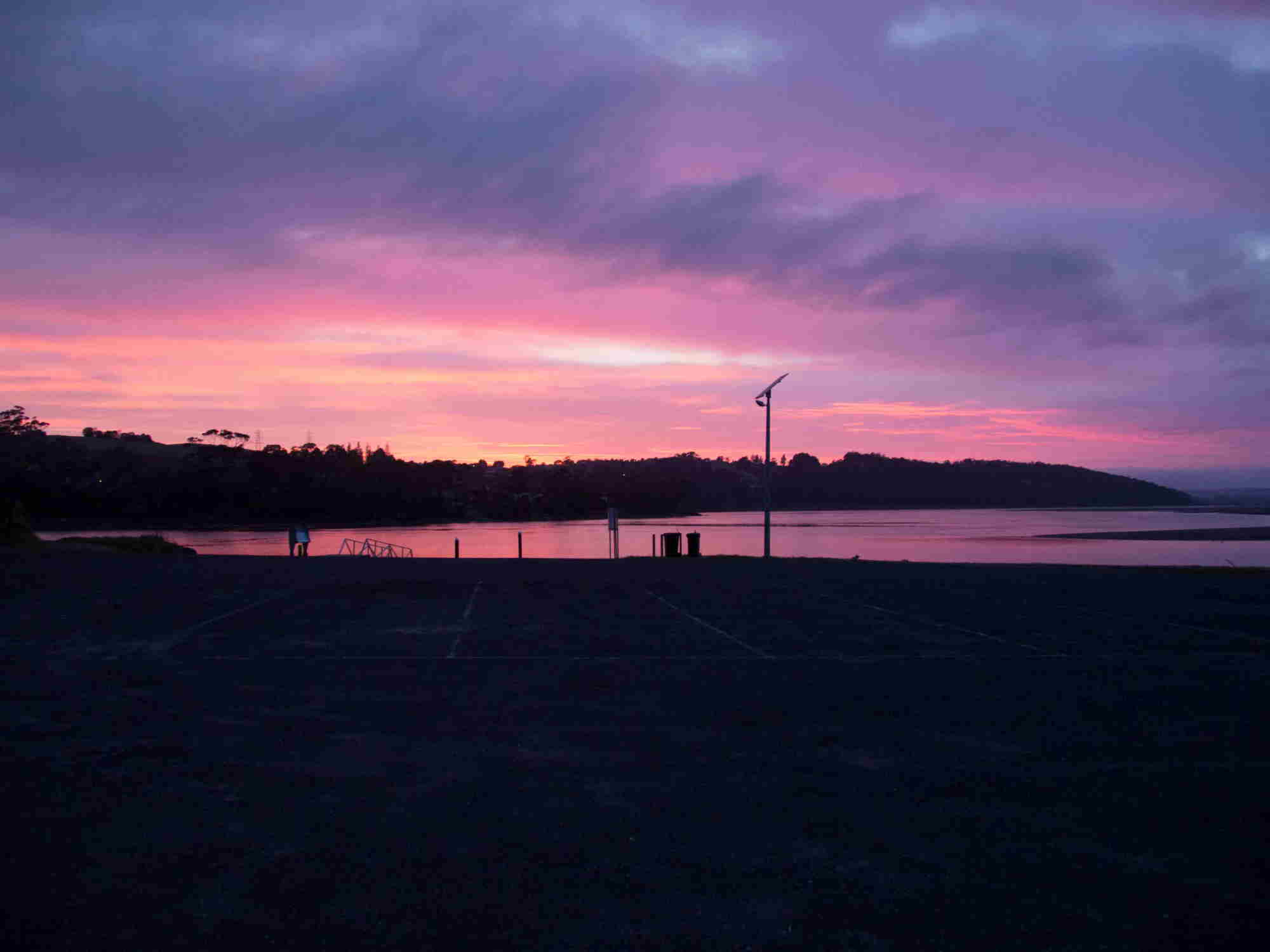 Sunrise in Tasmania. Than we went back on the ferry. (NO FILTER ;) )
Sonnenaufgang in Tasmanien. Dann ging es zurück auf die Fähre. (NO FILTER)
After the week in Tasmania I went back to Melbourne for a week on my old couch. Now the couch of my new friend Kuba, that overtook my room. Jack entered the van and we had a tough ride. In 9 days we had to make 4.000 KM. This would be around the distance you make from Madrid to Moskau, just to have an idea. We had intense day's of driving and days on that didn't drive much at all. So everything pretty intense. :P
Nach der Woche Tasmanien ging es für ein Wochenende zurück nach Melbourne auf meine alte Couch. Jetzt die Couch von meinem neuen Freund Kuba, der mein Zimmer übernommen hatte. Jack stieg dazu und wir machten und auf eine taffe fahrt. In 9 Tagen galt es 4.000KM zu machen. Das ist die gleiche Distanz wie von Madrid nach Moskau, nur um eine Idee zu haben. Wir hatten intensive Fahrtage mit rund 1.000 KM und Tage an denen wir kaum fuhren. Also alles sehr intensiv. :P
With Jack I made 4.000 KM in nine days. Whooop Whooop!
Mit Jack sind wir 4.000 KM in neun Tagen gefahren. Whoop Whooop!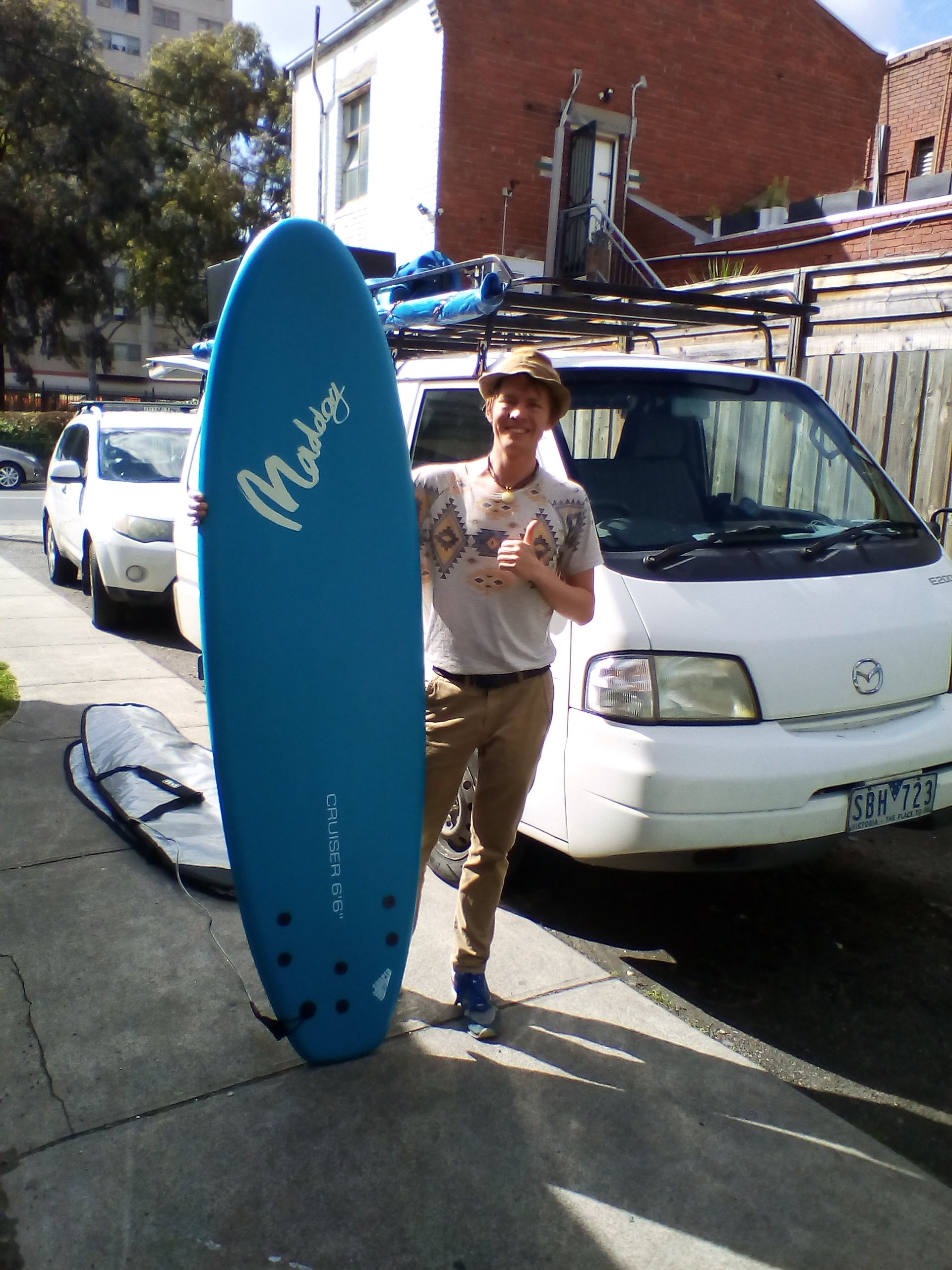 Yeah I never stood on a surfboard, but I was sure, that even when I don't manage, I will look pretty cool with a bord on my roofrack! So lets go! :D ;)
Yeah ich habe noch nie auf einem Surfboard gestanden, doch ich war mir ziemlich sicher, auch wenn es nichts wird, Ich werde verdammt cool aussehen mit einem Bord auf dem Dach! Also los gehts! :D ;)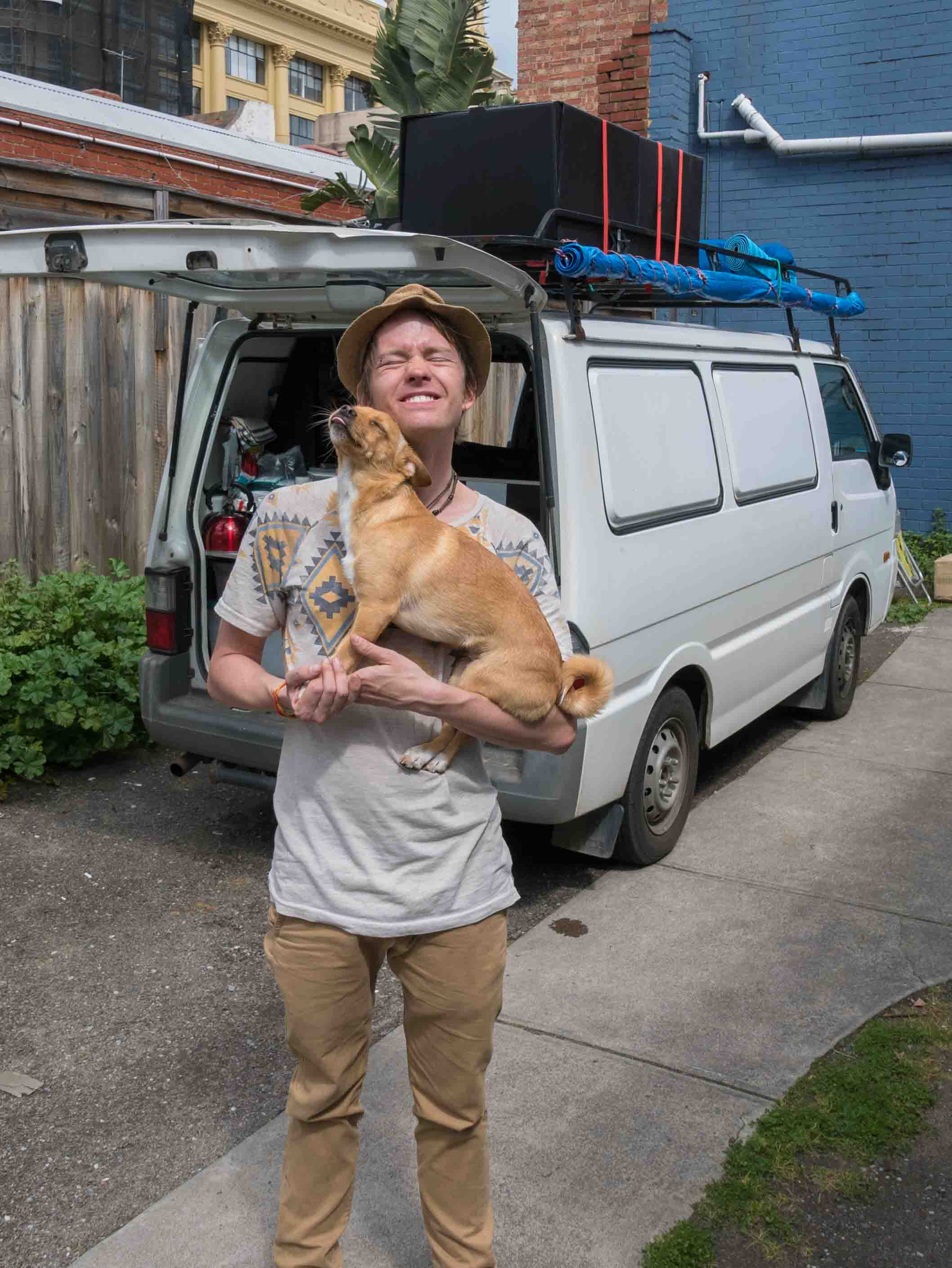 A hard good bye in Melbourne...
Ein harter abschied in Melbourne...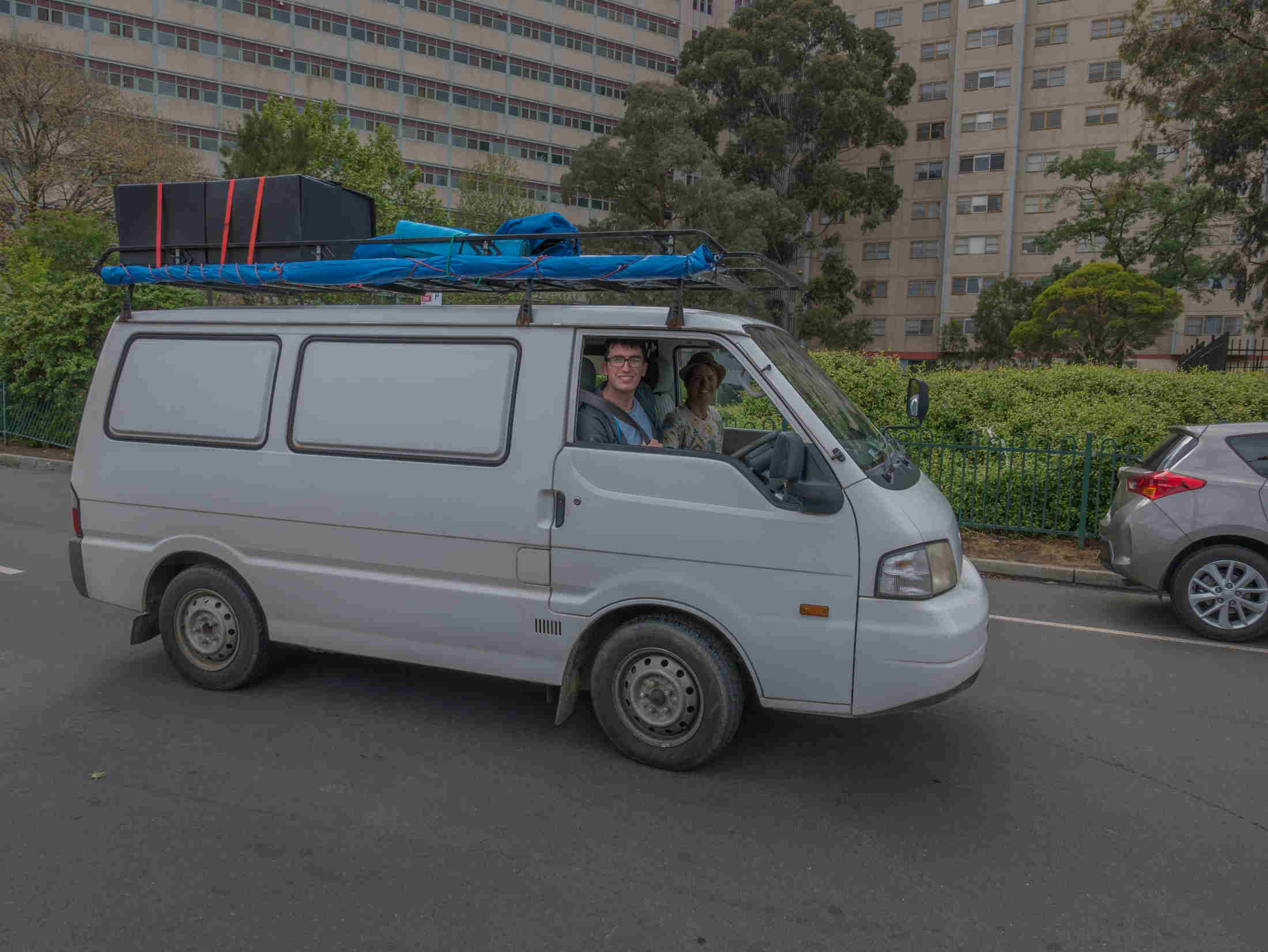 But finally on the road with Jack!
Aber schlussendlich on the road with Jack!
A last cruise through Melbourne - Here the Flinders Station.
Eine letzte Fahrt durch Melbourne - Hier die Flinders Station.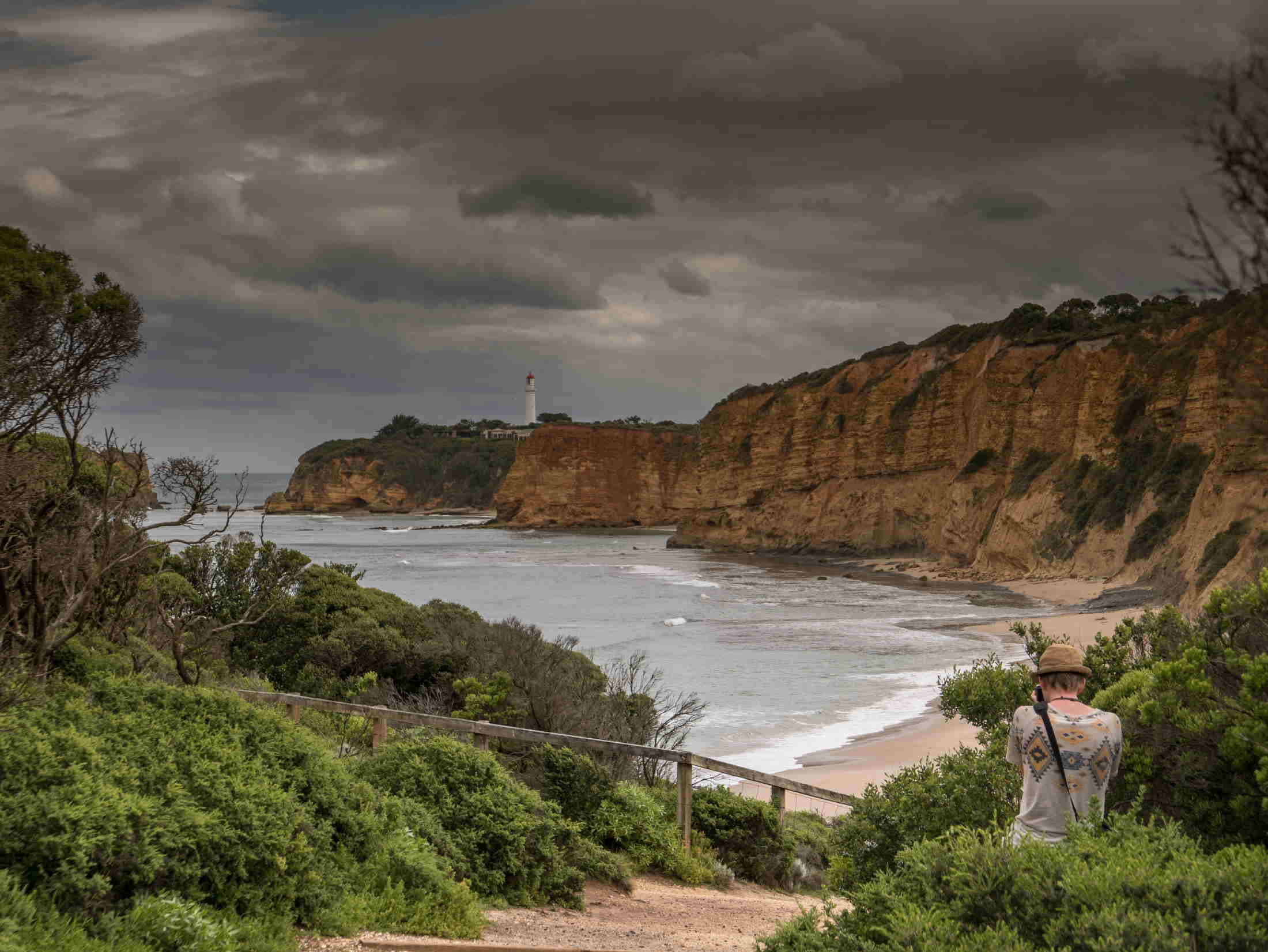 (Picture by Jack Miell)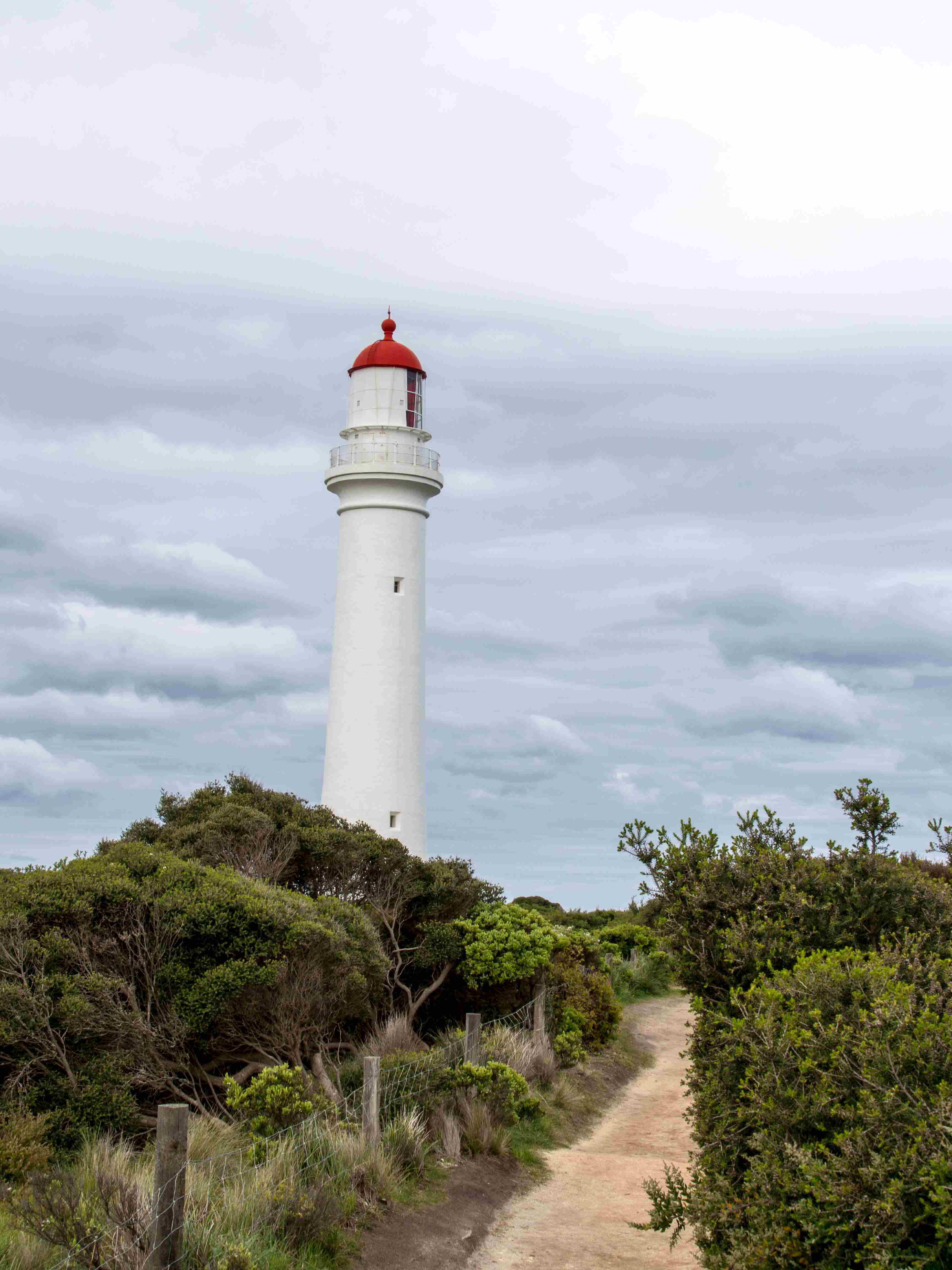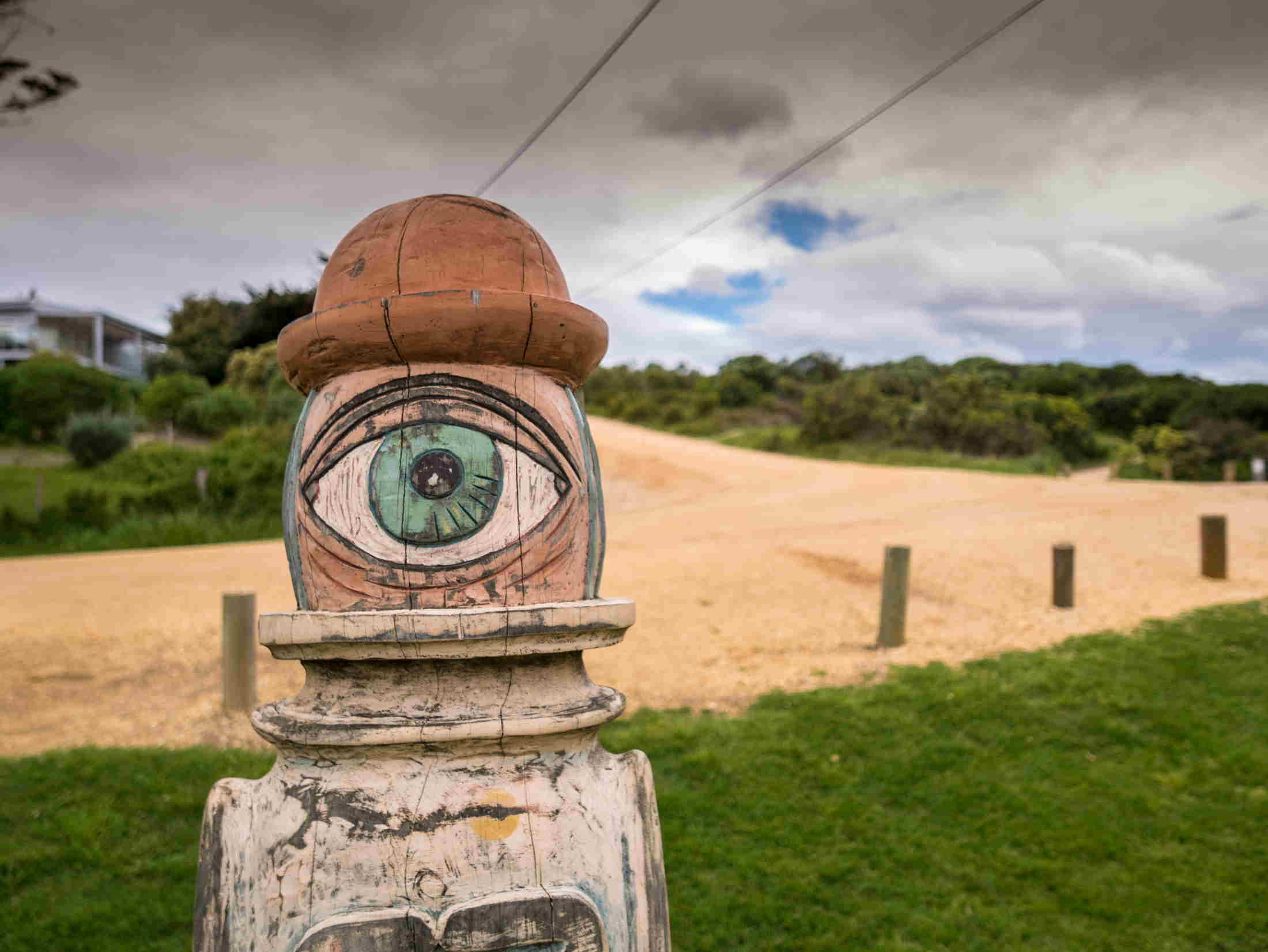 (Picture by Jack Miell)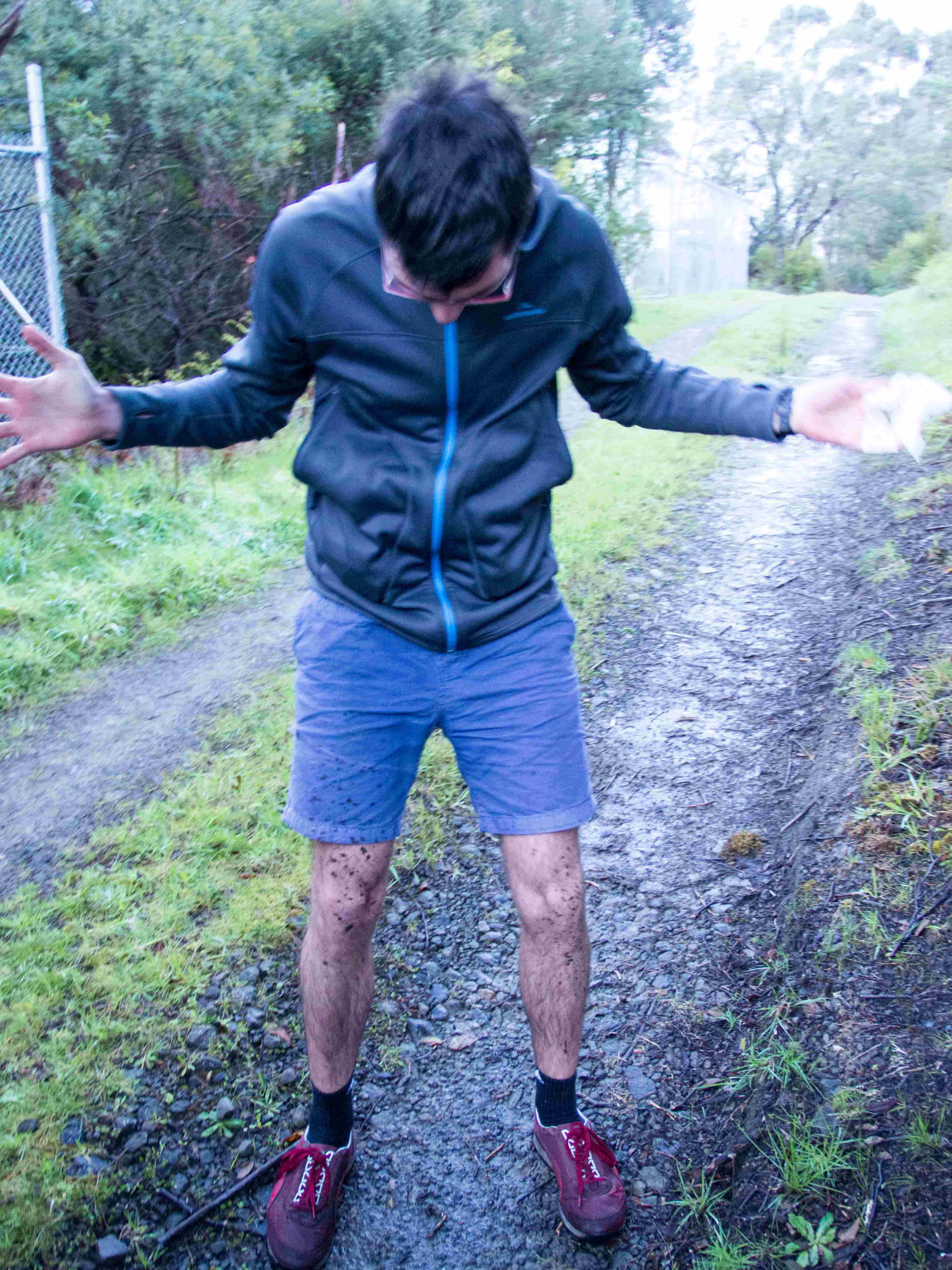 We stuck the first time in some mud.
Wir sind das erste mal im Matsch steckengeblieben.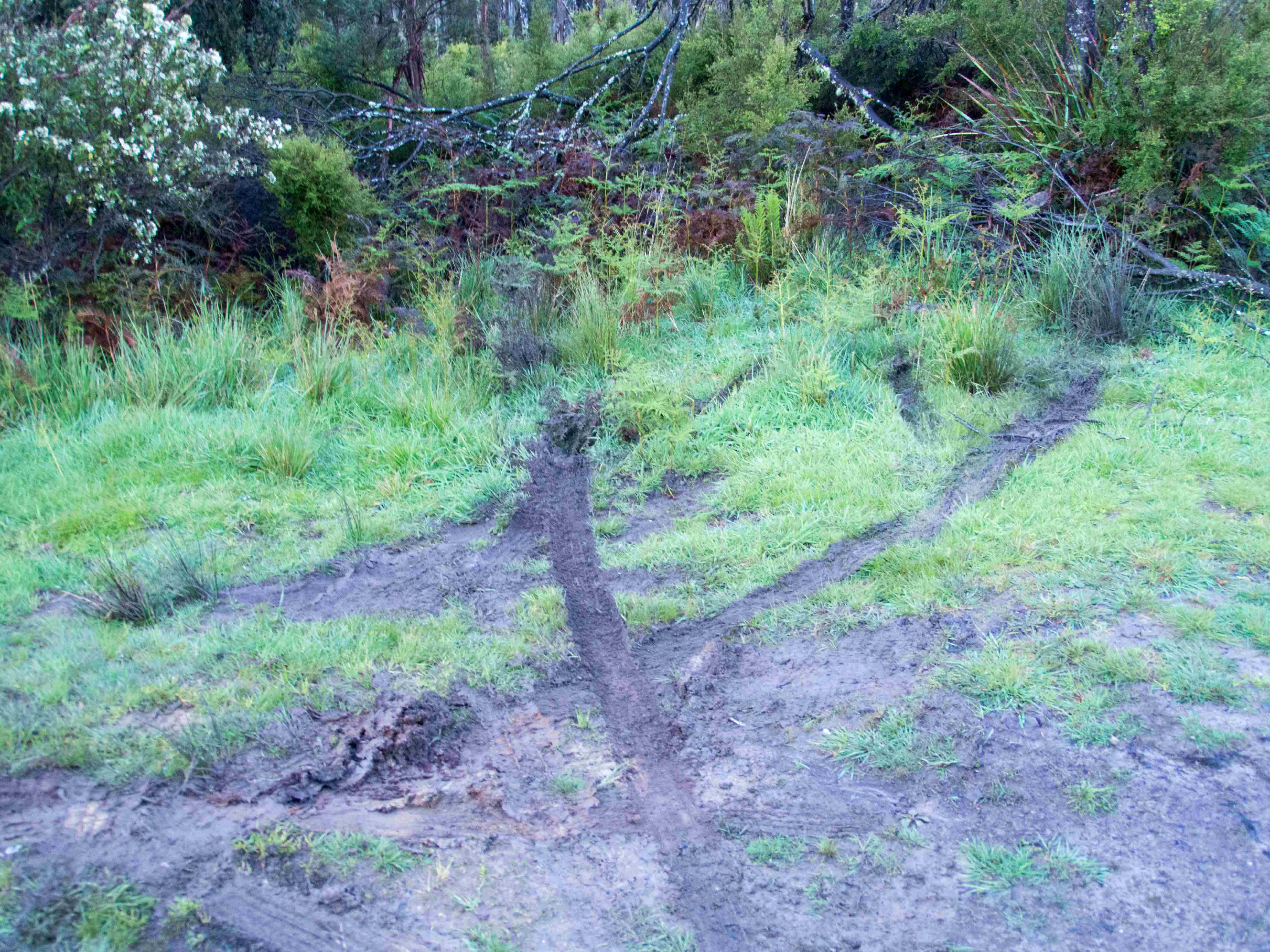 But we managed...
Aber wir haben es geregelt...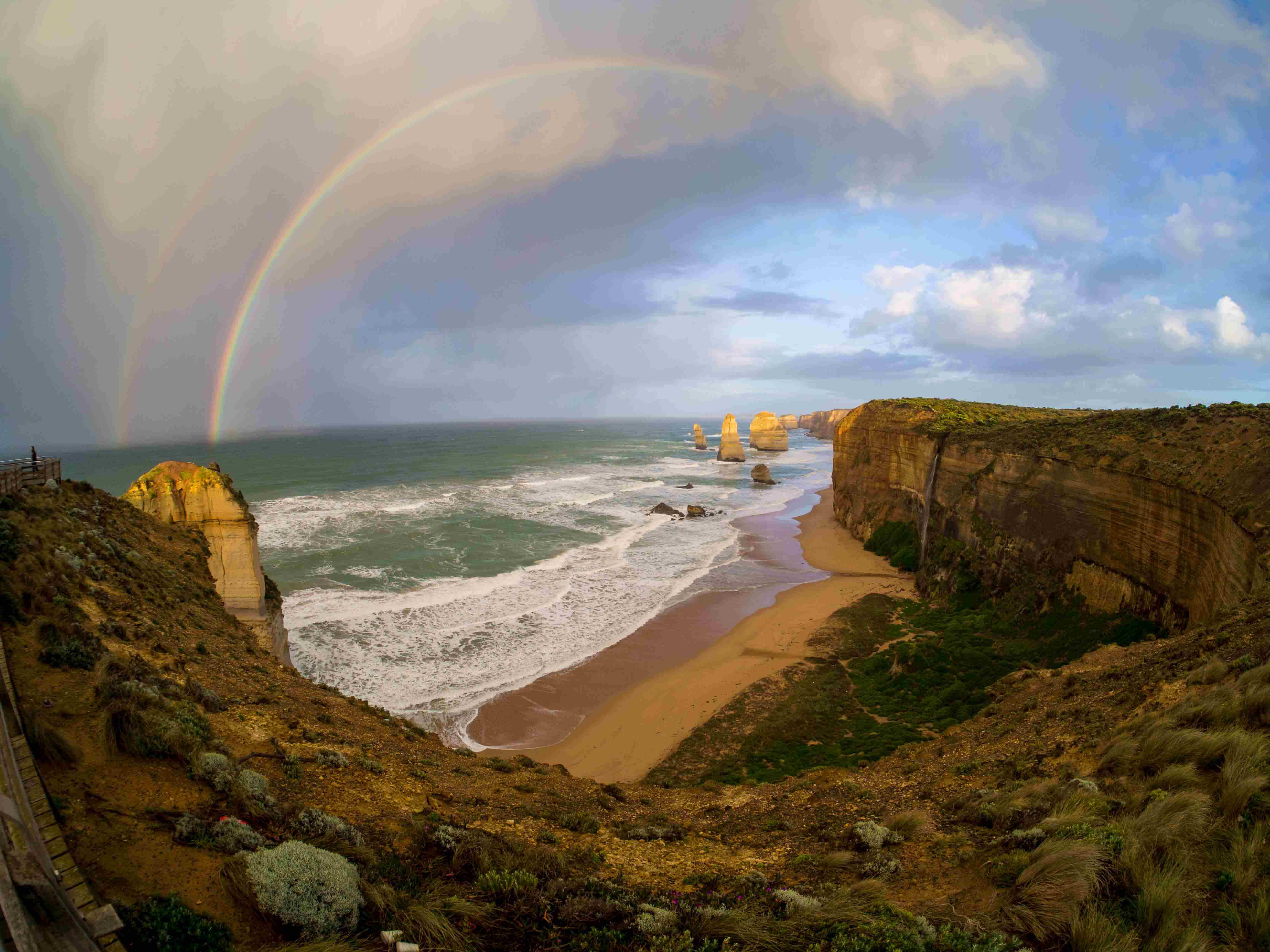 Double rainbow at the twelve apostel.
Doppelregenbogen bei den zwölf Aposteln.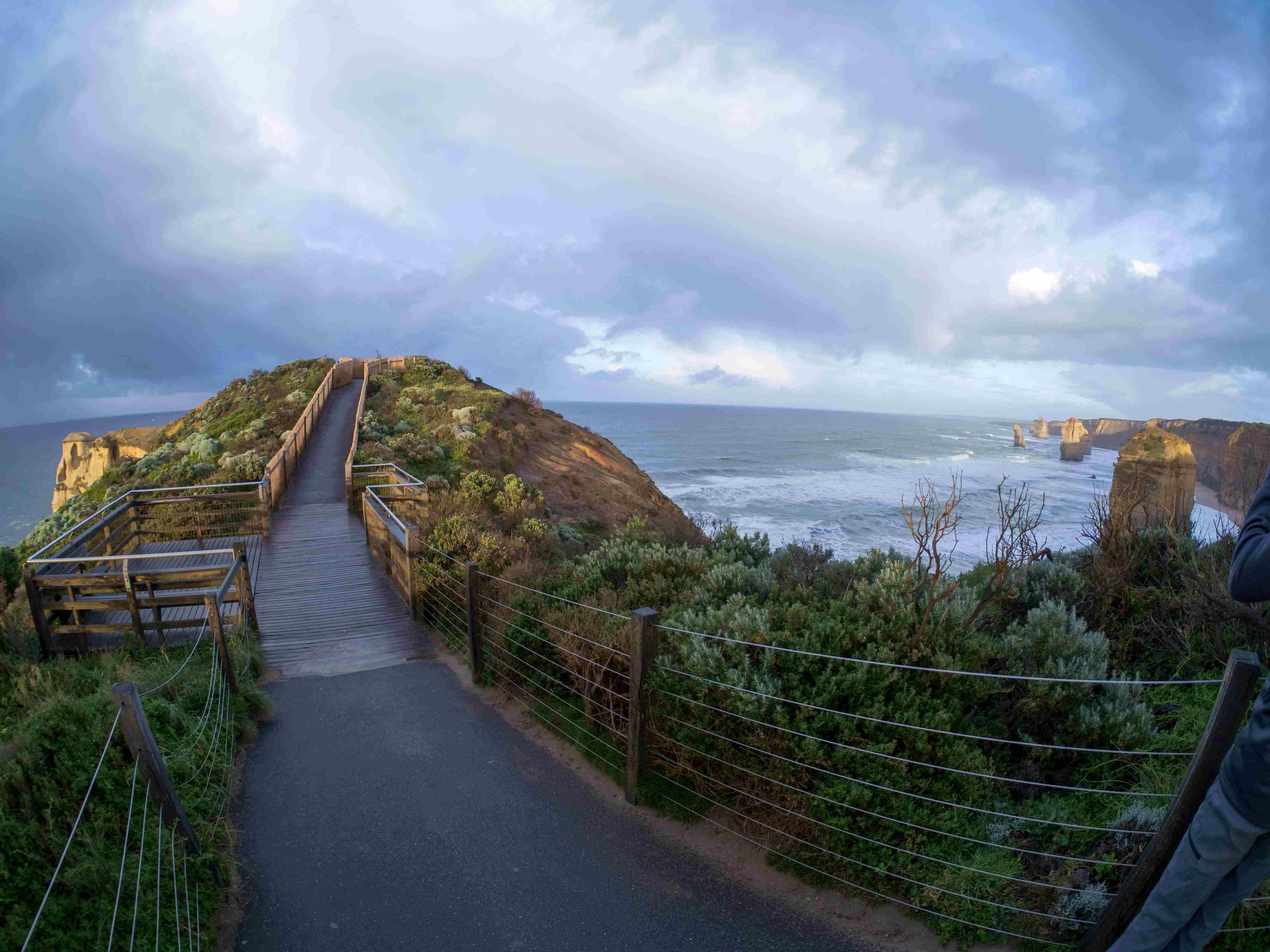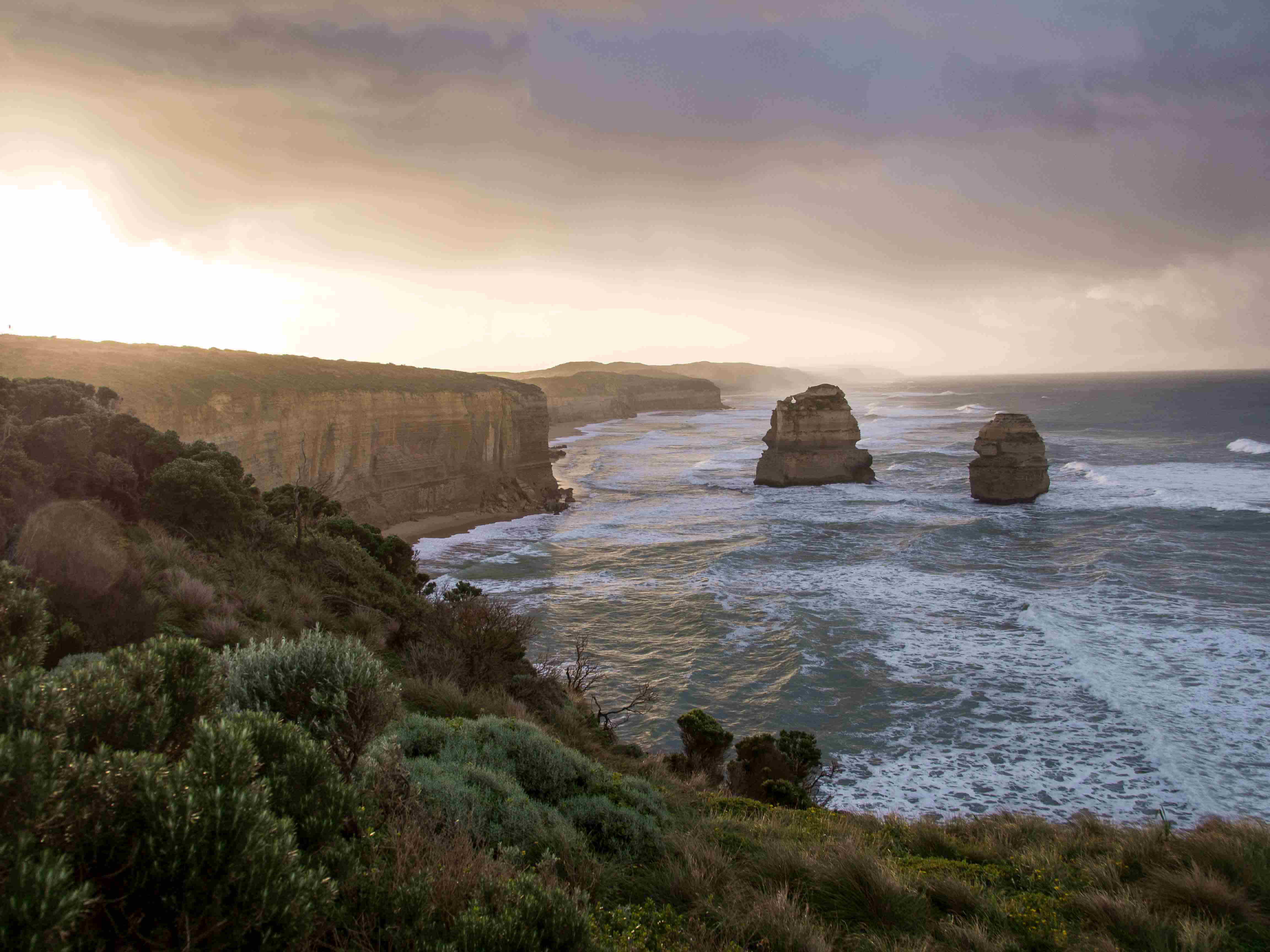 Was nice to be there at the sunrise. :)
Es war schön zum Sonnenaufgang dort gewesen zu sein. :)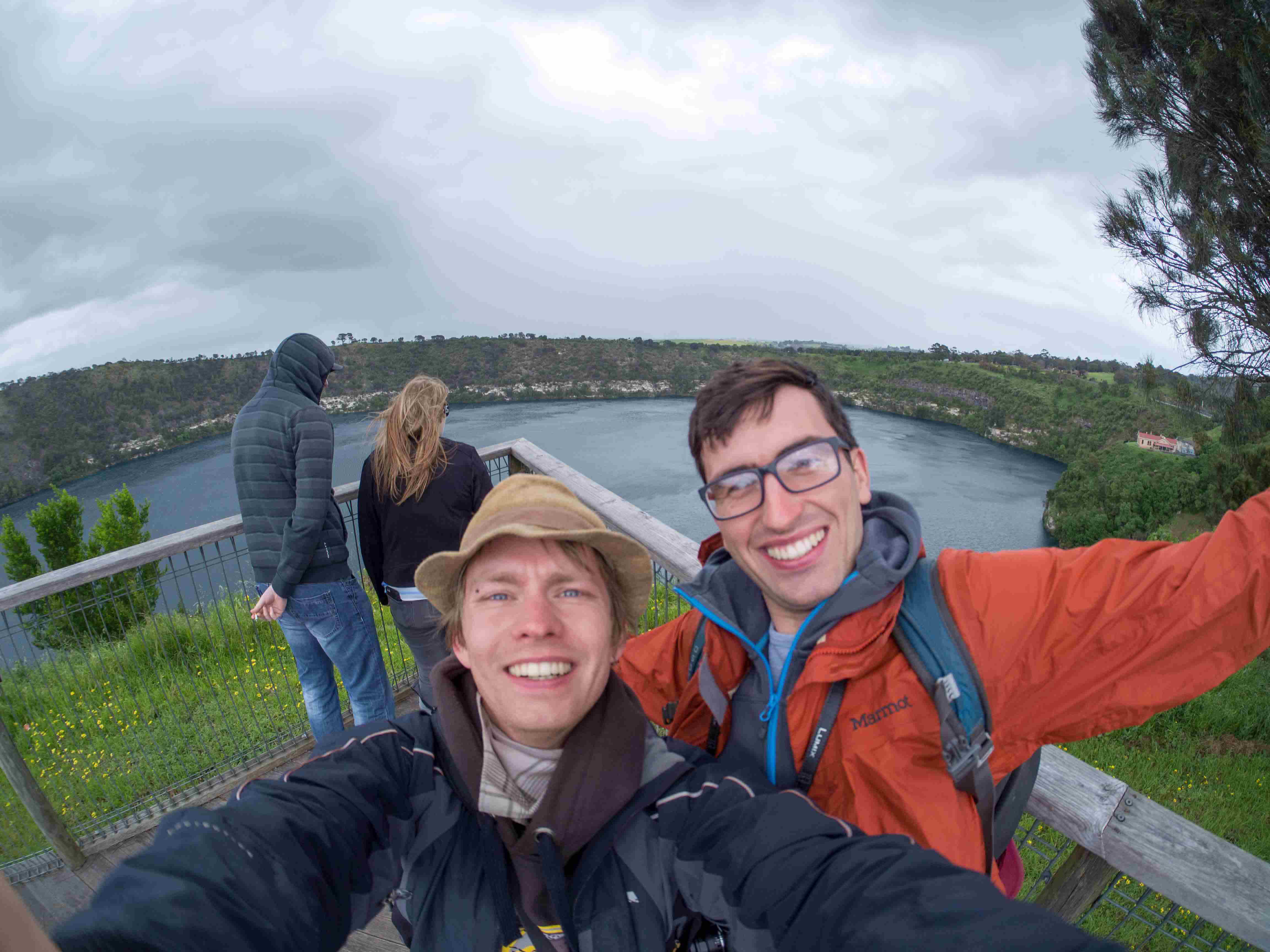 Me and Jack - tired after a long drive.
Ich und Jack - müde nach einer langen Fahrt.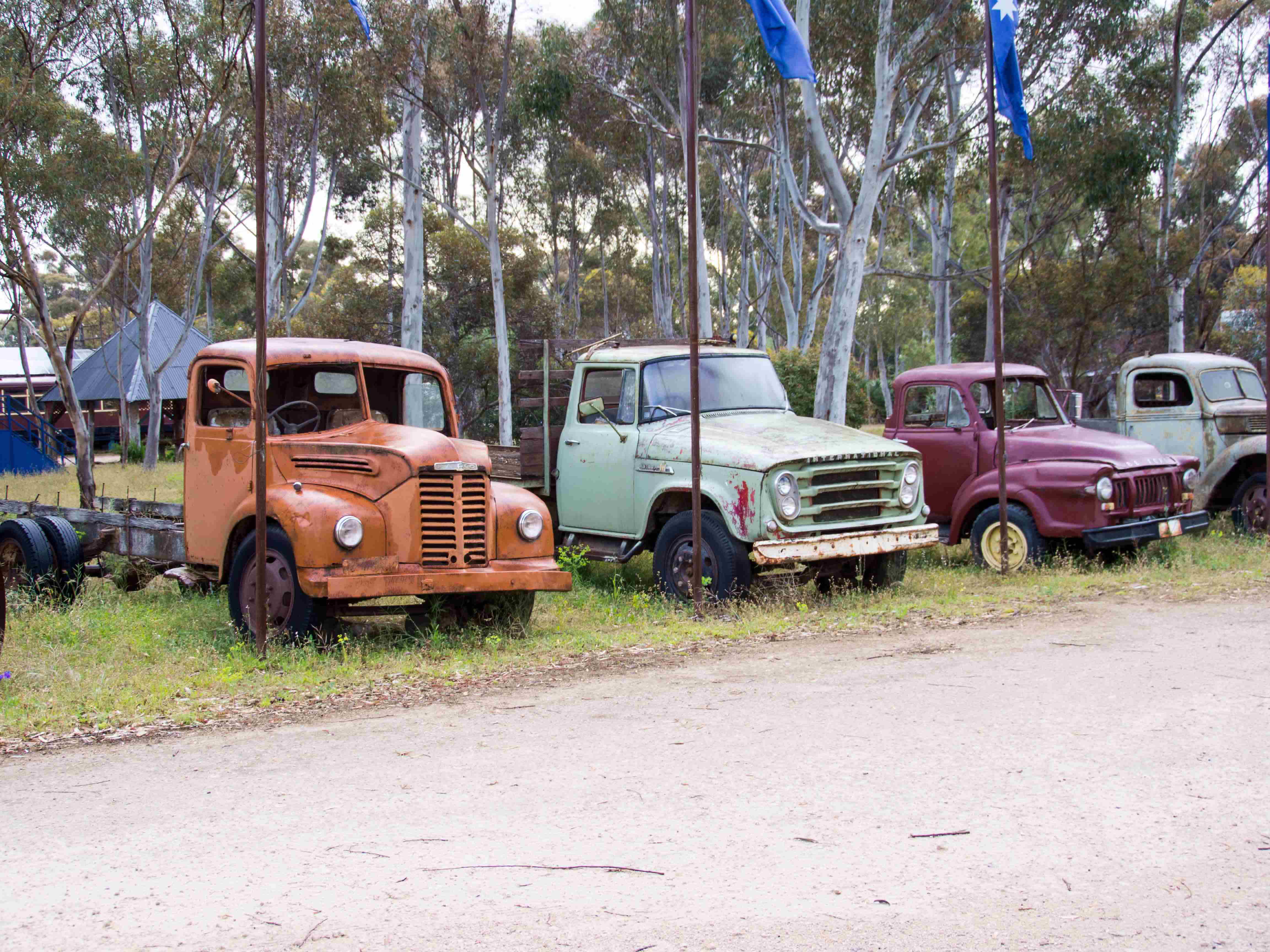 When we went to the entrance we set the loudest alarm I have heard for a while! RUN RUN RUN MAAAATEEEE!!!! Afterwards we felt alive! :P
(For sure just out of interest and fascination about the nice facility, which you unfortunately coudn't photograph through the circumstances)
Als wir zum Einfang kamen haben wir den lautesten Alarm ausgelöst, den ich seit langem gehört habe! RENN RENN RENN JUNGE!!! Anschließend fühlten wir uns lebendig! :P
(natürlich sind wir nur aus reinem Interesse und der Faszination an der schönen Anlage über den Zaun geklettert. Leider konnten wir durch diese Umstände kein Bilder machen)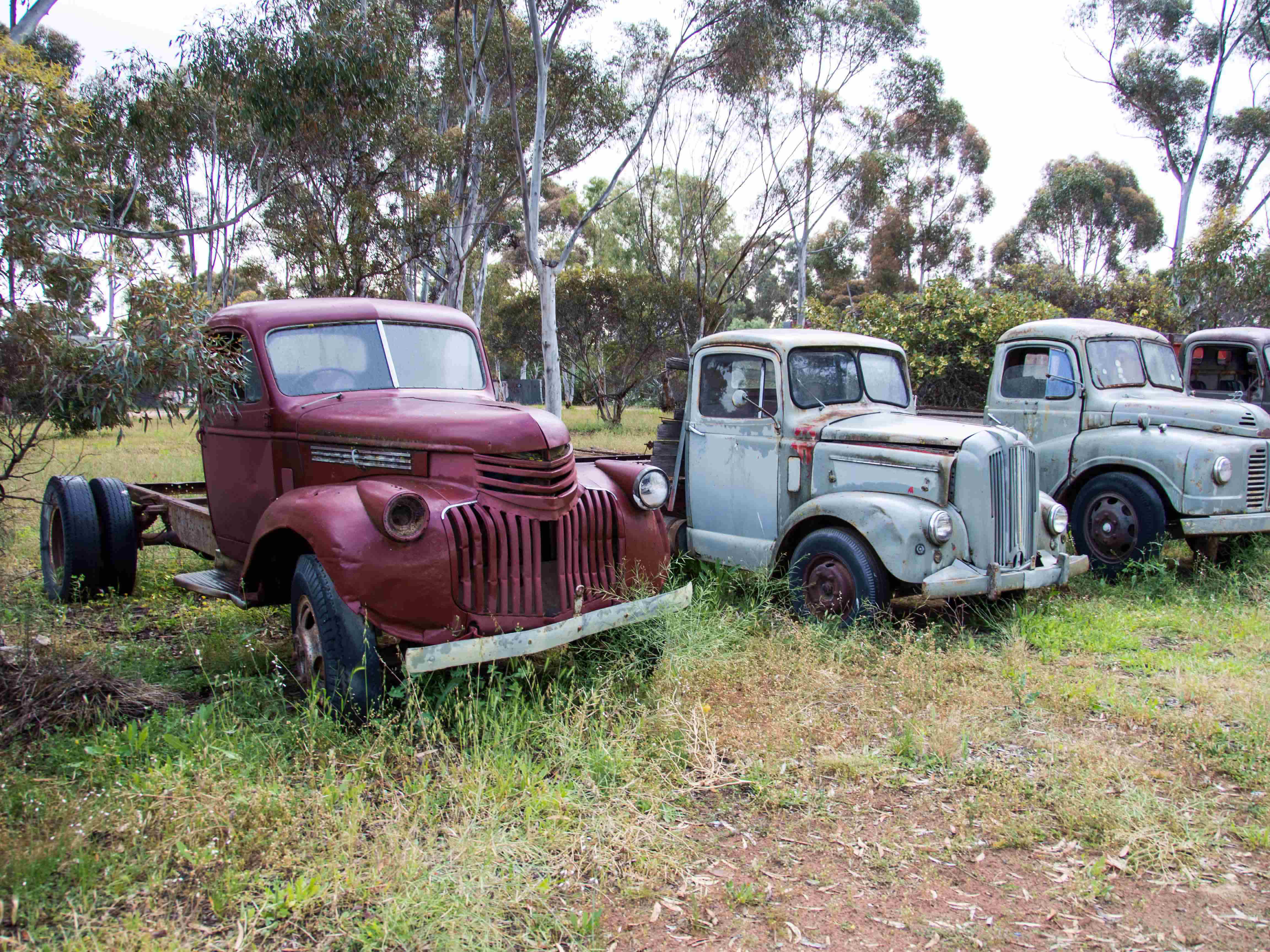 So here just some old cars for you. :)
Hier also nur ein paar alte Autos für euch. :)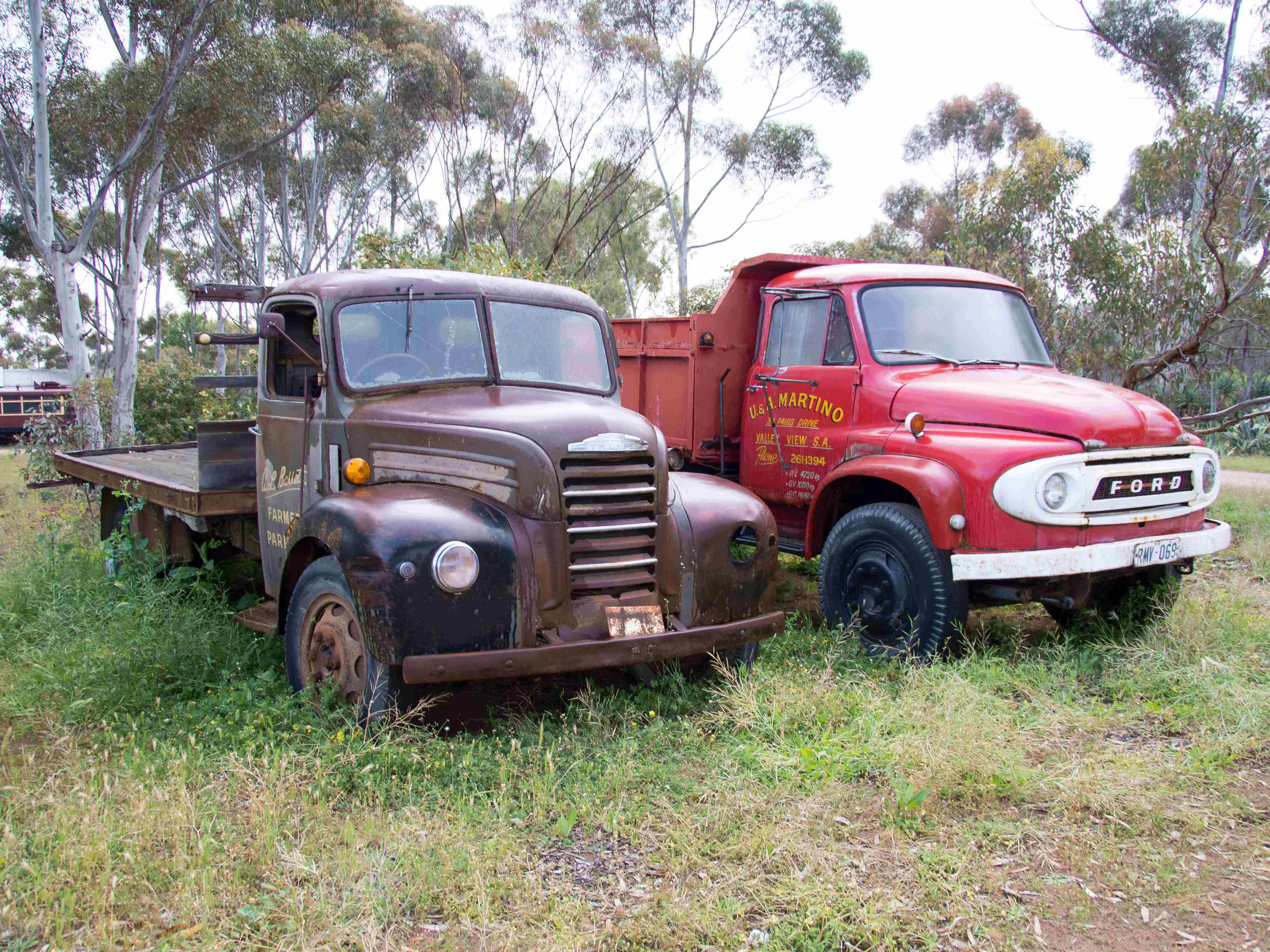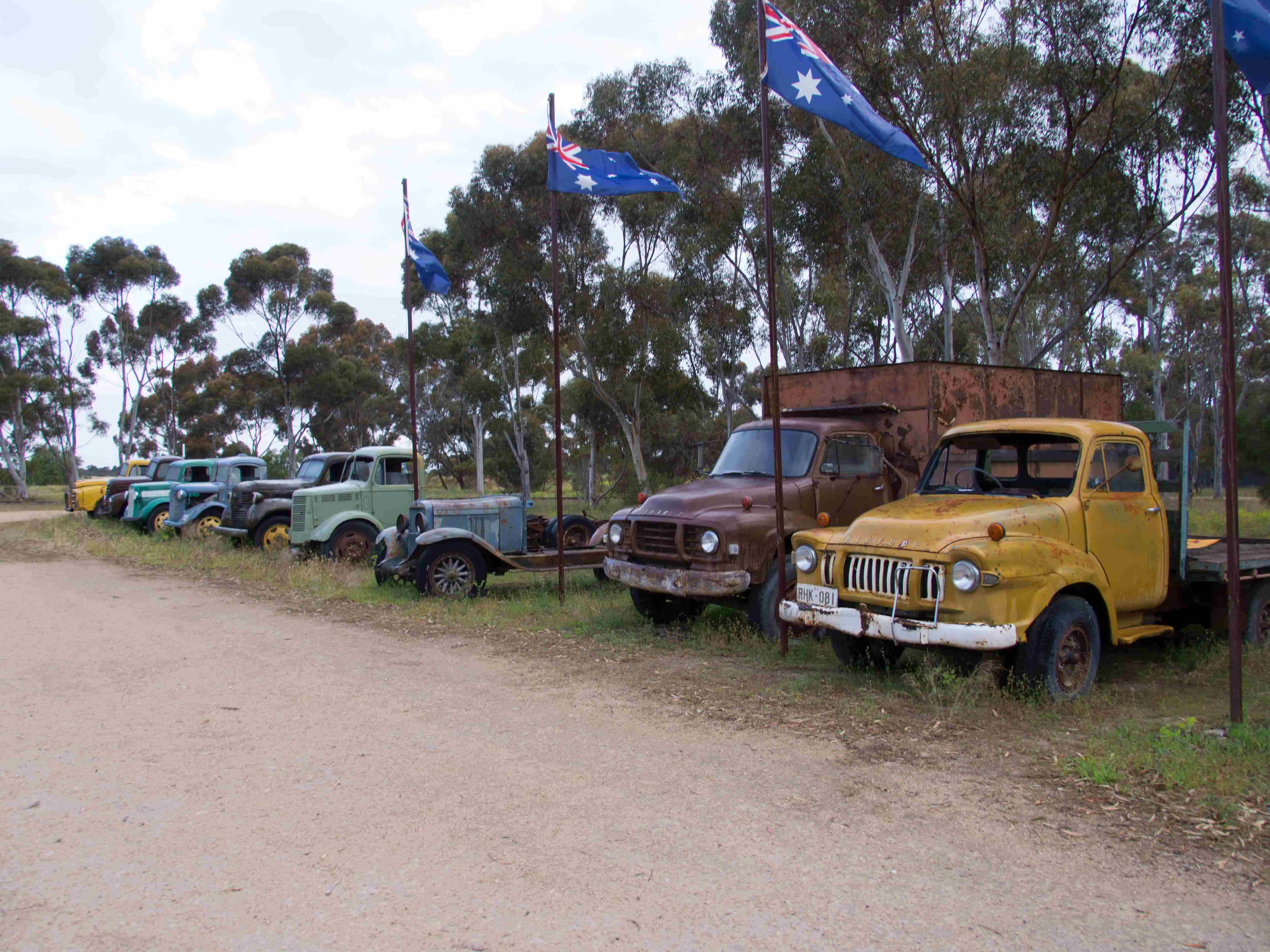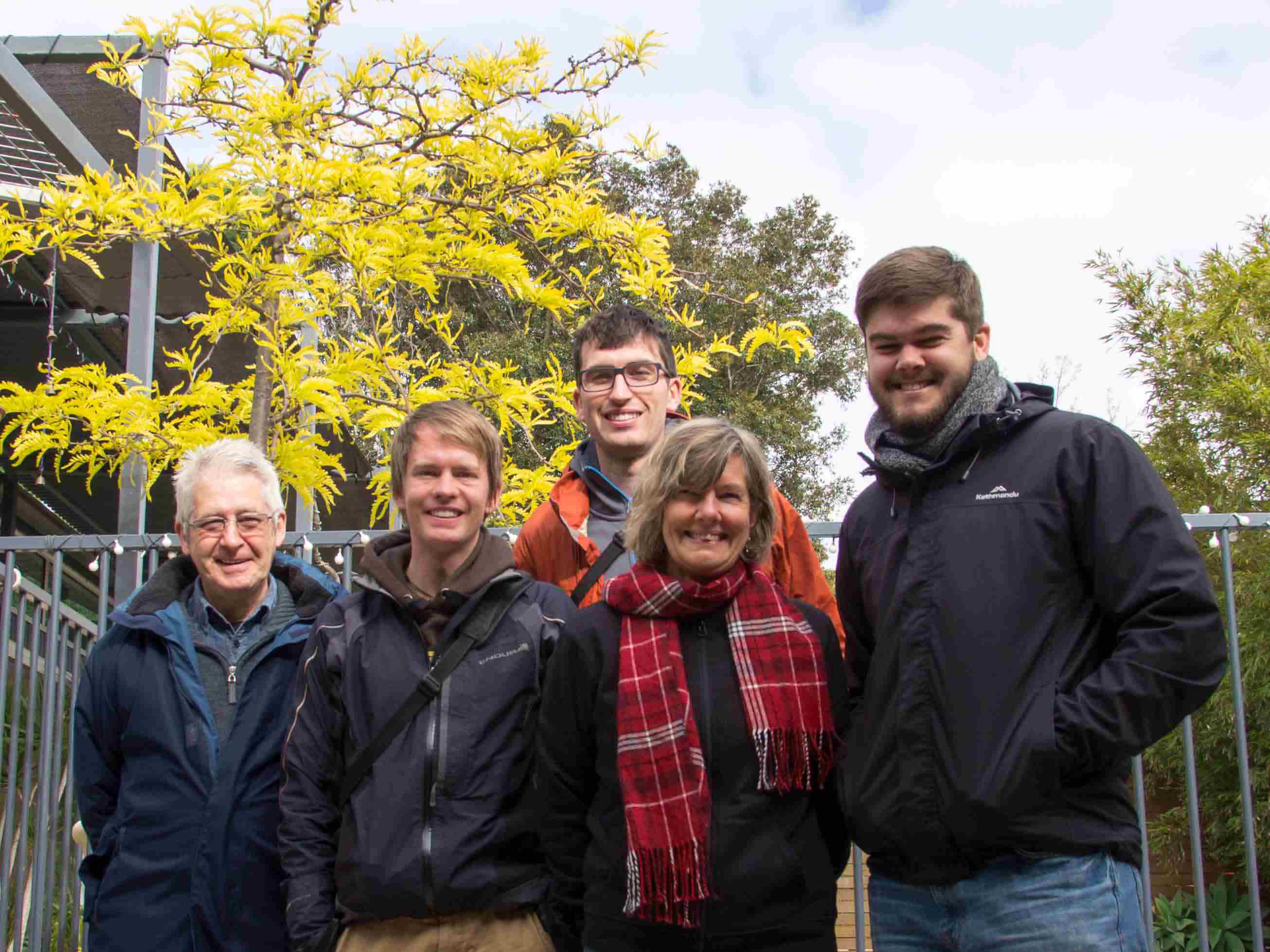 Thanks to the family of Jack for inviting us to there home (a friend of Jack, so two Jacks in this picture). We had nice conversations about Australia and traveling.
Danke an die Familie von Jack für die Einladung zu ihnen nach Hause (einem Freund von Jack, also zwei Jacks in diesem Bild). Wir hatten gute Gespräche über Australien und Reisen.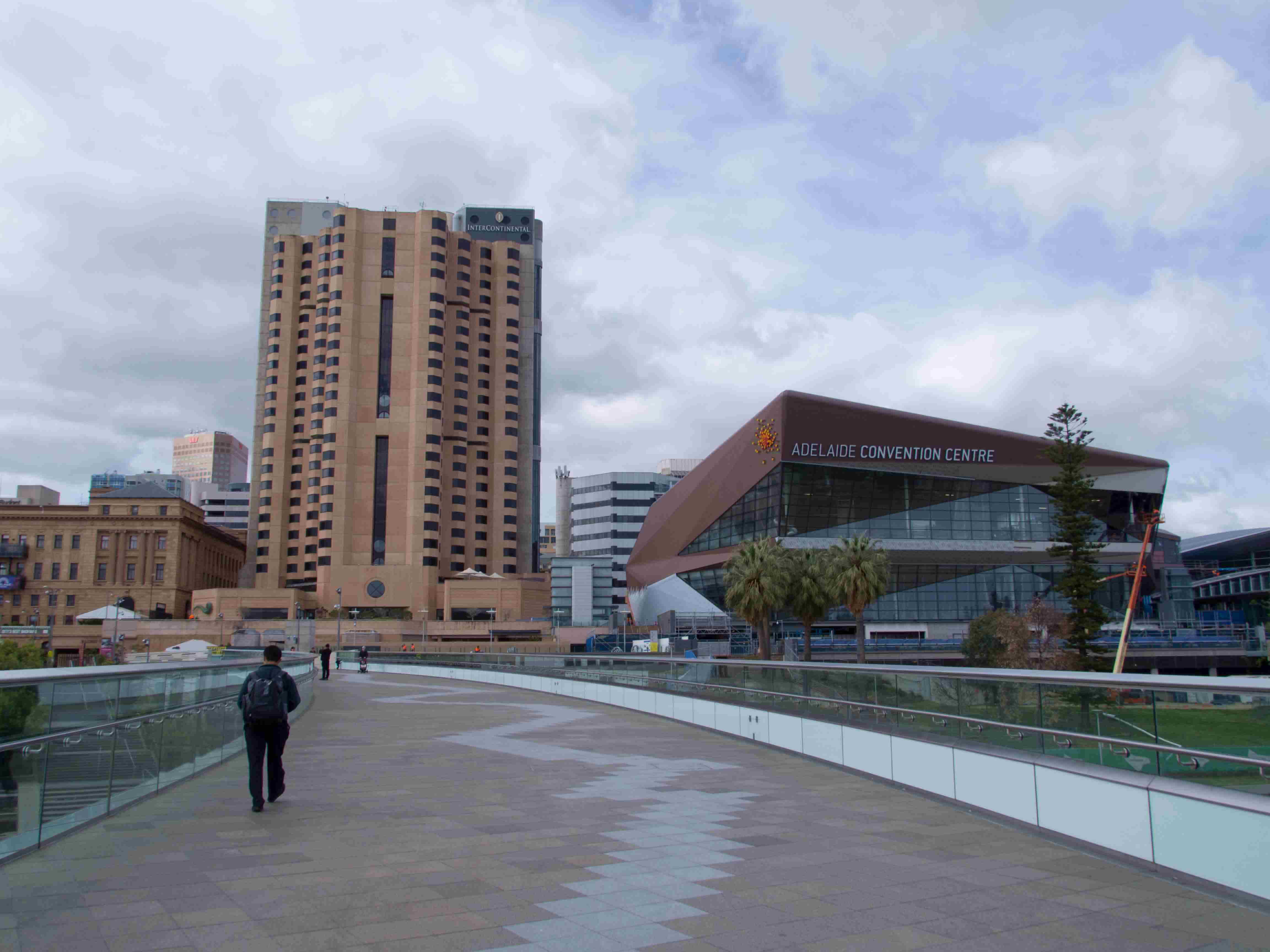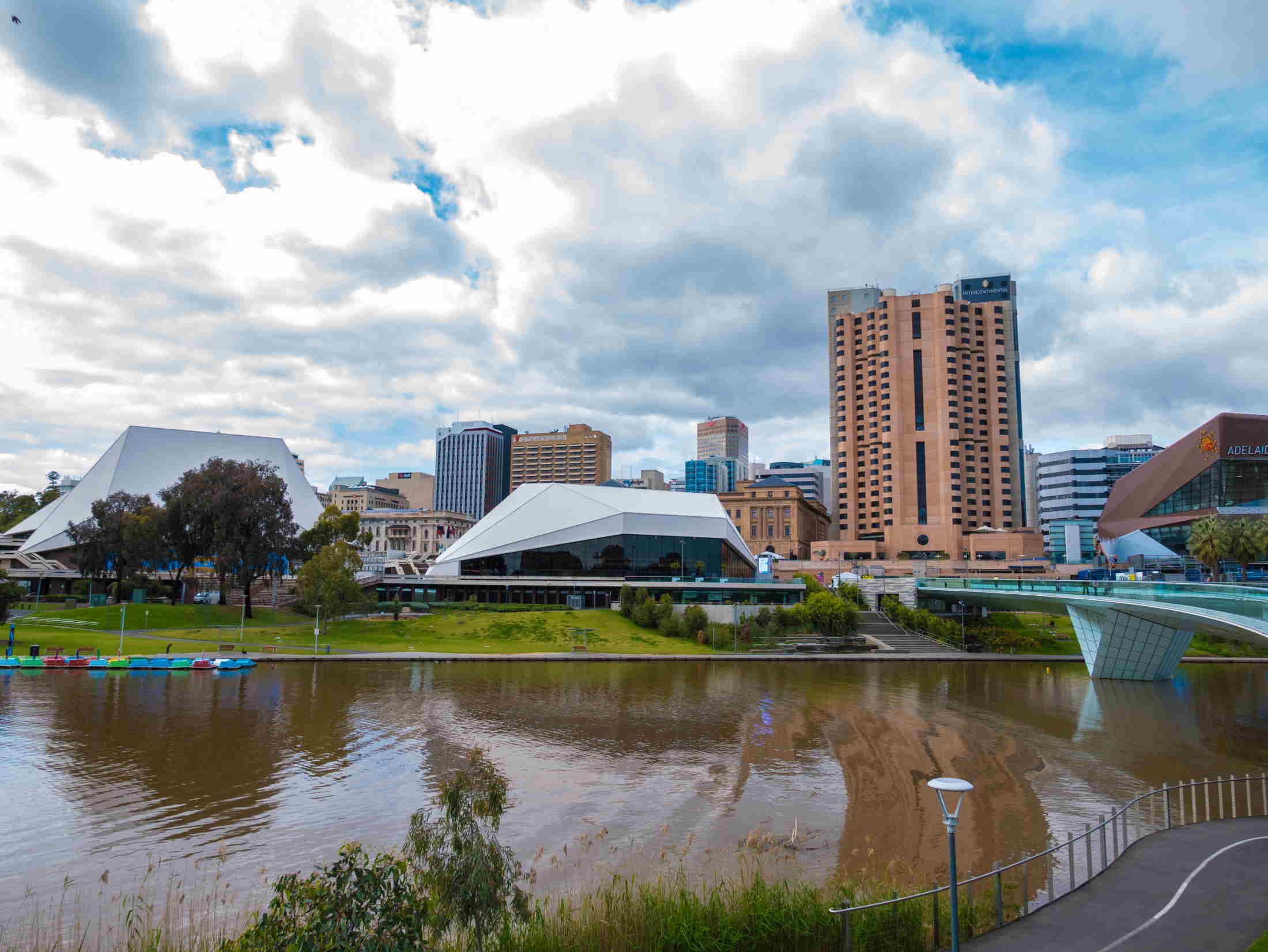 The Cricket stadium in Adelaide.
Das Cricket Stadium in Adelaide.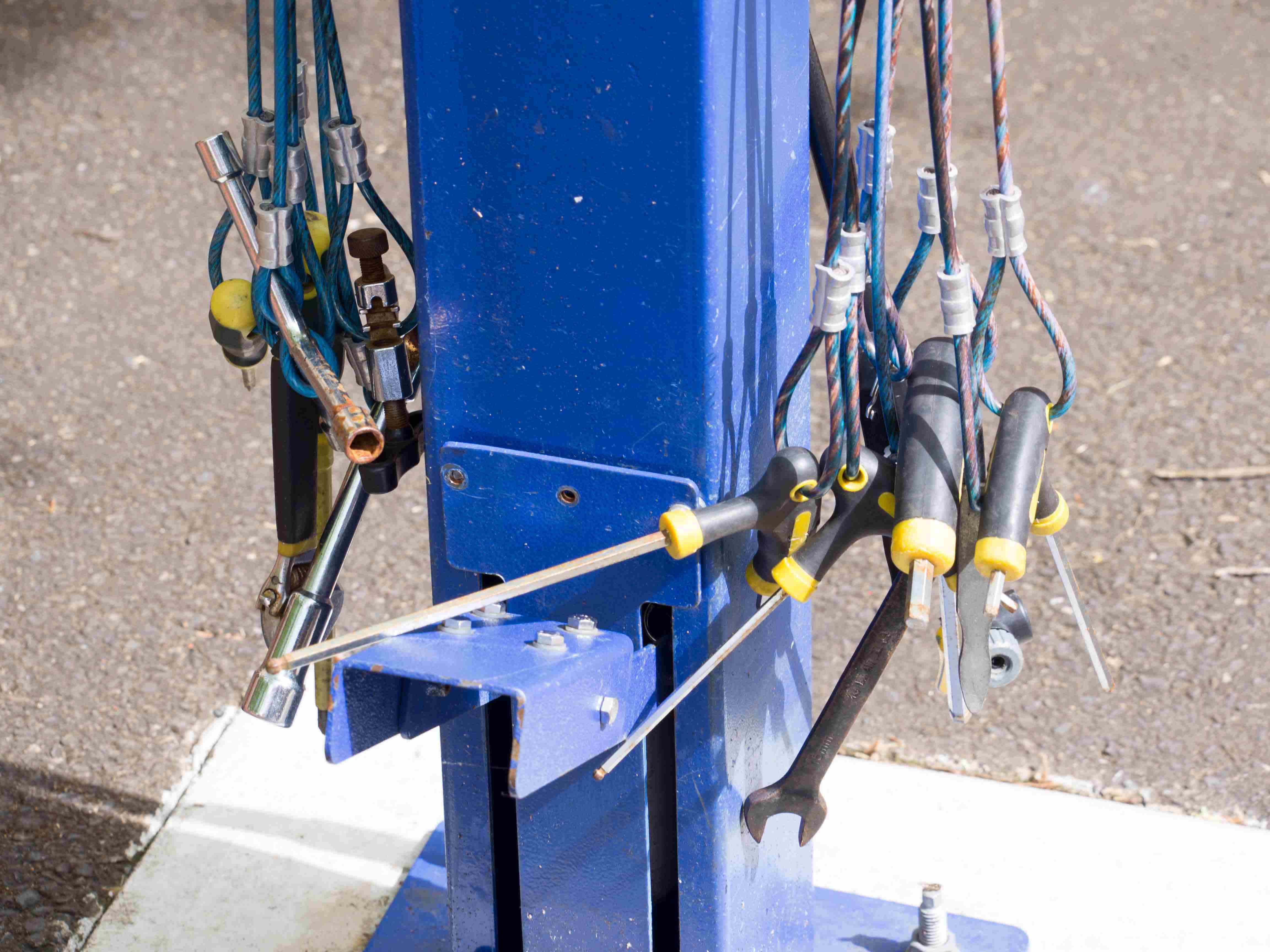 A really bicycle friendly city.
Eine wirklich Fahrradfreundliche Stadt.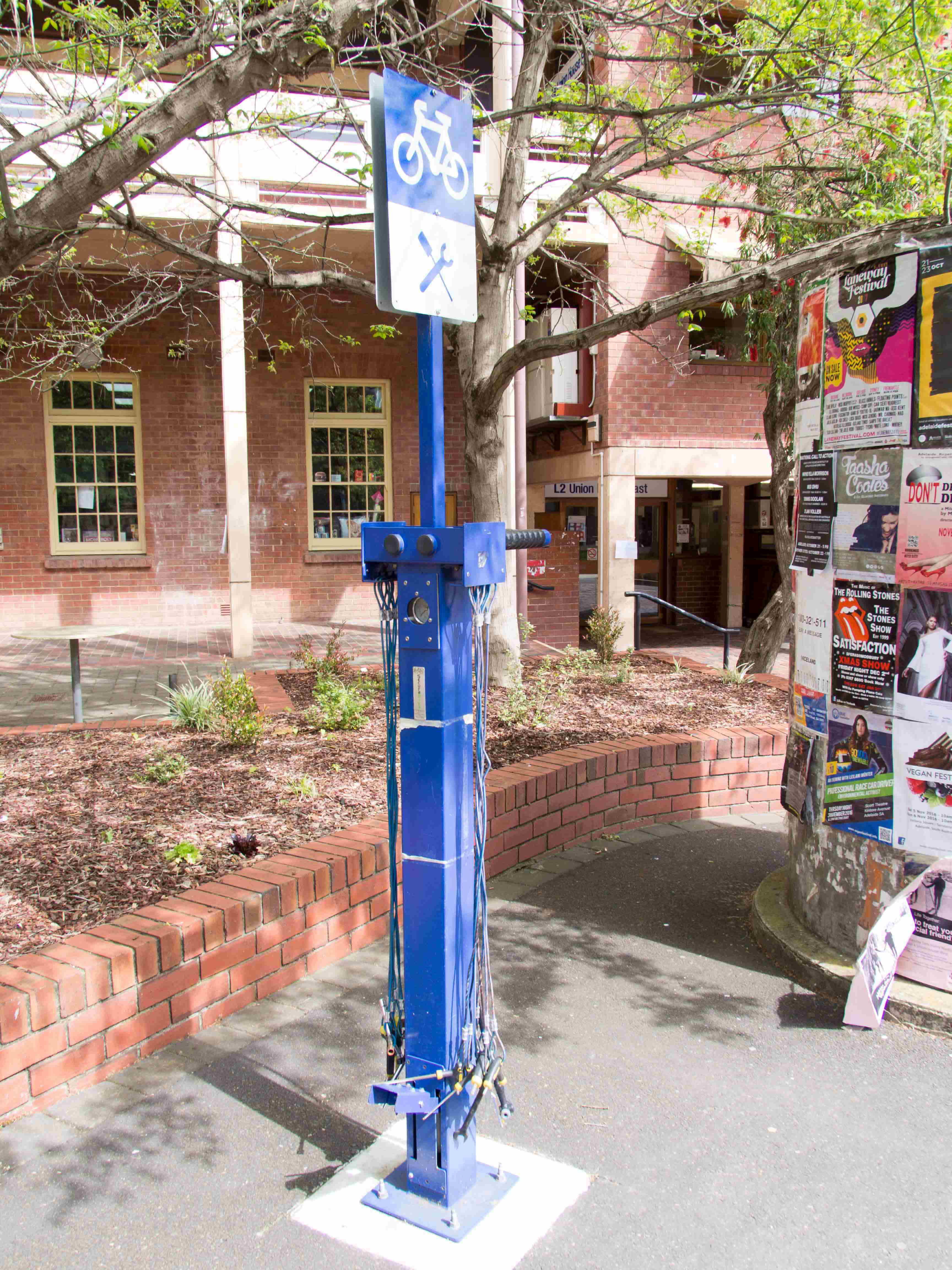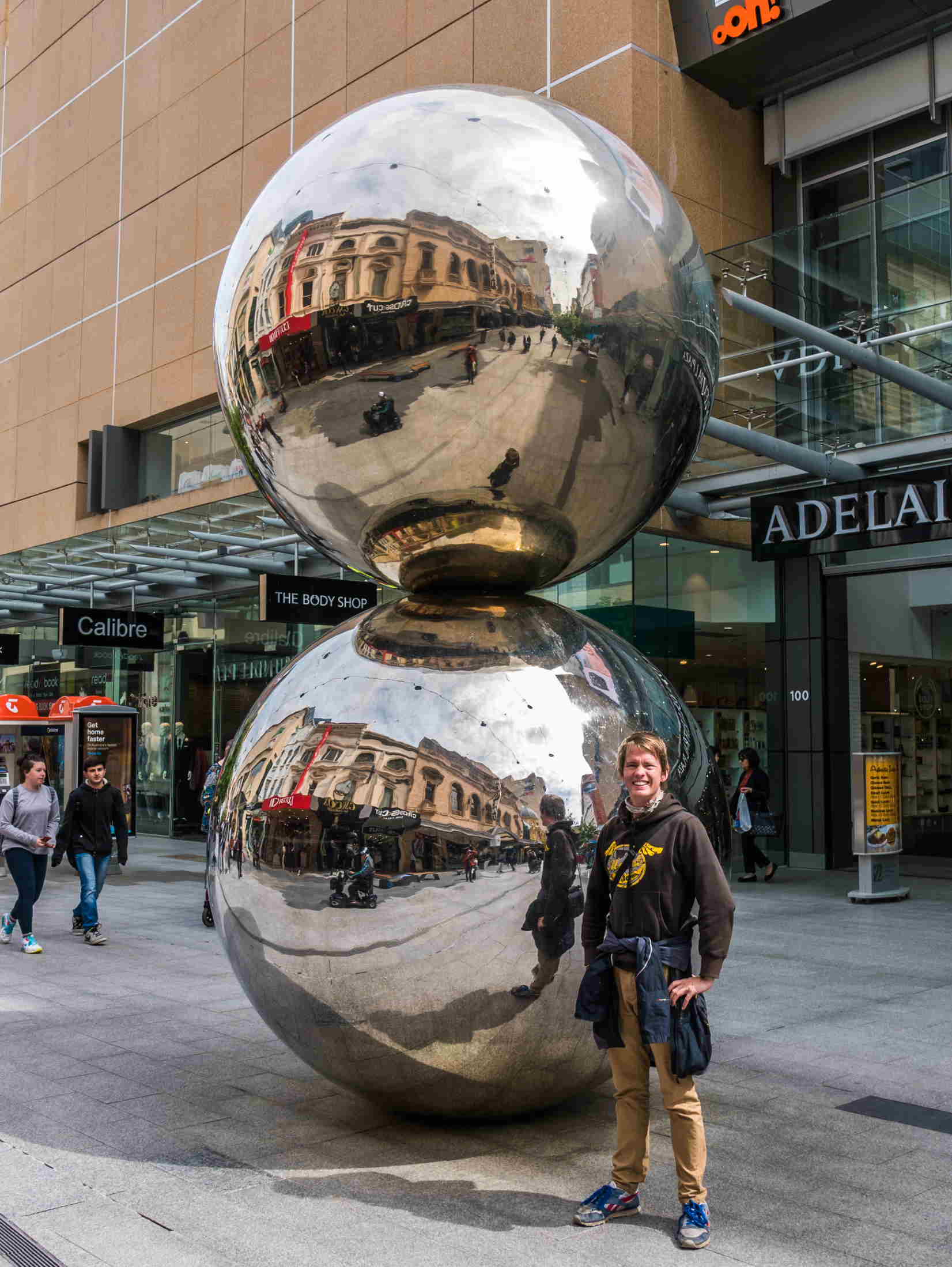 This art object gets from time to time climbed by travelers... unfortunately they often don't think about, how to come down again and the fire brekade has to come and get them. :P
Dieses Kunstobjekt wird von Zeit zu Zeit von Travelern bestiegen, die sich nur leider keine Gedanken machen, wie sie wieder runter kommen. Dann muss die Feuerwehr anrücken um beim Abstieg zu helfen. :P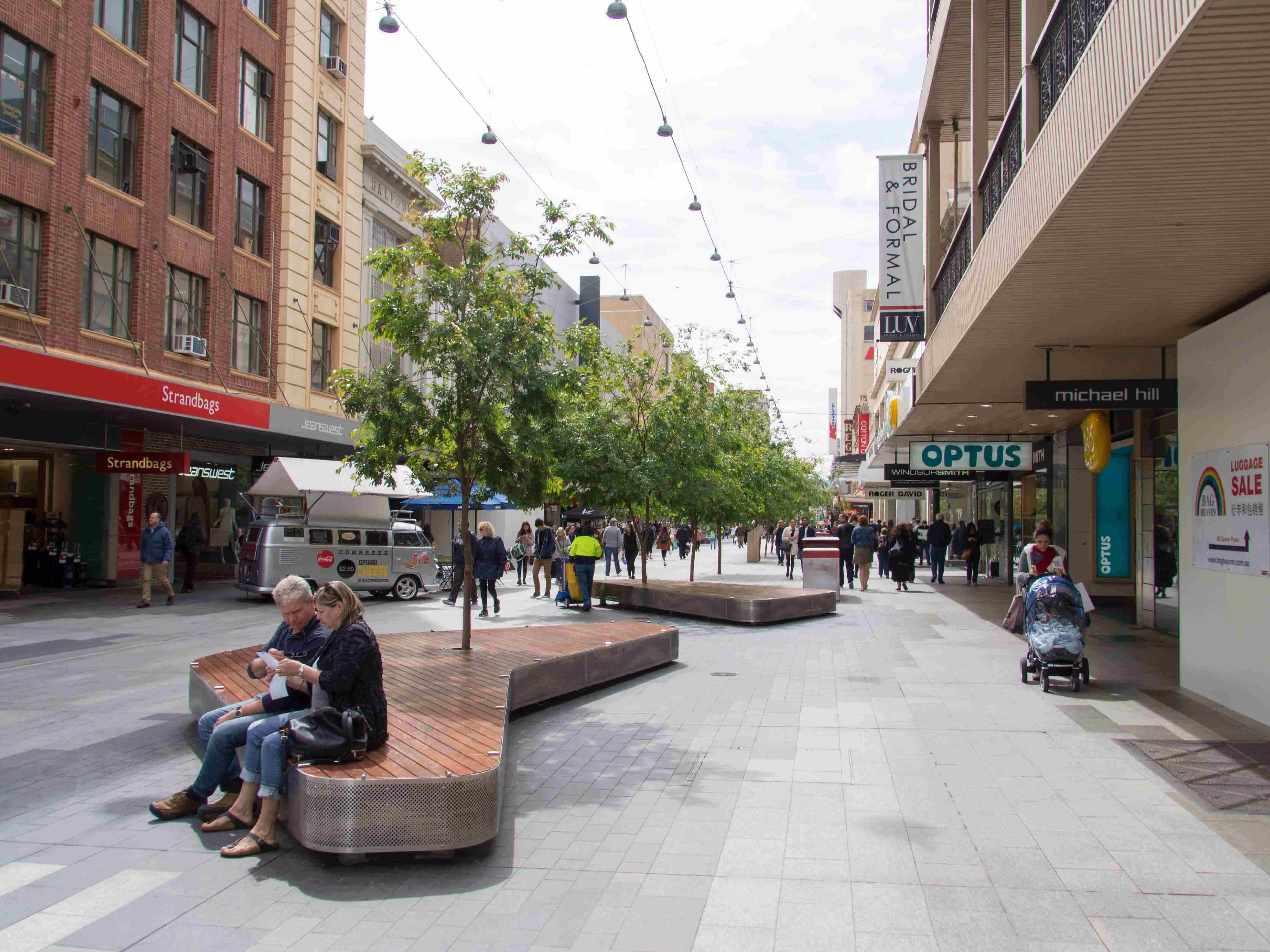 Adelaide.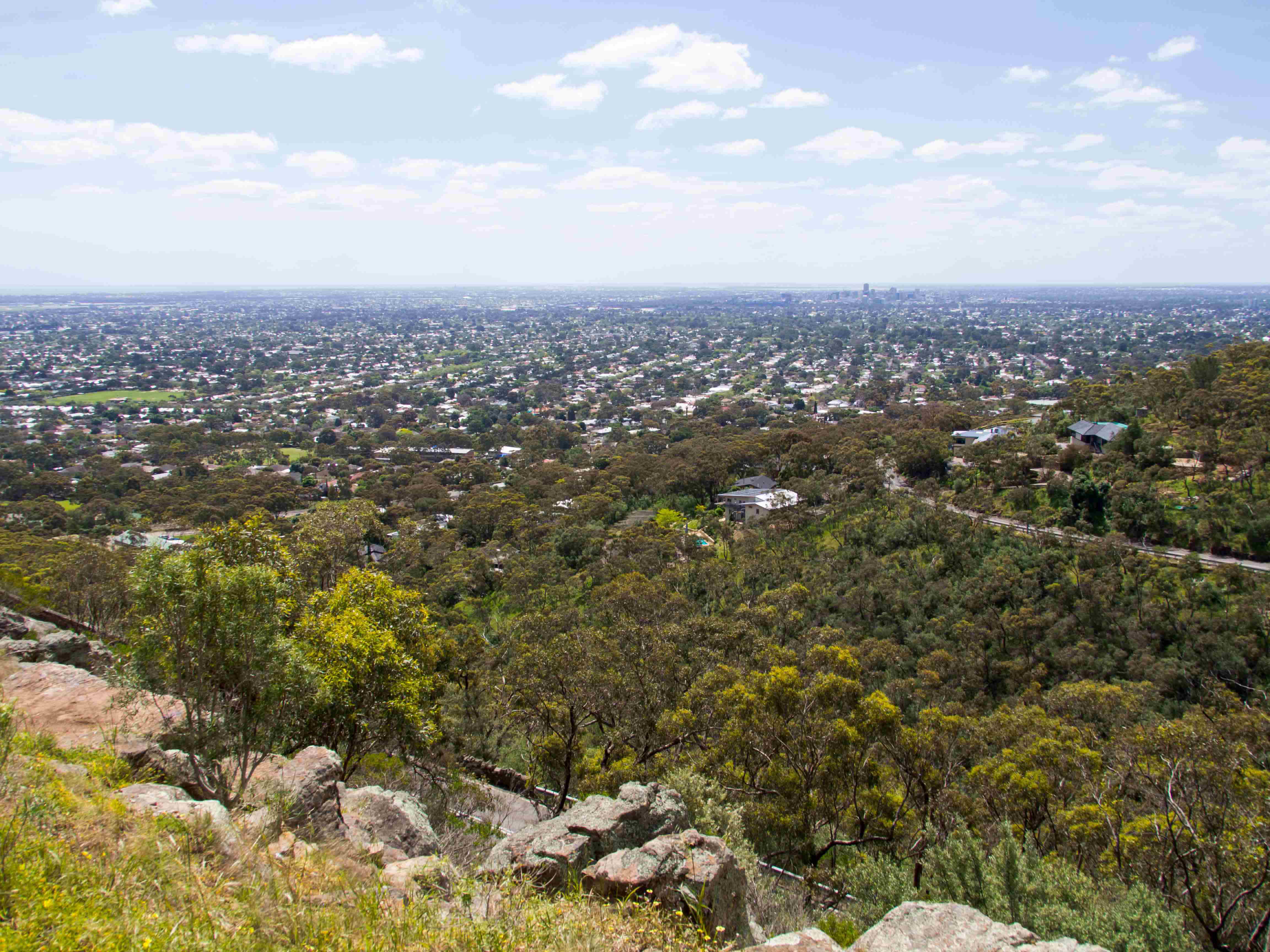 Adelaide is very green, at the sea and seems to be a nice place. :)
Adelaide ist seher grün, direkt am Meer und scheint ein schönes Plätzchen zu sein. :)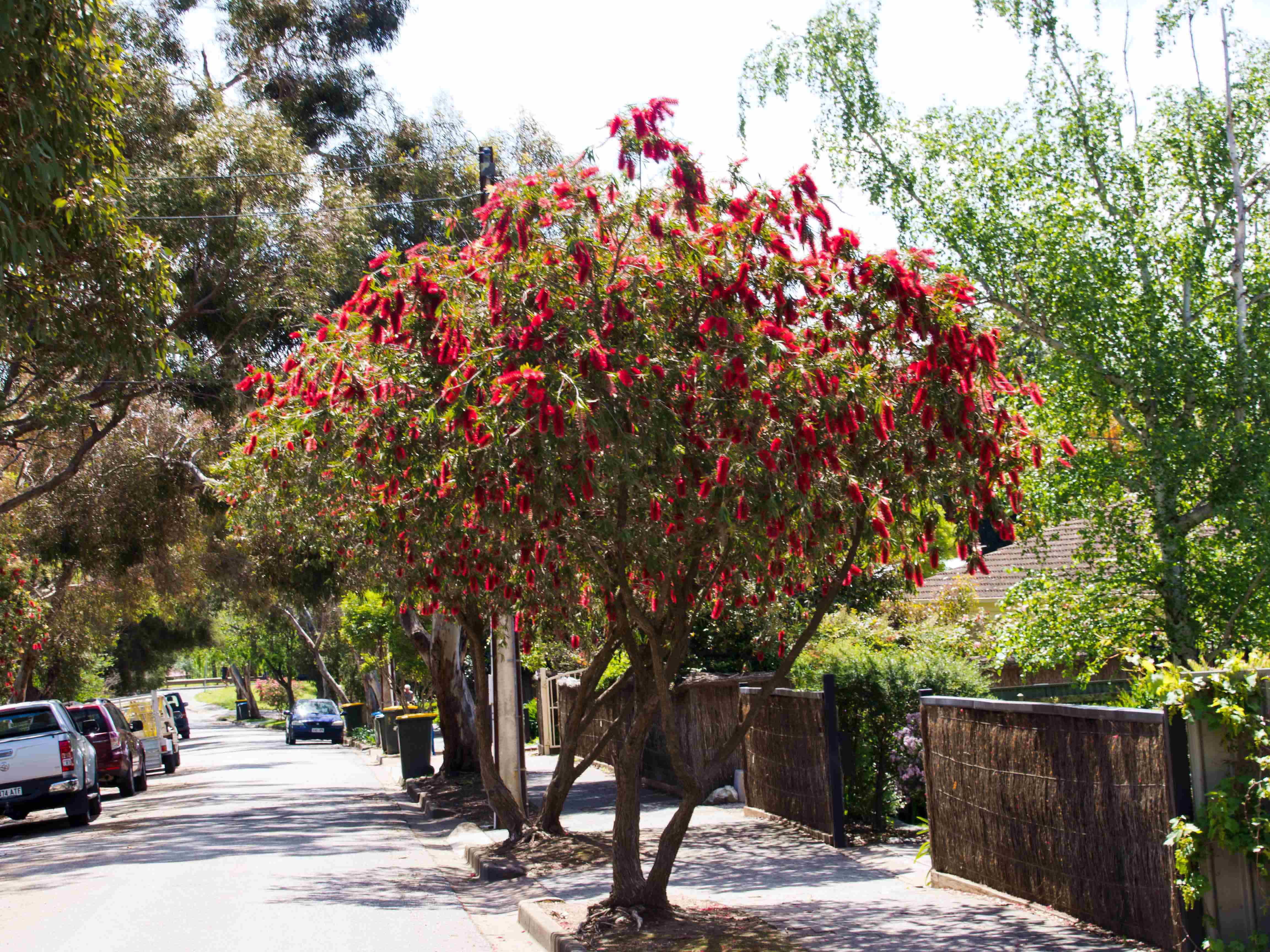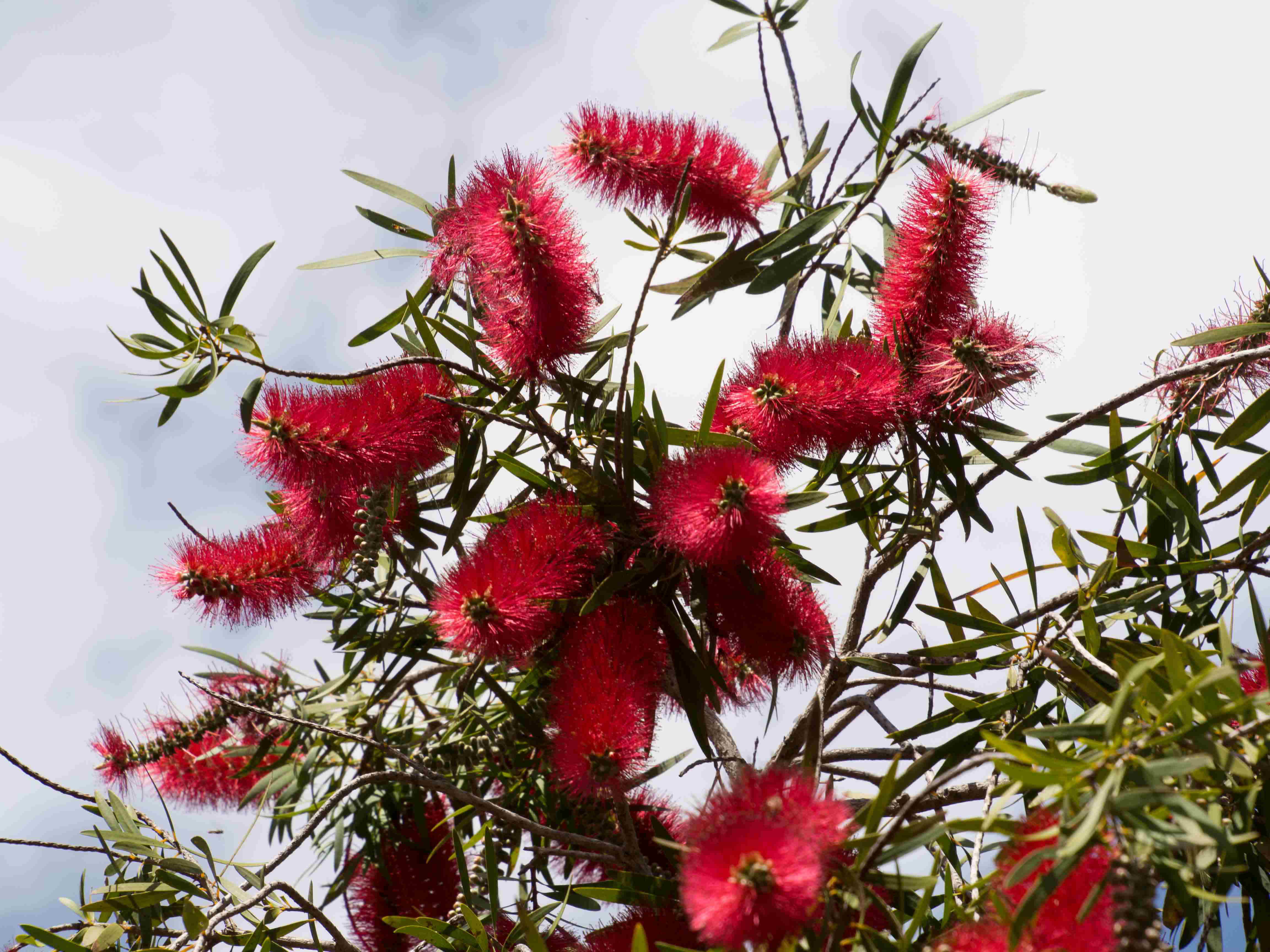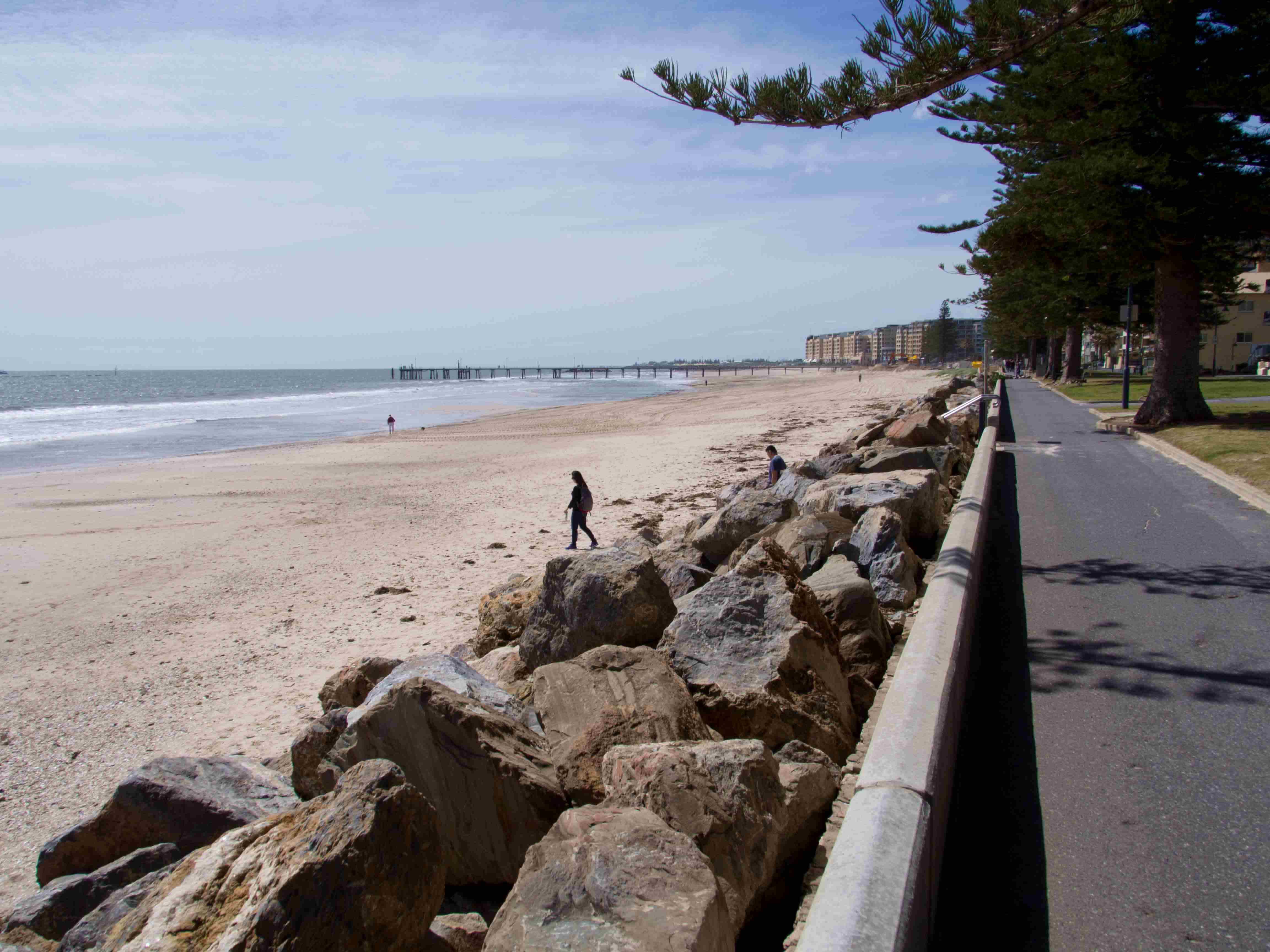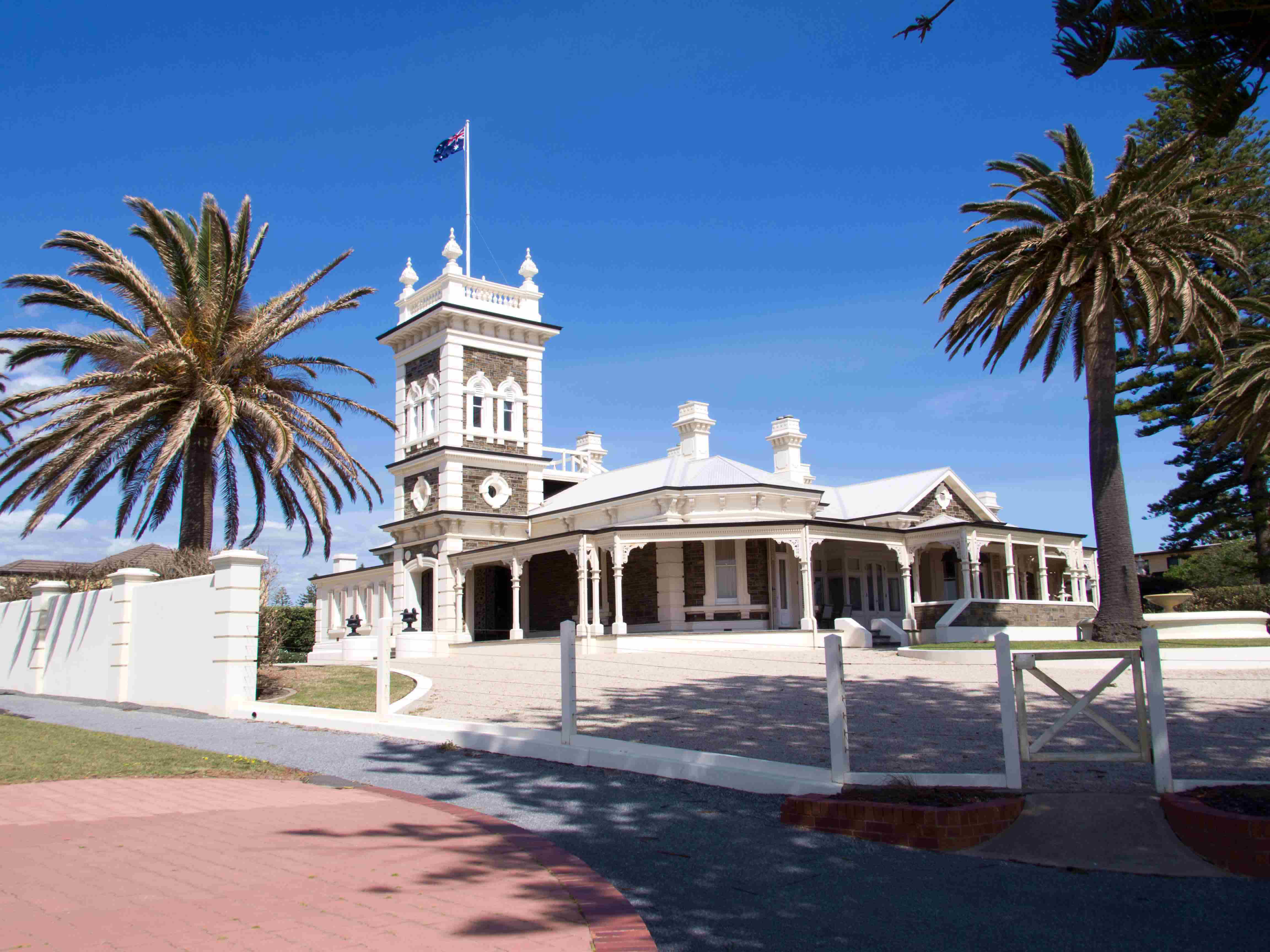 Here at the beach promenade in Adelaide.
Hier an der Strandpromenade in Adelaide.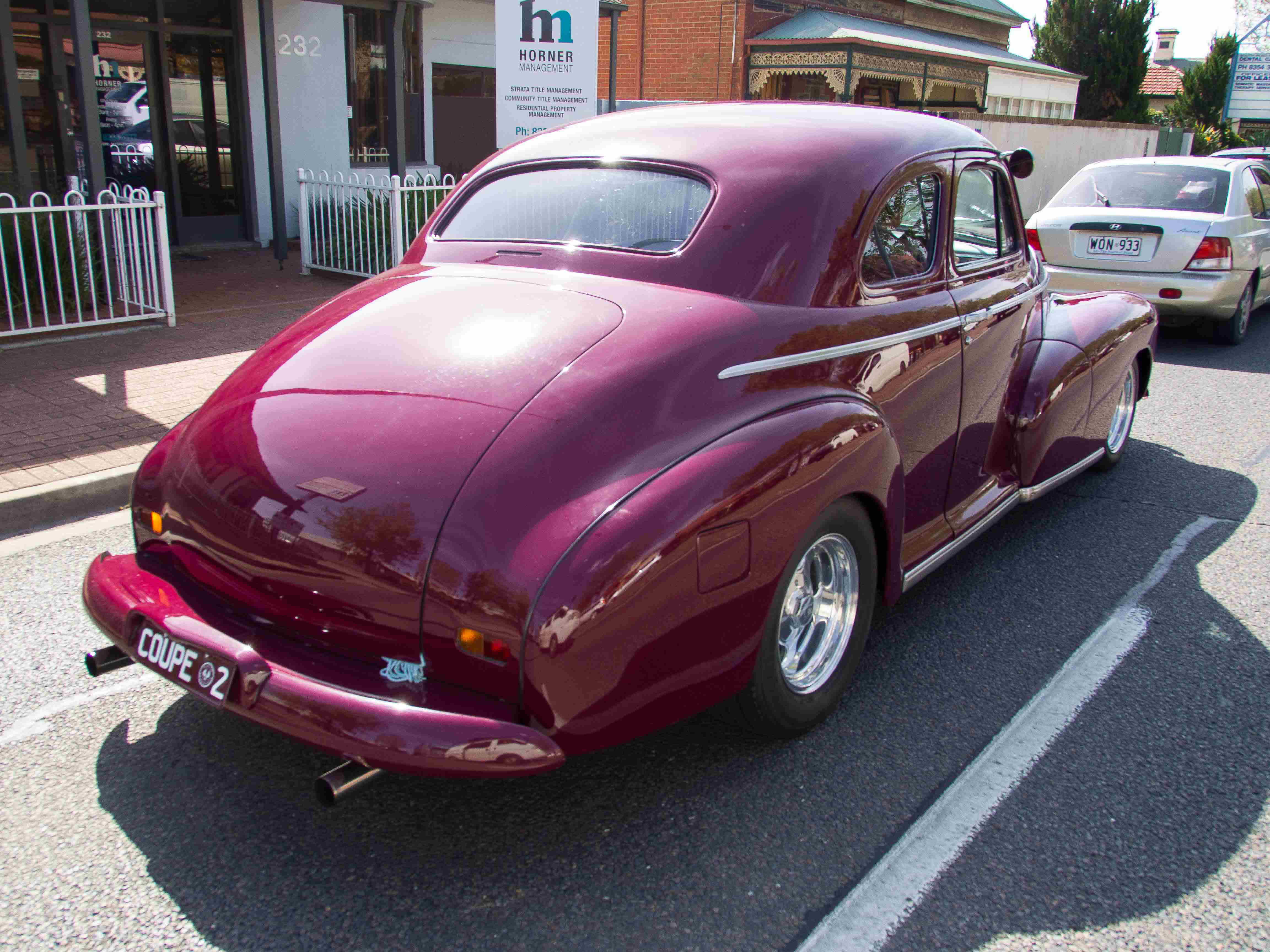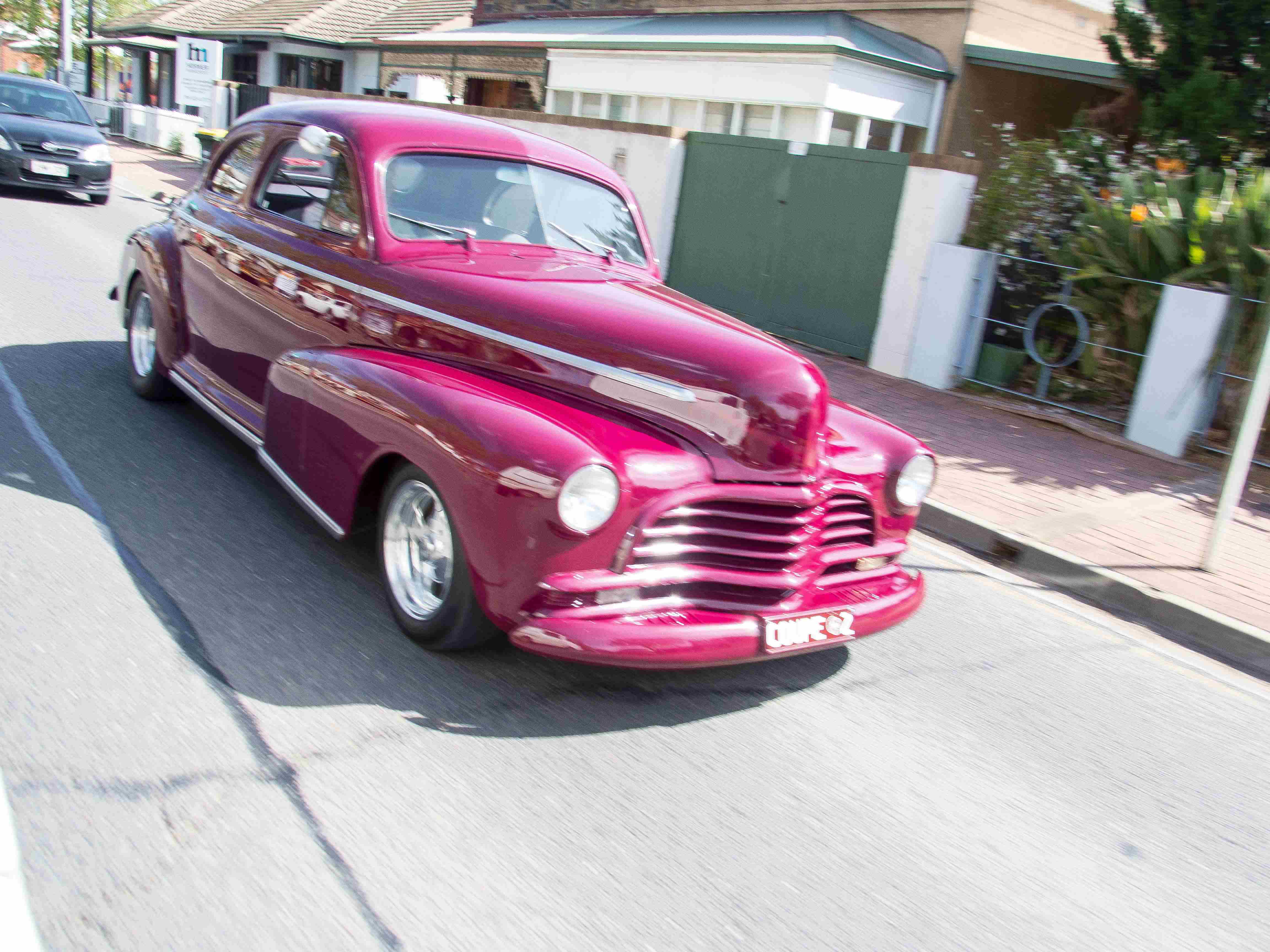 Like my friend Kat wrote on my backpack: Never forget the sunset!!!
Wie meine Freundin Kat auf meinen Rucksack schrieb: Vergesse nie den Sonnenuntergang!!!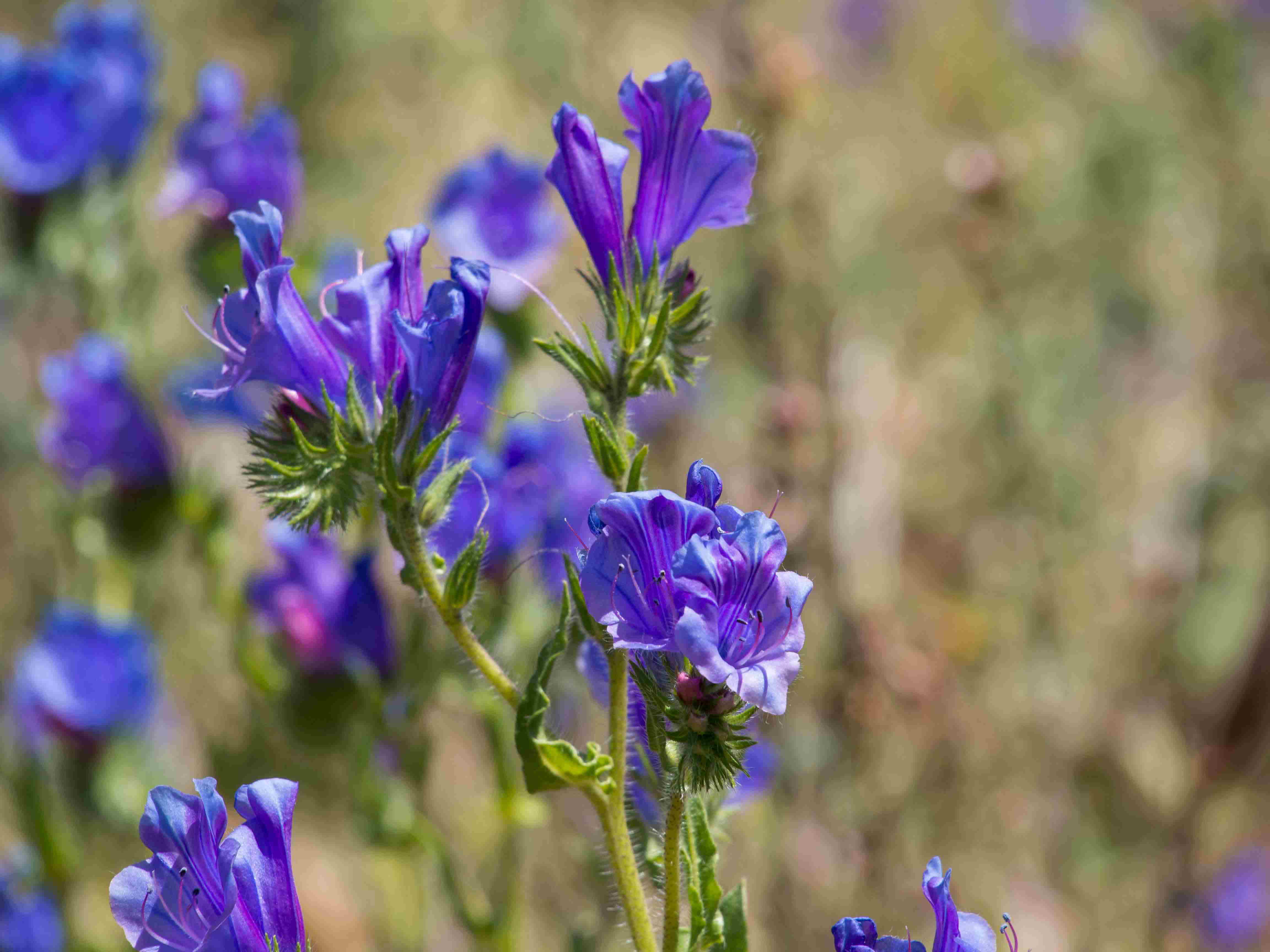 A day in the Flinders Rangers. A mountain chain in the middle of south of Australia (from the states already in West Australia).
Ein Tag in den Flinders Rangers. Eine Gebirgskette in der Mitte von Südaustraliens (den Staaten nach schon in Westaustralien).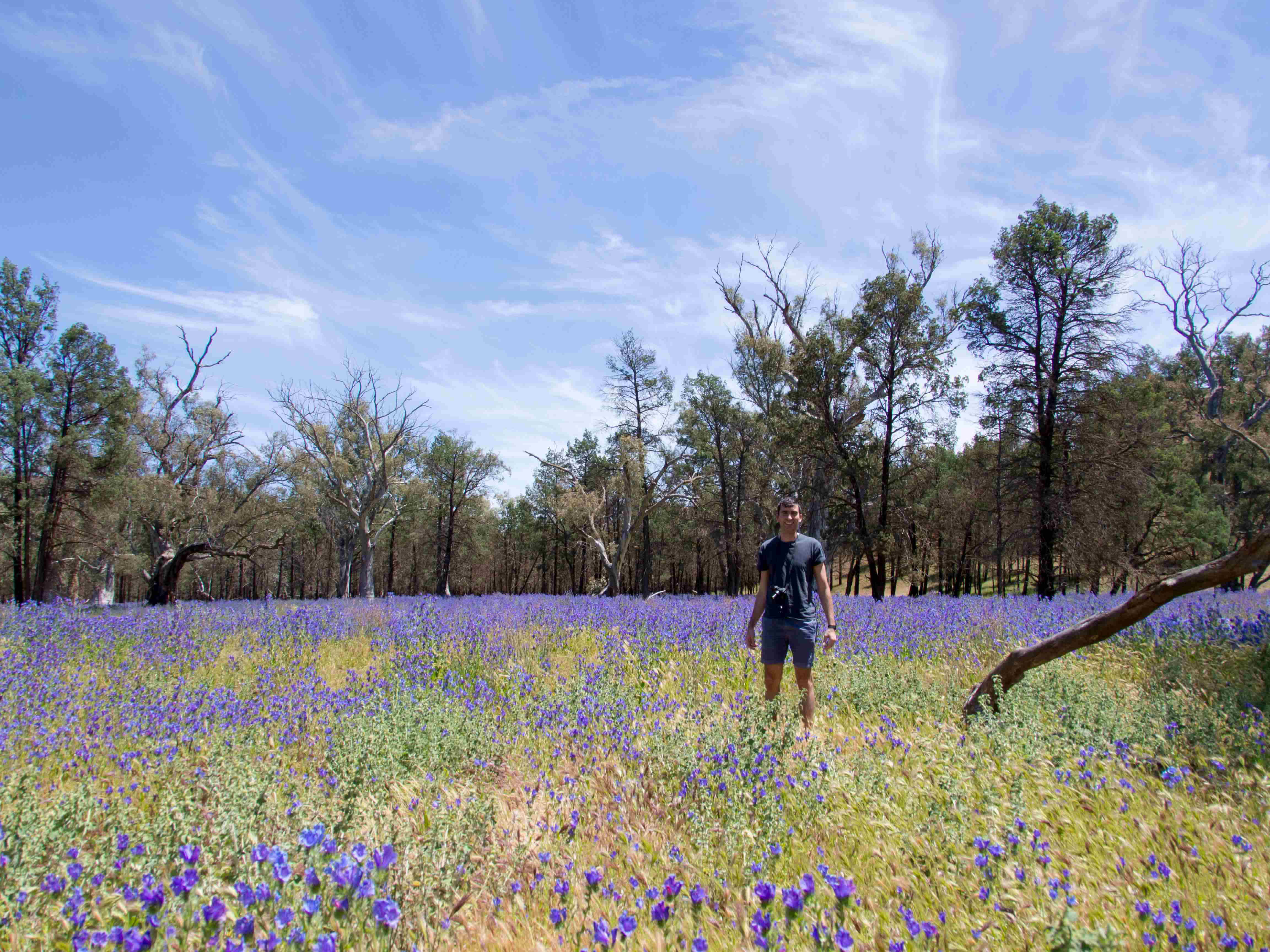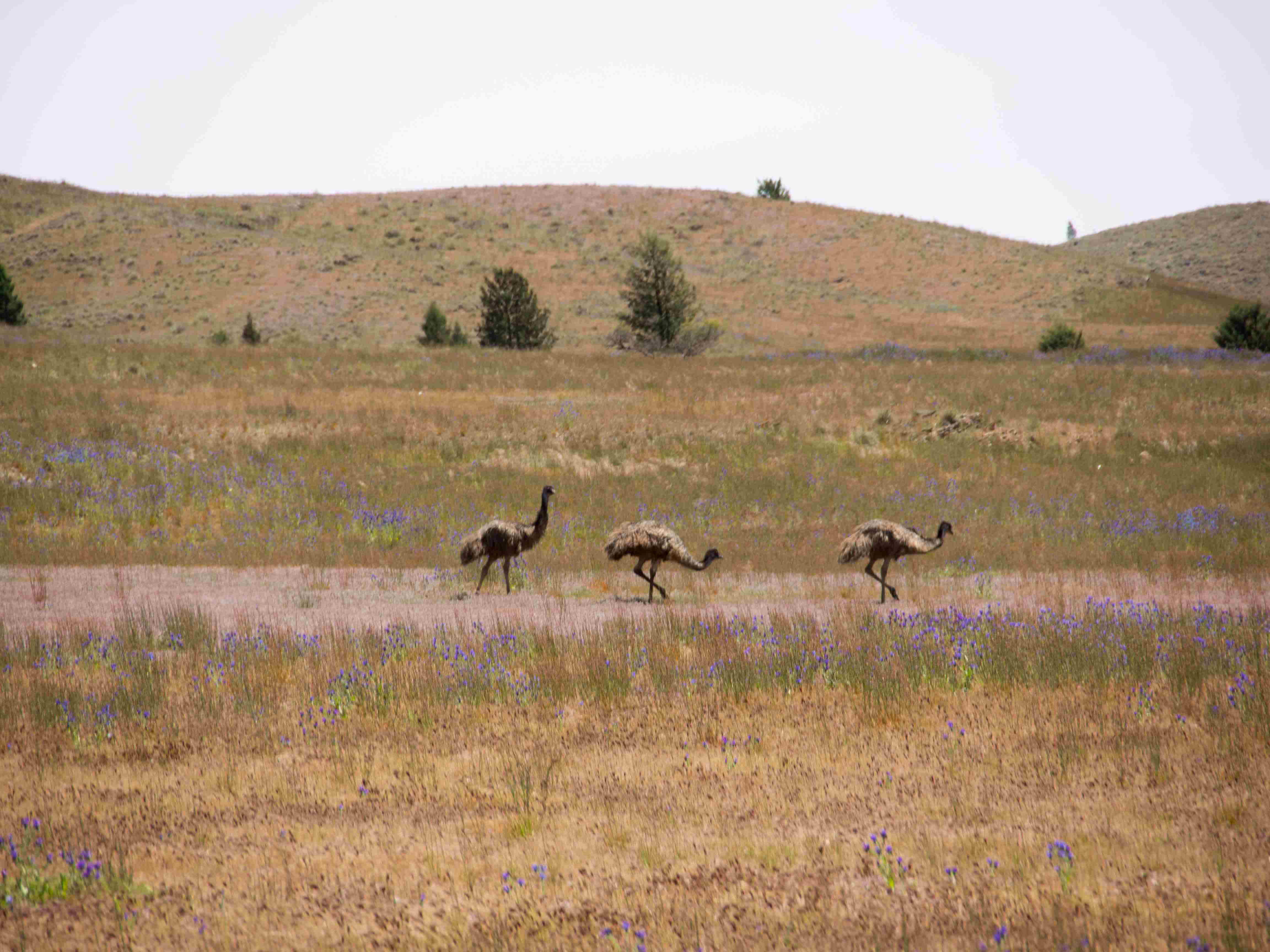 Wild Emus.
Wilde Emus.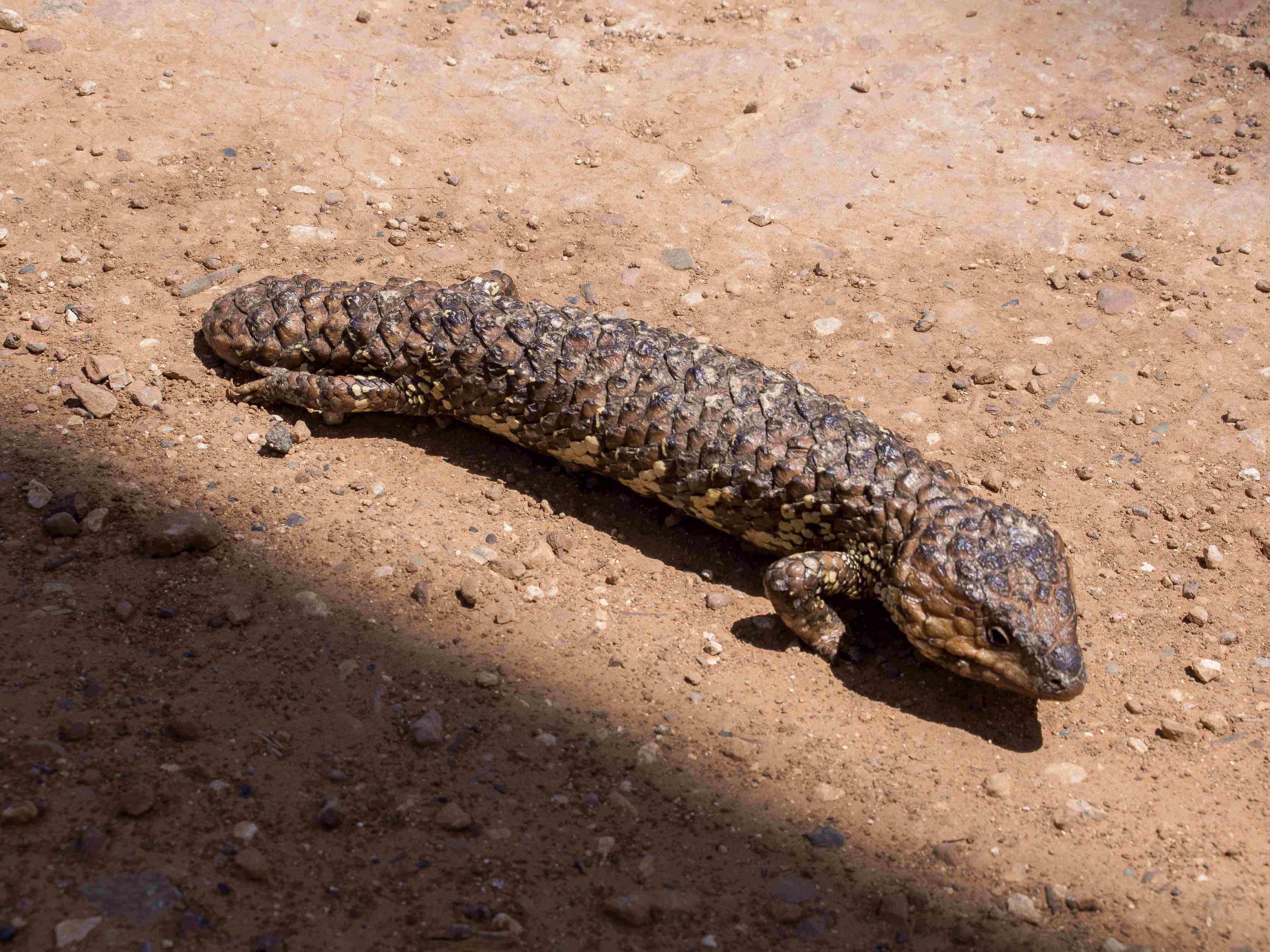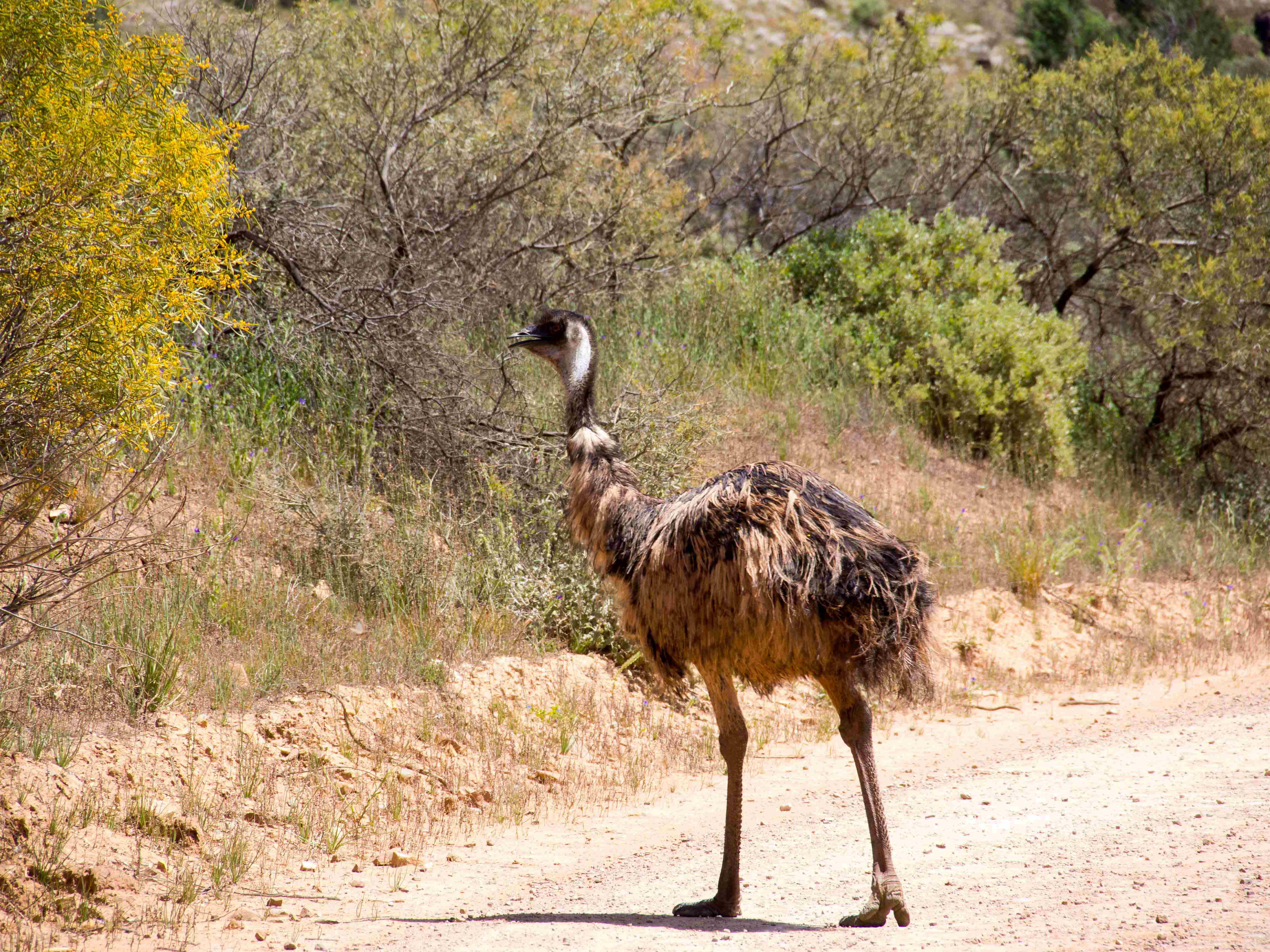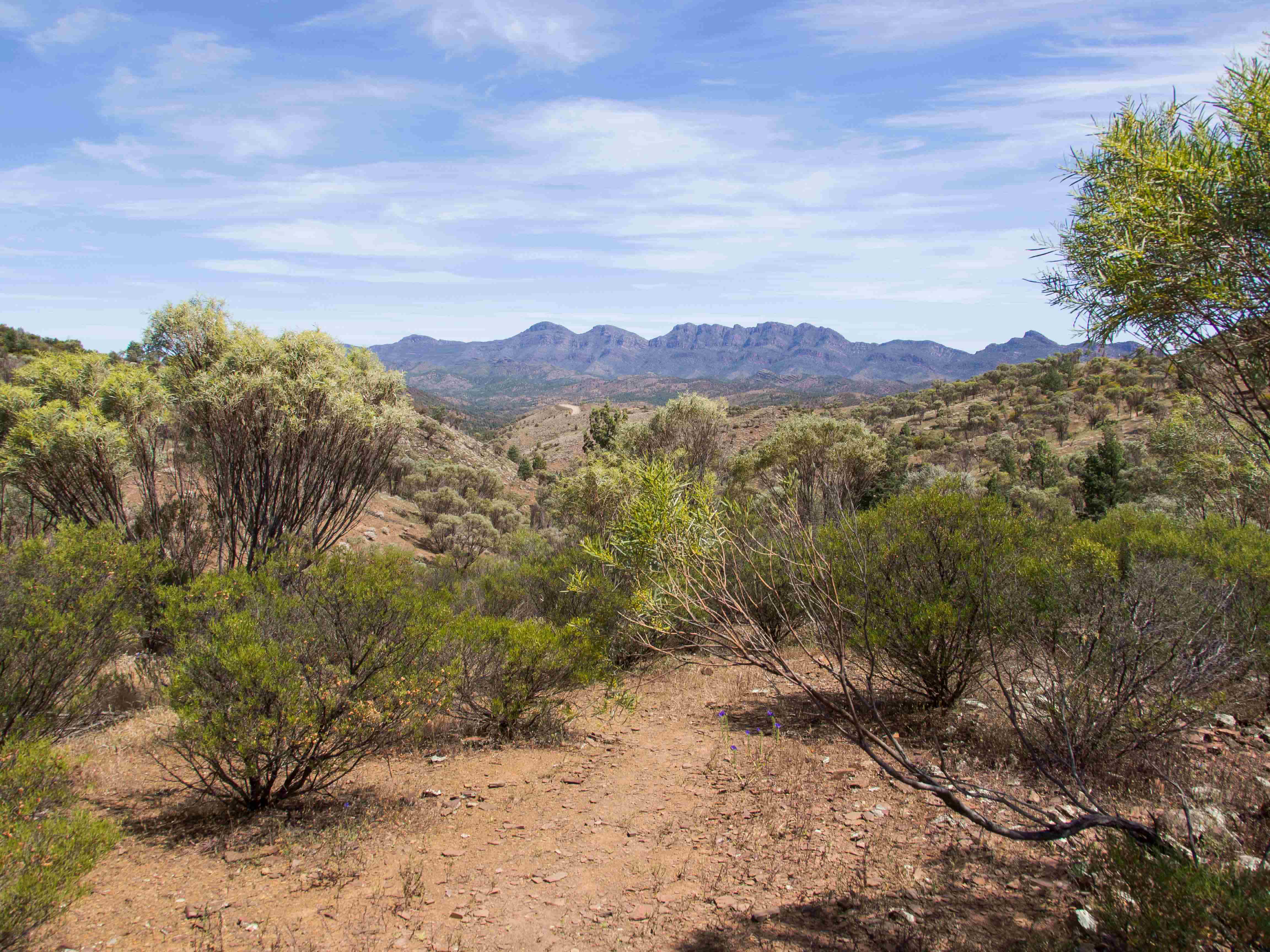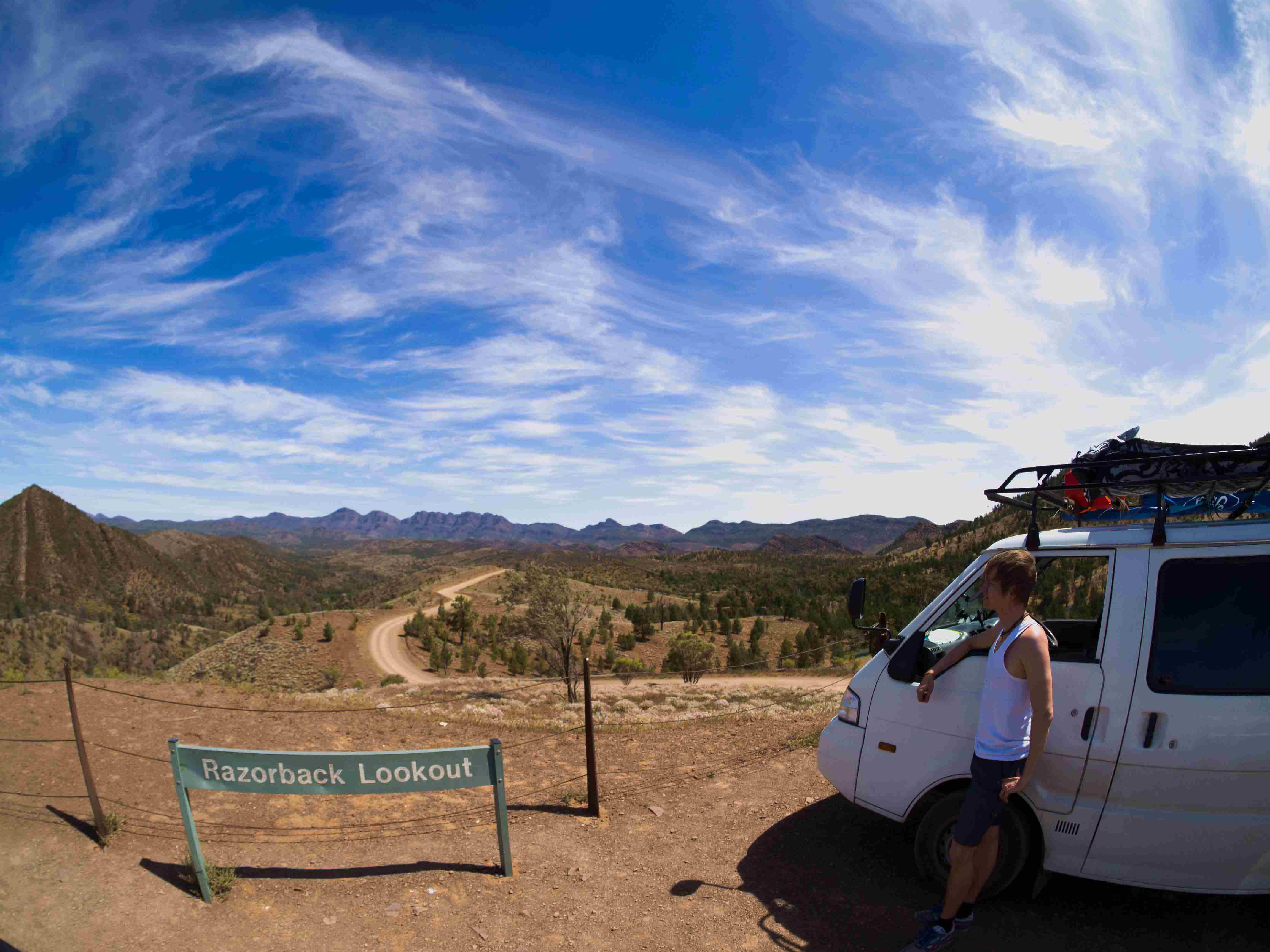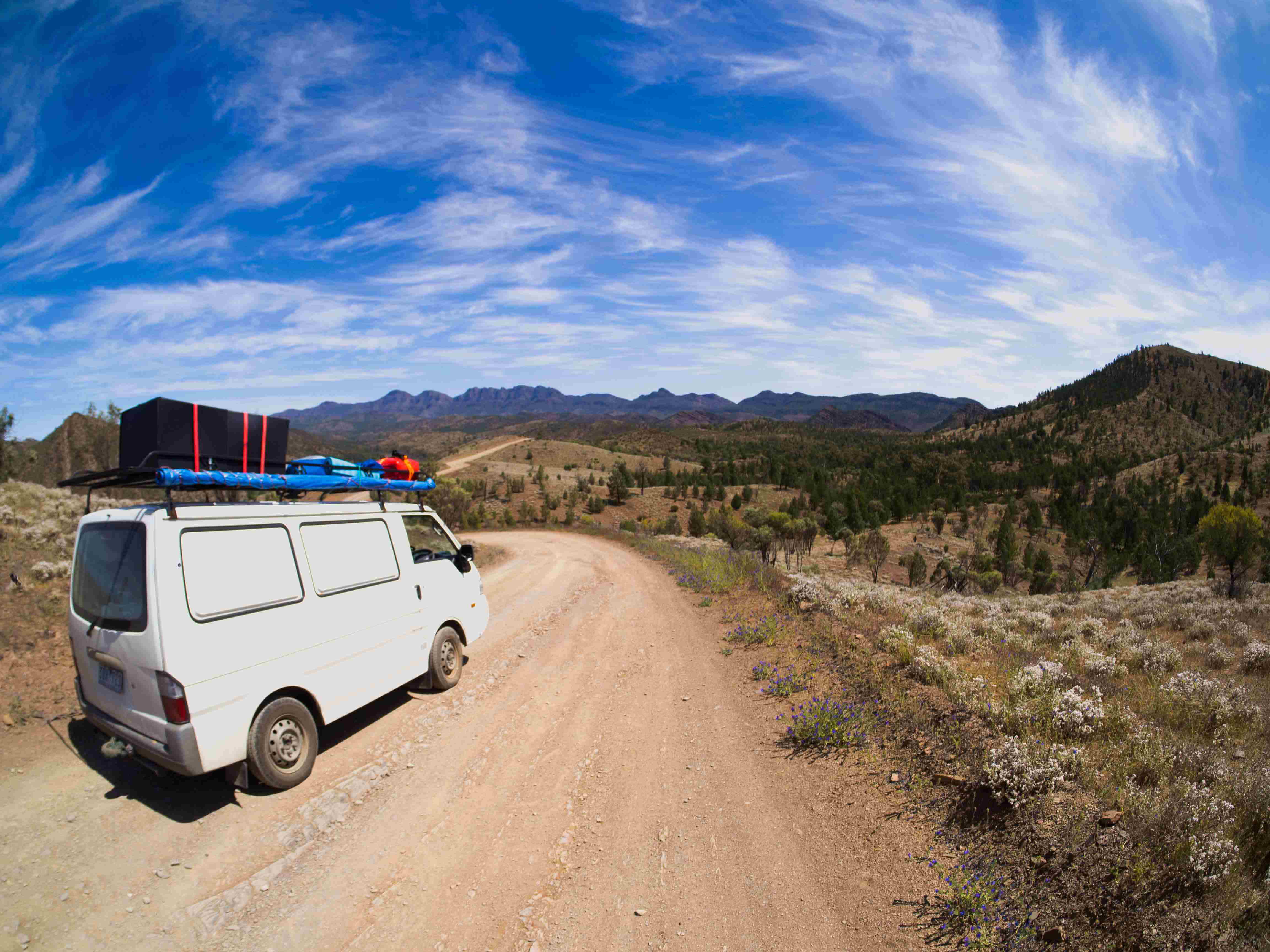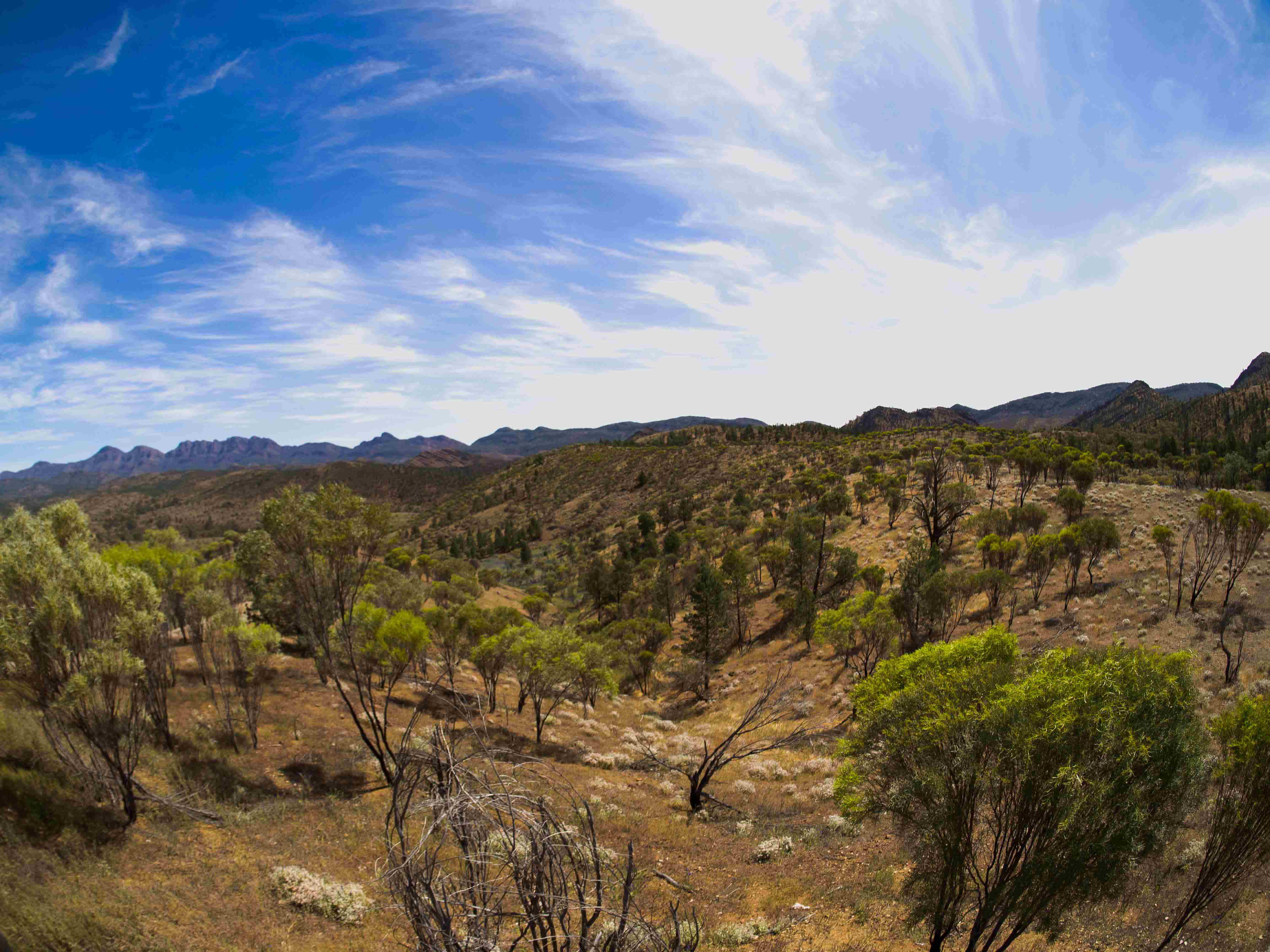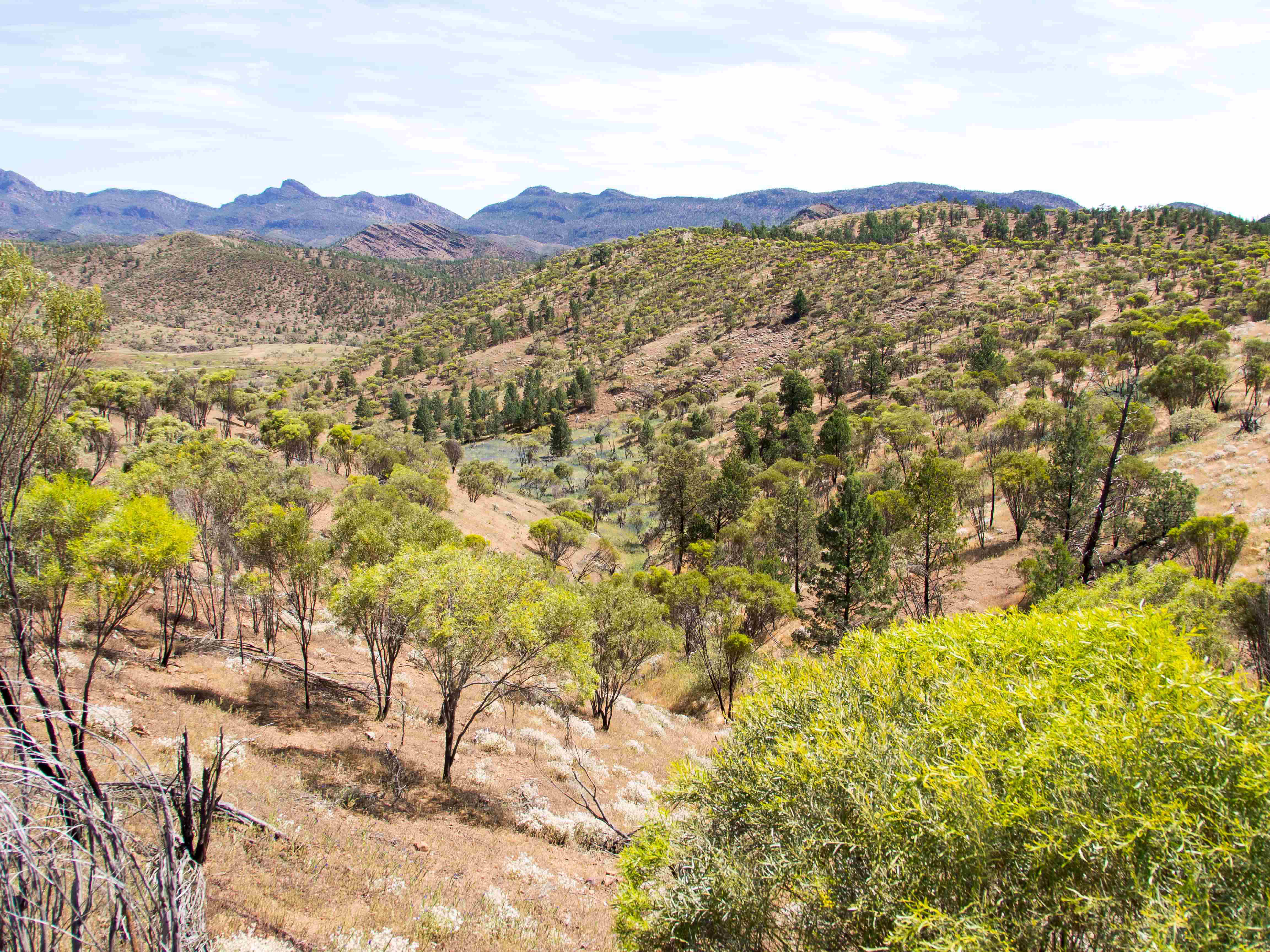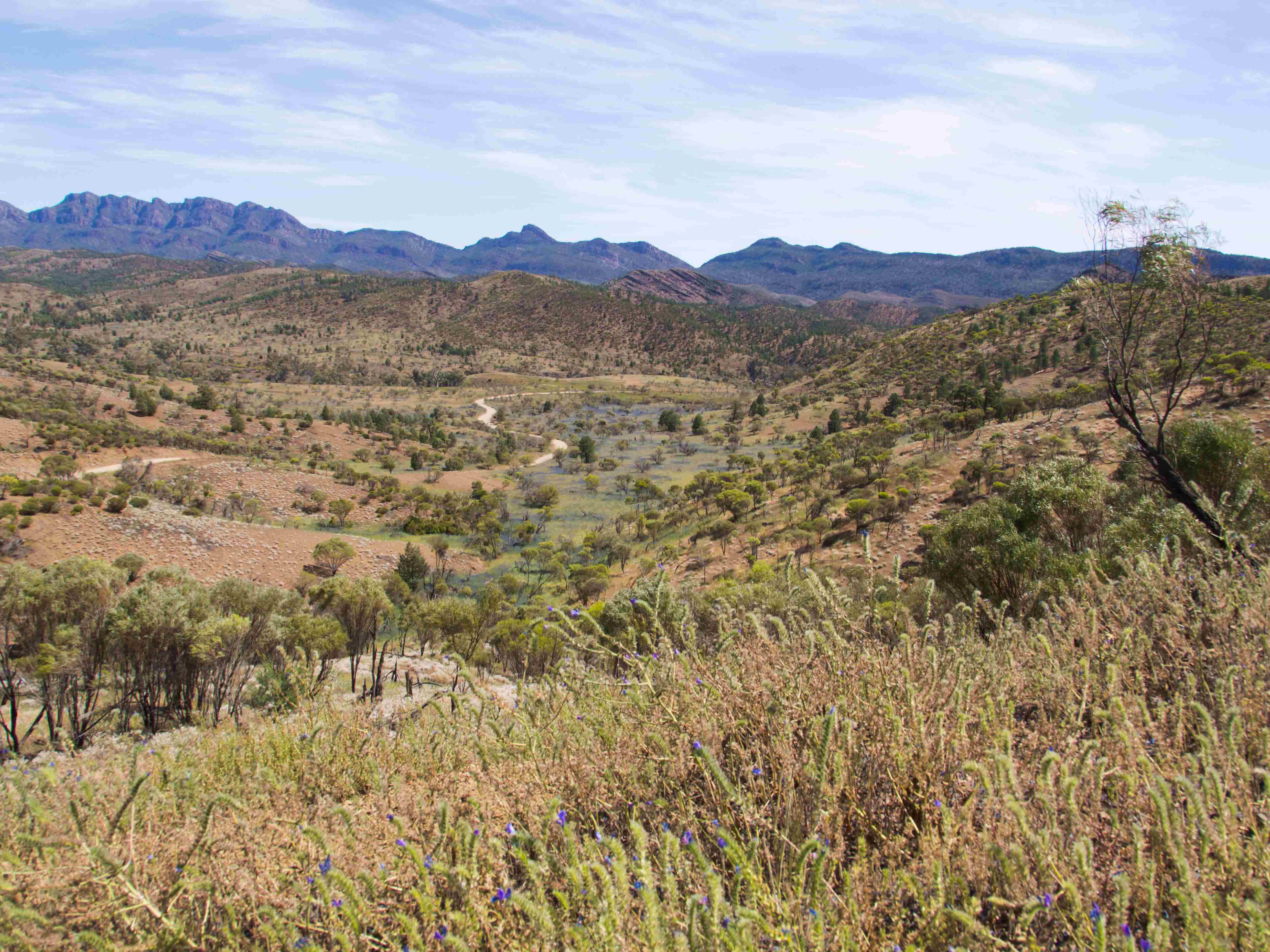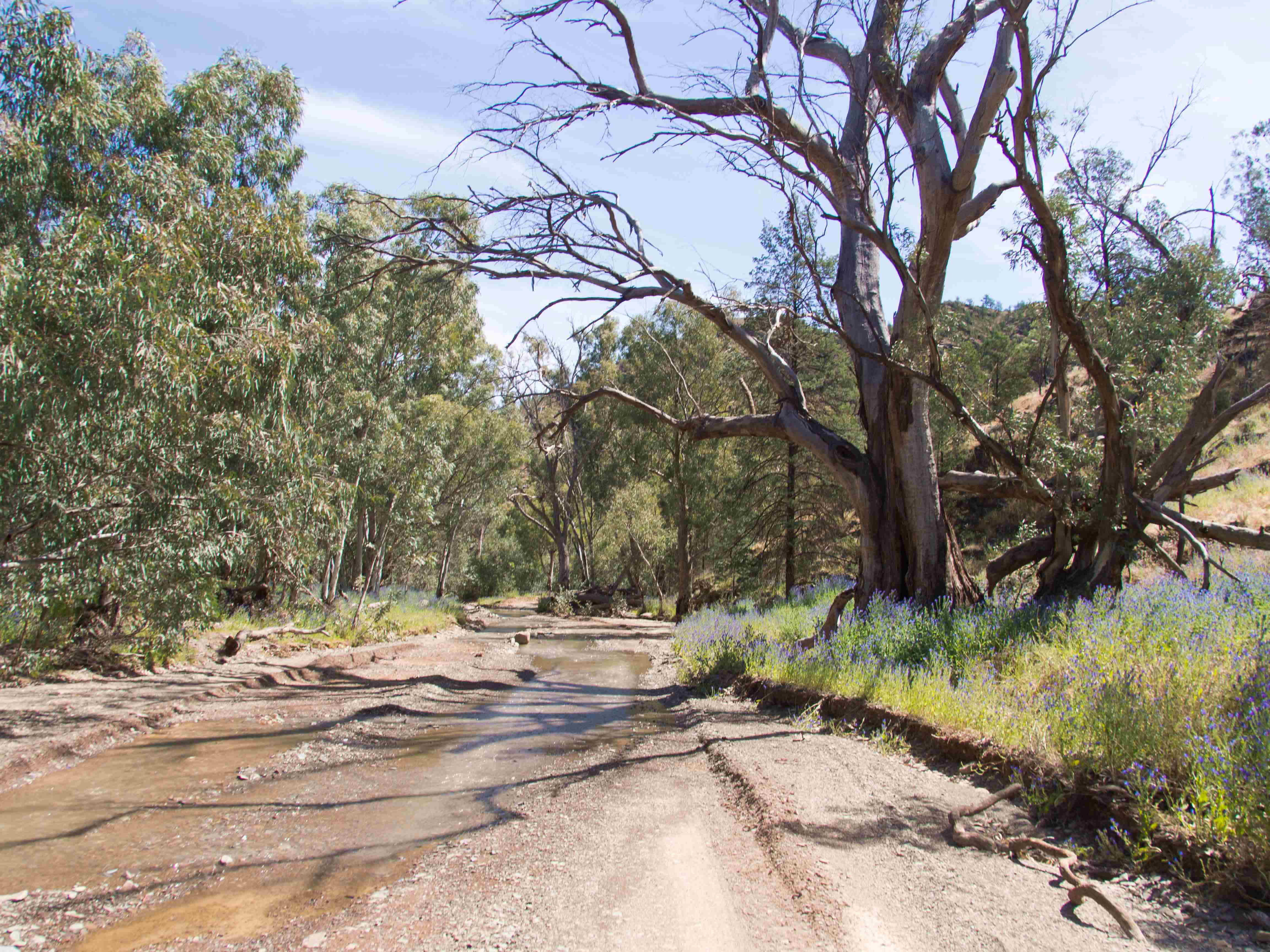 Yeah this is a four wheel drive, but Billy managed brave without any problems!
Jaa das hier ist eine allrad Strecke doch Billy war tapfer und nahm sie ohne Probleme!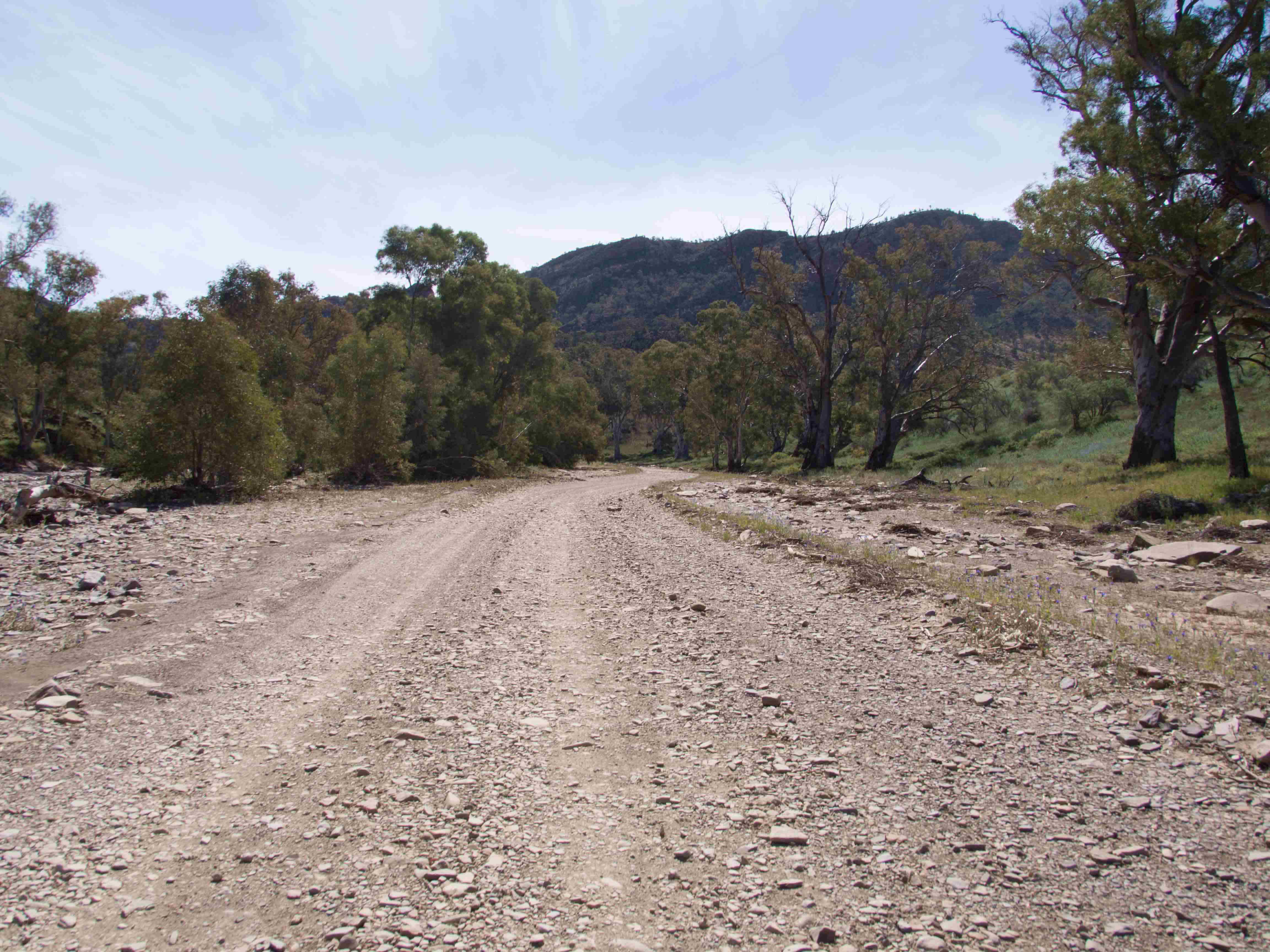 Bumpy bumpy roads. :P
Holprige holprige Straßen. :P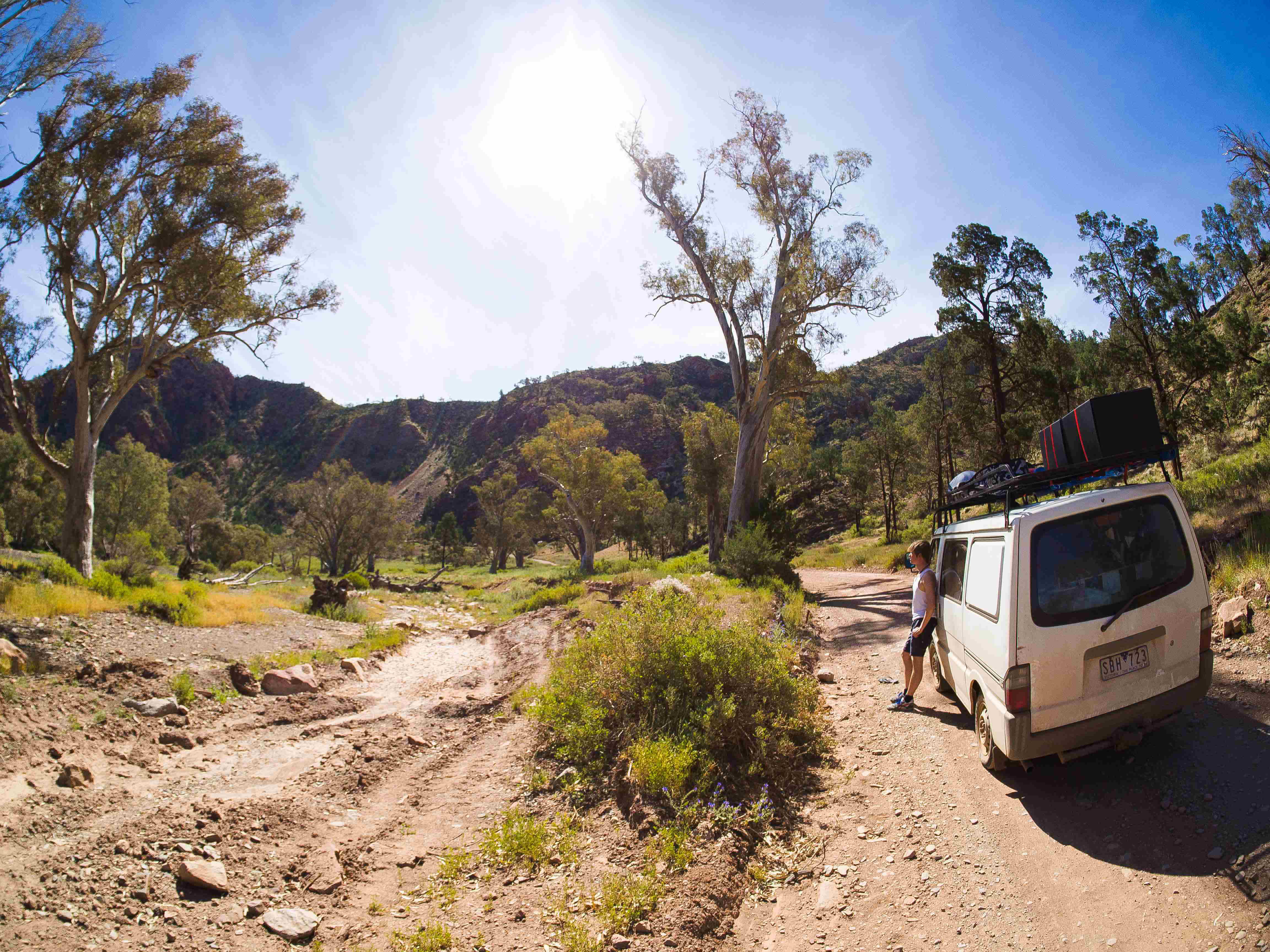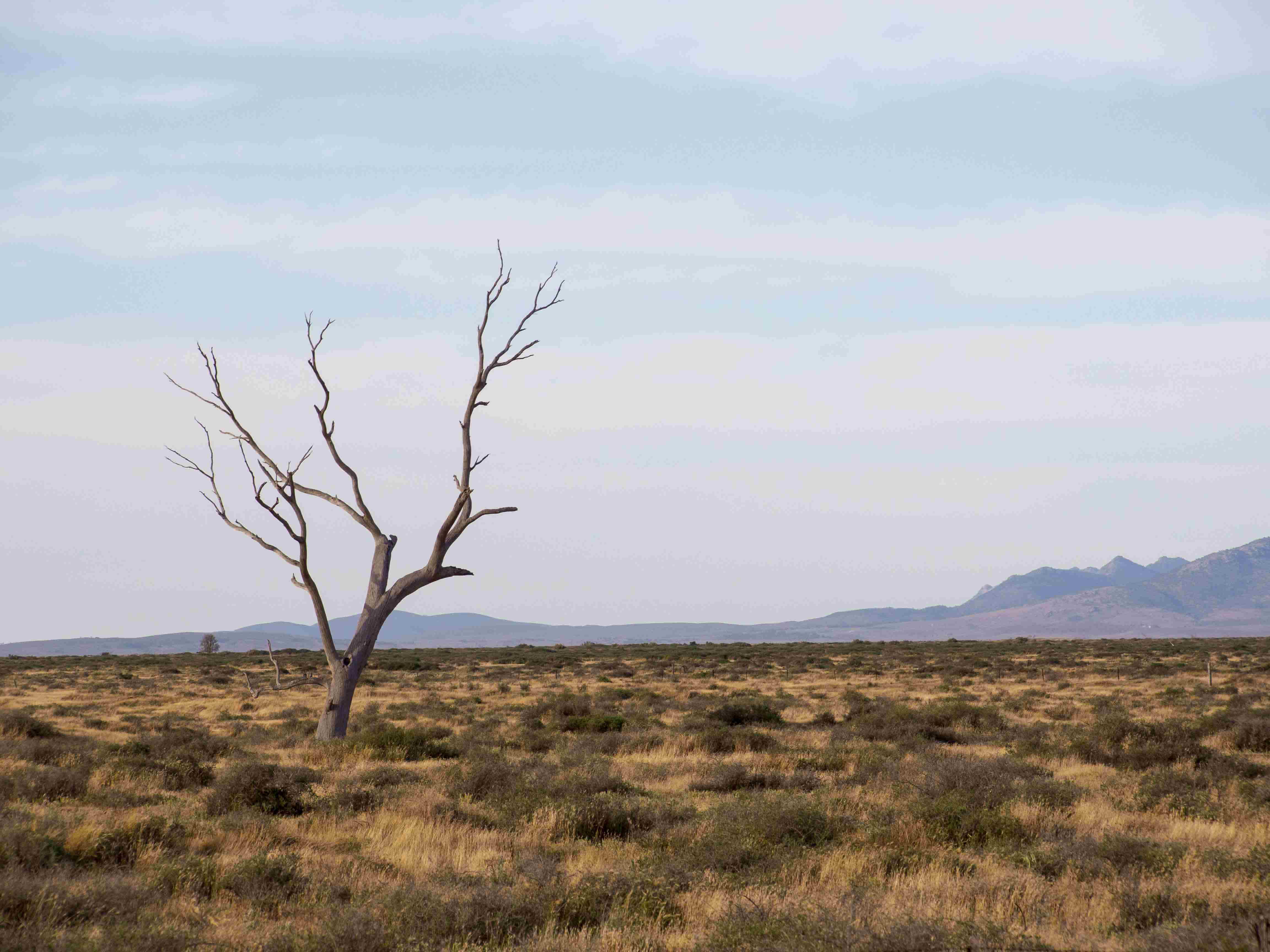 I like the mystic flair this threes give the environment.
Ich mag das mystische, dass diese Bäume der Umgebung geben.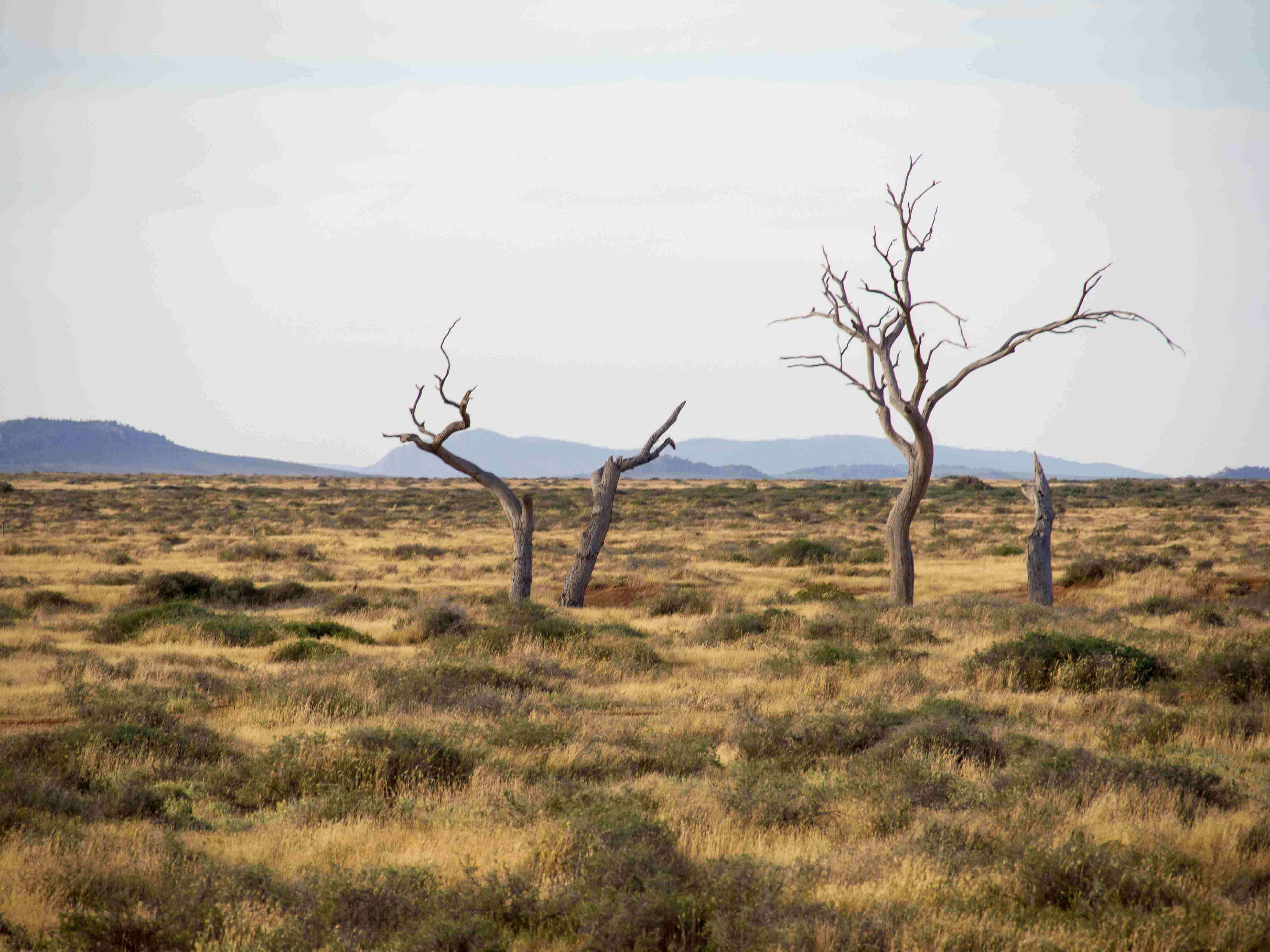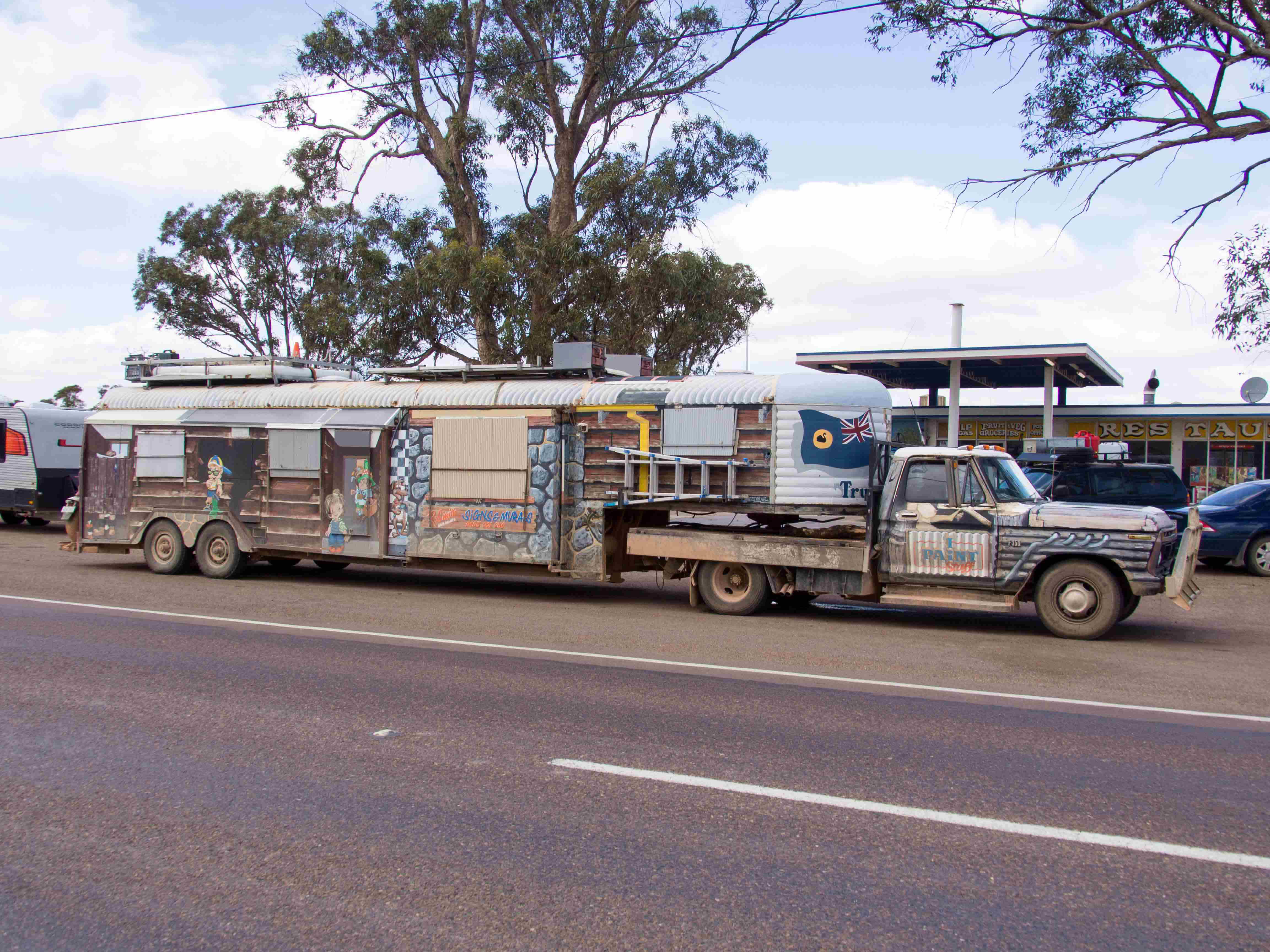 Camping like a pro!
Campen wie ein Profi!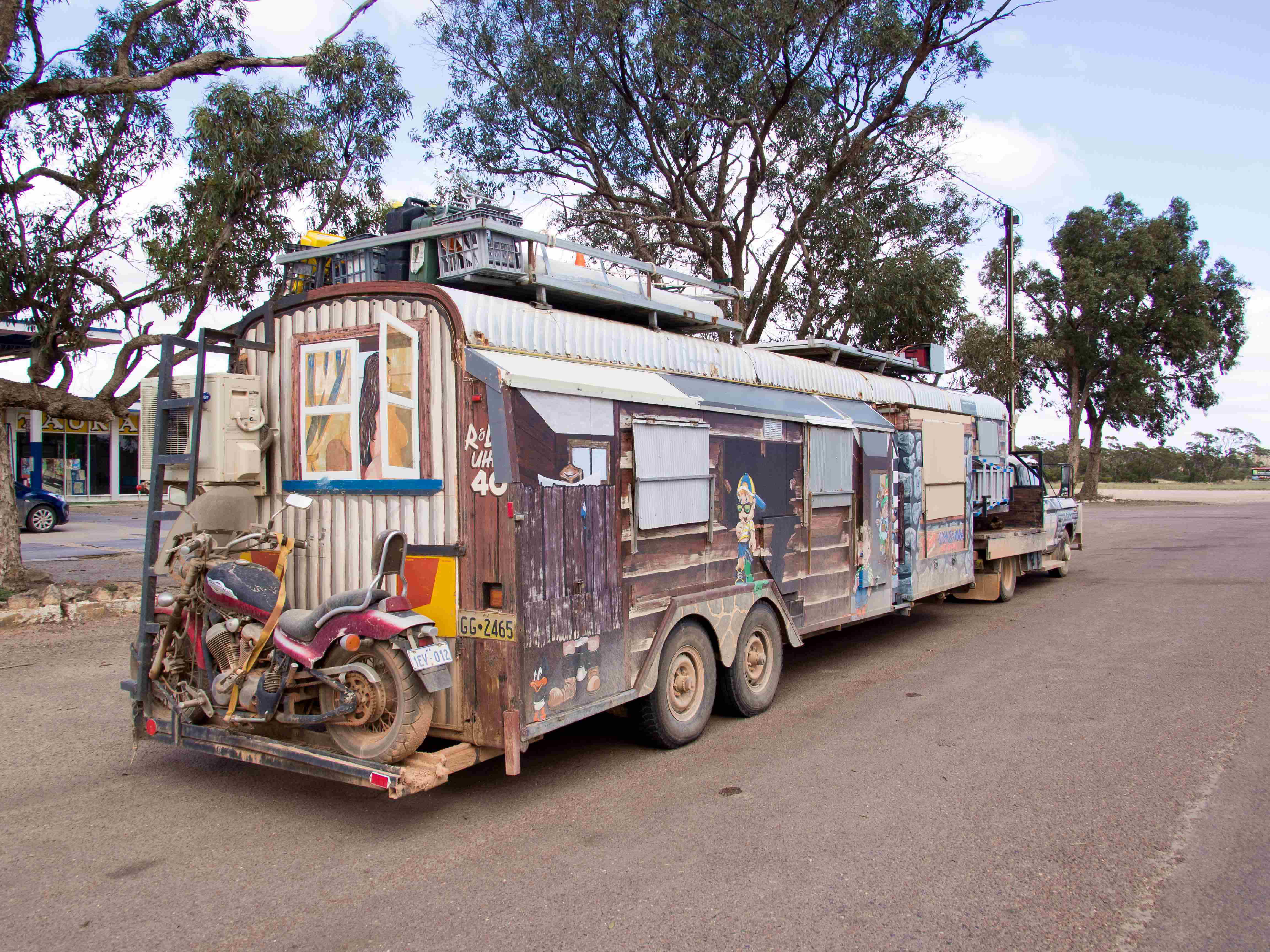 The blanc steel at the side is actually a roof to fold up.
Das blanke Metall an der Seite ist ein Dach das man hochklappen kann.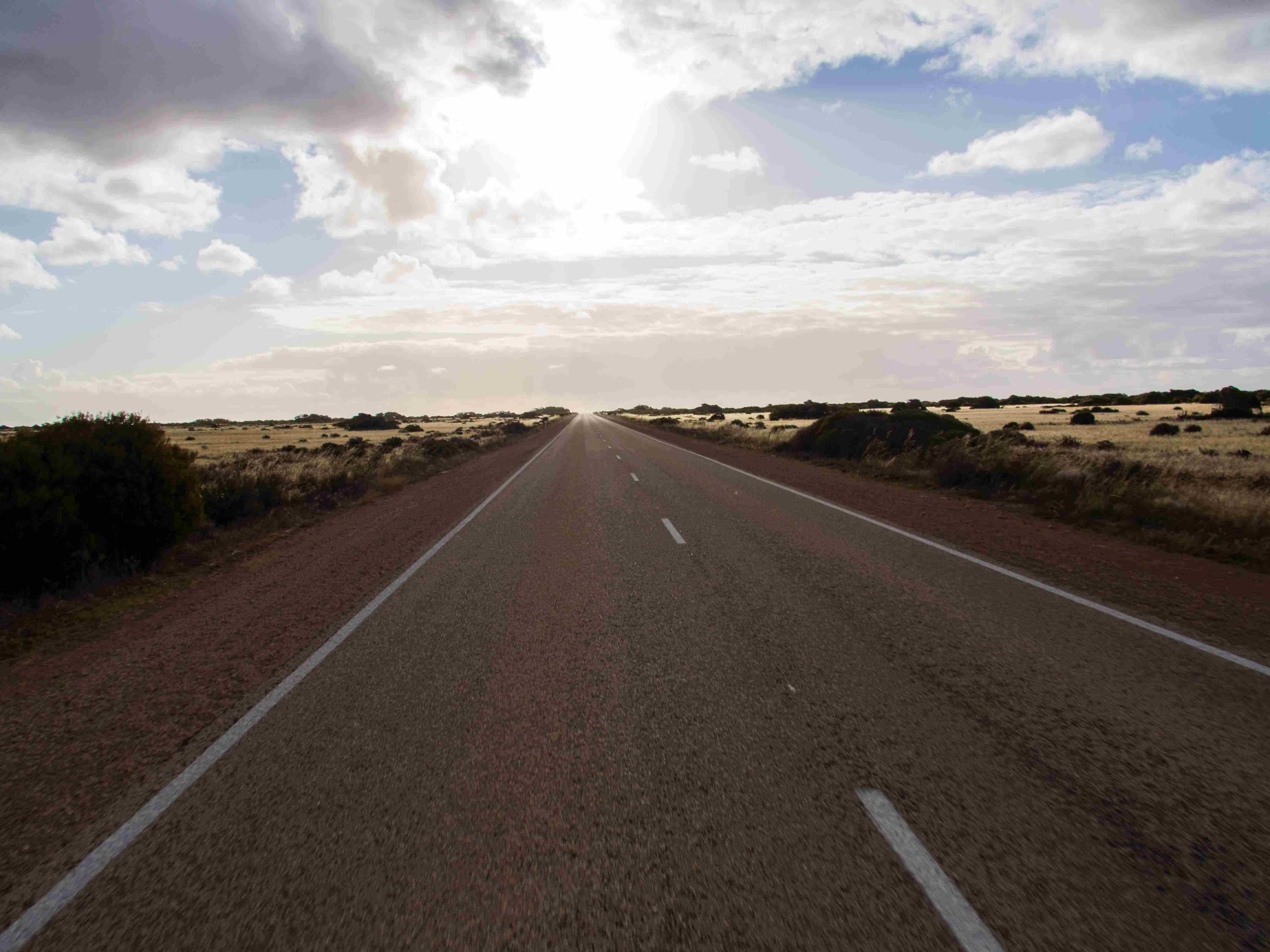 The problem when you drive directly west is - that the sun is right in your face when it is setting. :P
Das Problem bei einer Fahrt genau richtung Westen ist - die Sonne steht dir wenn sie untergeht immer genau ins Gesicht. :P
But yeah... first world problems :P
Aber ja... erste Welt Probleme :P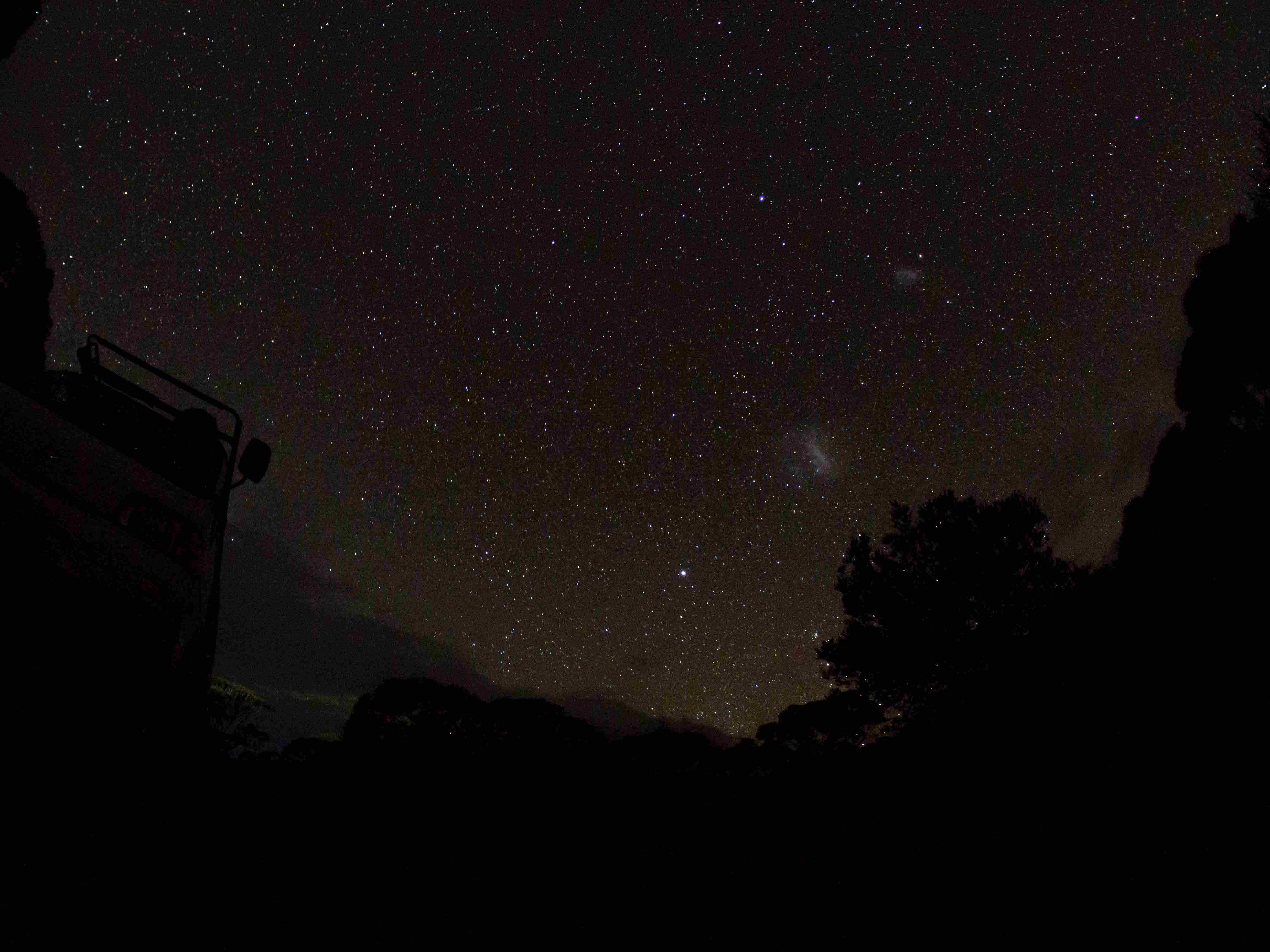 Experimenting with the stars again. :)
Wieder mal experimentieren mit den Sternen. :)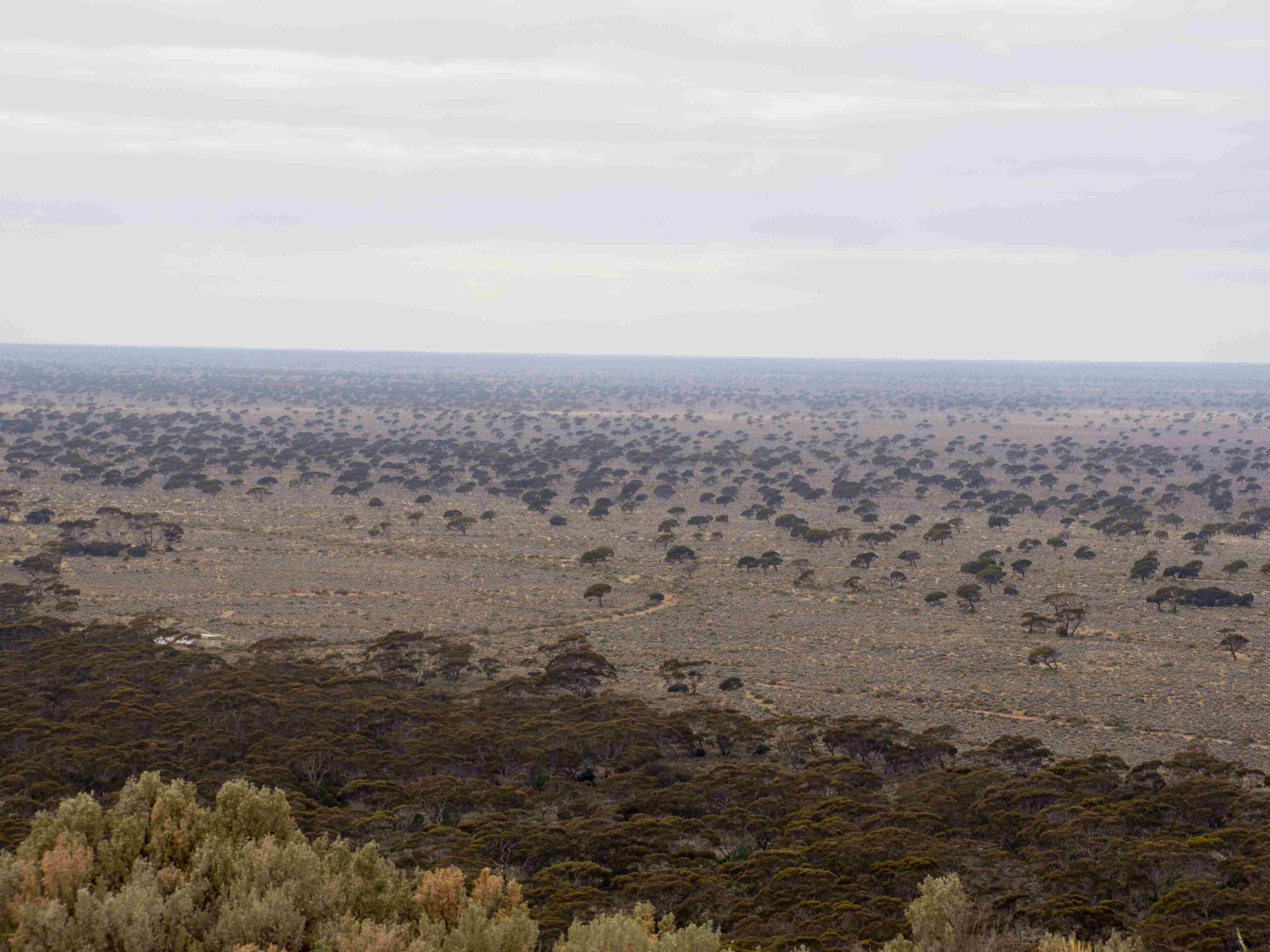 A crazy feeling to be really in the middle of NOWHERE!
Ein verrücktes Gefühl wirlich in der Mitte von NICHTS zu sein!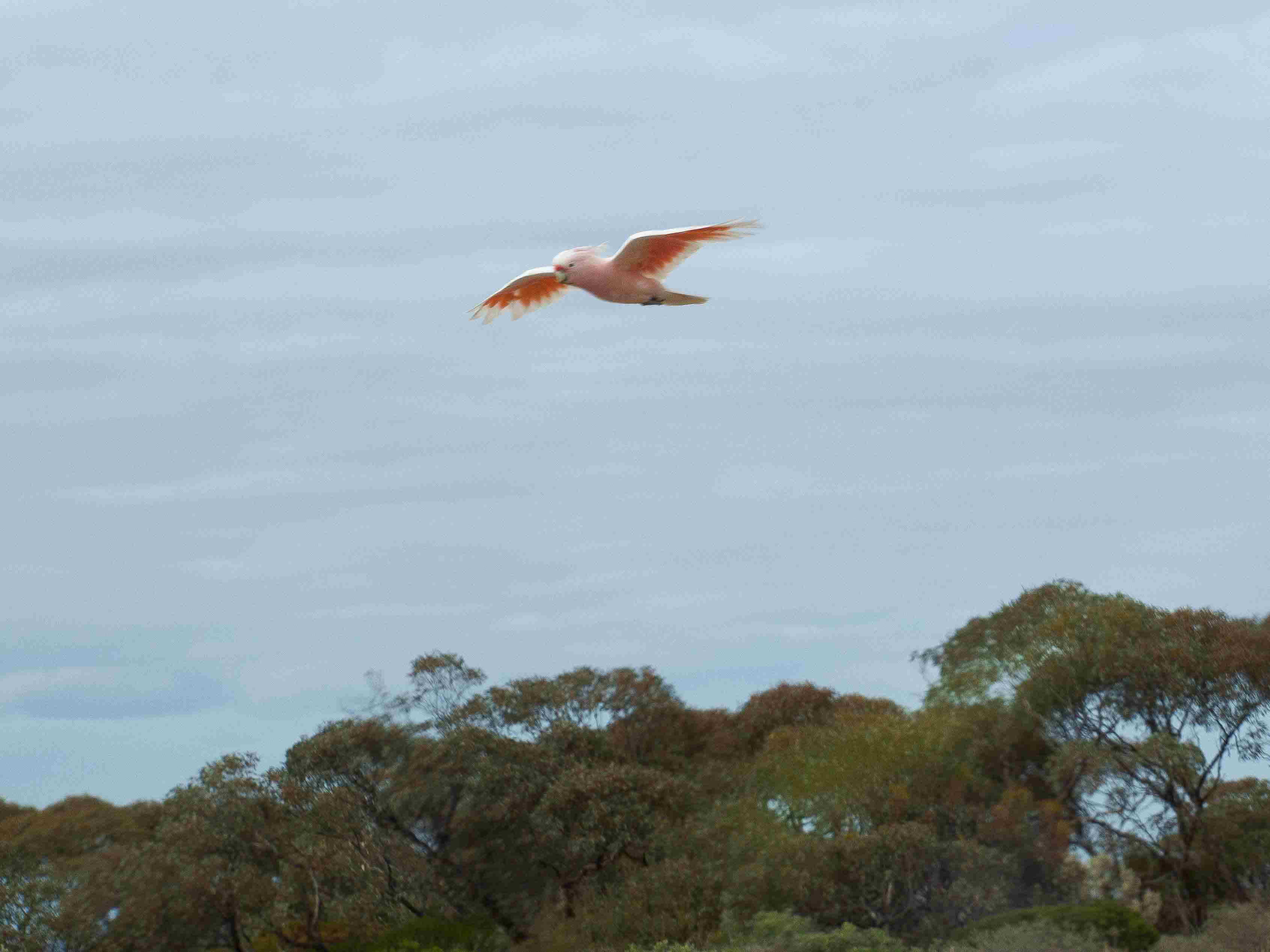 Full zoom out of the hand! *clap on my own shoulder* :P
Voller Zoom und aus der Hand! *sich auf die eigene Schulter klopft* :P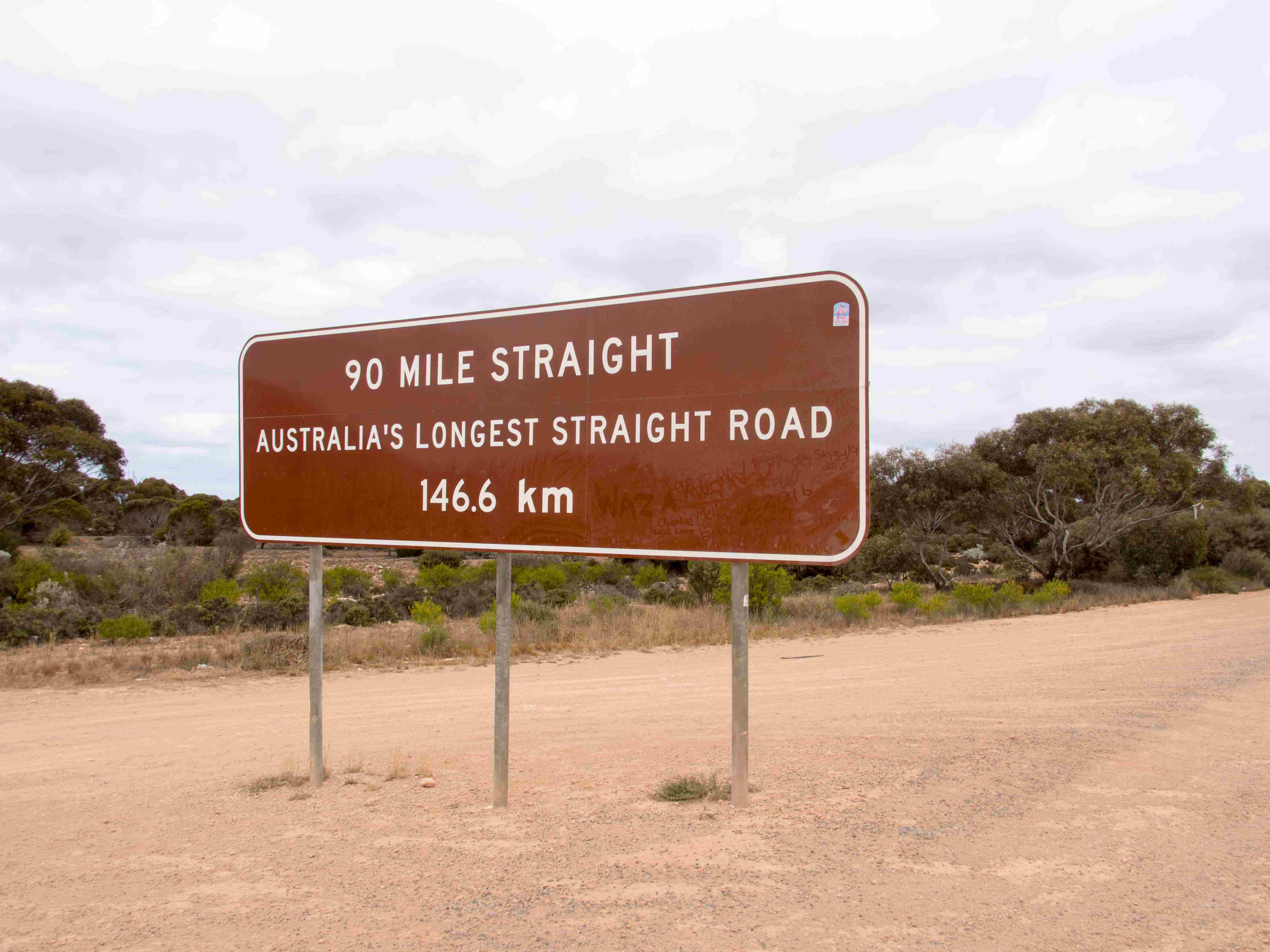 Happy that I don't have to drive this with the bicycle. :P
Glücklich das ich das nicht mit dem Fahhrad fahren muss. :P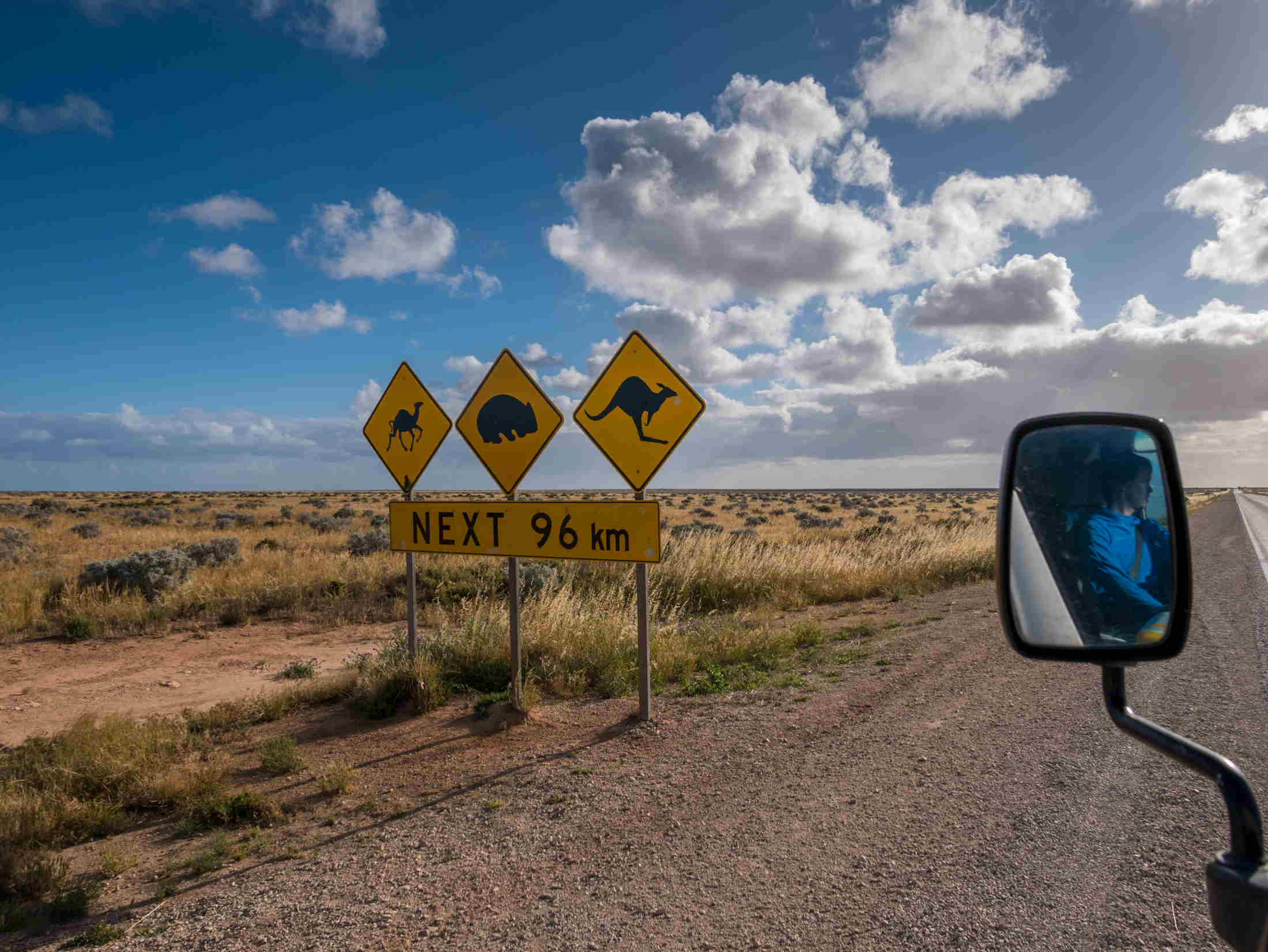 (Picture by Jack Miell)
Stories written by life:
For those who don't know... I grew up near Frankfurt in a town named Rödermark, with a part called Ober-Roden. Here we used to organize parties... Ramdomly we stopped at a gas station to top up and I started a conversation with some obviously German fellas.
"Hey guys... where are you from?!"
"Oh from Frankfurt...."
"Uhhh cool!!! Where about?"
"Actually Rodgau" (neighbor city of Rödermark)
"Uhhh cool!!! Where about?"
"Ähmm actually Ober Roden!"
"Hey cool... have you maybe heard of the Olsen parties?!"
"Yeah he played on my friend Louis's birthday!"
"Oh than that was me!" :D
So randomly in the middle of nowhere you meet people from a good 12.000 people village. That was cooooool! So we drove together for some days and meet here and there on the way again! :)
Soooo cooool! :D
Geschichten die das Leben schreibt:
Für alle die es nicht wissen... Ich wuchs auf in der nähe von Frankfurt in einer Stadt namens Rödermark, im Stadtteil Ober-Roden. Hier haben wir Party's organisiert. Willkürlich stoppten wir an einer Tankstelle um aufzufüllen und ich begann eine Unterhaltung mit ein paar Deutschen....
"Hey Jungs... woher kommt ihr?!"
"Ohh aus Frankfurt.."
"Uhh cool!! Wo genau?!"
"Naja eigentlich Rodgau.."
"Uhh cool!! Wo genau?!"
"Naja eigentlich Ober-Roden."
"Hey cool! Schon mal von den Olsen-Parties gehört?"
"Ja der hat mal beim Luis aufm Geburtstag aufgelegt!"
"Oh das war dann wohl ich!" :D
So trifft man zufällig in der Mitte von nirgendwo an einer Tankstelle Leute aus seinem Heimatdorf, gut 12.000 Einwohner. So fuhren wir für ein paar Tage zusammen und trafen und noch hier und da auf dem Weg! :)
Soooo coooool! :D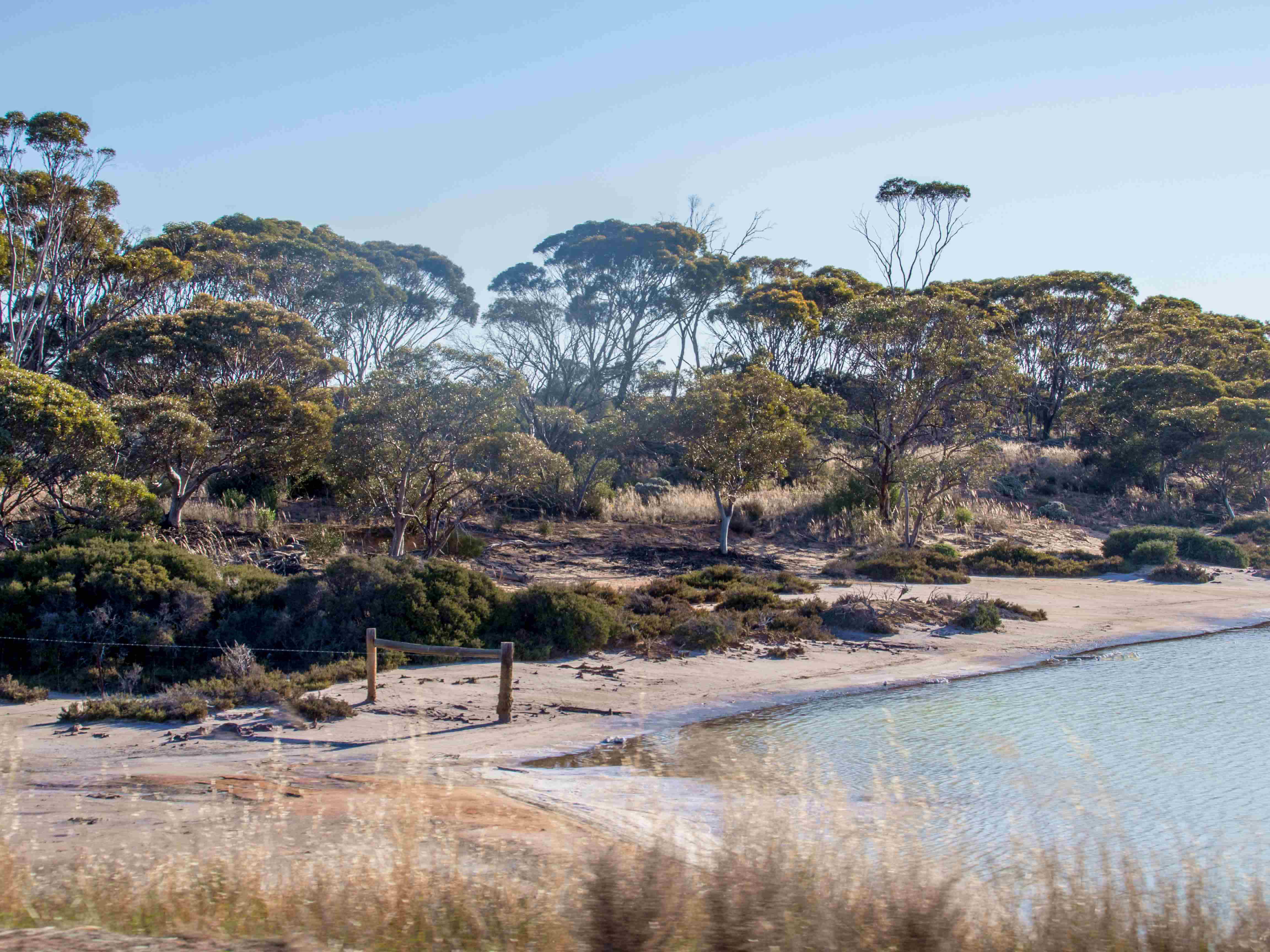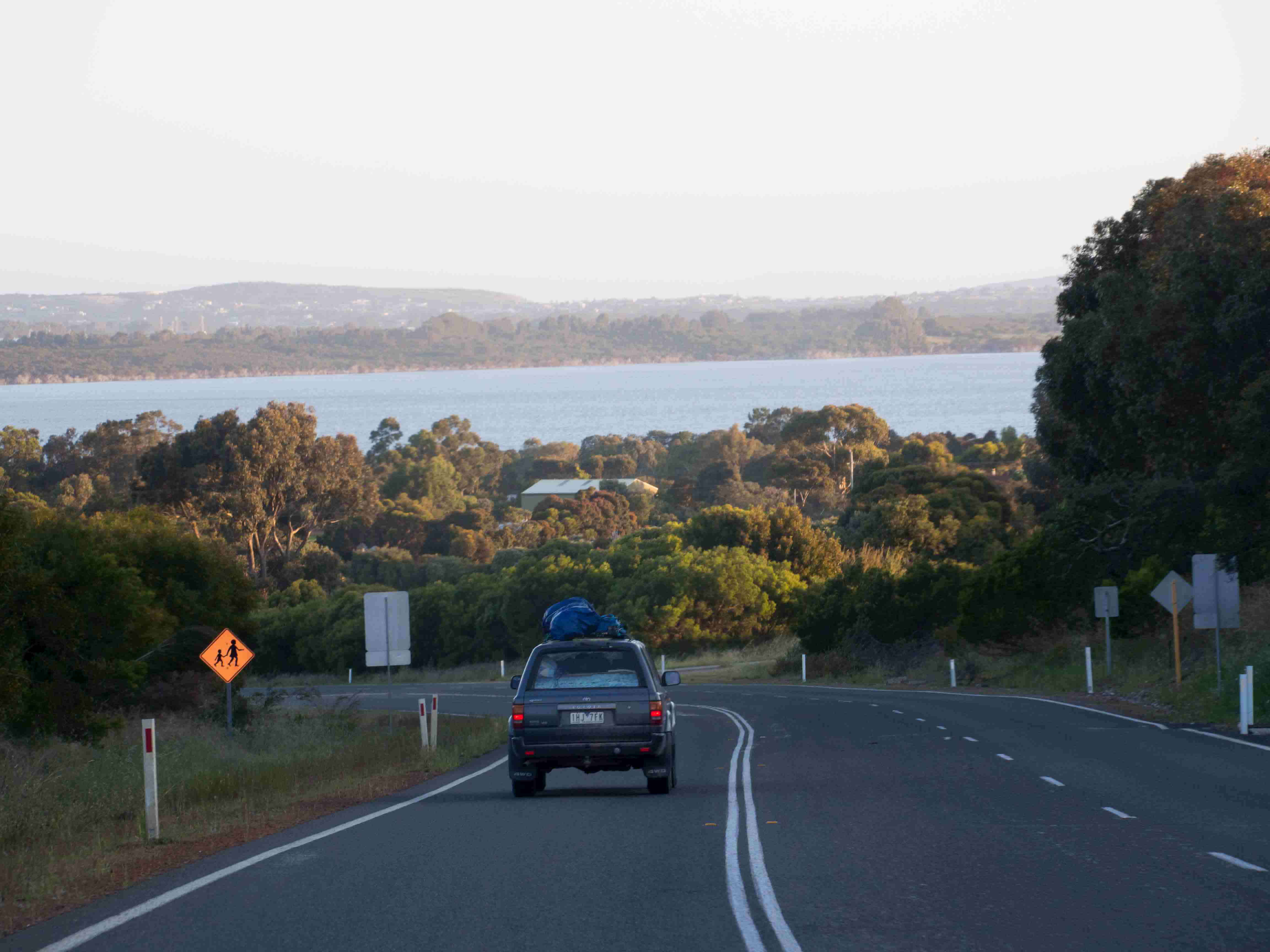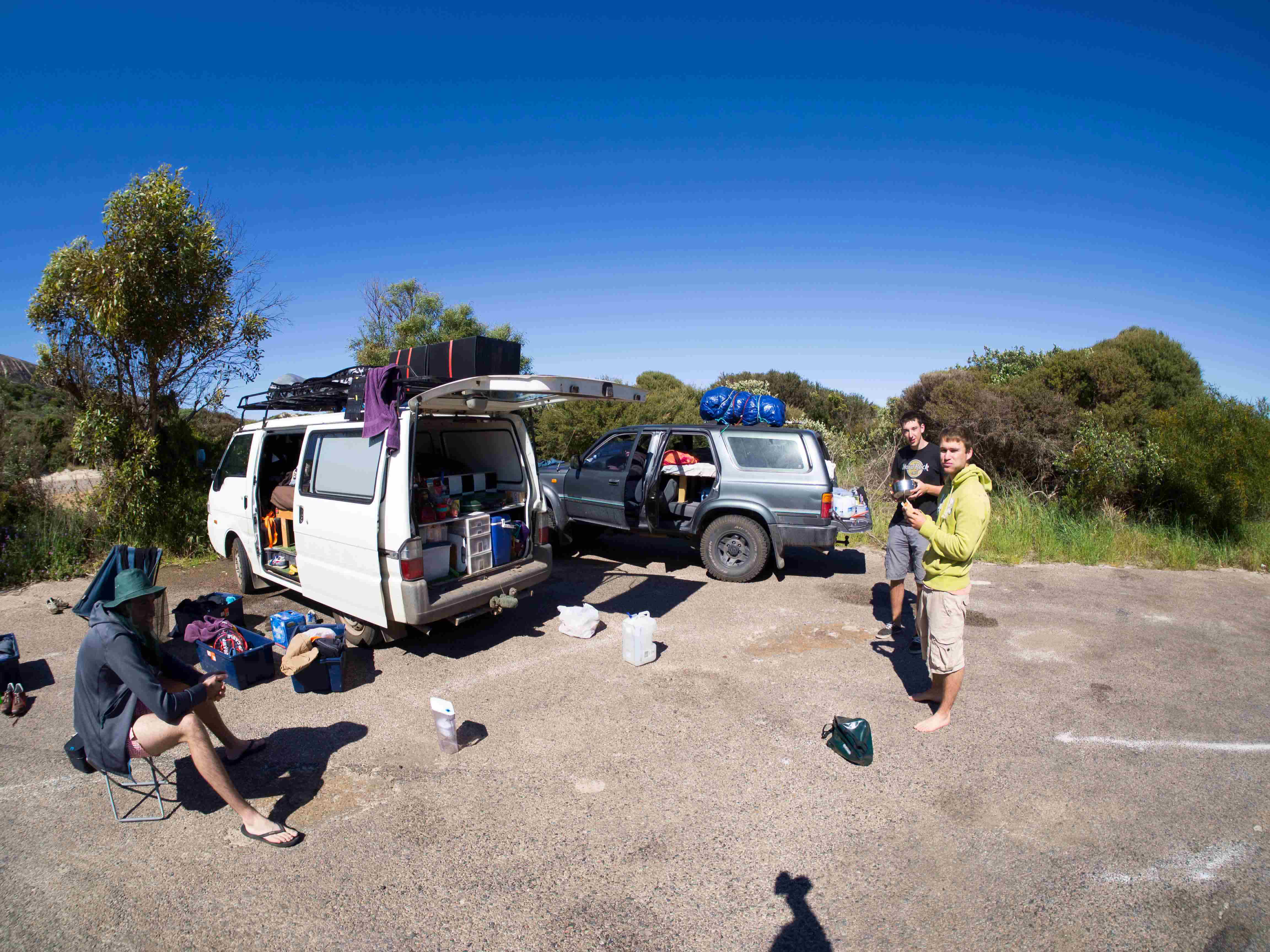 Camped a night together with Jack, Alina (in the car, so not really visible), Alex and Julius.
Zusammen gecamped mit Jack, Alina (nicht wirklich sichtbar im Auto), Alex und Julius.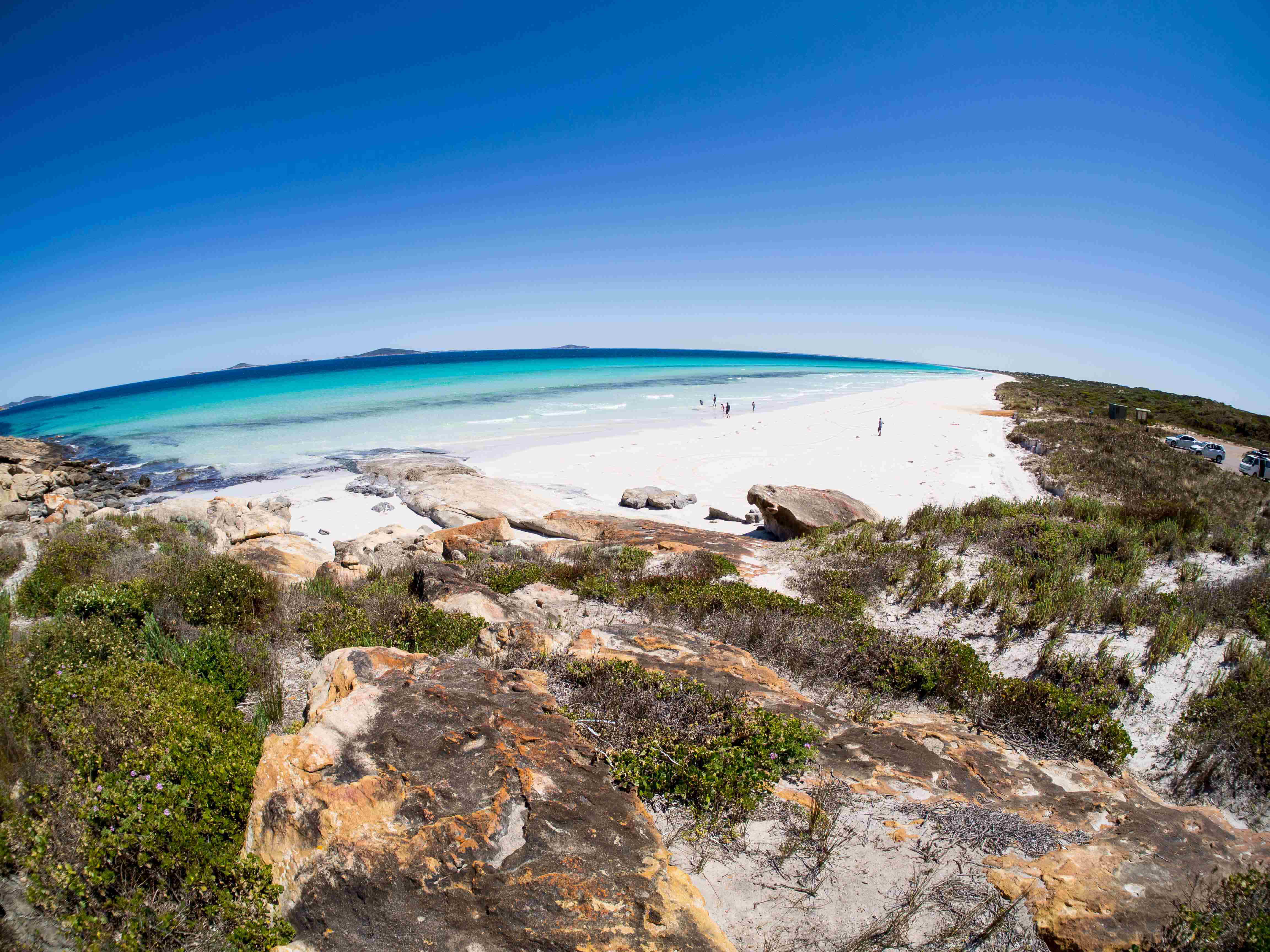 Arrived at the "Cape Le Grand" national park.
Angekommen im "Cape Le Grand" National Park.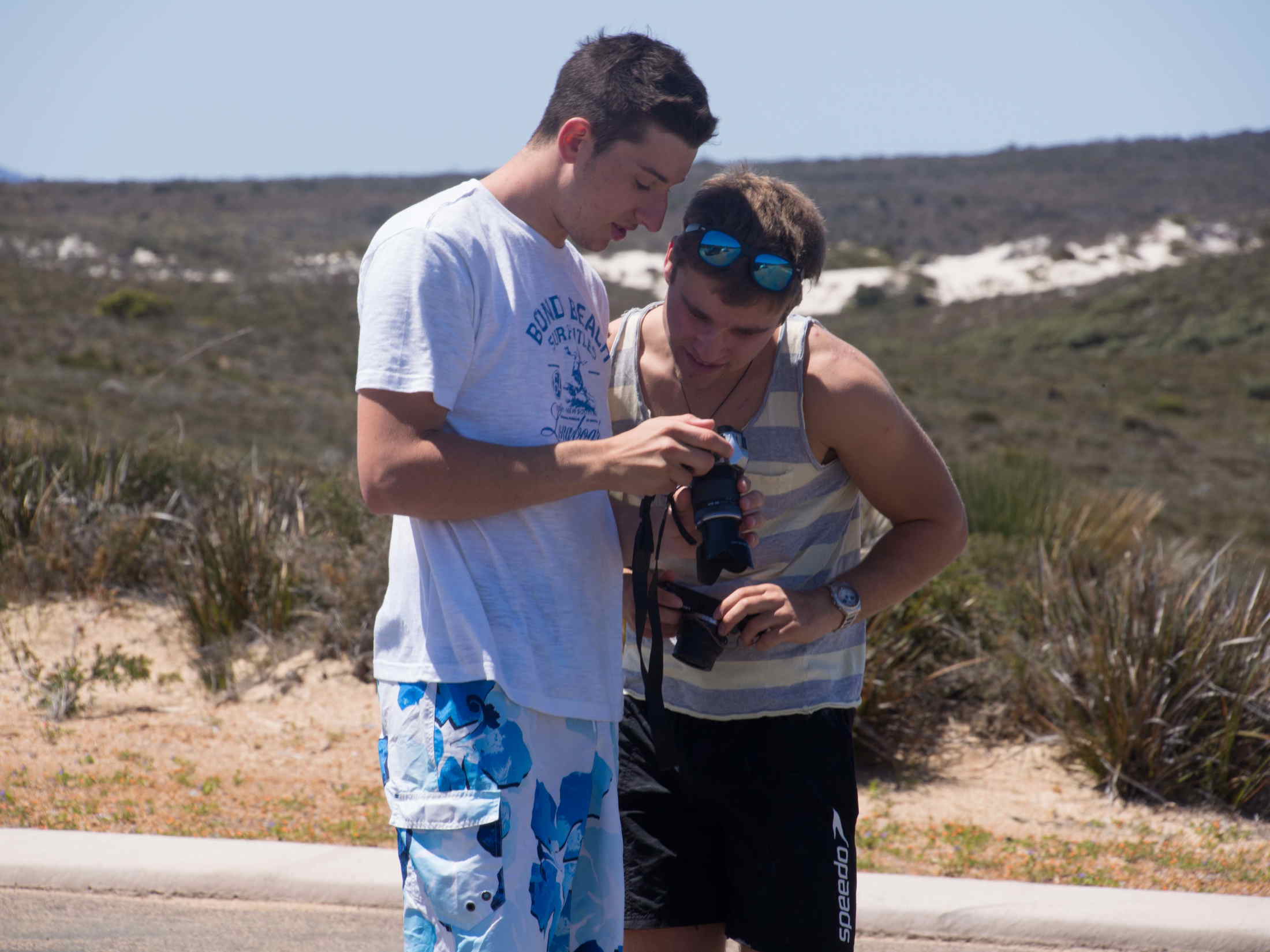 Alex and Julius taking pics and videos for their blogs.
Alex und Julius nehmen Bilder und Videos für ihre Blogs auf.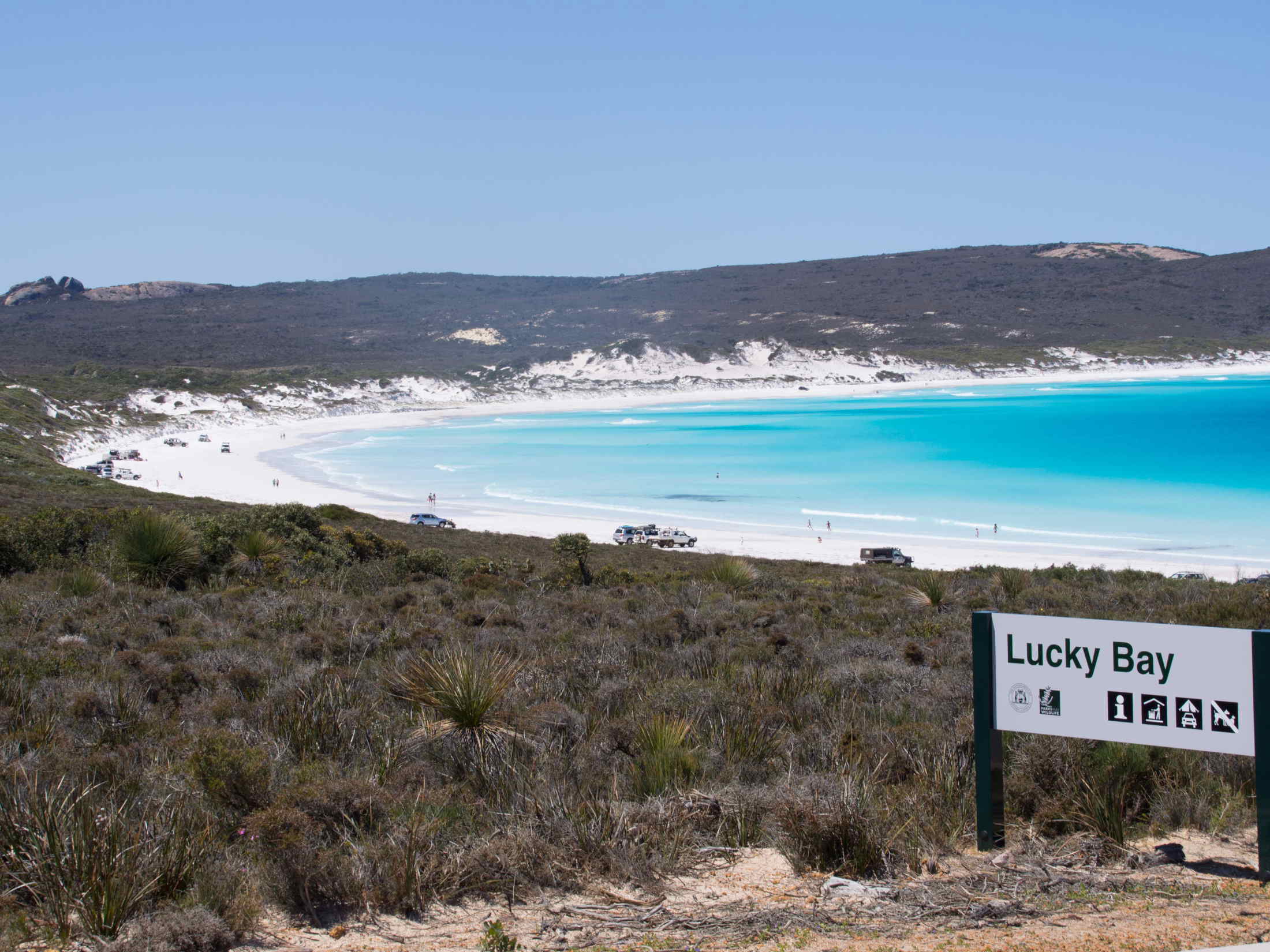 Welcome to Lucky Bay - National Geographics votes this beacht to the nicest beach in the world (20 years ago).
Willkommen am Lucky Beach - National Geographics hat diesen Strand zum schönsten der Welt gewählt (vor 20 Jahren).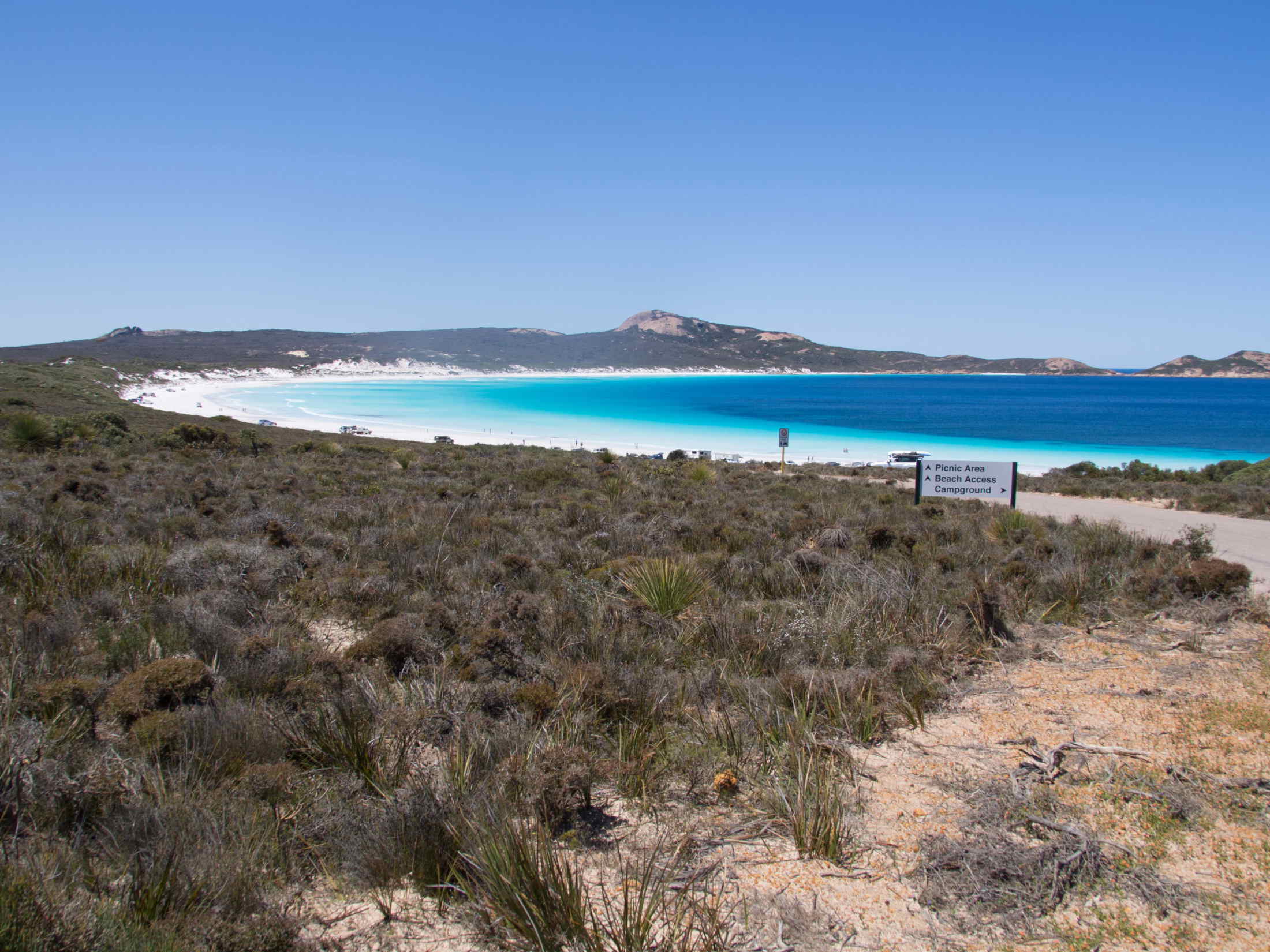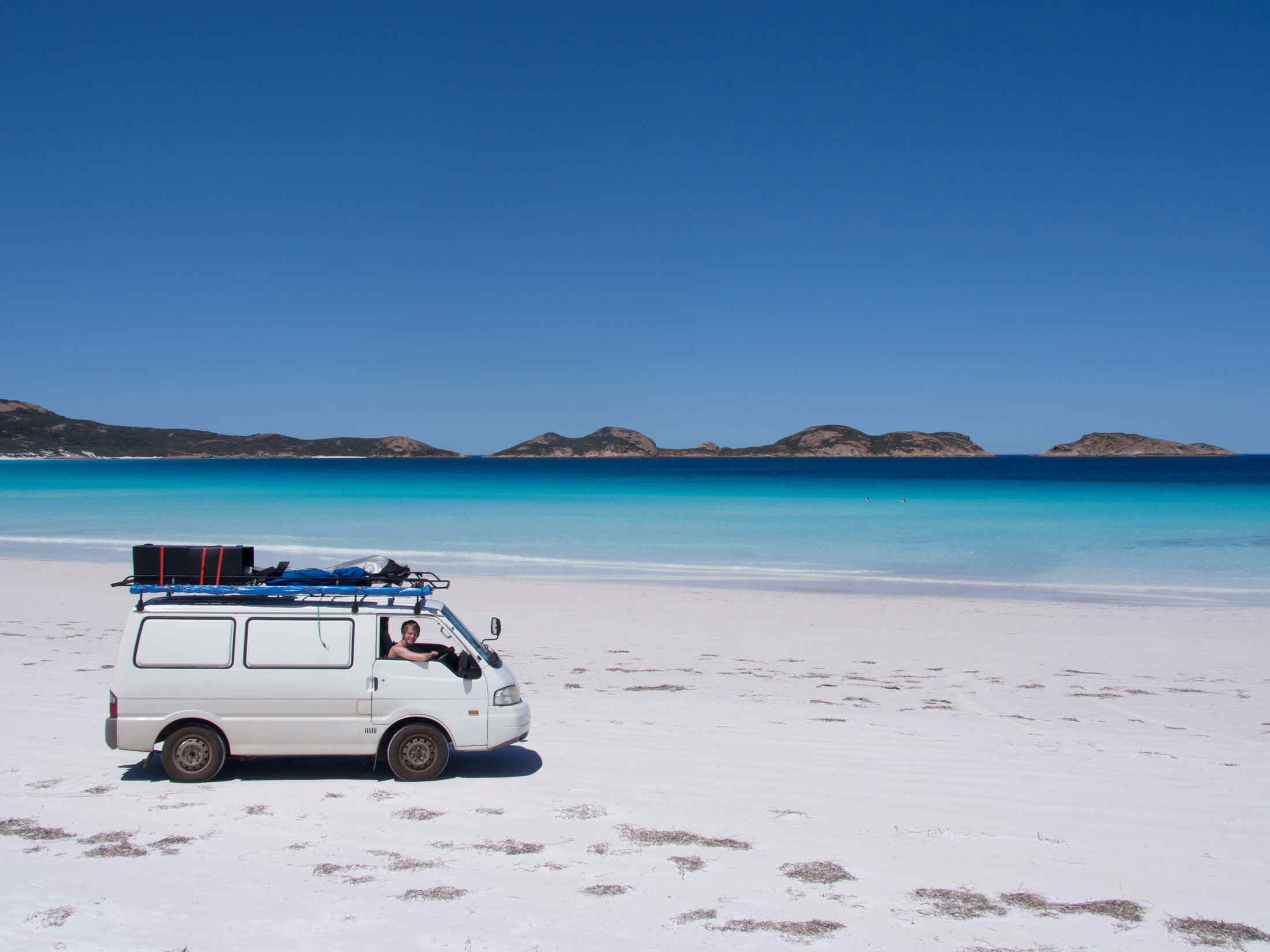 Photoshoot with Billy!
Fotoshooting mit Billy!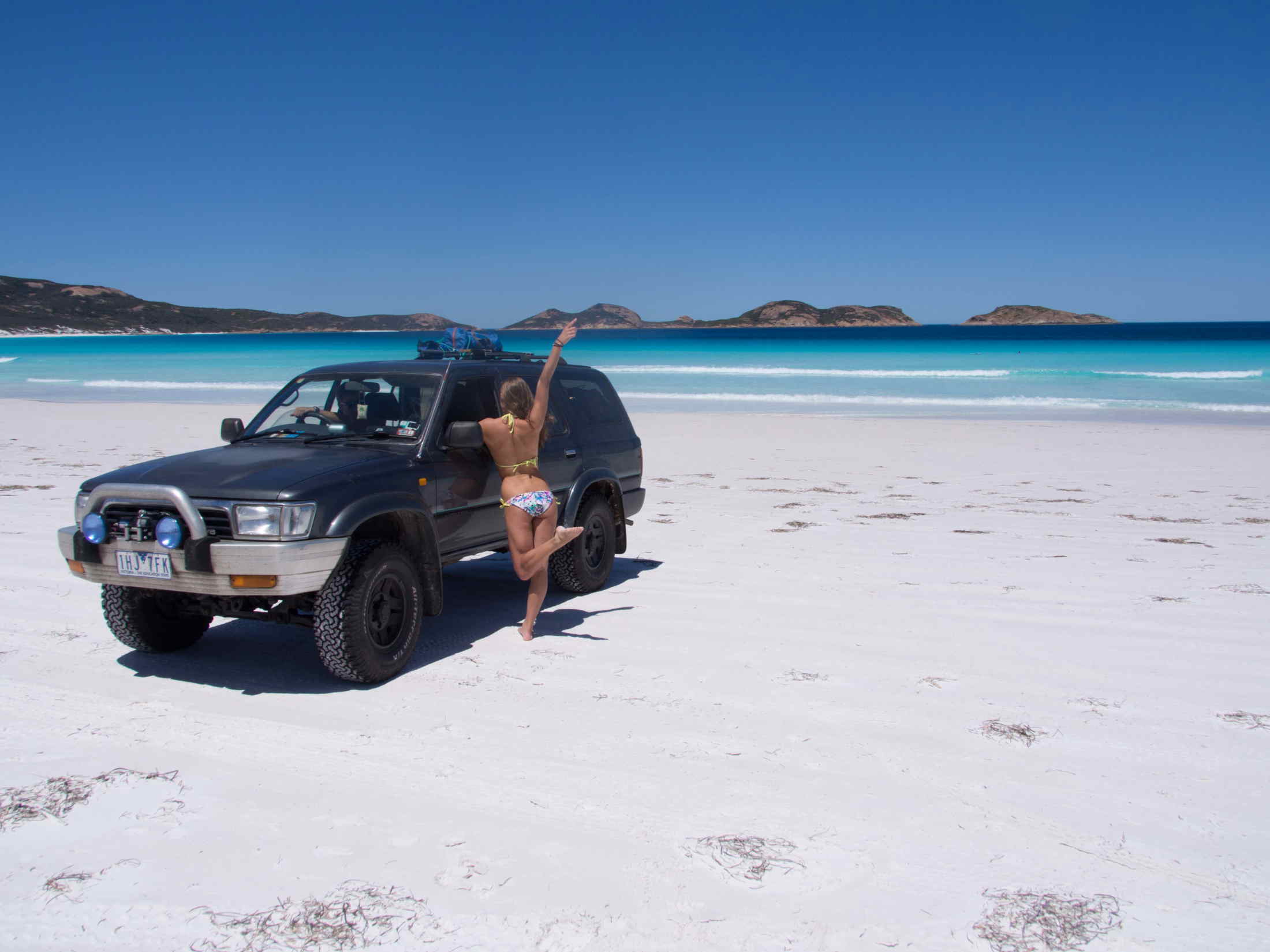 ...Alina...
...Alina...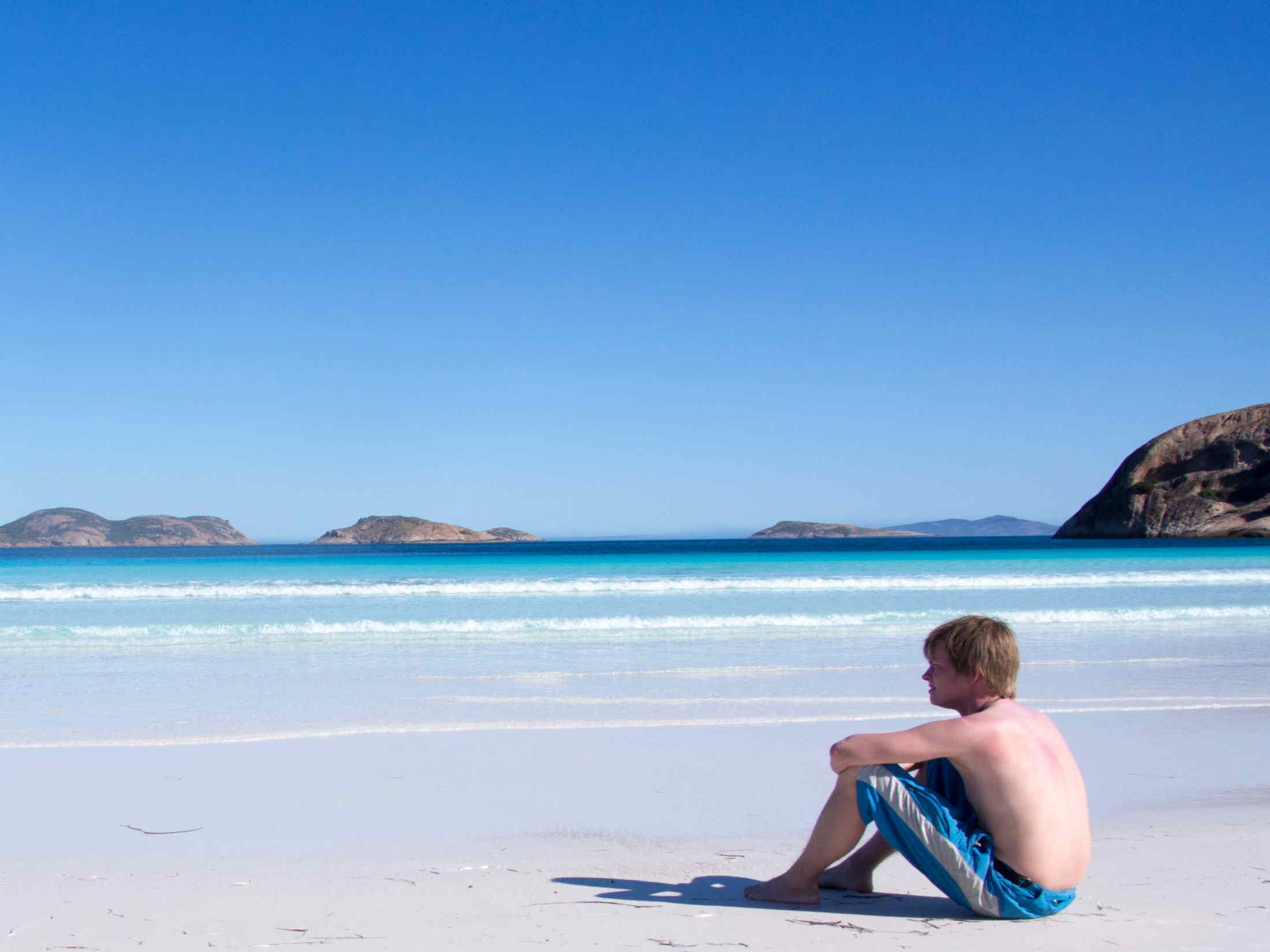 ...and me. :)
...und mir. :)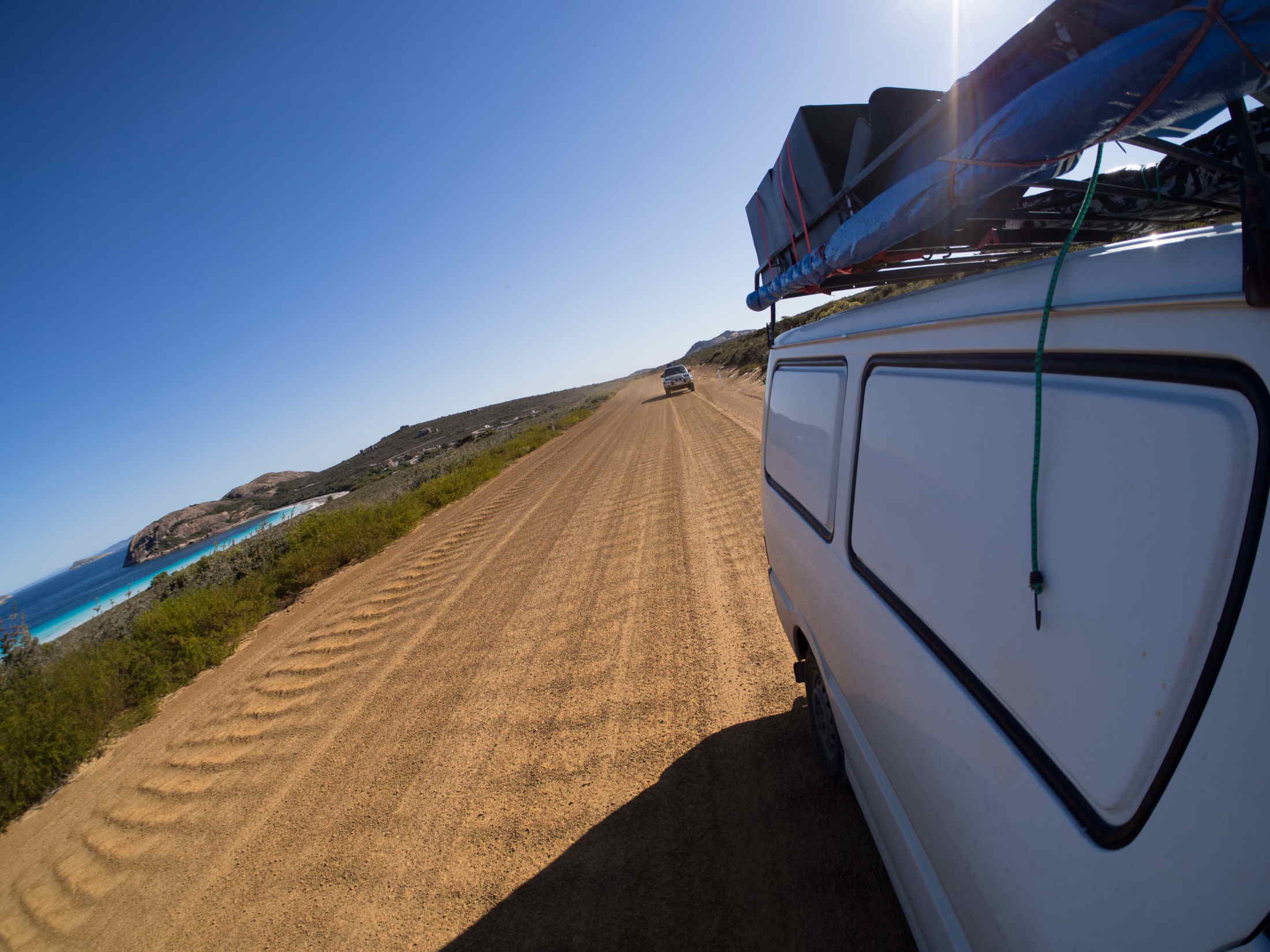 This is a gravel road. With a certain speed you don't feel the bumps that hard. But depends on your suspension and the bumps. :P
Das ist eine Gravel Road. Ab einer gewissen Geschwindigkeit fühlt man die Schlaglöcher nicht mehr so stark. Doch kommt es auf Federung und Schlaglöcher an. :P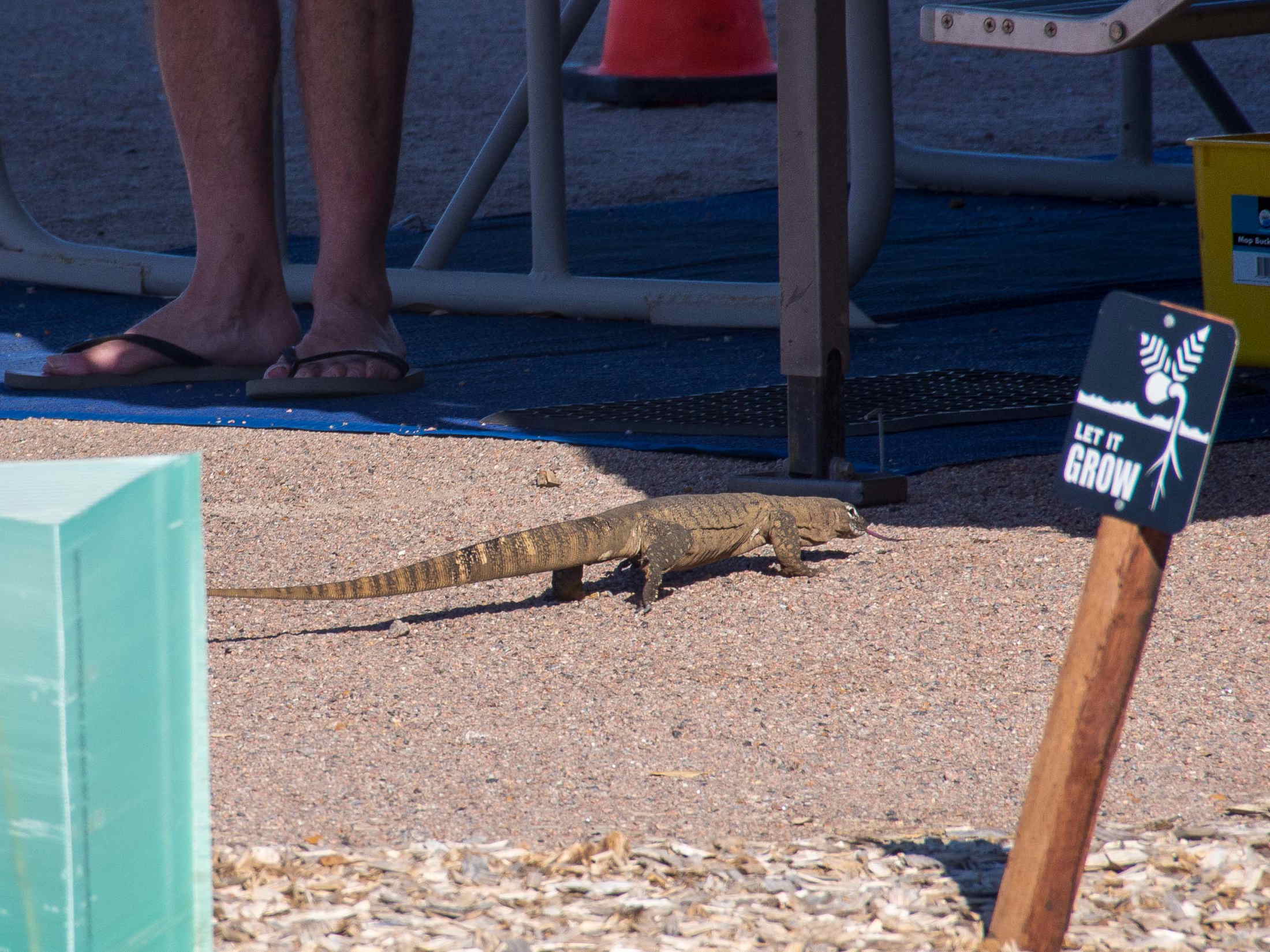 Wildlife at the campground.
Wildlife auf dem Zeltplatz.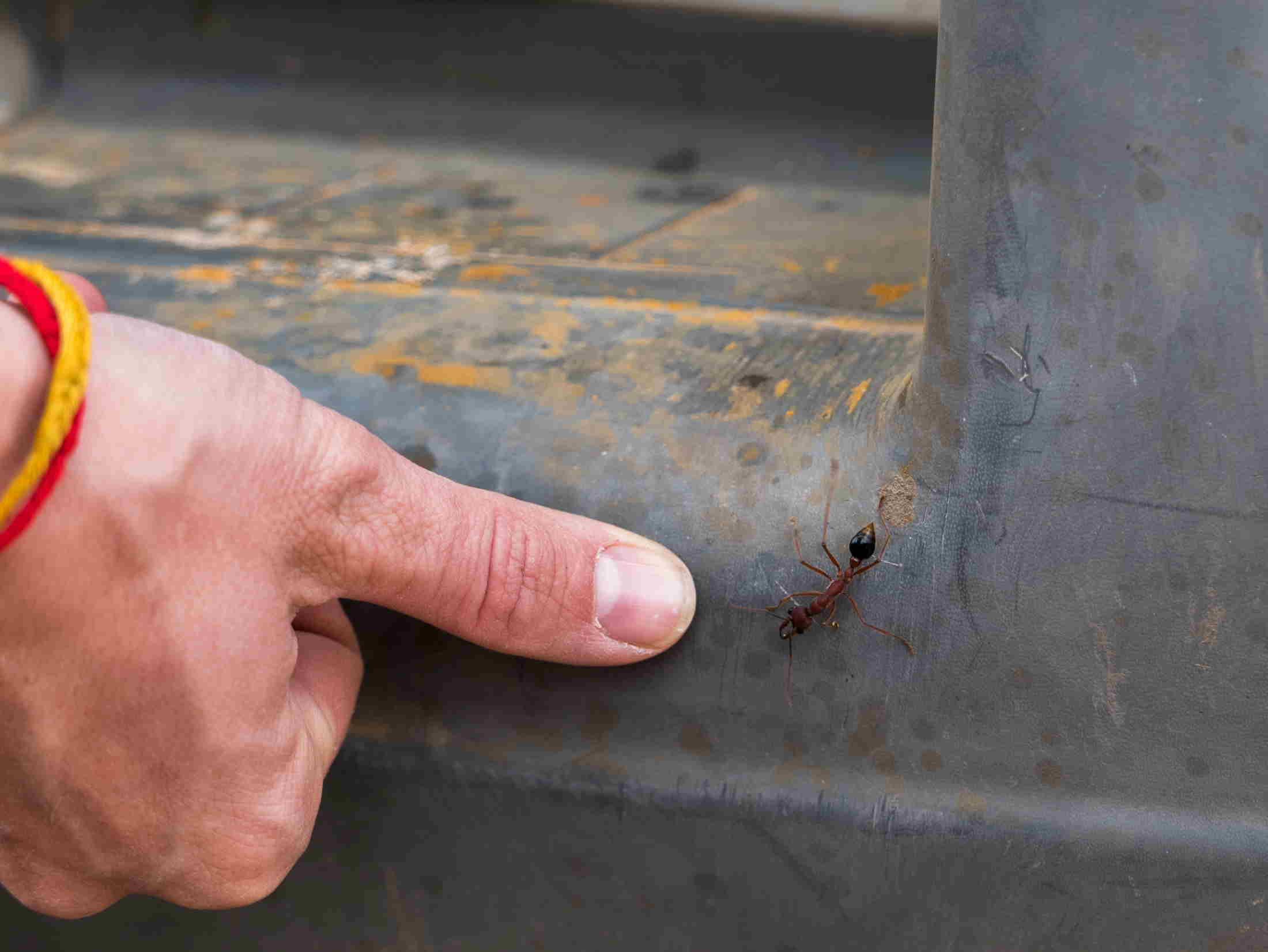 Bullet ants. If they bite you it REALLY hurts!!!!
Bullet Armeisen. Wenn diese dich beißen tut es WIRKLICH weh!!!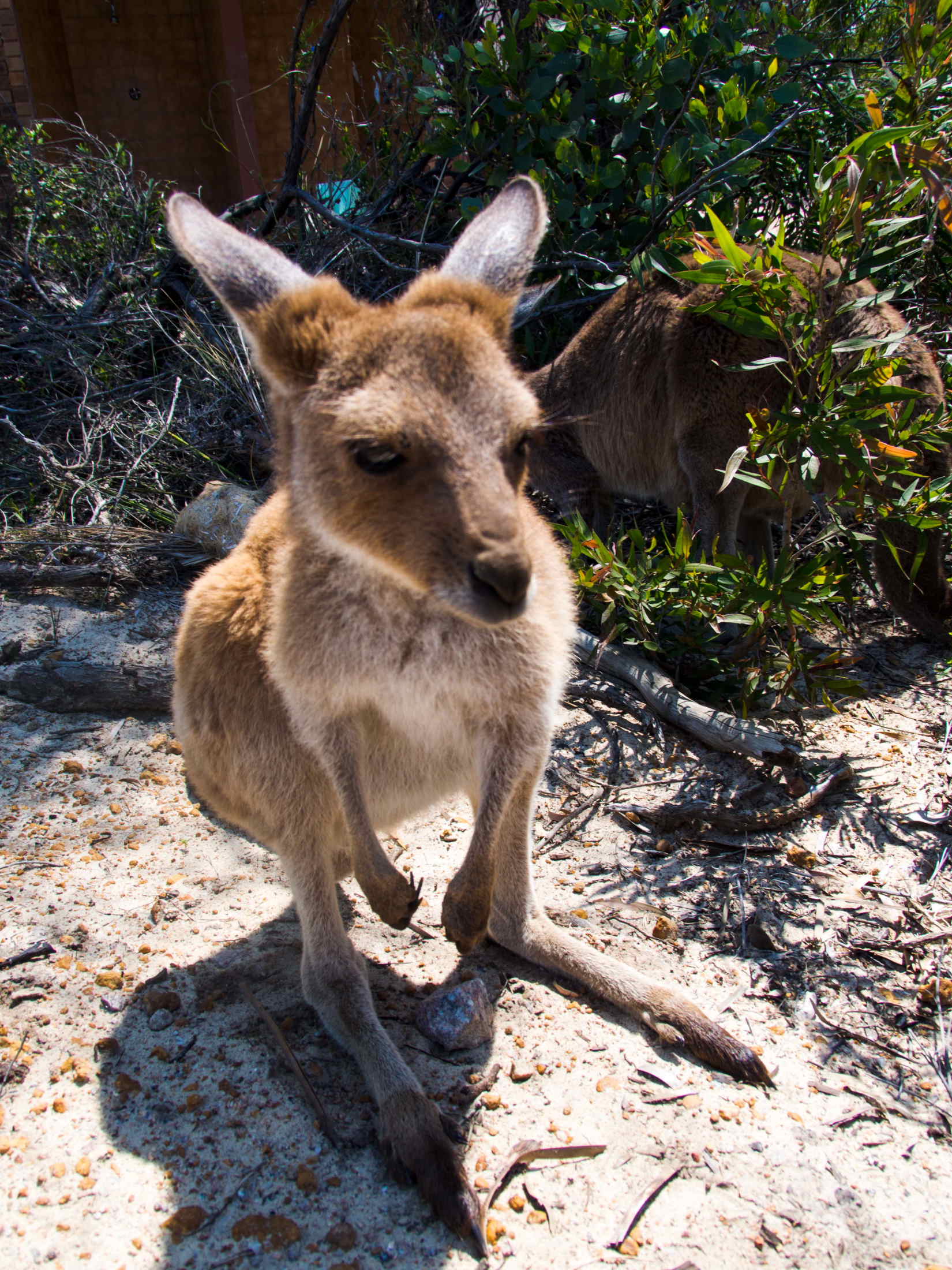 Oooohhh small Kangarooh. :)
Ooooohhh ein kleines Kangarooh. :)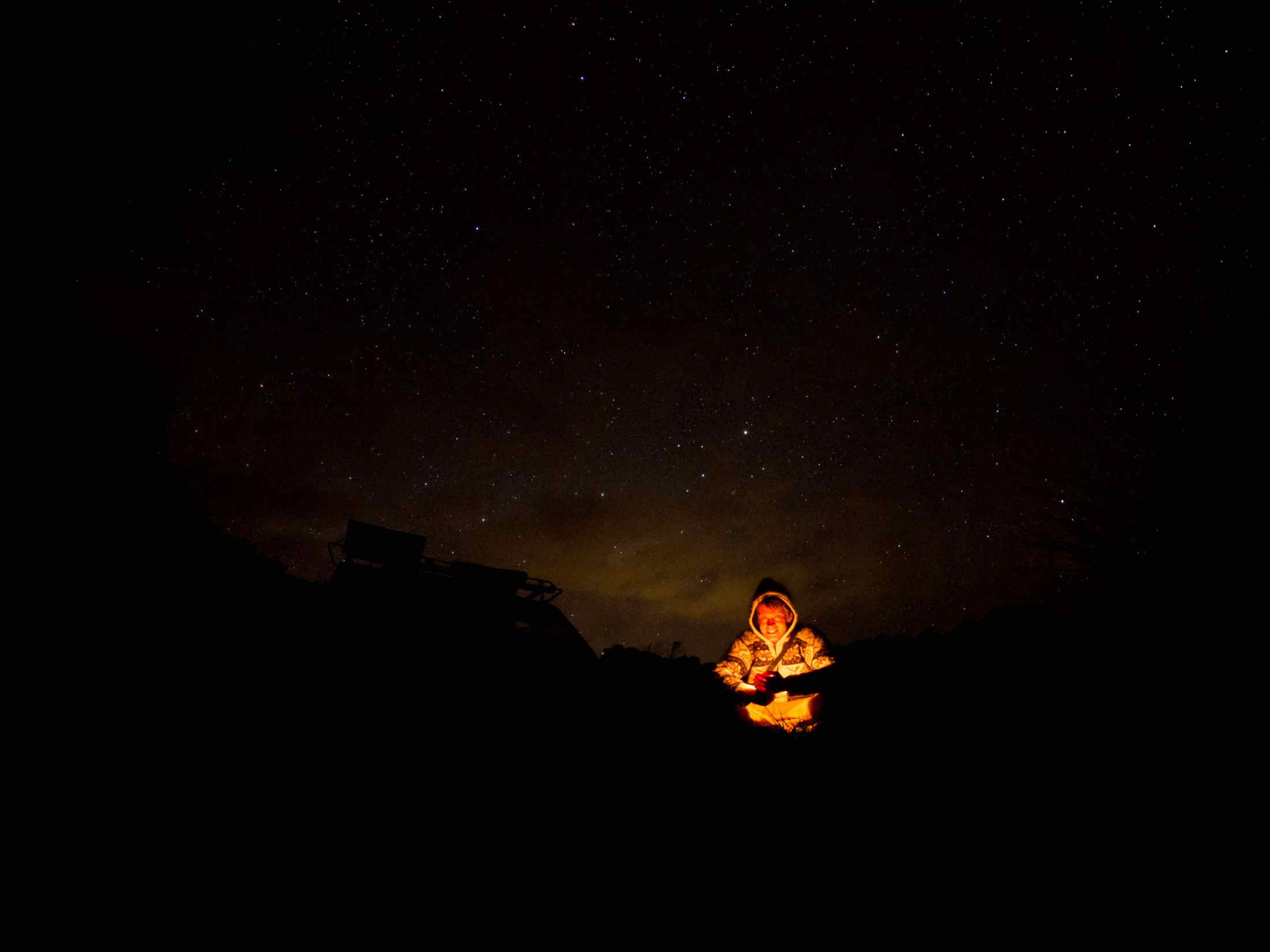 Camera games. :)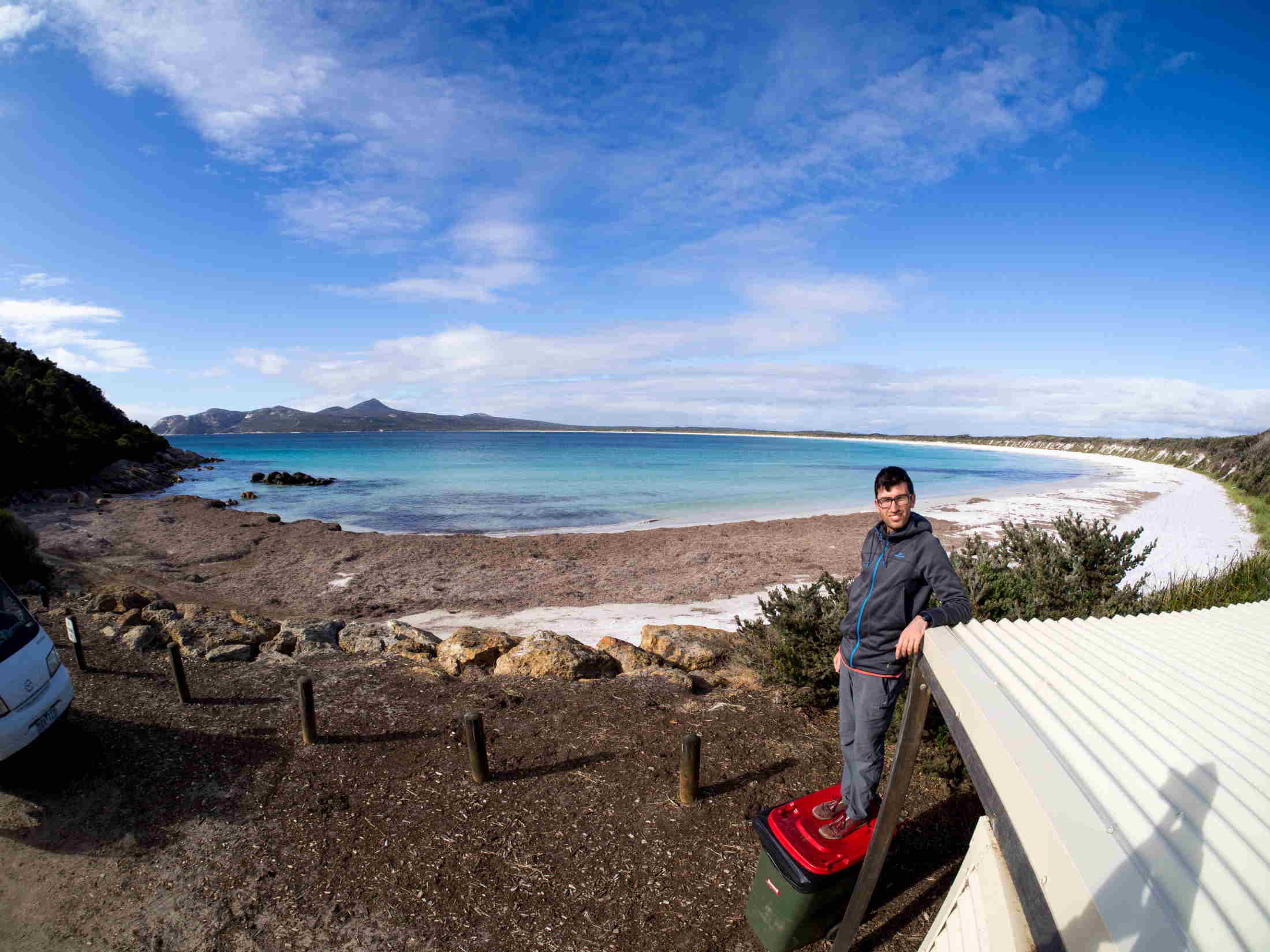 We take every risk for the perfect shot!
Wir nehmen jedes Risiko für das perfekte Foto!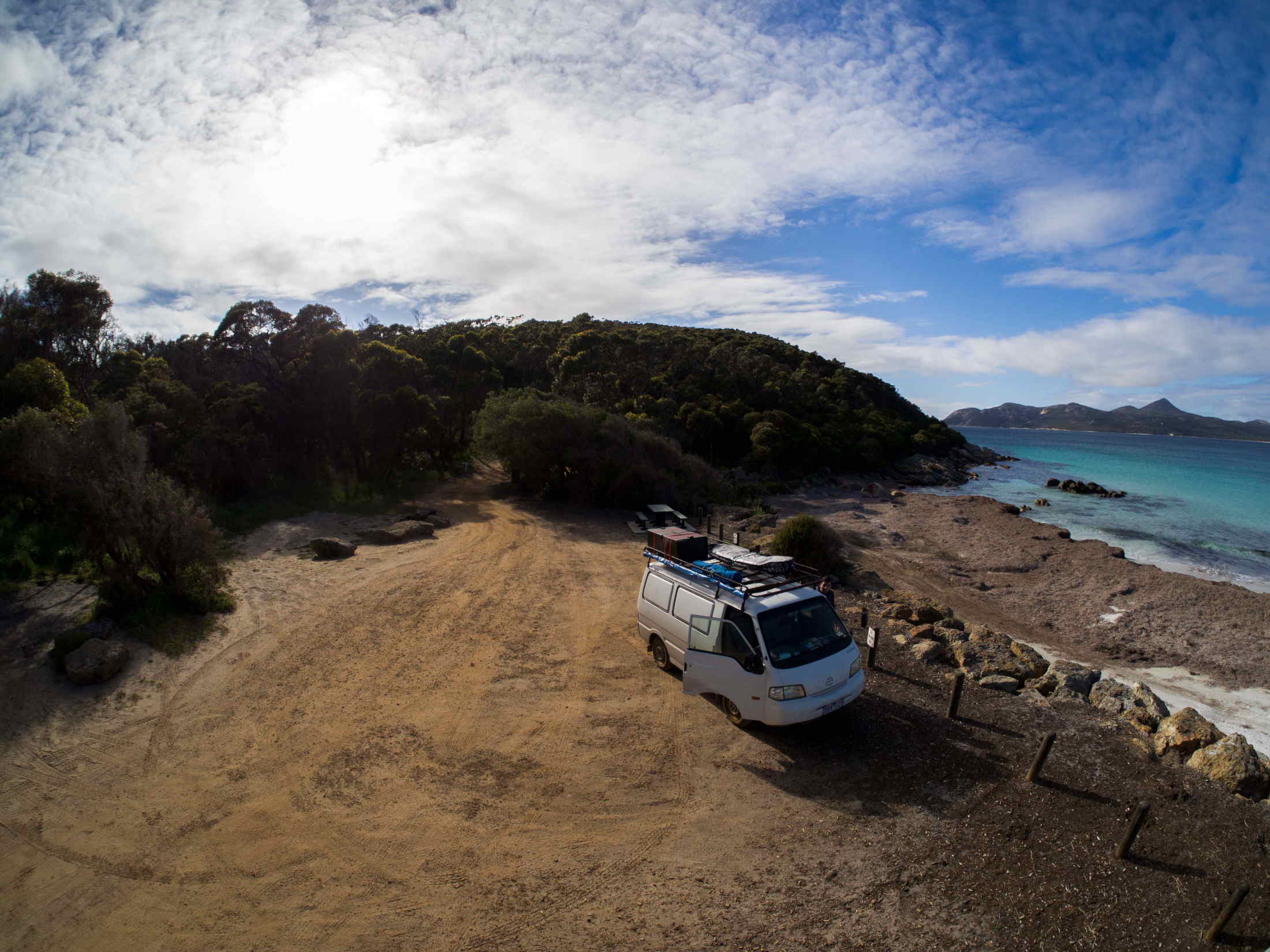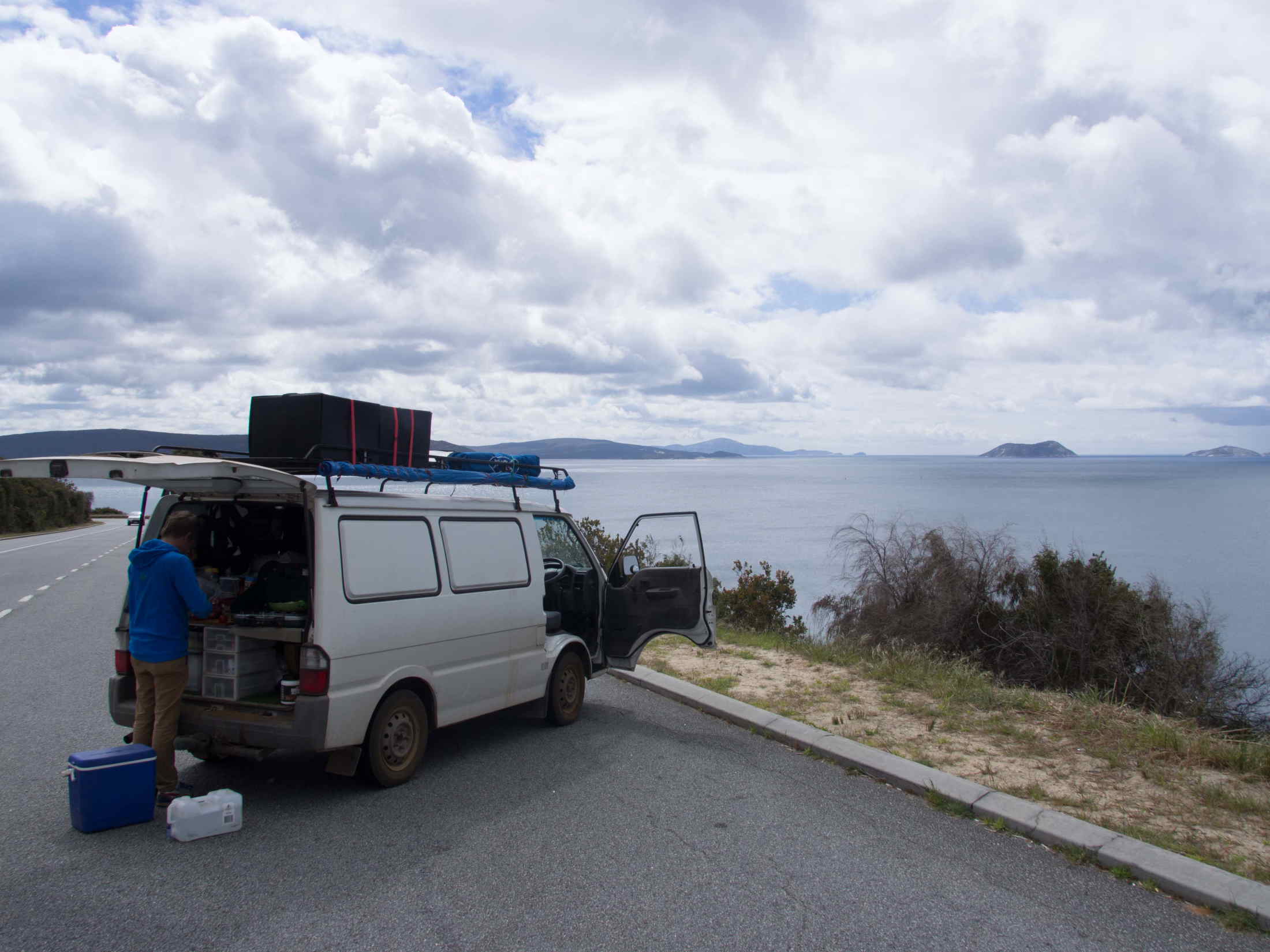 Spotting for some wales in Albany. Jack spotted, I cooked. :)
Ausschau halten nach Walen in Albany. Jack hielt ausschau, ich kochte. :)
The Dog Head.
Der Hundekopf.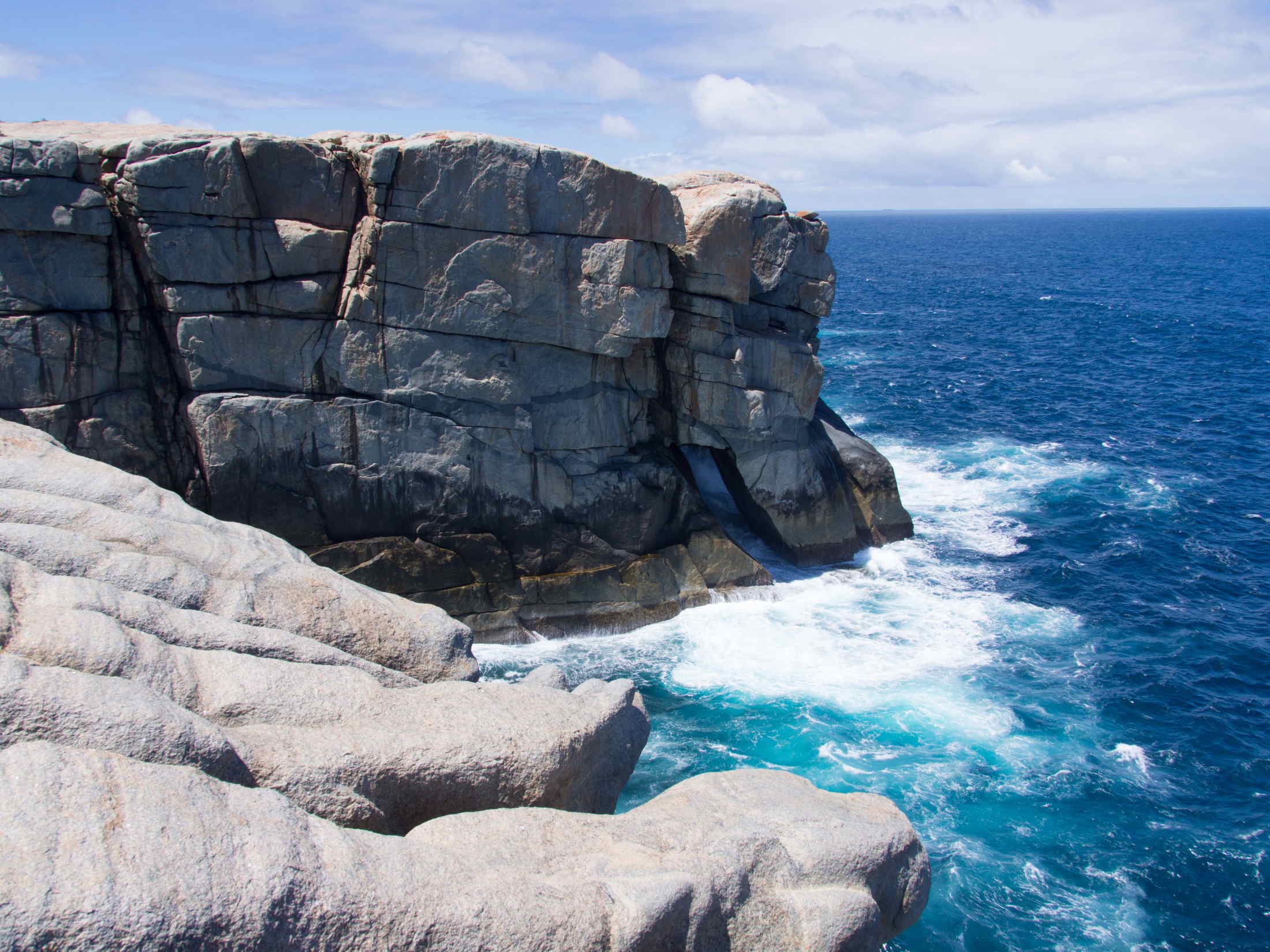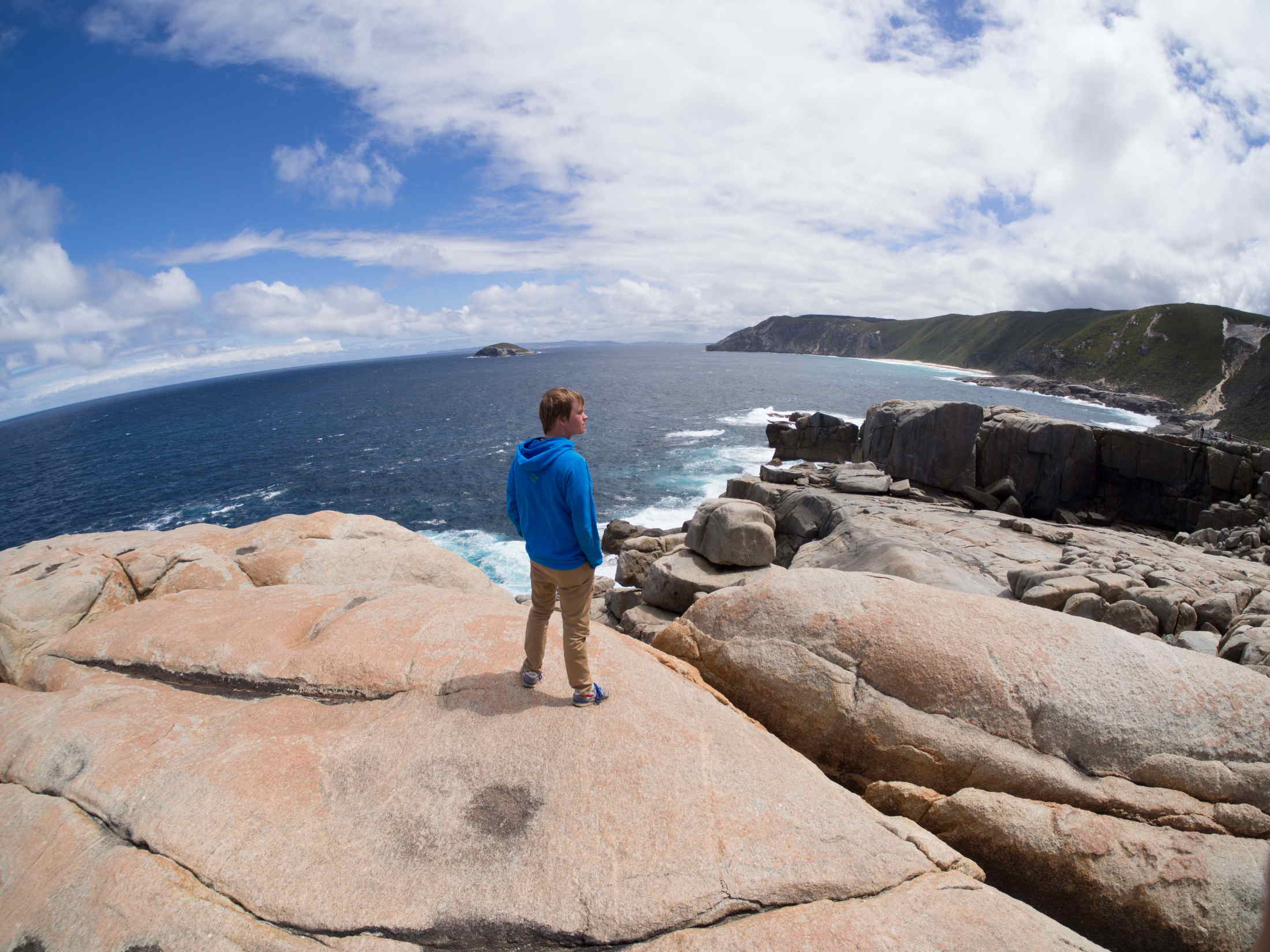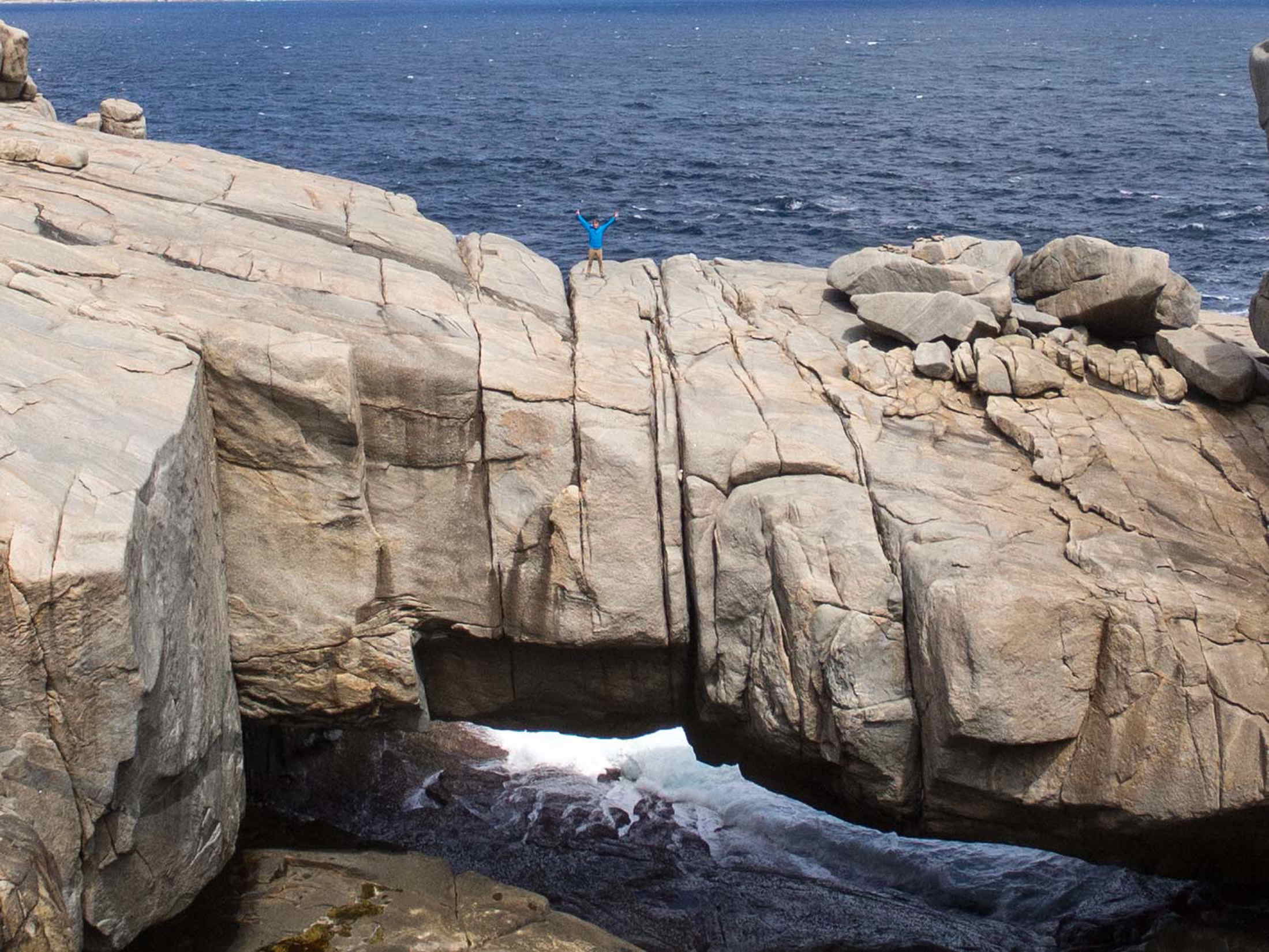 The natural bridge.
Die natürliche Brücke.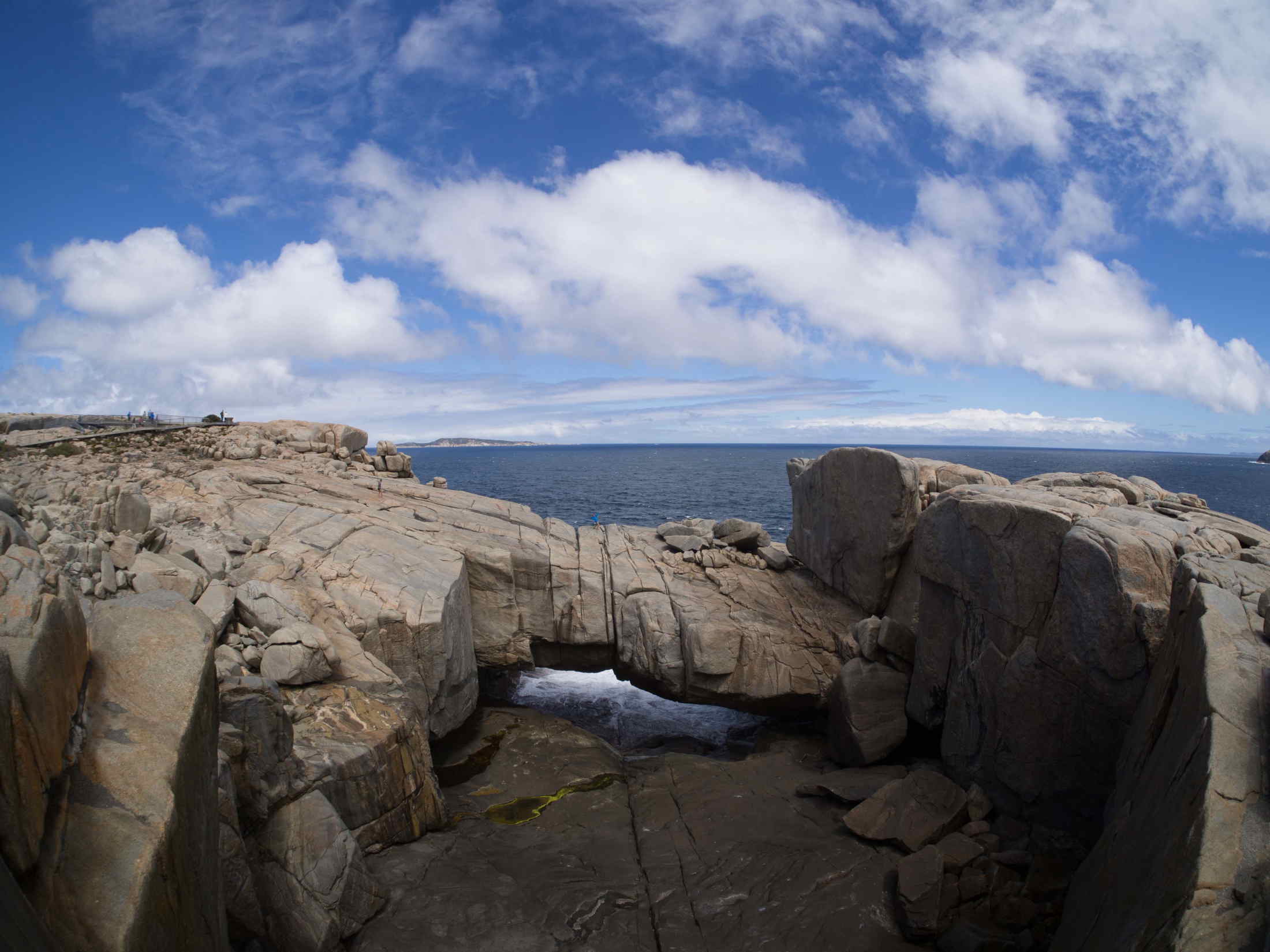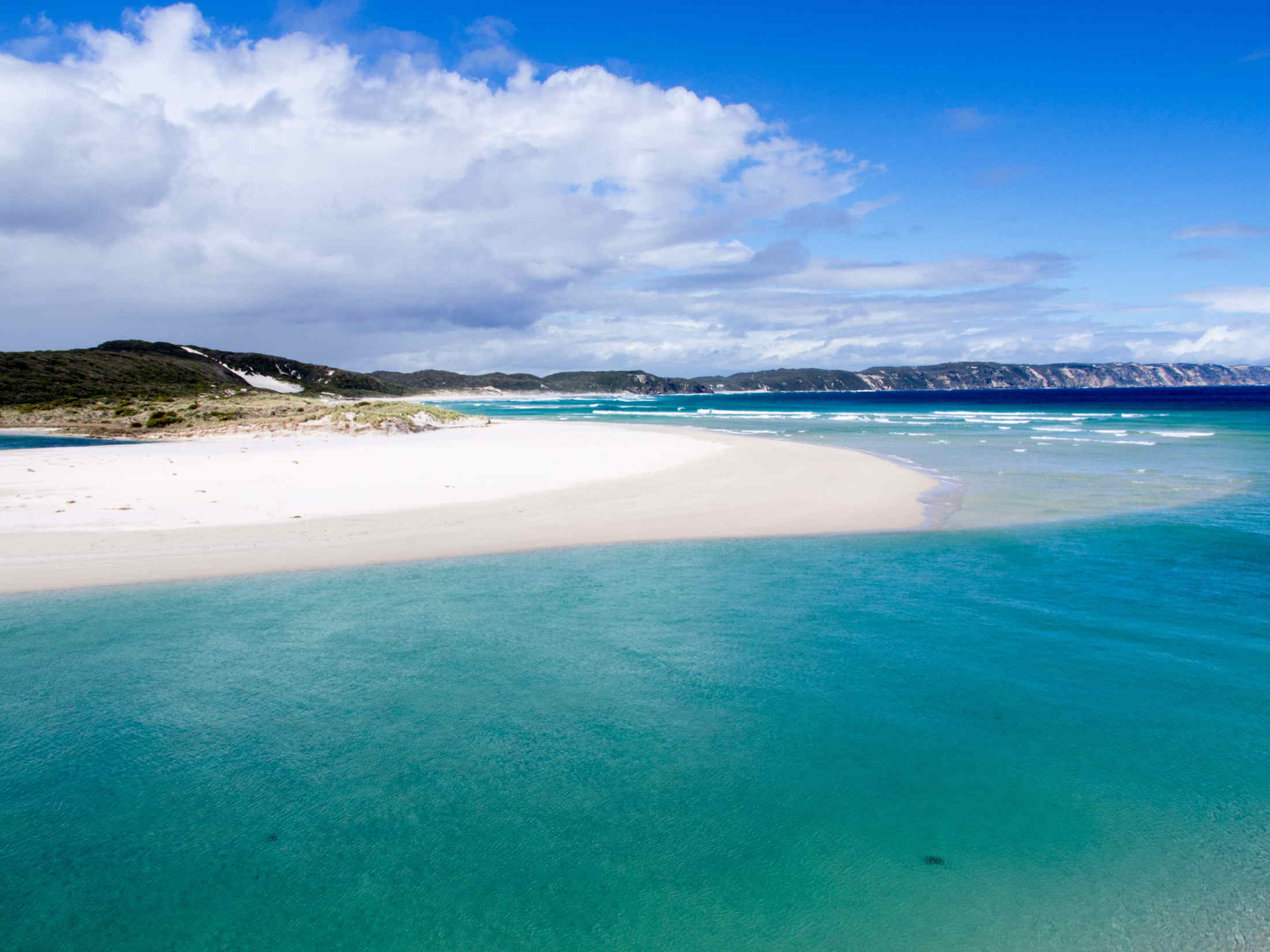 Denmark with it's beautiful beaches.
Denmark mit seinen wunderschönen Stränden.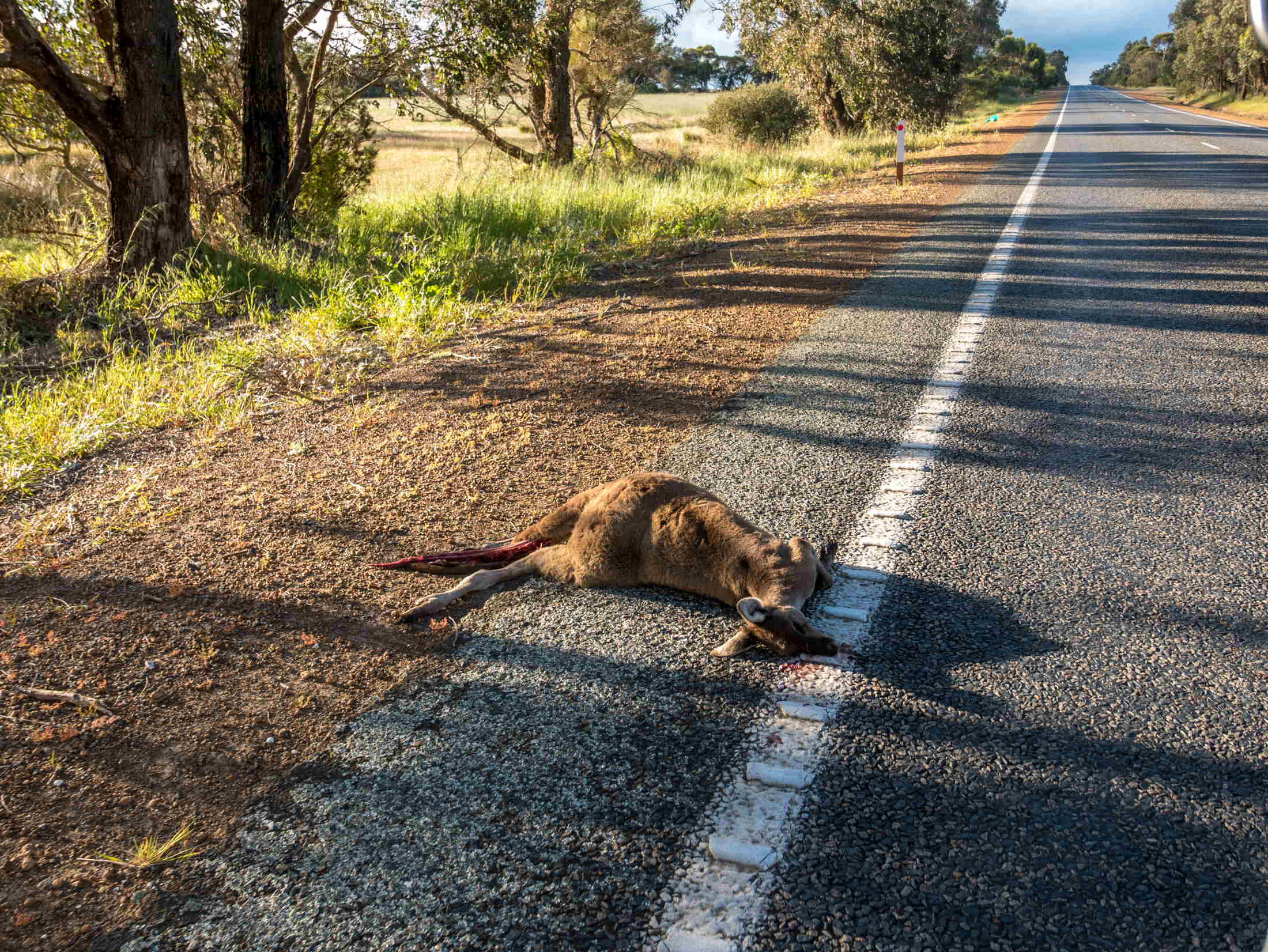 Documenting a road trip through Australia and not showing a death kangarooh at the side of the road woudln't be complete. So here how you see them unfortunately the most of the time....
Einen Roadtrip durch Australien zu dokumentieren ohne ein totes Känguruh an der Seite der Straße zu zeigen wäre unvollständig. Darum hier wie man sie leider am häufigsten zu sehen bekommt....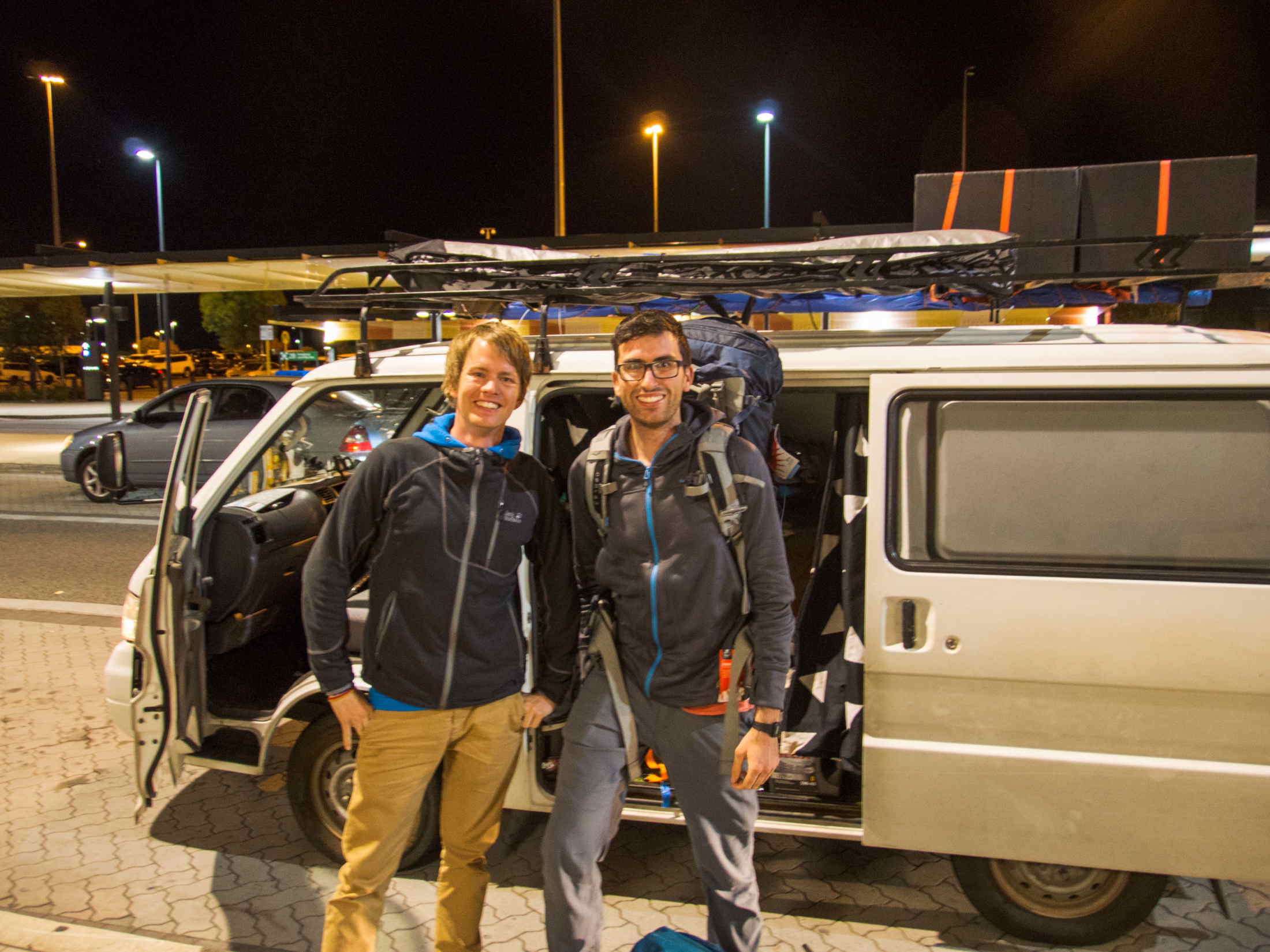 Thanks for the nice time in Melbourne, while we where fighting our ways through the traffic in the rain or just enjoying the breaks with no orders. Was a pleasure Jack! :)
Danke für die gute Zeit in Melbourne, während wir uns durch den Verkehr kämpften bei Regen, oder einfach entspannt auf die nächste Bestellung warteten. Es war mir ein Fest Jack! :)
So Jack was gone and a new chapter started with my arrival in Perth. I was hosted by my friend Colin and stayed for a cuple of days in the city. I met my new travelmate Anna. She was already in the end of her second year and wanted to finish her Australia experience with a west coast trip. So we drove together from Perth to Broome. Our first experience was a view of the Penguin Island.... Just a view cause we missed the last ferry to get there. :P But we made it the following day to Rottnest Island. This Island is the only place in the world where you can Quokas in wildlife. The cute animals that smile, when you get them from the right angle. So we rented bycicles and went hunting! On the way back we meet Shannon, who companied us to the Margaret River area the next day. This area is famous for the beaches, the wine and other delicious things.
Nun war Jack von Bord gegangen und ein neues Kapitel des Roadtrips startete mit meiner Ankunft in Perth. Ich kam bei meinem Freund Colin unter, den ich auf Koh Phangan kennengelernt hatte und blieb ein paar Tage in der Stadt. Ich traf meine neue Reisegefährtin Anna. Sie war schon am Ende ihres zweiten Jahres Australien und wollte noch eine Westküstentour machen. So fuhren wir gemeinsam von Perth bis Broome. Unsere erste Erfahrung zusammen war eine Sicht zur Penguin Island. Nur eine Sicht, da wir die letzte Fähre verpassten. :P Doch schafften wir es am darauf folgenden Tag nach Rottnest Island. Diese Insel ist der einzige Ort auf der Welt an dem man Quokas in ihrer natürlichen Laufbahn sehen kann. Die süßen Tiere die immer lächeln, wenn man sie aus dem richtigen Winkel erwischt. So mieteten wir Fahrräder und machten uns auf die Jagt! Auf dem weg zurück trafen wir Shannon, die uns am nächsten Tag in die Margaret River Region begleitete. Diese ist berühmt für ihre Strände, den Wein und andere Leckere Dinge.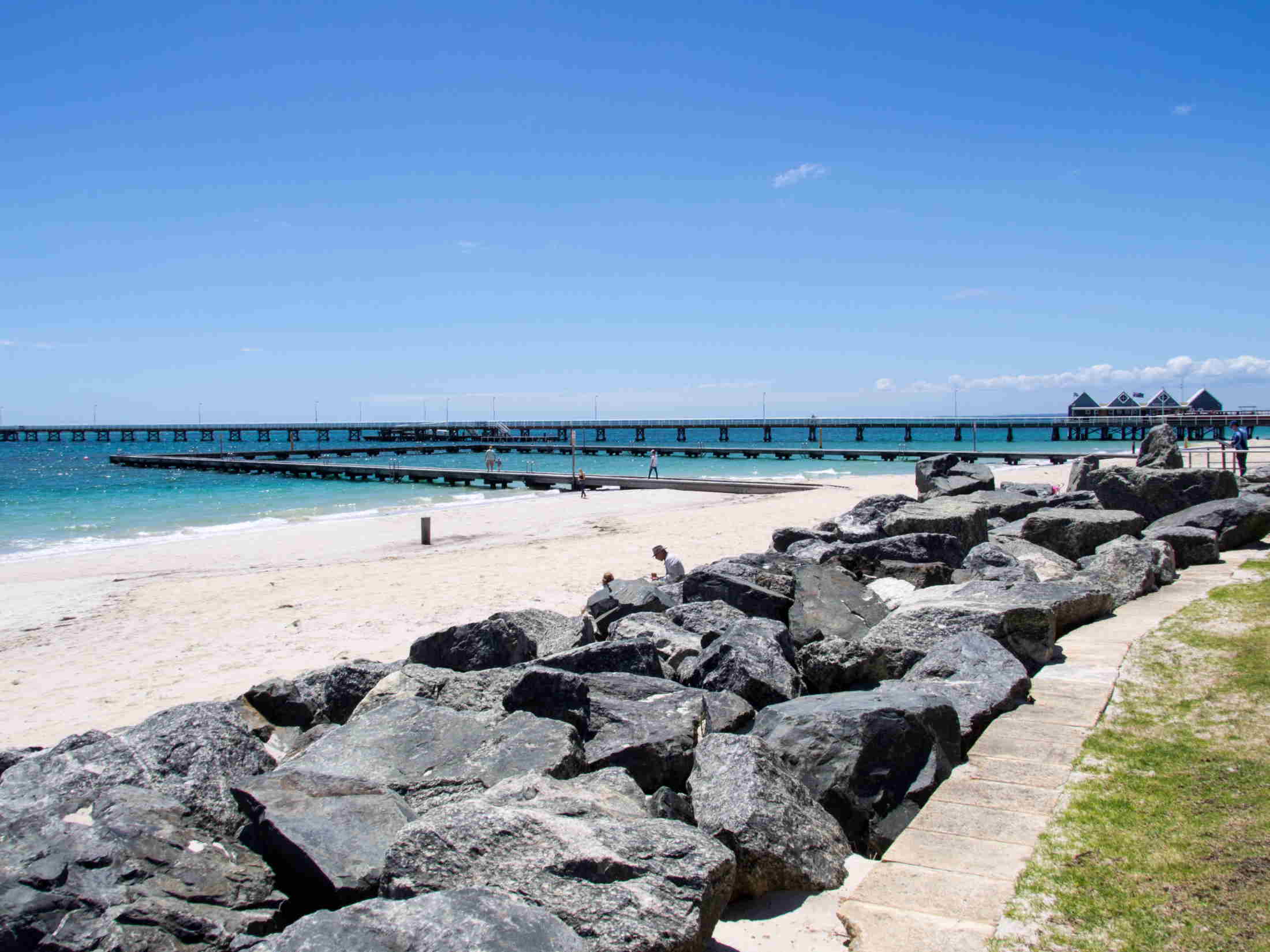 The longest jetty in the world! Even that long, that it dosen't fit on my picture!!!!
Der längste Pier der Welt! Sooo lang, dass er nicht mal auf mein Bild passt!!!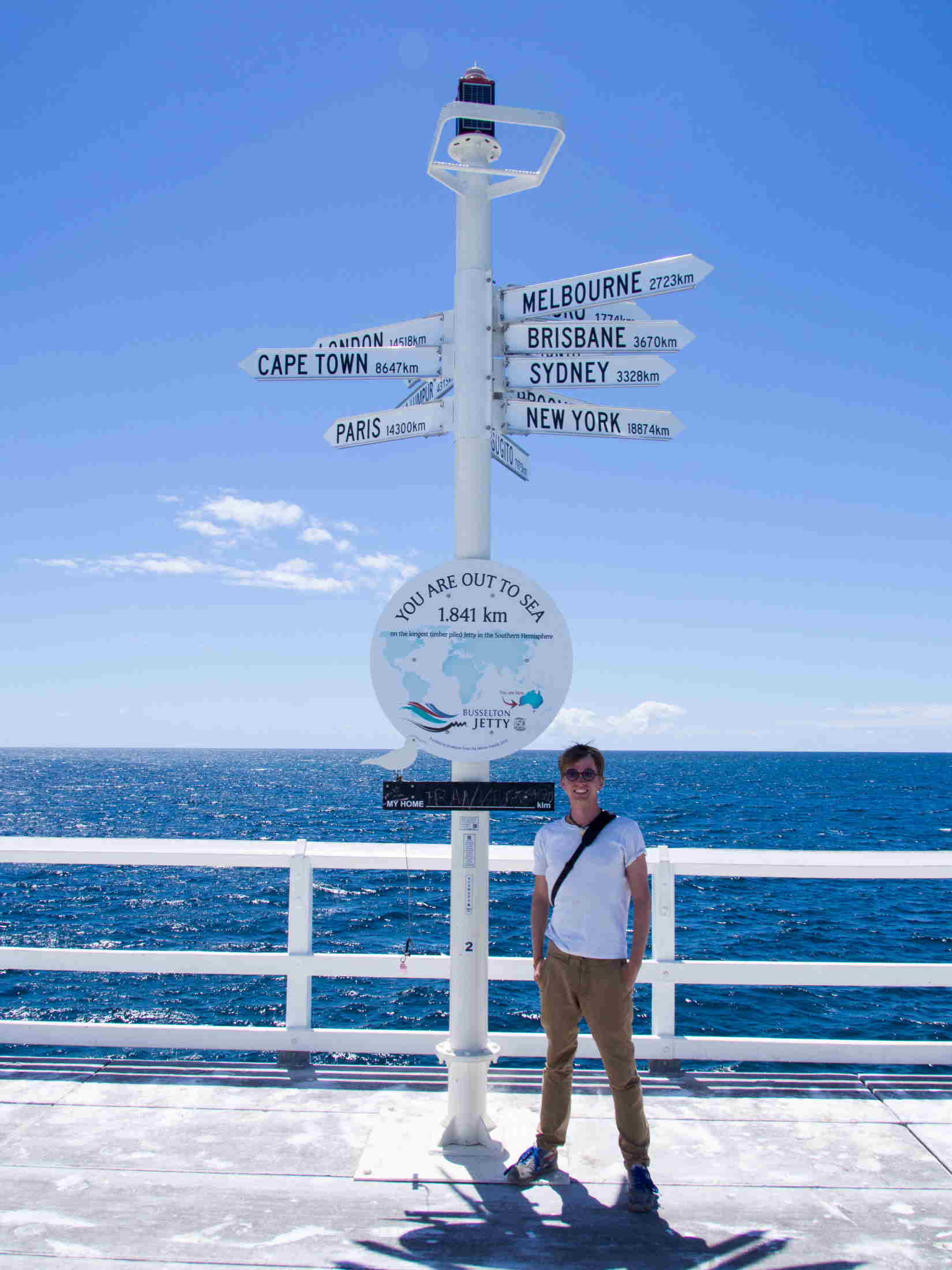 Faaarr away from home!
Weeeit weg von zuhause!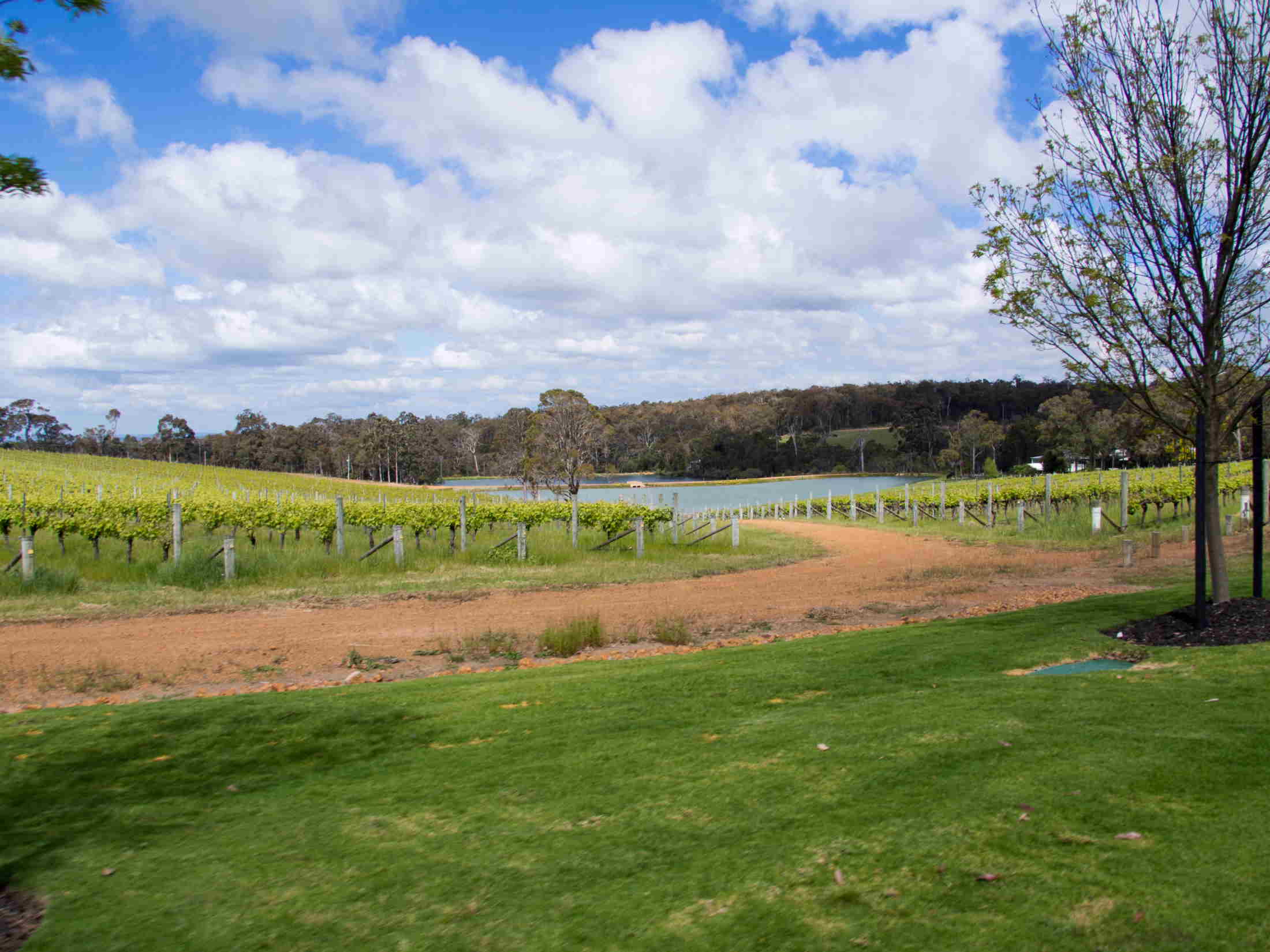 The nice landscape of the Margaret River area.
Die schöne Landschaft der Margaret River Region.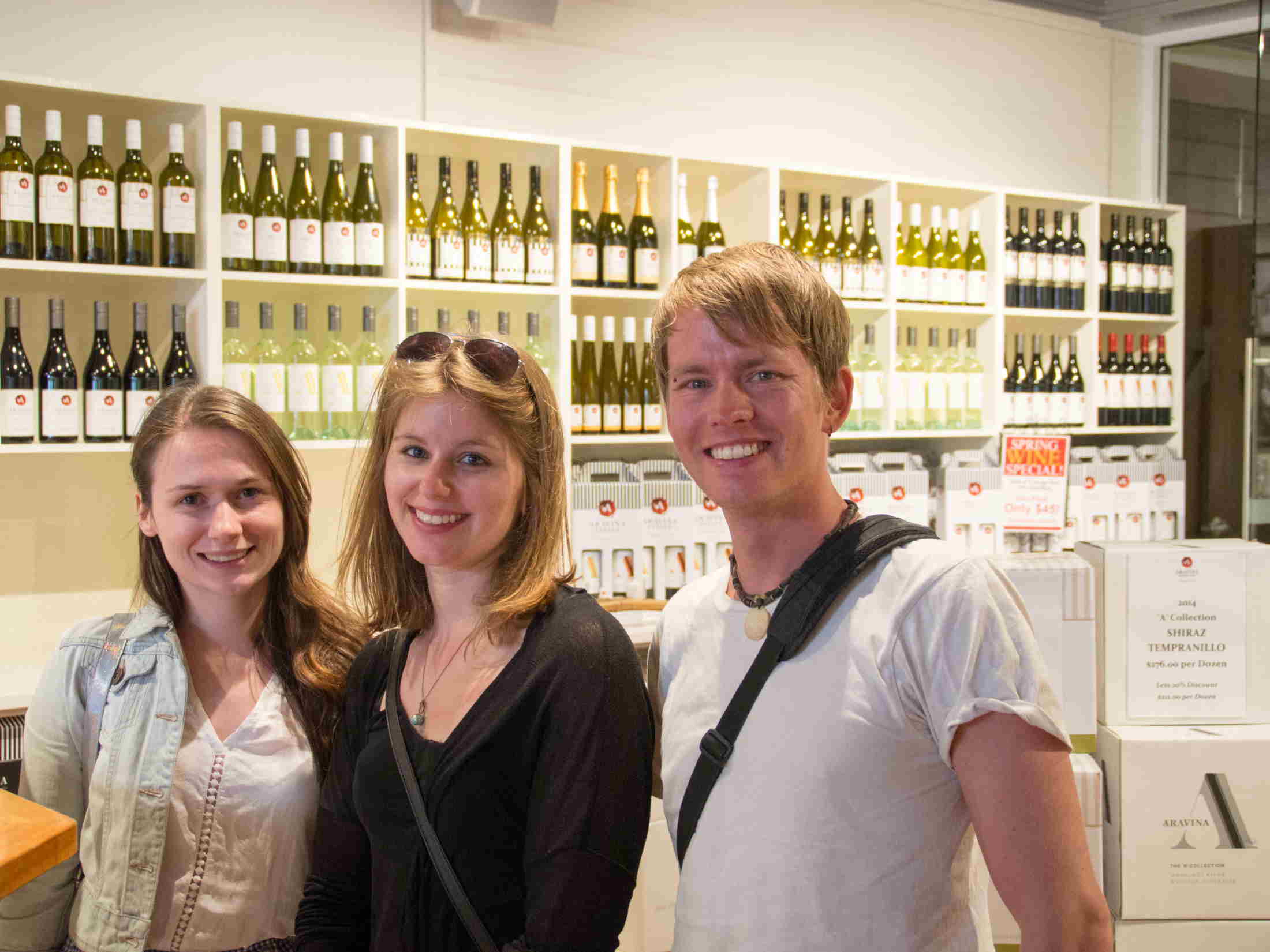 Shannon, Anna and me. :)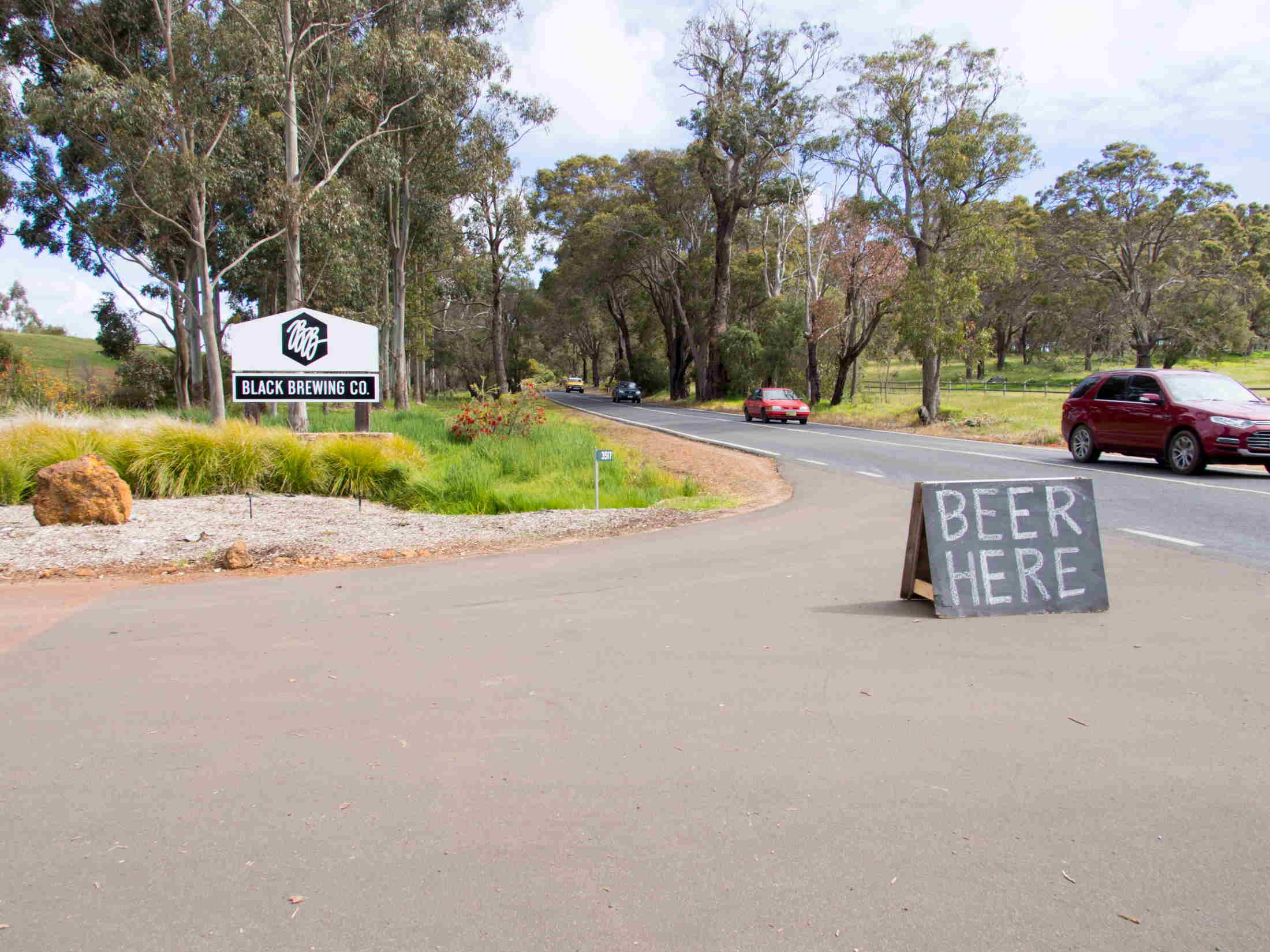 Lunch at "Black Brewing Co."
Mittagessen bei "Black Brewing Co."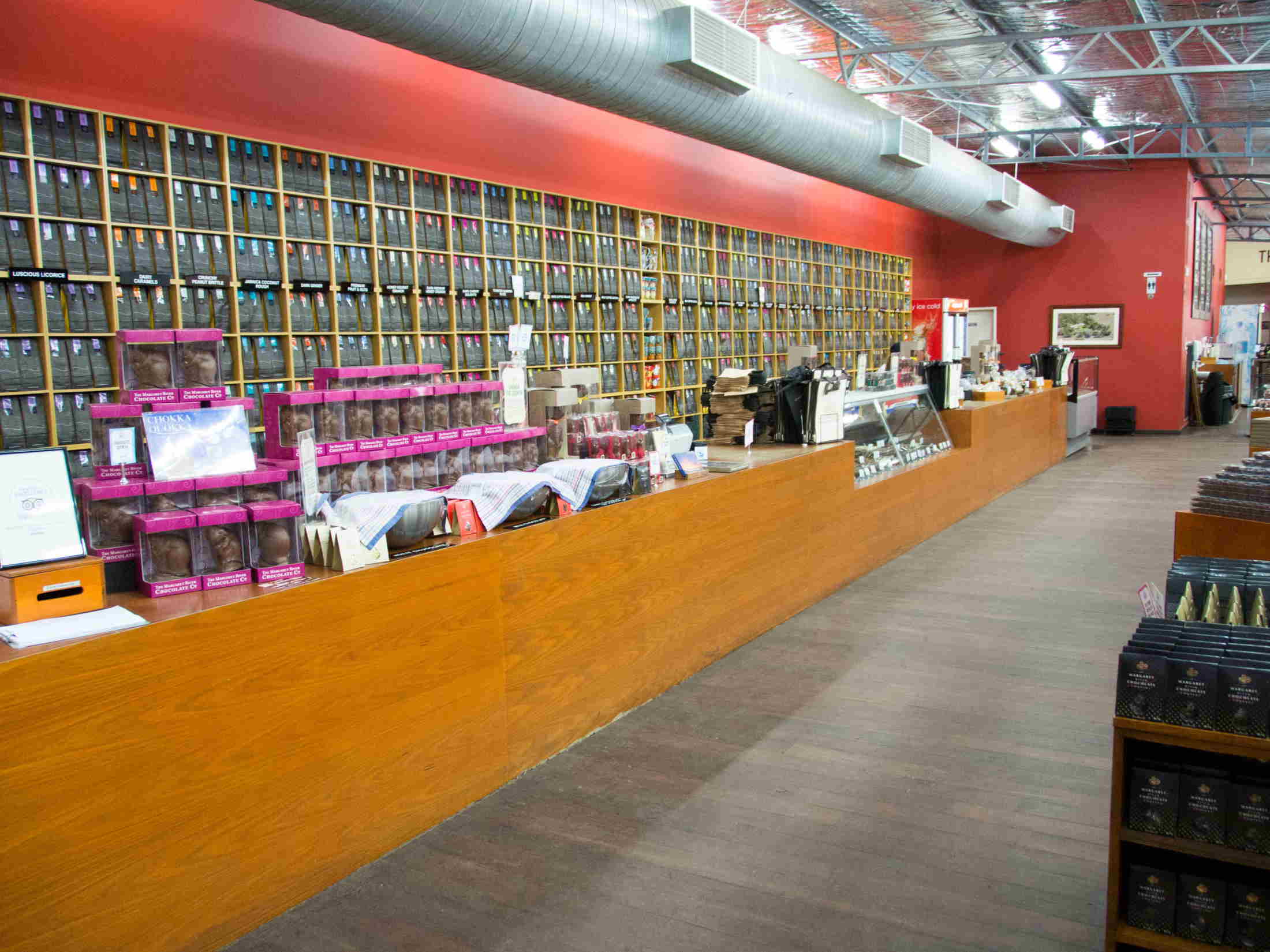 A quick snack before the doors closed at the chocolate factory.
Ein schneller snack befor die Türen der Schokoladenfabrik schlossen.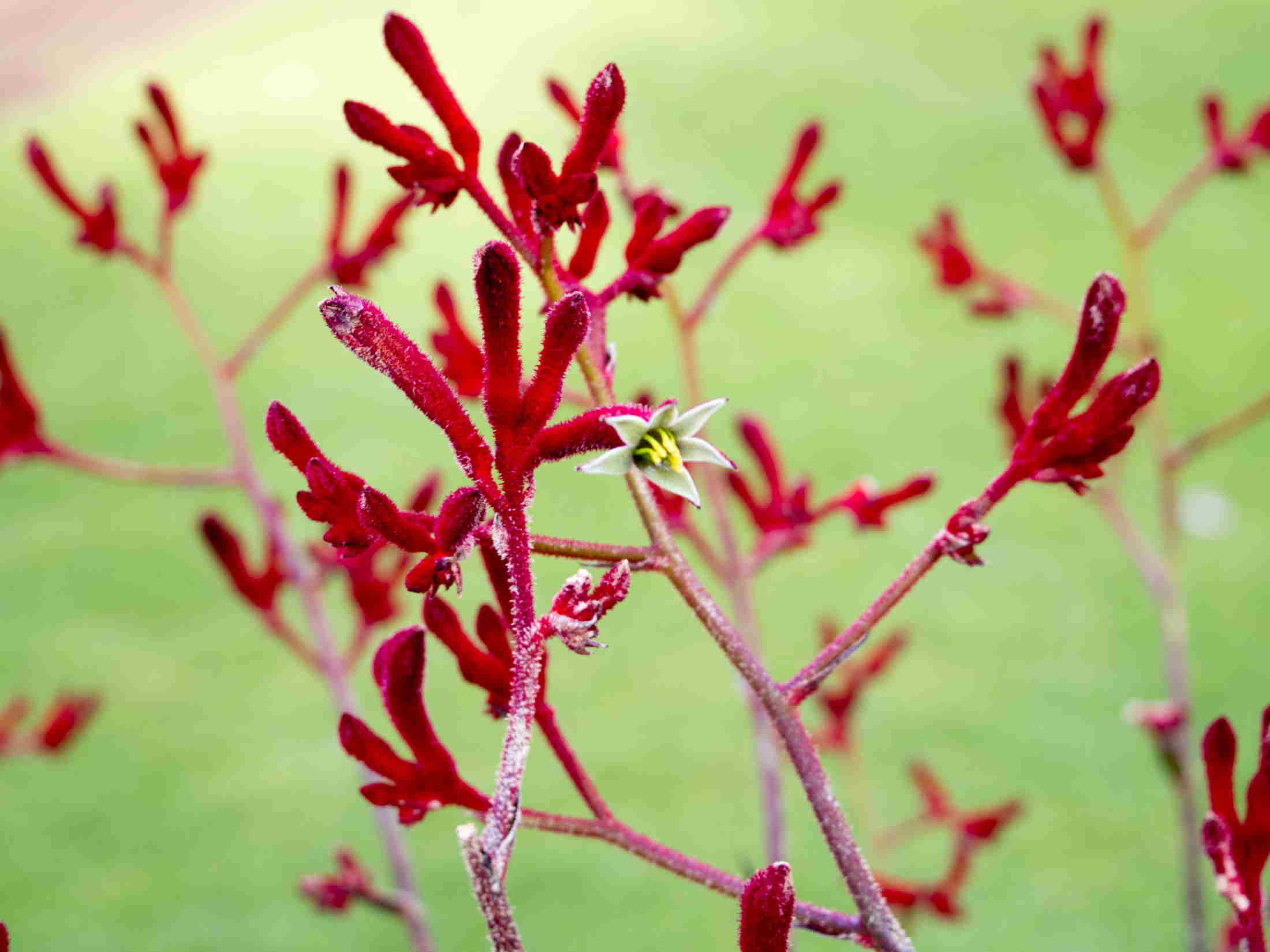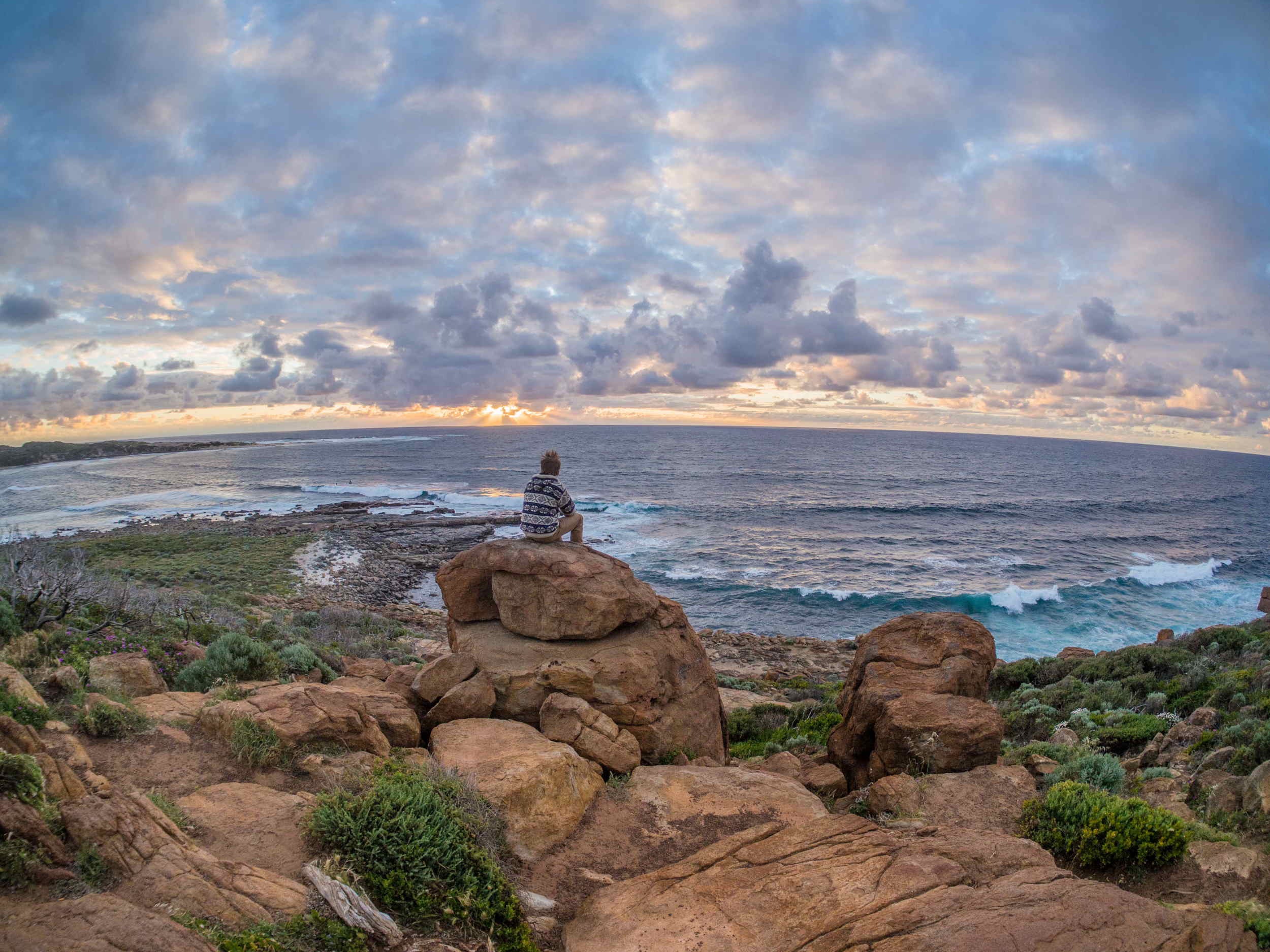 And a grand finall of the day with an amazing sunset!!!
Und ein großes Finale des Tages mit einem beeindruckenden Sonnenuntergang!!!
This was the first part of my road trip through Australia. It was really nice to be moving again and a great experience to live in a van! It is different than my travels before. You meet the people really intense. 24 hours full on! With some I got along perfect and we will be friends from now on. With some not. :P Before I couldn't imagine how HUGE this countrie/continent is. We drove almost every day distances like from Frankfurt to Berlin. In total I made almost 20.000 KM in a car on the road. This is half a time around the world.
In the next entry you will see the rest of western Australia, the north and the red center with some UPs and some DOWNs. So it will still be exiting! Thanks for your interest everybody! Hope I could give you a nice impression.
All the best for you, yours Jakob. :)
Dies war der erste Teil meines Road Trips durch Australien. Es war wirklich schön wieder in Bewegung zu sein und eine tolle Erfahrung in einem Van zu leben! Es ist anders als das Reisen zuvor. Man trifft die Leute wirklich intensiv. 24 Stunden volles Programm! Mit einigen kam ich super aus und wir sind Freunde von nun an. Mit anderen nicht! :P Ich konnte mir zuvor nicht vorstellen wie RIESIG dieses Land/Kontinent ist. Wir sind fast täglich Strecken wie Frankfurt Berlin gefahren. Insgesamt habe ich im Auto knapp 20.000 KM gemacht. Das ist ein halbes mal um die Welt.
Im nächsten Beitrag seht ihr den Rest von Westaustralien, den Norden und das Rote Zentrum mit großen UPs und DOWNs! Es bleibt also spannend! Danke für Euer Interesse an alle! Ich hoffe ihr habt ein paar impressionen bekommen können.
Alles gute Euch, euer Jakob :)