October to November - Perth, Sharkbay, Coral Bay, Exmouth, Bromme to Darwin
Part two of my report about my road trip across Australia. Here the part from Perth in the west to Darwin in the north. Anna and me collected Zohab, the third travelmate. She told me already when we meet the first time, that she travels in gypsie mode. What that means I should experience a bit later on the trip. We started our tour passing the Kalbarri National Park with it's Natural Window headding north. Further destinations where Shark Bay, Coral Bay, Exmouth and the highly praised Karinjini National Park. From there we went over Broome to Darwin.
Teil zwei meines Berichtes zum Road Trip durch Australien. Hier von Perth im Westen bis nach Darwin im Norden. Mit Anna im Gepäck sammelten wir noch Zohab, die dritte im Bunde, ein. Sie erzählte mir schon zu Begin das sie im Gipsy - also Zigeuner Modus untewegs sei. Was das bedeutete sollte ich zu einem späteren Zeitpunkt der Reise noch erfahren. Wir machten uns auf den Weg über den Kalbarri National Park in dem das "Natrual Window" zu sehen ist, richtung Norden. Weitere Ziele waren Shark Bay, Coral Bay, Exmouth und der hochgelobte Karinjini National Park. Von dort aus ging es über Broome nach Darwin.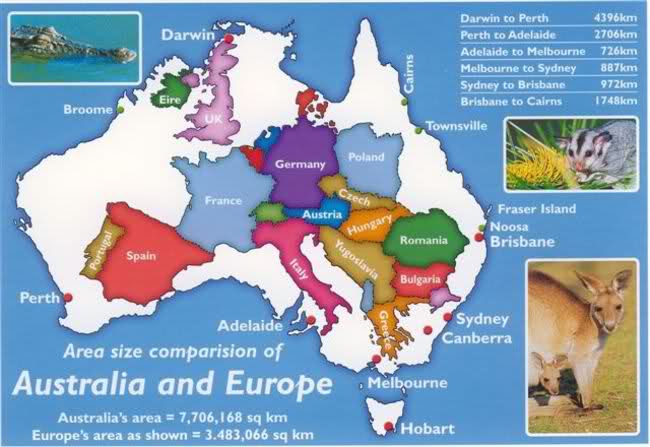 For the beginning I just want to point on the dimensions of Australia compare to Europe again. As this was a fact I didn't knew before and impressed me again and again during my travels across Australia.
Zu Beginn möchte ich noch mal die Diemensionen verdeutlichen, da sie mir zu Anfang nicht klar waren und mich dort auch wieder und wieder beeindruckt haben.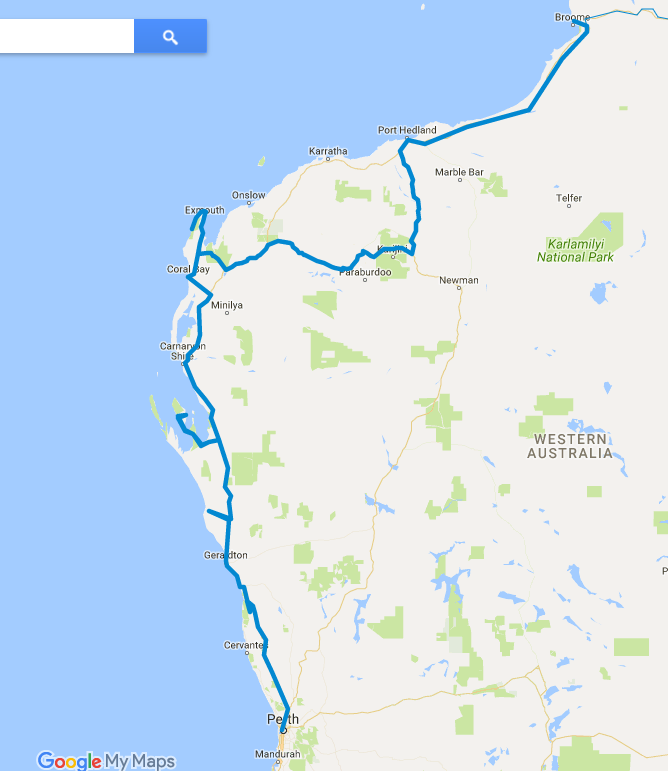 Here the part from Perth to Broome.
Hier der Abschnitt von Perth nach Broome.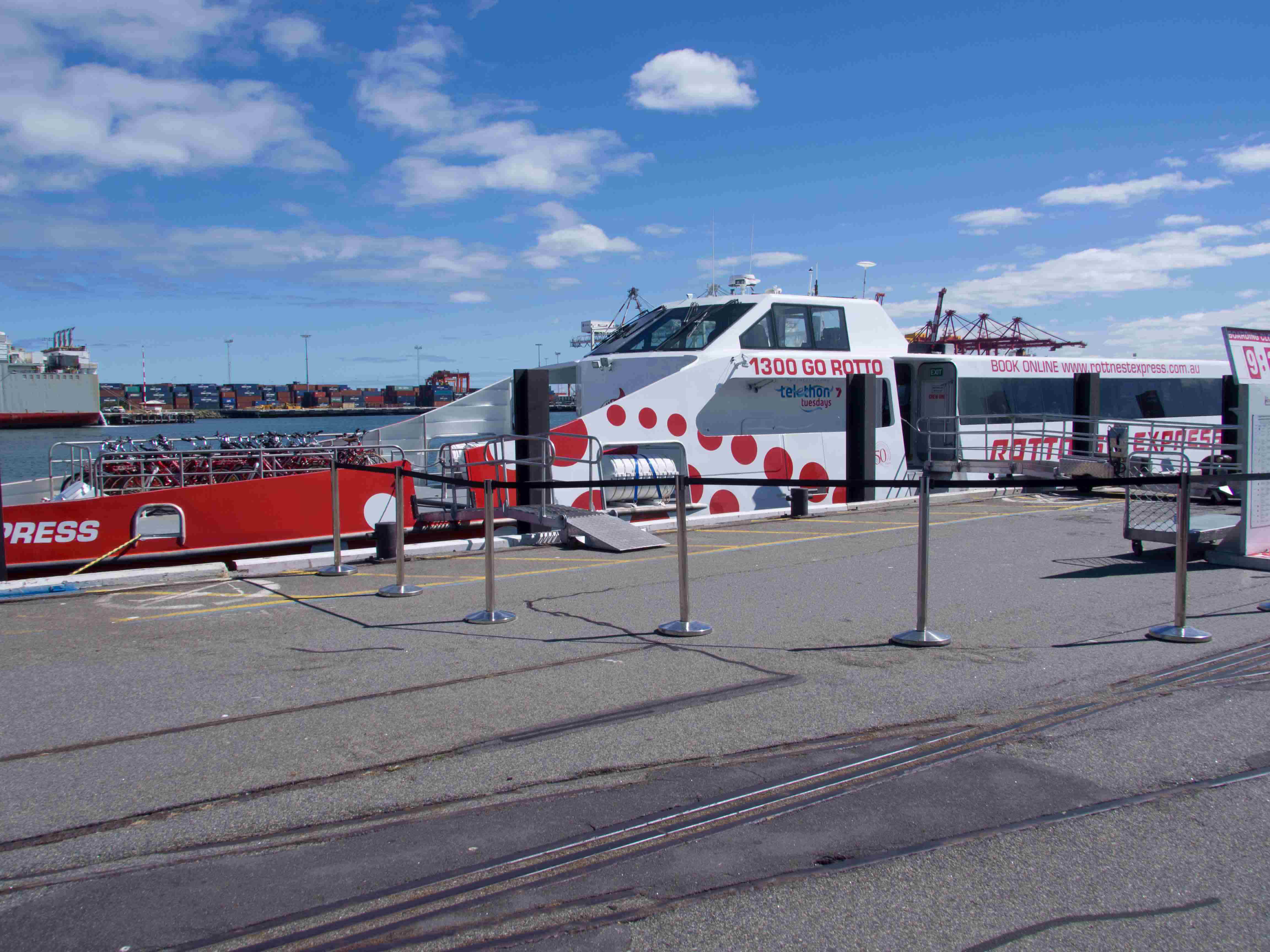 Lets go to Rottnest Island!
Auf gehts nach Rottnest Island!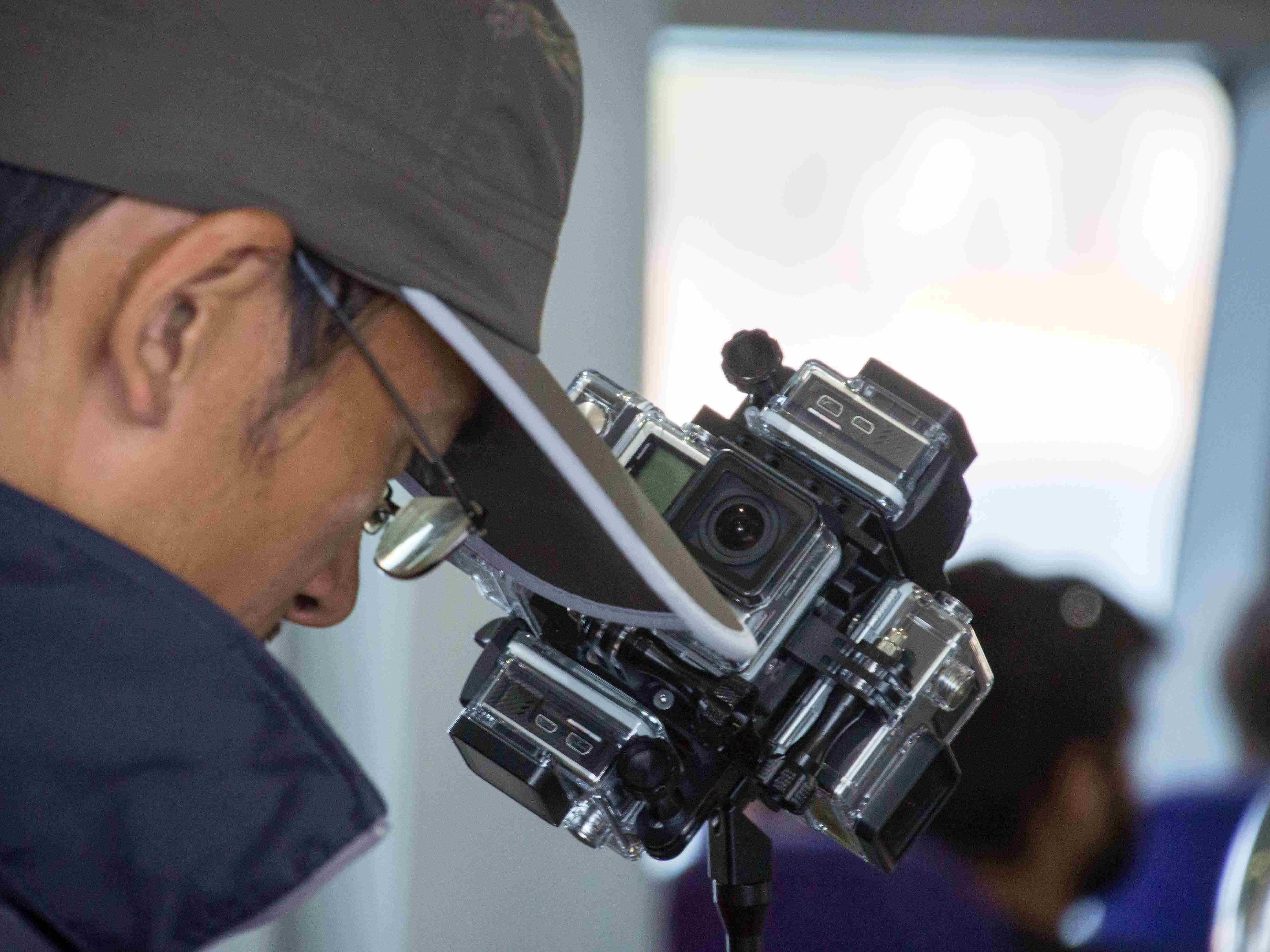 I would be currious about the end product he creates with his GoPro cube.
Ich wäre wirklich gespannt auf das Endprodukt das er mit seinem GoPro Würfel erstellt.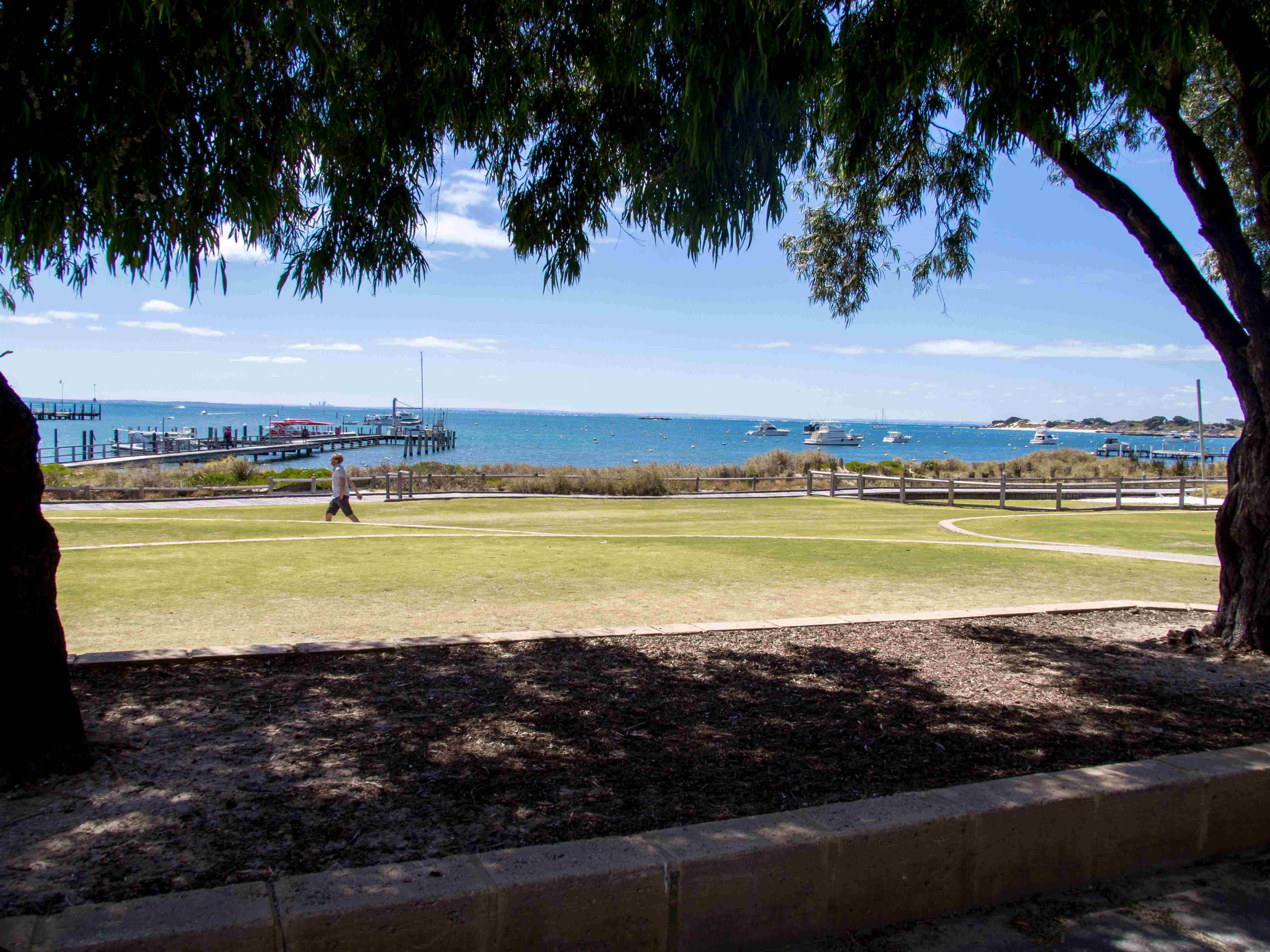 Arrived on Rottnest Island.
Angekommen auf Rottnest Island.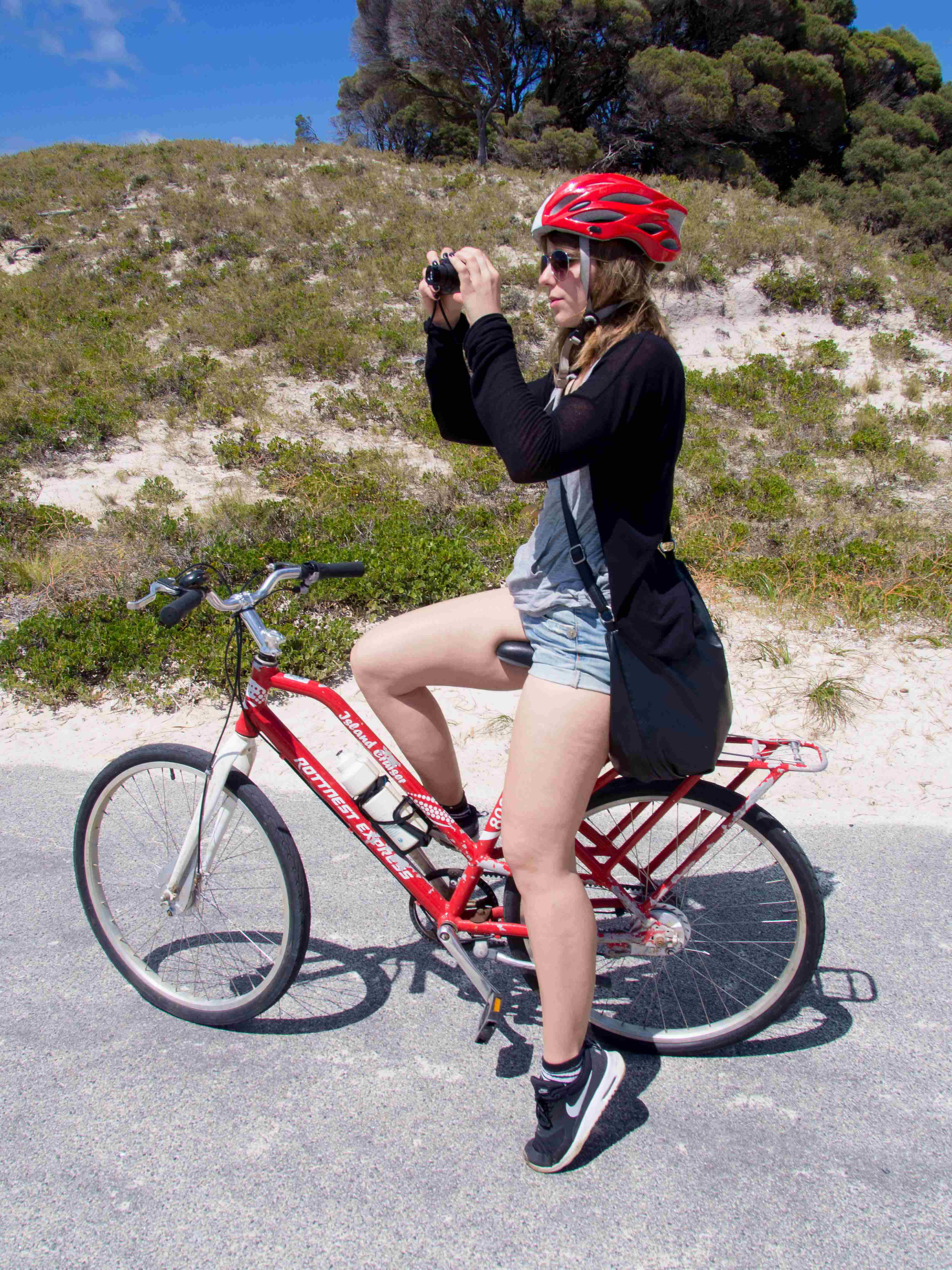 Anna on one of our rental bikes. :)
Anna auf einem unserer Mietfahrräder. :)

On this little island the variation of the vegetation is quiet nice (you can cycle around it in a few hours).
Die Variation der Vegetationen auf dieser kleienn Insel ist recht schön (man kann in wenigen Stunden einmal drum herum fahren).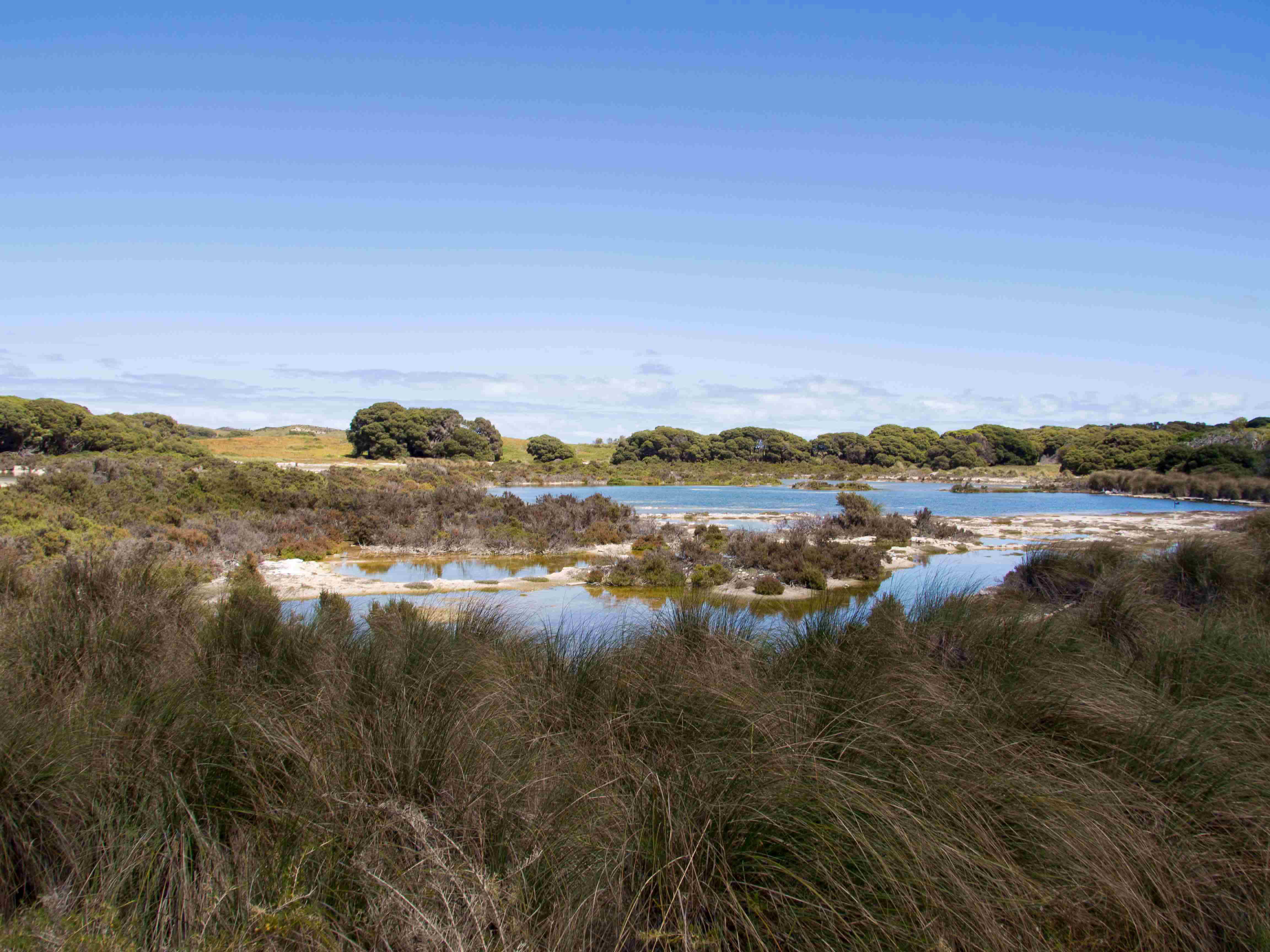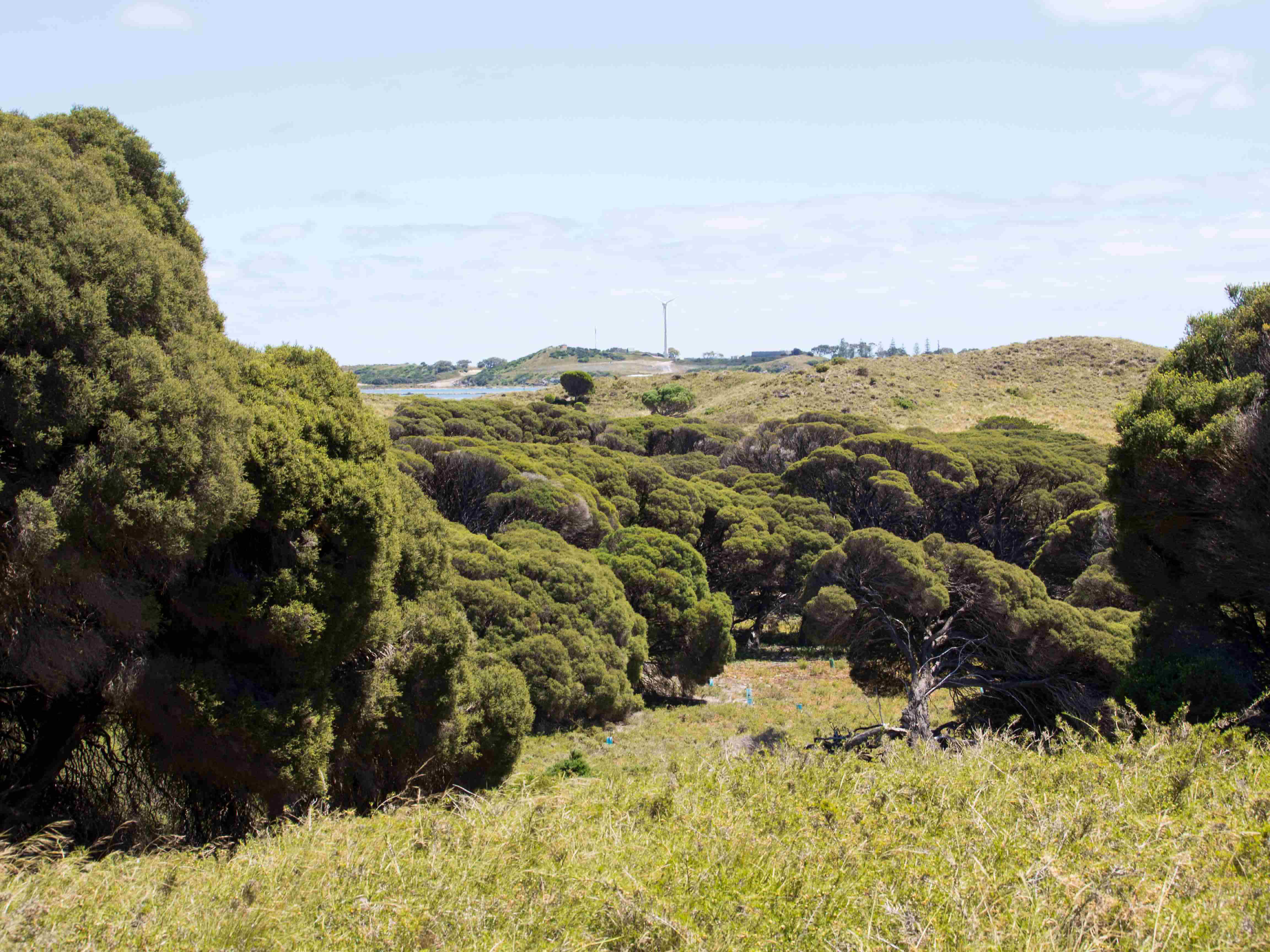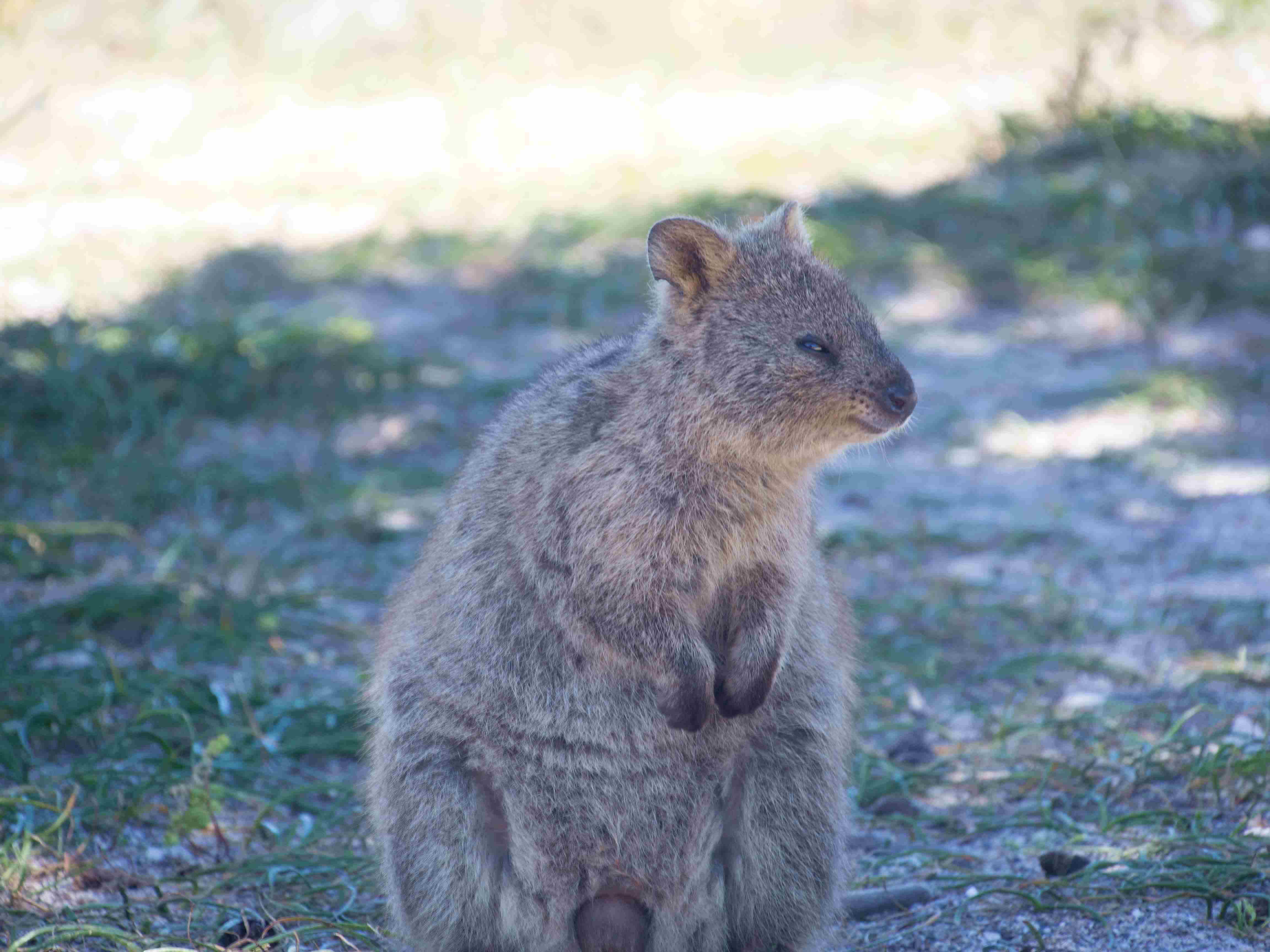 Finally we found them! QUOKAS!!! :)
Endlich fanden wir sie! QUOKAS!!! :)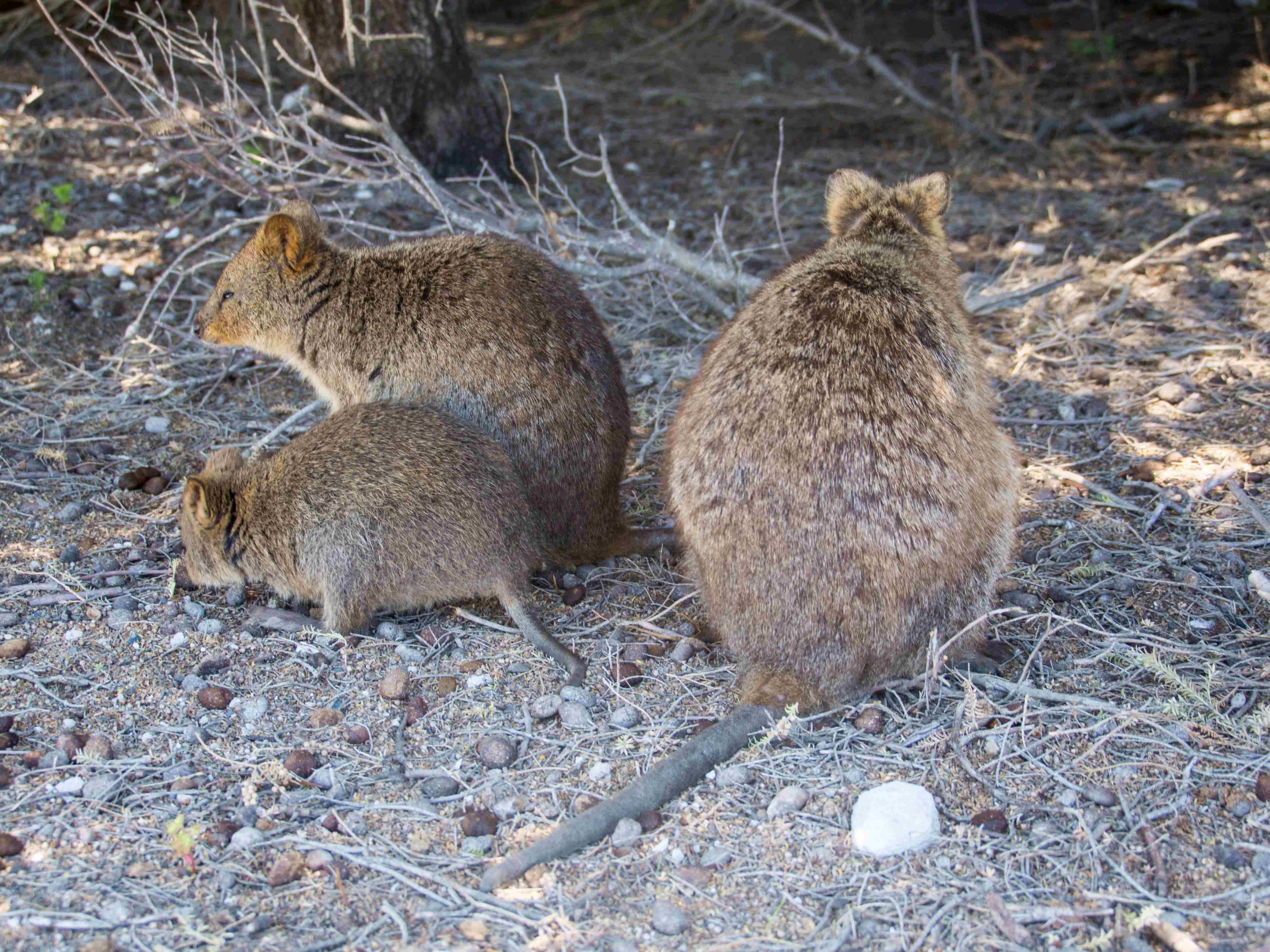 They where quiet chilled and seemed to be used to interact with humans.
Sie waren ziemlich entspannt und schienen dem Umgang mit Menschen gewöhnt zu sein.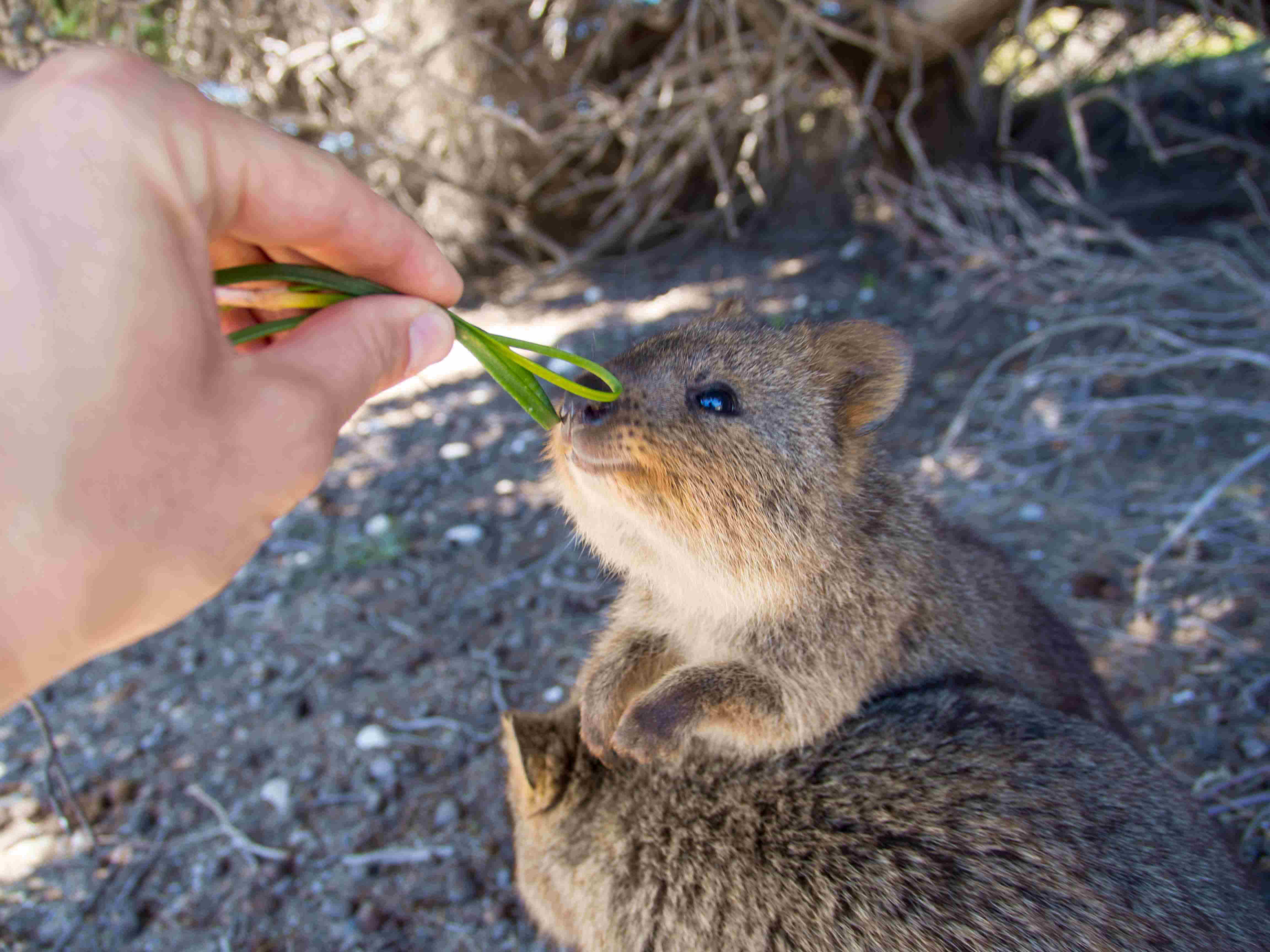 We helped them to get some of the leefs that usually would hang to high for them. In exchange we got some pictures out of the angle you have to watch them to see them smile. :)
Wir halfen ihnen ein paar Blätter zu bekommen, die normalerweise zu hoch hingen. Im Austausch bekamen wir ein paar Bilder aus dem Winkel in dem man sie grinsen sehen kann. :)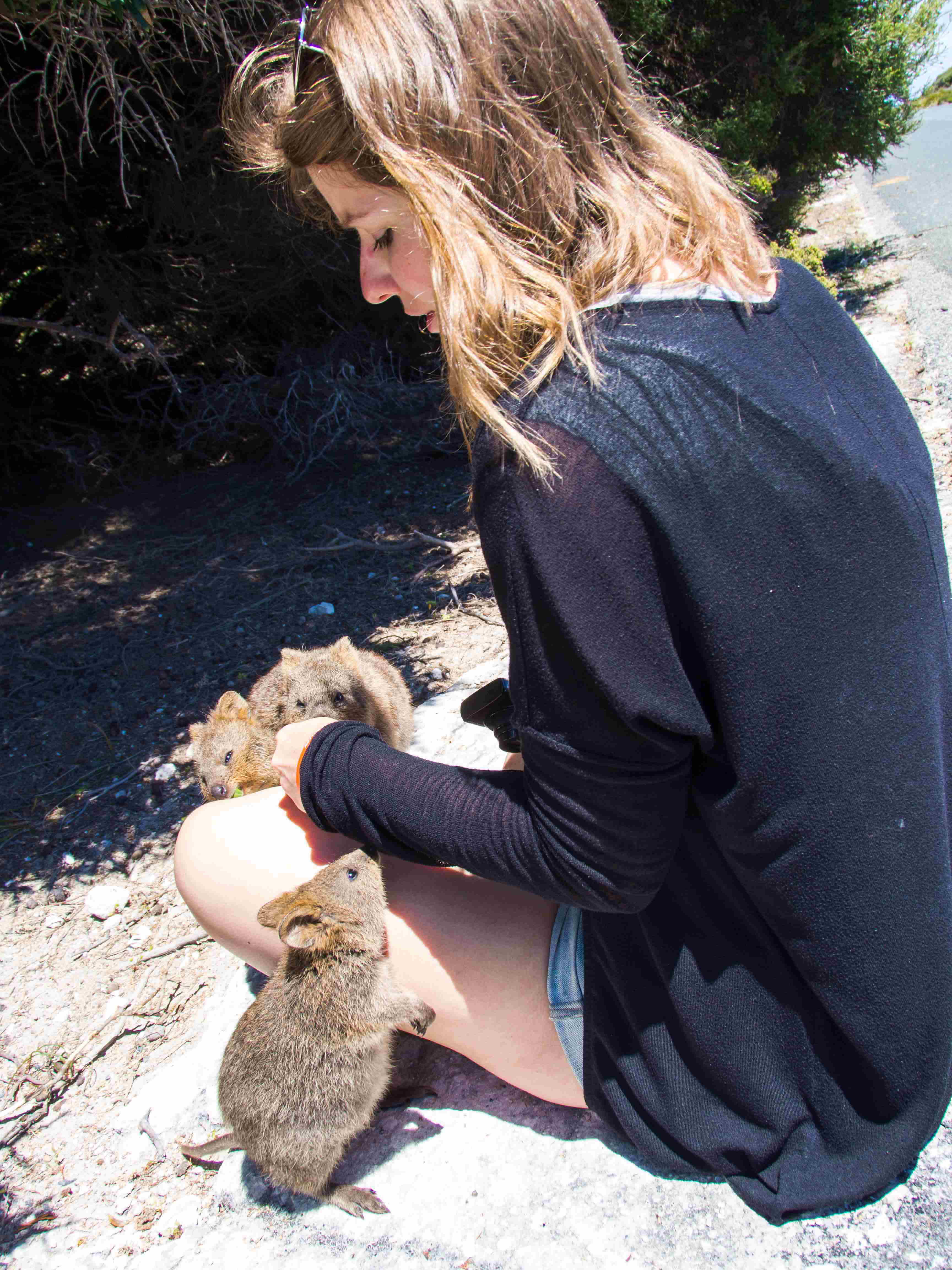 Anna enjoying a cuddle with the quokas.
Anna genießt eine Schmuserunde mit den Quokas.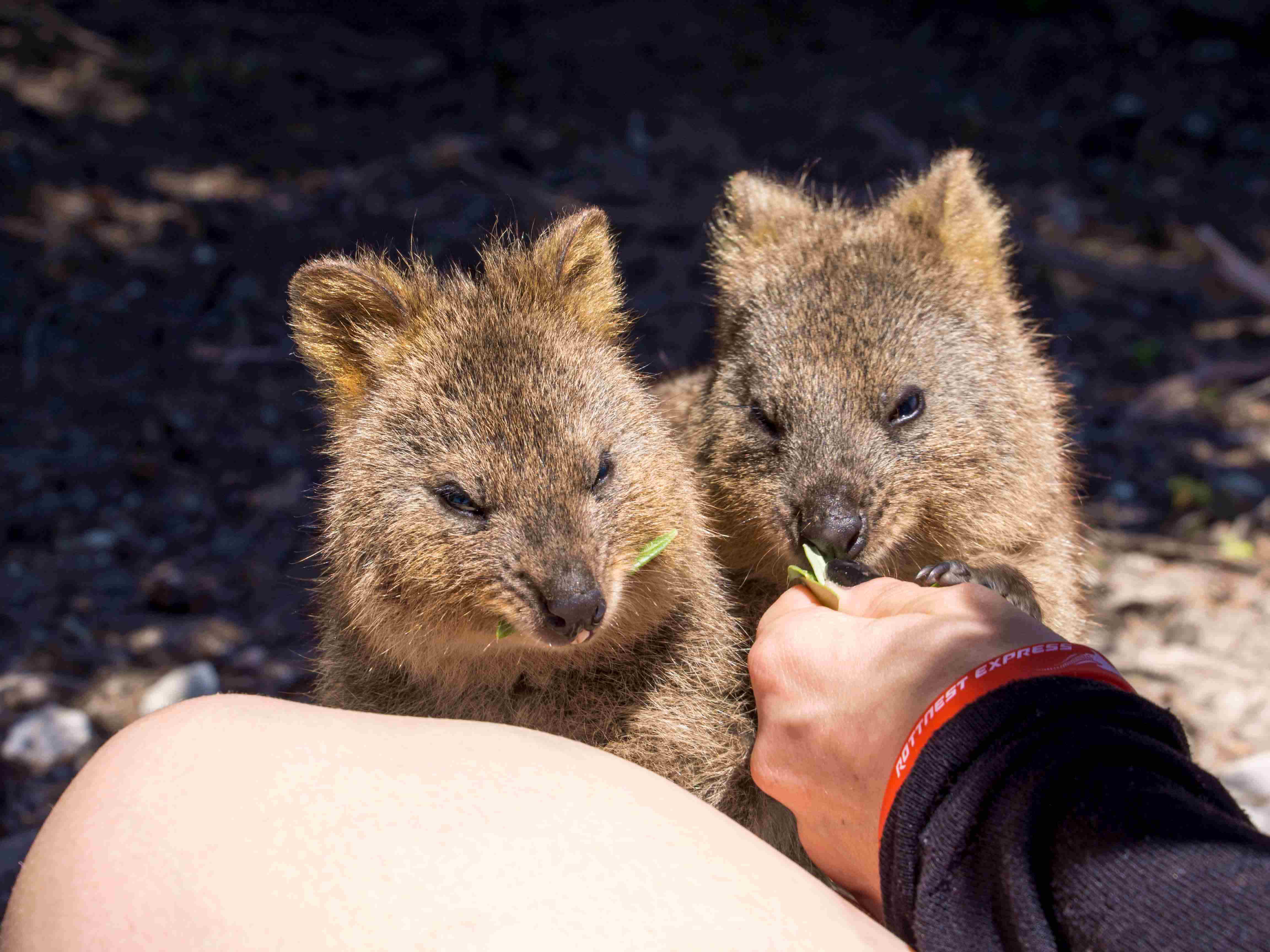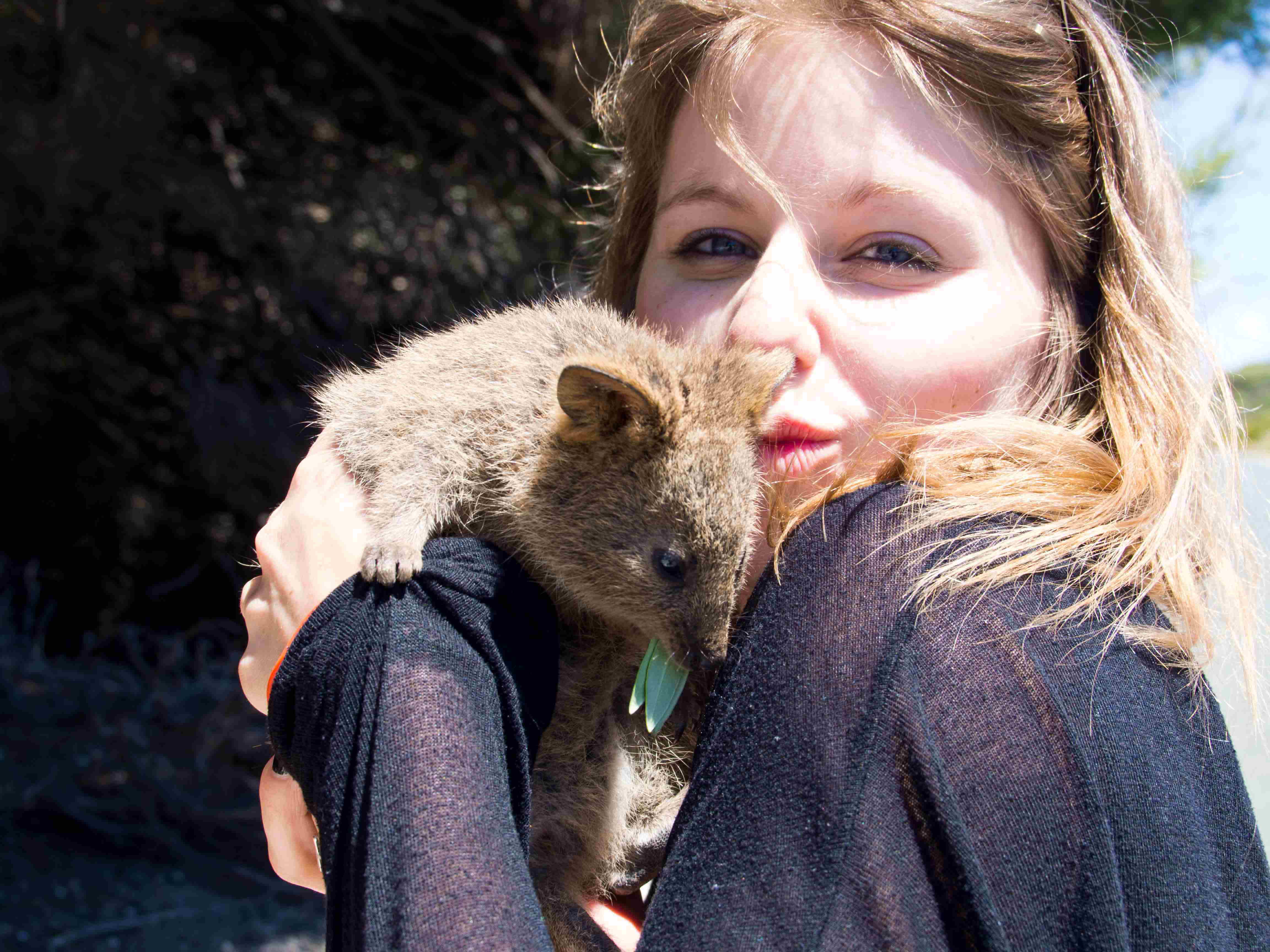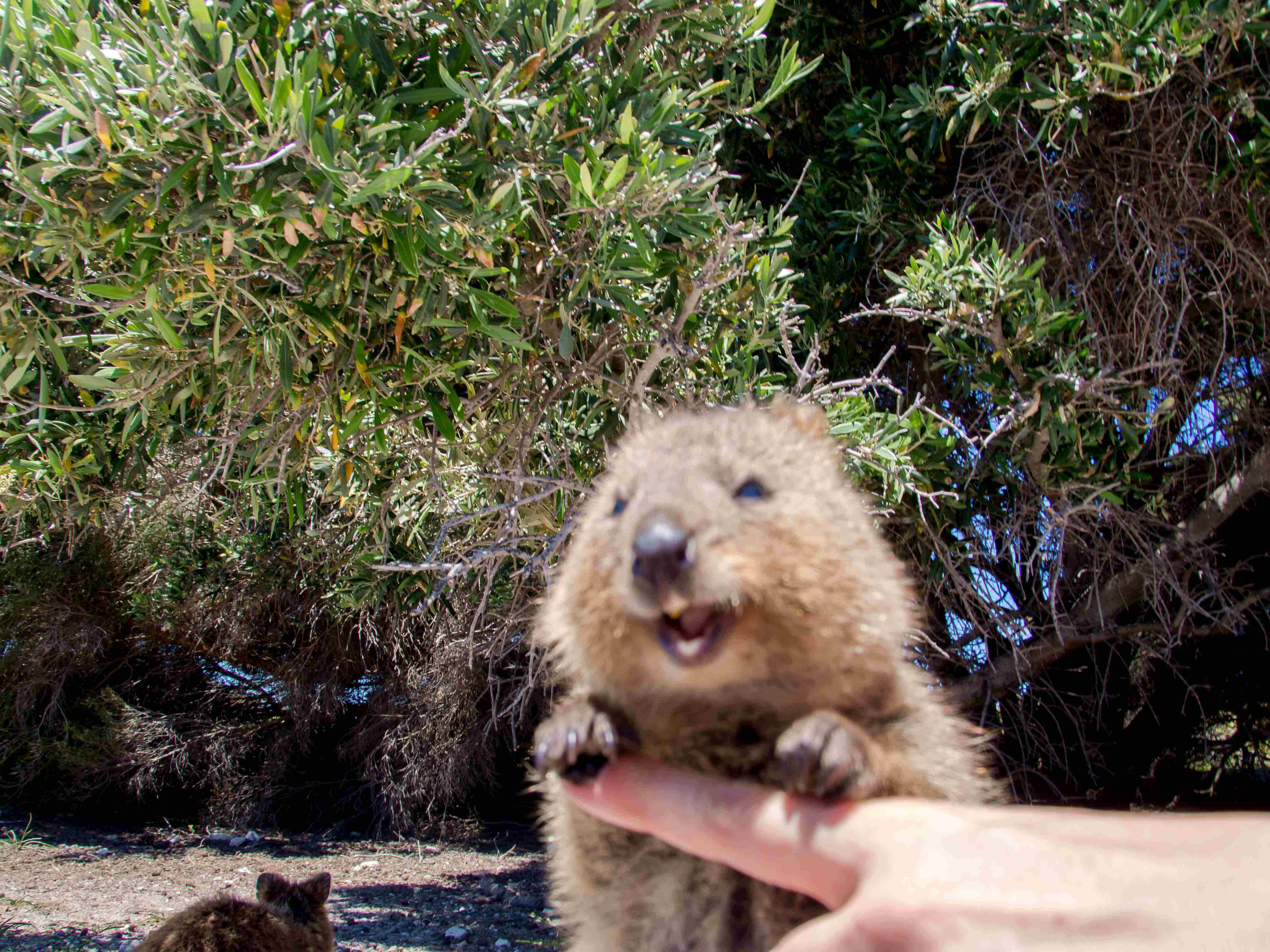 Unfortunately not sharp, but who don't know them can have an idea how cute their smile looks like. :D
Leider nicht scharf, aber auch wer sie noch nicht gesehen hat kann eine Vorstellung bekommen, wie süß ihr Lächeln aussieht. :D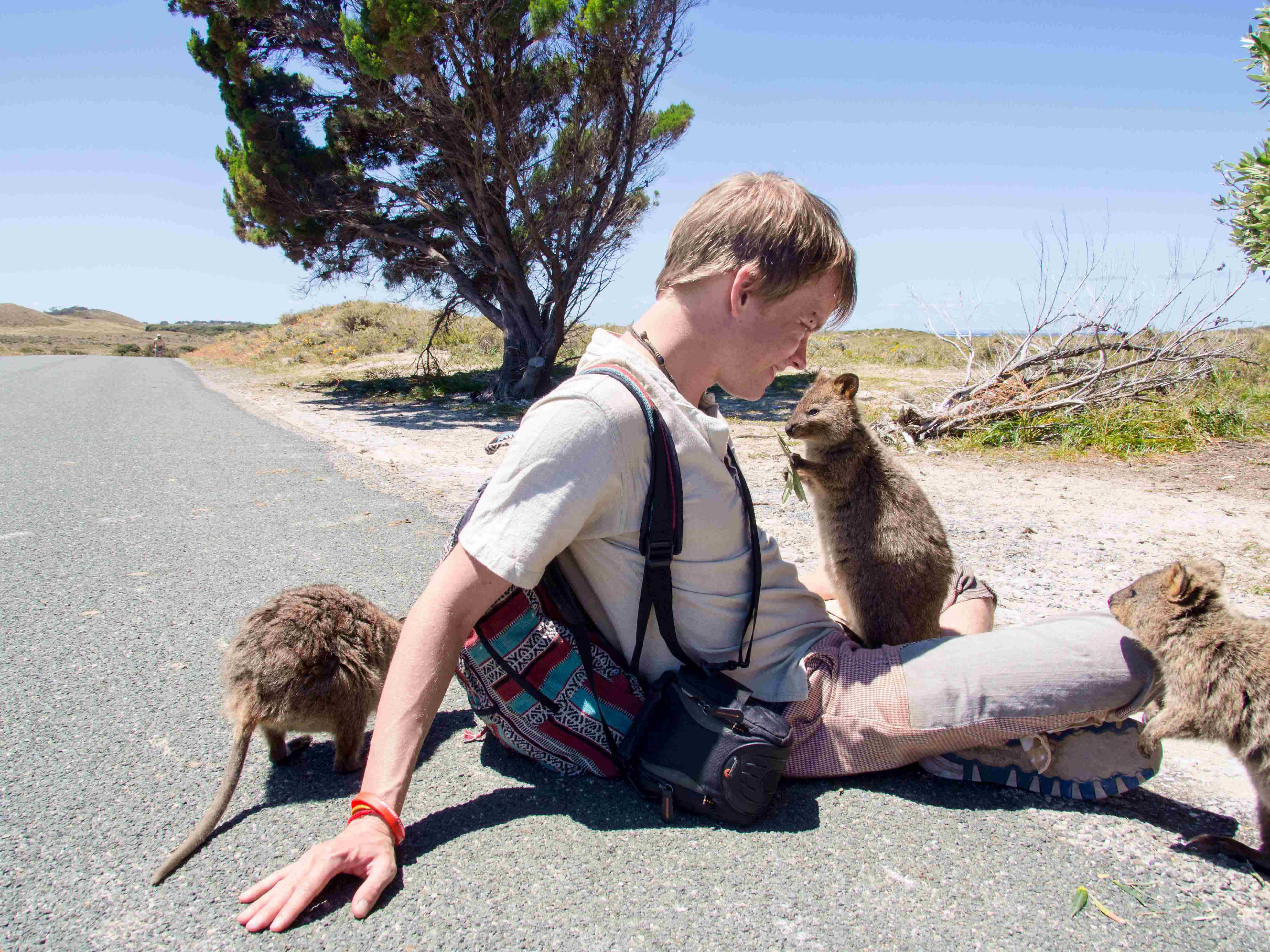 ooooohhhhhhhhhhh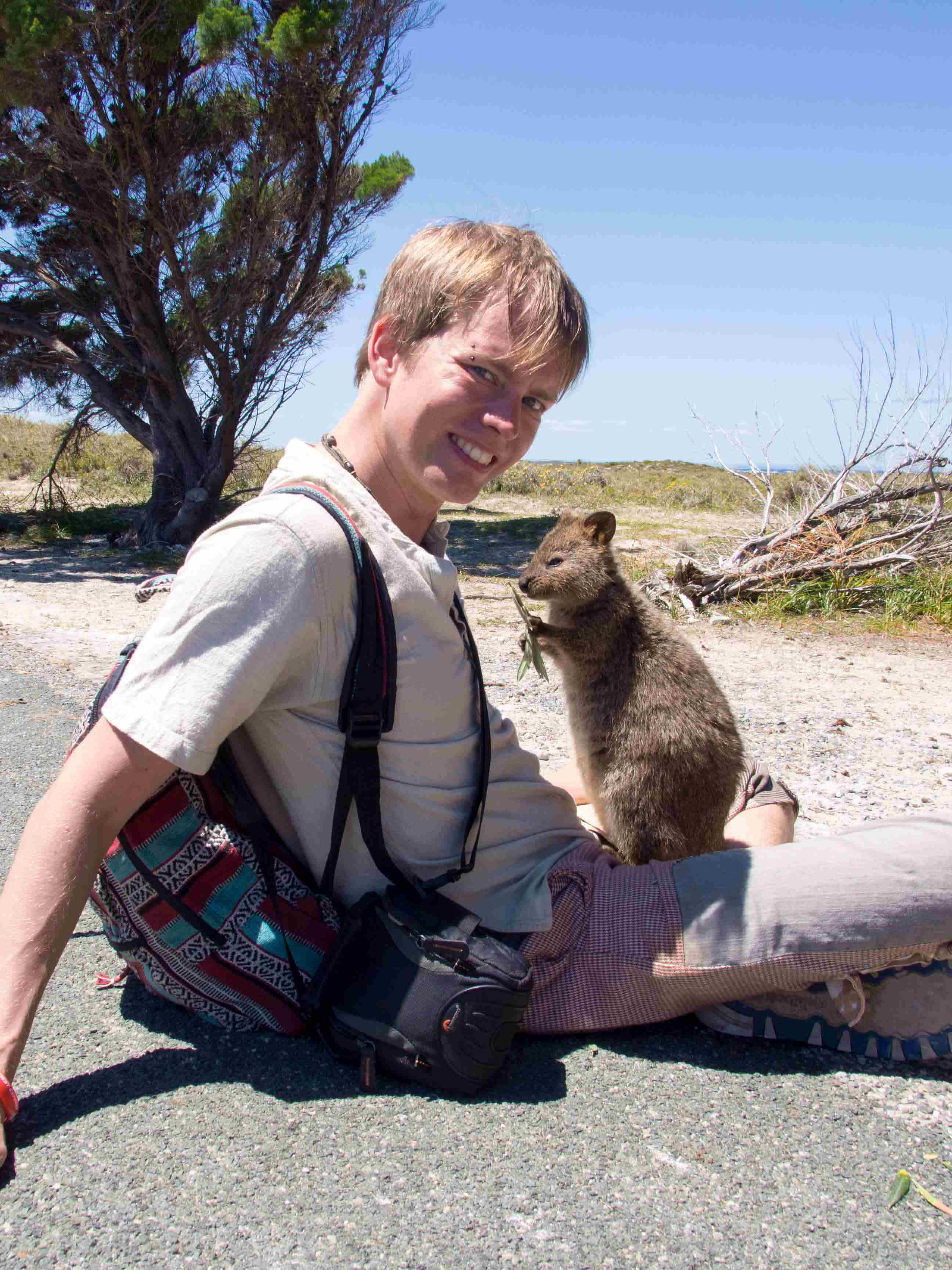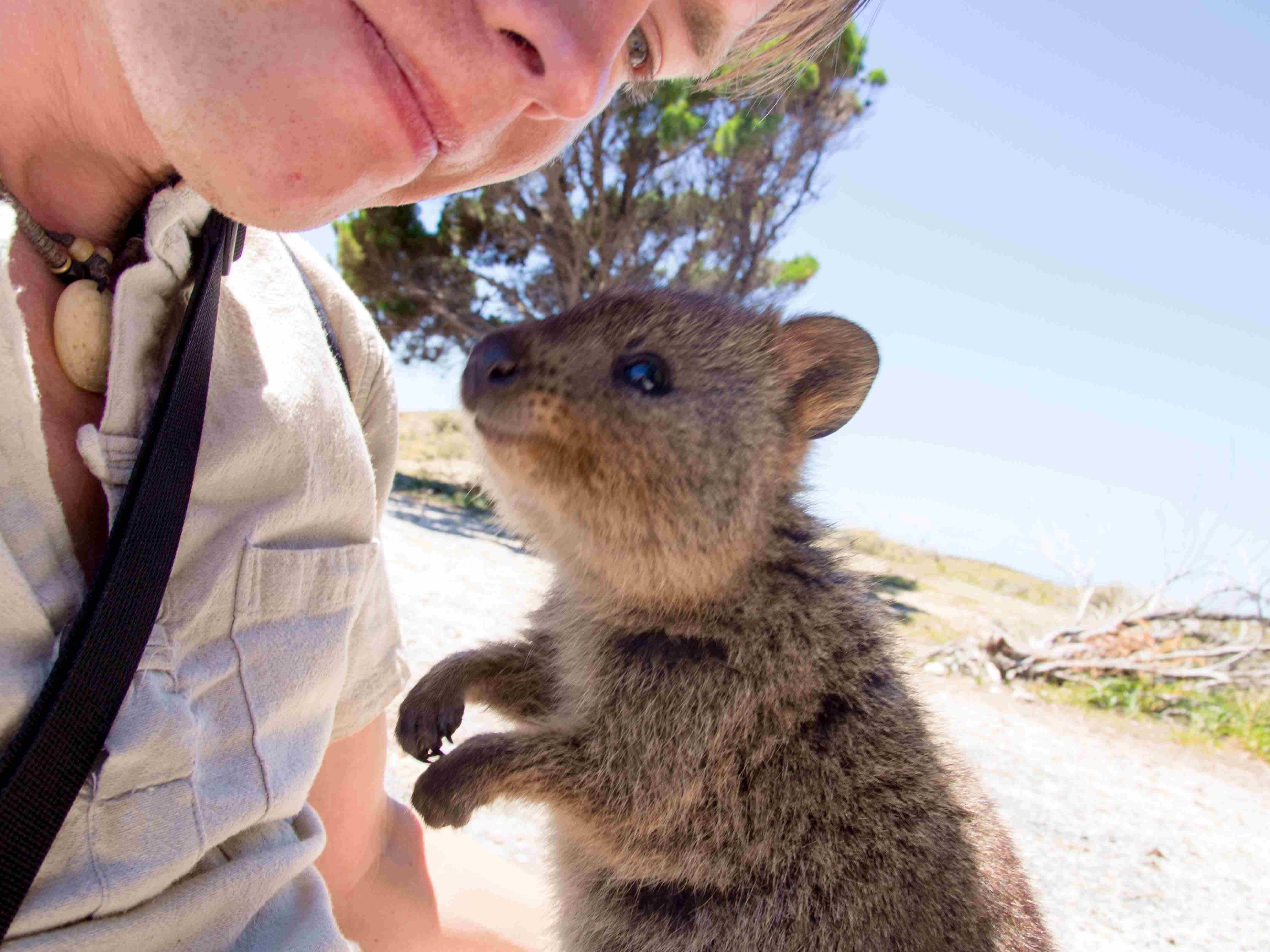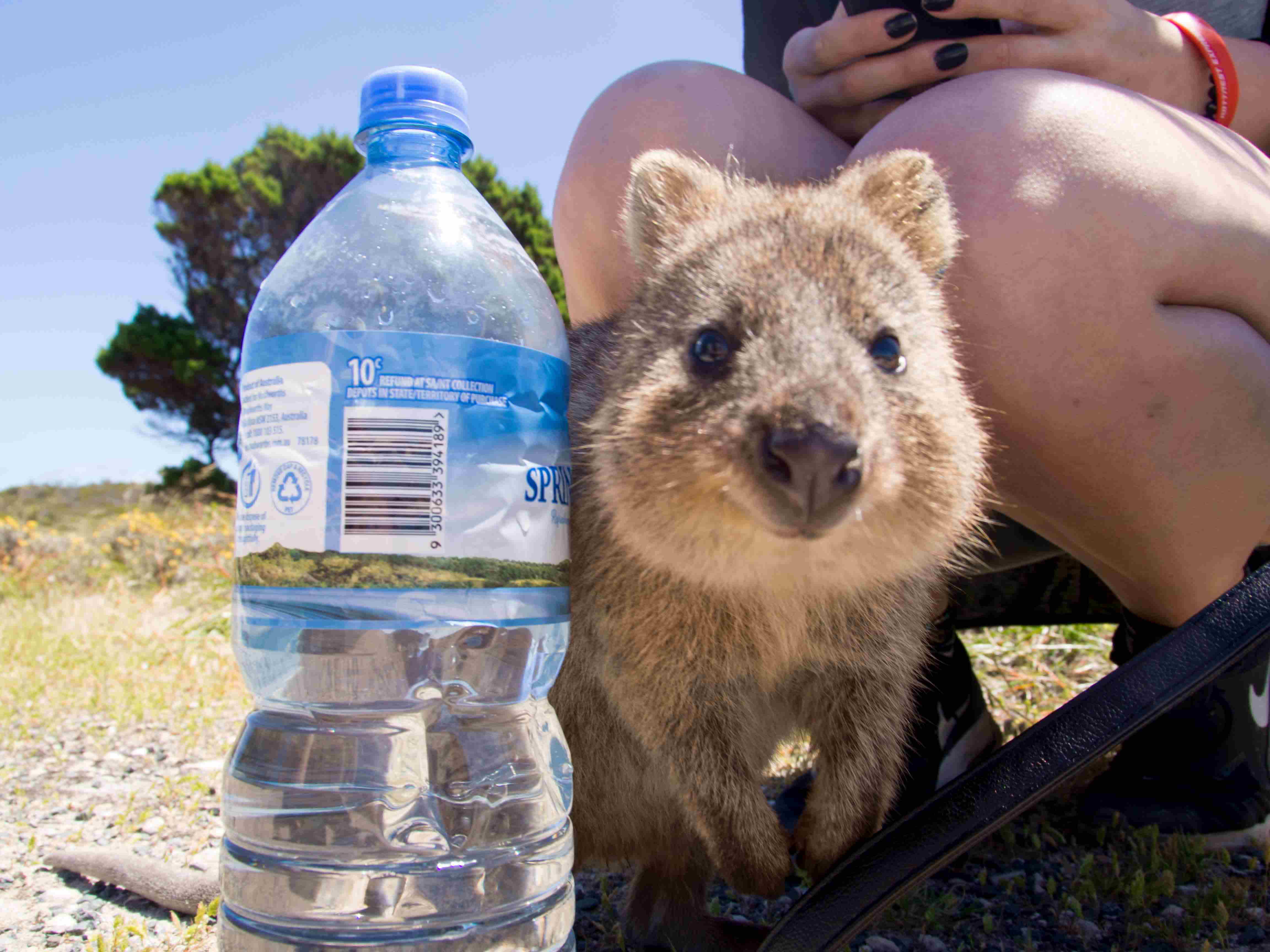 After this big highlite we made our way to the Fish Hook Bay - the most western point on the island.
Nach diesem Highlite fuhren wir weiter bis Fish Hook Bay - dem westlichstem Punkt der Insel.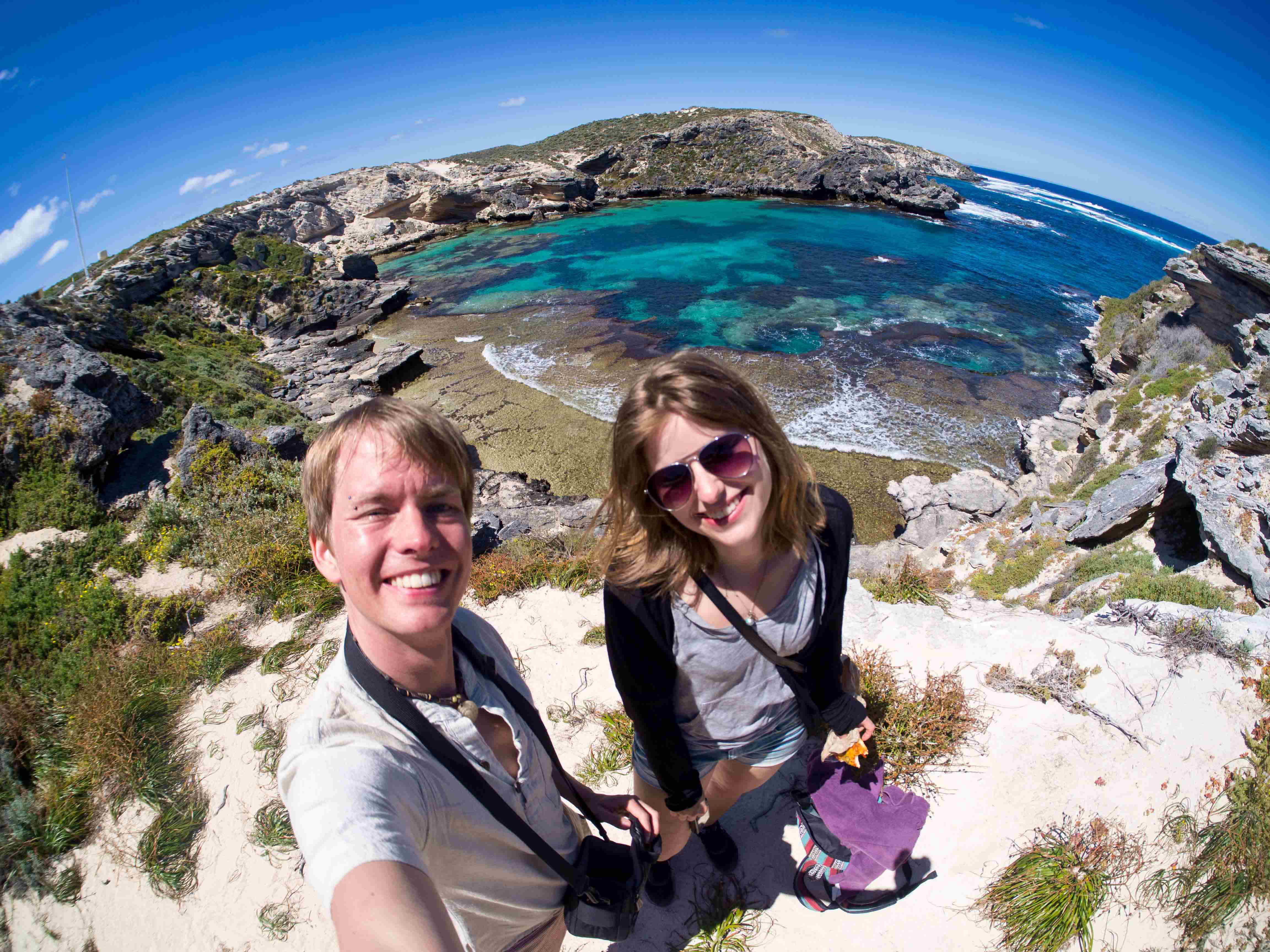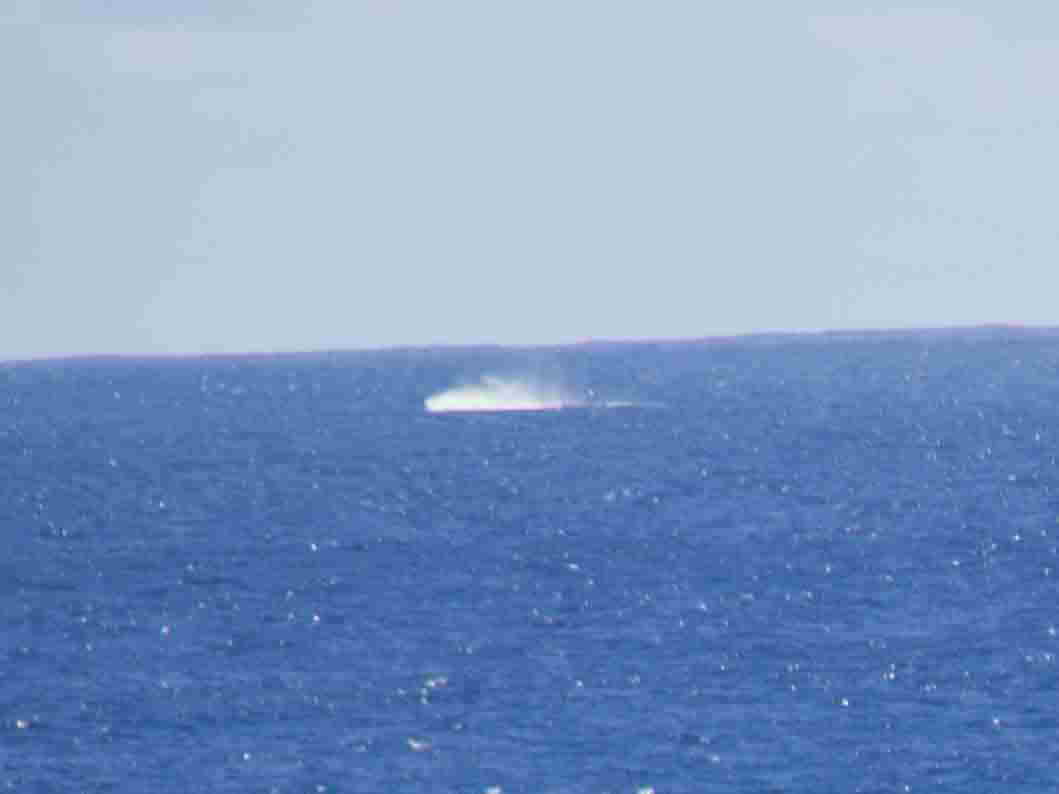 Far away and I couldn't catch them proper on a pictuer but - WE SAW WHALES!!! :D Humpback whales where jumping out of the water while passing the west of Australia. :) Oh what a day! :)
Weit weg und ich konnte kein gutes Foto machen, aber - WIR HABEN WALE GESEHEN!!! :D Buckelwale sprangen aus dem Wasser auf ihrem Weg vorbei an Westaustralien. :) Was für ein Tag! :)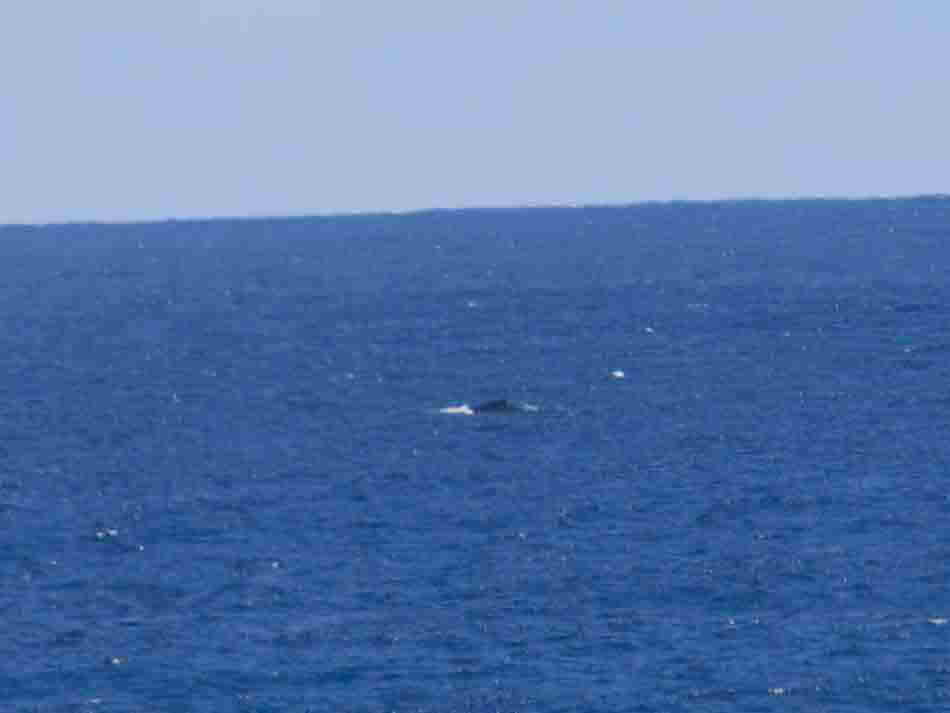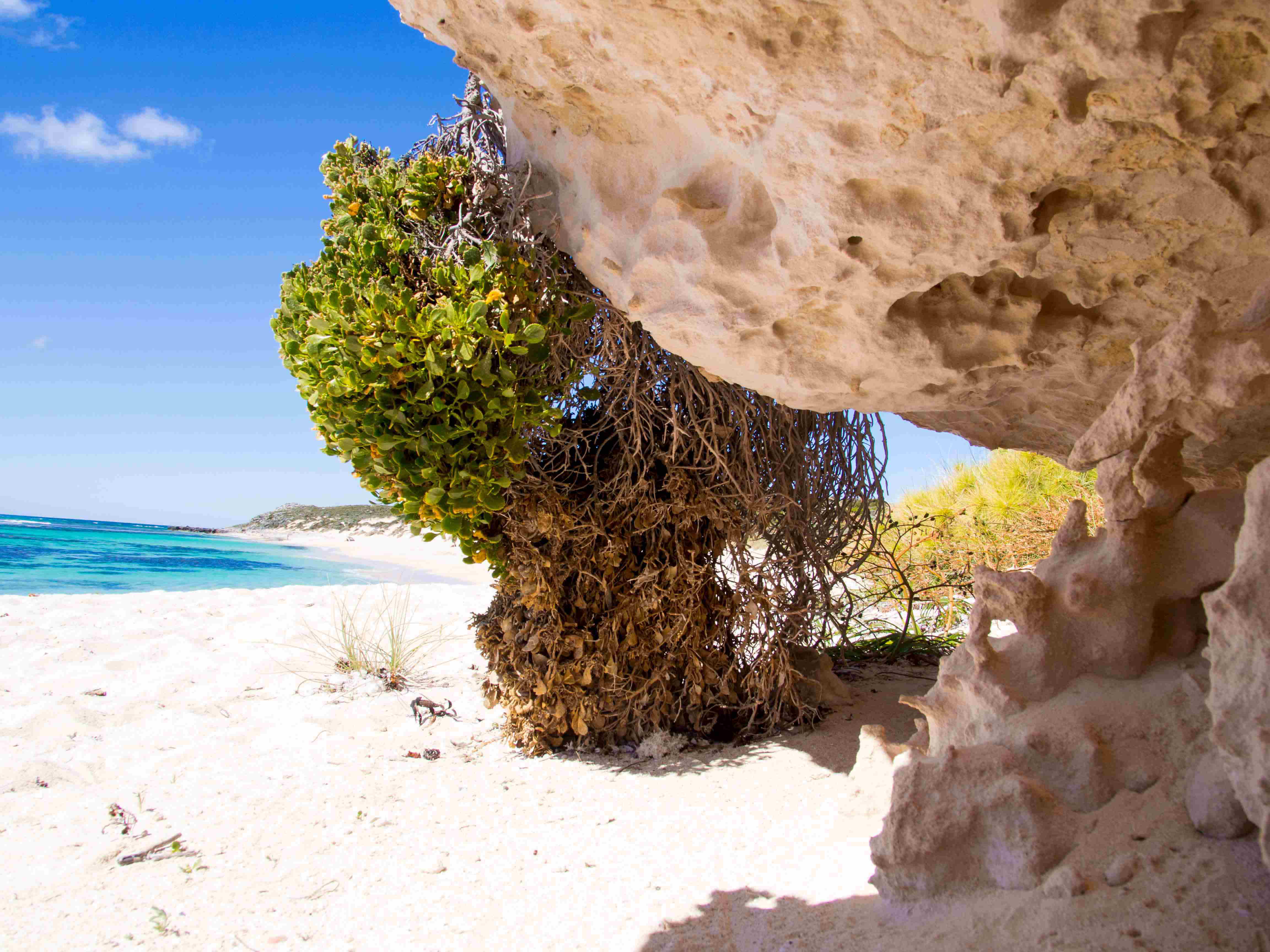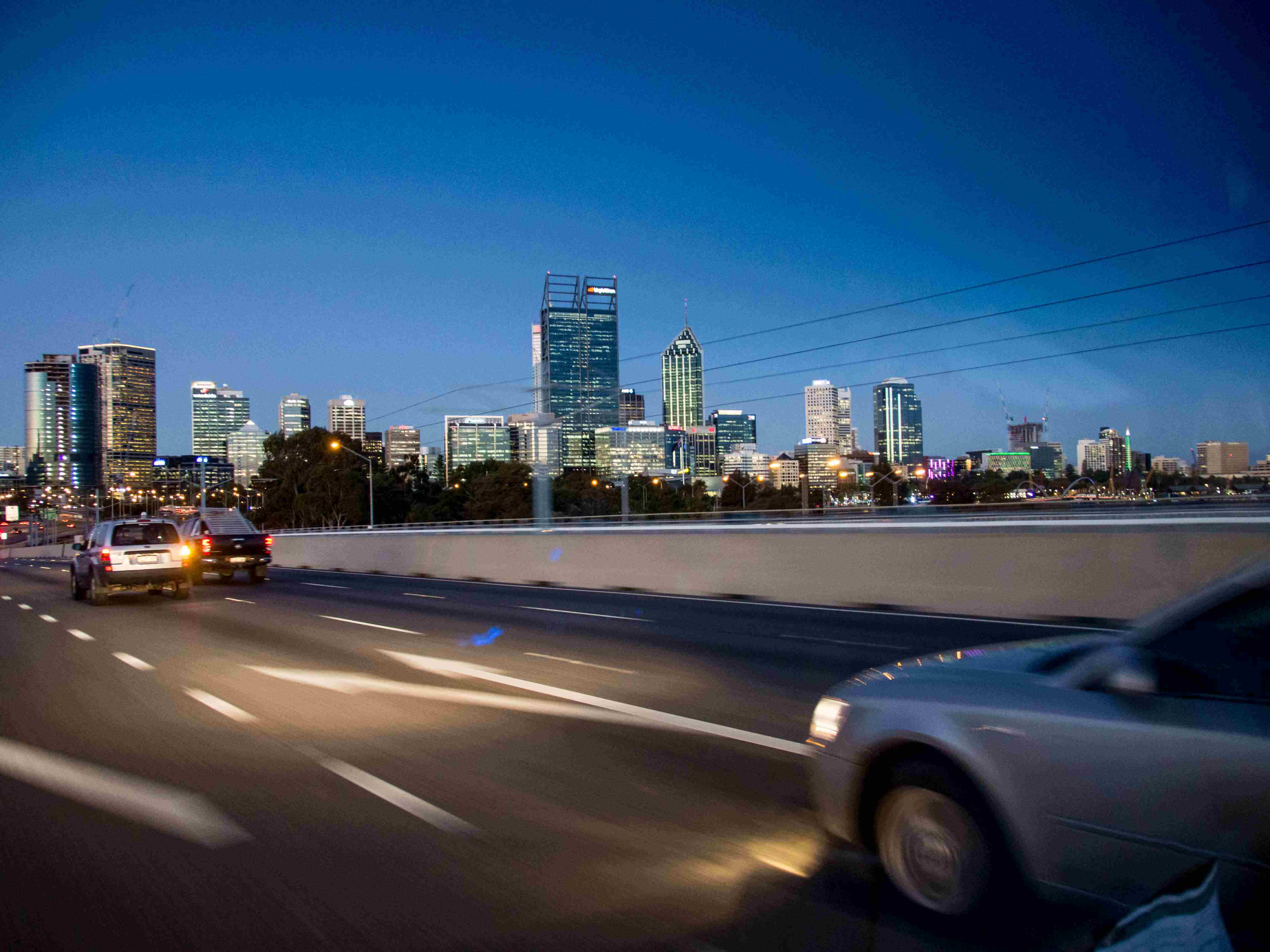 Back to Perth. Here the skyline.
Zurück in Perth. Hier die Skyline.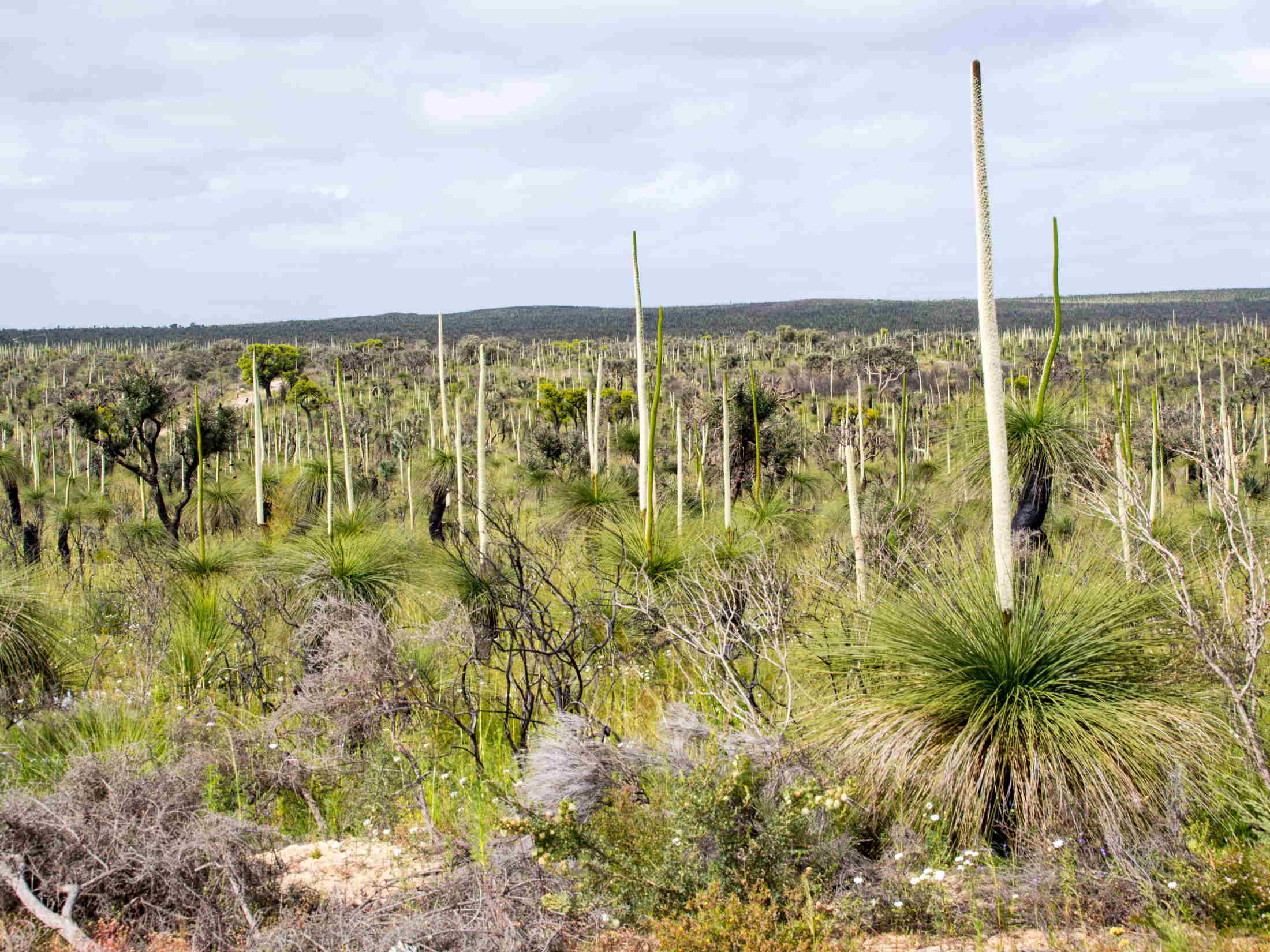 The next day we where starting the trip! Already an interesting vegetation on the way and completely different than in the south of Perth.
Am nächsten Tag starteten wir den Trip! Interessante Vegetation auf dem Weg und vollkommen anders als im Süden von Perth.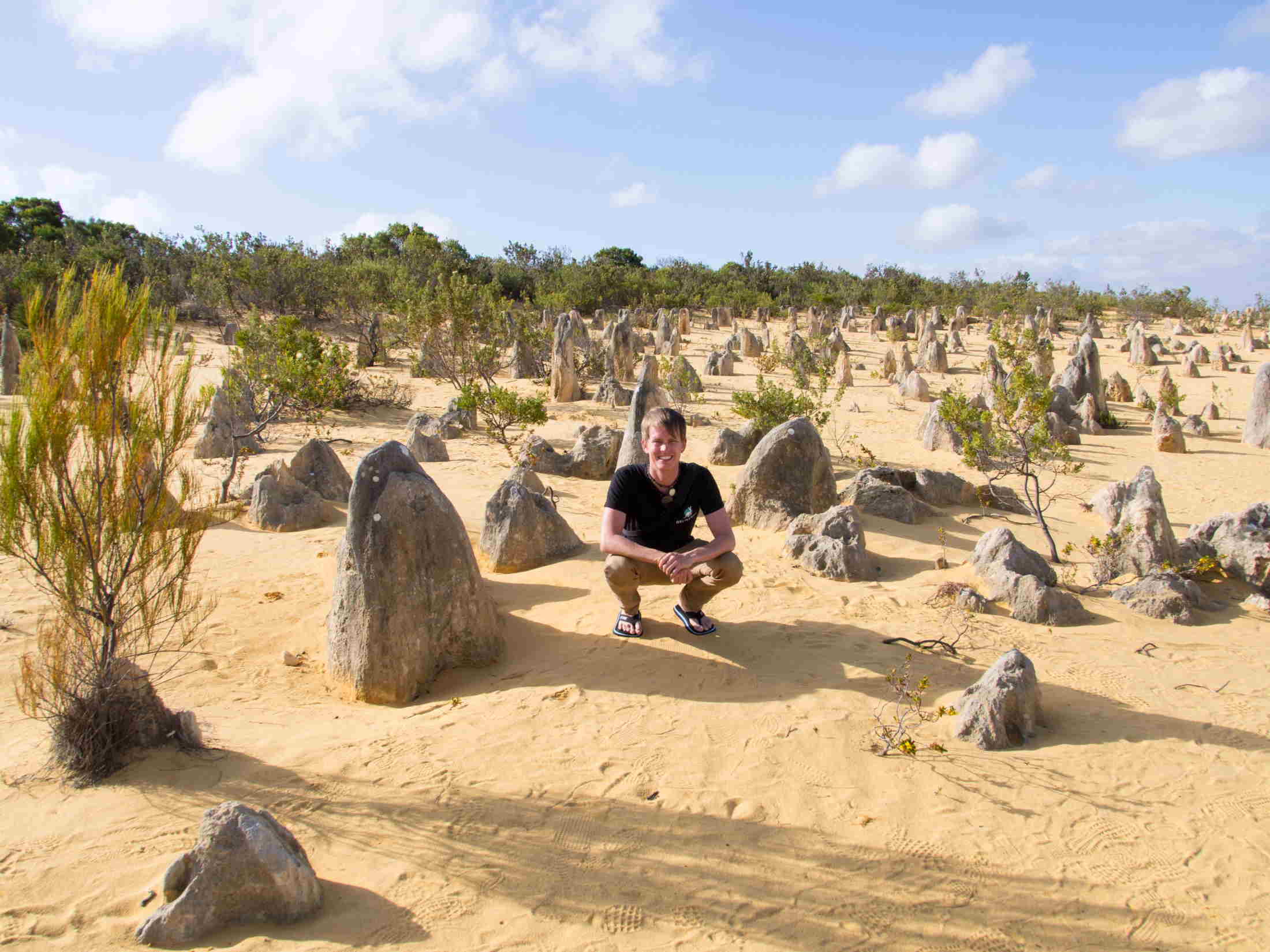 First stop - Pinacles. A little area with this stone formations.
Erste Stop - Pinacles. Ein kleines Gebiet mit diesen Gesteinsformationen.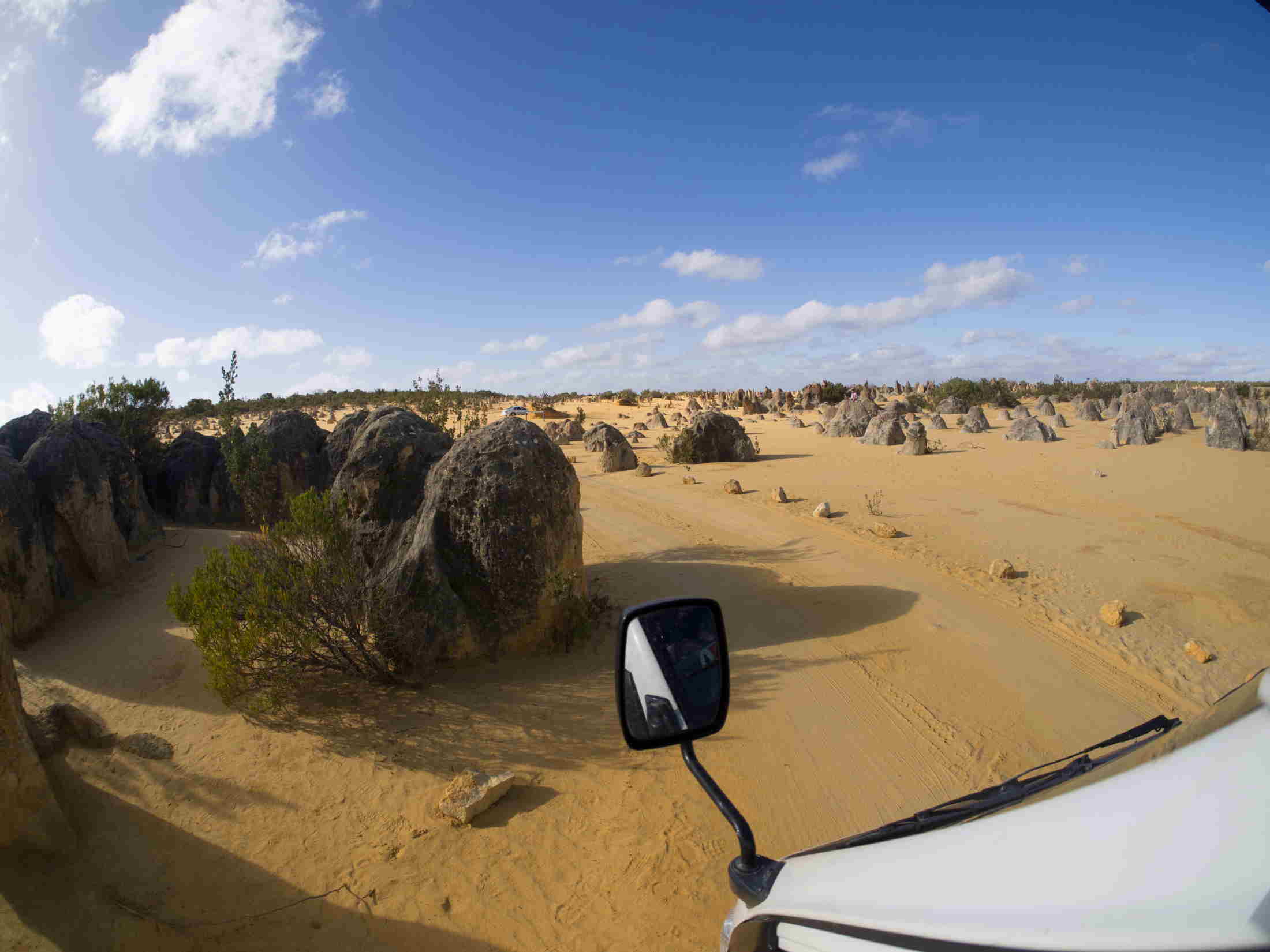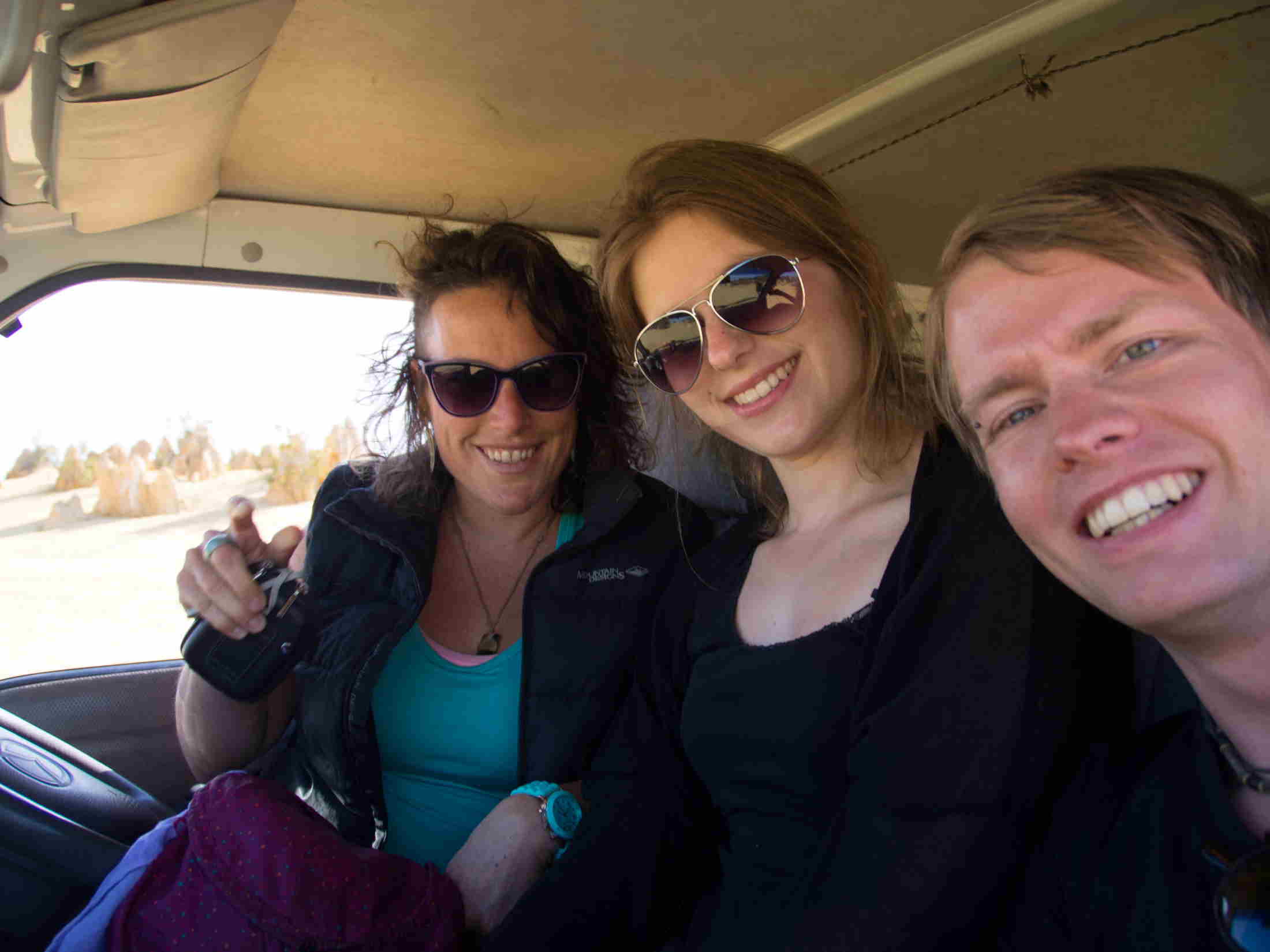 Zohab, Anna and me.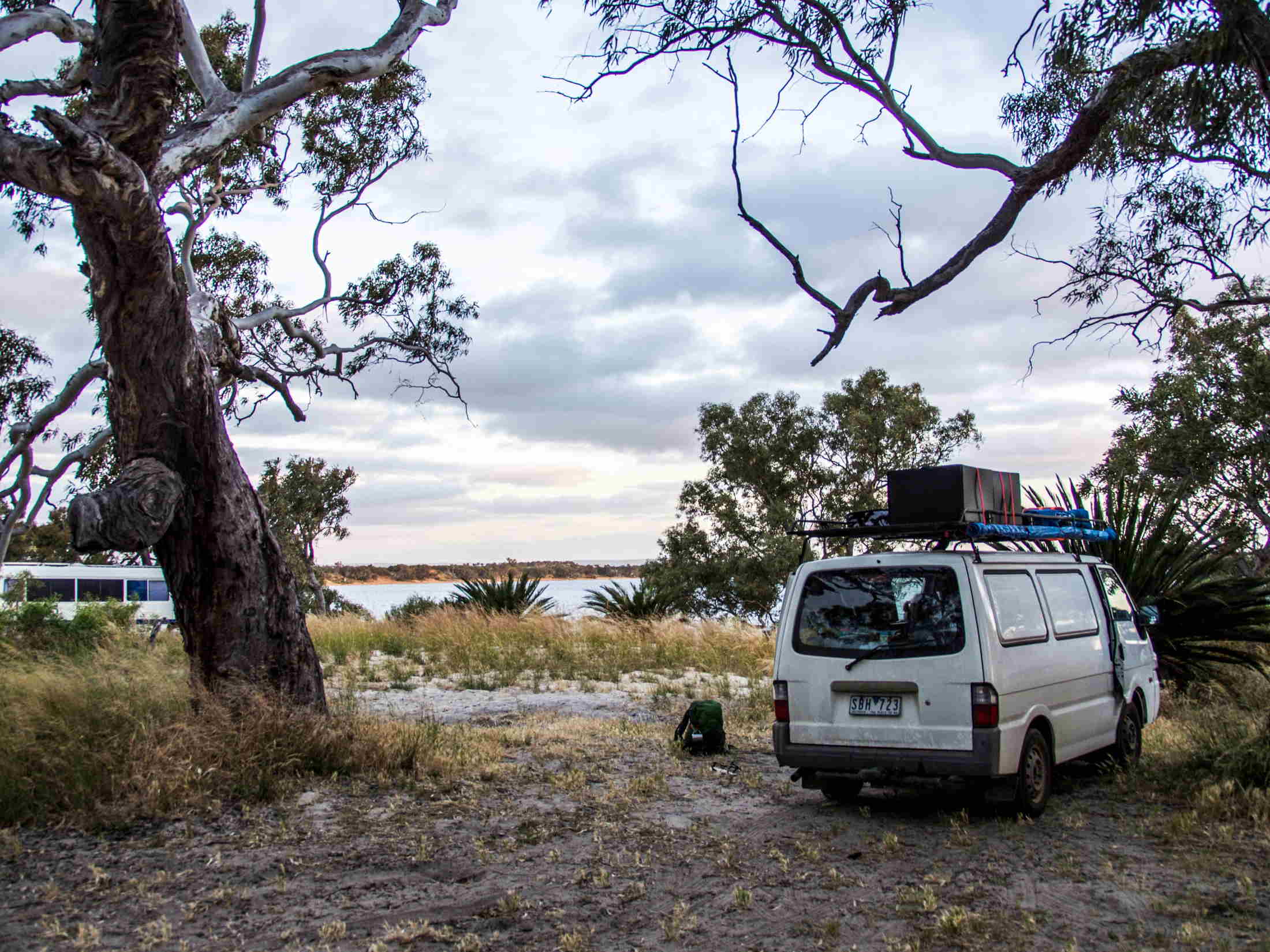 Billy at our camp spot for the night.
Billy auf unserem Campingplatz für die Nacht.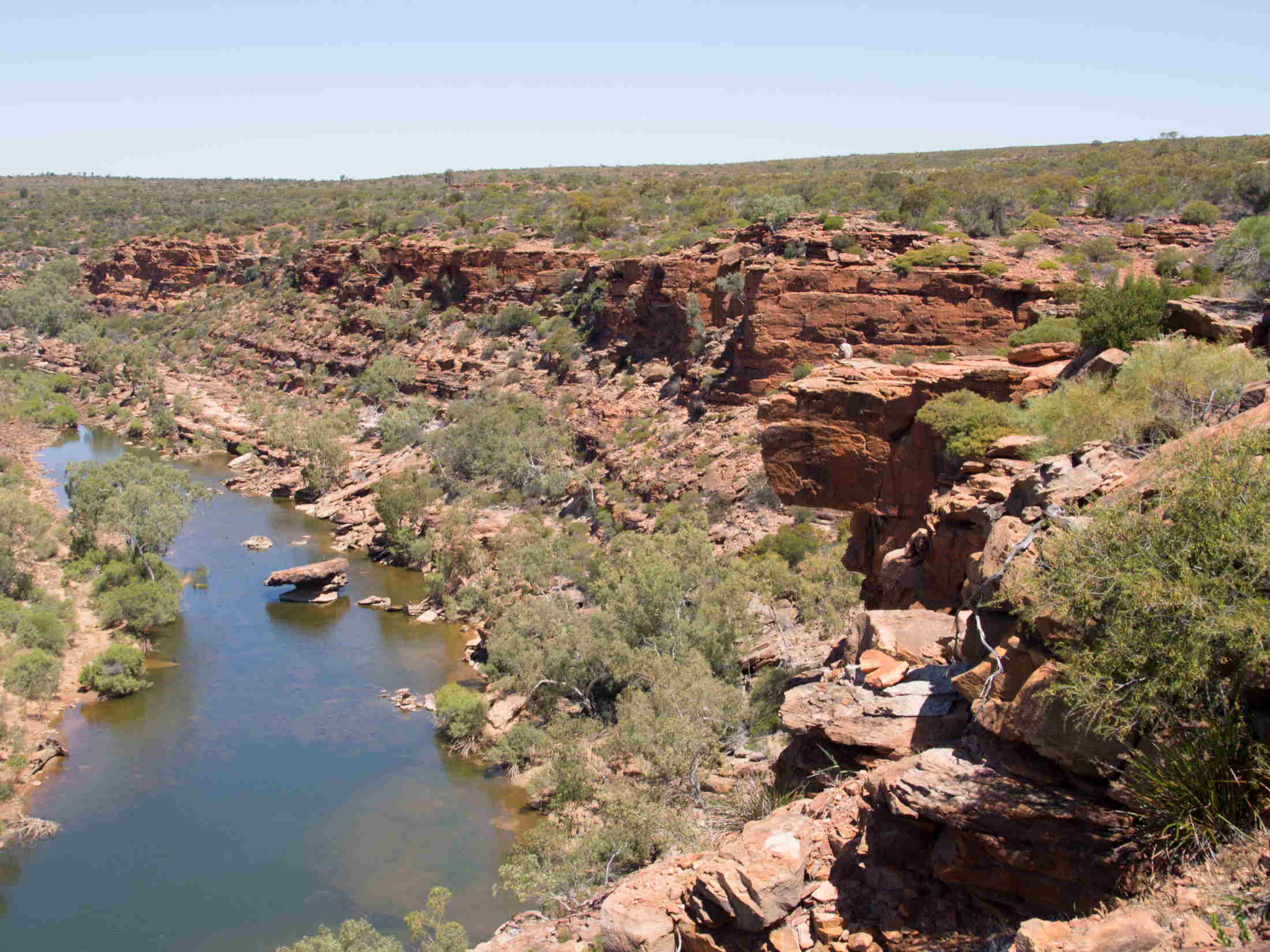 Where is Waldo at the eagle point?! ;p
Wo ist Walter am Eagle Point!? :p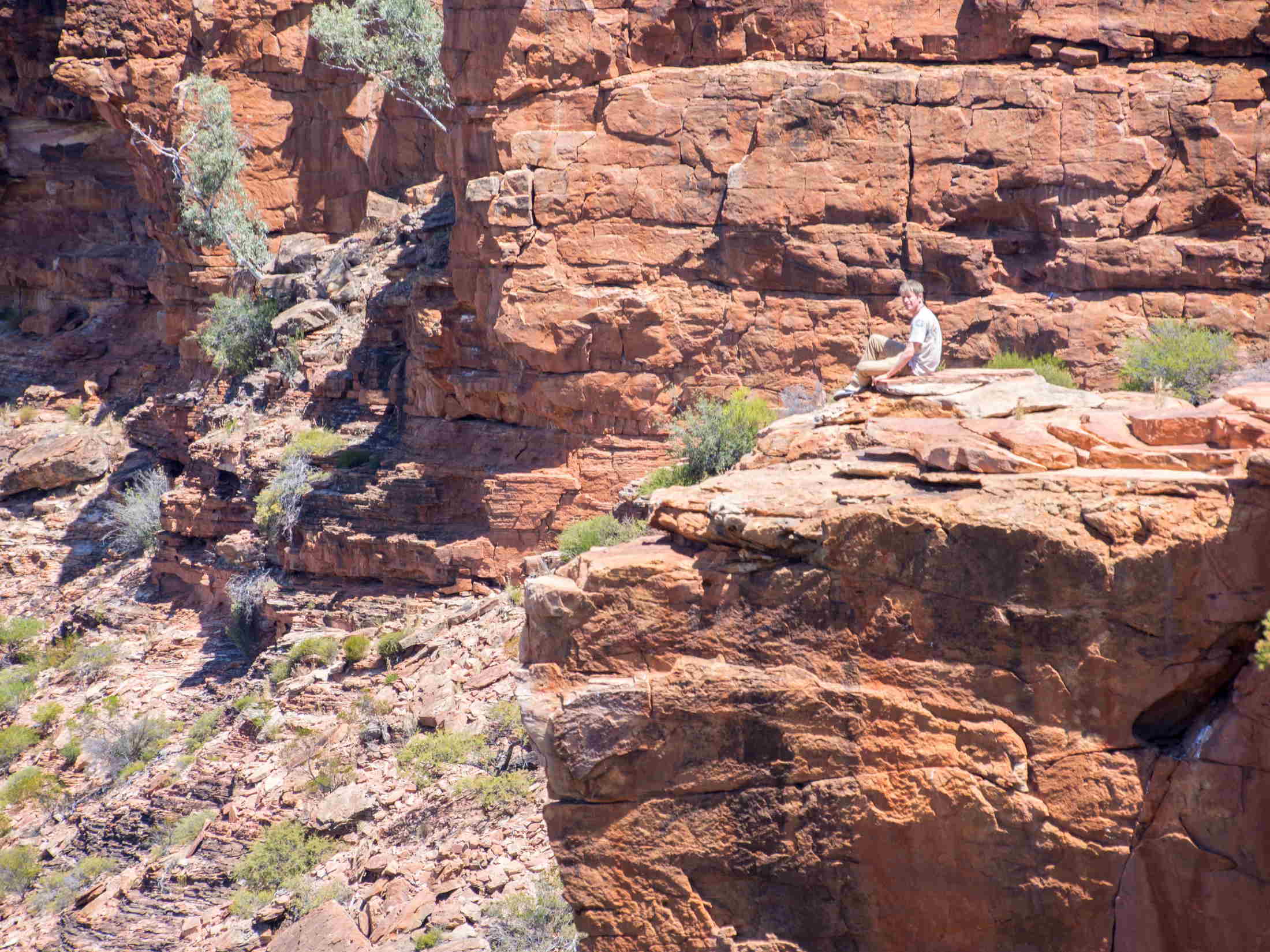 There he iiiiissss :D
Daaaa ist er :D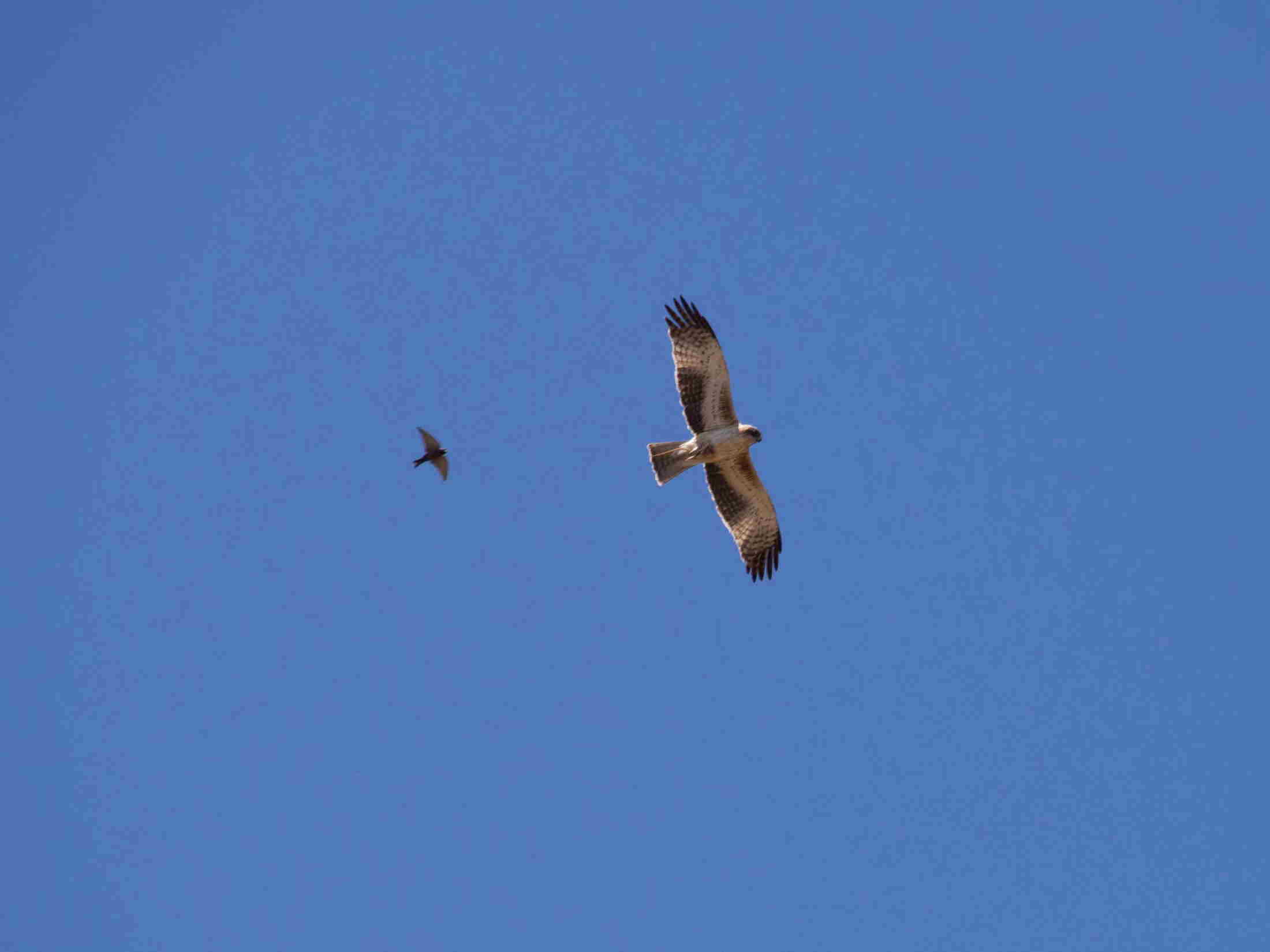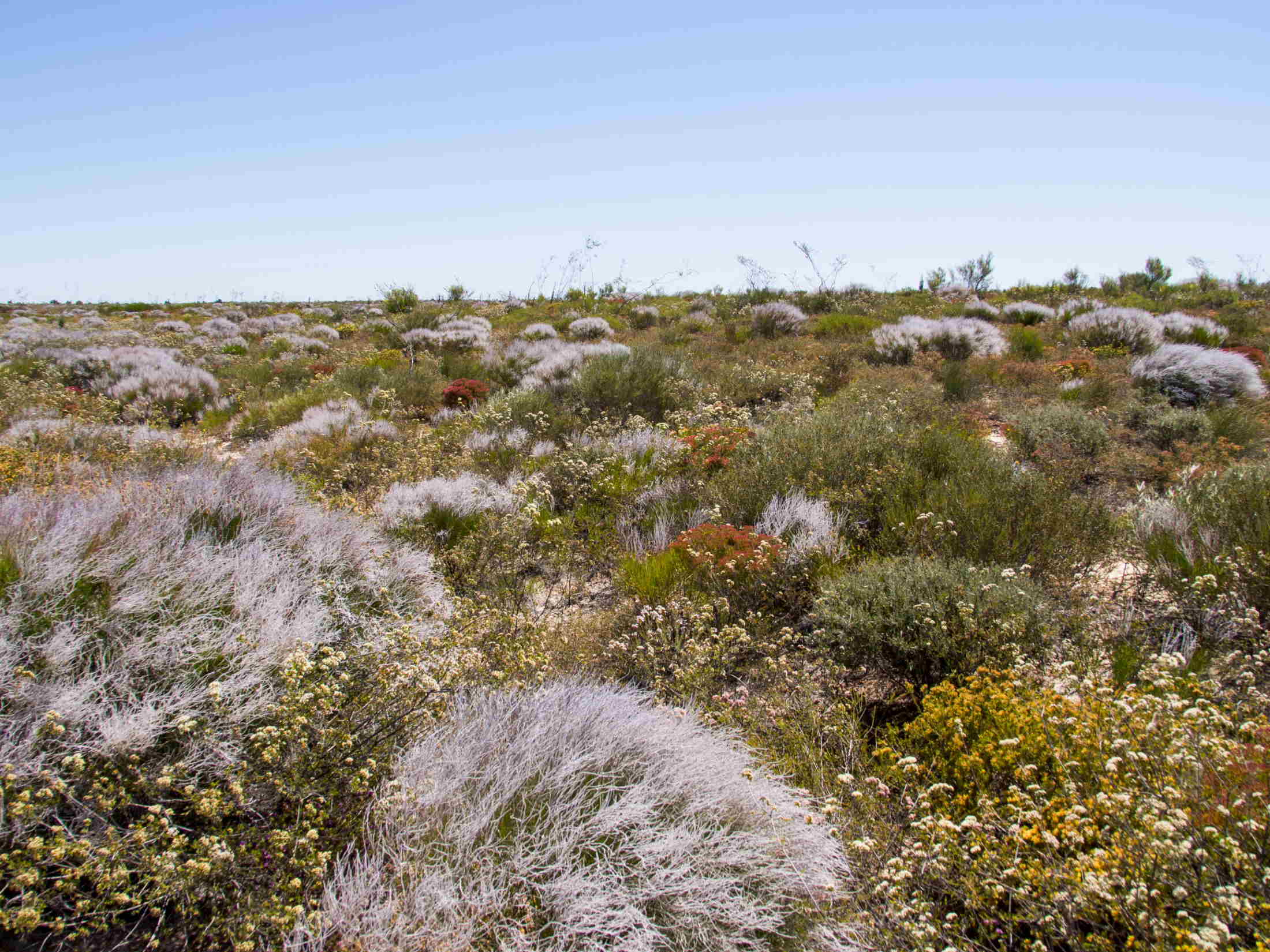 Again another vegetation.
Wieder eine andere Vegetation.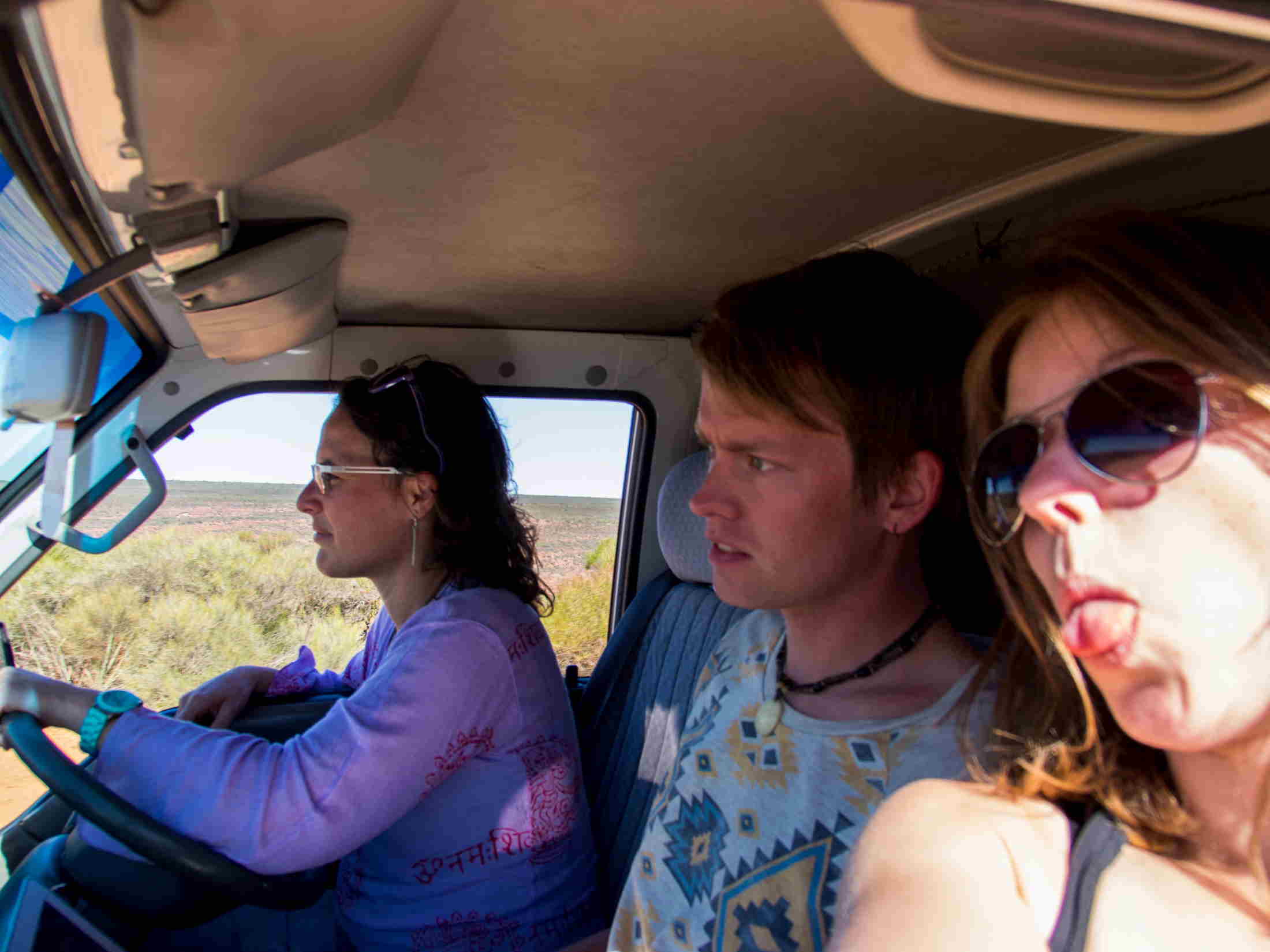 50 KM of gravel road. The point of the gravel roads in Australia is, that they have some kind of waves, so that you get well shaked while riding on it....
50 KM Schotterstraße. Die Sache mit den Schotterstraßen in Australien ist, dass sie eine Art Wellen haben, so dass man gut durchgeschüttelt wird, während man auf ihnen fährt...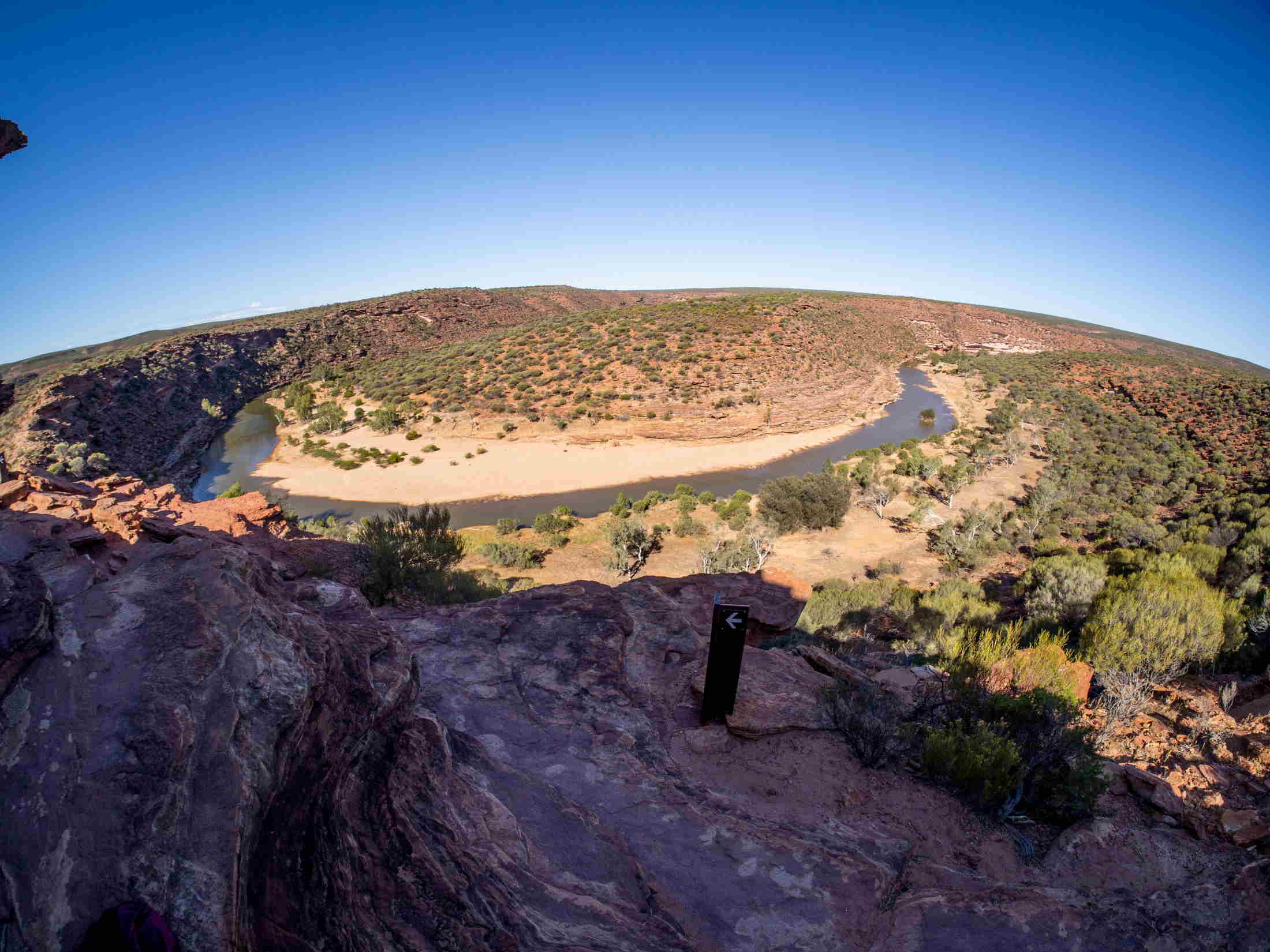 Arrived at the natural window - Kalbarri National Park.
Angekommen am natürlichen Fenster - Kalbarri National Park.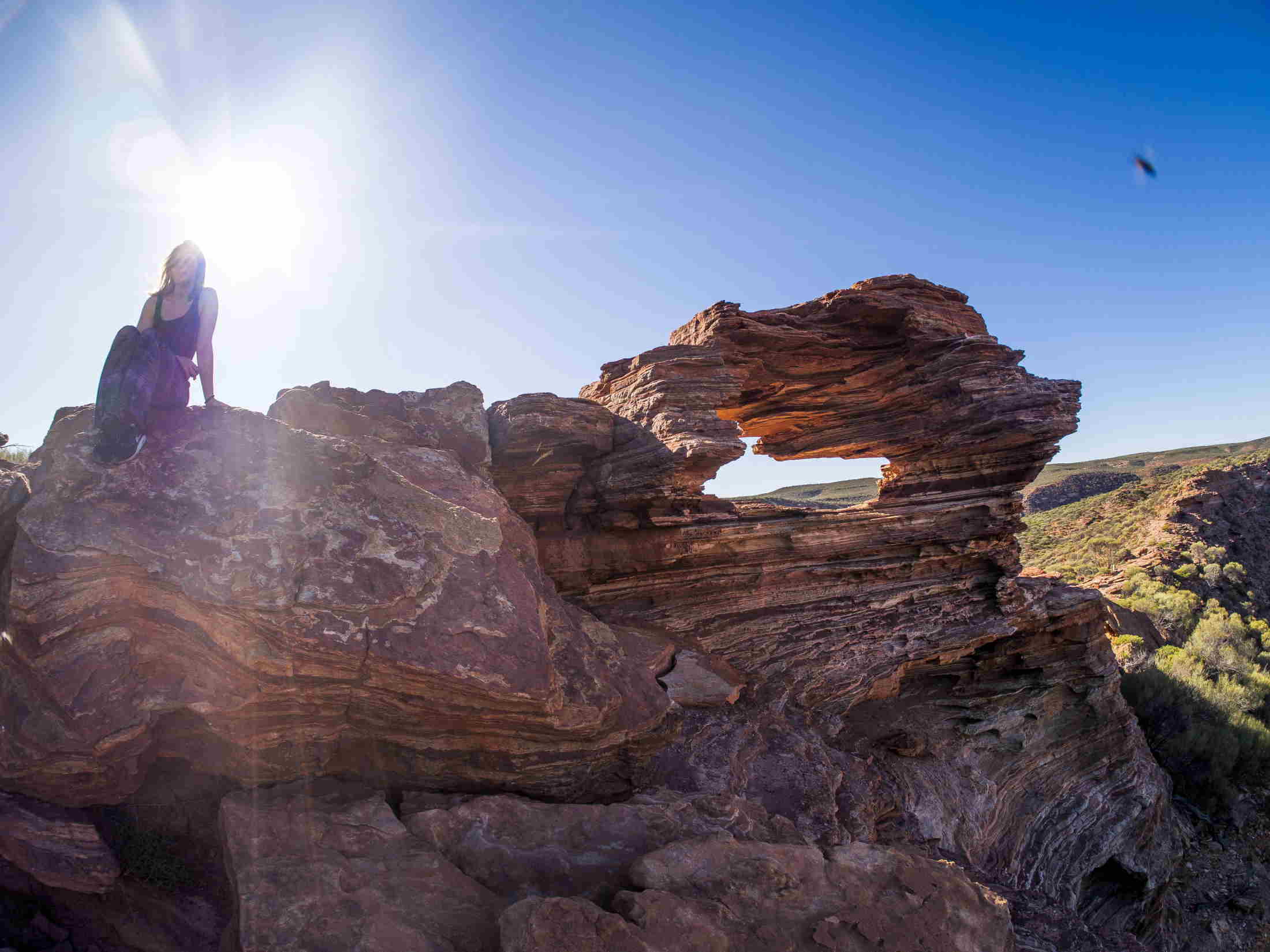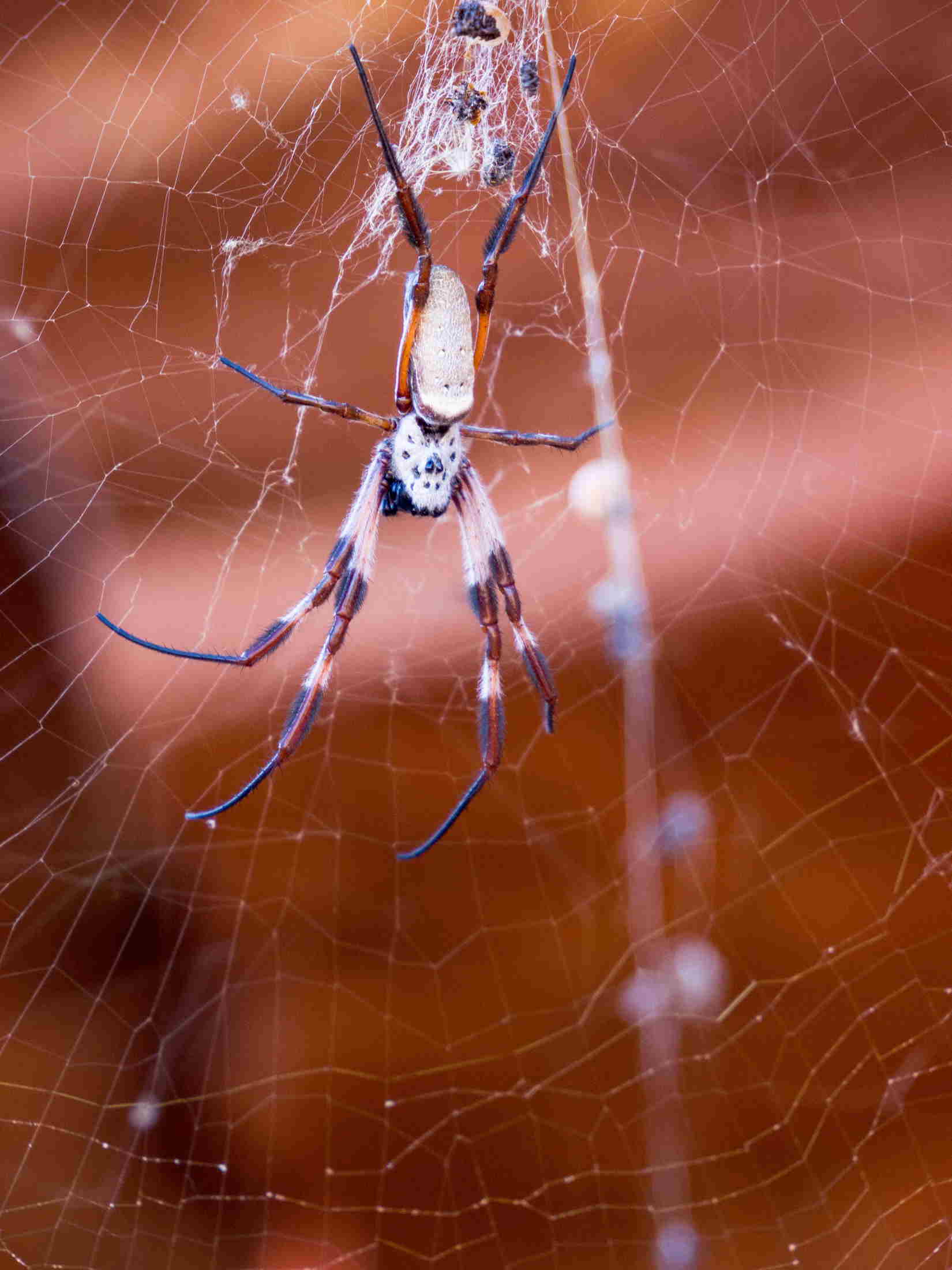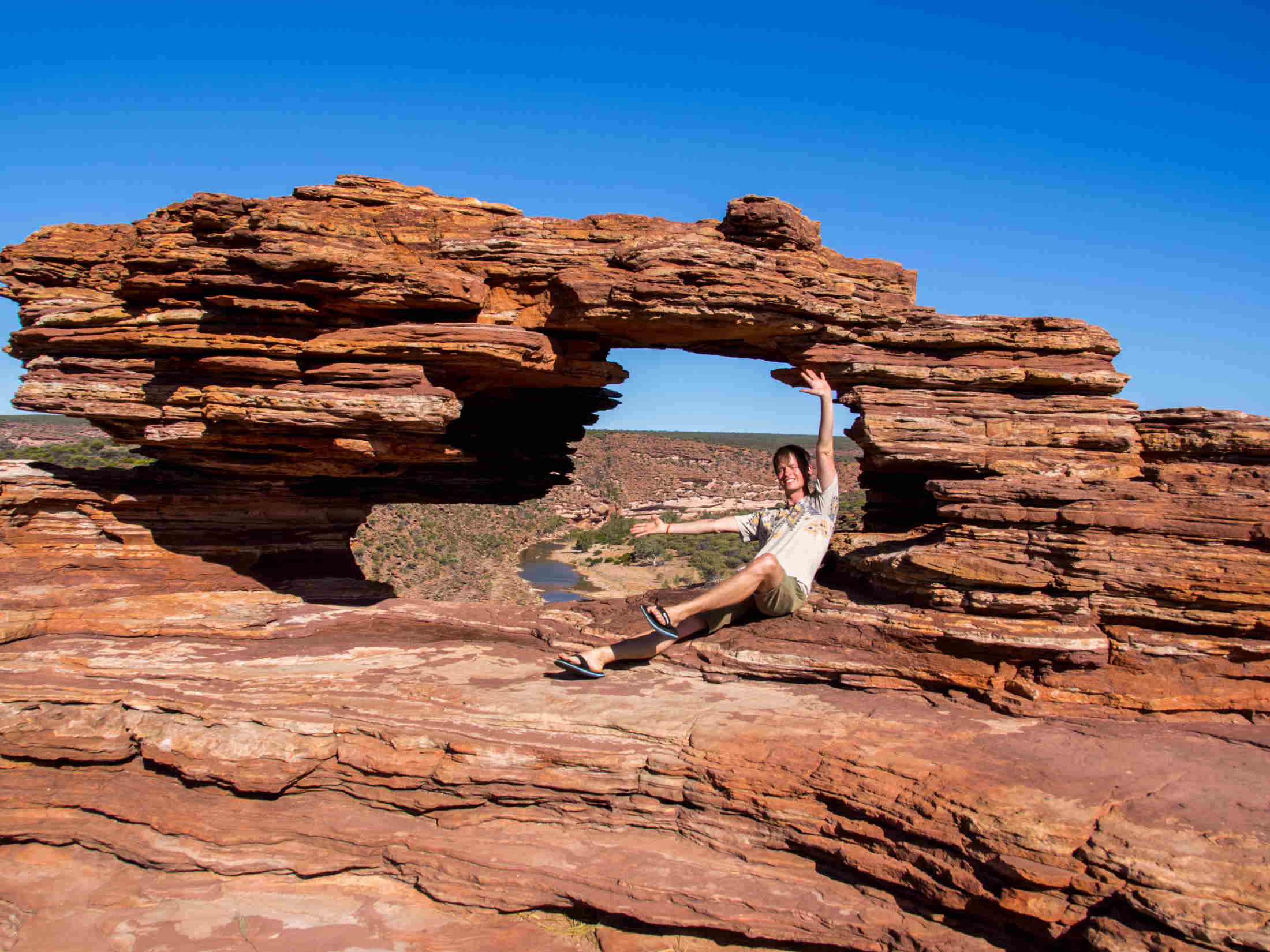 Tadaaaaaaa :)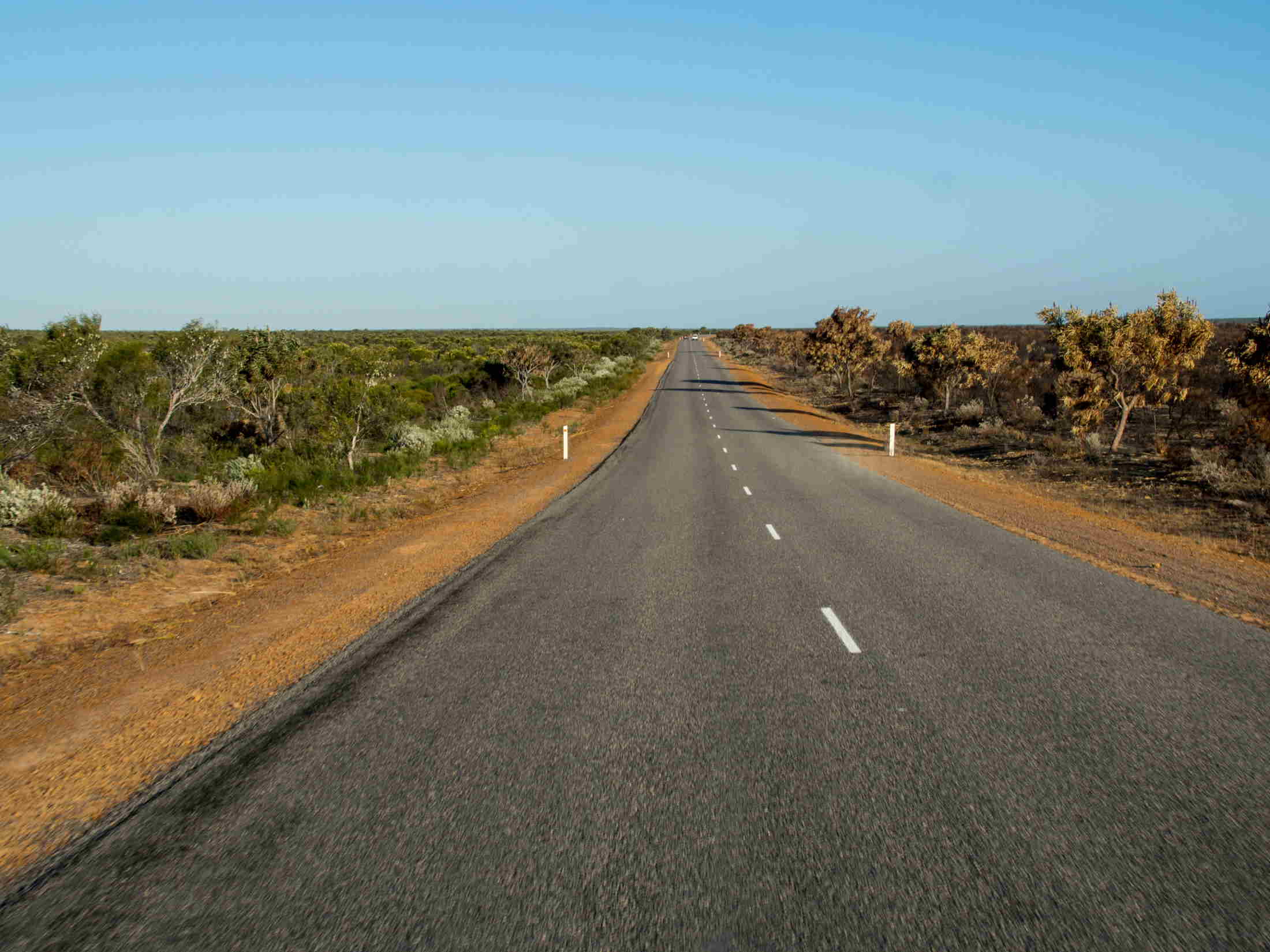 The right side was burned by a bush fire. Here and there you could still see it smoking.
Die rechte Seite wurde von einem Buschfeuer niedergebrannt. Hier und da rauchte es noch ein weing.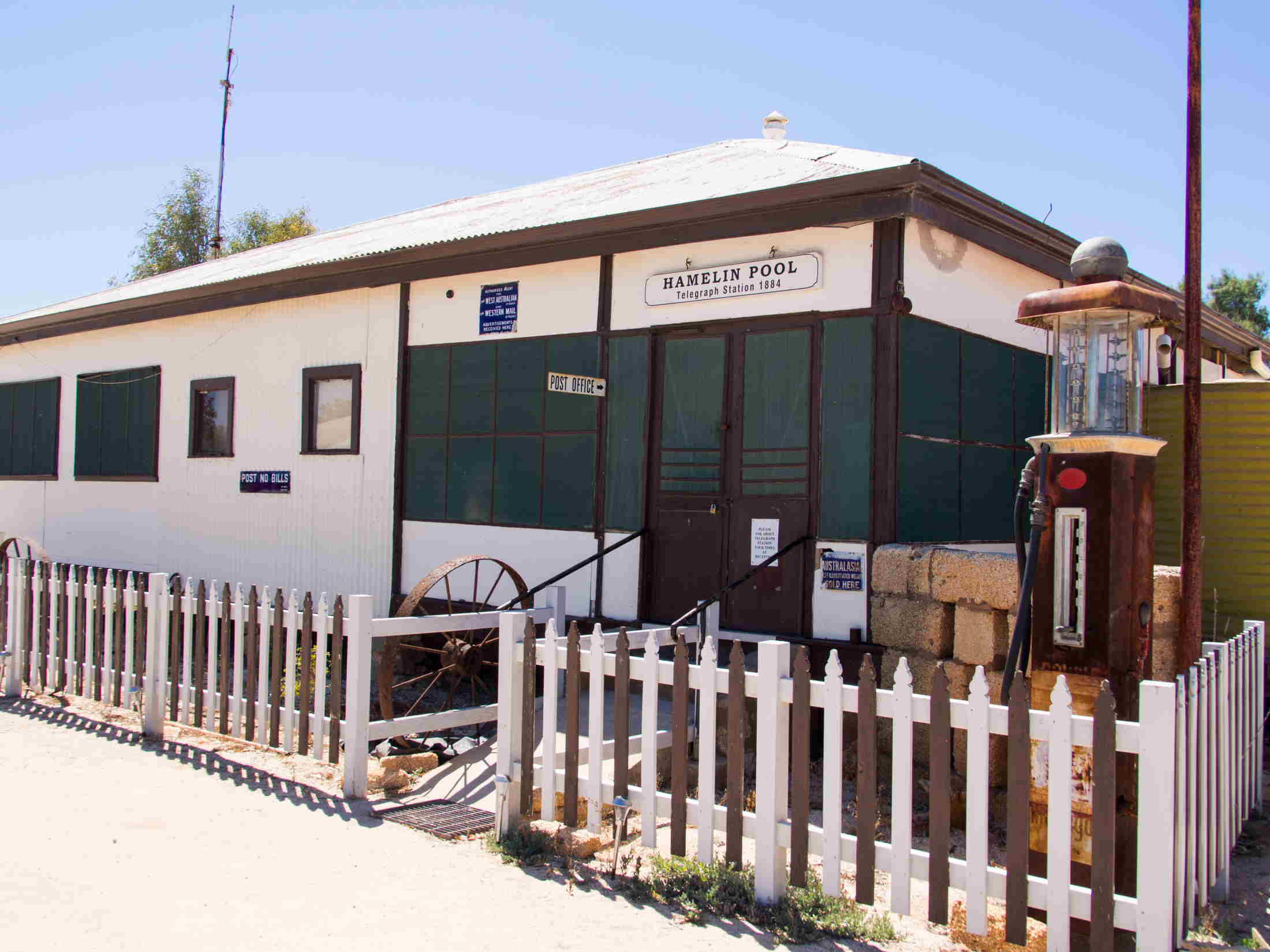 An older gas station at Harmelin Pool, just before Shark Bay.
Eine ältere Zapfsäule bei Harmelin Pool, kurz vor Shark Bay.
Those bricks where build out of shells.
Hier wurden die Ziegelsteine aus Muscheln gefertigt.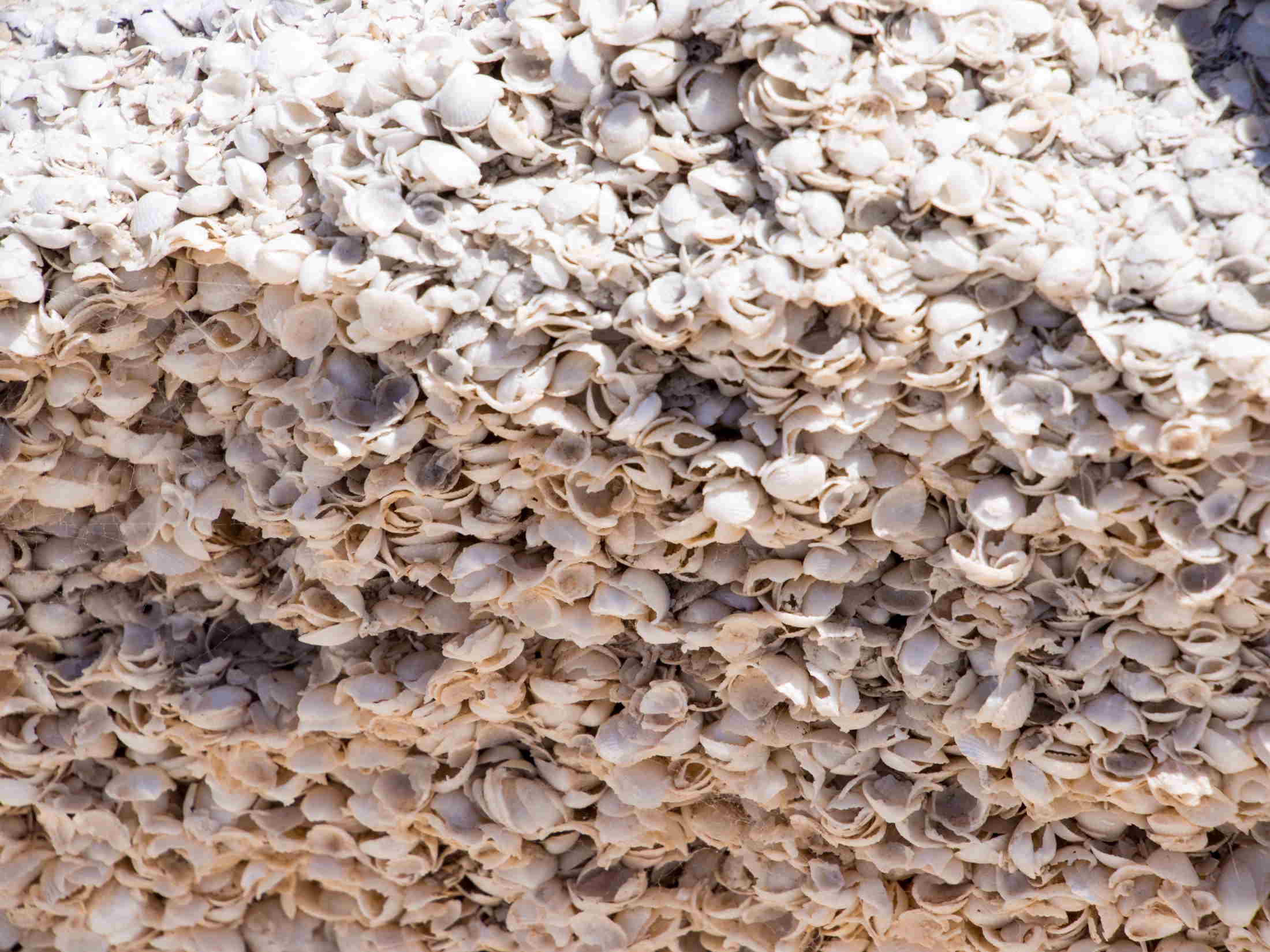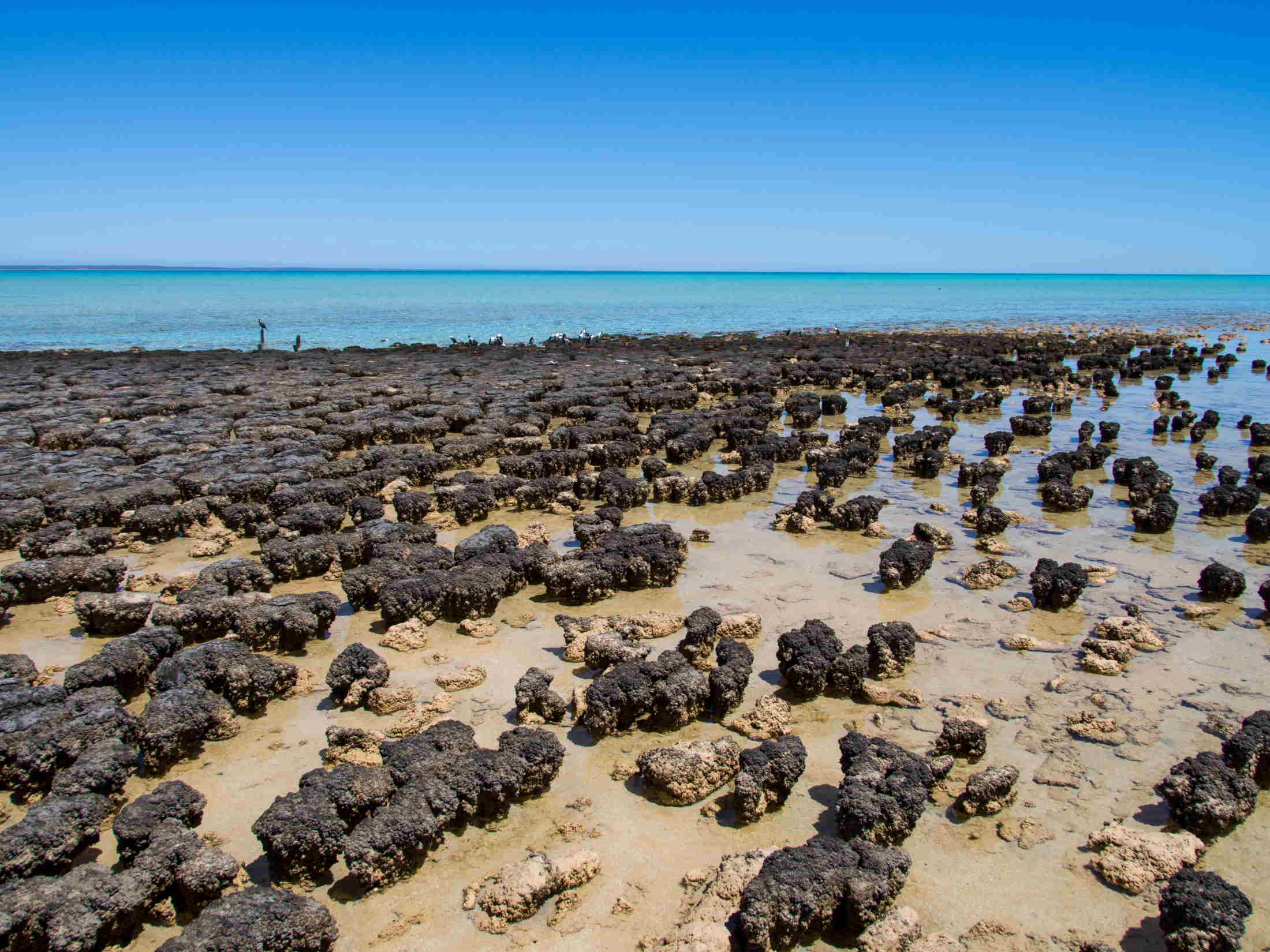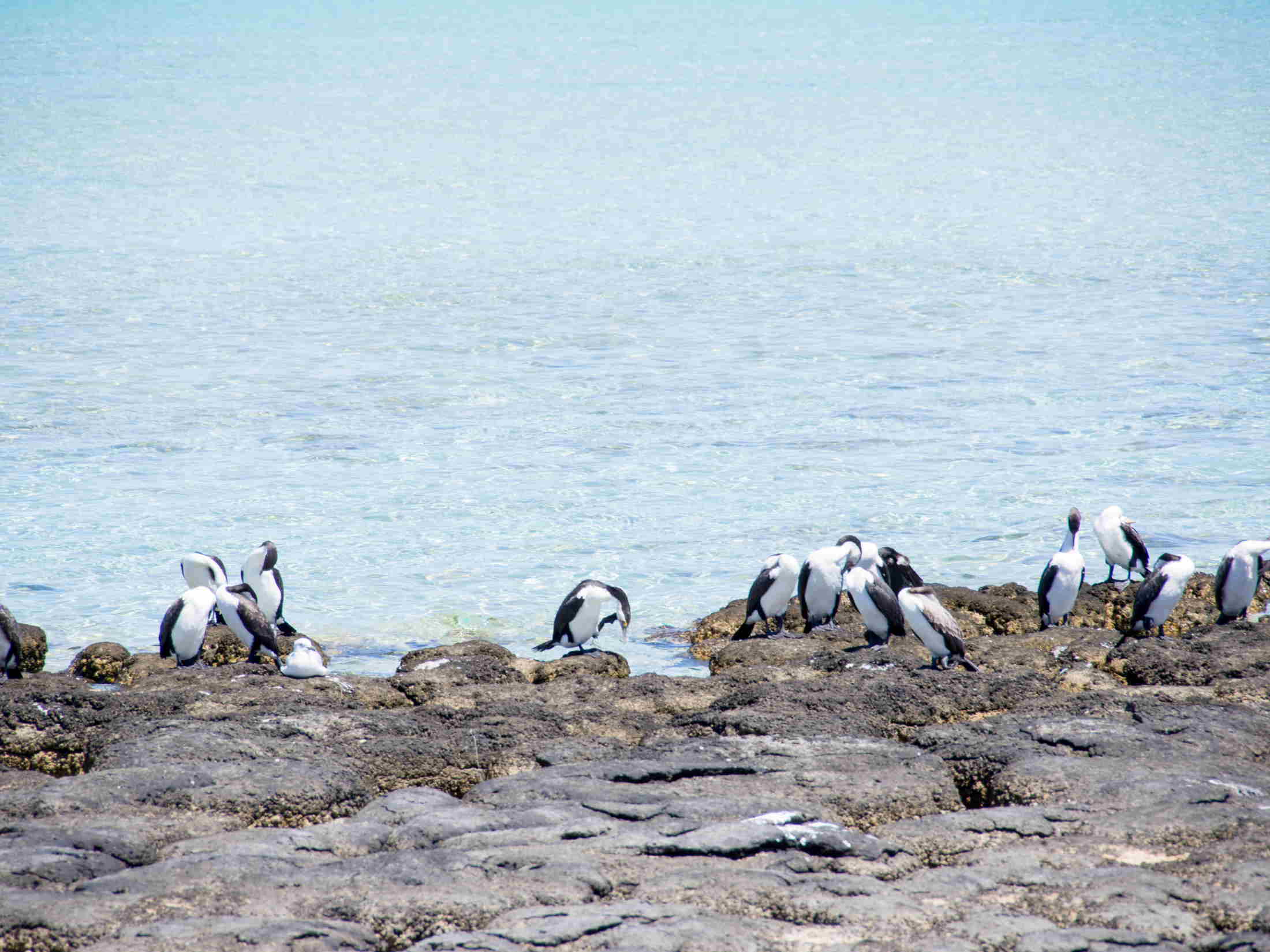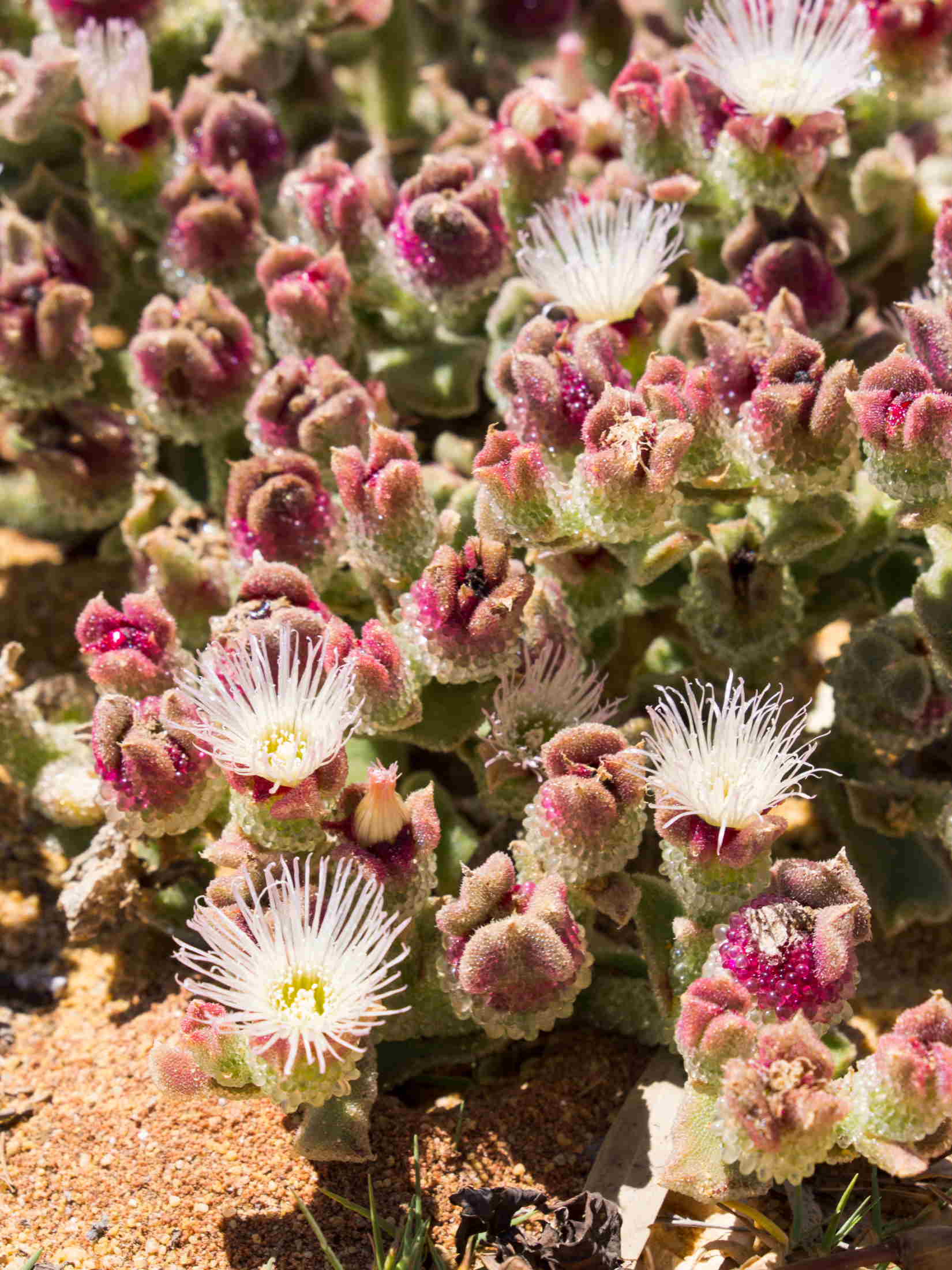 Interesting plants :)
Interessante Pflanzen. :)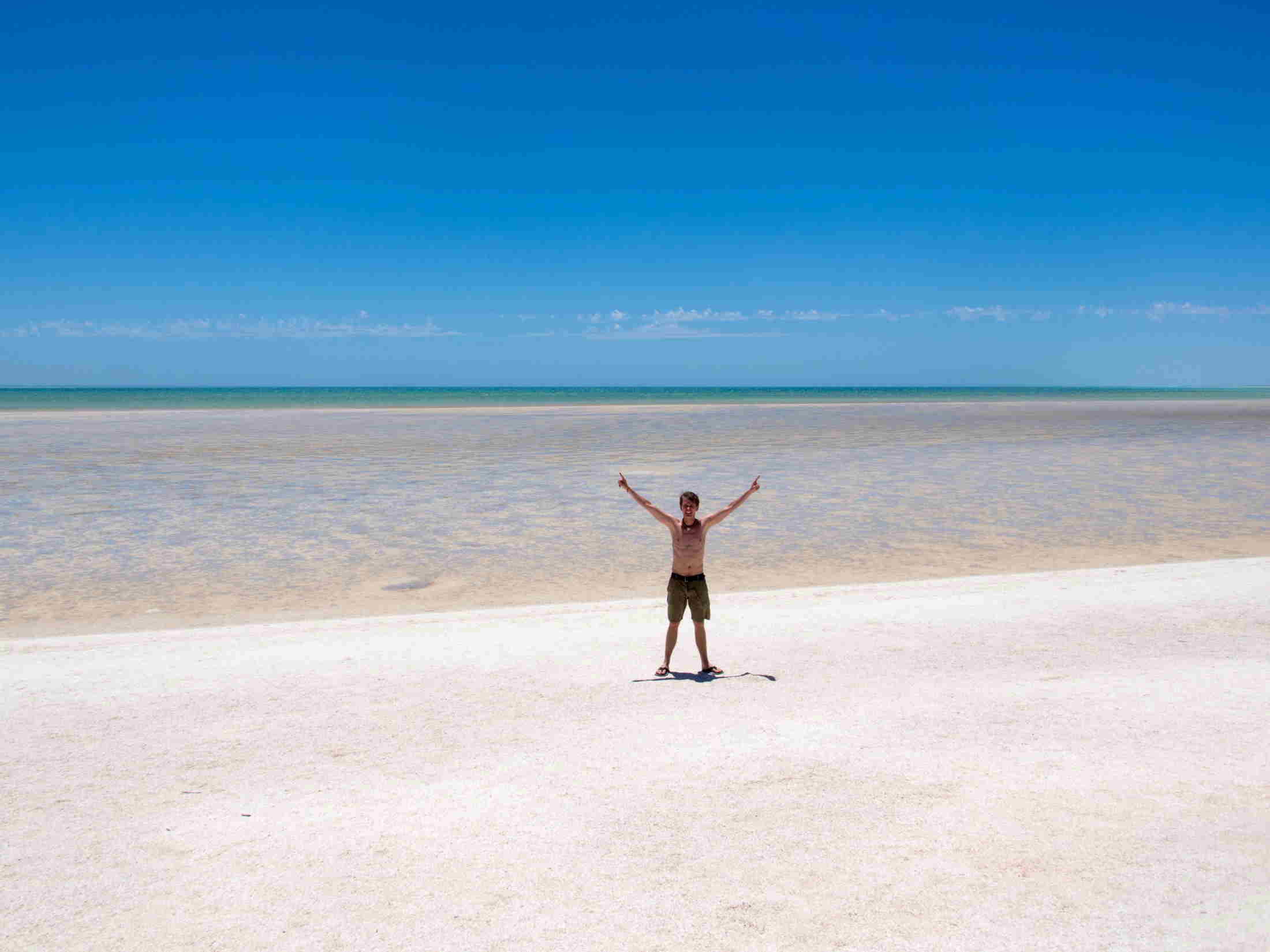 Standing at Shell Beach.
Stehen am Shell Beach (Muschel Strand).
Anna doing a "one hand hand-stand"! ;D :P
Anna macht einen "Einarmigen Handstand"! ;D :P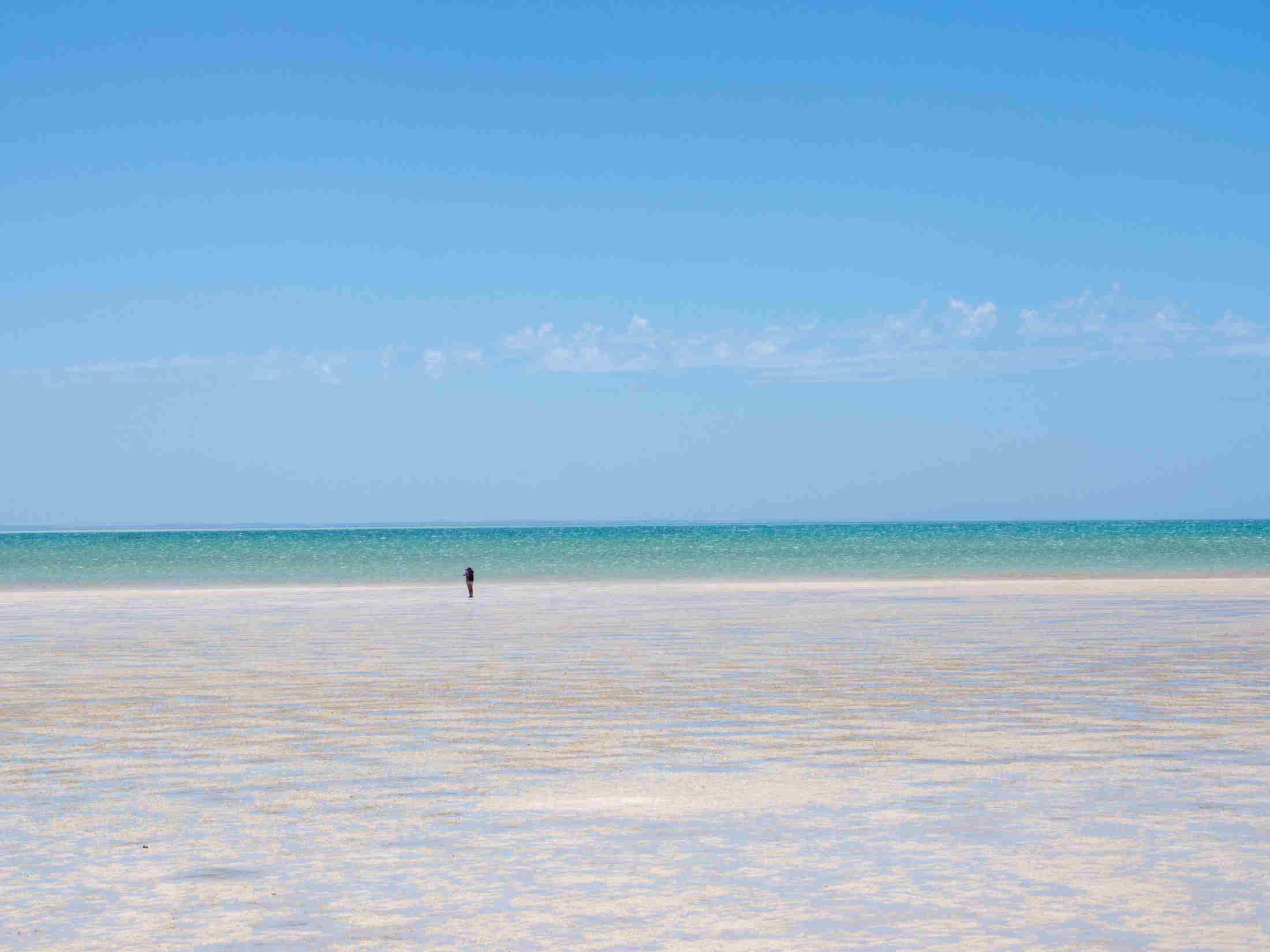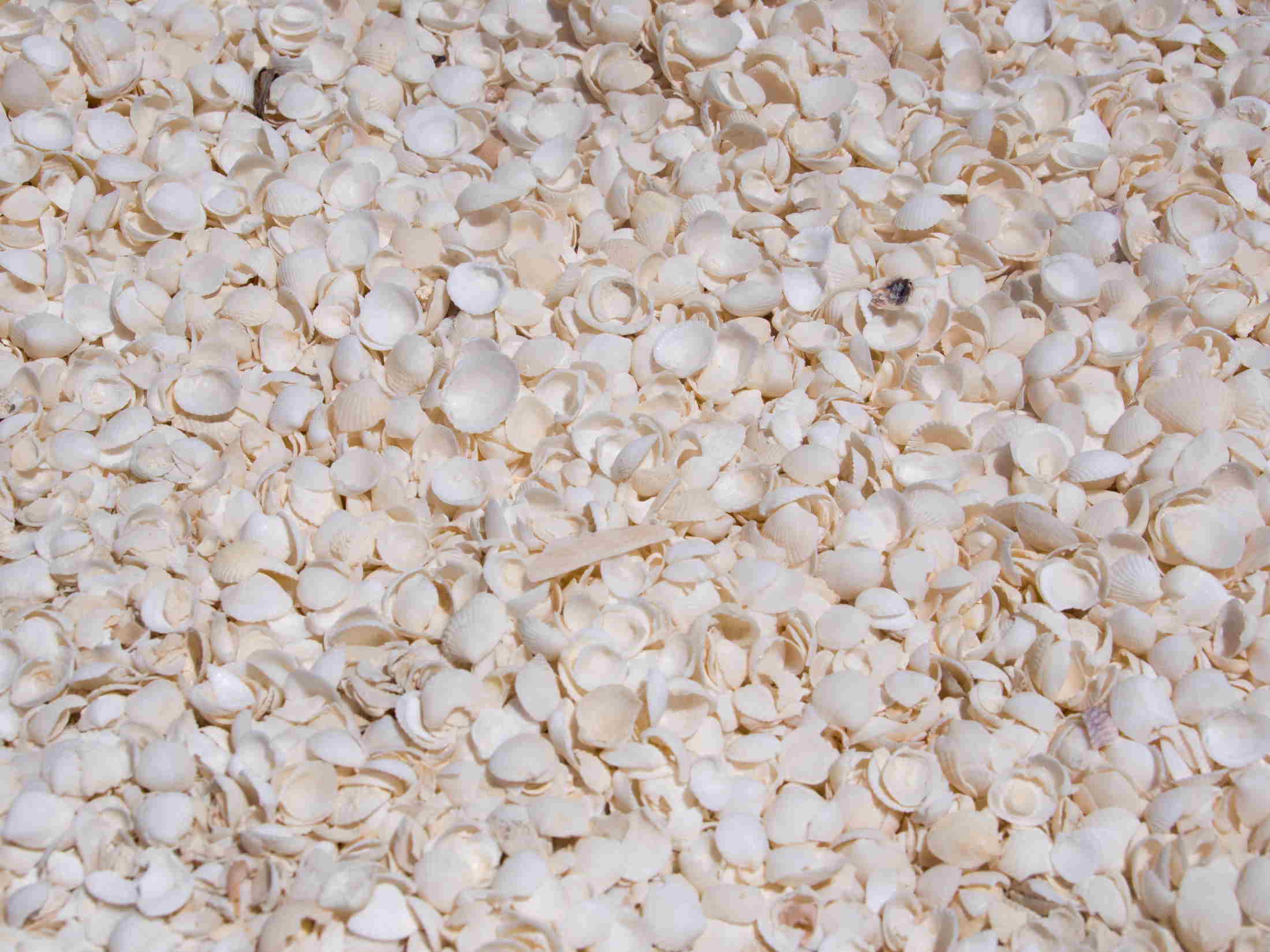 This is why they call it Shell beach!
Deshalb wird er Muschel-Strand genannt!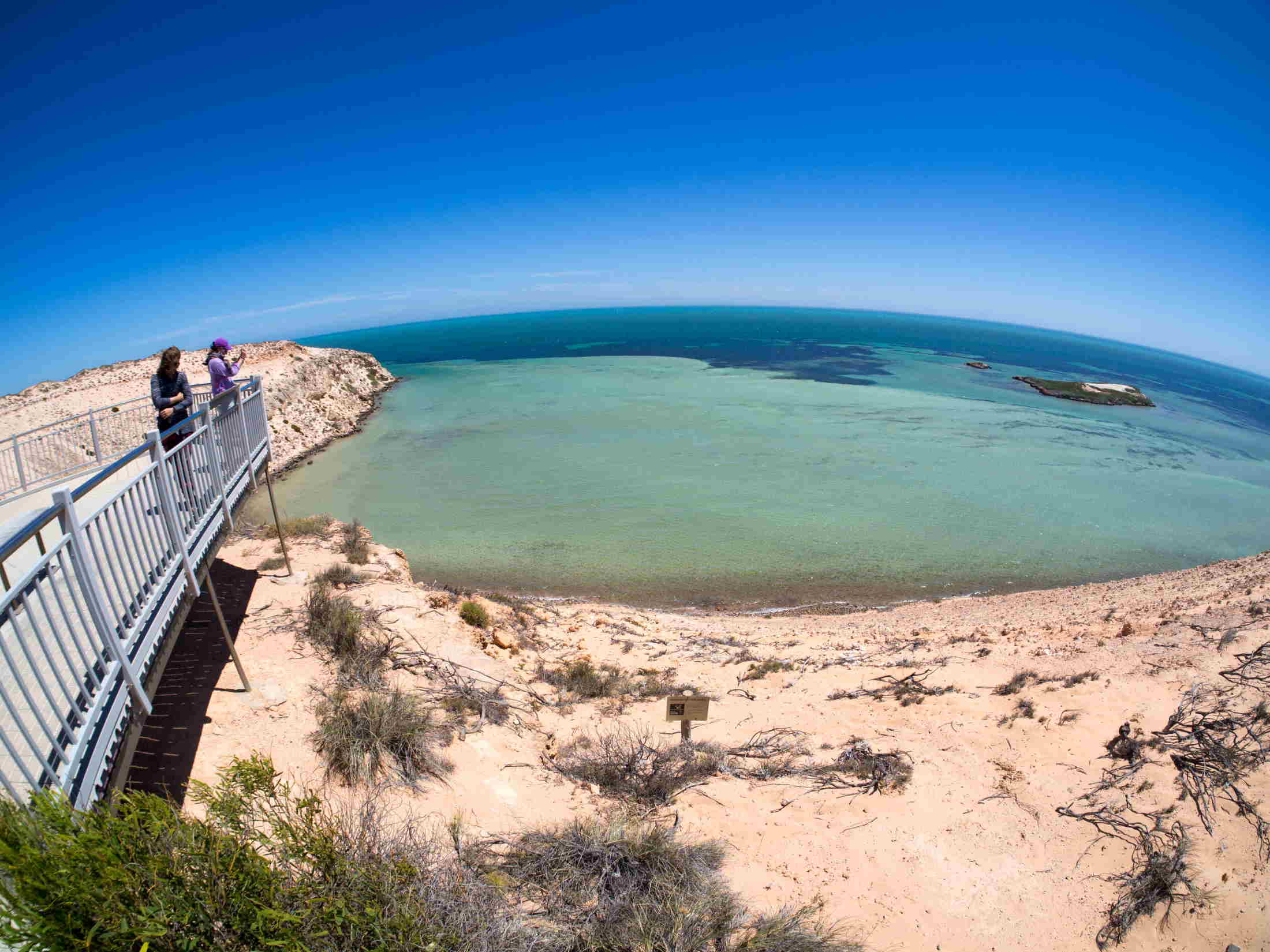 Next stop - Eagle Bluff. From here you have a perfect view over the ocean where a lot of wildlife is passing by. In just 20 minutes we could spot some sharks, turtles and pelicans.
Nächster Stop - Eagle Bluff. Von hier aus hat man eine super Aussicht über das Meer, wo sich eine Menge Tierleben tummelt. In nur 20 Minuten haben wir Haie, Schildkröten und Pelikane sichten können.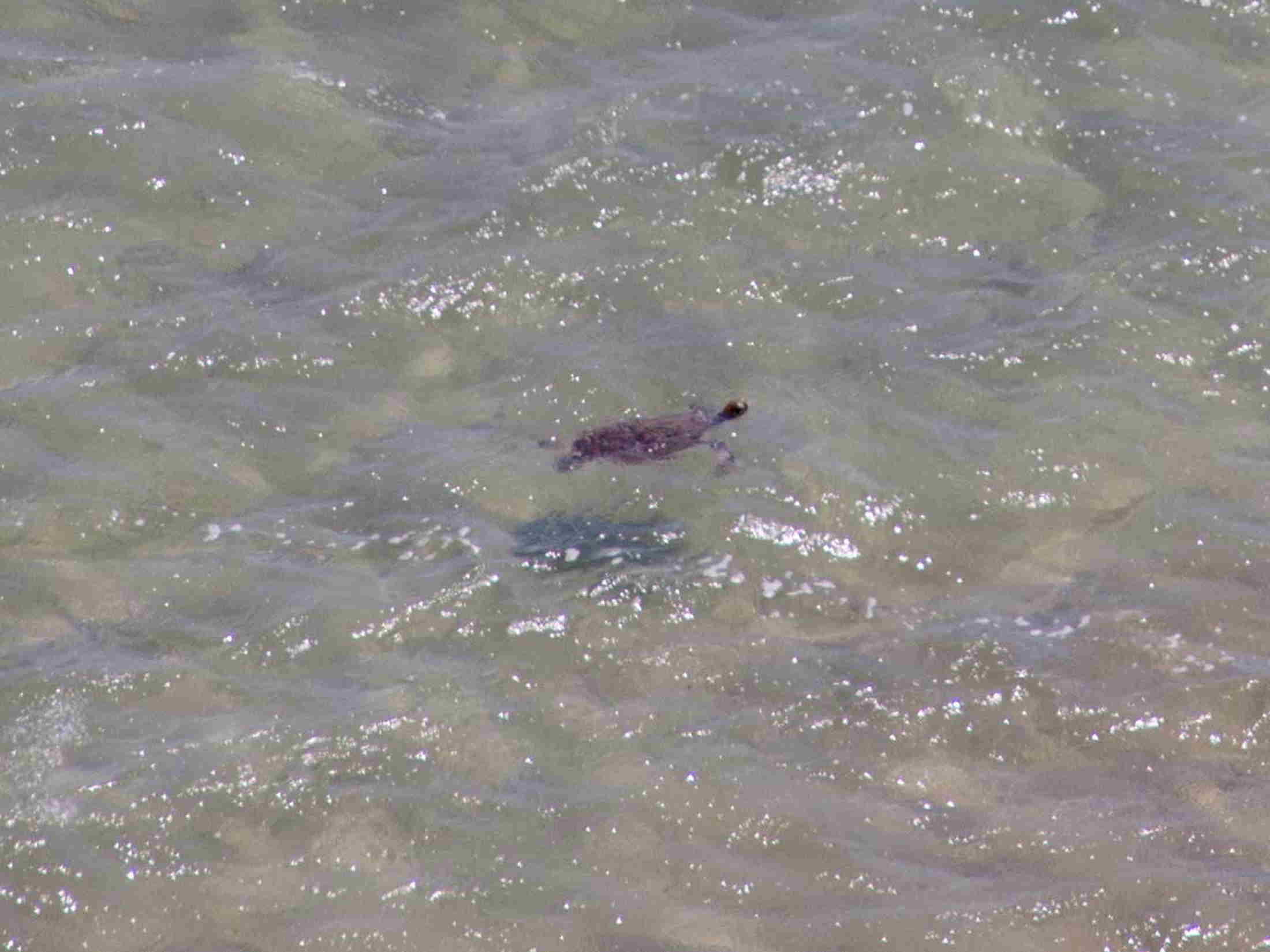 Turtle.
Schildkröte.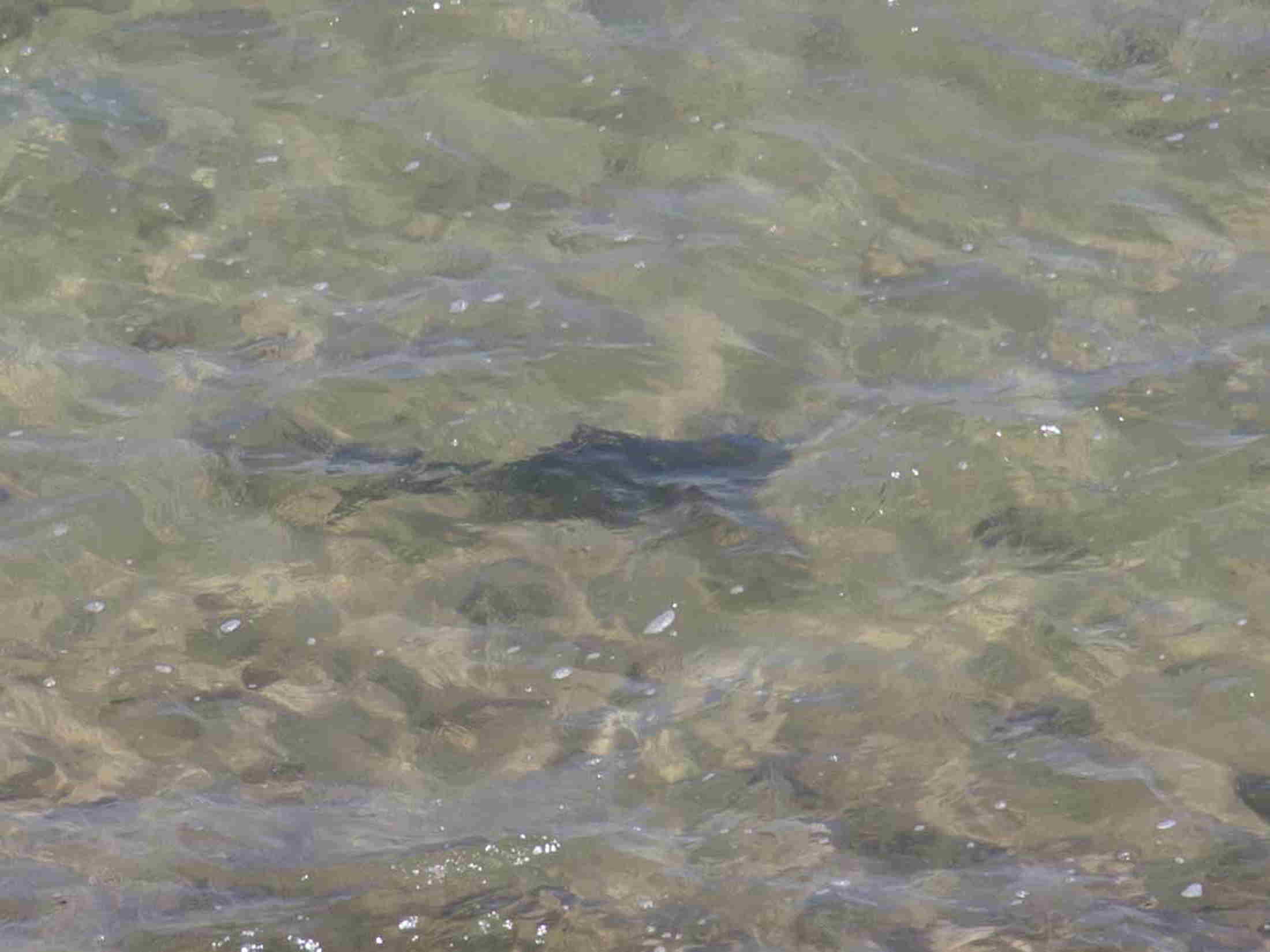 Shark.
Hai.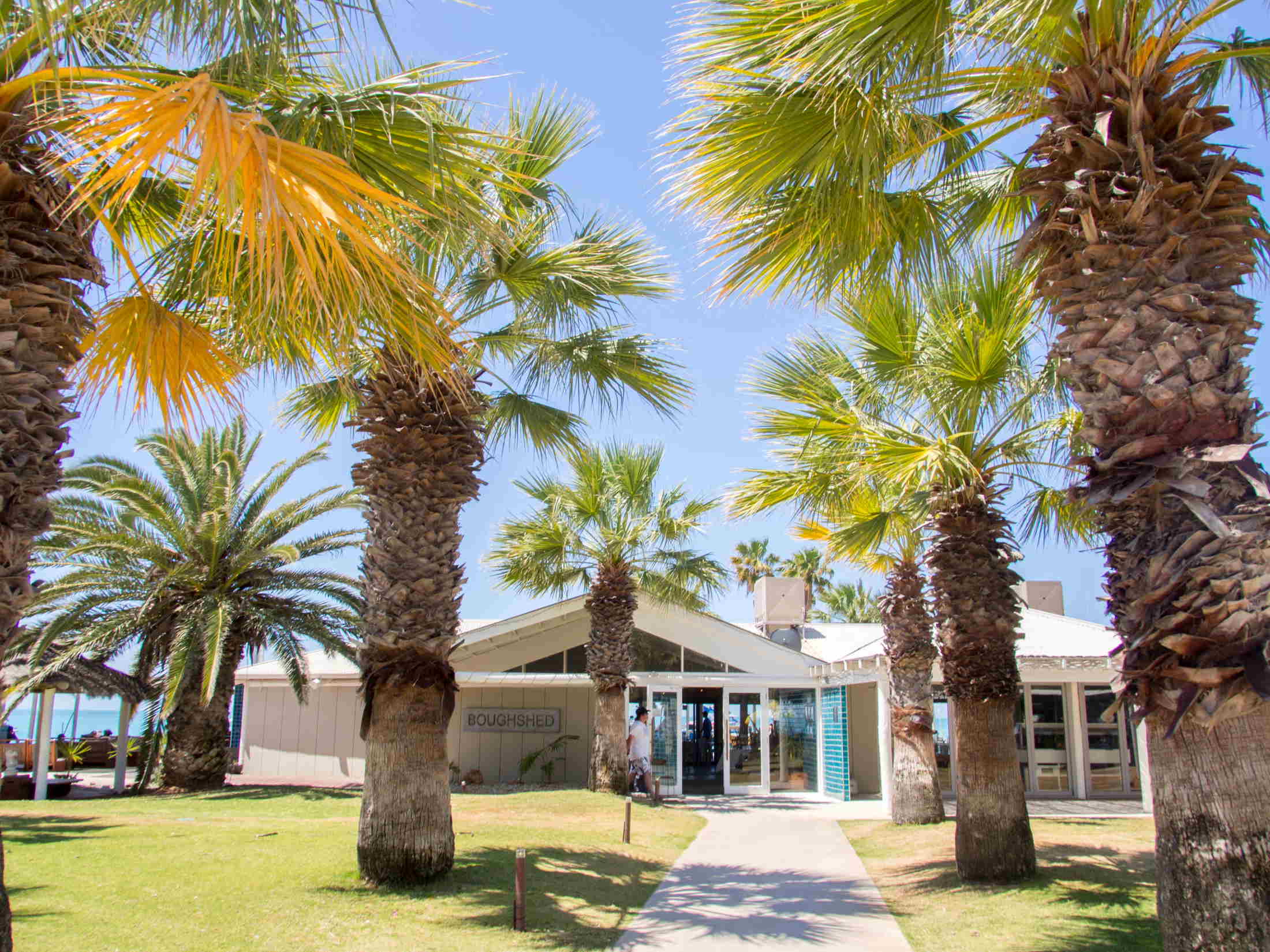 Arrived at the Monkey Mia Resort. This place is famous for the Dolphin experience. A few years ago they tame some dolphins here. So they came close to shore and got fet by the tourists. After a while this went a bit crazy as to many tourists in the water fet the dolphins uncontrolled and the natural behaviour was totally disturbed. So the owners of the Monkey Mia Resort reacted and started with a controlled feeding. In this procedure the dolphins got about 10% of their daily amount of fish and the people stand close to the water while just some volunteers picked some tourists to let them feed the mammals. During the feeding process are breaks that the mothers can feed their calvs. In this way the dolphins don't lose their instinct to hunt and stick more to their natural behaviours. In my oppinion a good way in the middle to experience wildlife with respect of nature.
Angekommen im Monkey Mia Resort. Dieser Ort ist berühmt für seine Delphin Erlebnisse. Einige Jahre in der Vergangenheit zämten sie hier wilde Delphine. Diese kamen nah ans Ufer und wurden von den Touristen gefüttert. Nach einiger Zeit lief dies aus dem Ruder und da zu viele Touristen die Tiere unkontrolliert fütterten und ihre natürlichen Verhaltensweise total gestört war. Die Besitzer des Monkey Mia reagierten darauf hin und begannen mit kontrollieren Fütterungen. In diesem Prozess bekommen die Delphine rund 10% ihres Tagesbedarfs an Fisch gefüttert. Die Besucher stehen nah am Ufer während ein paar ehrenamtliche Helfer je eine Person auswählen, die dann in's Wasser gehen kann, um die Säuger zu füttern. Während der Fütterung gibt es Pausen in denen die Mütter ihre Kälber füttern können. Durch dieses Vorgehen verlieren die Delphine ihren natürlichen Jagdinstinkt nicht und folgen mehr ihren natürlichen Verhaltensweisen. Meiner Meinung nach ein guter Weg in der Mitte um die Tierwelt mit Respekt gegenüber der Natur zu erleben.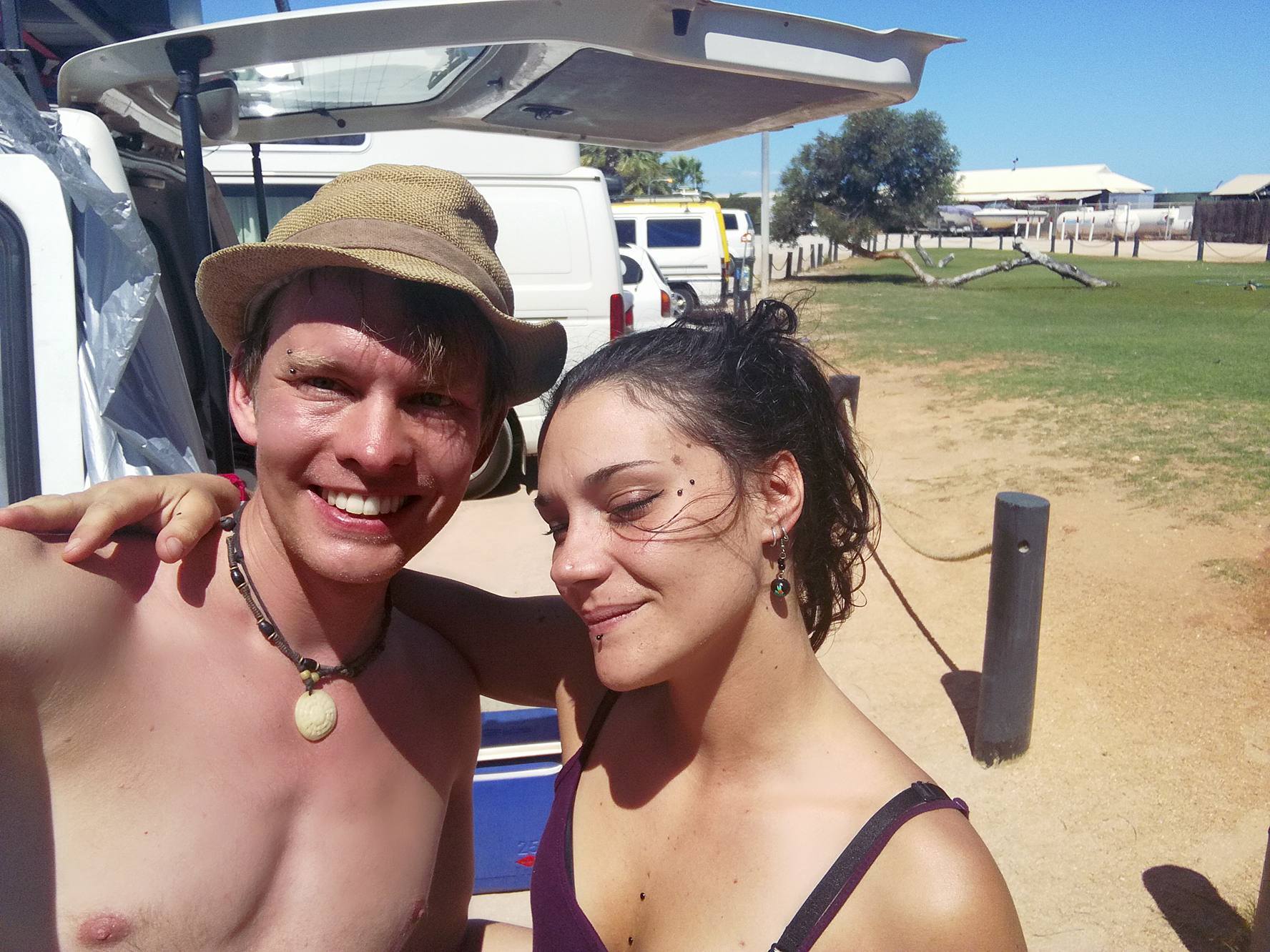 Luckily my friend Sara worked at the Monkey Mia in the time we arrived. So we could stay for free and enjoy our time here. :) Thank you very much for that Sara! Funny to see you at the other side of the world. :D
Glücklicherweise arbeitete Sara eine Bekannte von Zuhause zu der Zeit in der wir ankamen im Monkey Mia. So konnten wir eine weile Kostenfrei bleiben und unsere Zeit genießen. :) Vielen Dank dafür Sara! Lustig sich am anderen Ende der Welt zu treffen! :D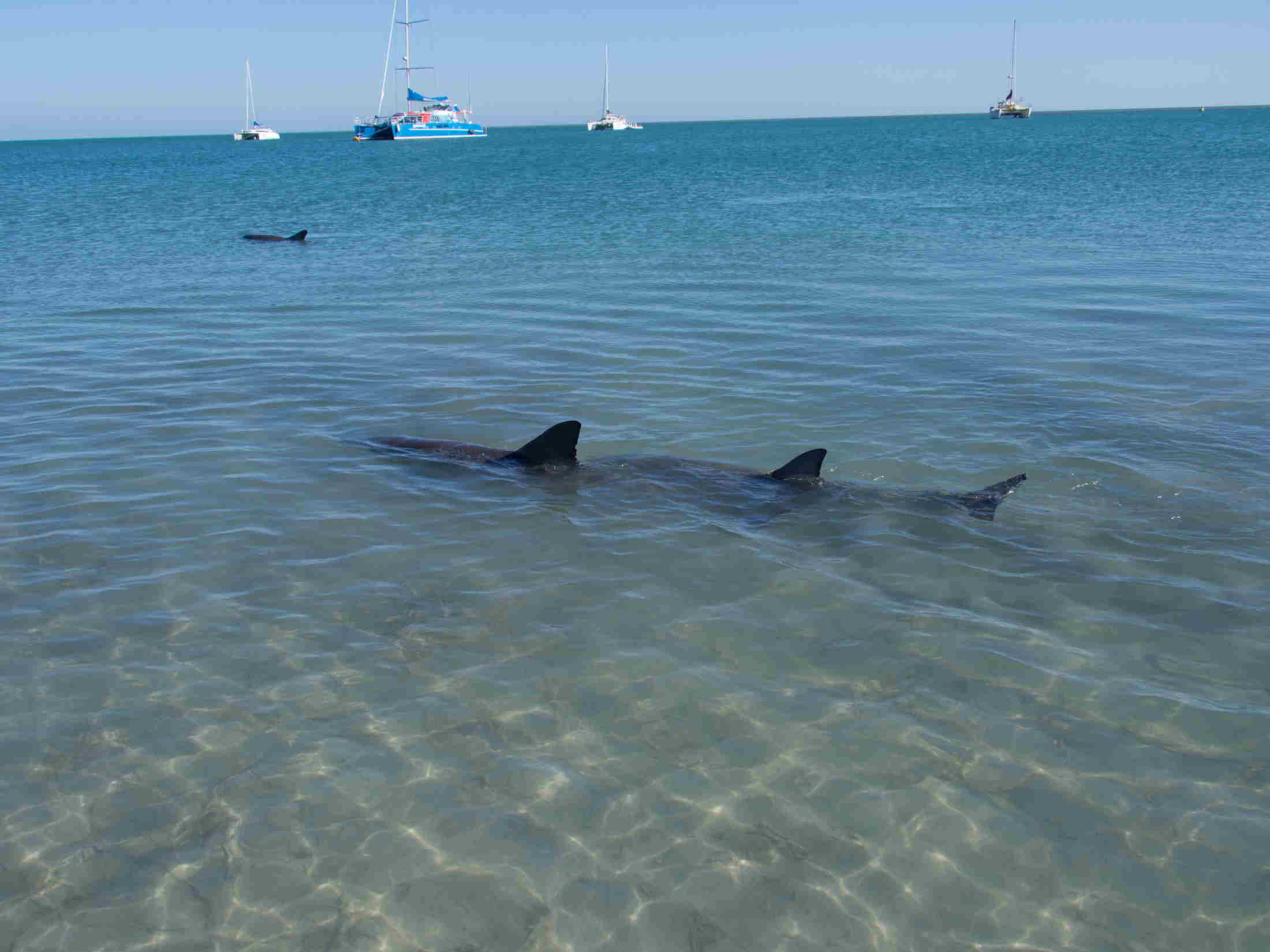 Here you see a mother with a calve.
Hier sieht man eine Mutter mit einem Kalb.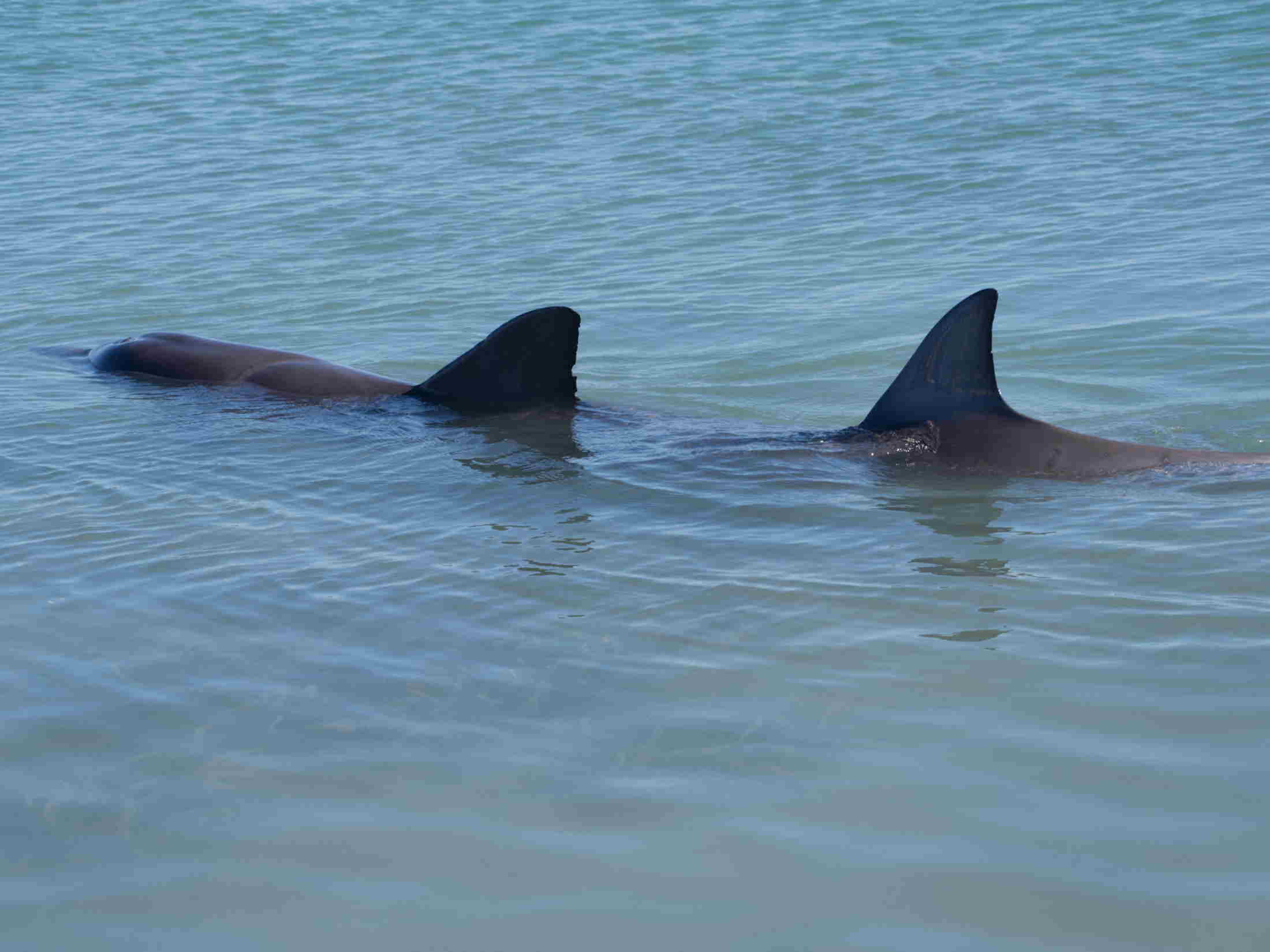 With their fins they can be identified.
Durch ihre Flossen können die Tiere identifiziert werden.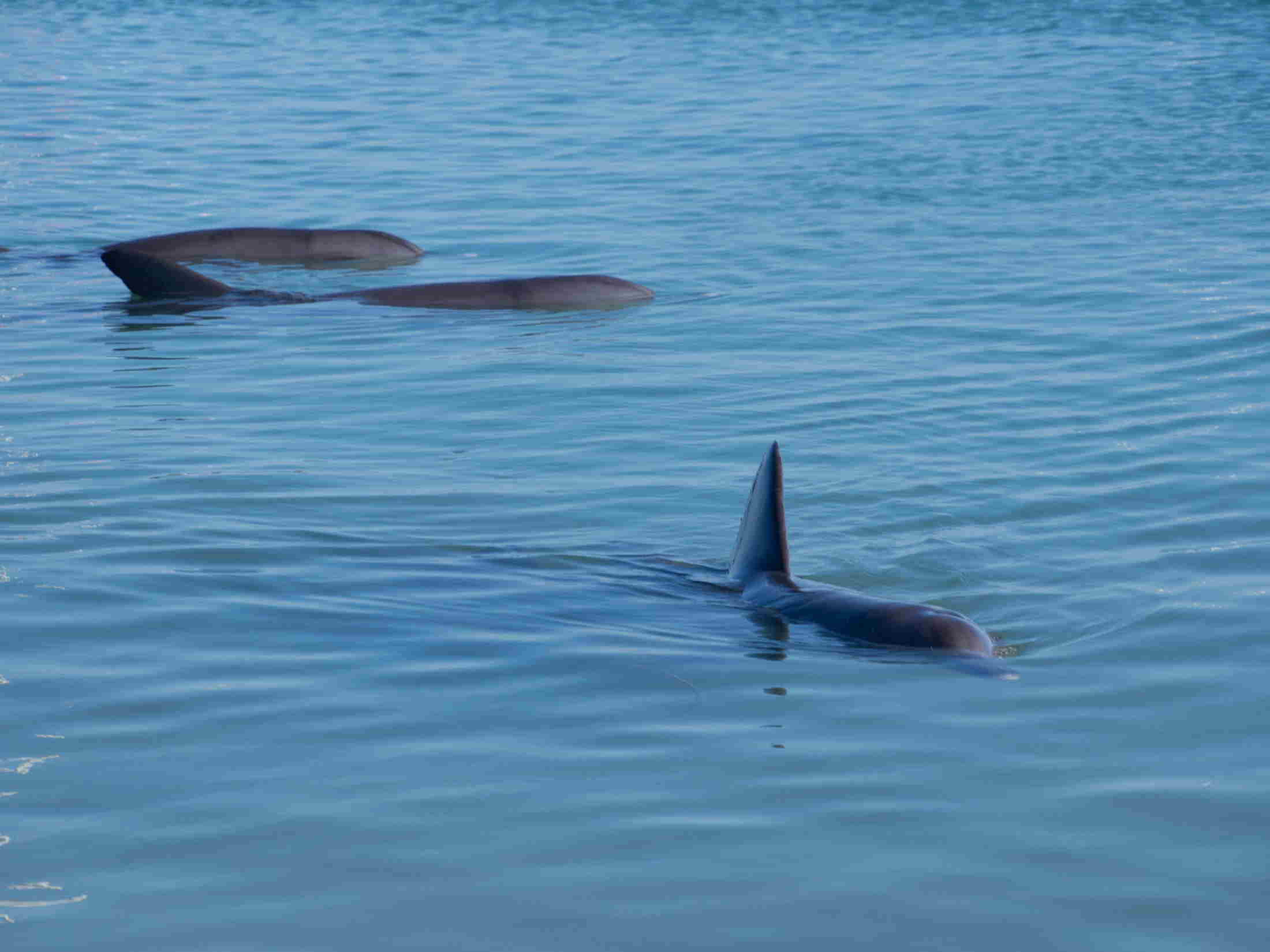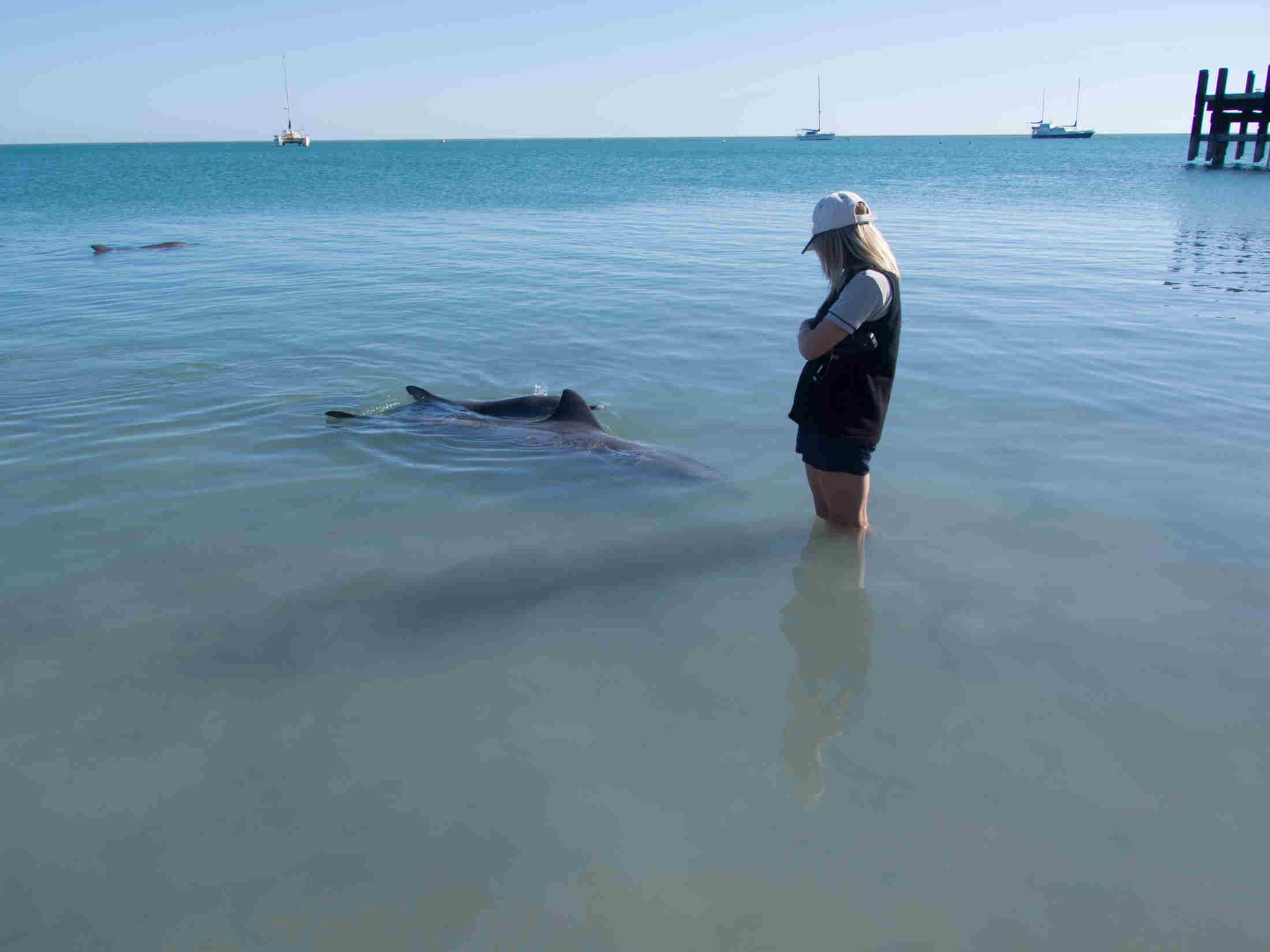 The hardest job is to stand next to the waiting dolphins, that swim around your legs and you are not allowed to touch them. Even when they look at you like "pet meeeee! I want it too!!!" :D
Der härteste Job ist wohl direkt im Wasser bei den Delphinen zu stehen, die um einen herum schwimmen und es ist nicht erlaubt sie anzufassen. Auch wenn sie einen angucken wie "Streichel mich!!! ICH MÖCHTE ES AUCH!!" :D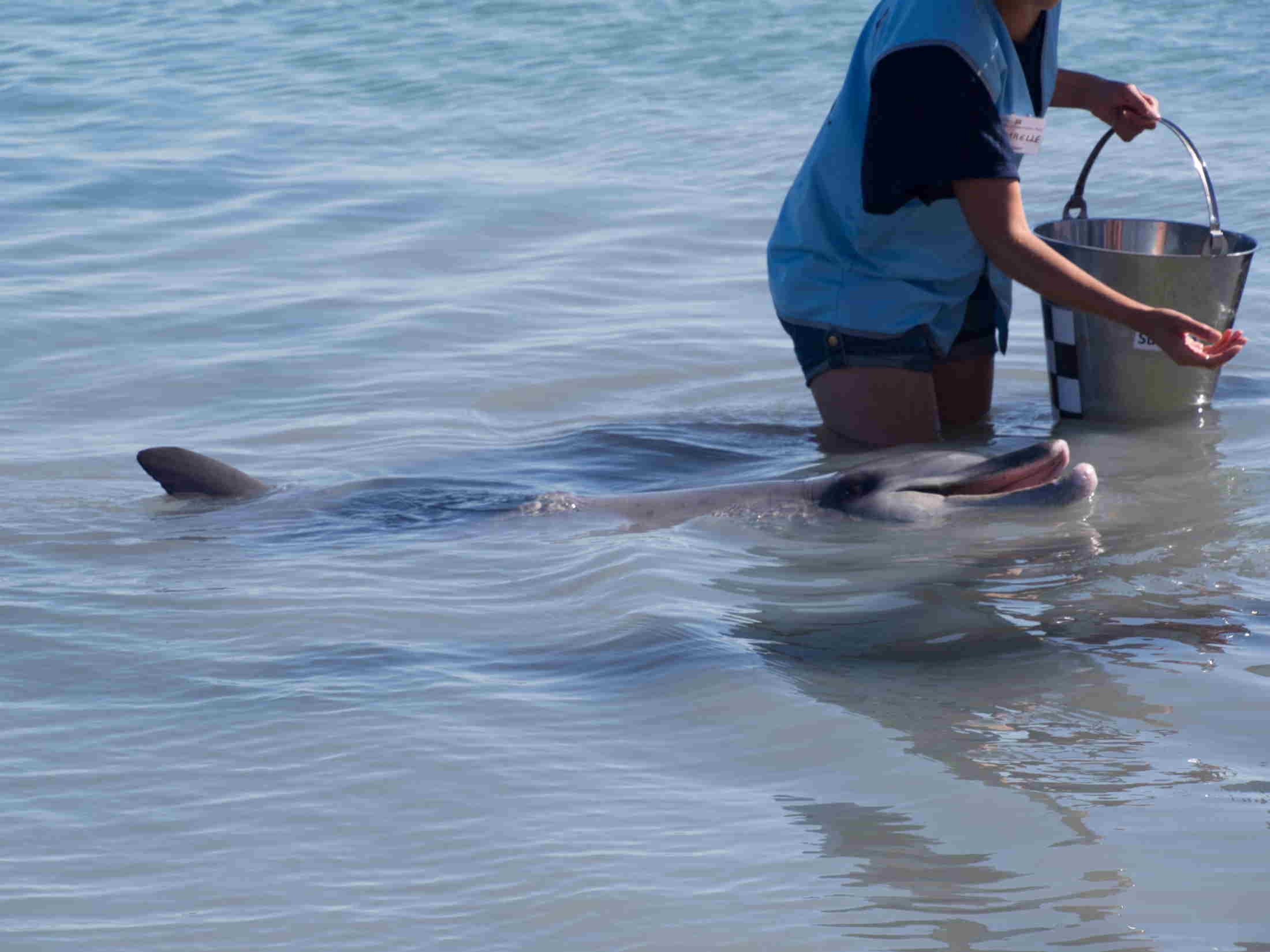 The dolphins wait with the mouth open to get their fish handed by a tourist.
Die Delphine warten mit offenem Mund um ihren Fisch von einem Touristen übergeben zu bekommen.
Here Anna got to feed a dolphin and could take me with her to the front. Soooo amazing!
Hier bekam Anna die Chance einen Delphin zu füttern und durfte mich mit nach vorne nehmen. Soooo cooool!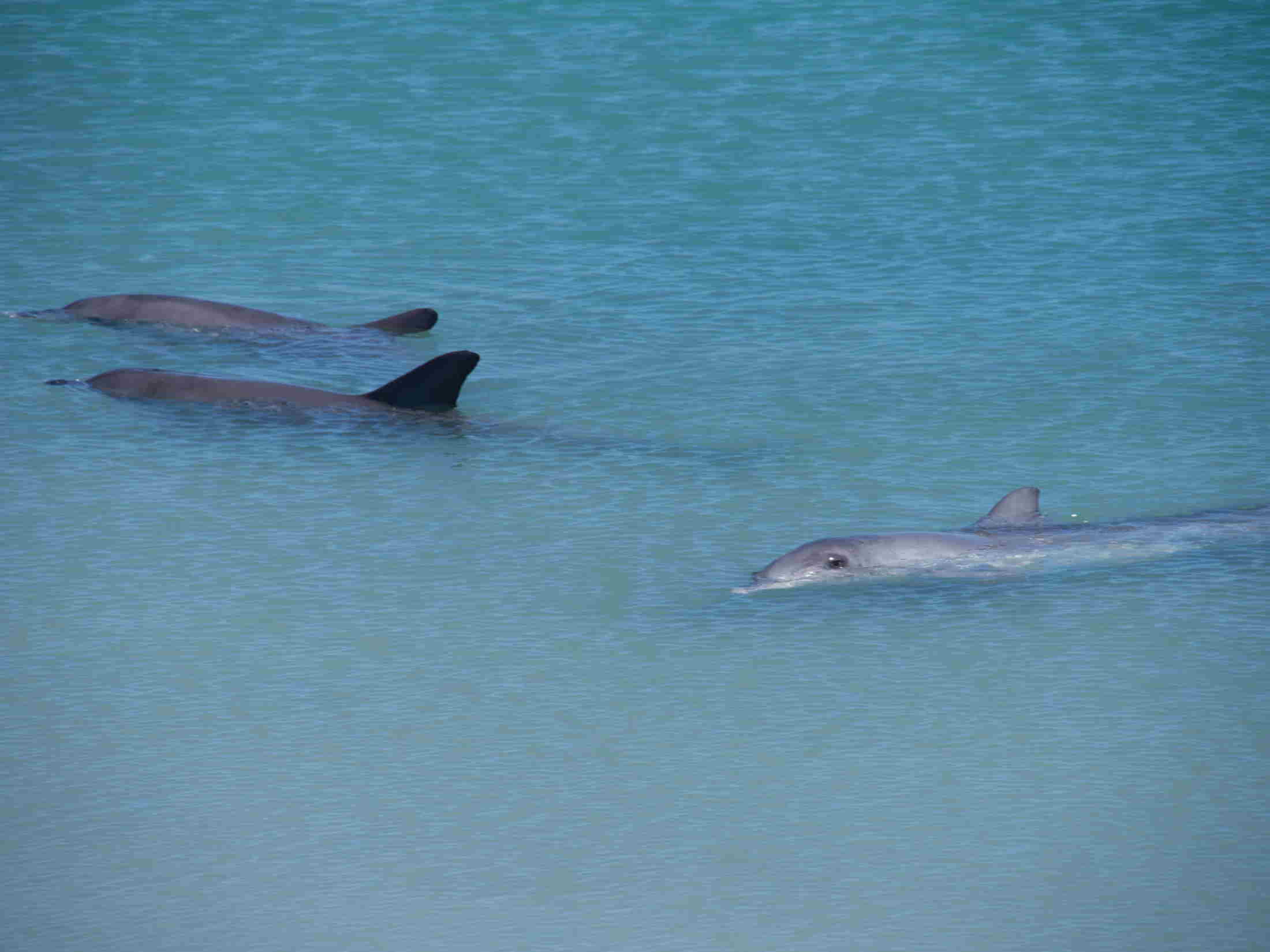 While around 50 persons wait at the shore the dolphins swim up and down. In the meanwhile they look out of the water to have a look at the people. Out of the water they have a great vision so that they can see us without a problem.
Während rund 50 Menschen am Ufer stehen schwimmen die Delphine auf und ab. Dabei gucken sie gerne mal aus dem Wasser um die Menge zu betrachten. Sie haben auch über Wasser eine hervoragende Sicht, so dass sie uns ohne Probleme erkennen können.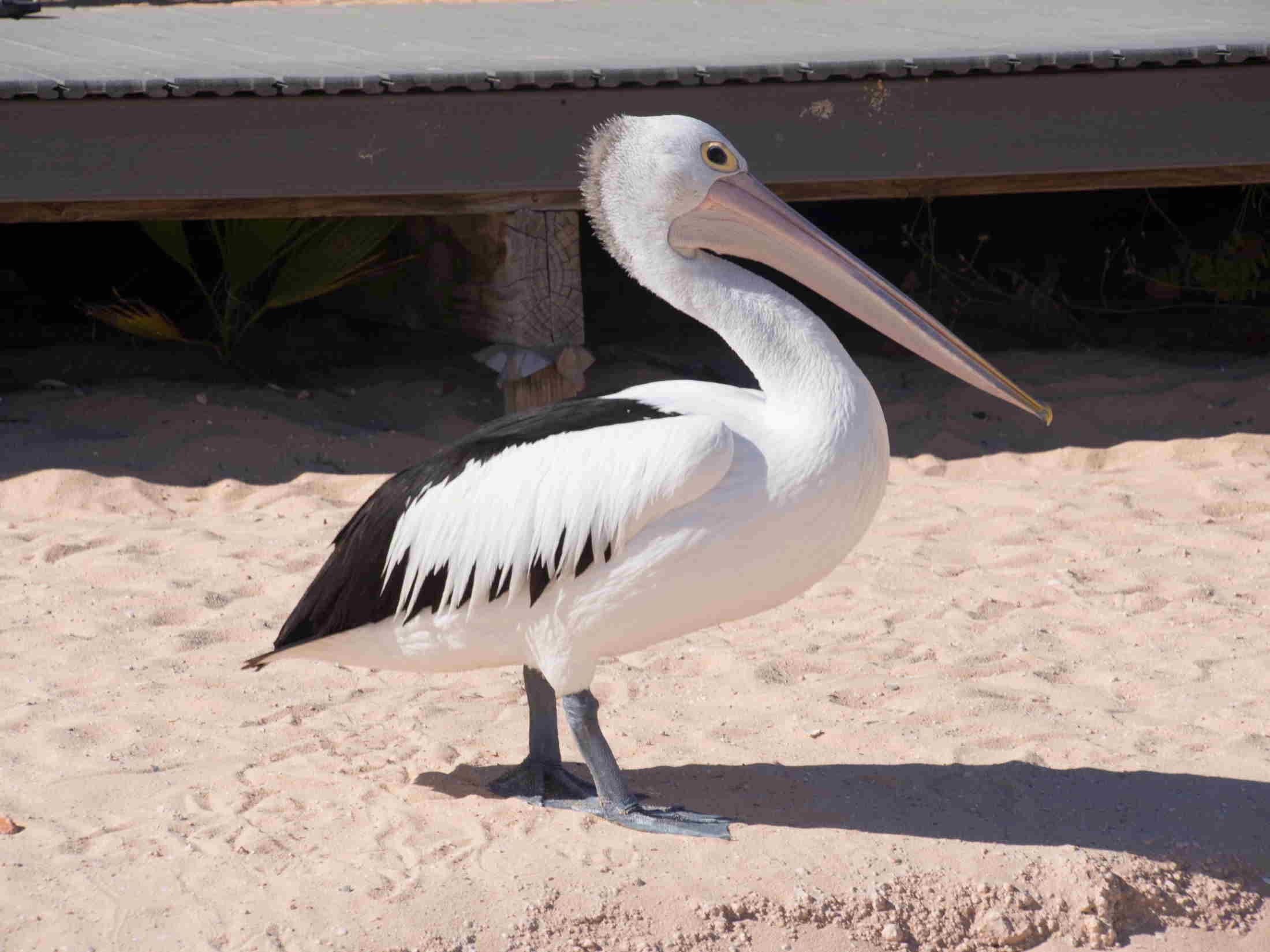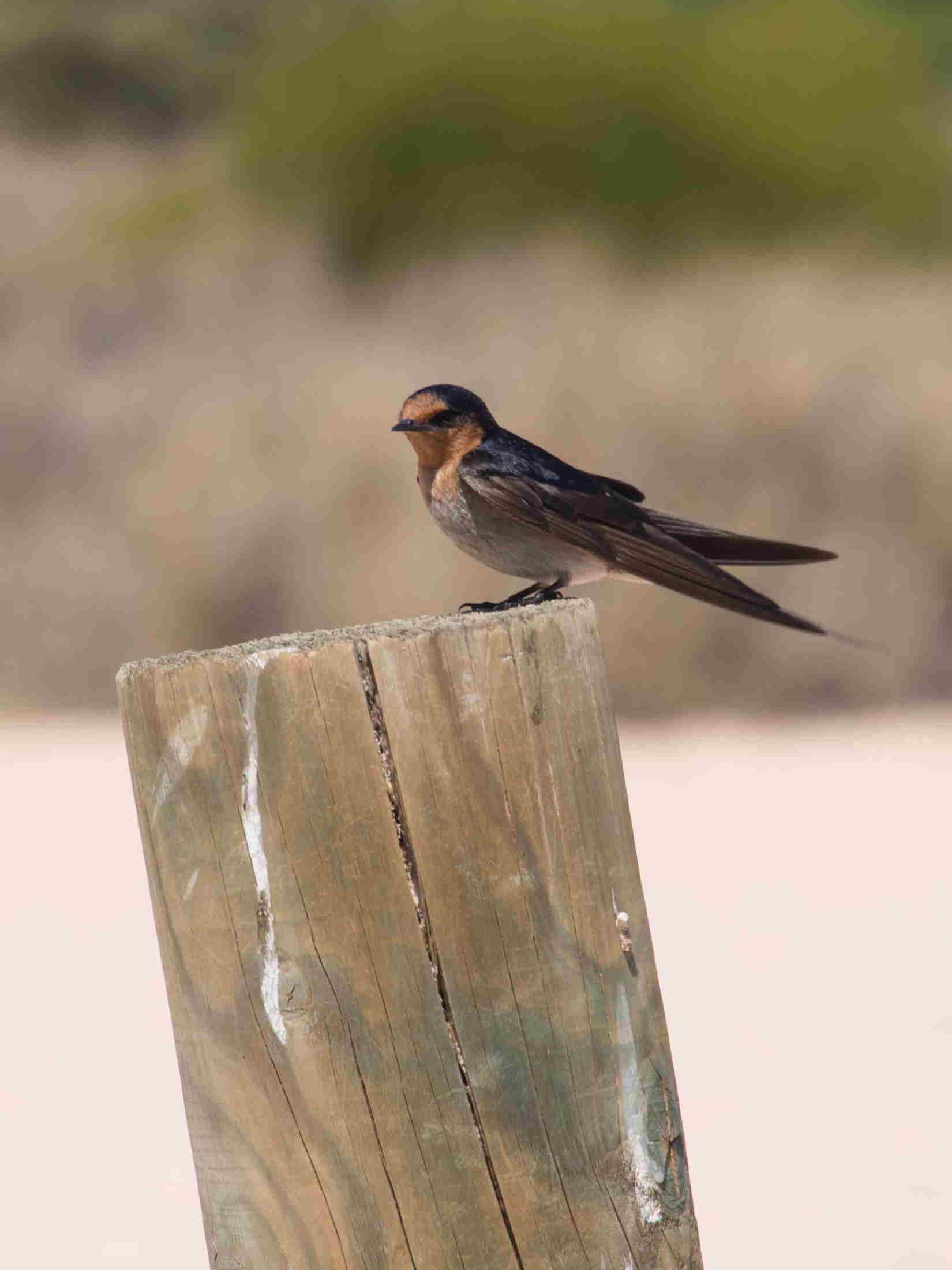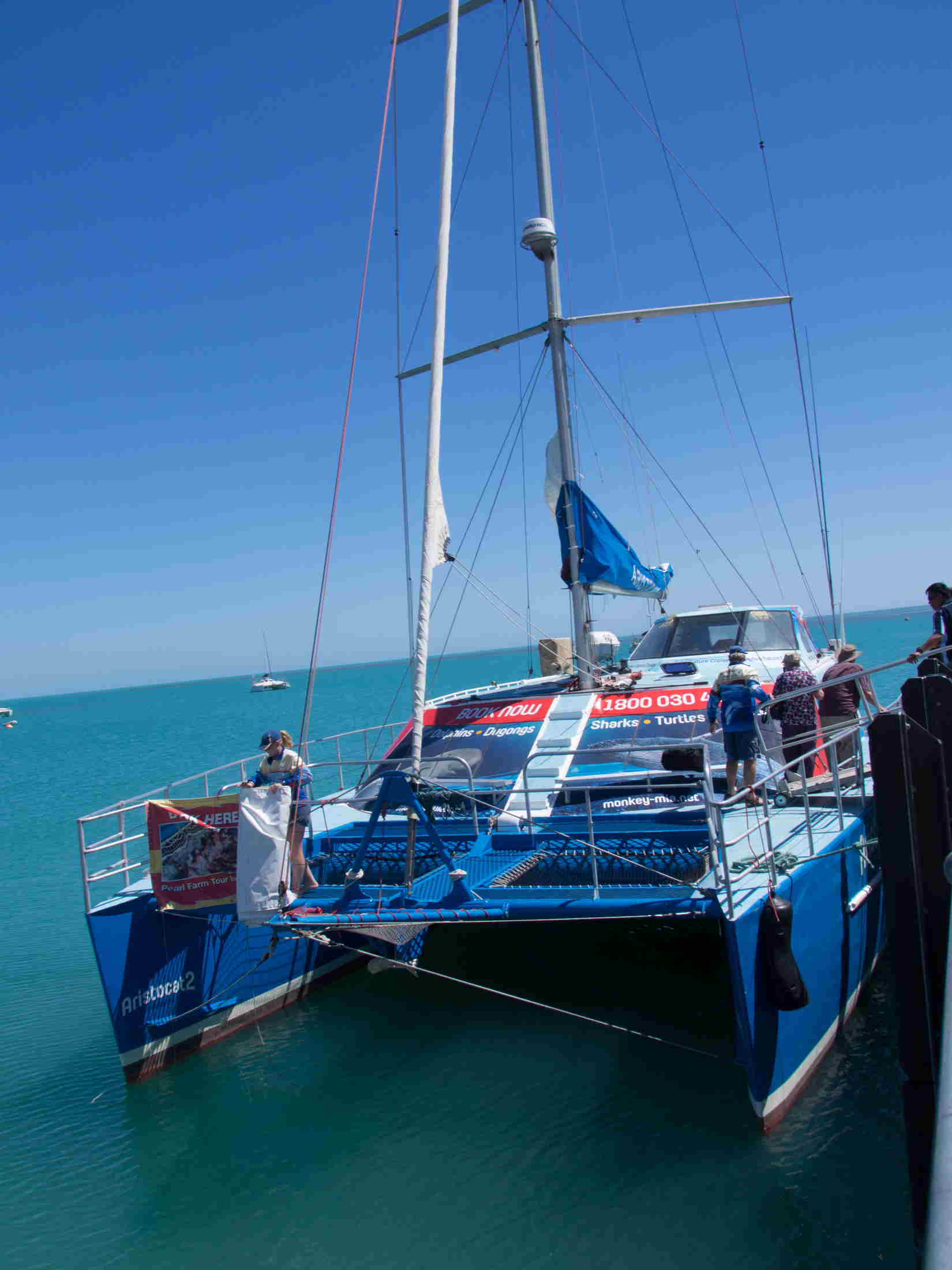 Going on a Dugong tour with this nice cathemaran. Dugongs are a cind of sea cows.
Mit diesem schönen Katermaran geht es auf Dugong Tour. Dugongs sind eine Art von Seekühen.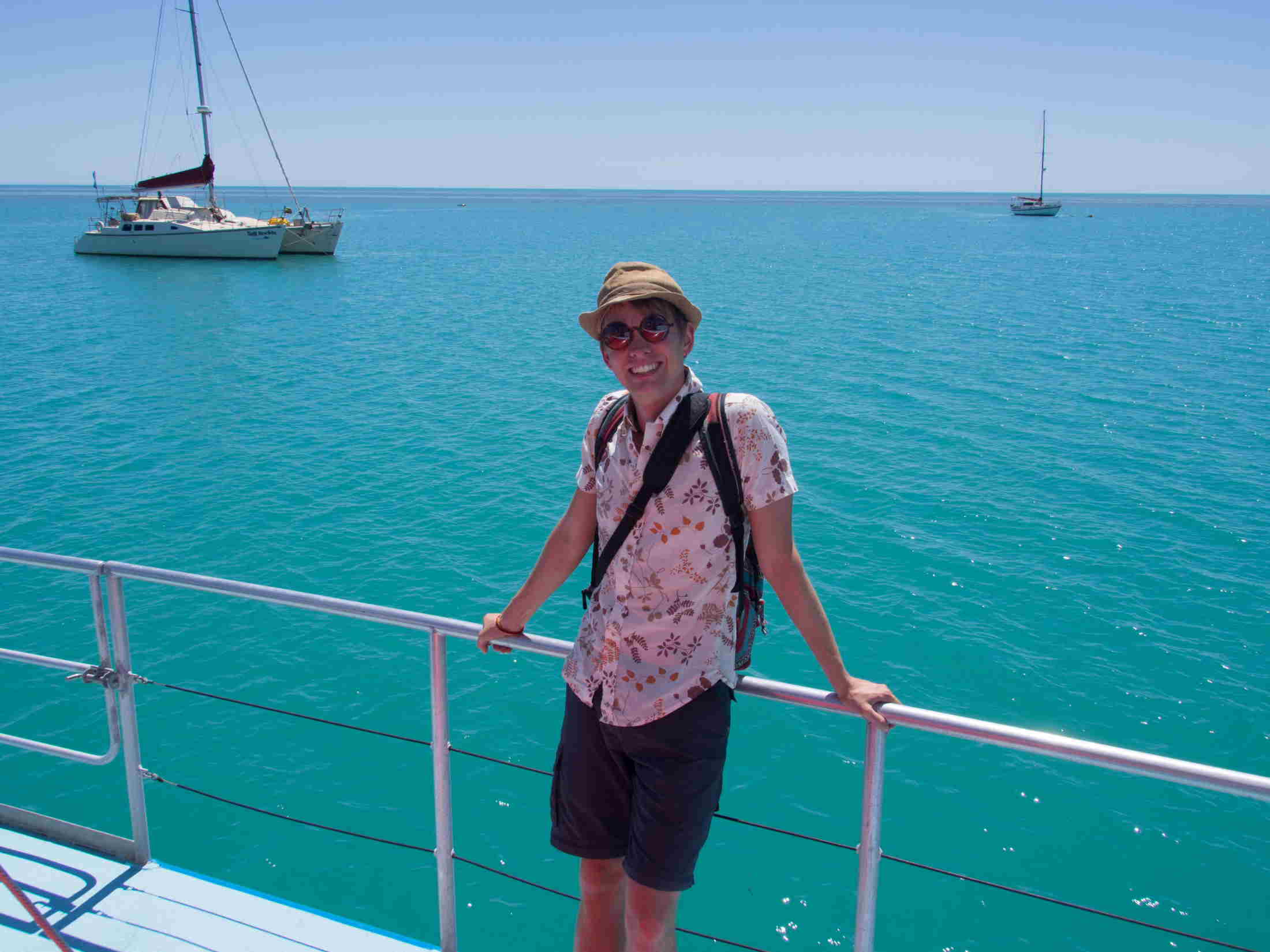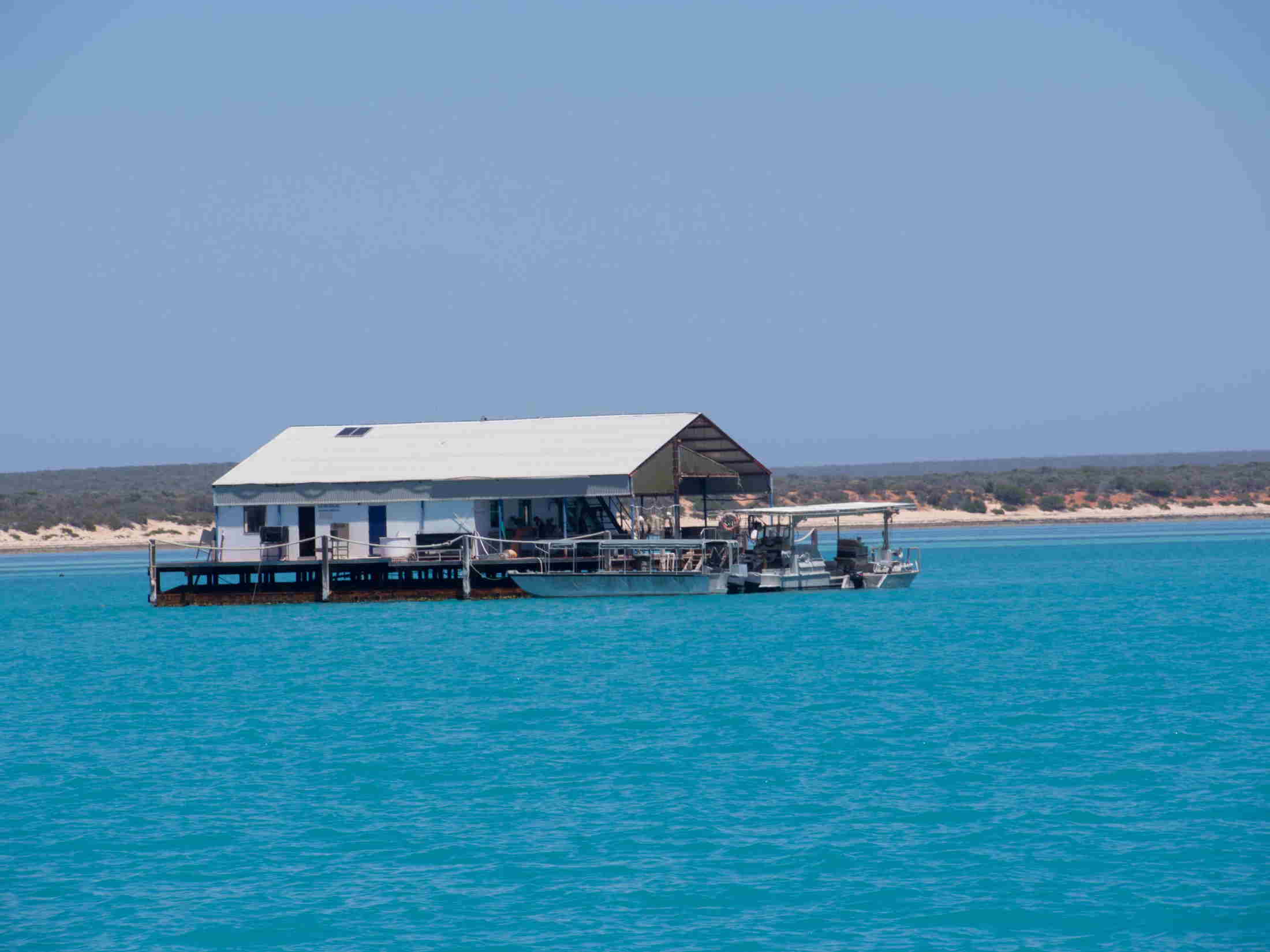 First we have to buy some carpets... ööhhh perls.
Erstmal müssen wir ein paar Teppiche kaufen.... öööhh Perlen.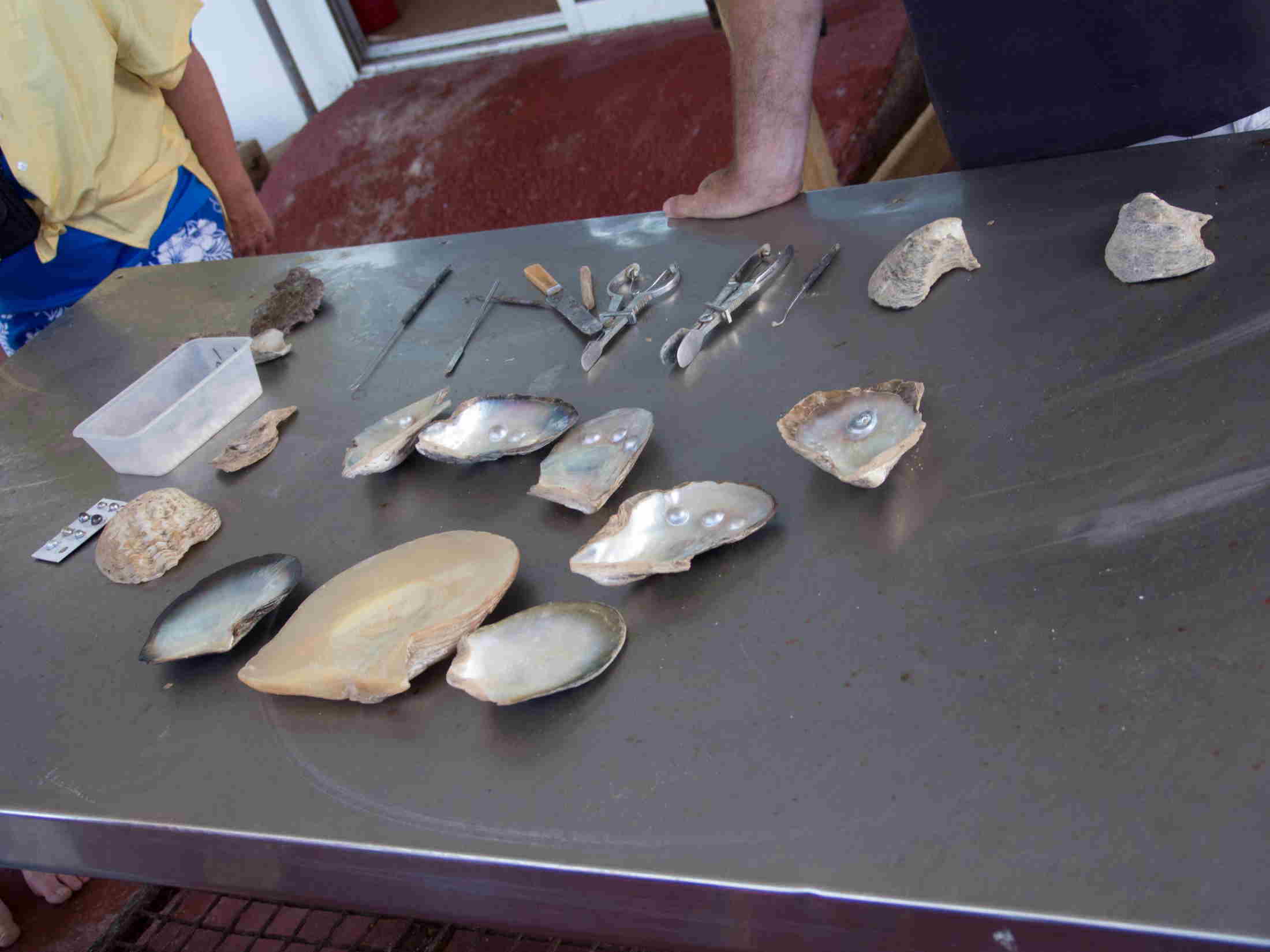 Here they showed us how they grow perls in shells.
Hier wurde uns gezeigt wie Perlen in Muscheln gezüchtet werden.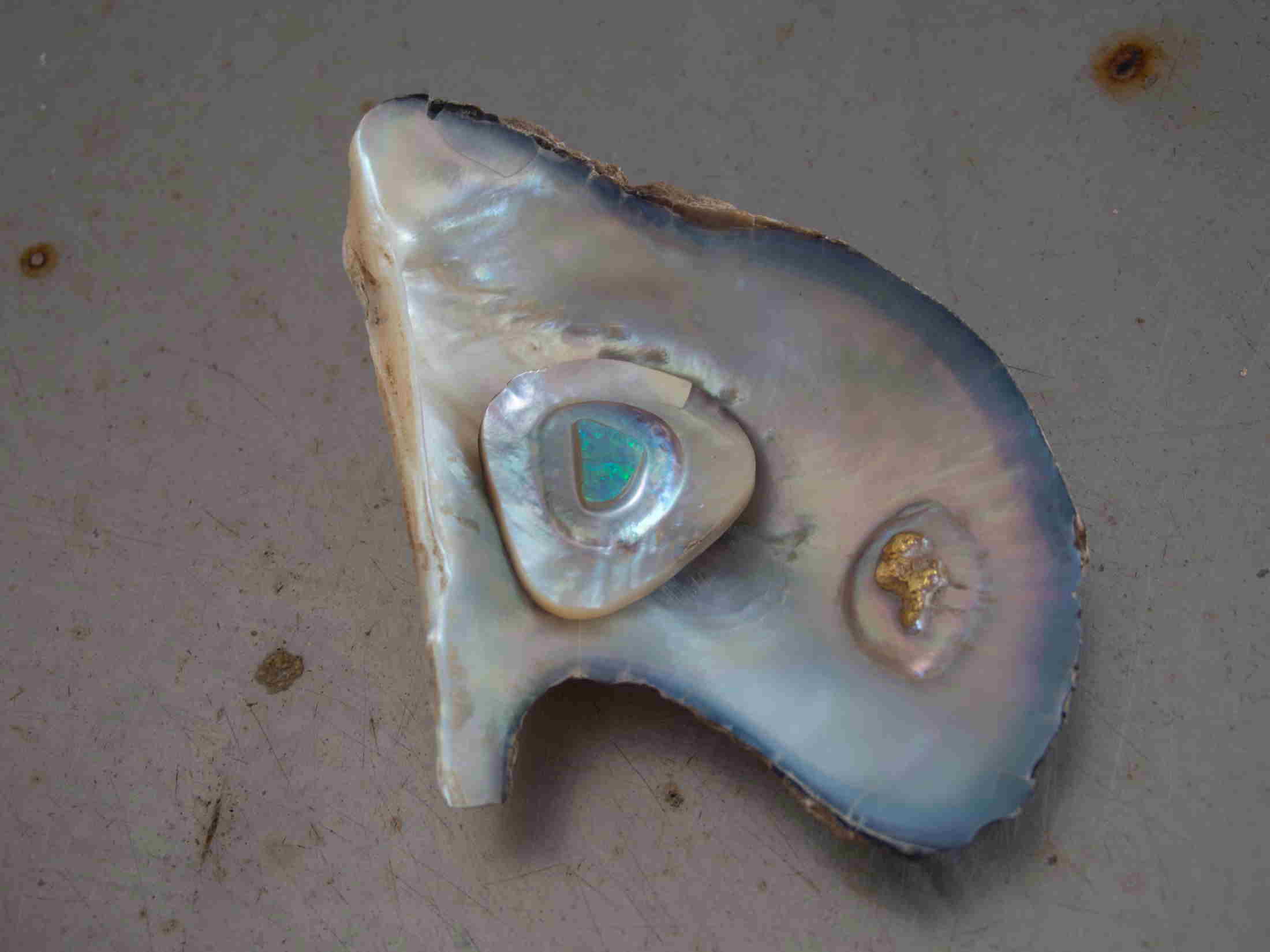 Those perls get refined with gold and opal.
Diese Perlen werden veredelt mit Gold und Opal.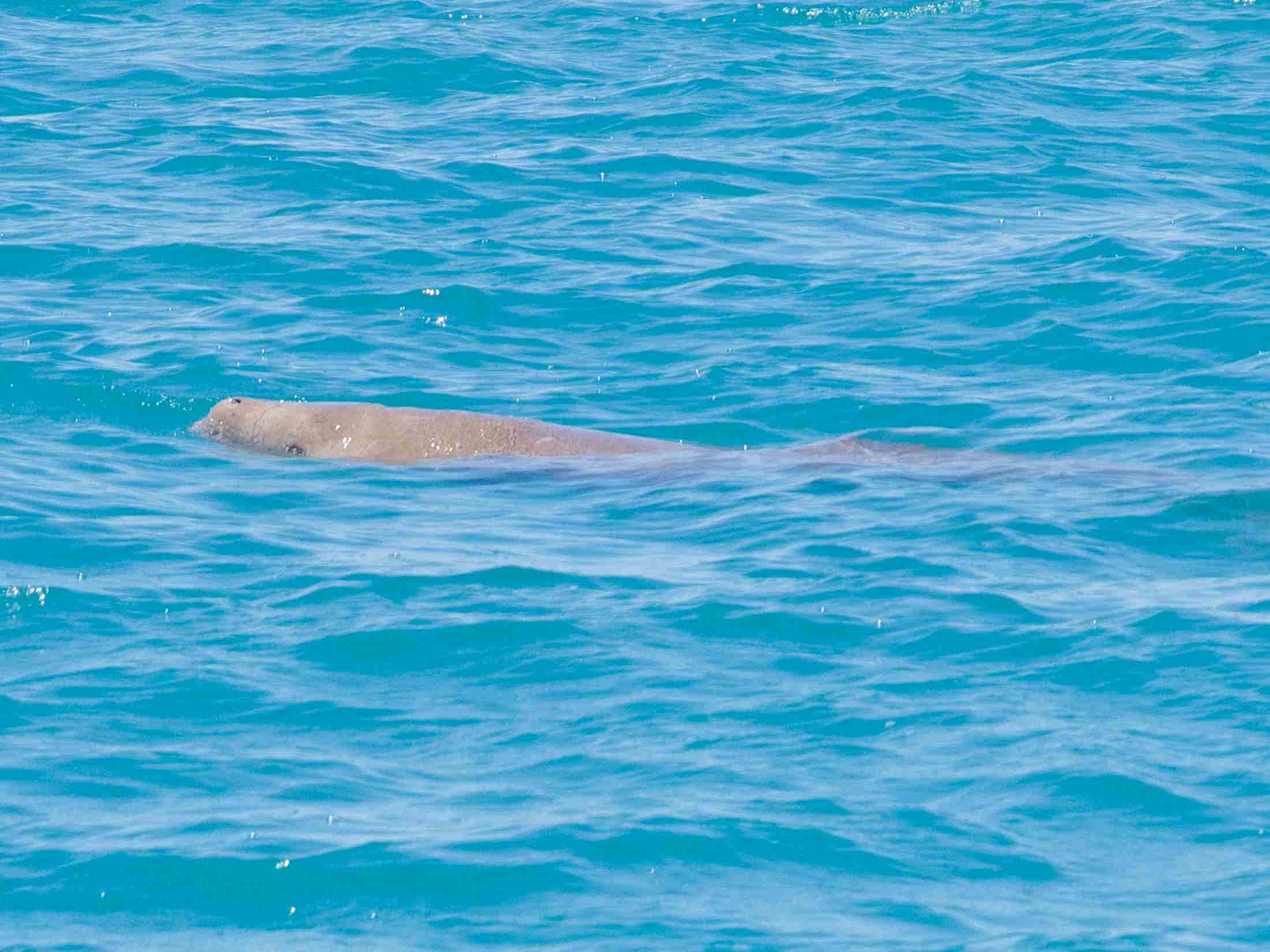 Than we went out to see the dugongs. WIth a chance of 50/50 we where prety lucky to see around four to five of them.
Dann fuhren wir raus um die Dugongs zu sehen. Mit einer Chance von 50/50 waren wir ziemlich Glücklich um die 4 bis 5 dieser Tiere zu sehen.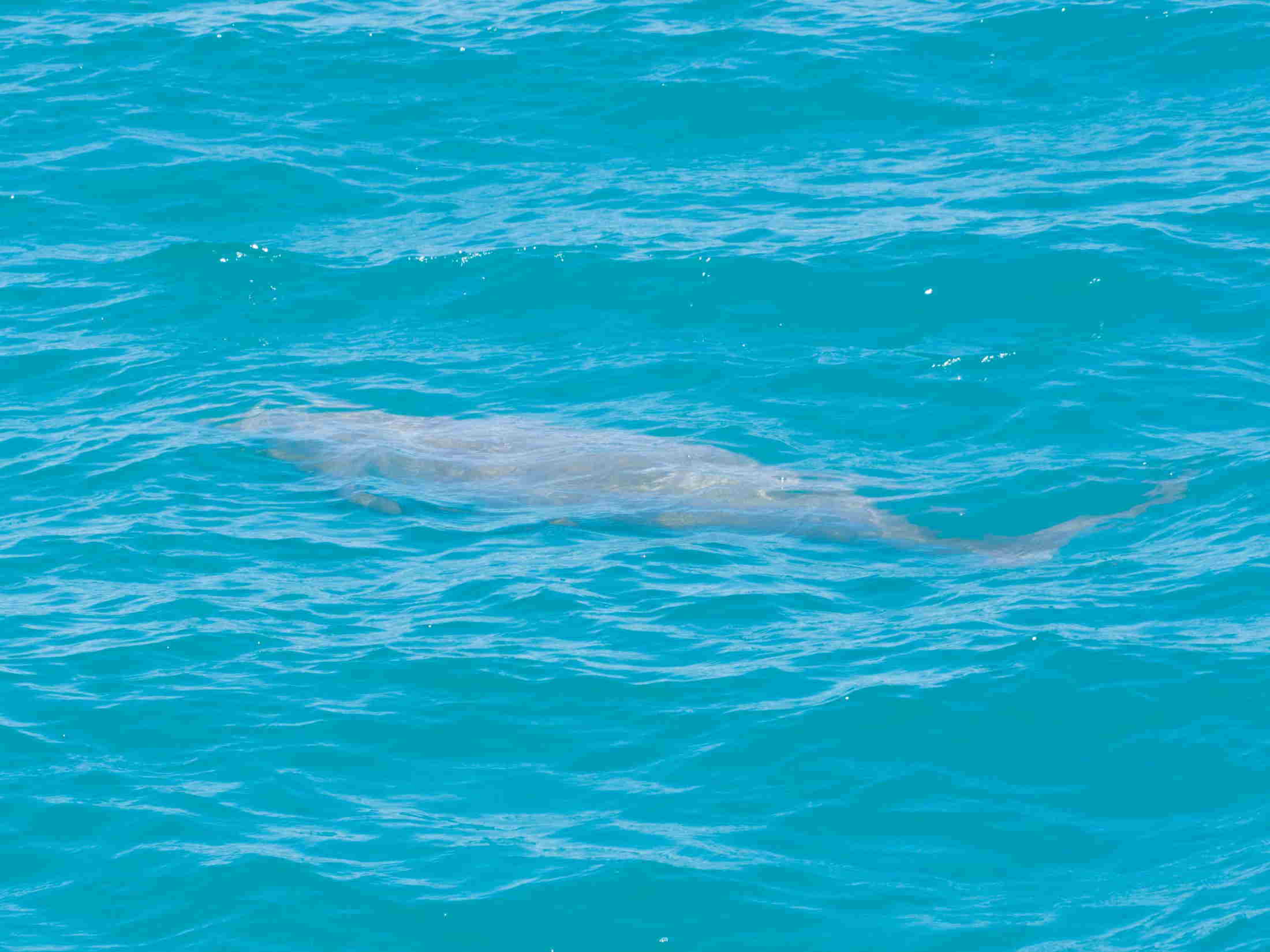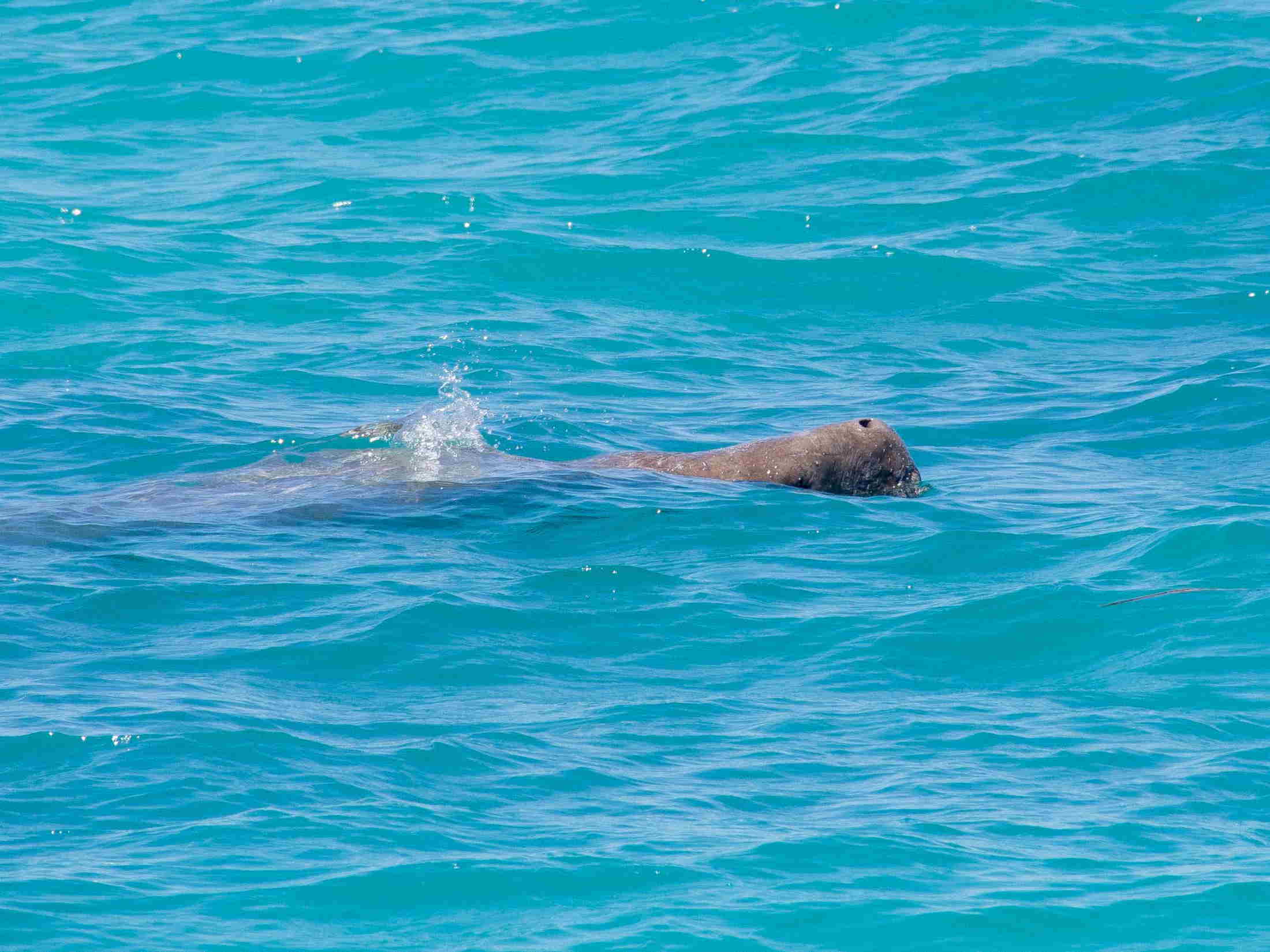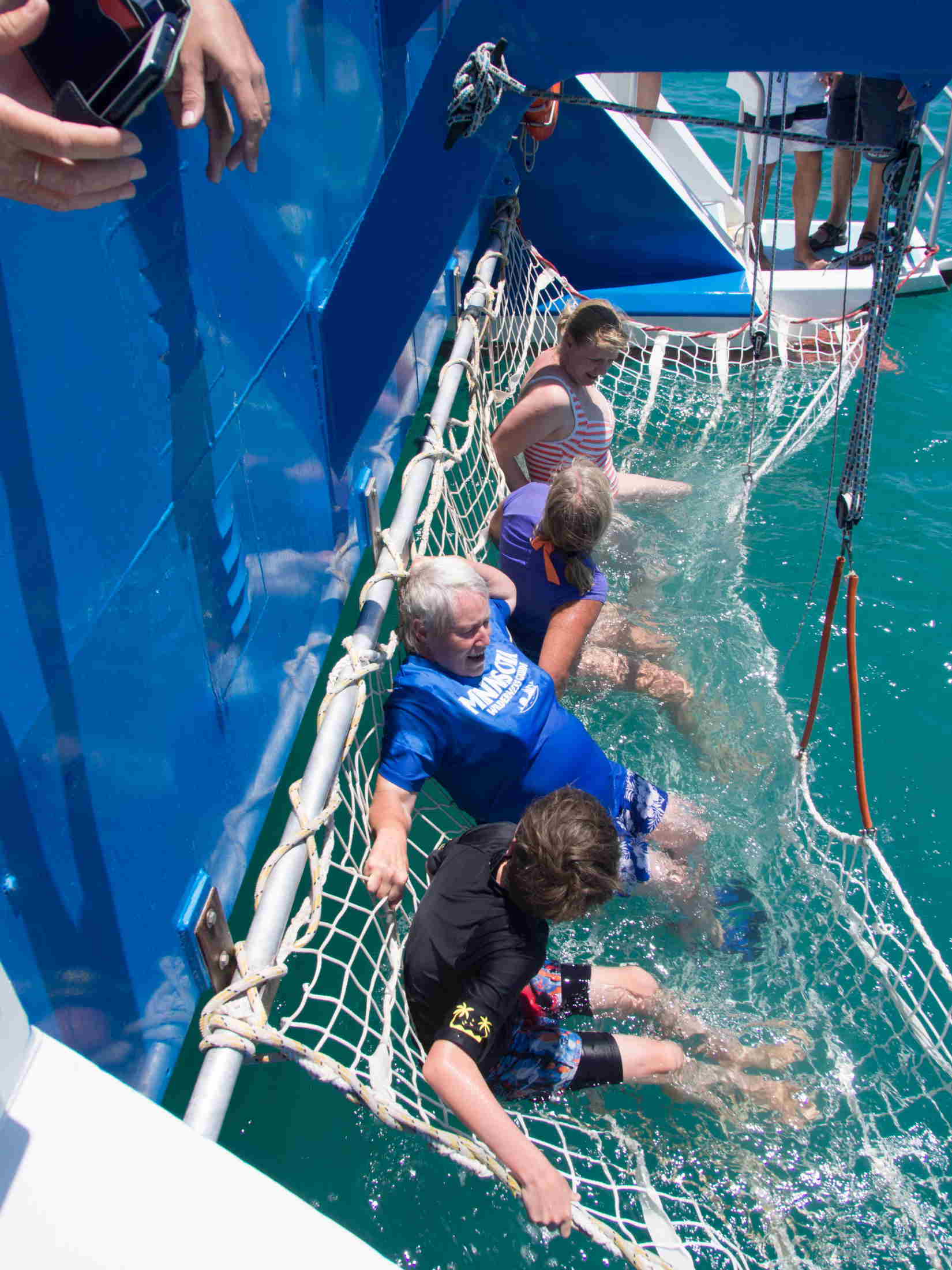 On the way back home the people could sit in the net in the back of the boat to get a slight refreshment.
Auf dem Weg zurück konnten die Leute in einem Netz an der Rückseite des Bootes sitzen um eine kleine Erfrischung zu bekommen.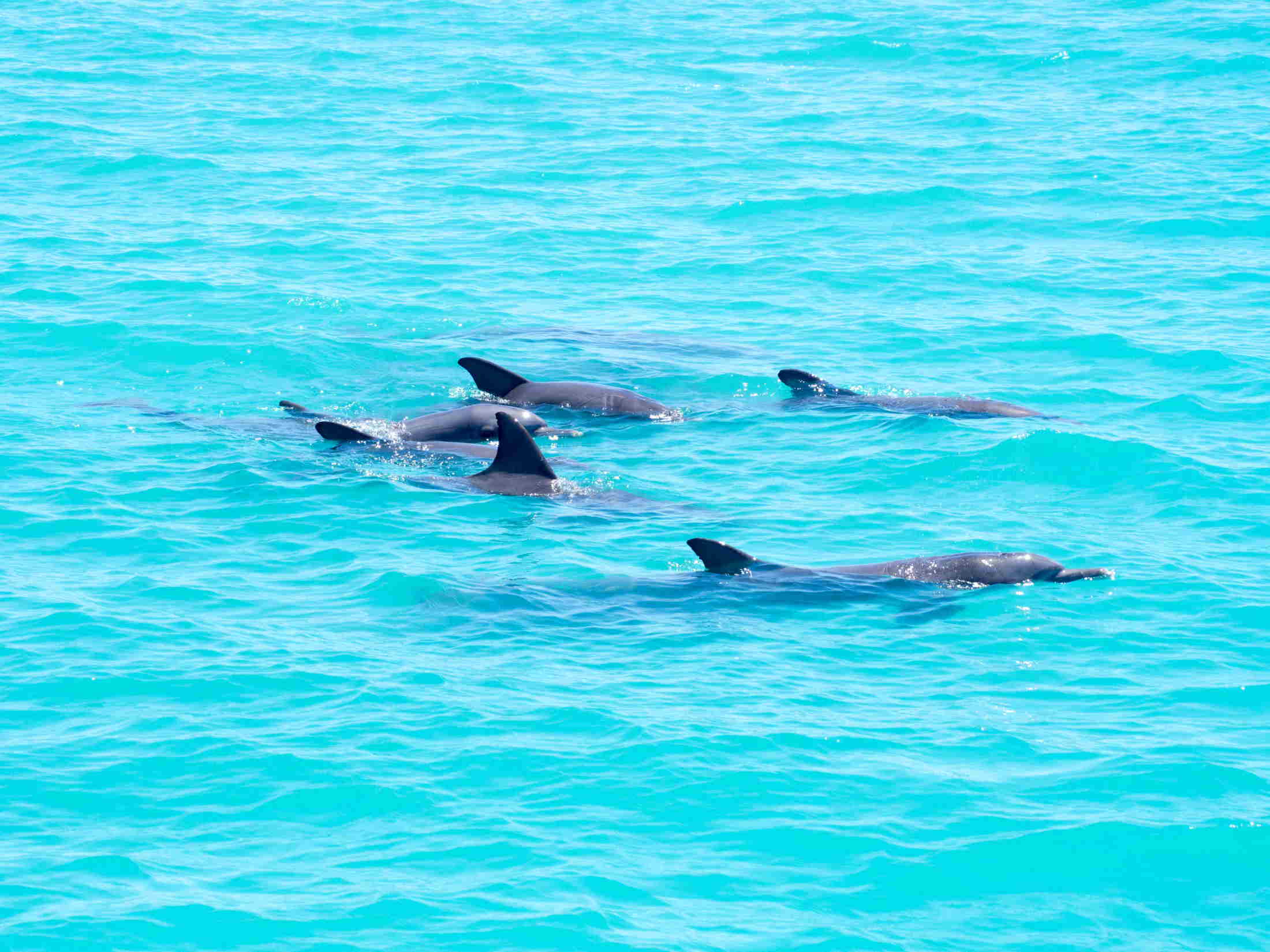 Again we meet some dolphins. For me it was interesting how close they swim together.
Wieder trafen wir auf eine Gruppe von Delphinen. Für mich war beeindruckend zu sehen wie dicht sie beieinander schwimmen.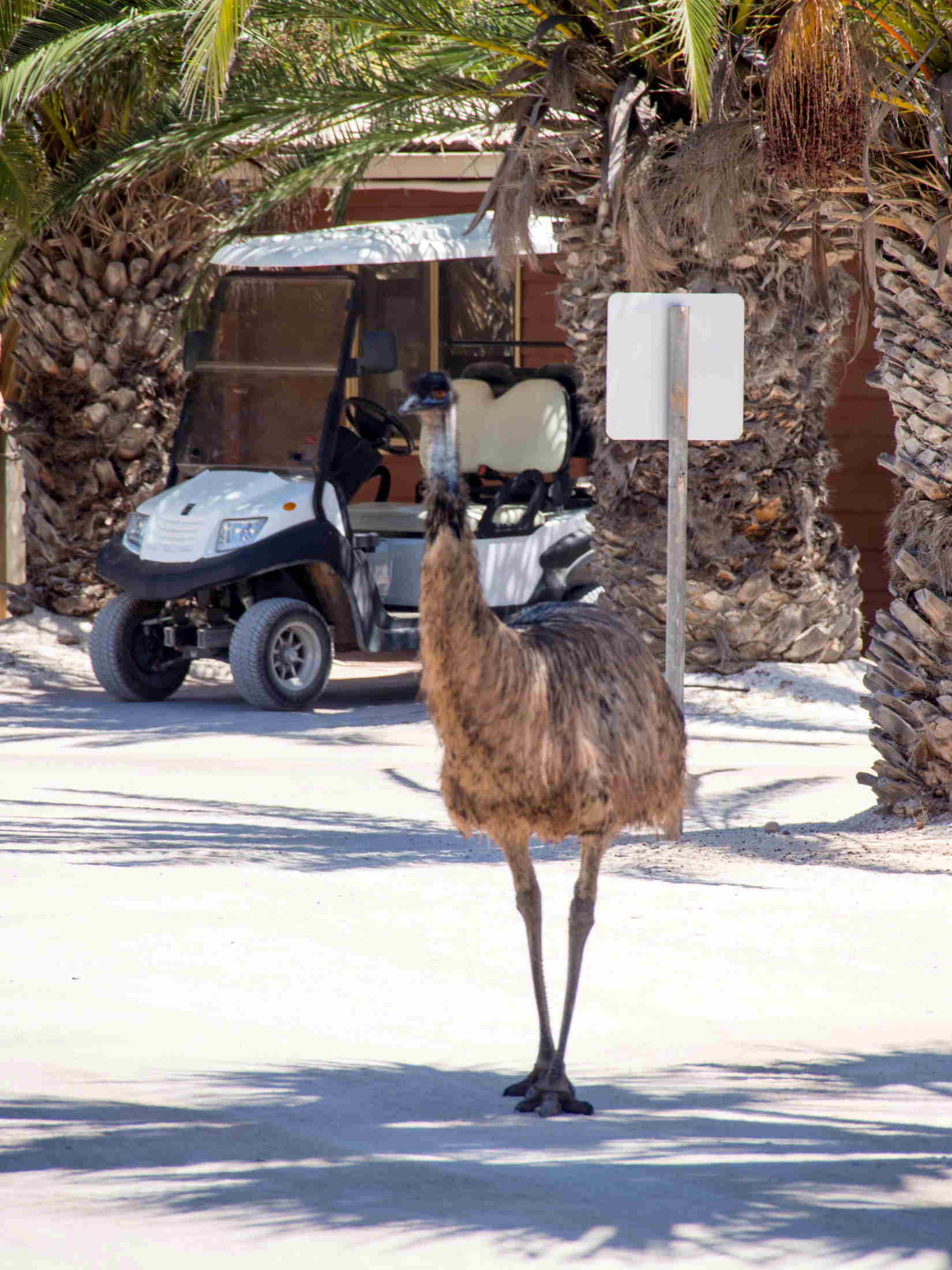 Back at Monkey Mia.
Zurück im Monkey Mia.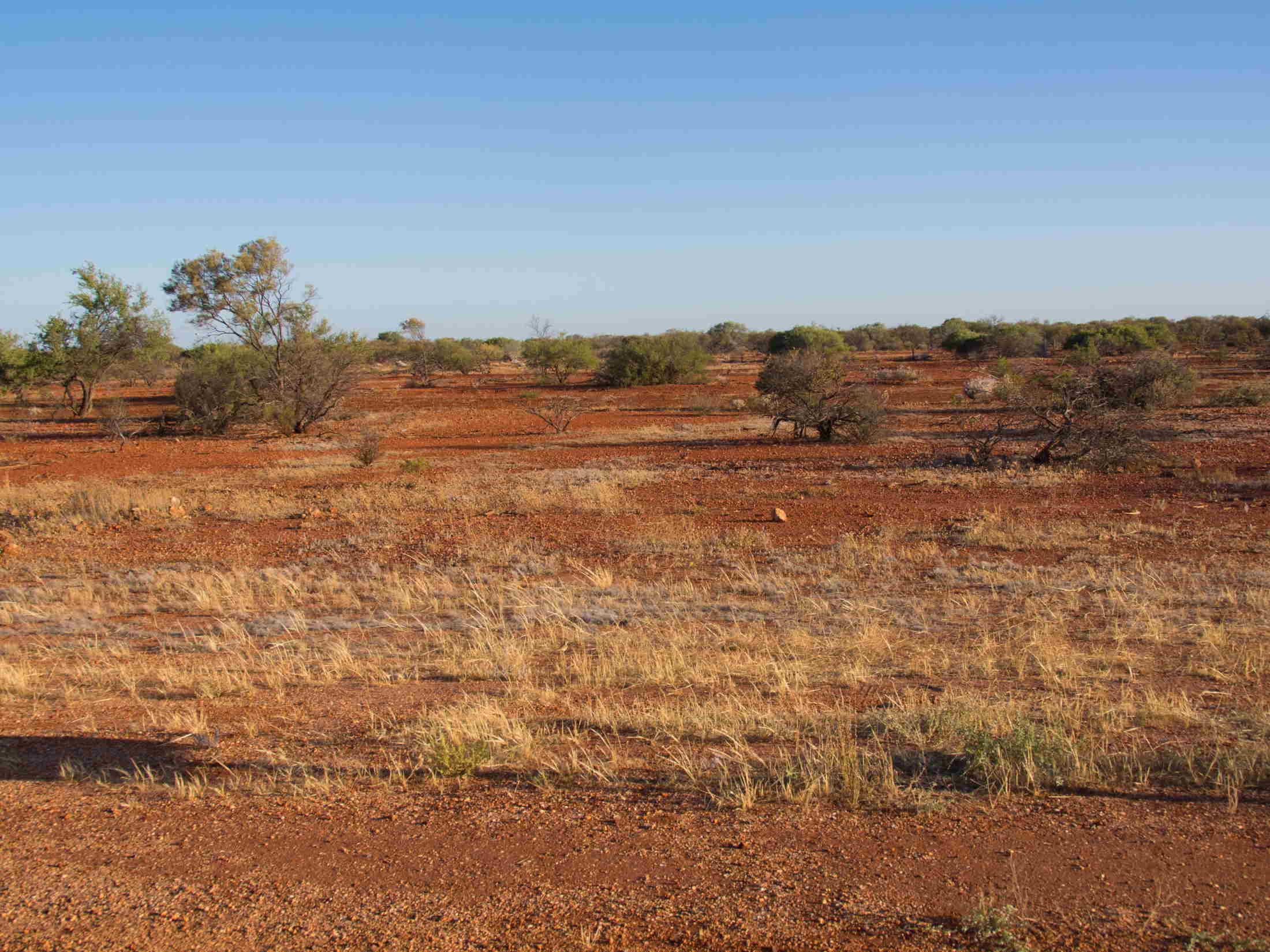 Out of Monkey Mia and back in the outback. On our way to Coral Bay. At this point also our travelmate Zohab left us. With her most of our food was gone... (thanks for that ;) ). This was probably what she called the "gipsy way" to travel. :P But yeah, you learn for life...
Raus aus dem Monkey Mia und zurück im Outback auf dem Weg nach Coral Bay. An dieser Stelle verließ und auch unsere Reisegefährtin Zohab. Mit ihr verließ uns auch das meiste unseres Essens... (danke an der Stelle!). Das ist wohl was sie mit "Zigeunerart zu Reisen" meinte. :P Aber gut, man lernt fürs Leben...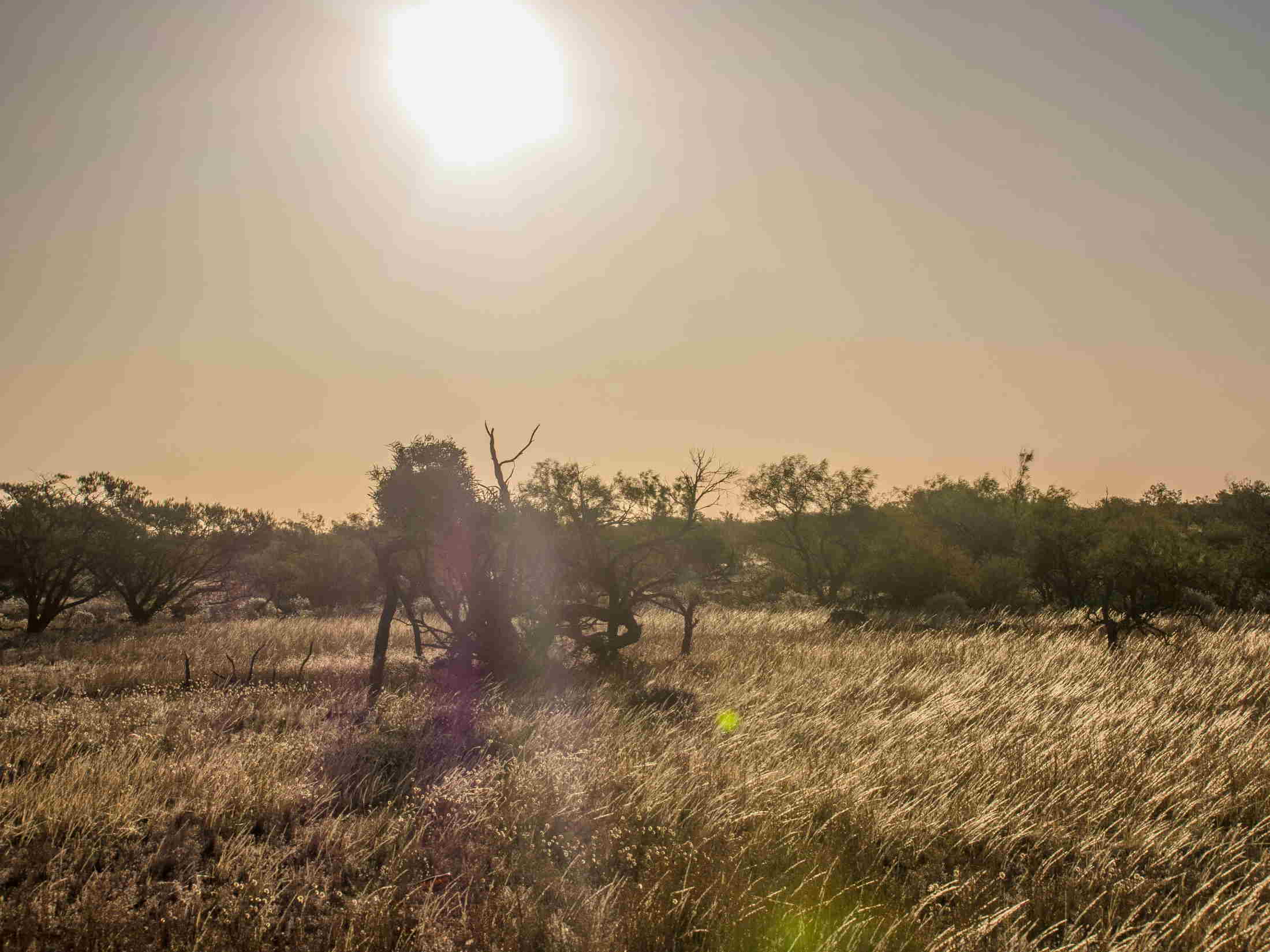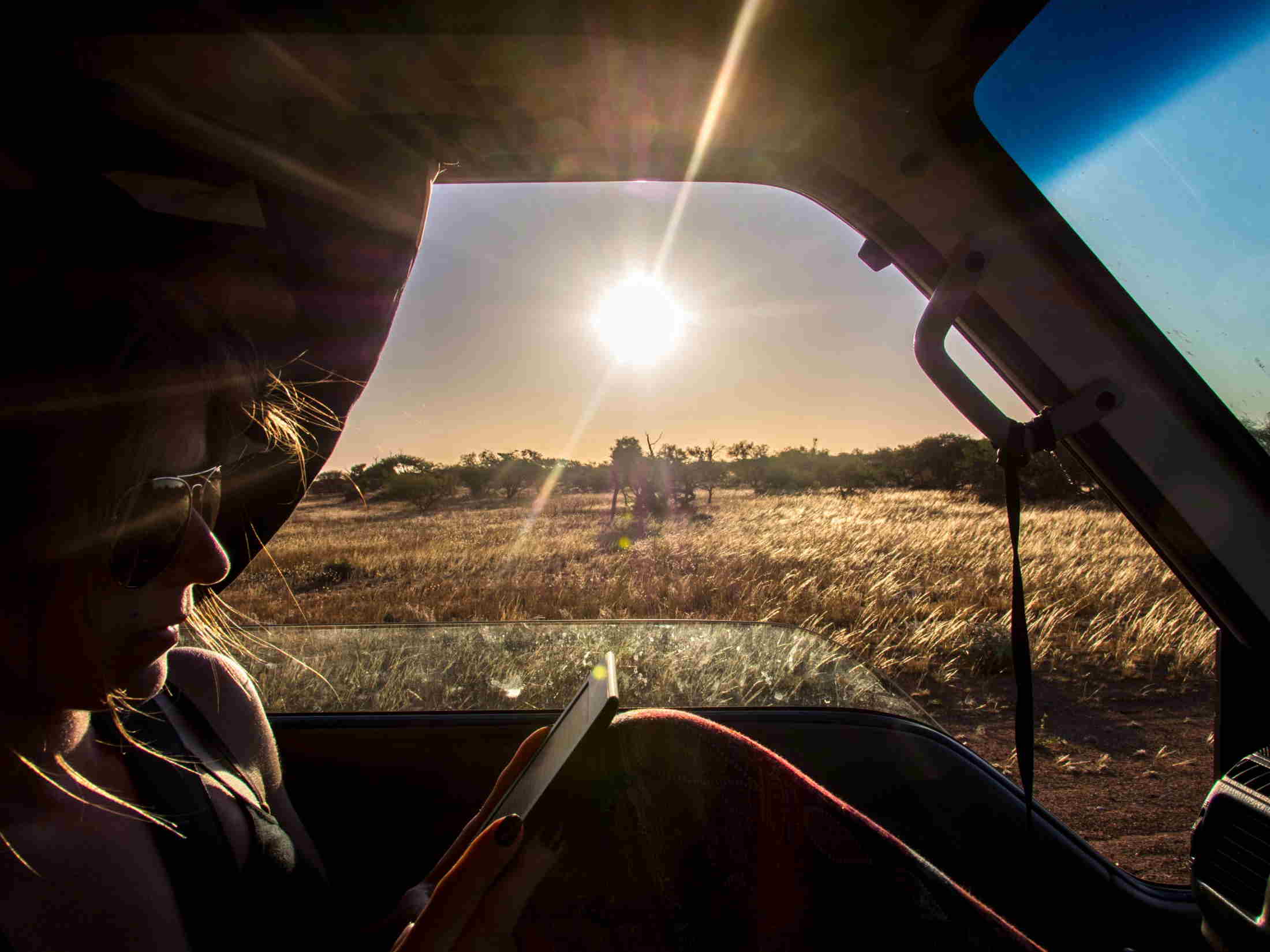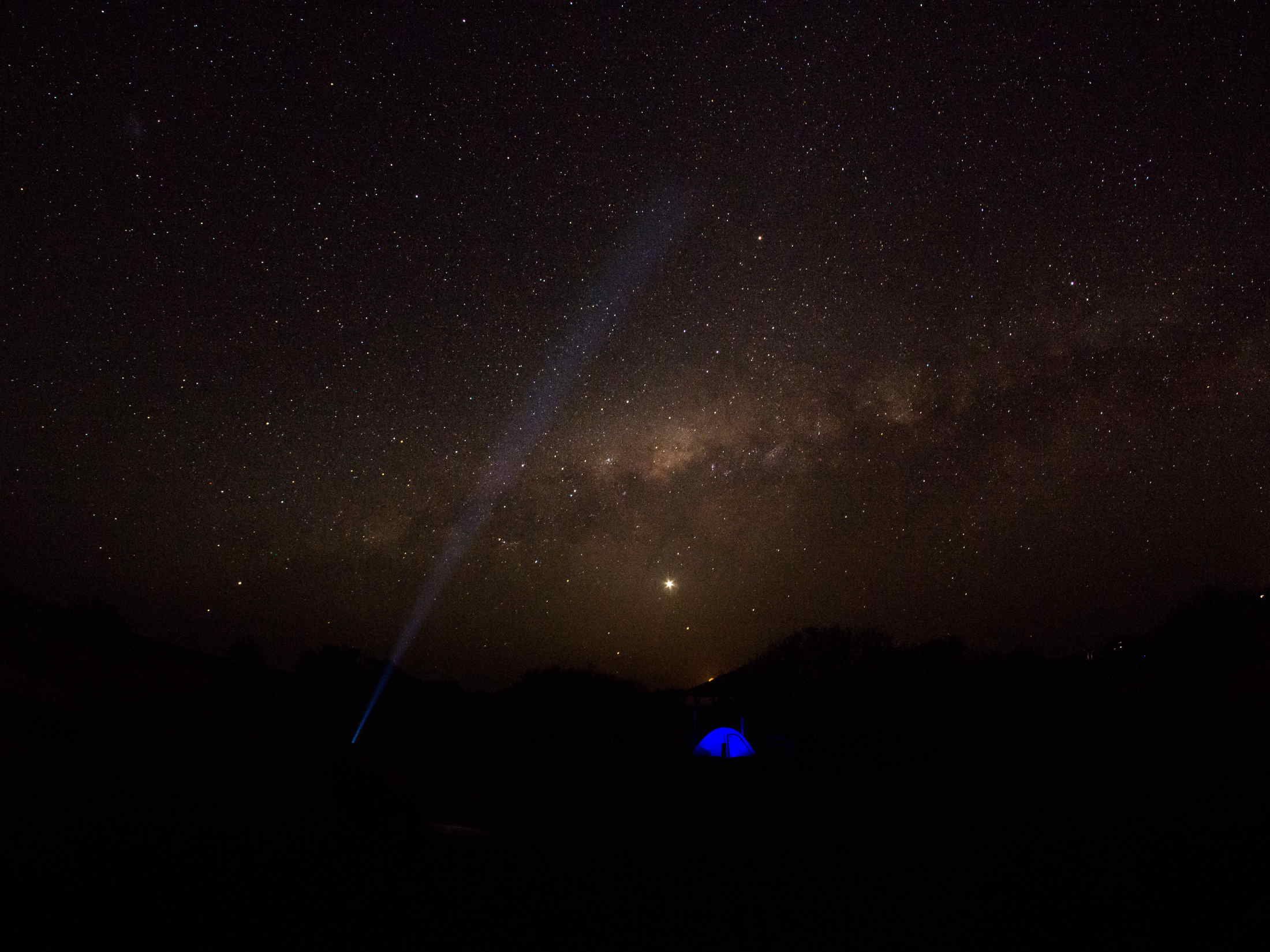 Here a bit of "astrophotography. :)
Hier ein bisschen Astrofotografie. :)
Arrived in Coral Bay I did a manta ray snorcheling tour. They had a spotter plain to see where the manta's are. This was a really amazing experience! Here some nice videos from the snorchle. Thanks to Thorsten for the Videos.
Angekommen in Coral Bay machte ich eine Manta Ray Schnorchel Tour. Sie hatten Suchflugzeuge um die Mantas zu finden. Wieder eine wirklich beeindruckende Erfahrung! Hier ein paar Videos vom Schnorcheln. Danke für die Videos an Thorsten!
Here you can see some sharks in a cleaner station, where they got cleaned by smaller fishes.
Hier sieht man einige Haie in einer Putzstation, wo sie von kleineren Fischen gesäubert wurden.

Here the manta rays cyceling under us. Two male following a female. So amazing to see those majestetic animals so close!
Hier kreisen die Manta Rochen unter uns. Zwei Männchen folgen einem Weibchen. So beeindruckend diese majesthetischen Tiere so nah zu erleben!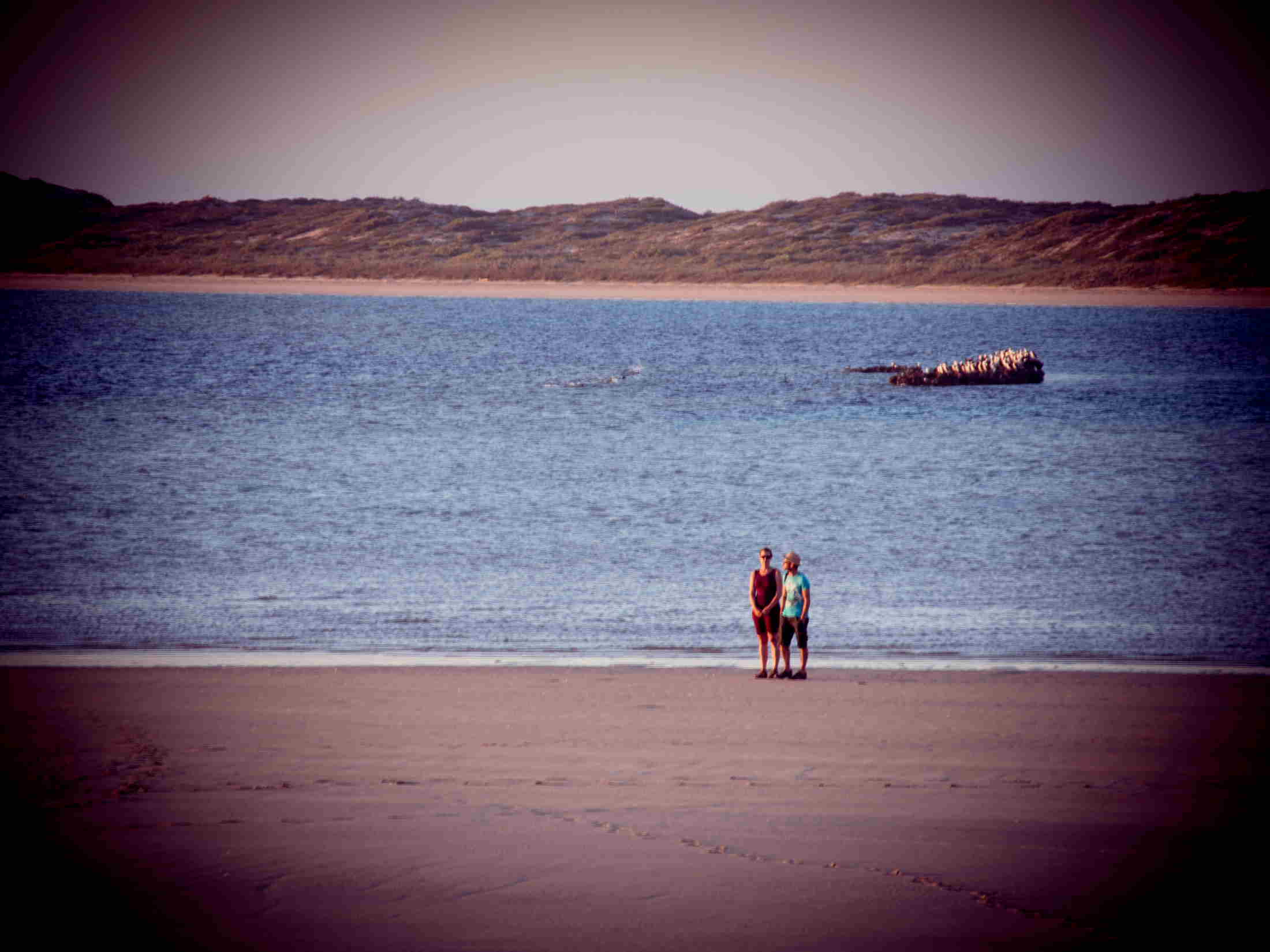 Thorsten and Esther at the beach.
Thorsten und Esther am Strand.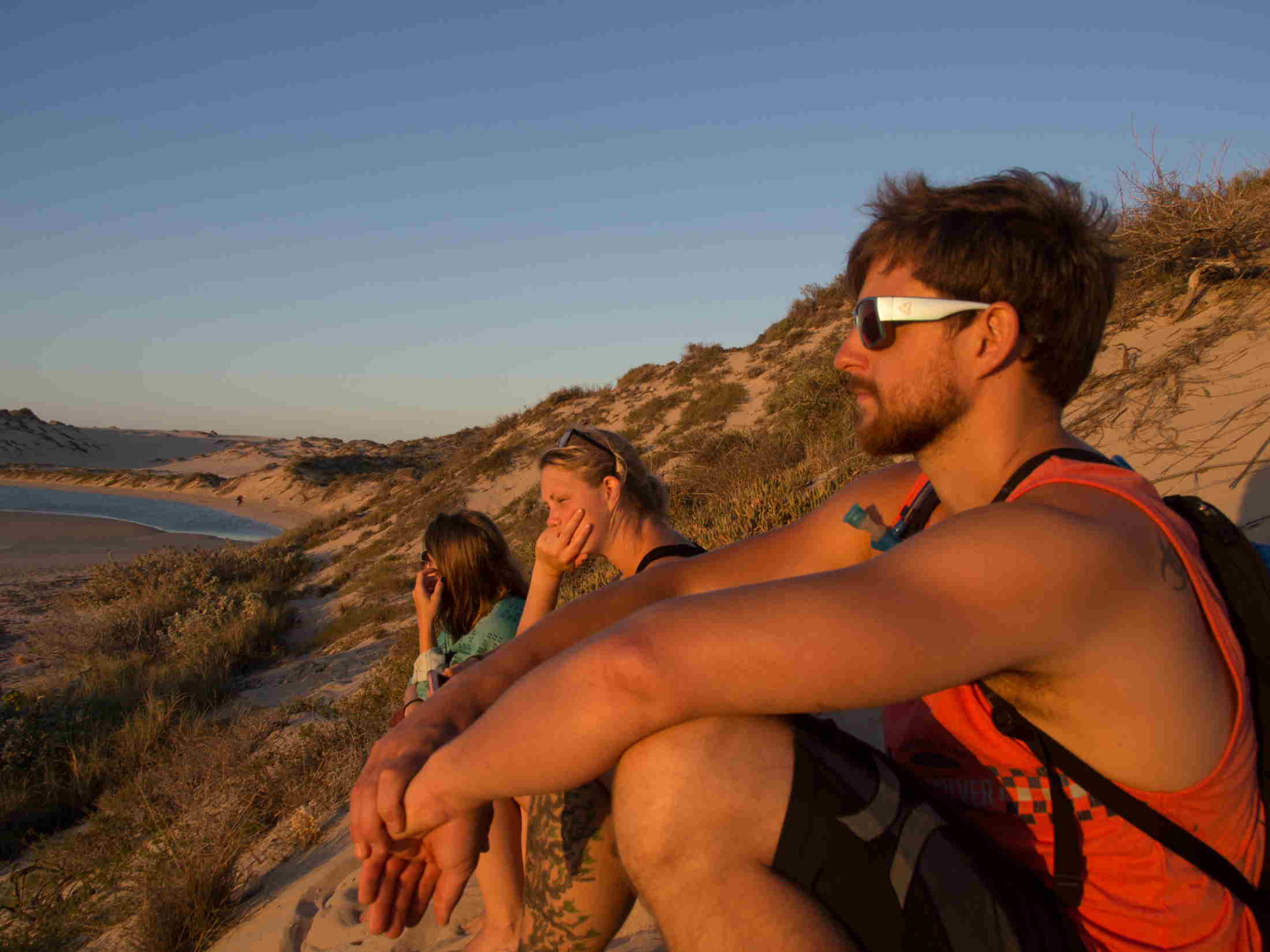 First time that the Karinjini Gang sits together! From that day on we have been two weeks together on the road - Anna, Nicole, Iain and me.
Das erste mal das die Karinjini Gang zusammen sitzt! Von diesem Tag an waren wir zwei wochen zusammen unterwegs - Anna, Nicole, Iain und ich.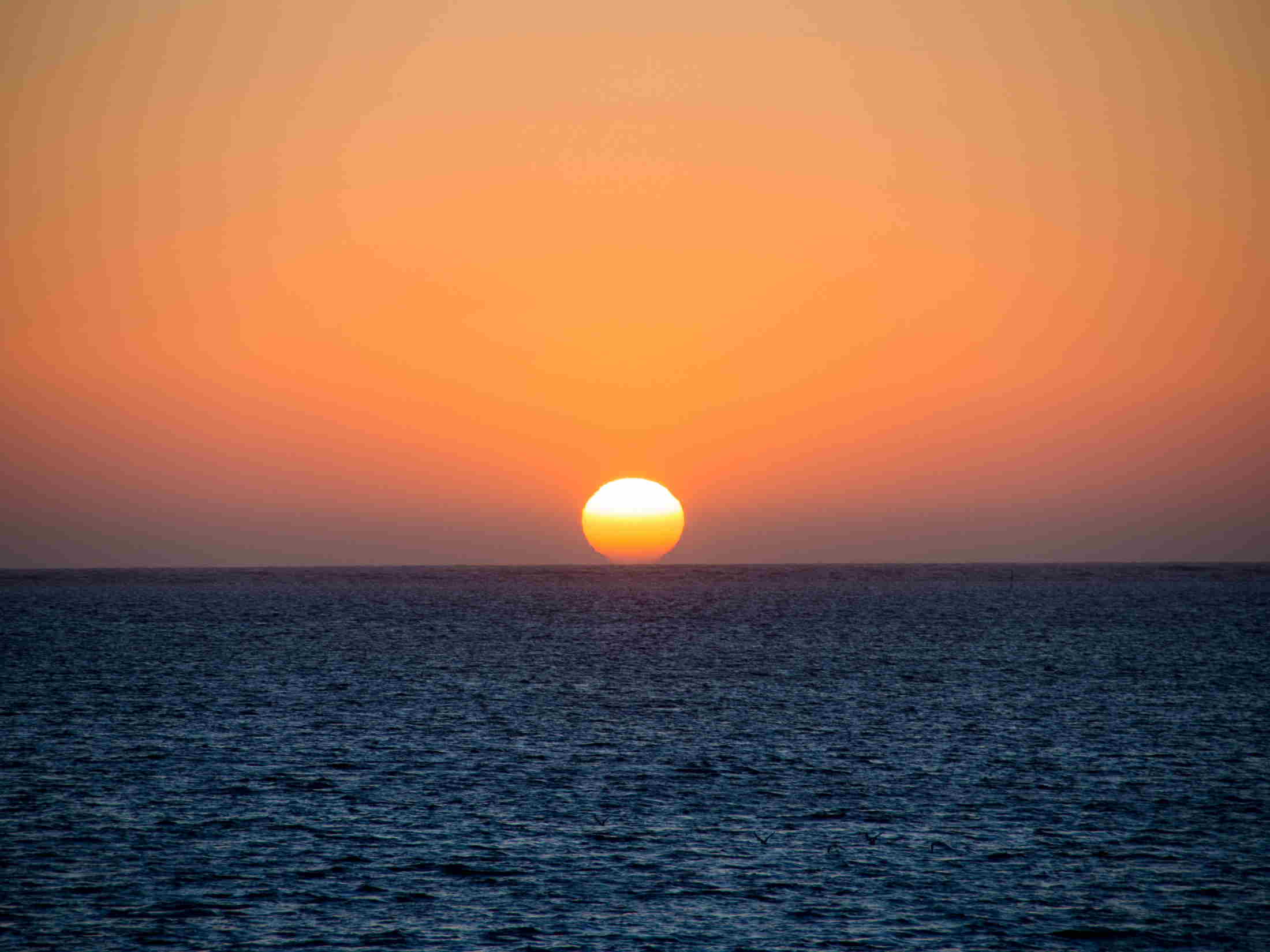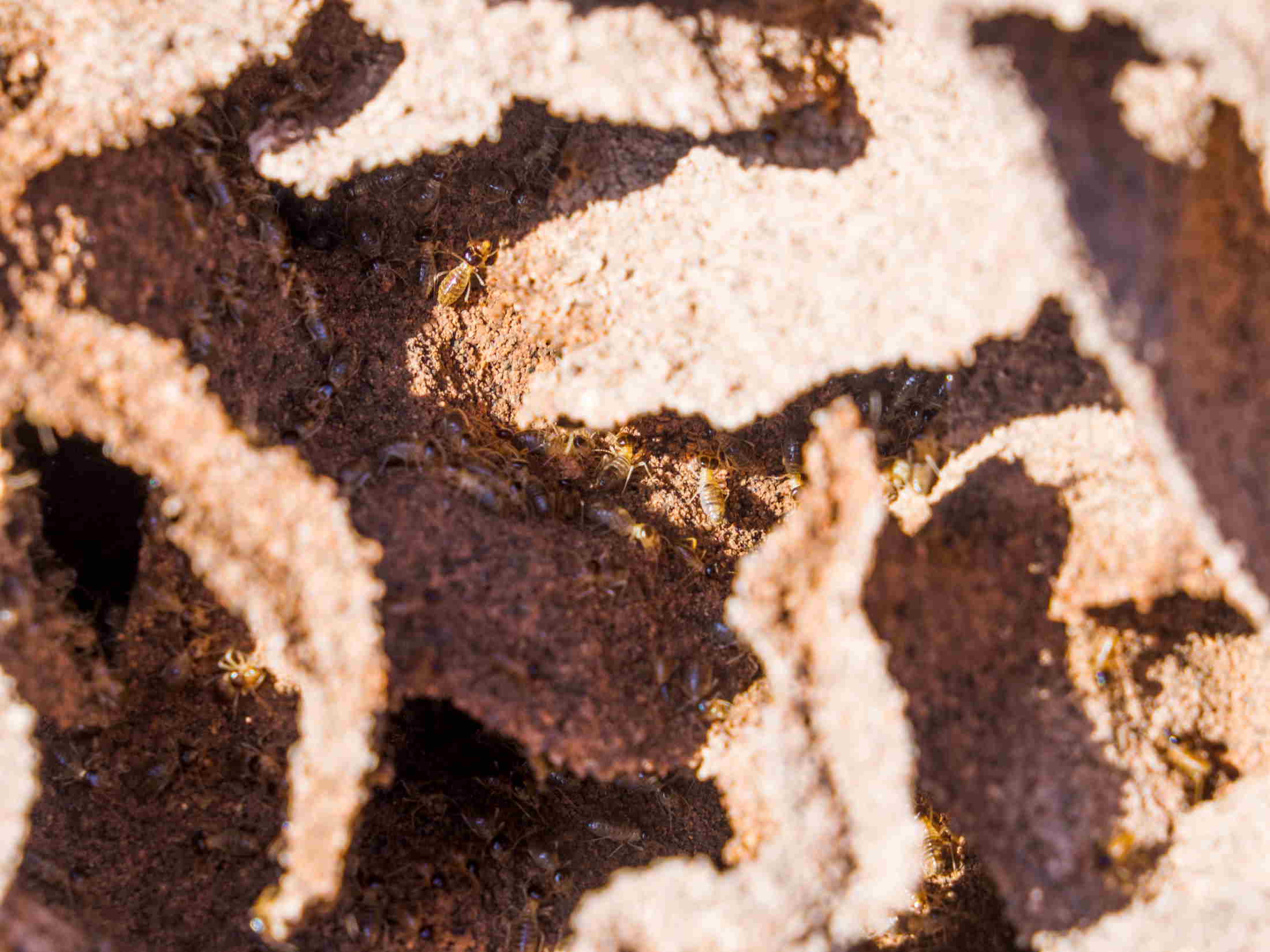 Photo into a termitarium (I just looked the word up and choose this one, as it sounds redicolus :D ).
Foto in einen Termitenbau.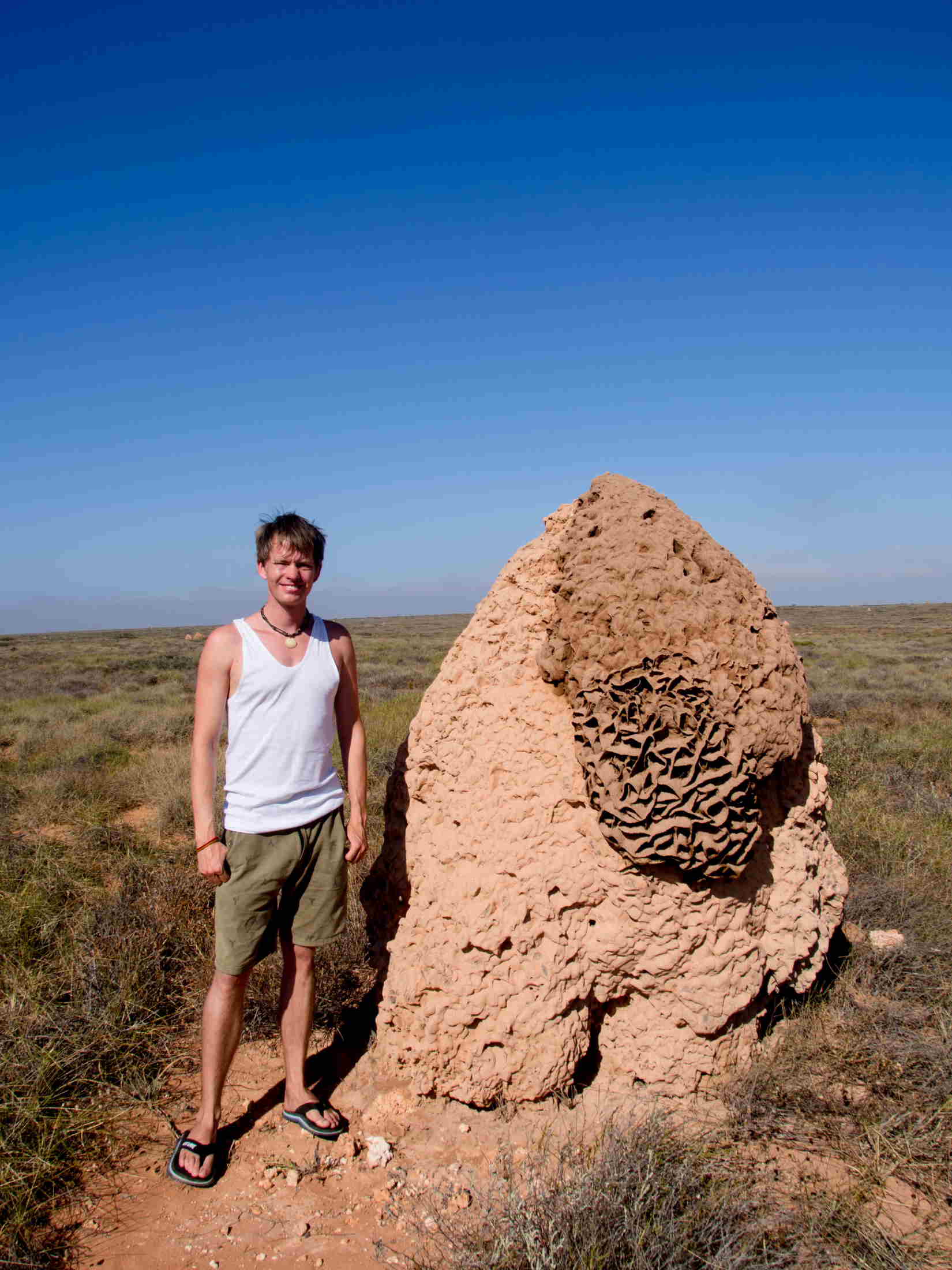 Me with the out of bed look next to the termitarium.
Ich in meinem "out of bed" look neben dem Termiten Bau.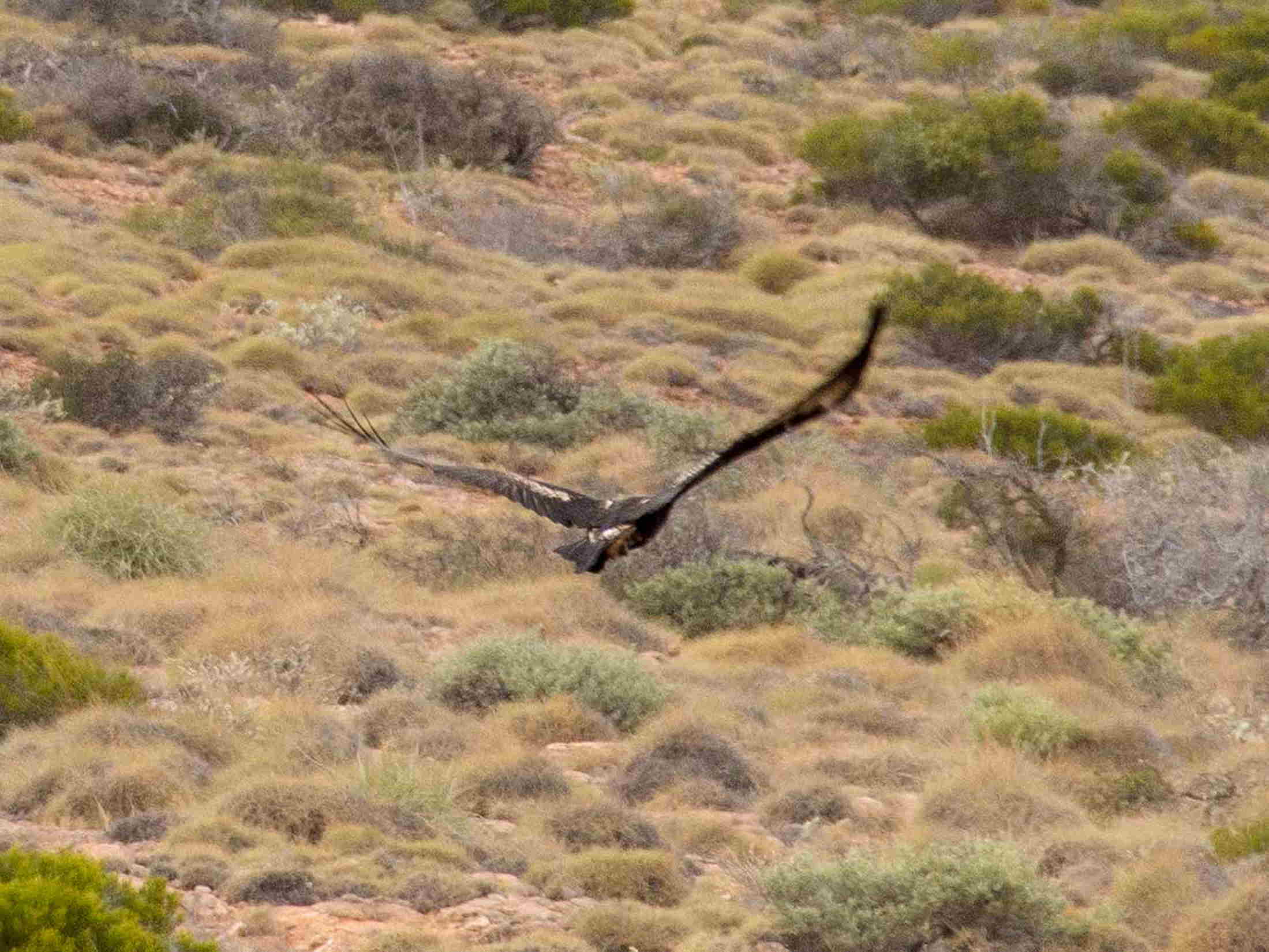 A big hawk.
Ein großer Adler.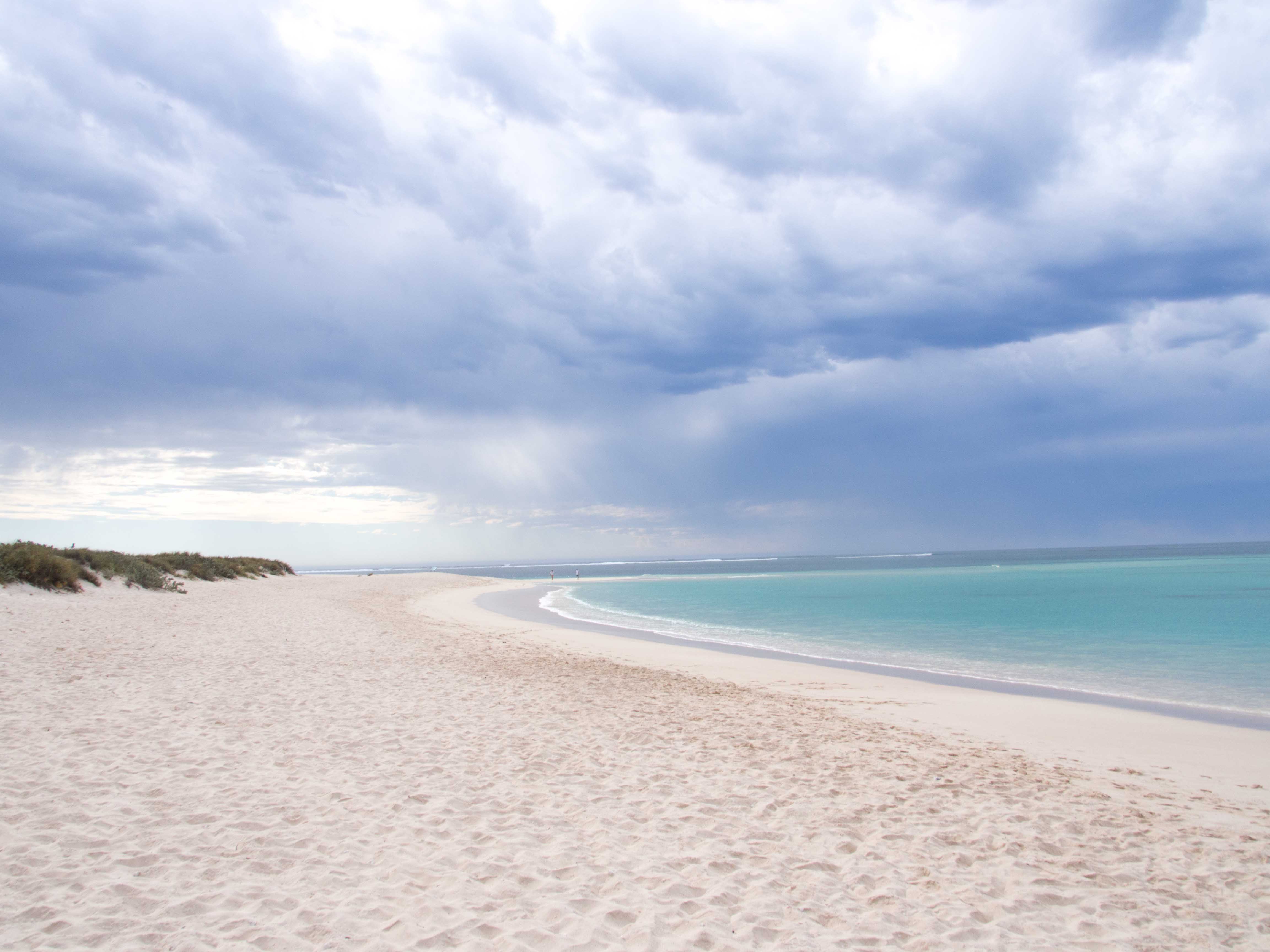 Exmouth beaches!
Strände von Exmouth!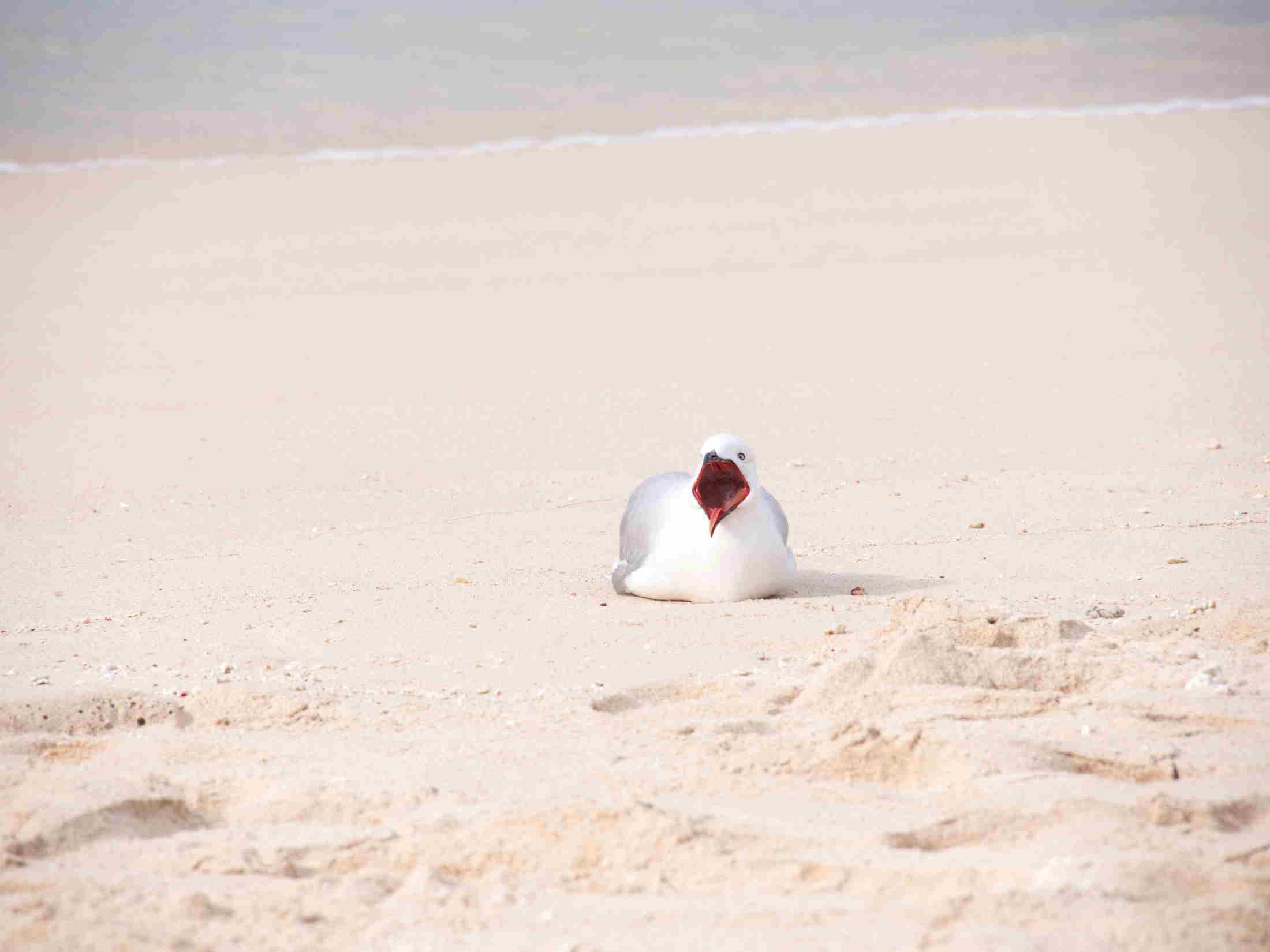 A place to relaxee for everybody....
Ein Platz zum Entspannen für jedermann....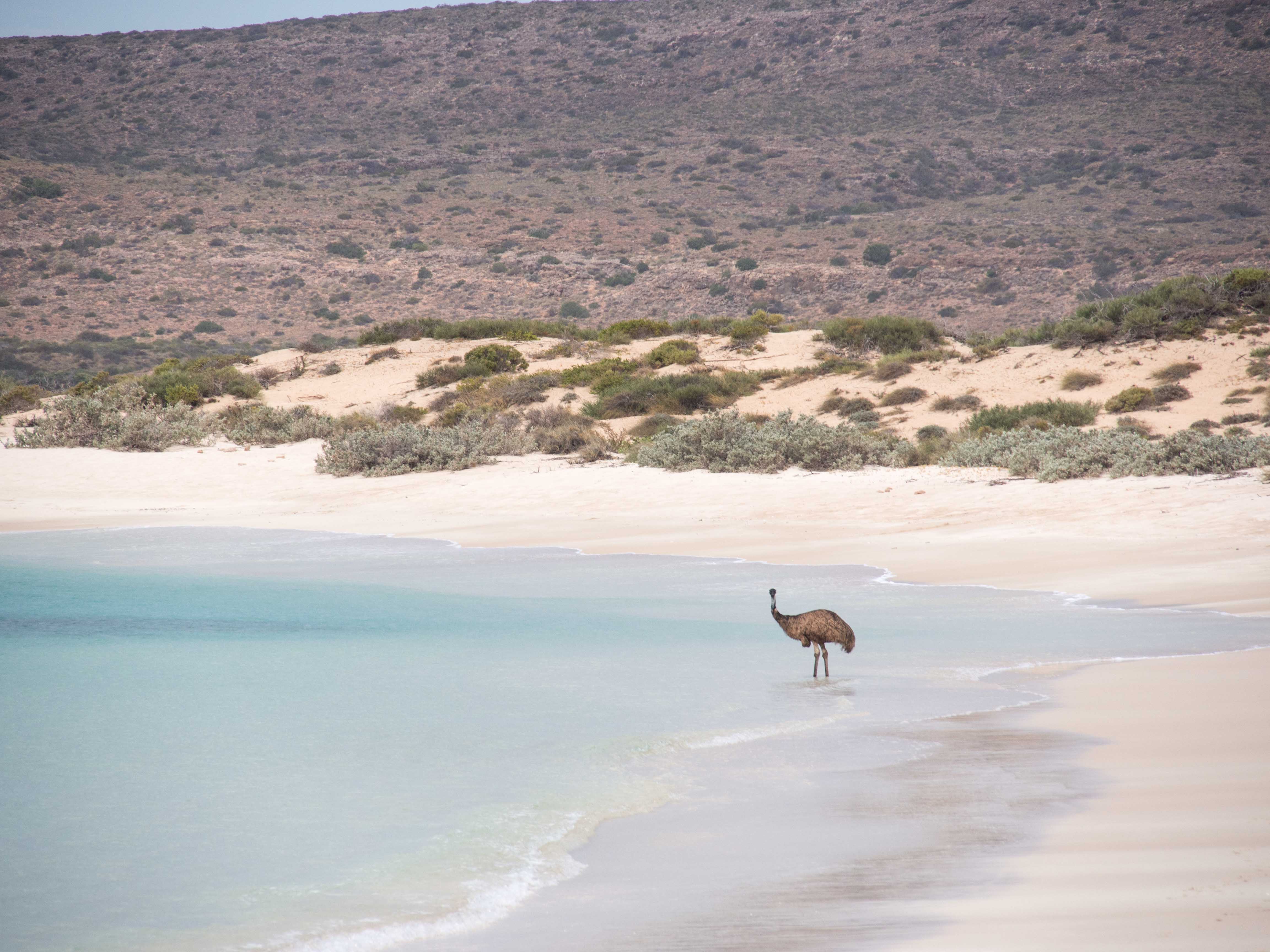 ...really everyone!
...wirklich jedermann!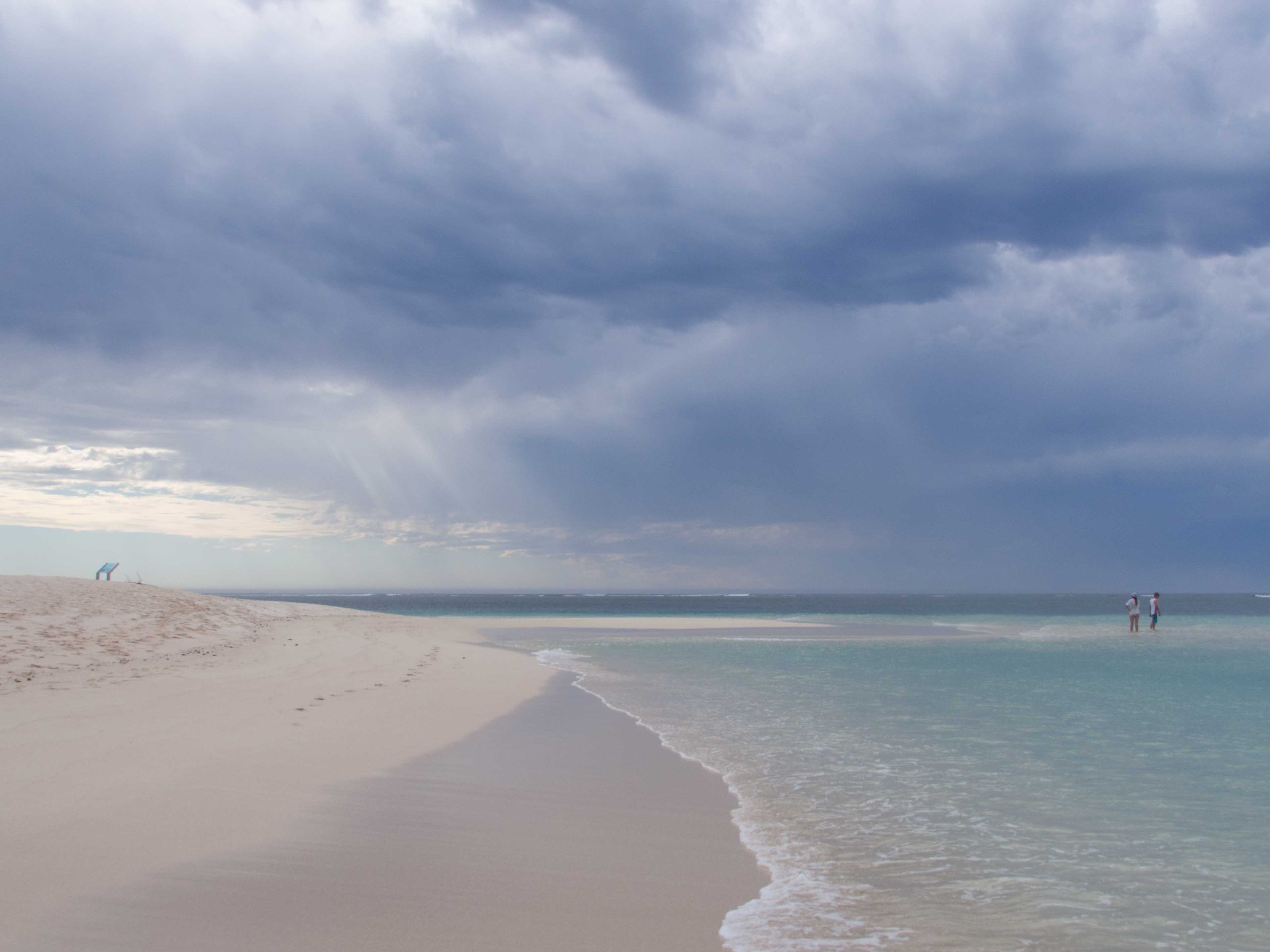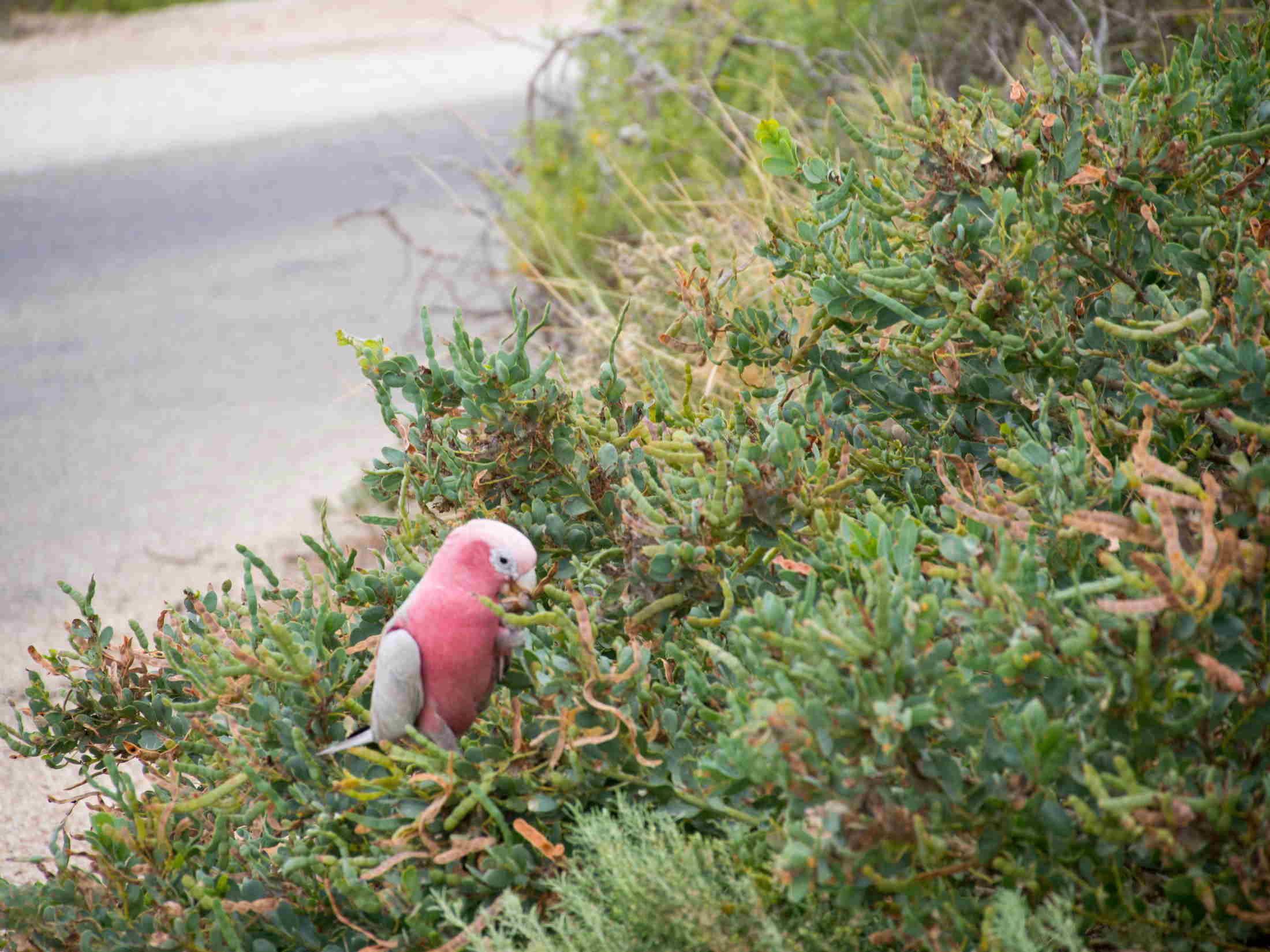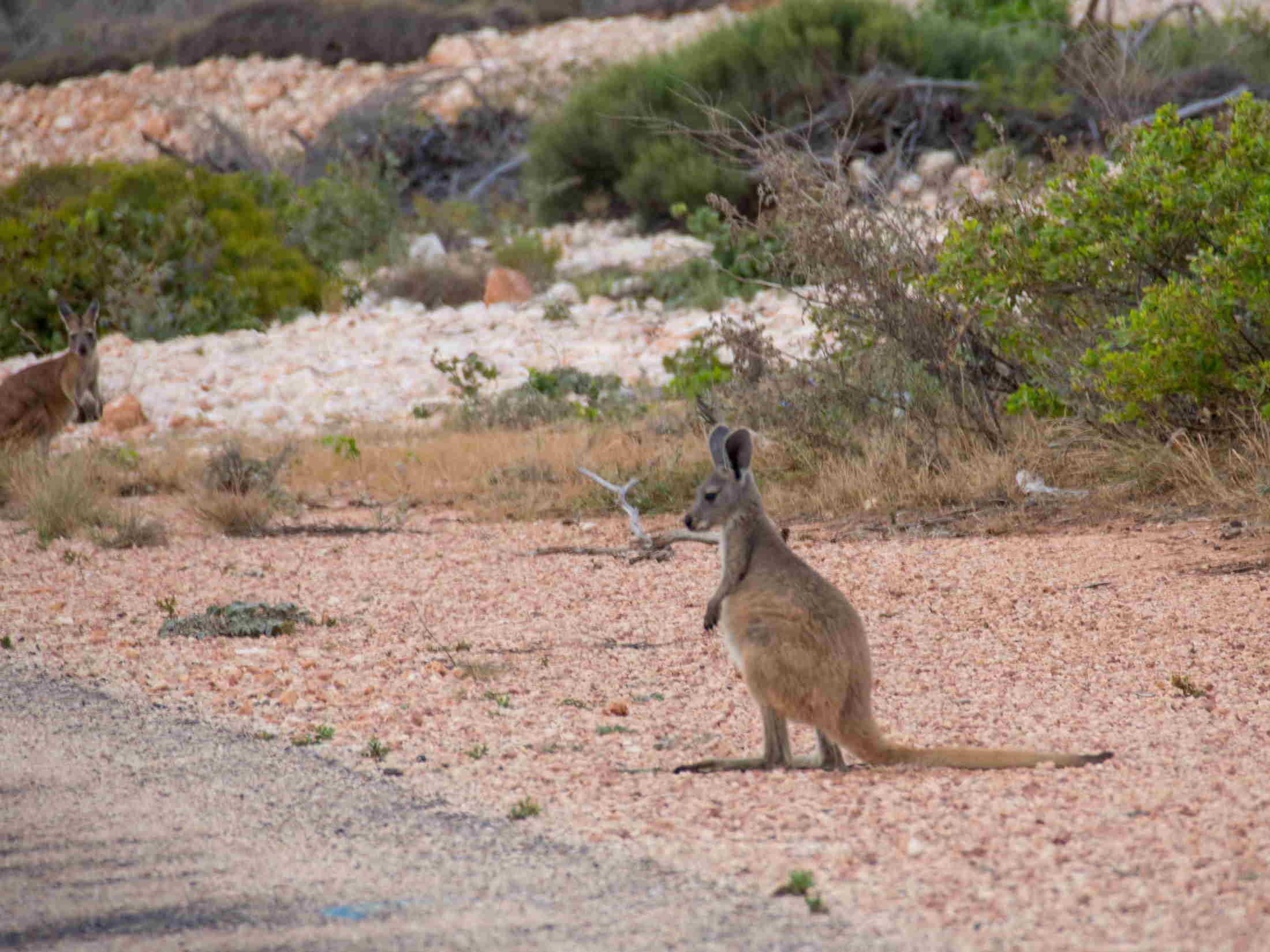 Kangaroh baby... oooohhhh :)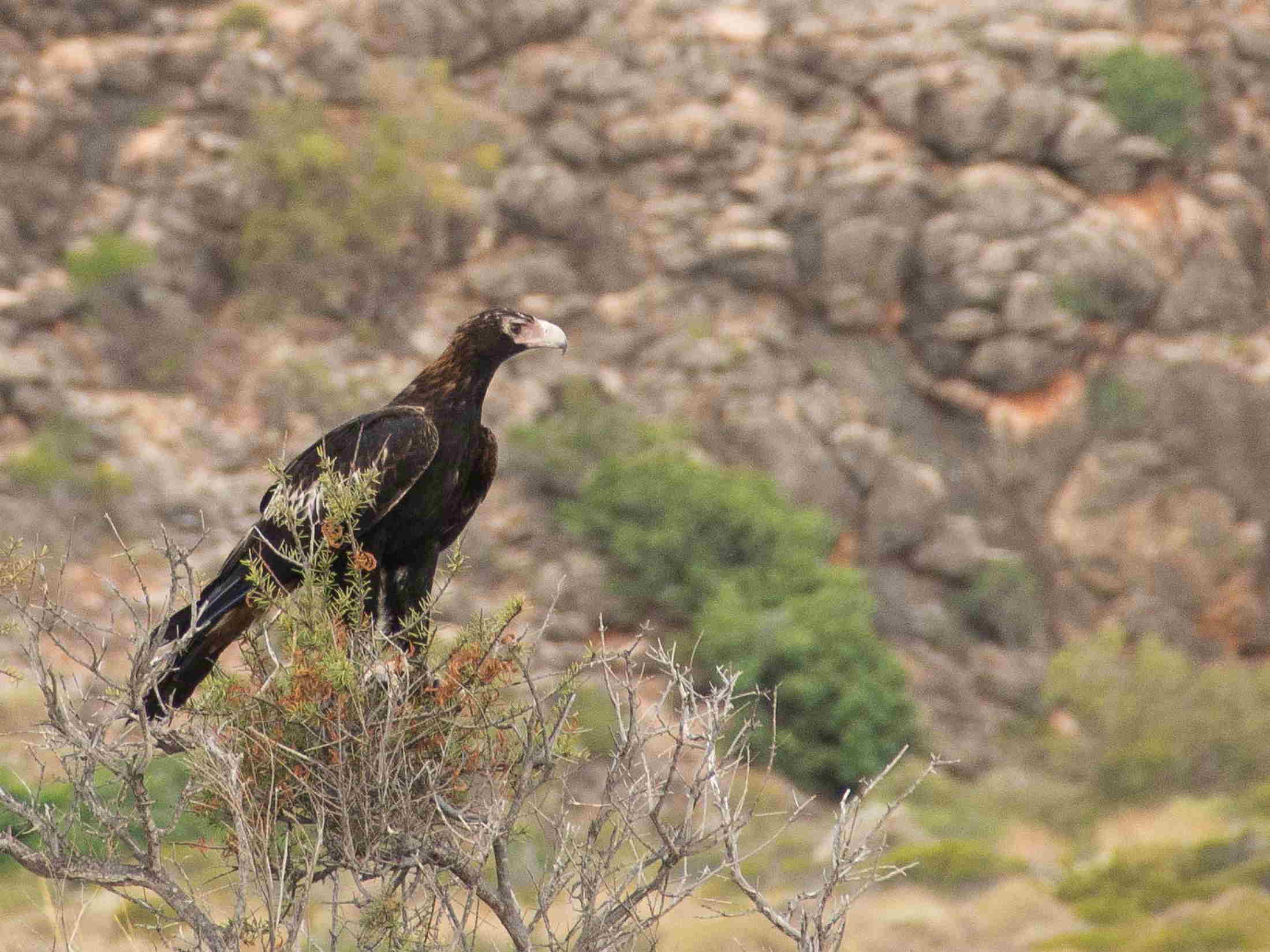 So impressive!
So beeindruckend!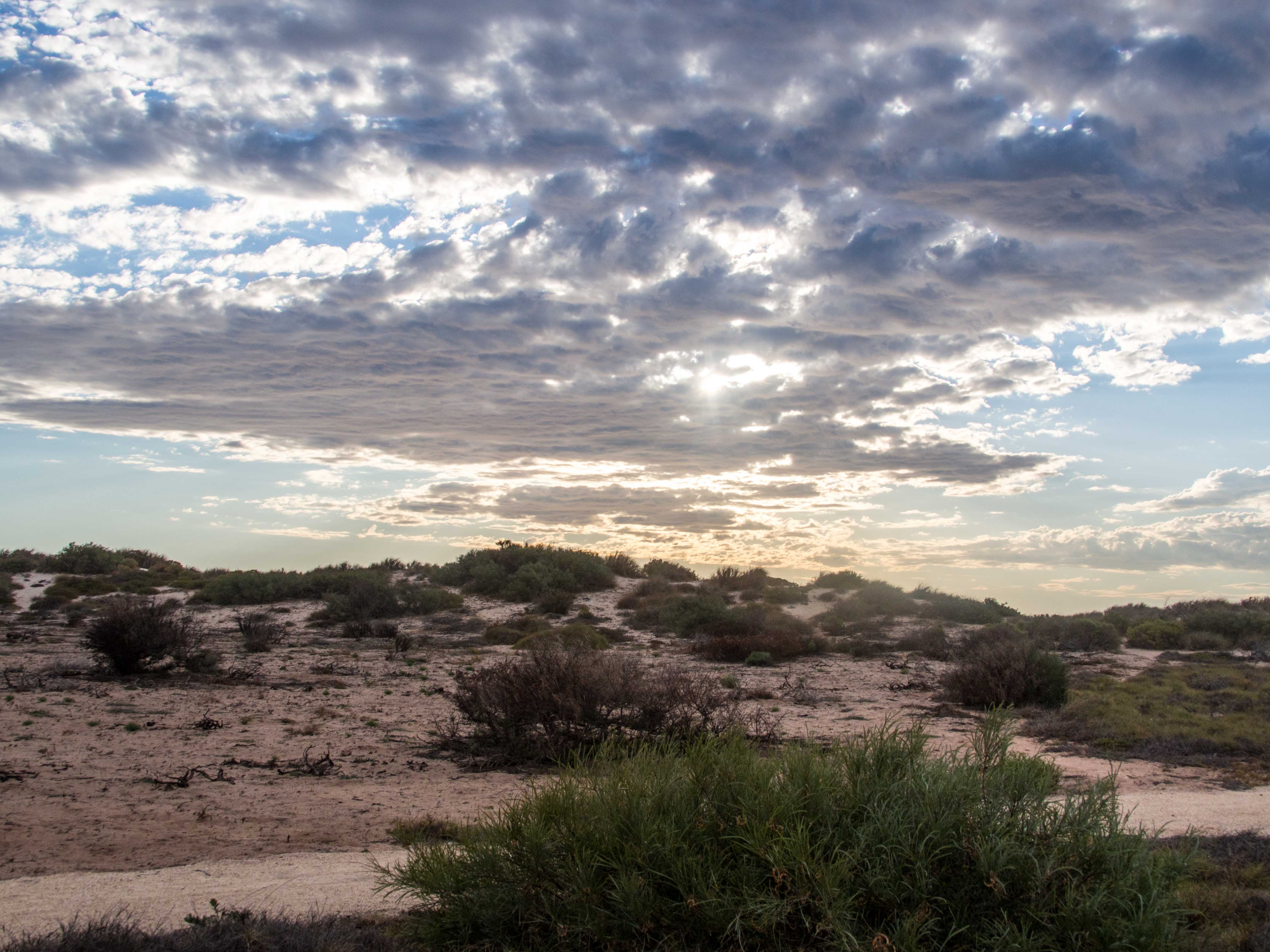 Sunset on our spot in Exmouth.
Sonnenuntergang über unserem Platz in Exmouth.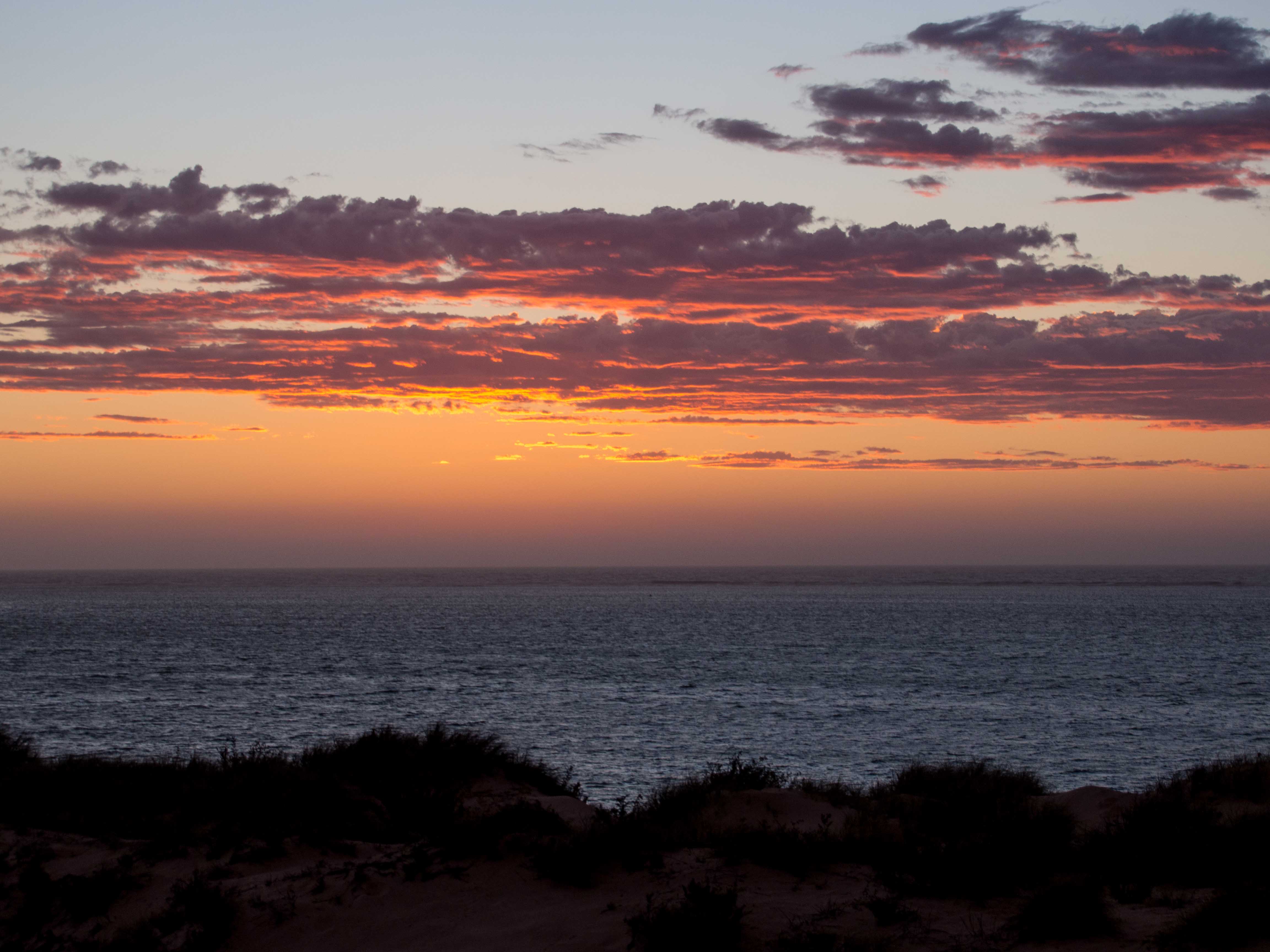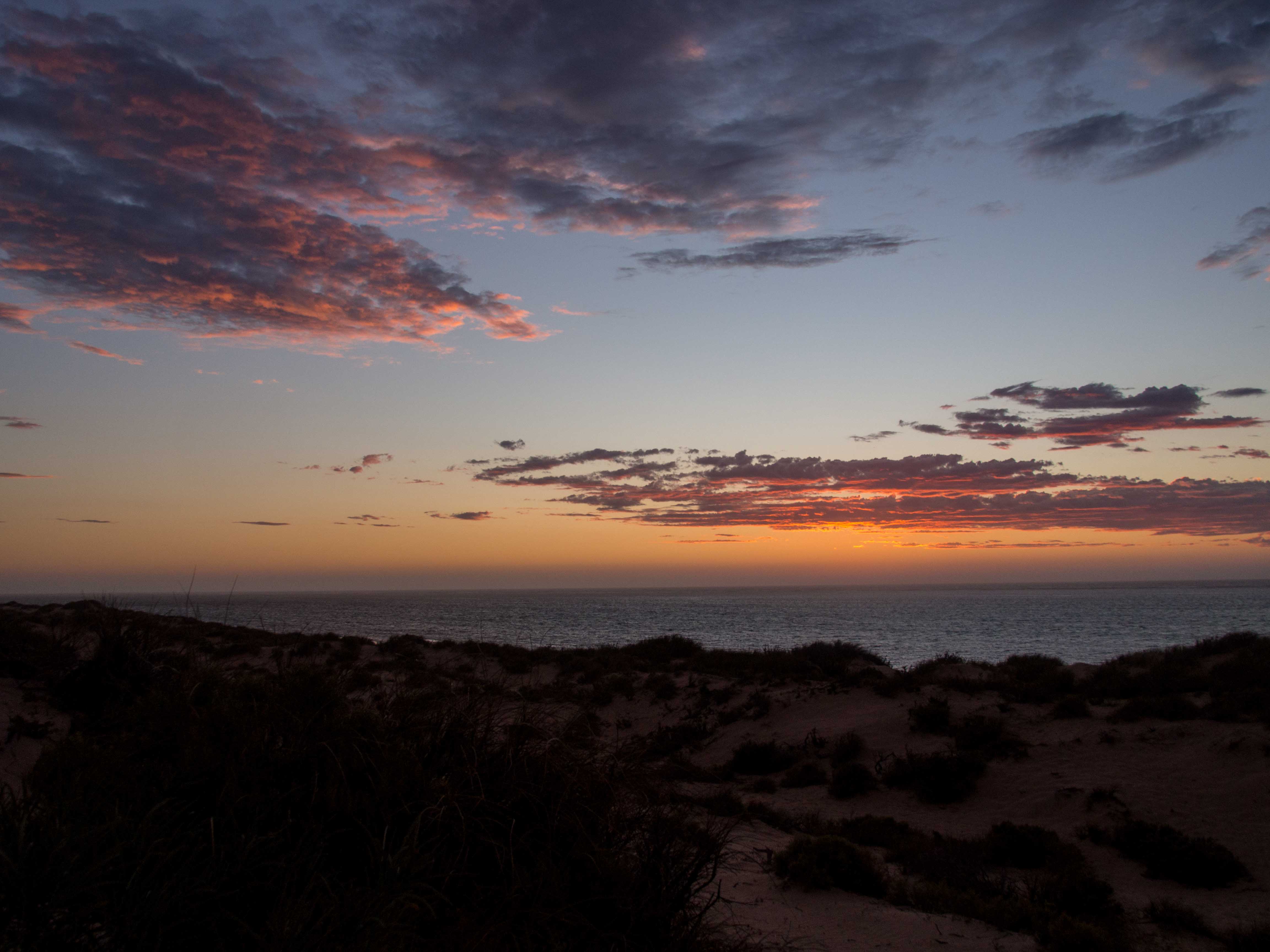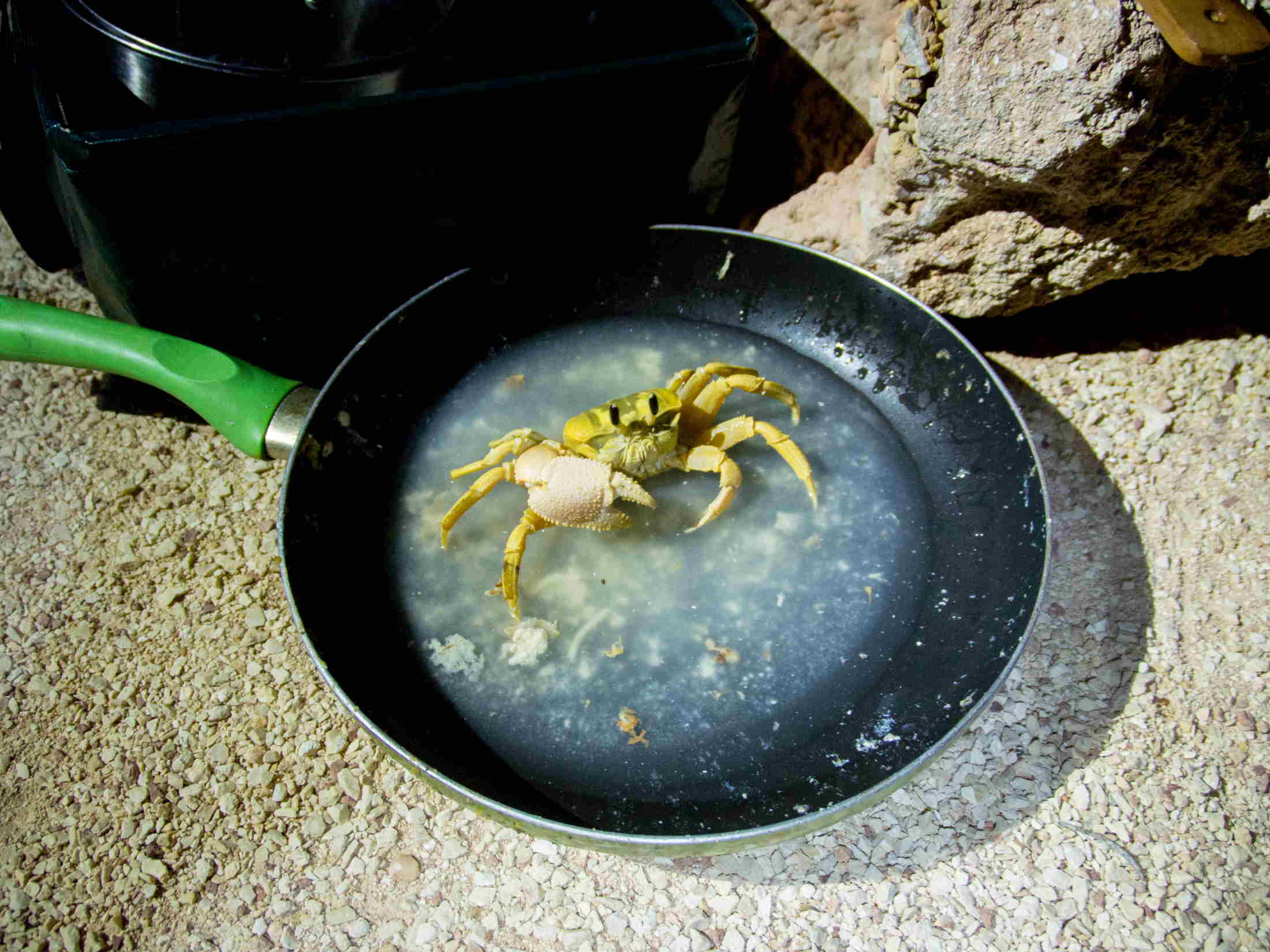 This crab served itself, as is couldn't climb out of the pan. :D
Diese Krabbe servierte sich selber, da sie nicht mehr aus der Pfanne kam. :D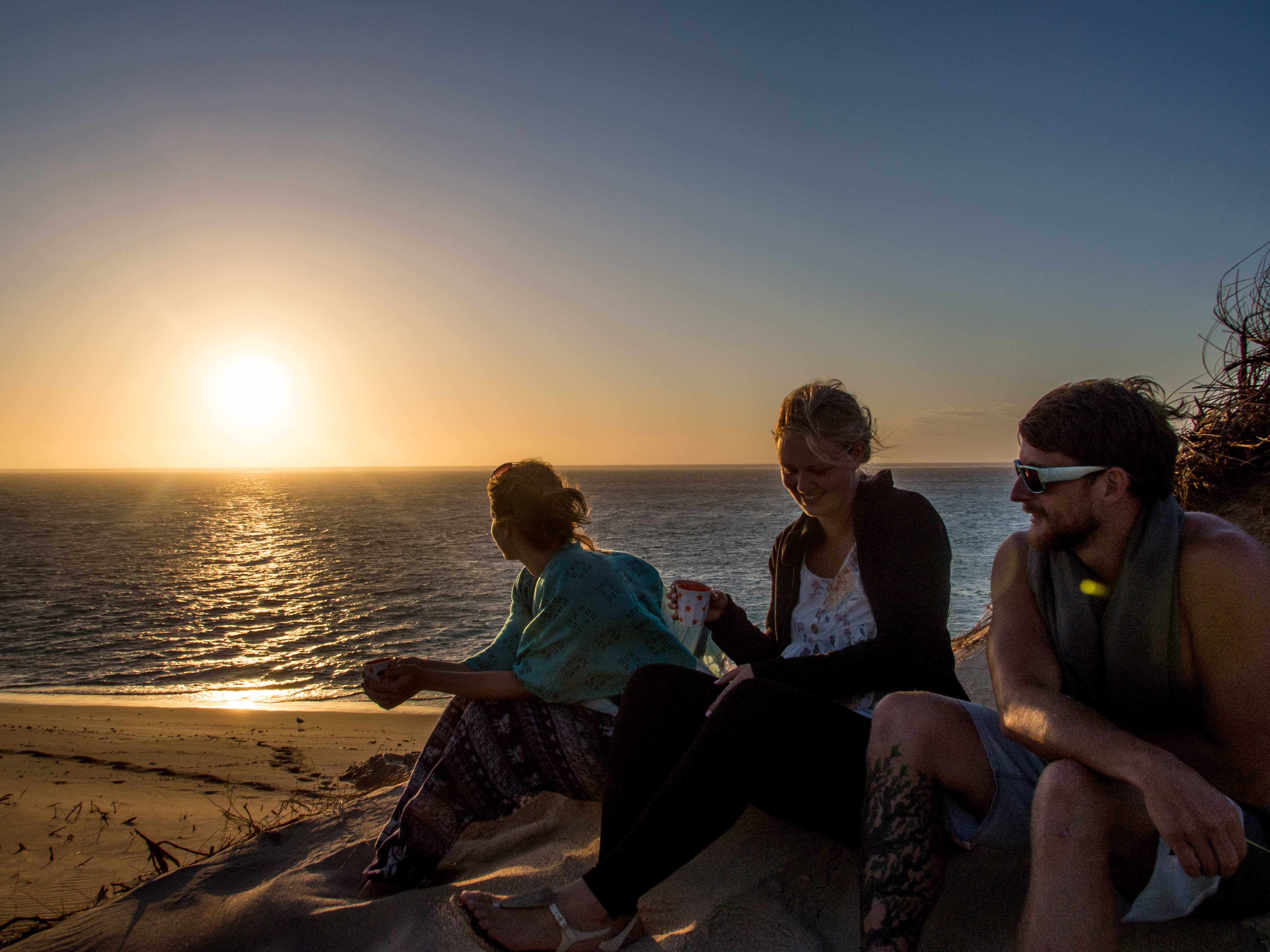 Just hanging out with some good people. :)
Einfach mit ein paar guten Menschen rumhängen. :)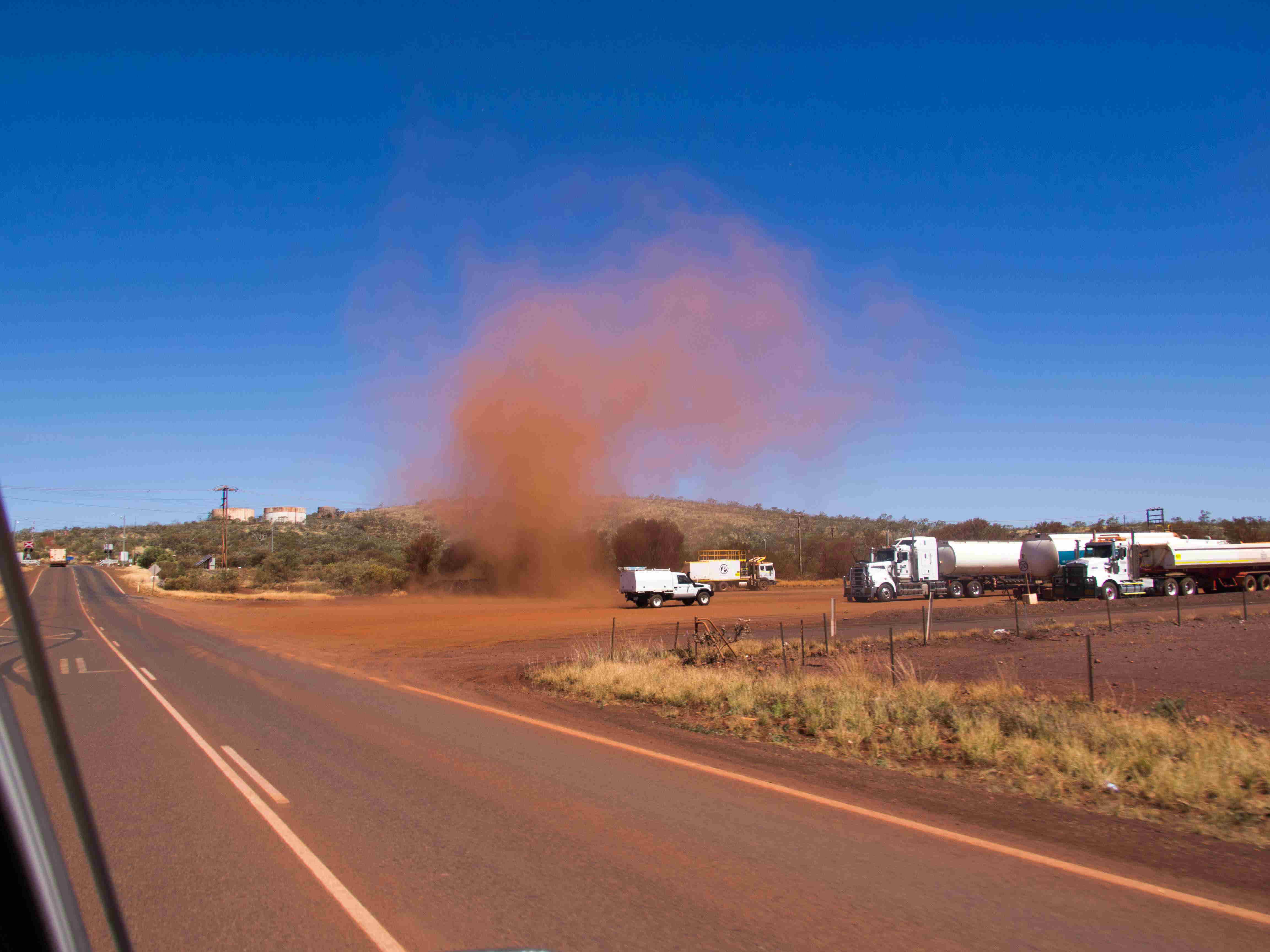 Arrived in Tom Price a little wind rose welcomed us.
Angekommen in Tom Price wurden wir von einer kleinen Windrose begrüßt.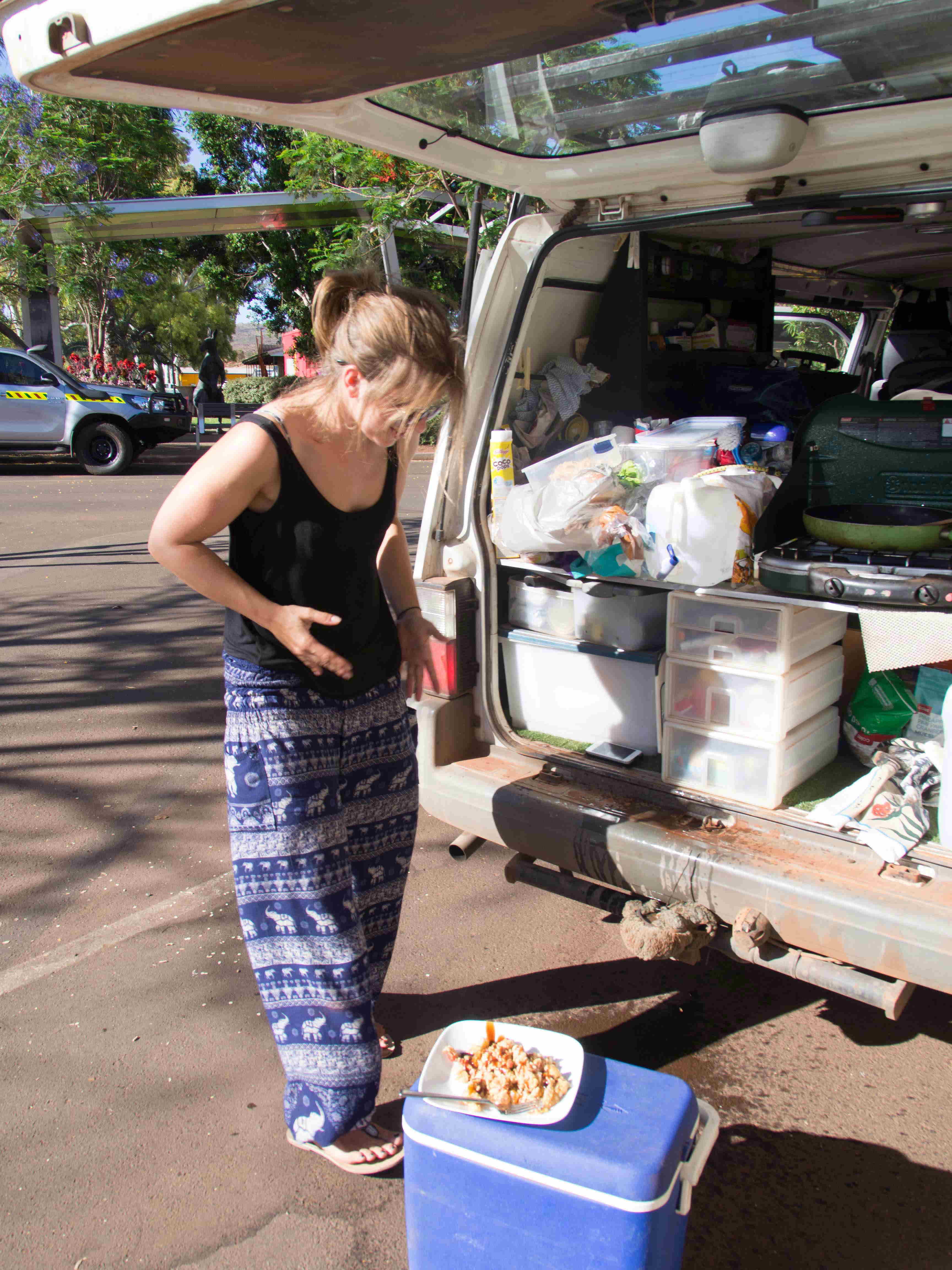 Annas BBQ Sauce finishing. :D When we where eating It was always like "Yeah that tastes nice..." ...and than she was putting her sauce on it... Over literaly EVERYTHING we where eating... :P
Annas BBQ Soßen veredelung. :D Es ging beim Essen immer "Jaa das schmeckt gut..." ... dann machte sie ihre Soße drauf. Über ziemlich ALLES was wir aßen.... :P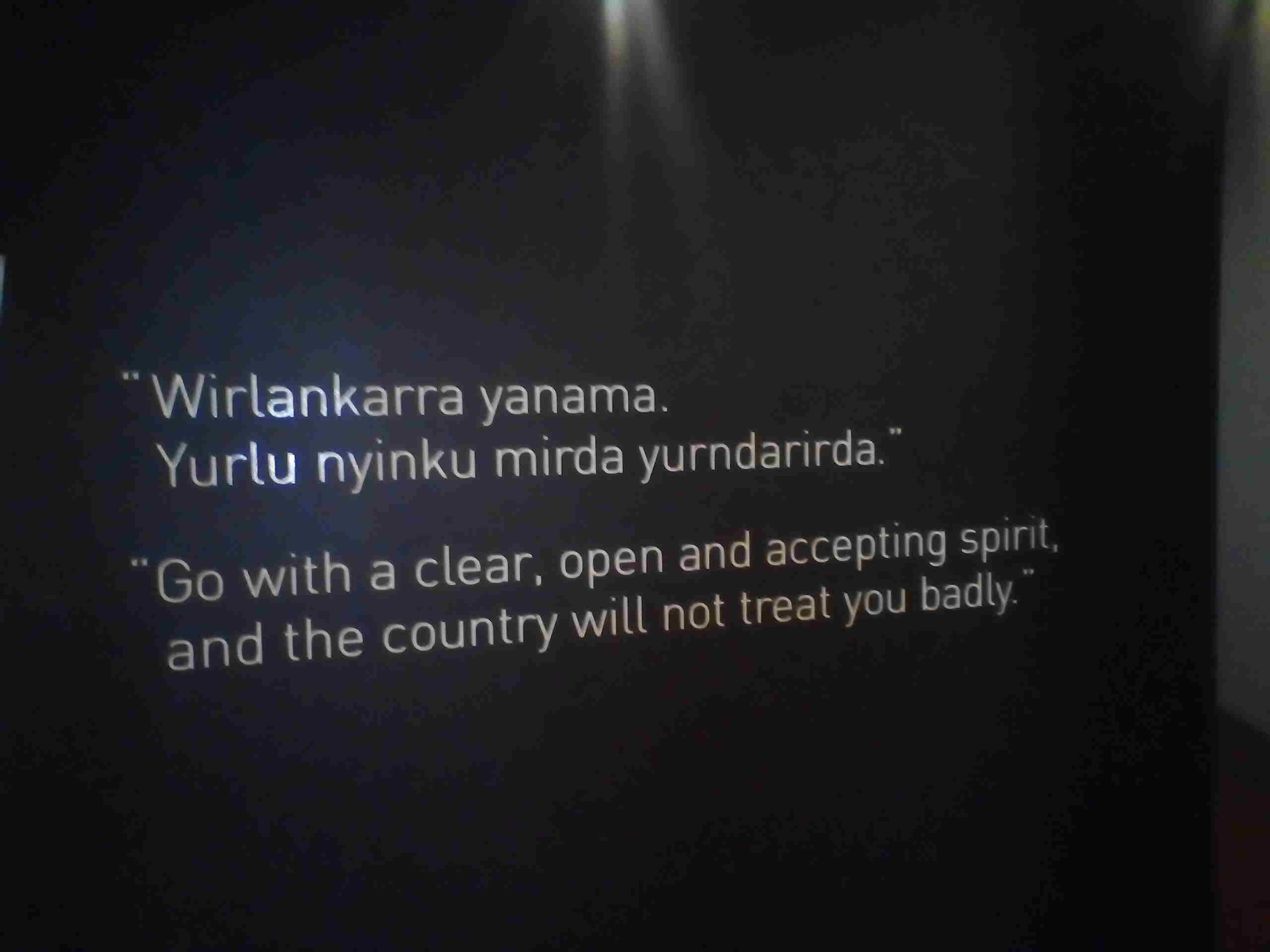 Here my absolute highlite in matter of nature in Australia - The Karinjini National Park. In this national park it is all about gorges and natural pools. So you walk the day around in an amazing nature and enjoy a cold bath when you want to. A lot of people told me already how awesome it will be, so the expectations where high! But still topped by the experience!!! See it yourself!
Hier mein absolutes Highlite in Sachen Natur in Australien - Der Karinjini National Park. In diesem Nationalpark dreht sich alles um Schluchten und natürliche Pools. So läuft man den ganzen Tag durch beeindruckende Natur und genießt ein kühles Bad wenn einem danach ist. Viele Leute erzählten mir bereit wie beeindruckend er ist, so waren die Erwartungen hoch! Doch das Erleben ging noch darüber hinaus!!! Aber schaut selbst!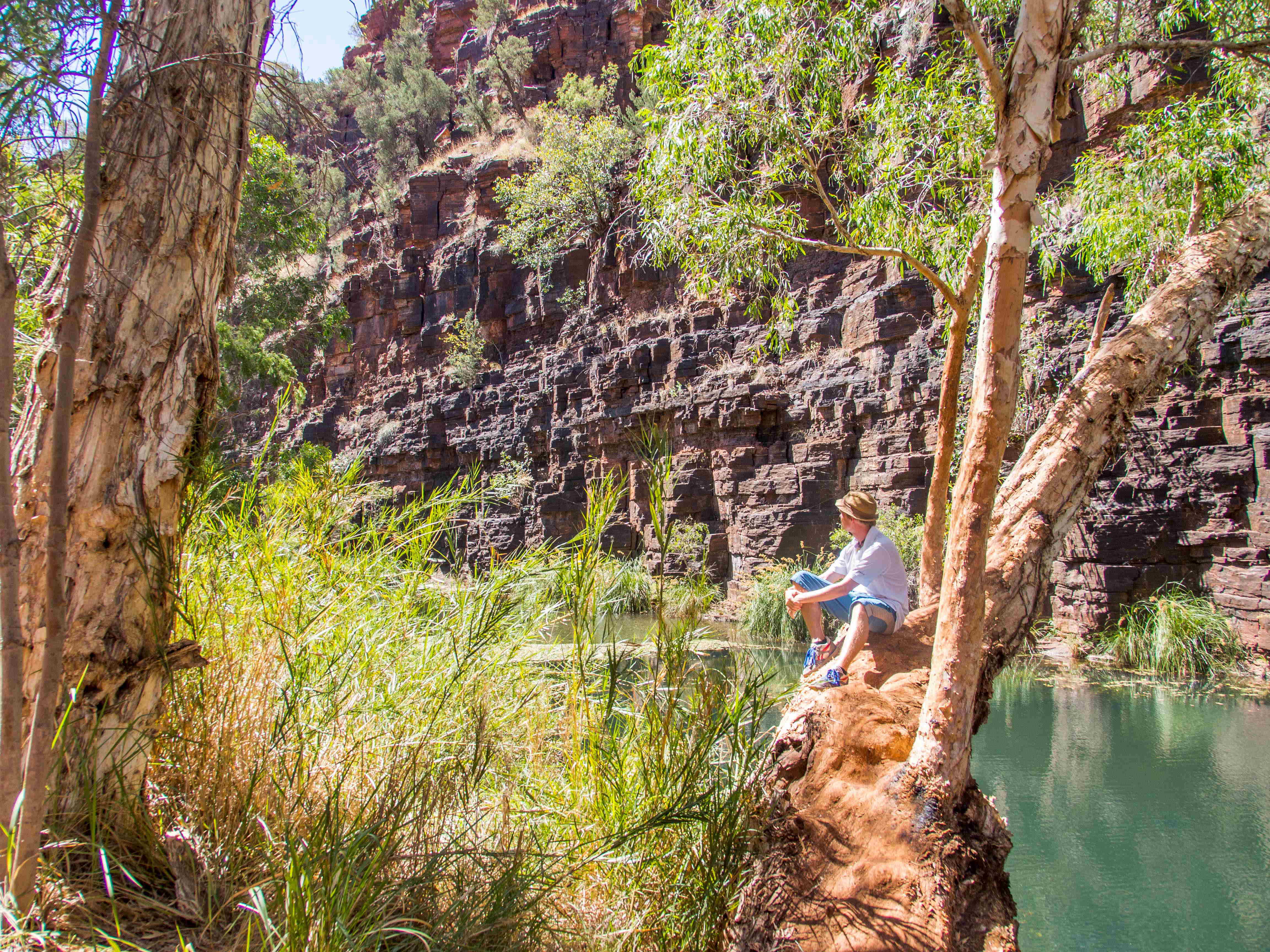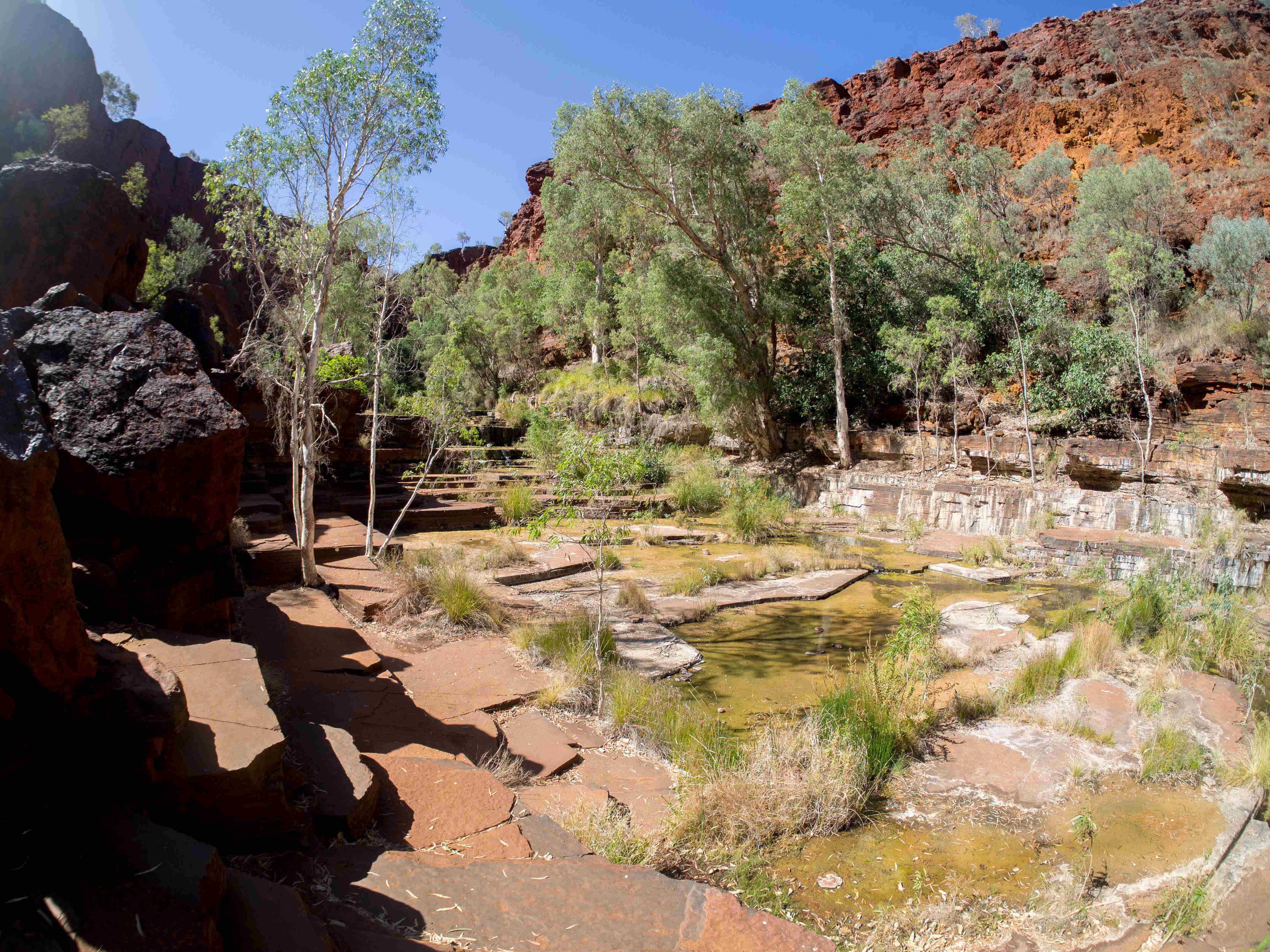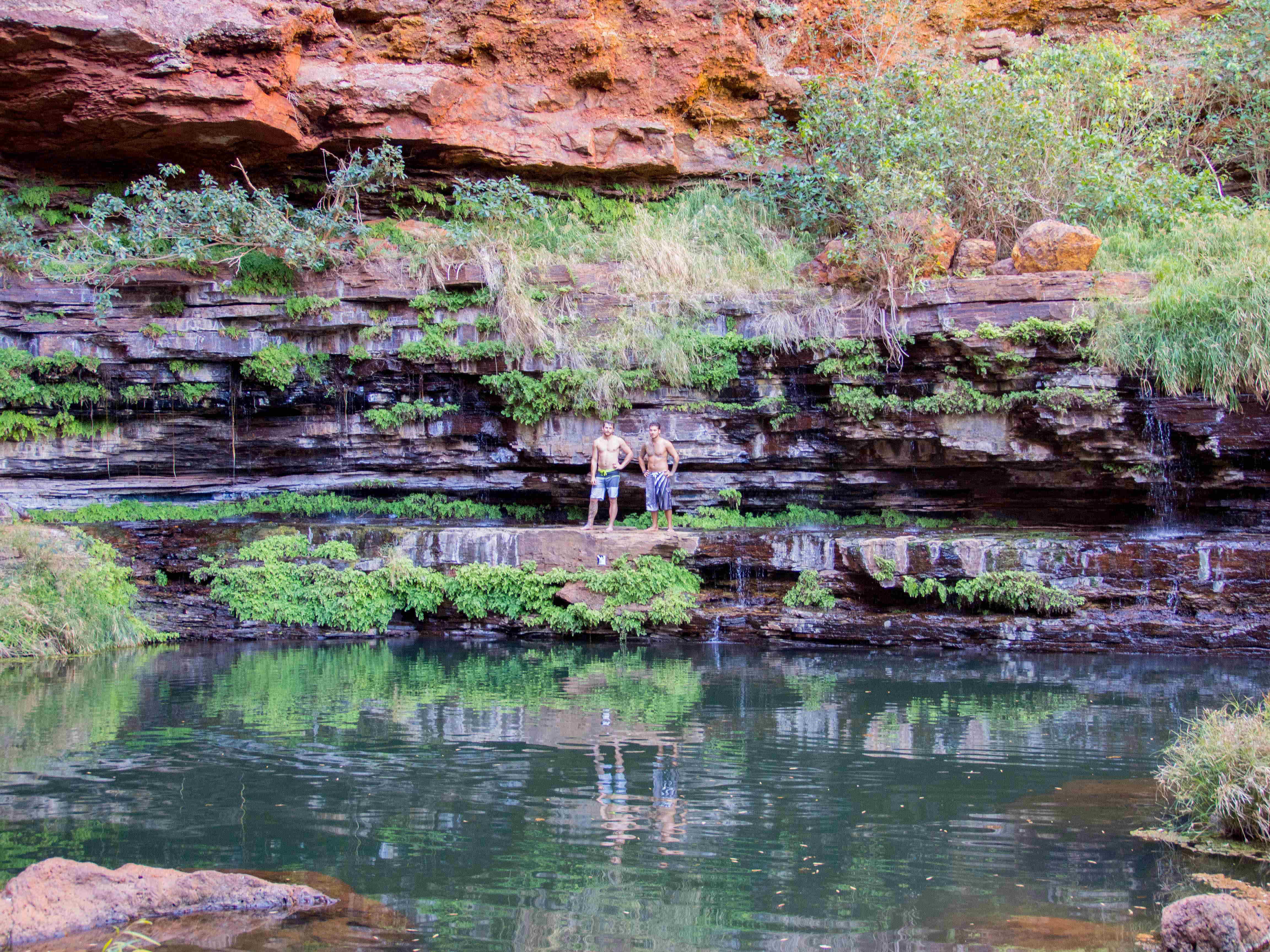 Here we meet Mell and Rapha, who joined the gang through the Karinjini and up to Broome. :)
Hier trafen wir auf Mell und Rapha, die der Gang beigetreten sind und von Karinjini bis Broome dabei waren. :)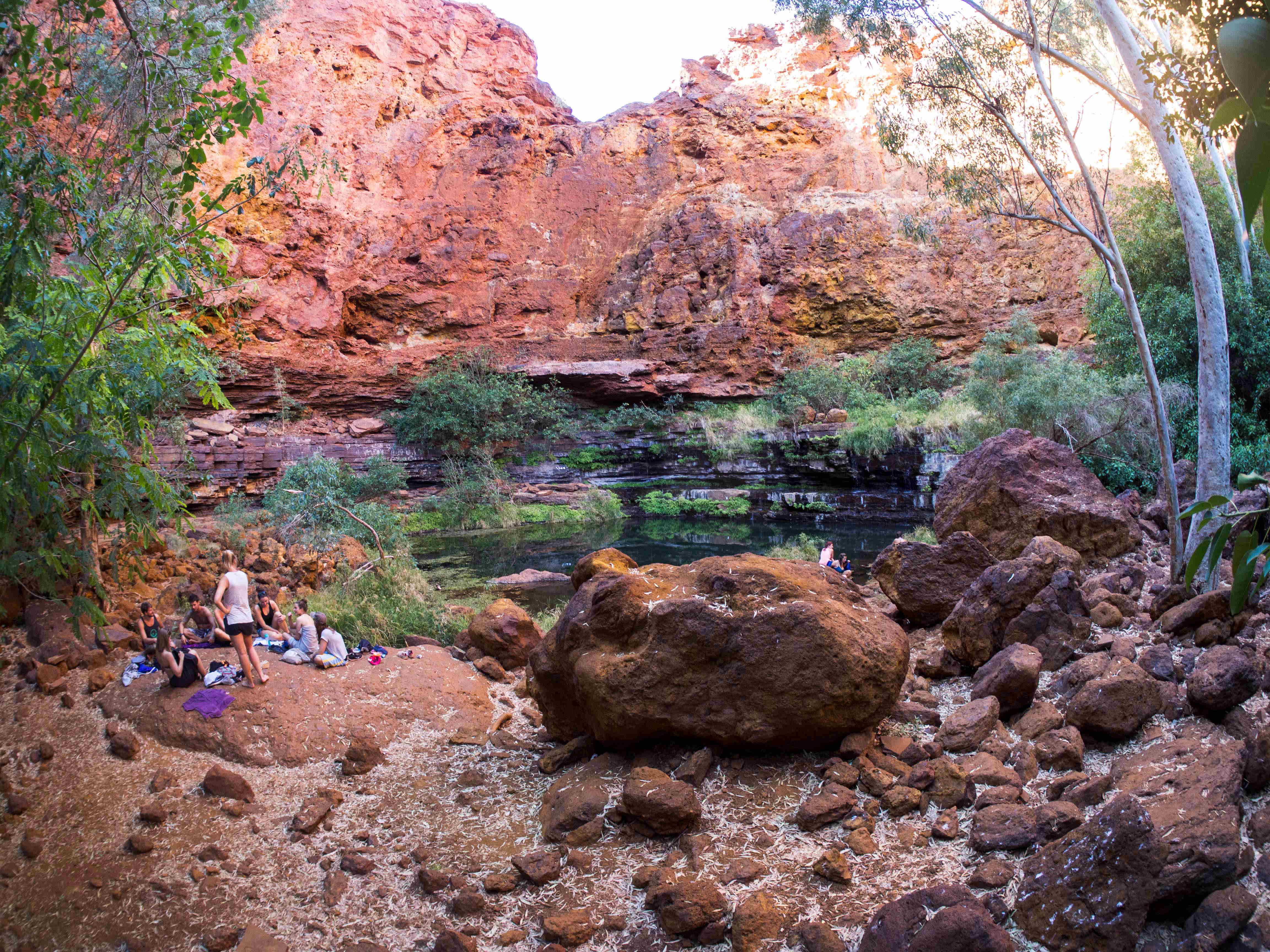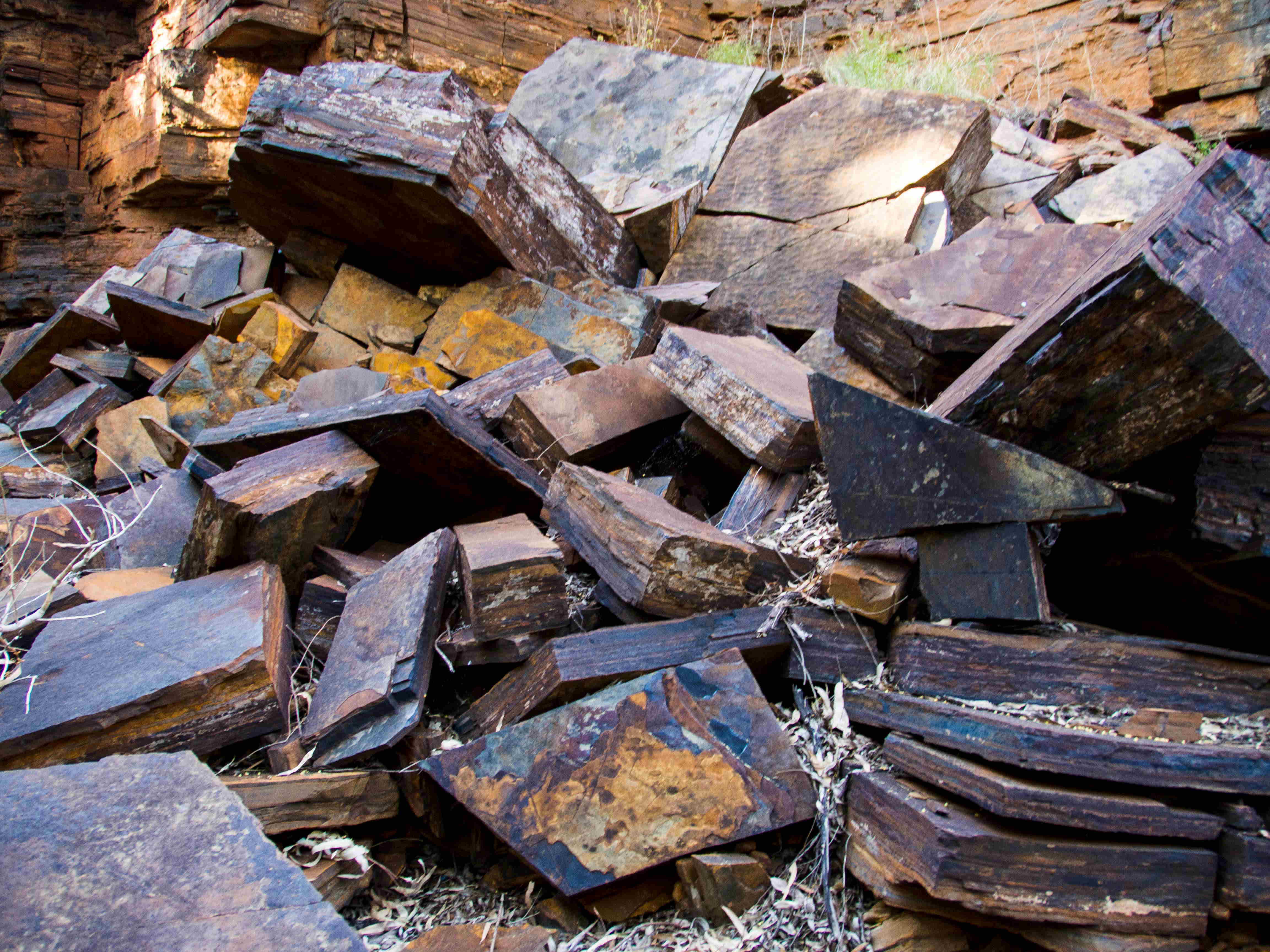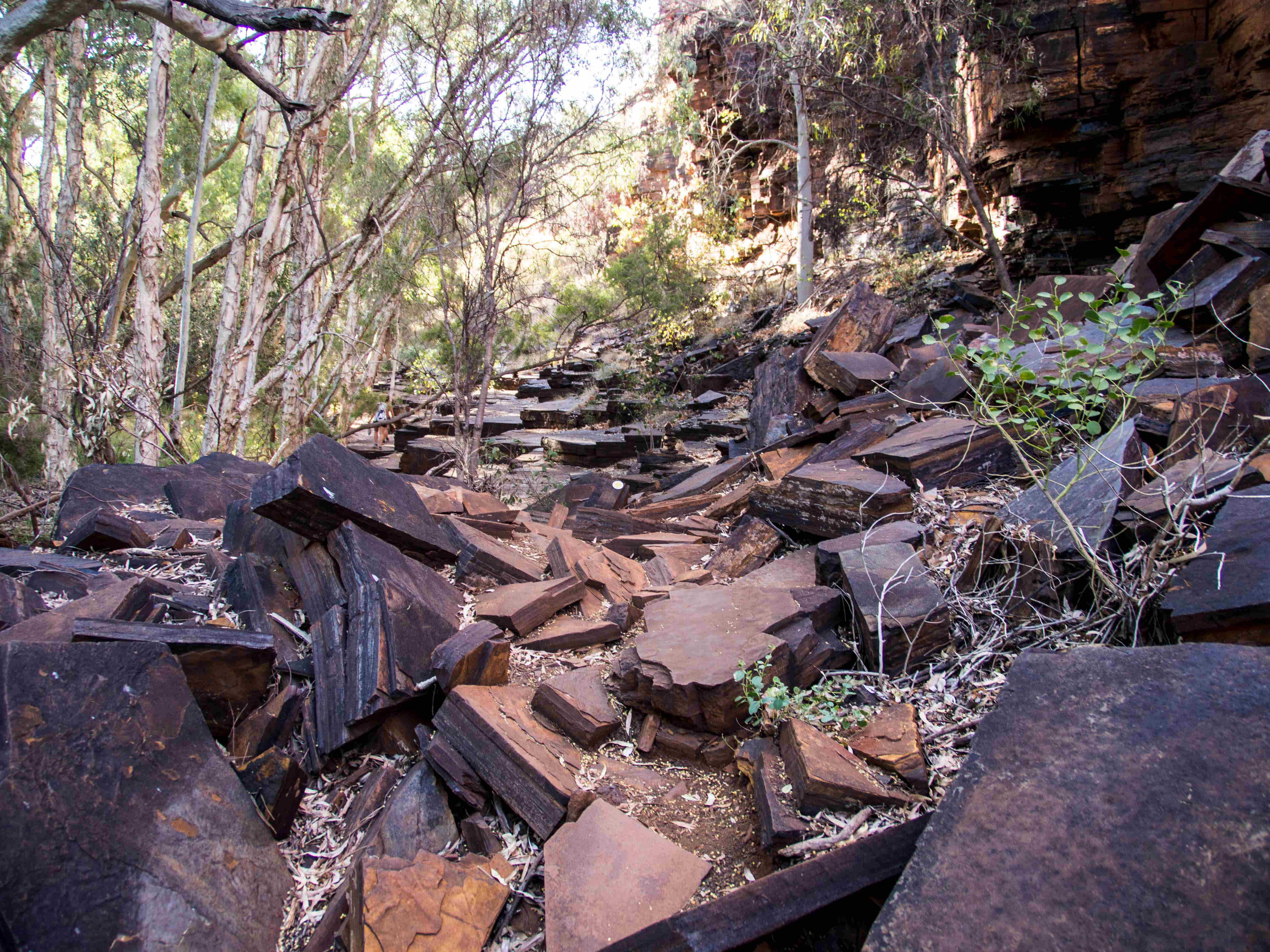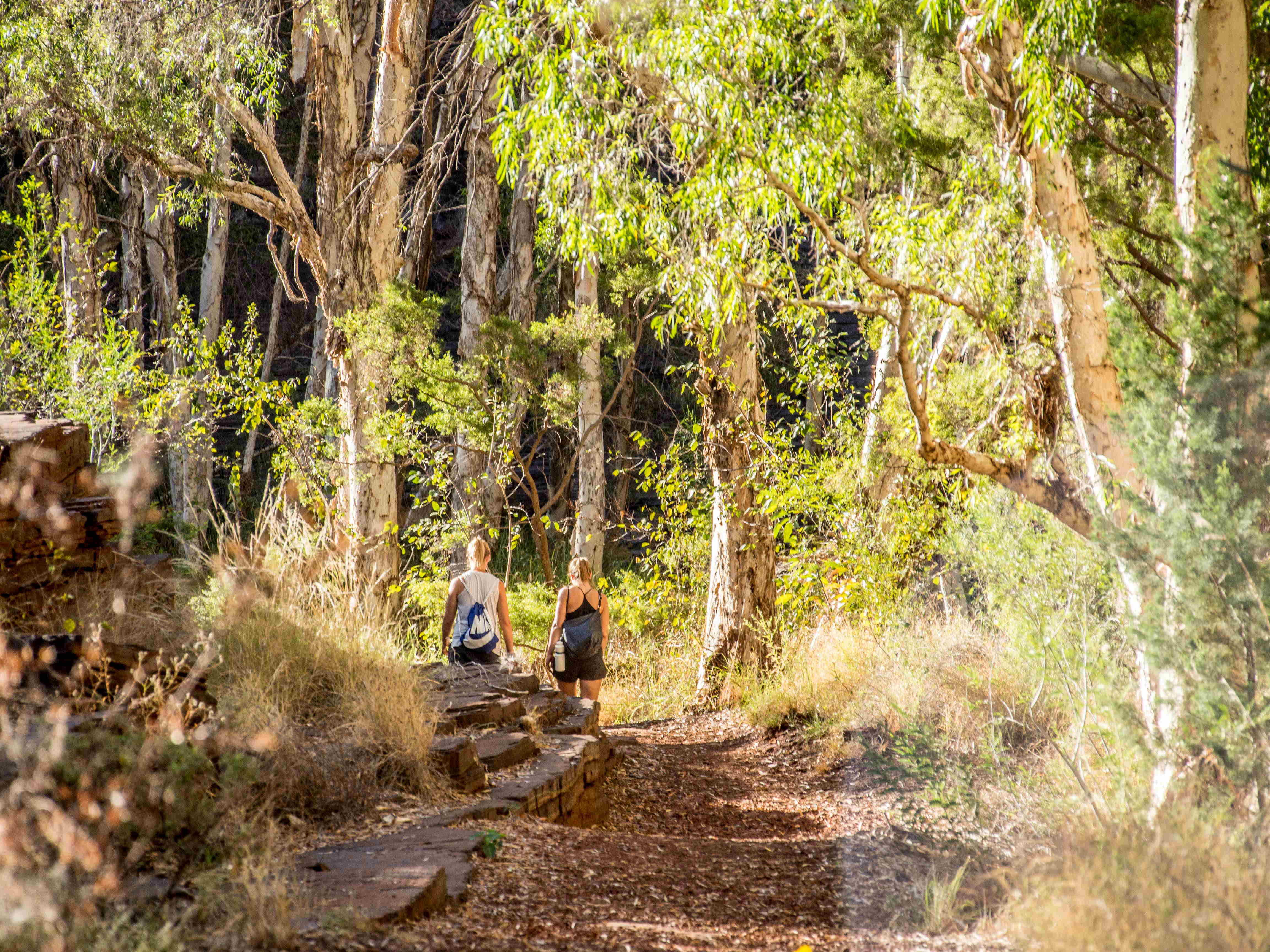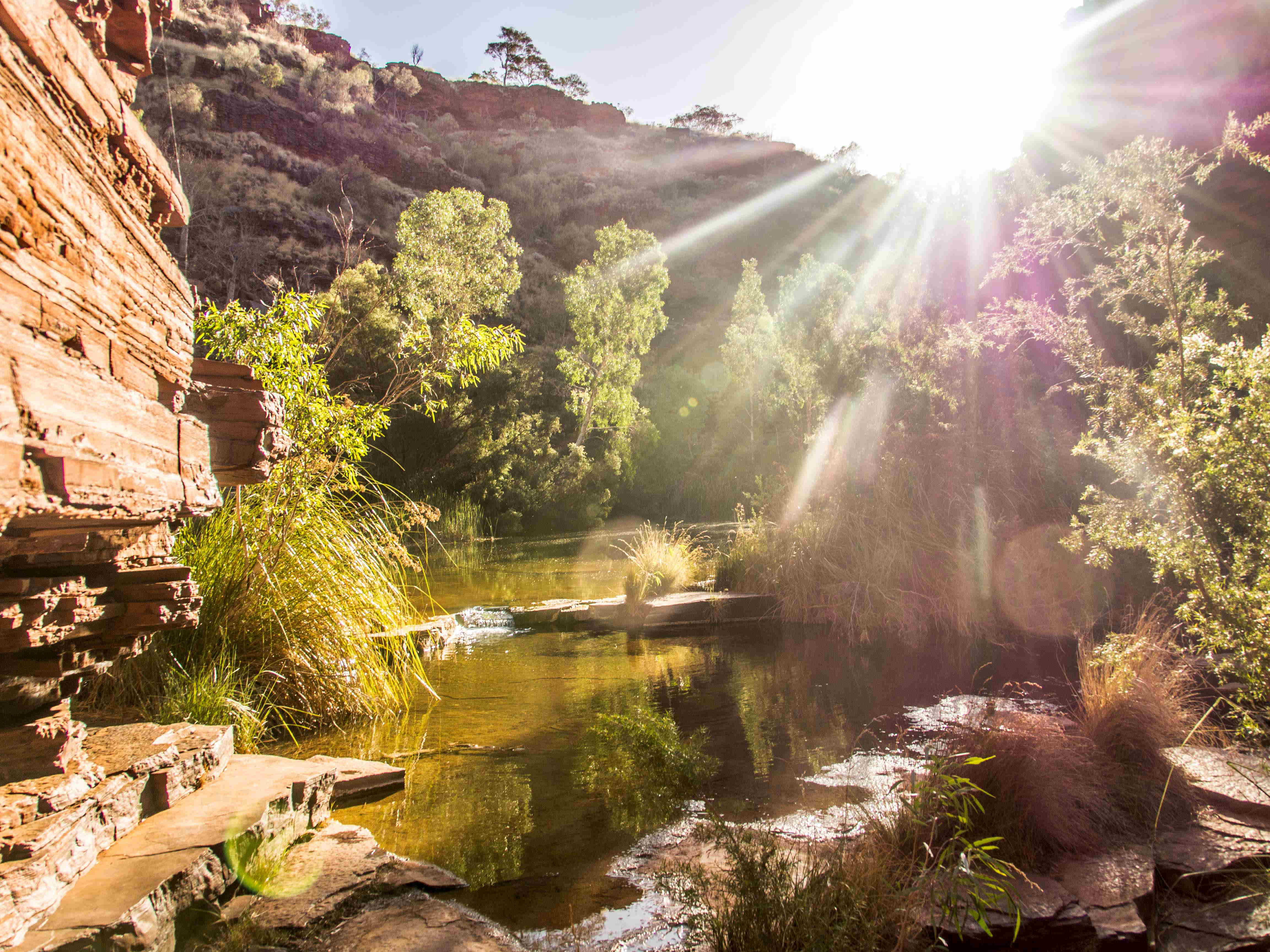 Just leave me here.... :D
Lasst mich einfach hier... :D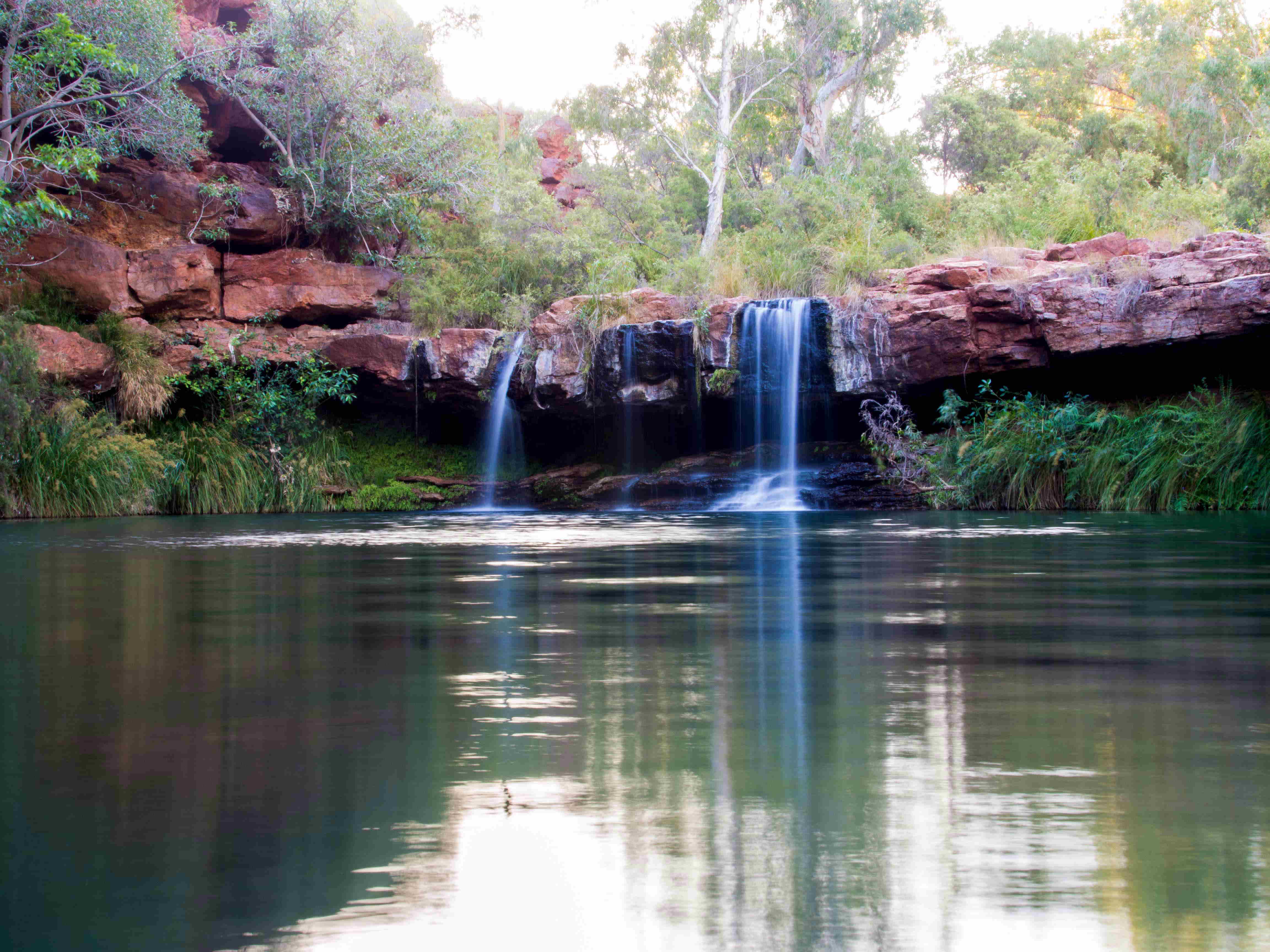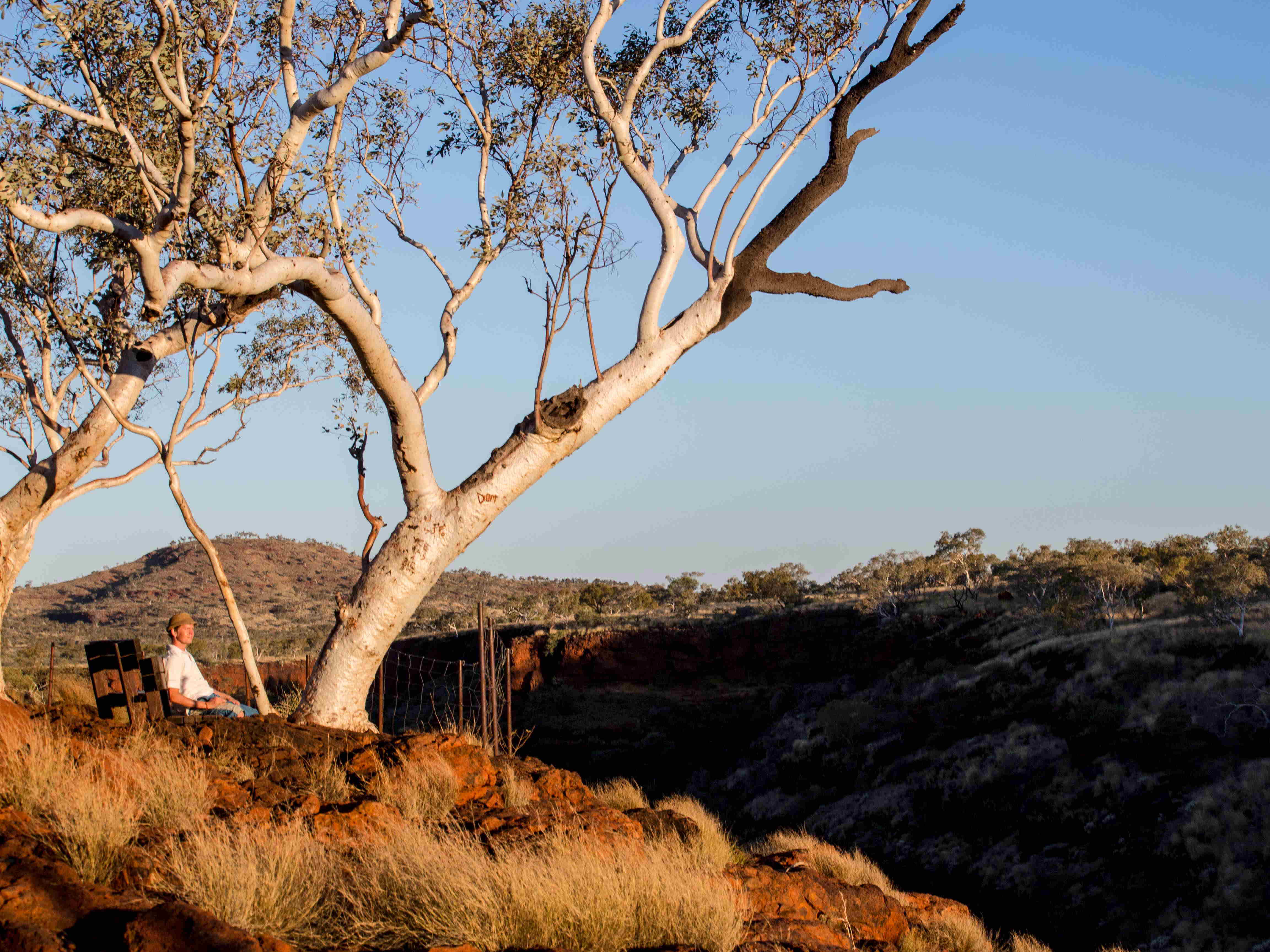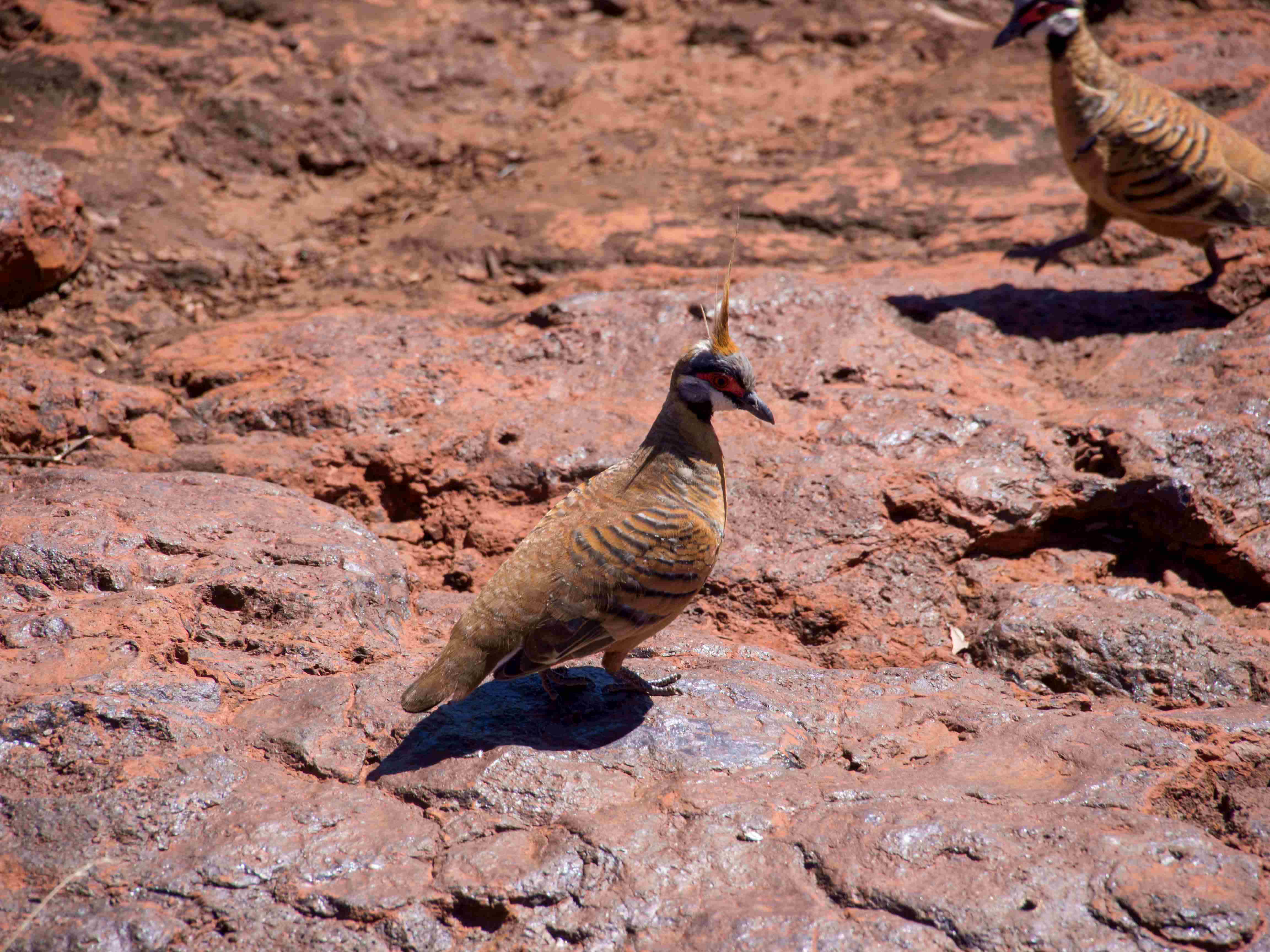 Soooo awesome! The punker pitchens again! :D
Sooo gut! Mal wieder die Punker Tauben! :D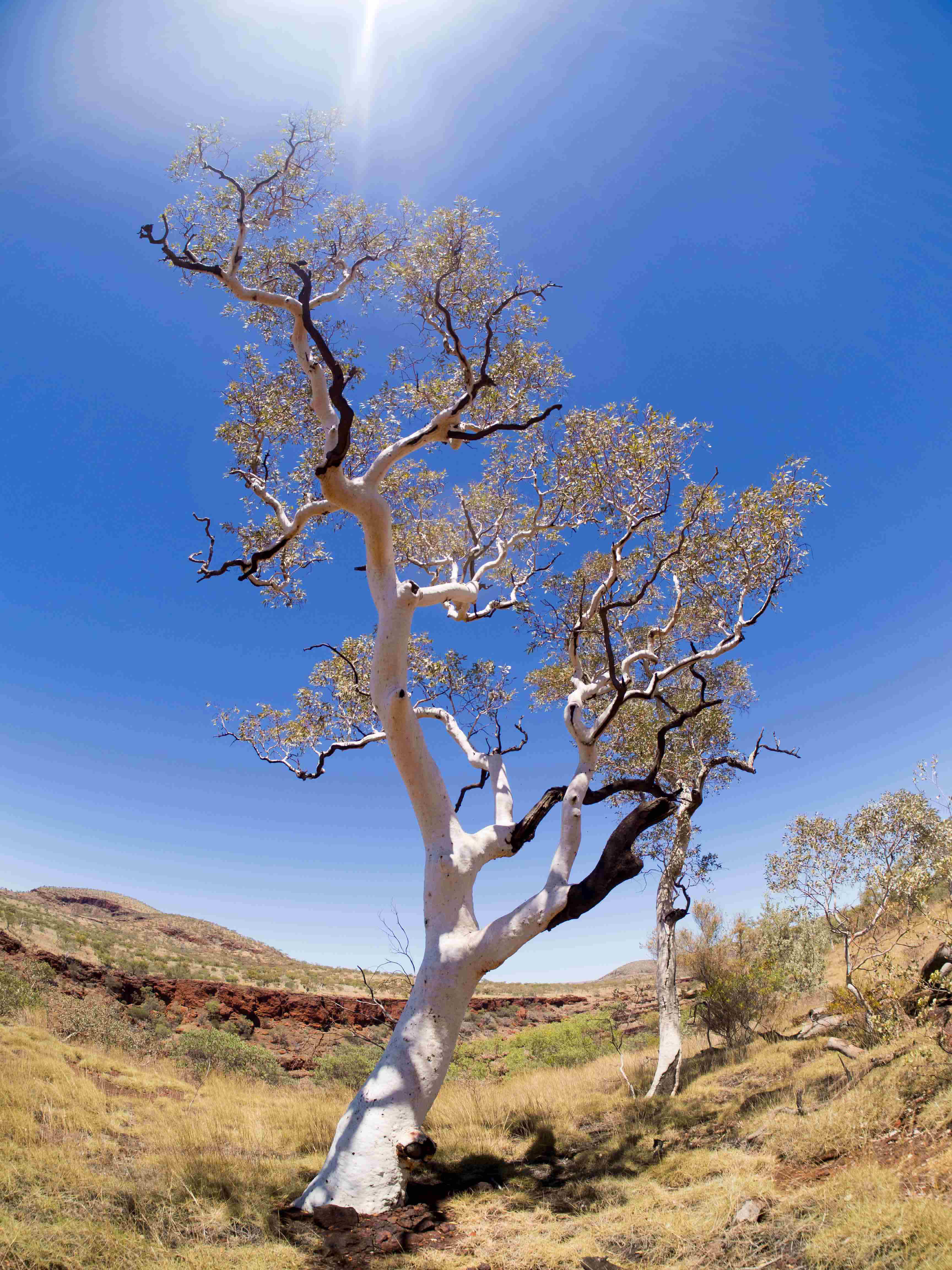 I love the majestetic look of those threes.
Ich liebe den majesthetischen Anblick dieser Bäume.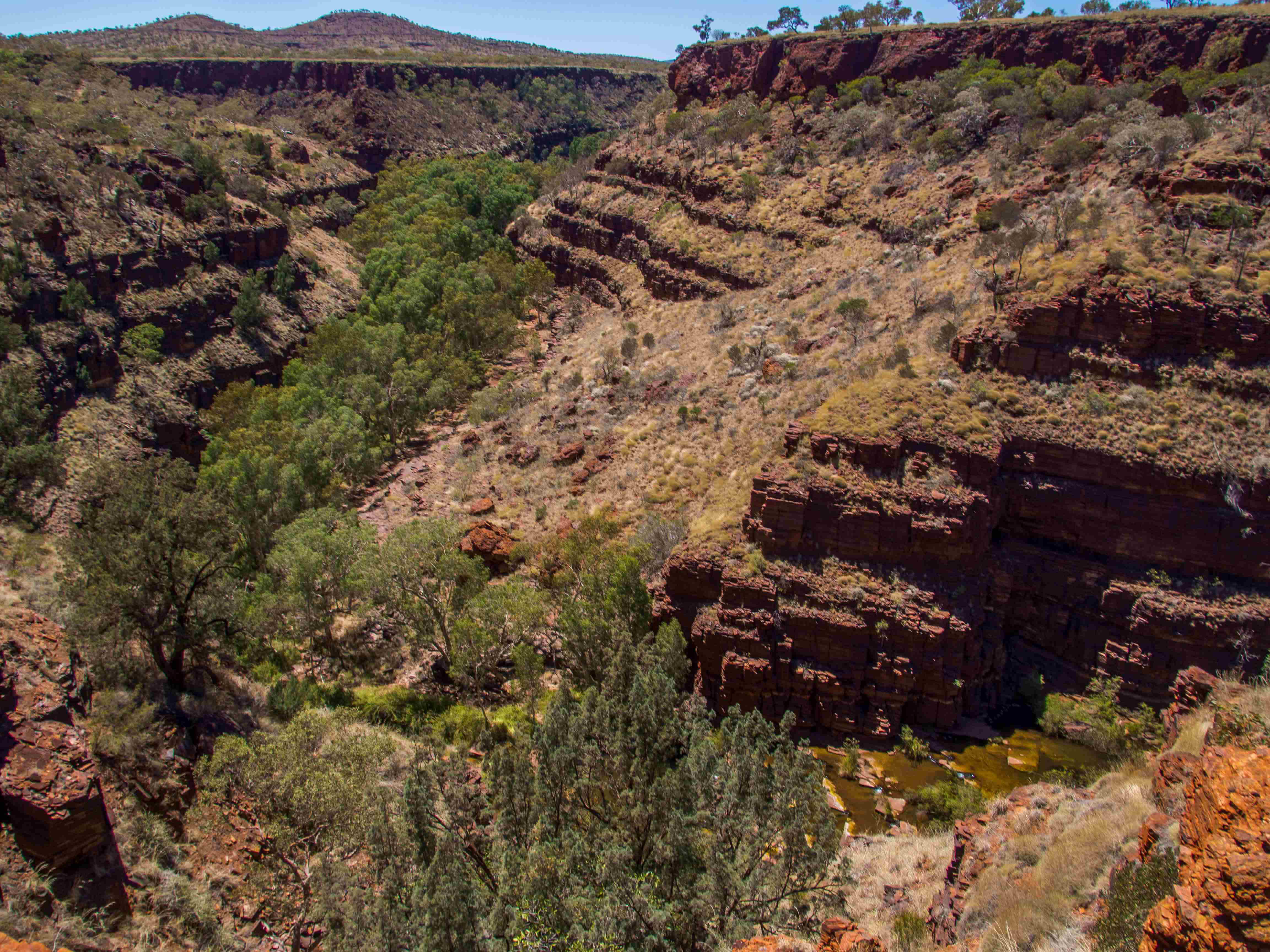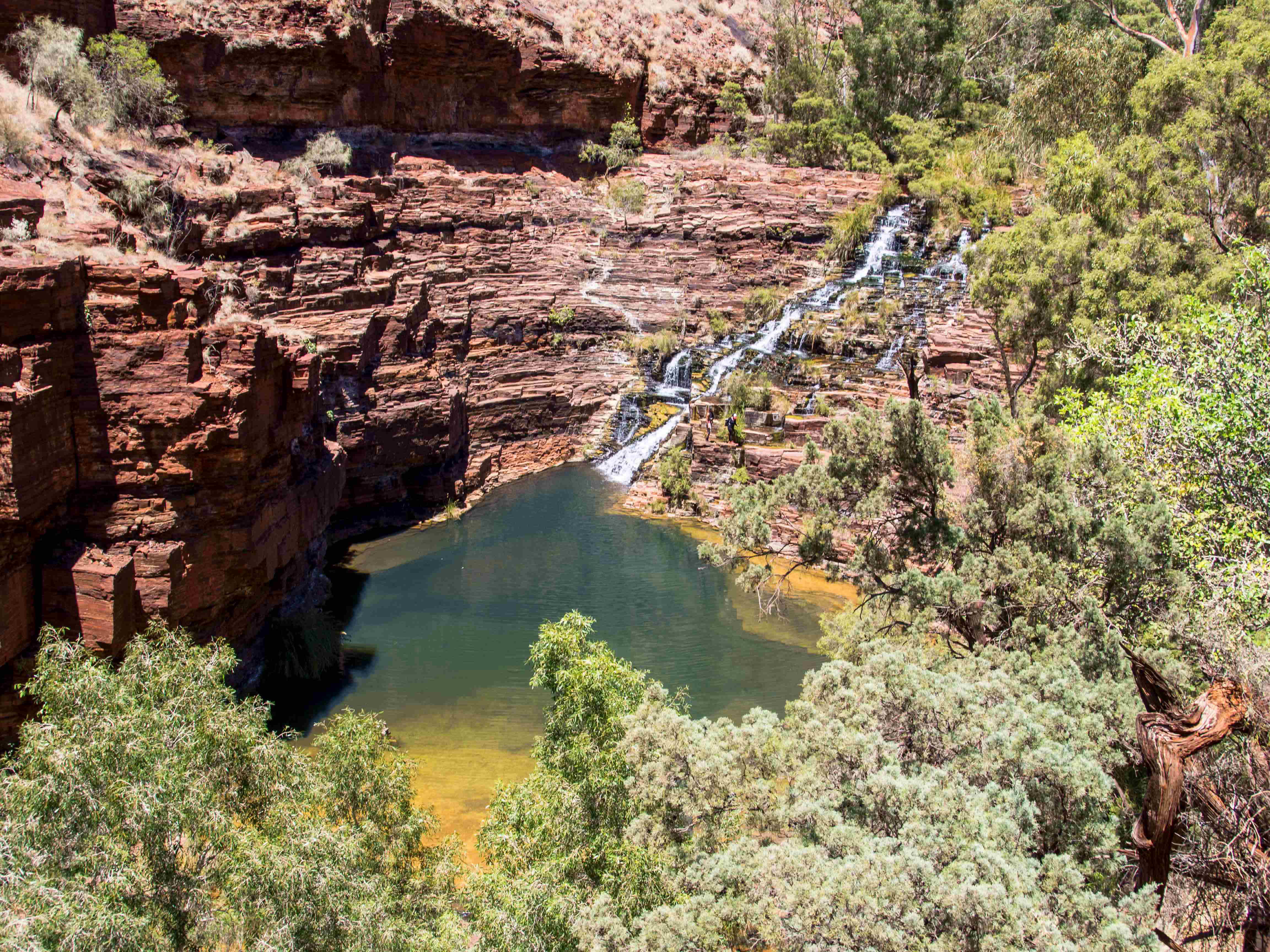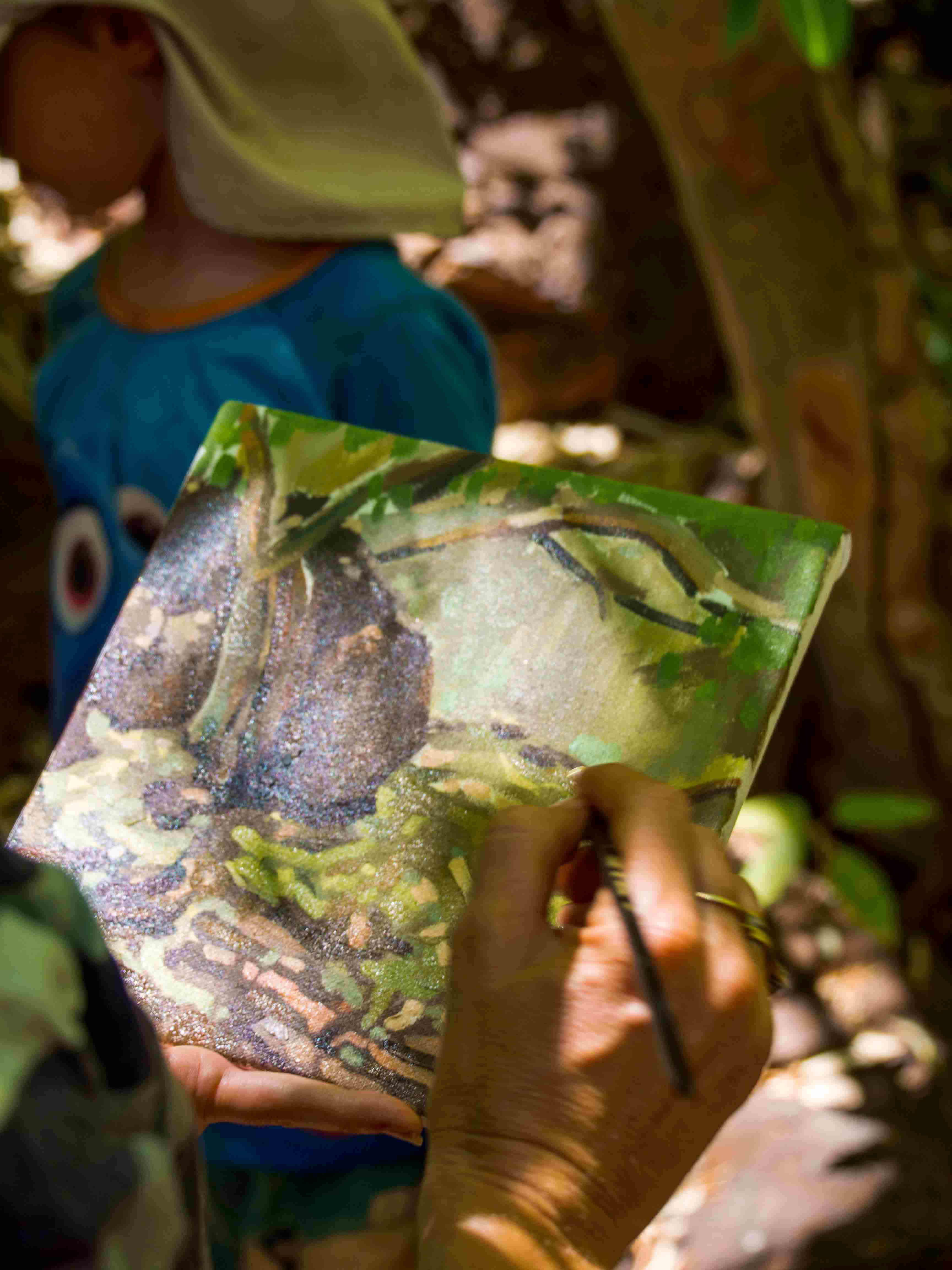 A woman doing art in the Karinjini.
Kunst einer Frau im Karinjini.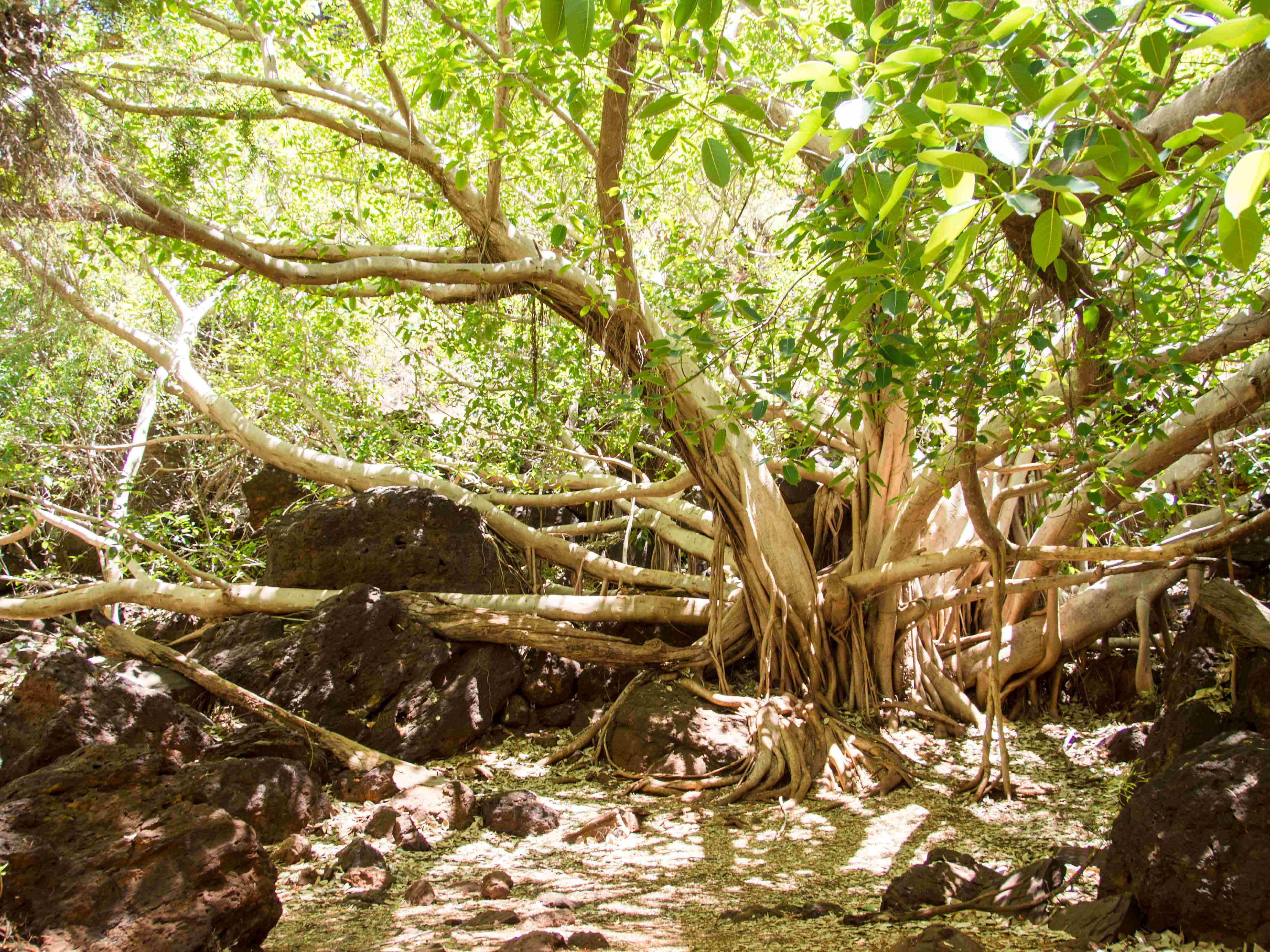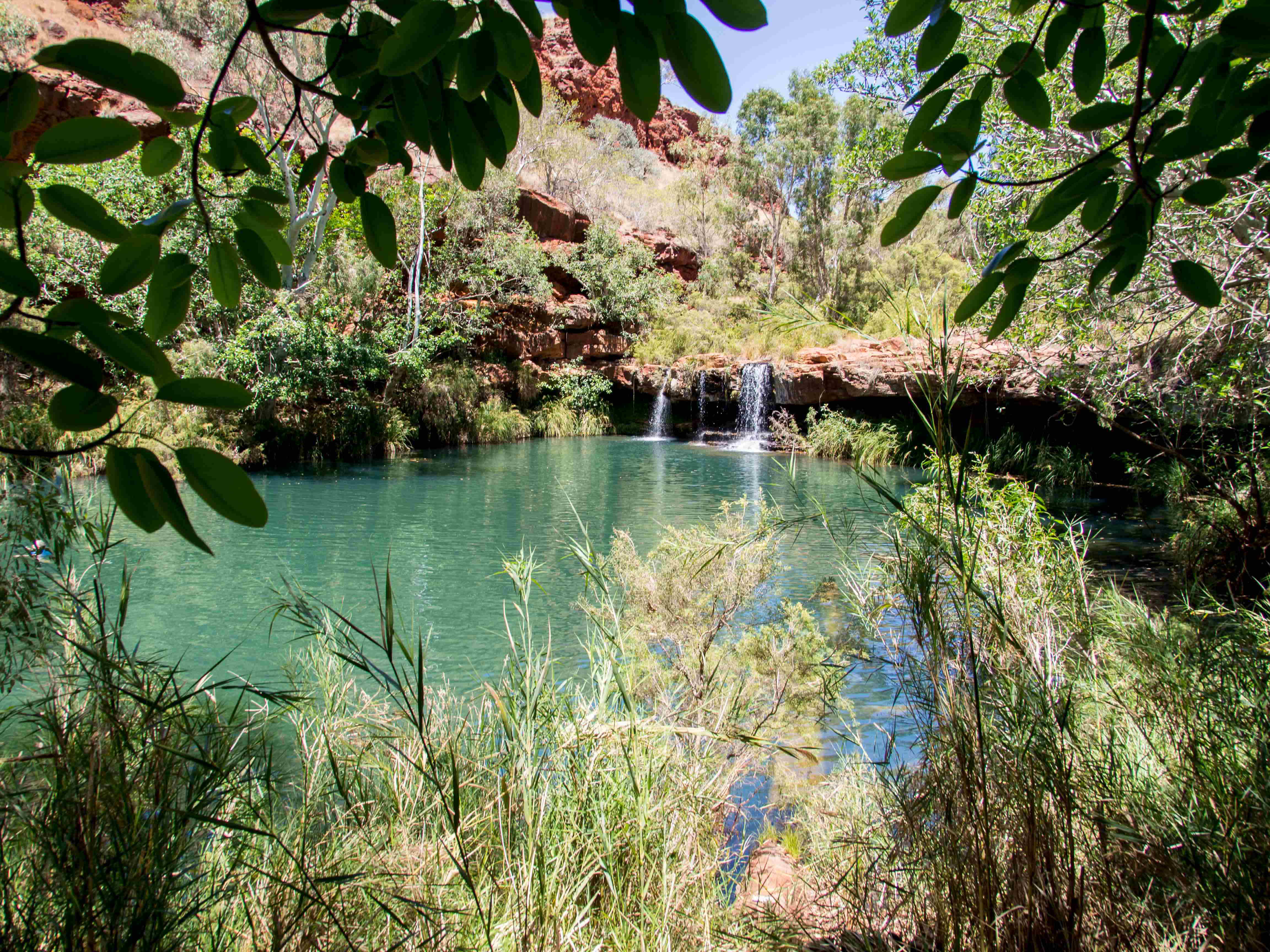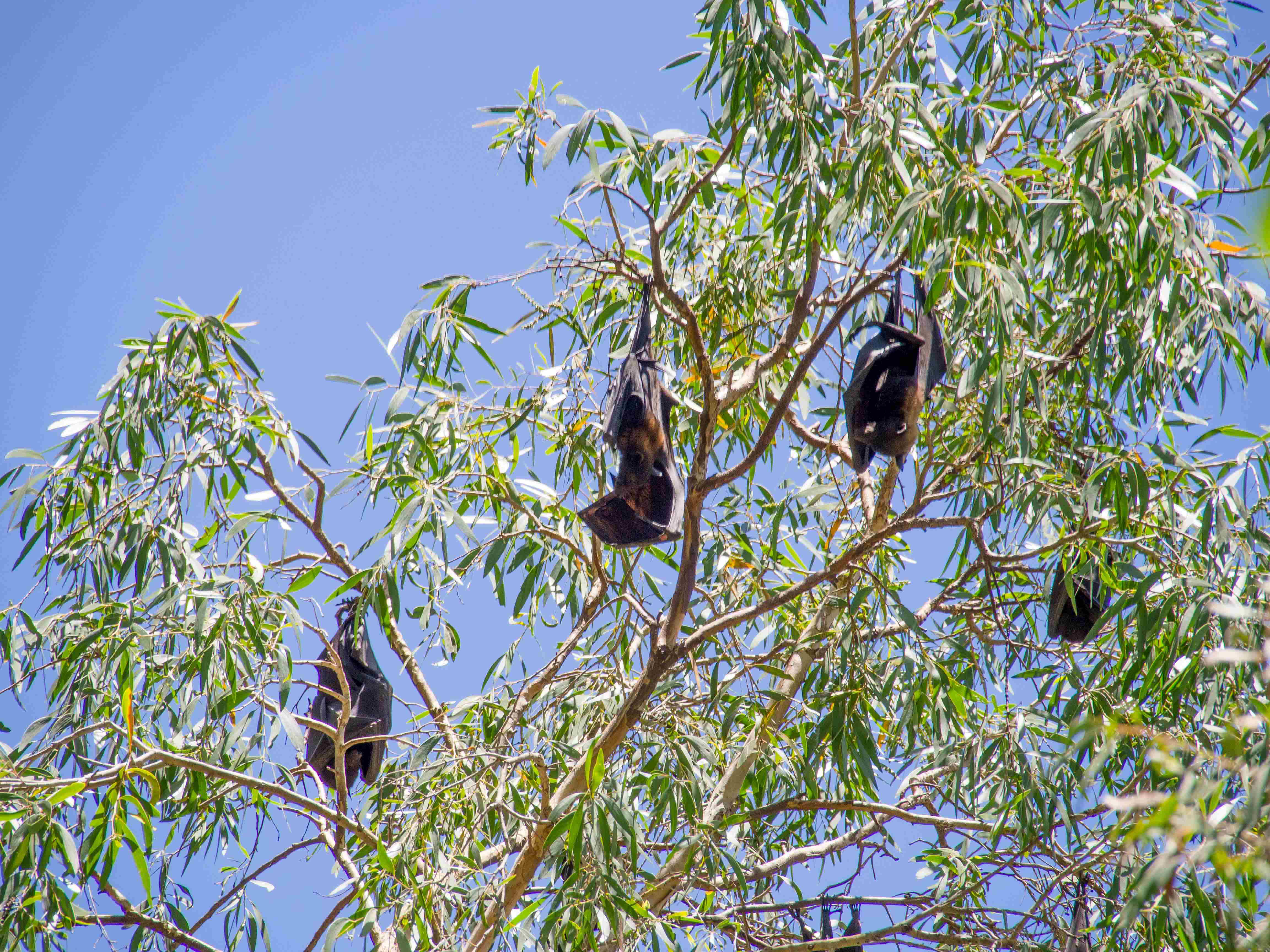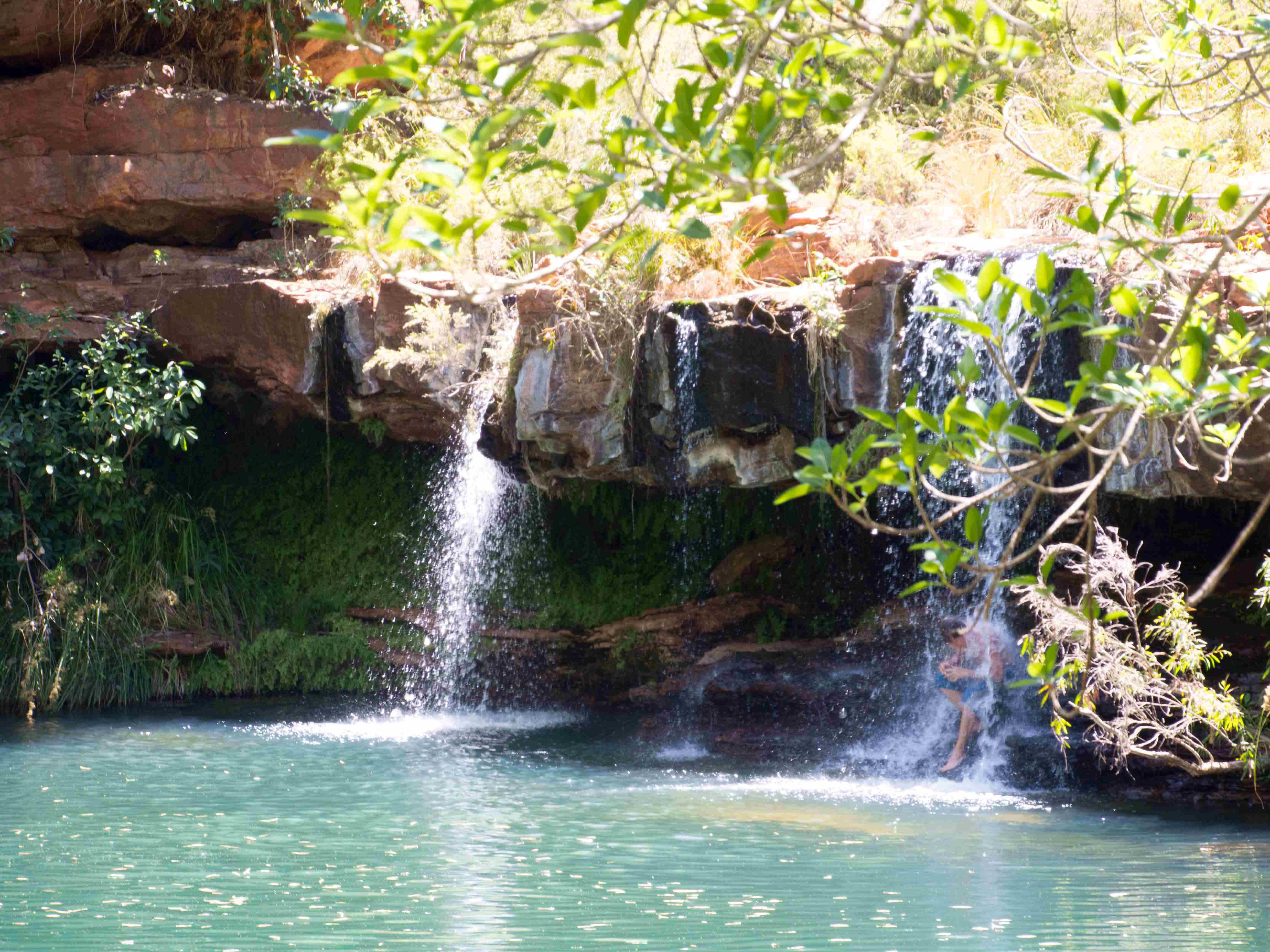 Me getting a massage under the waterfall. Sooo good! :D
Ich wärend einer Massage unter dem Wasserfall. Sooo gut! :D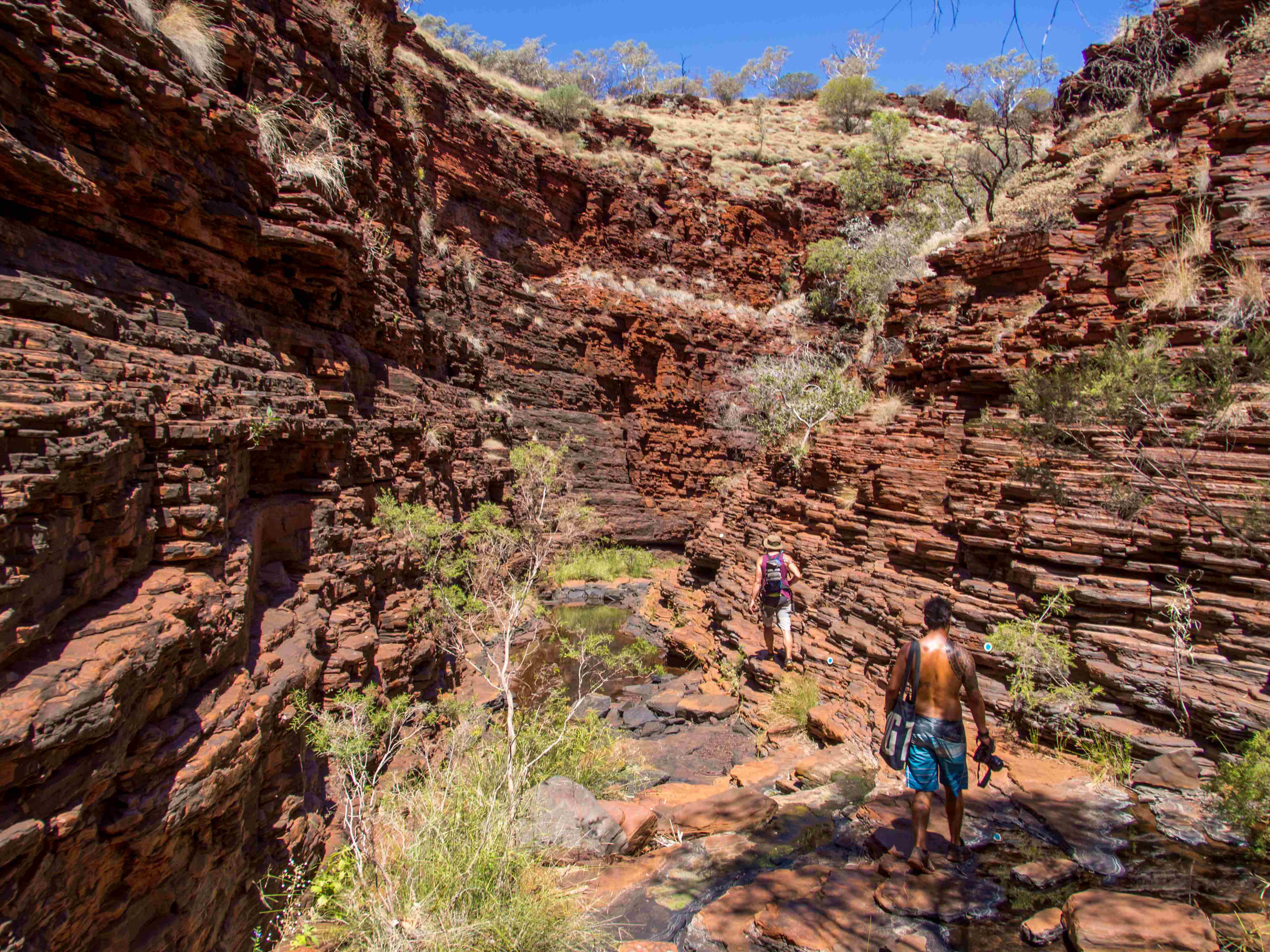 This day we had to walk through water, to get to our destination.
Diesen Tag mussten wir durchs Wasser laufen um zu unserem Ziel zu gelangen.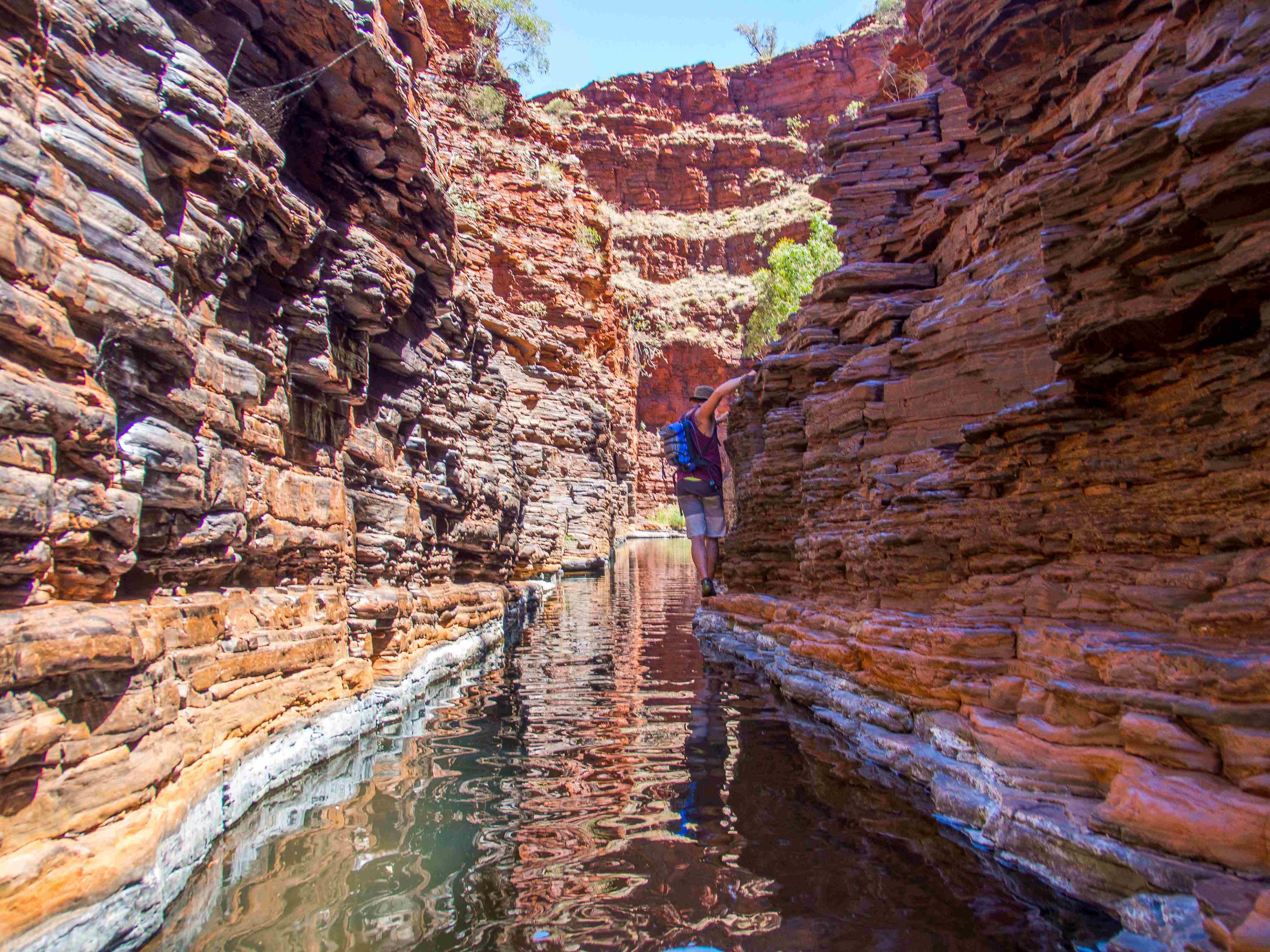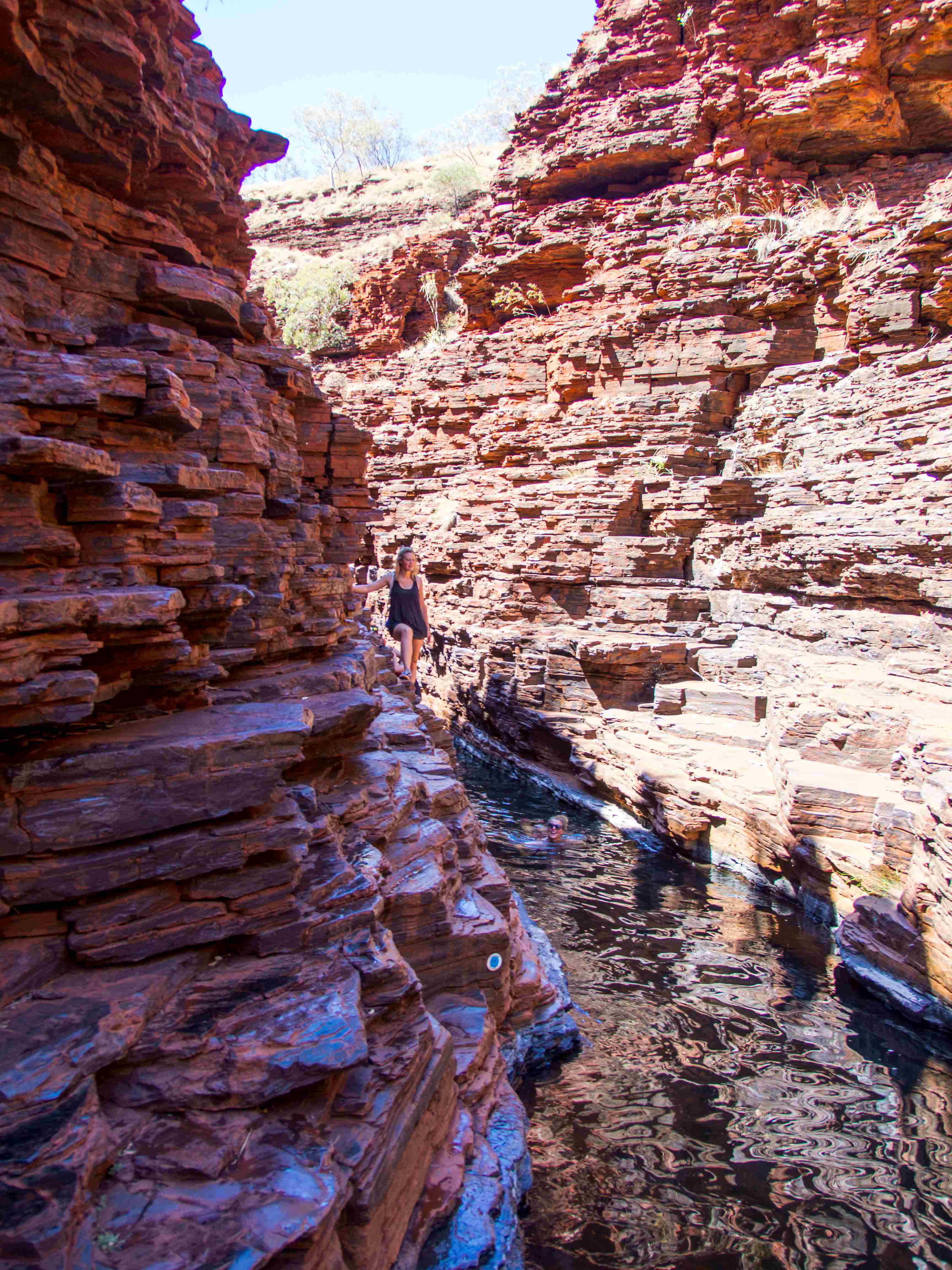 Or directly swim through it. :D
Oder gleich durch schwimmen. :D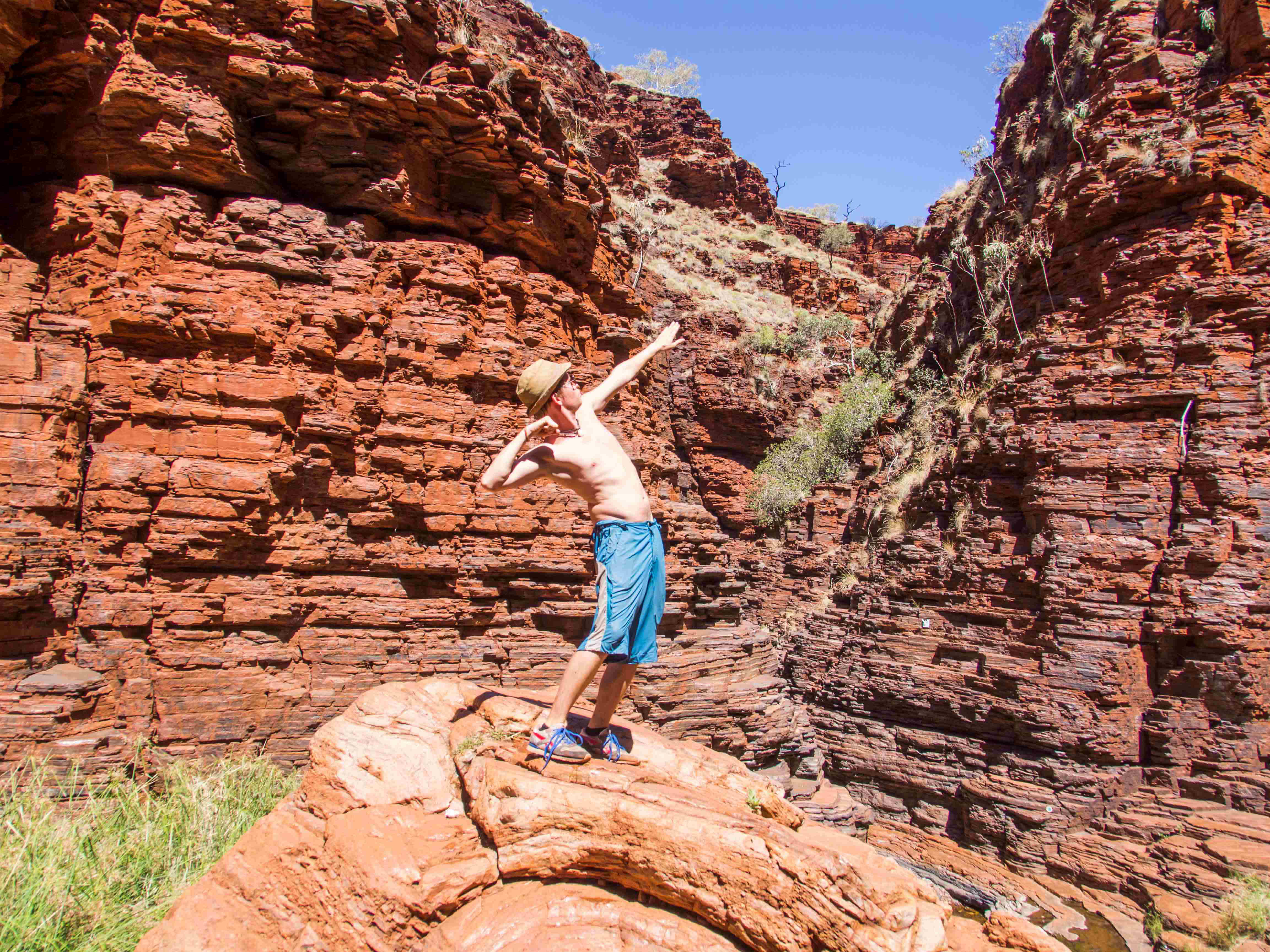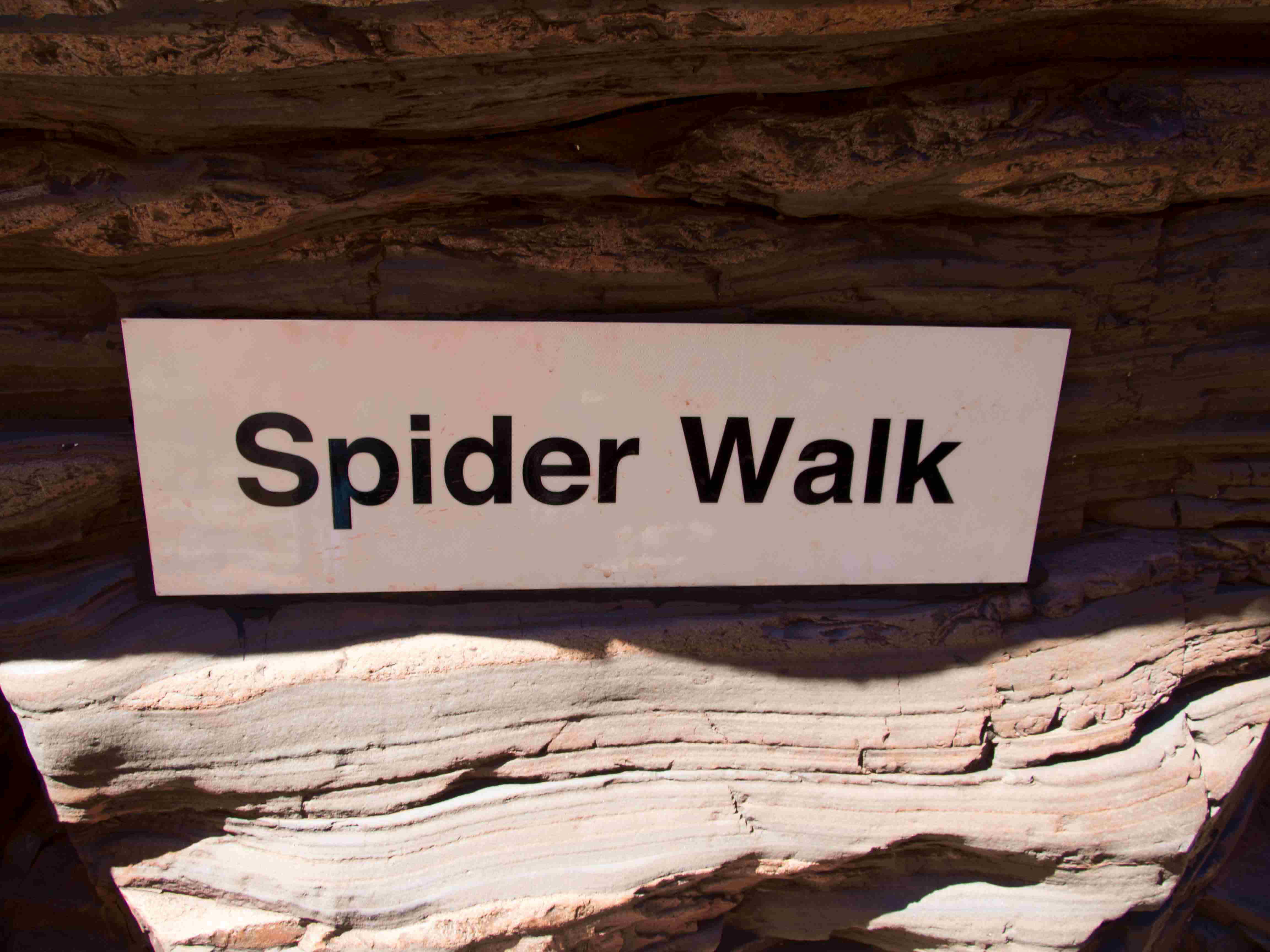 The famous Spider Walk! Here you have to use all you got! Both arms and legs to make it through. Really entertaining!
Der berühmte Spider Walk! Hier muss man nutzen was man hat! Beide Arme und Beine um es ans Ende zu schaffen. Wirklich spannend!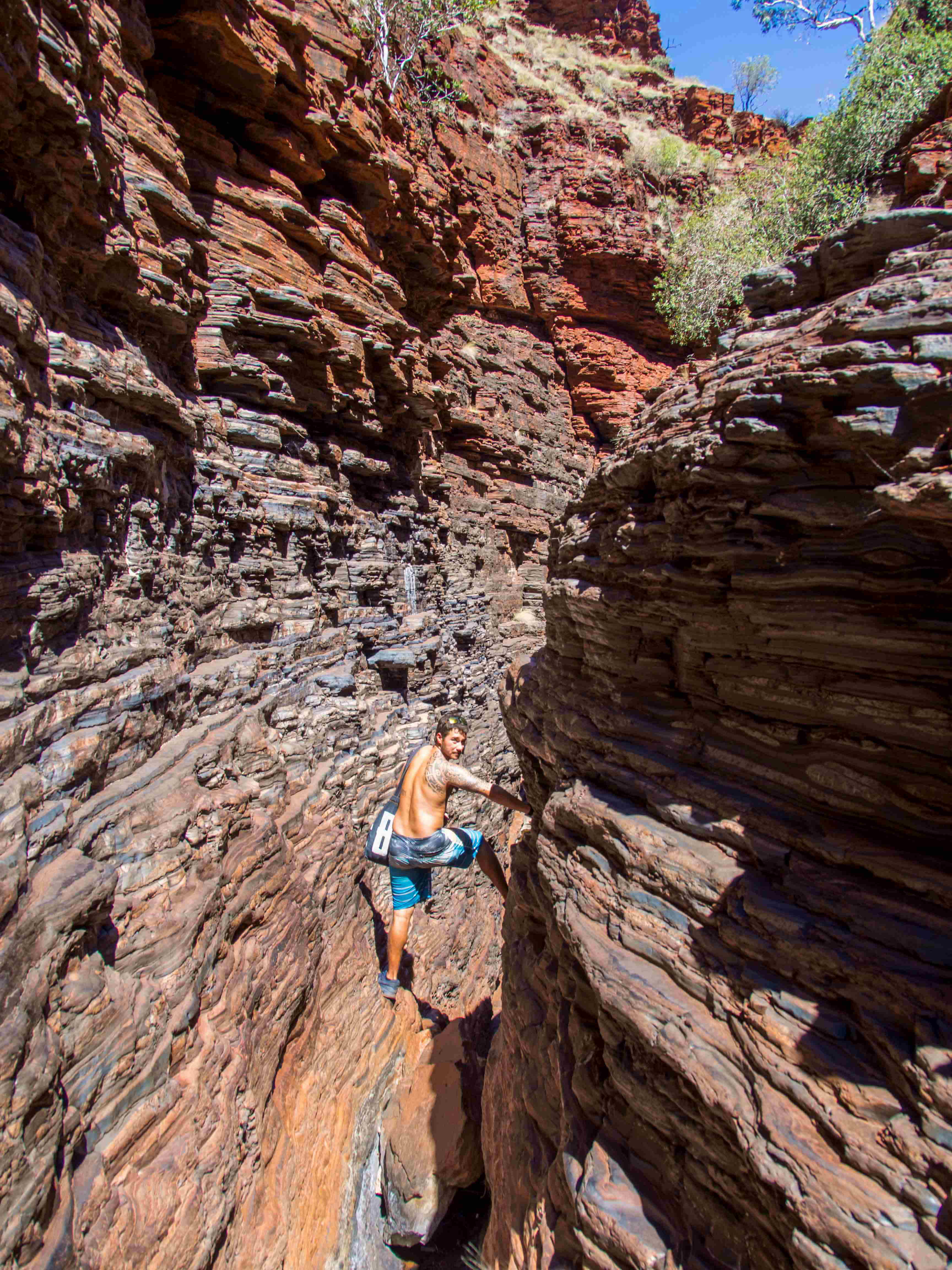 Raph is doing the Spider Walk!
Raph geht den Spider Walk!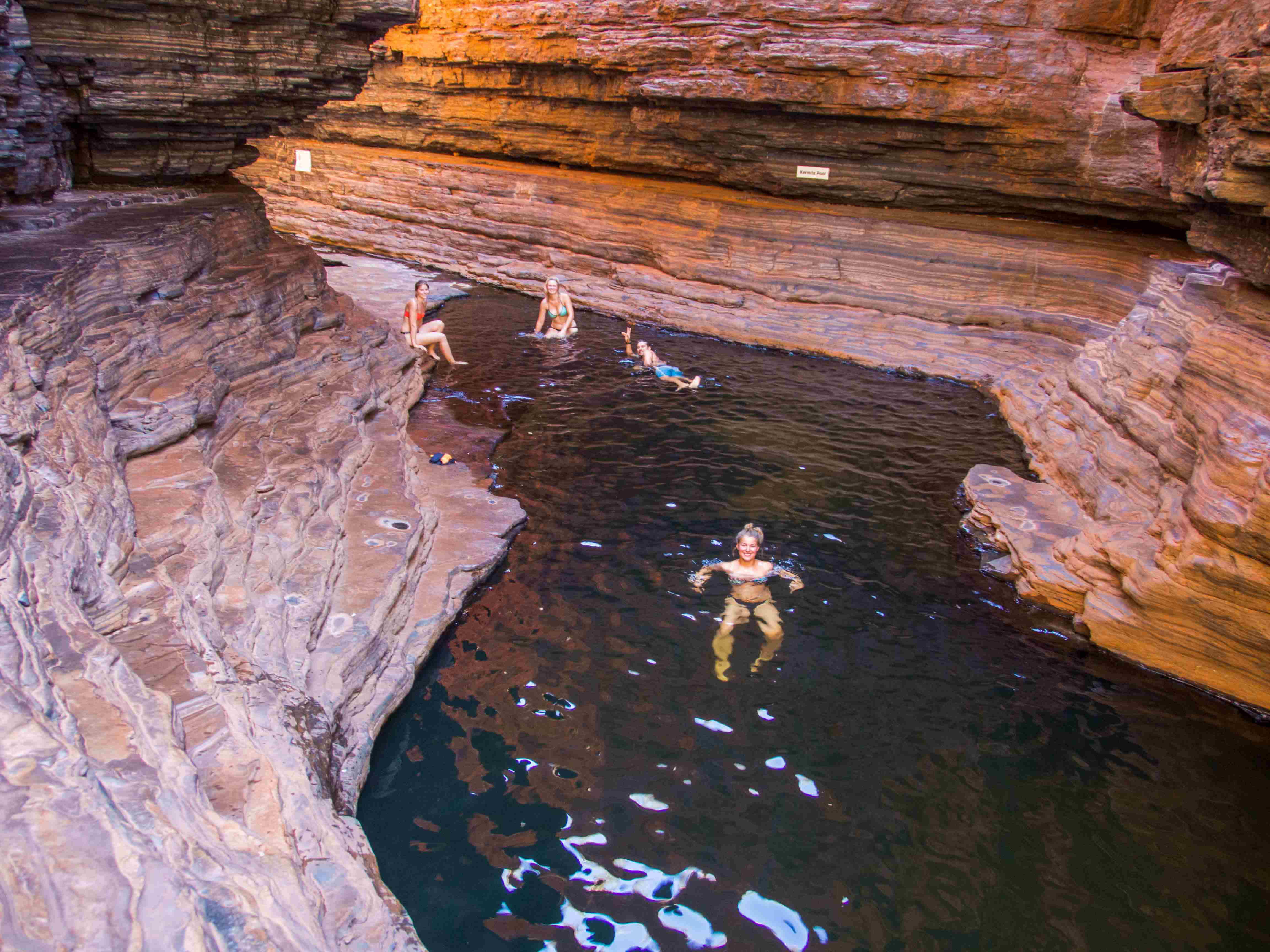 Finally we made it!
Und geschafft!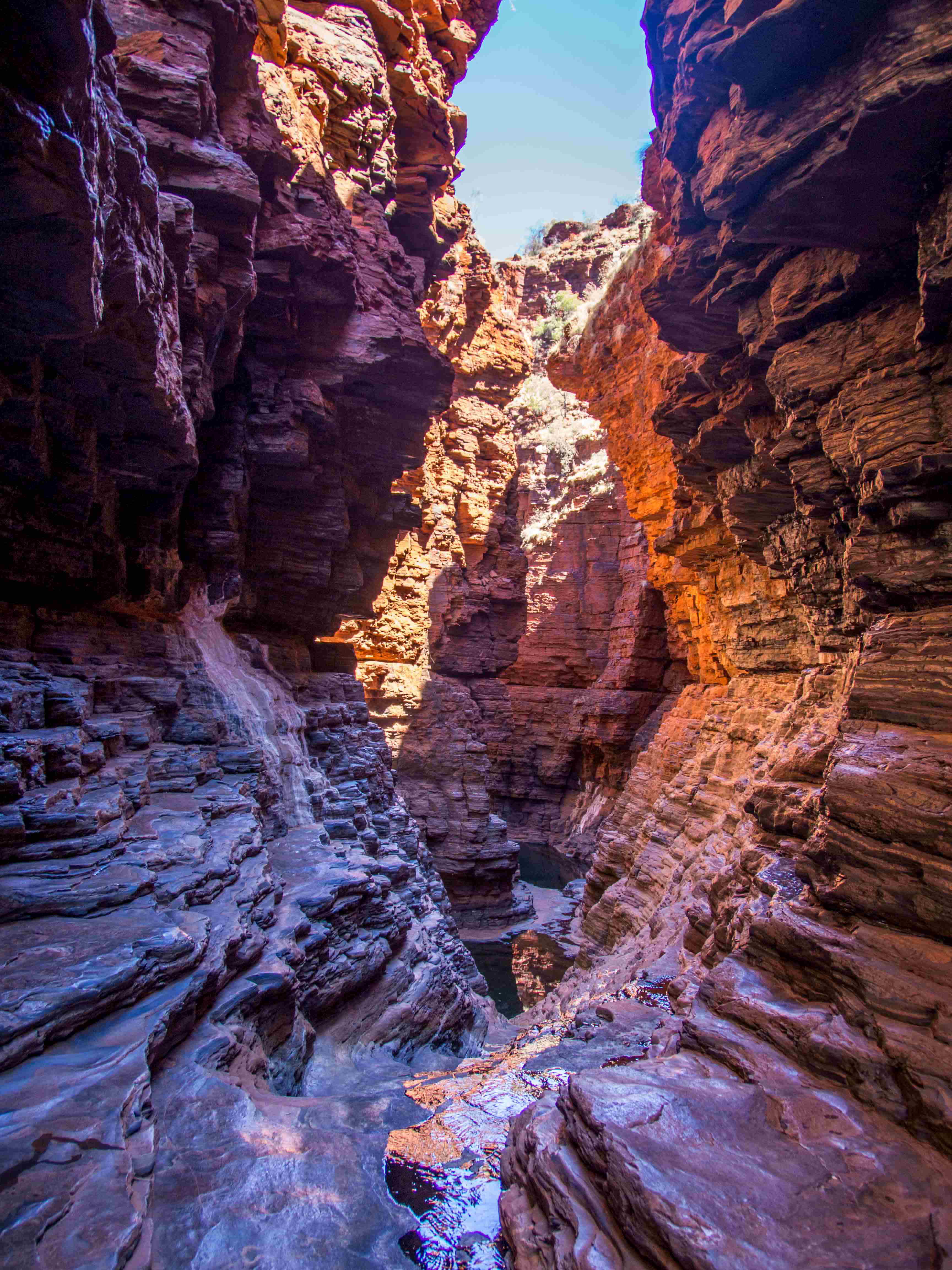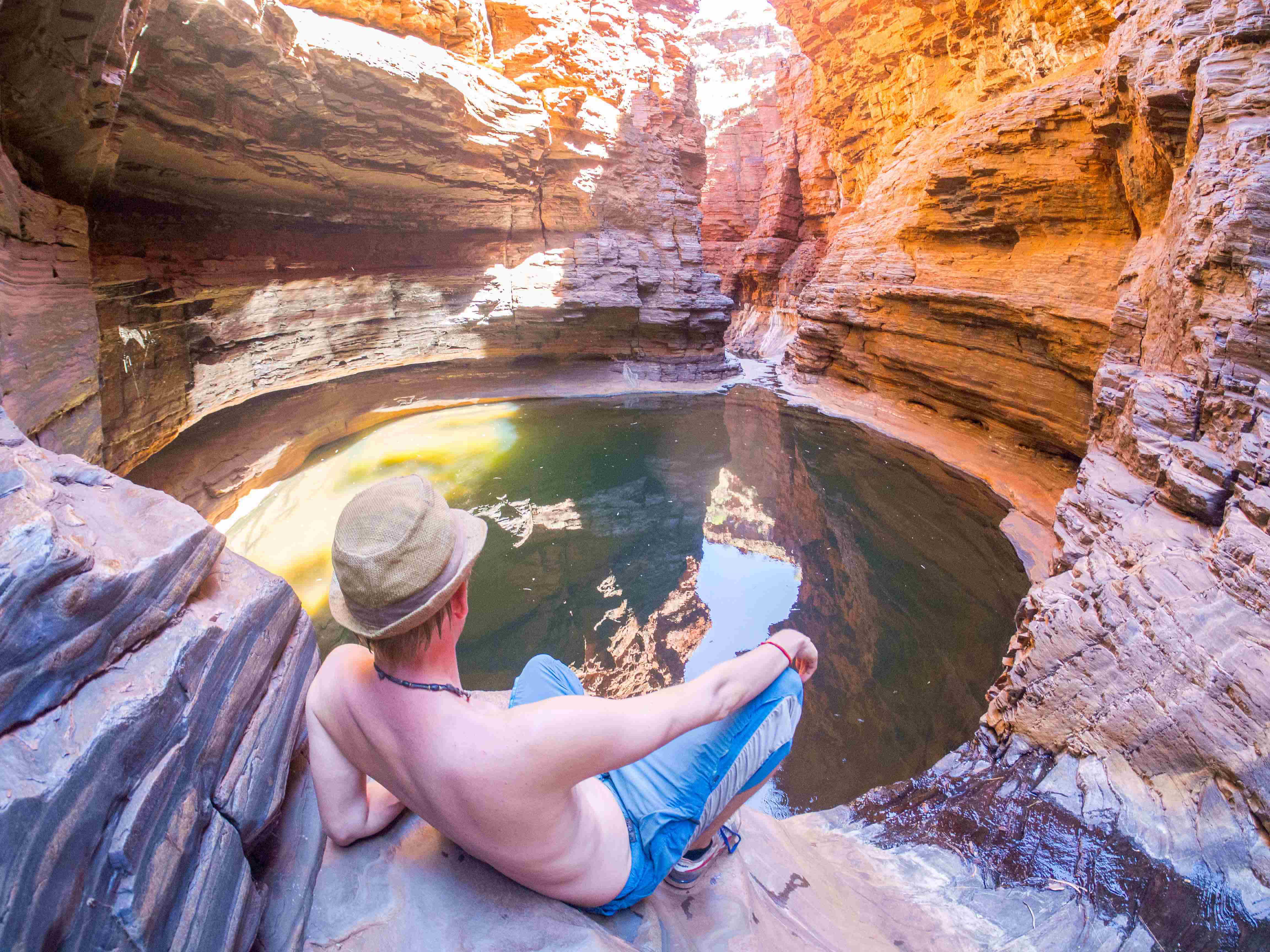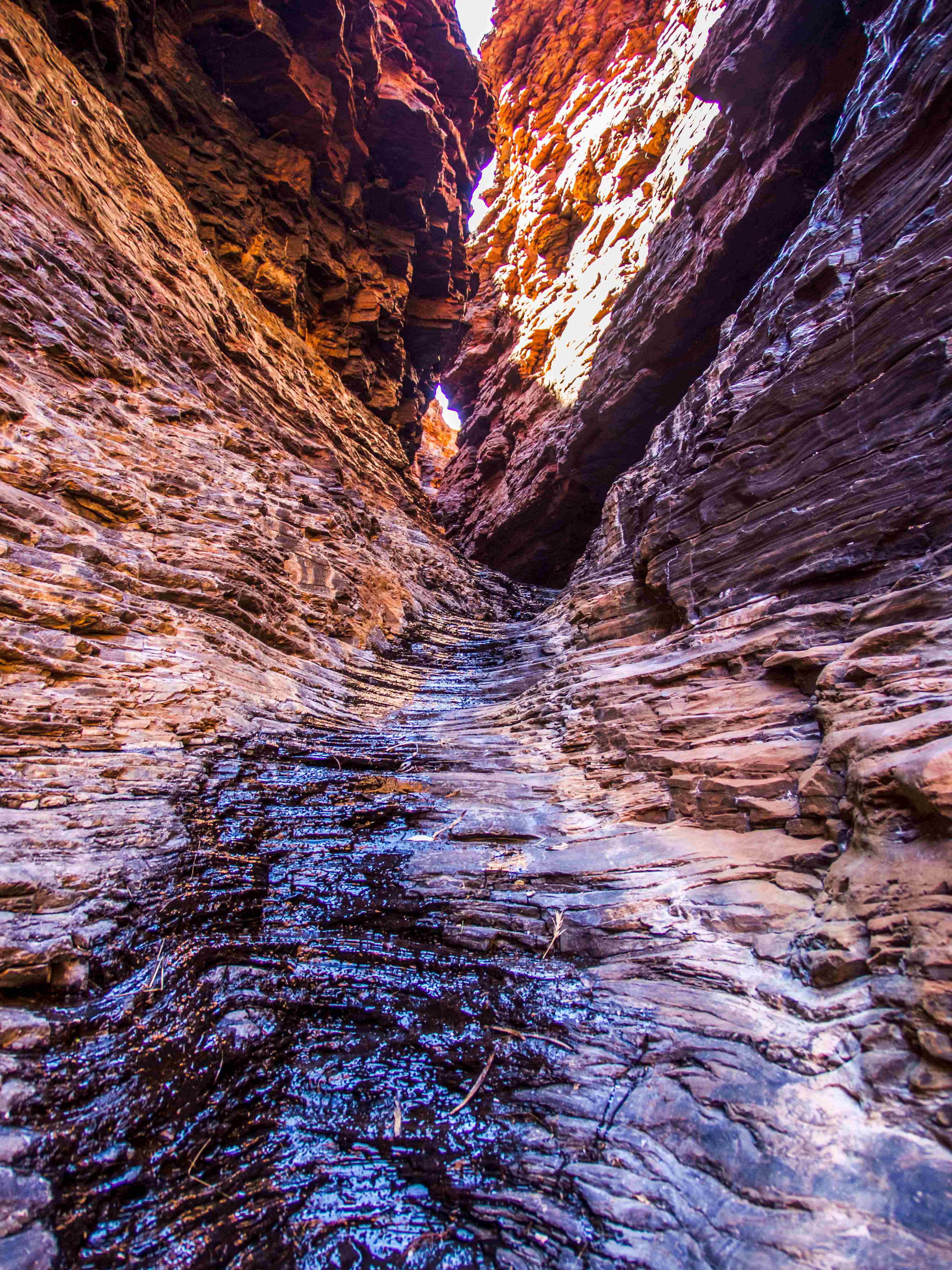 On his way back out Victor fel down and displaced his shoulder. So we helped him out of the gorge. Later he had to be flown to the hospital to get it positioned again.
Auf seinem Weg nach draußen fiel Victor hin und hat sich die Schulter ausgekugelt. So halfen wir ihm aus der Schlucht. Später musste er ins Krankenhaus geflogen werden um sie wieder in Position zu bringen.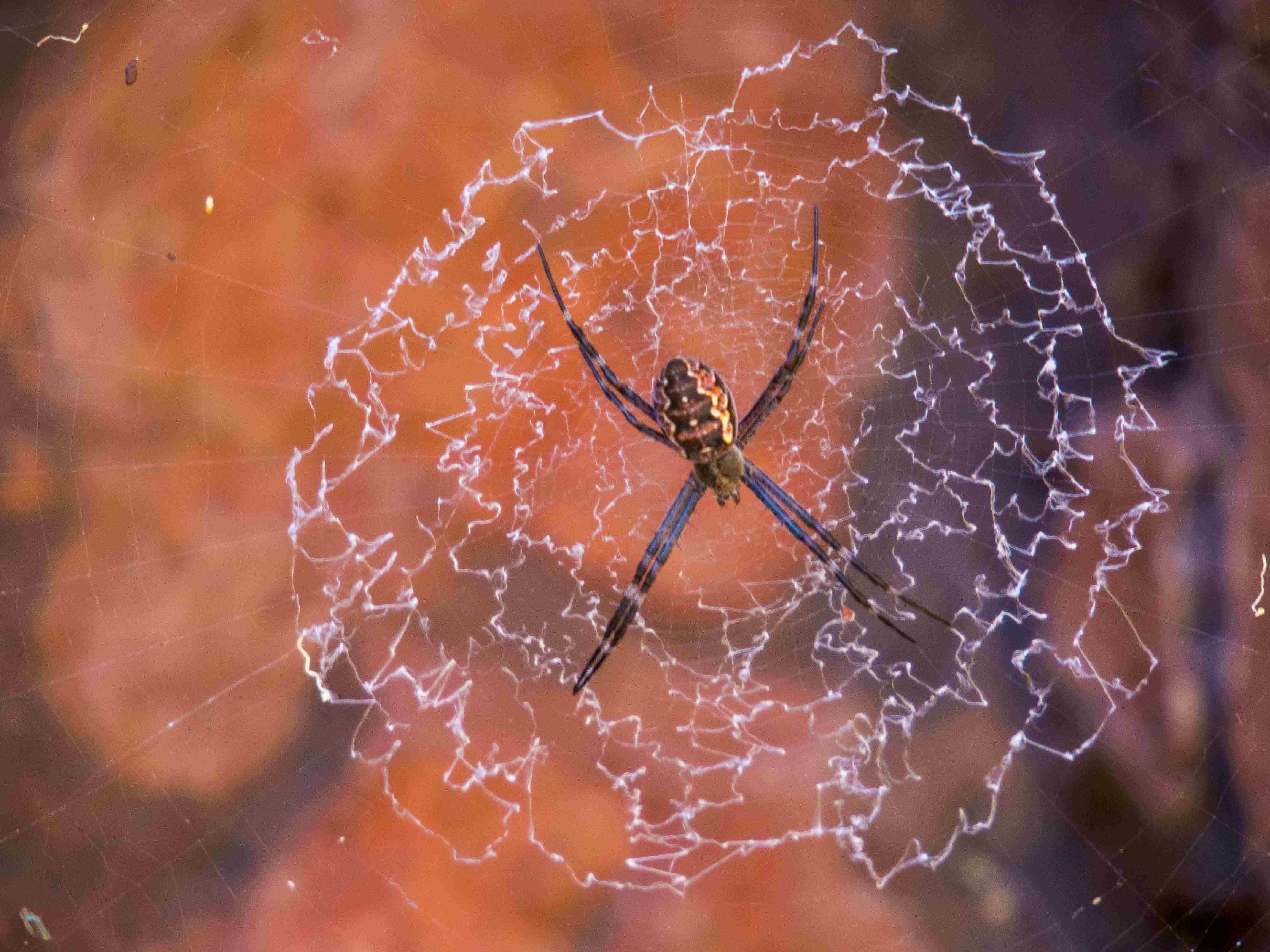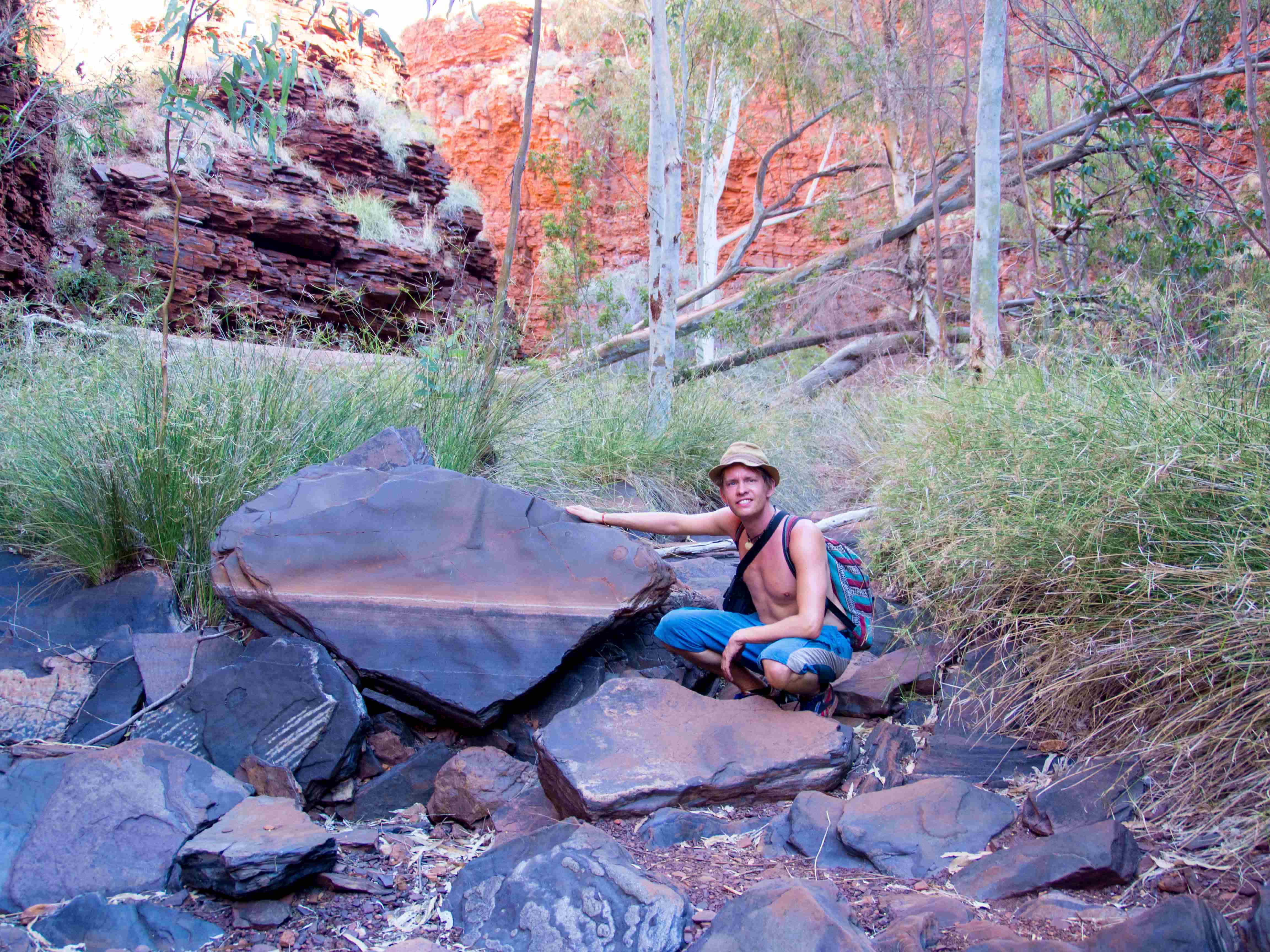 This stone looked like a painting of the ocean.
Dieser Stein sah aus wie ein Gemälde des Ozeans.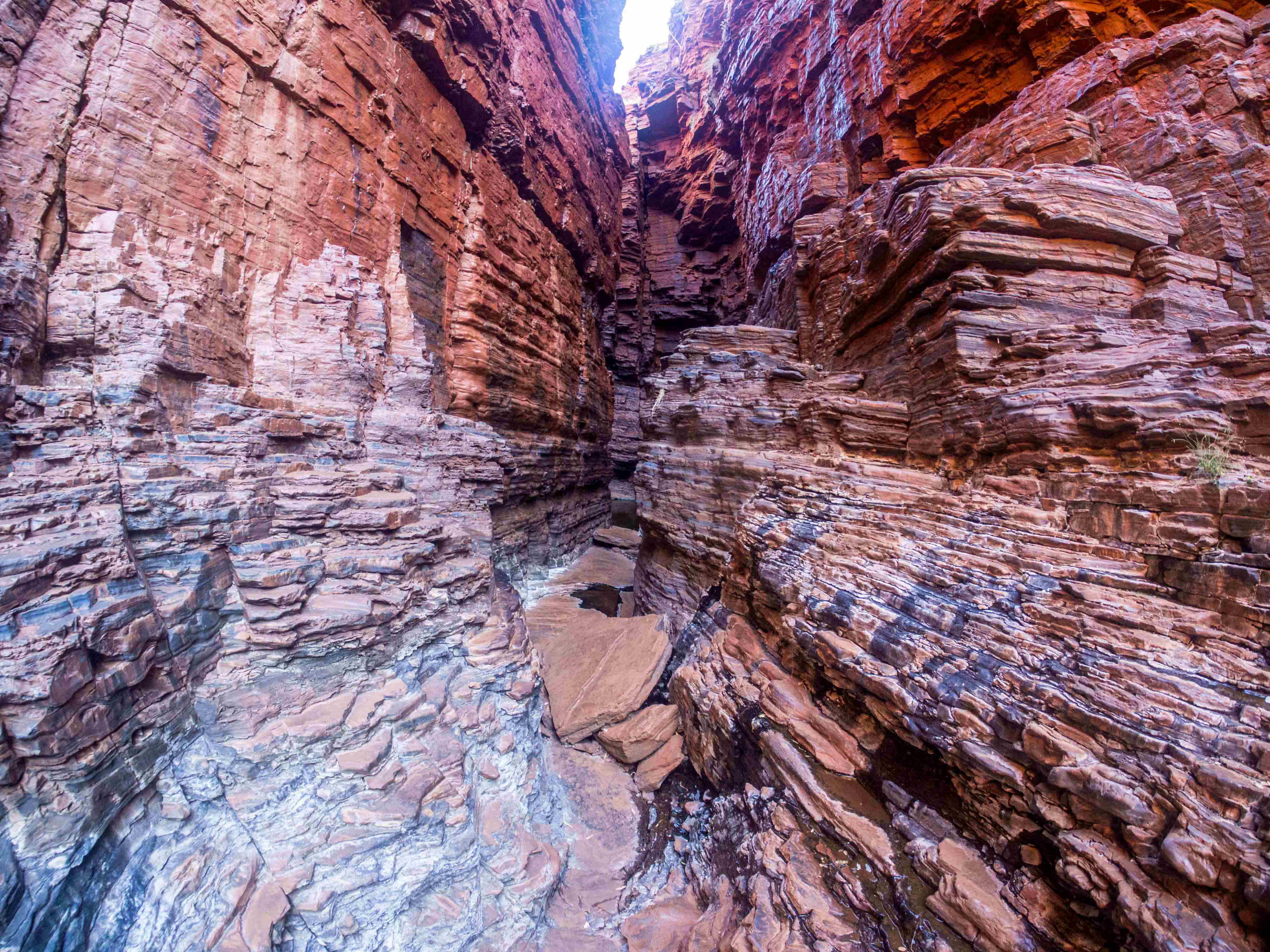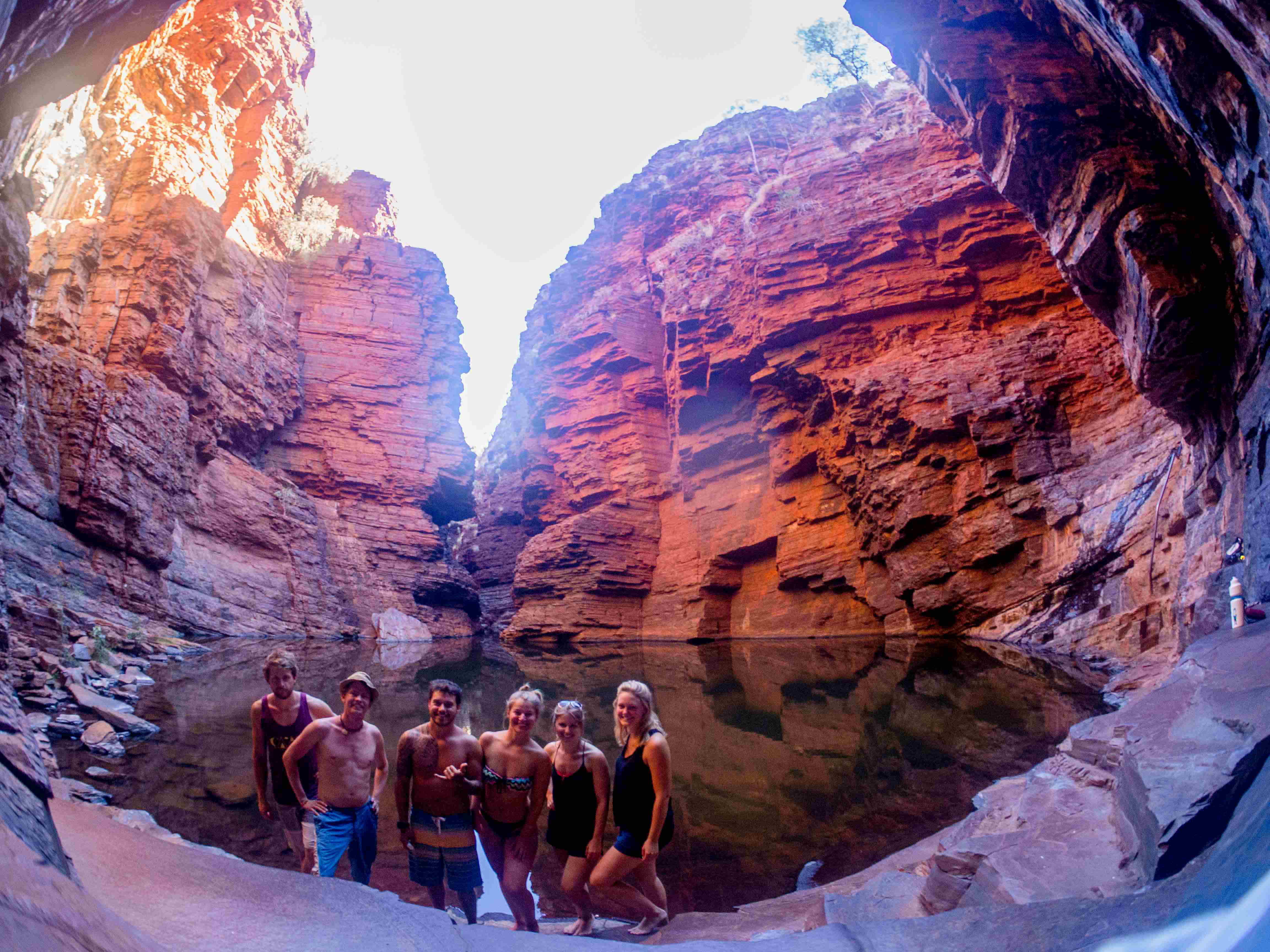 The gang at the Handrail Pool.
Die Gang am Handrail Pool.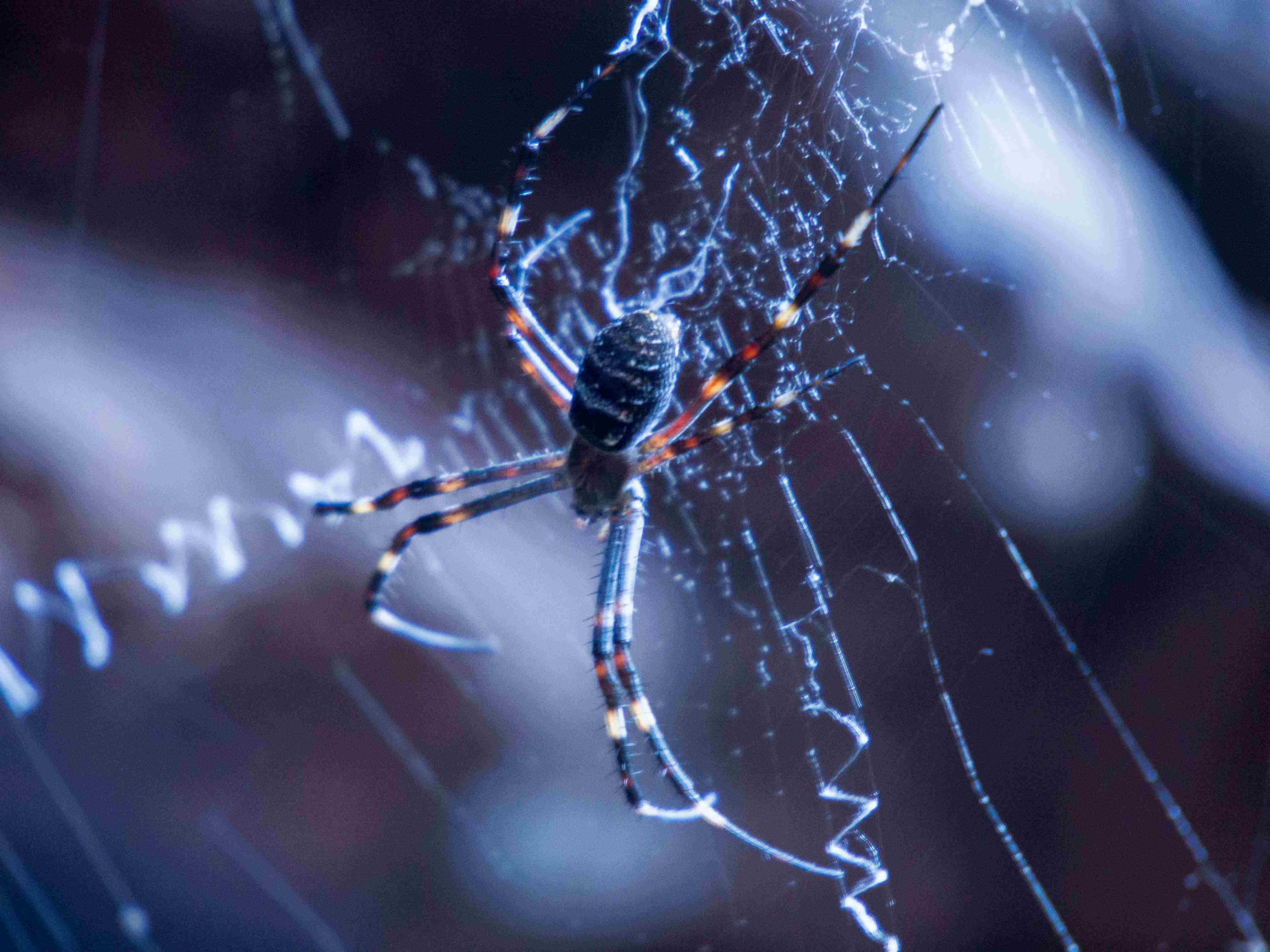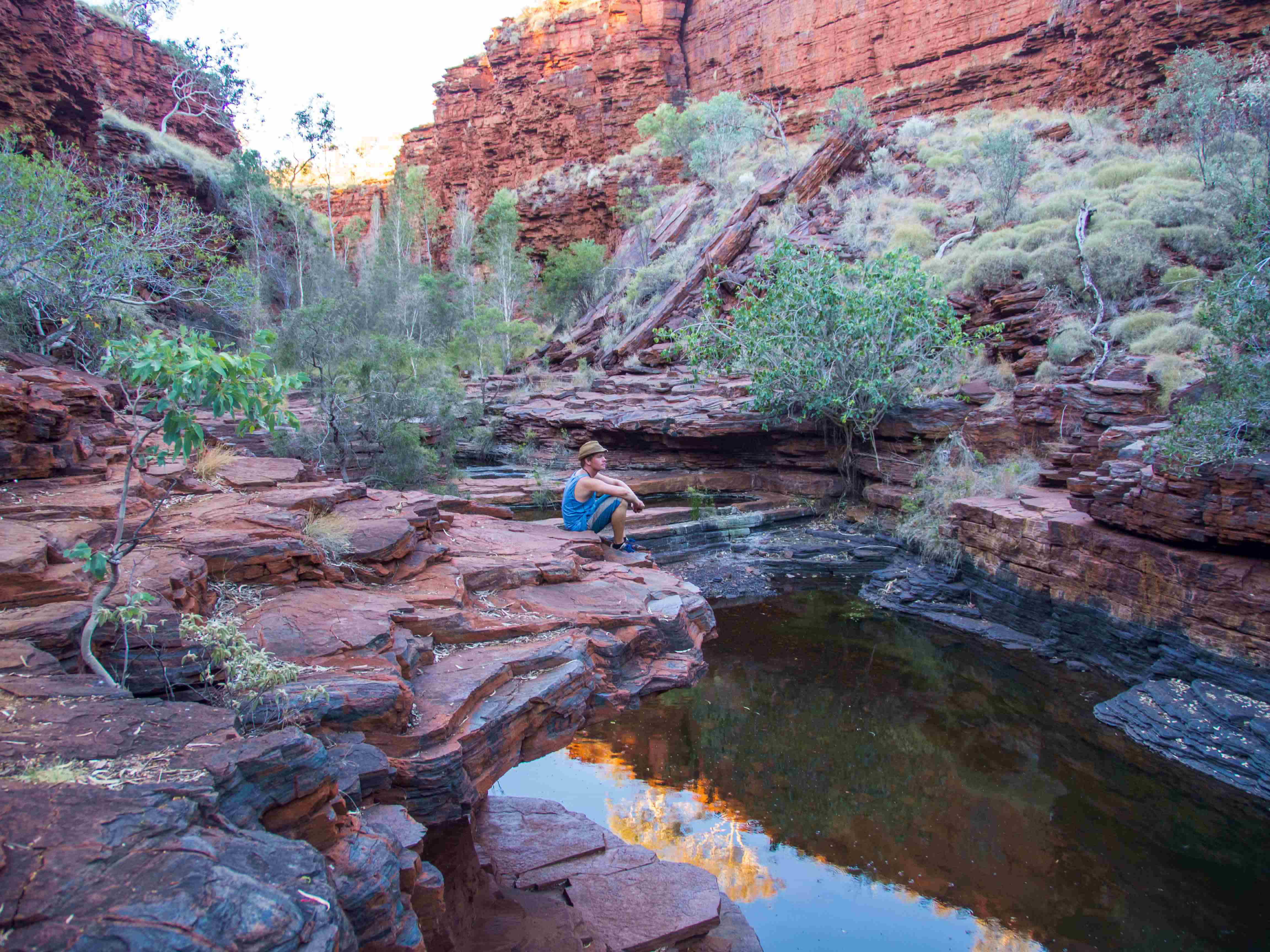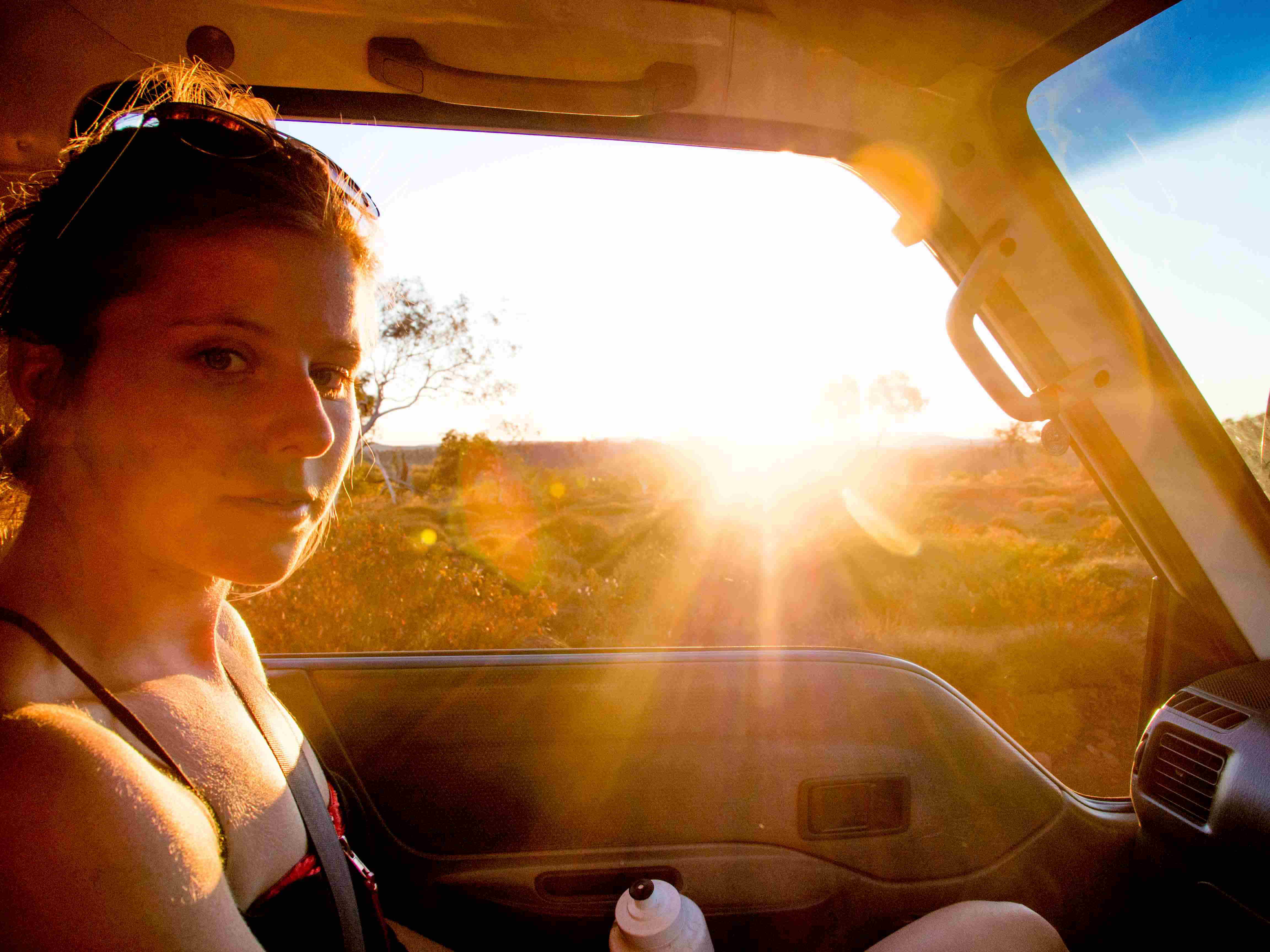 Anna :)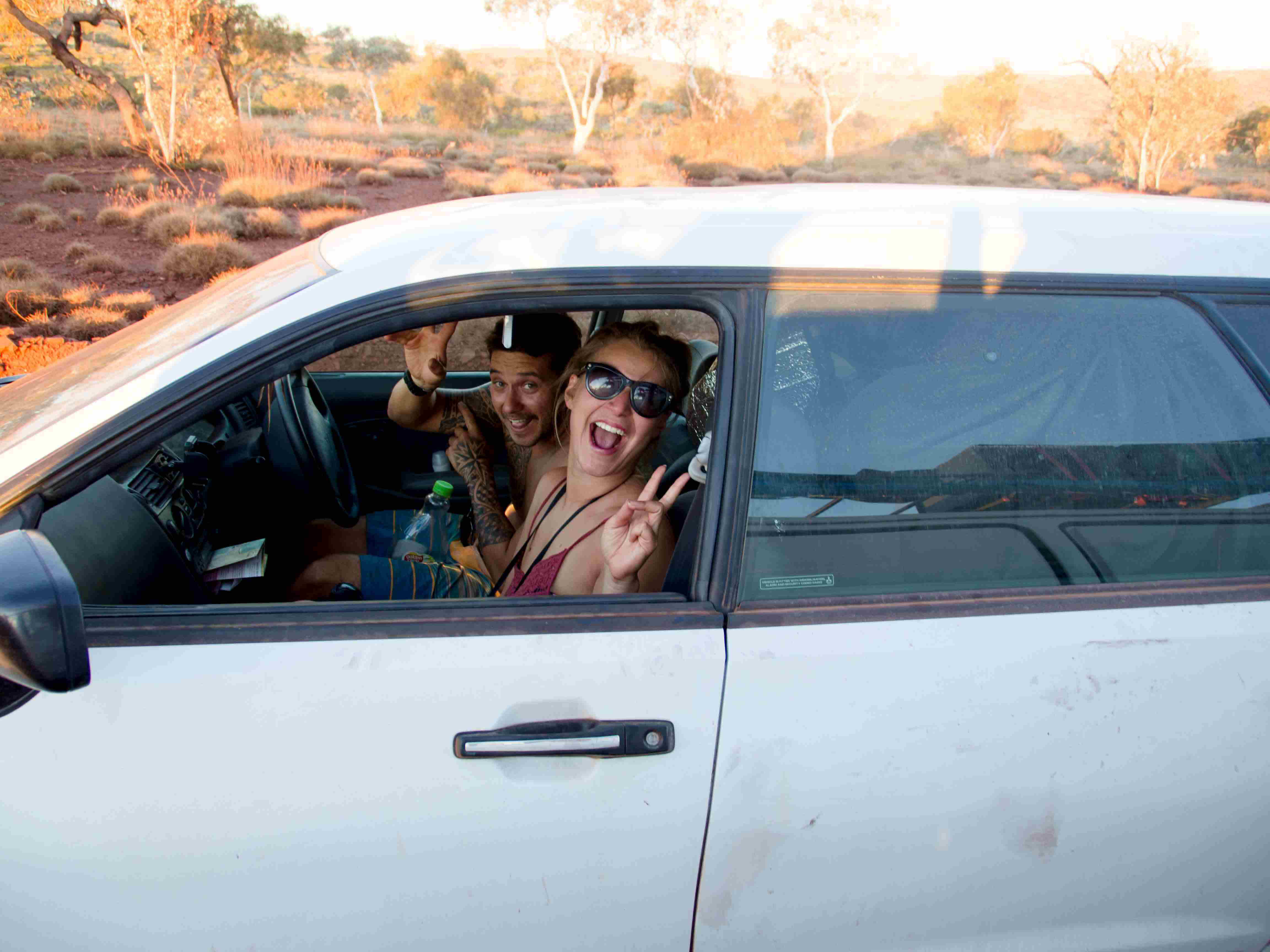 Rapha and Mell.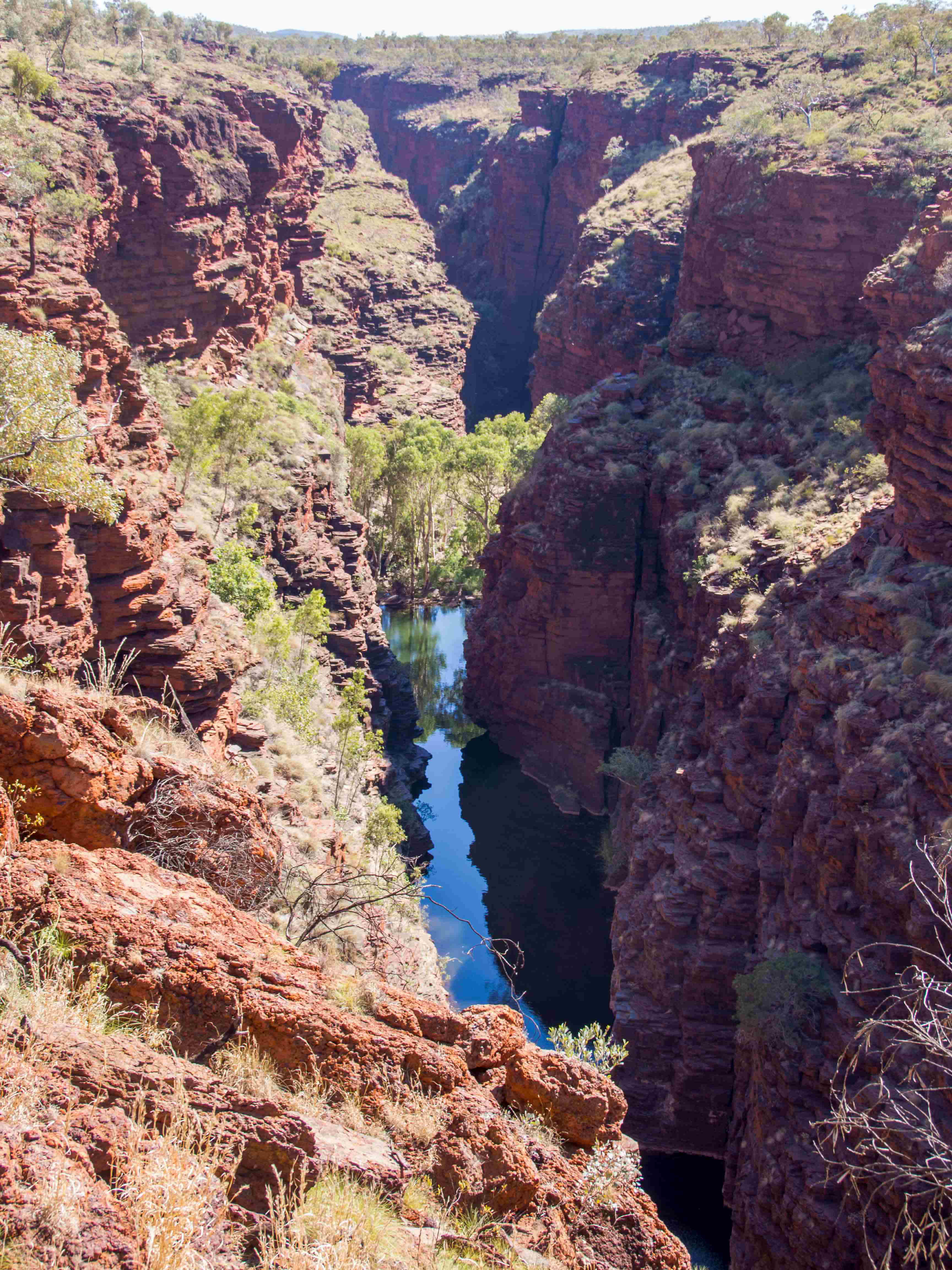 Eileen enjoying the gorge. :)
Eileen genißet die Schlucht. :)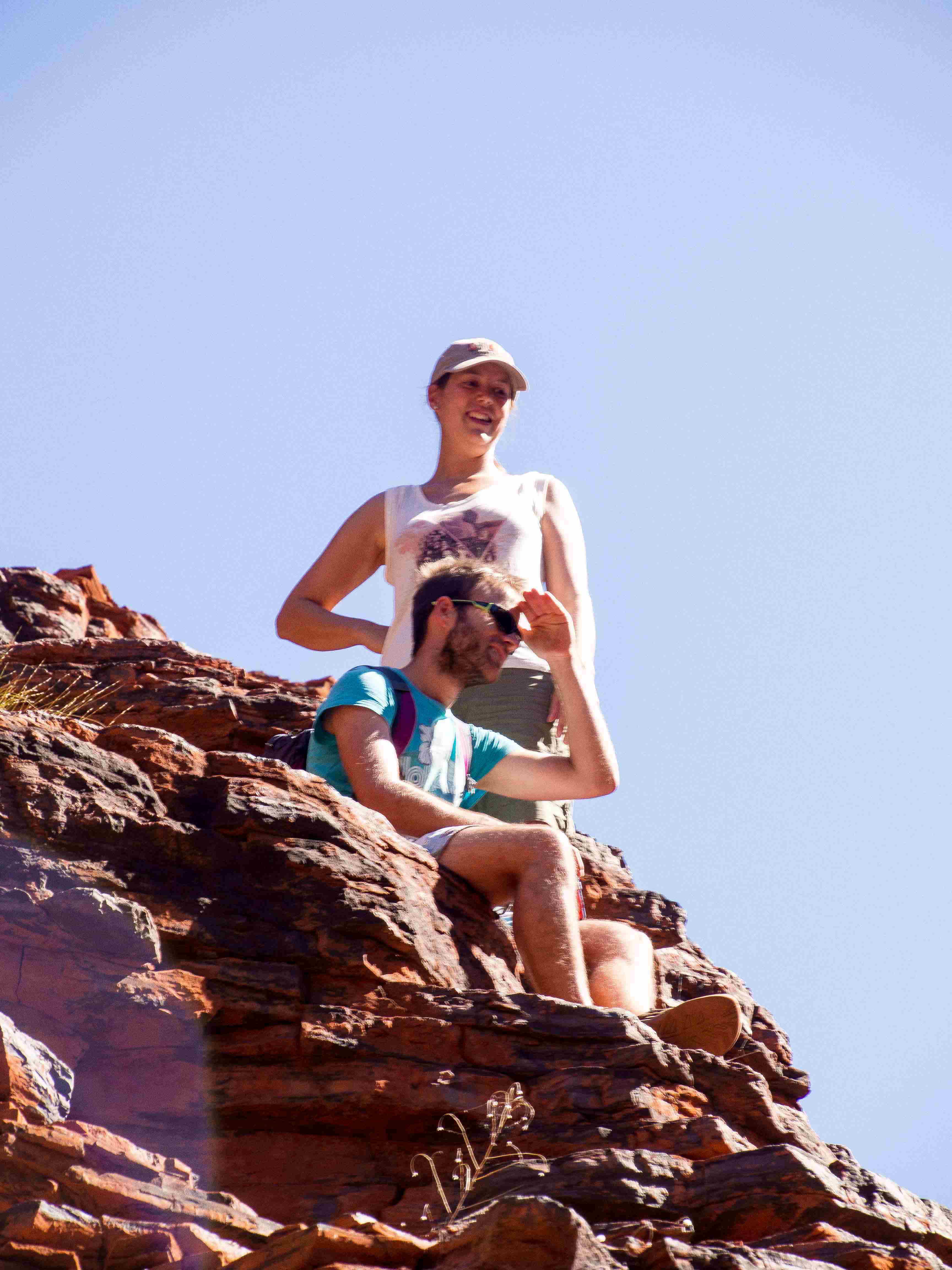 Thorsten and Esther as well.
Thorsten und Esther ebenso.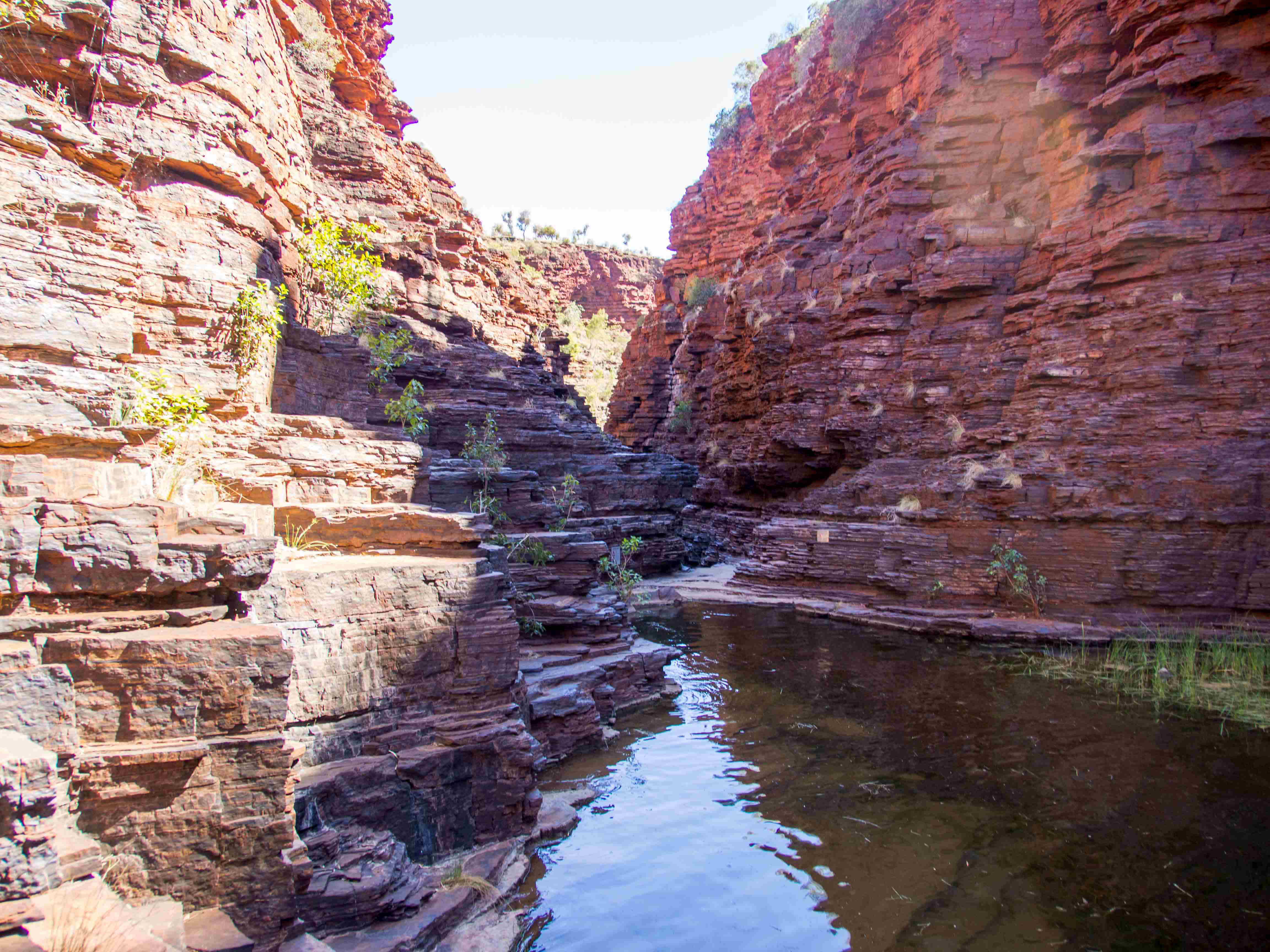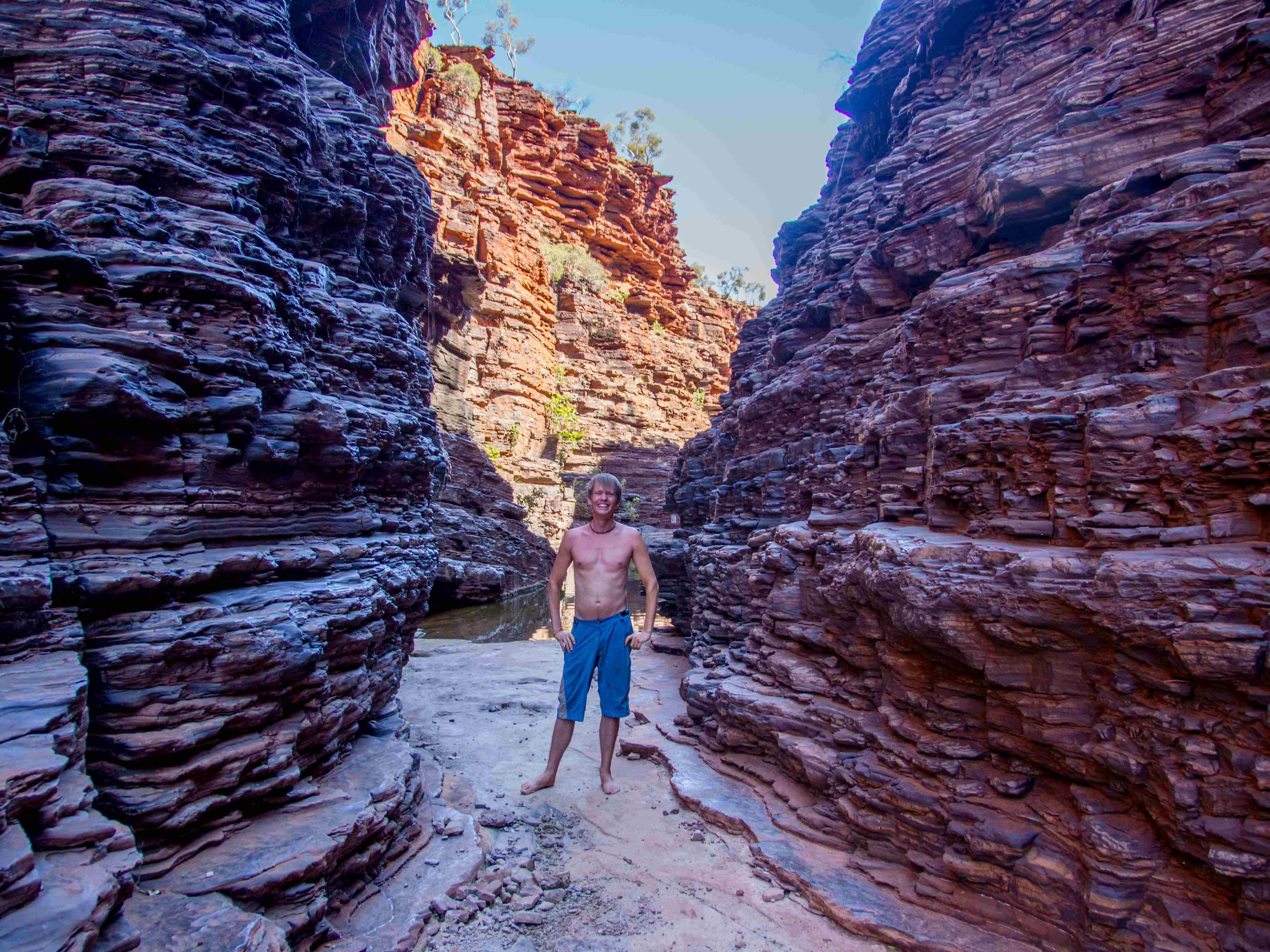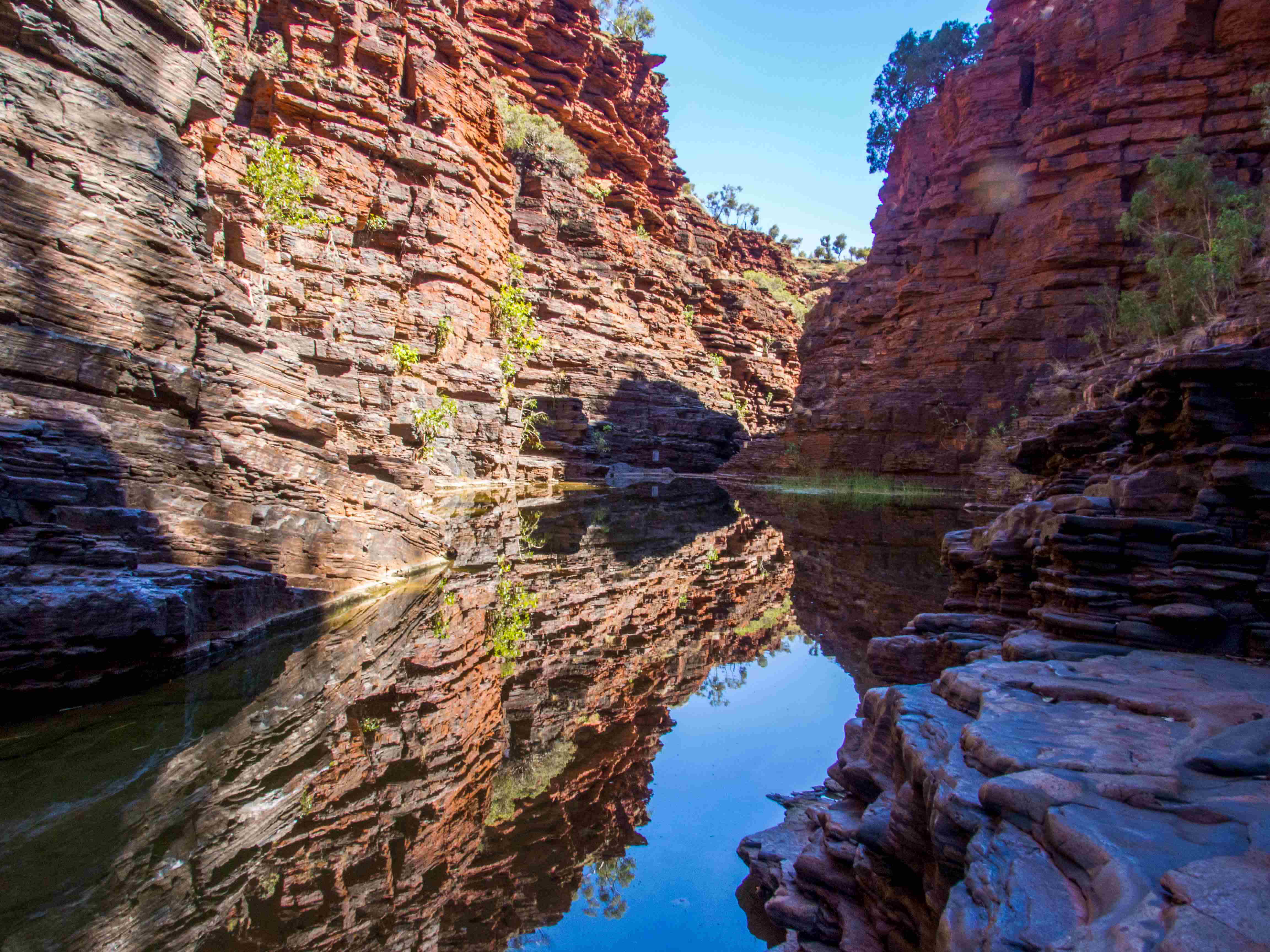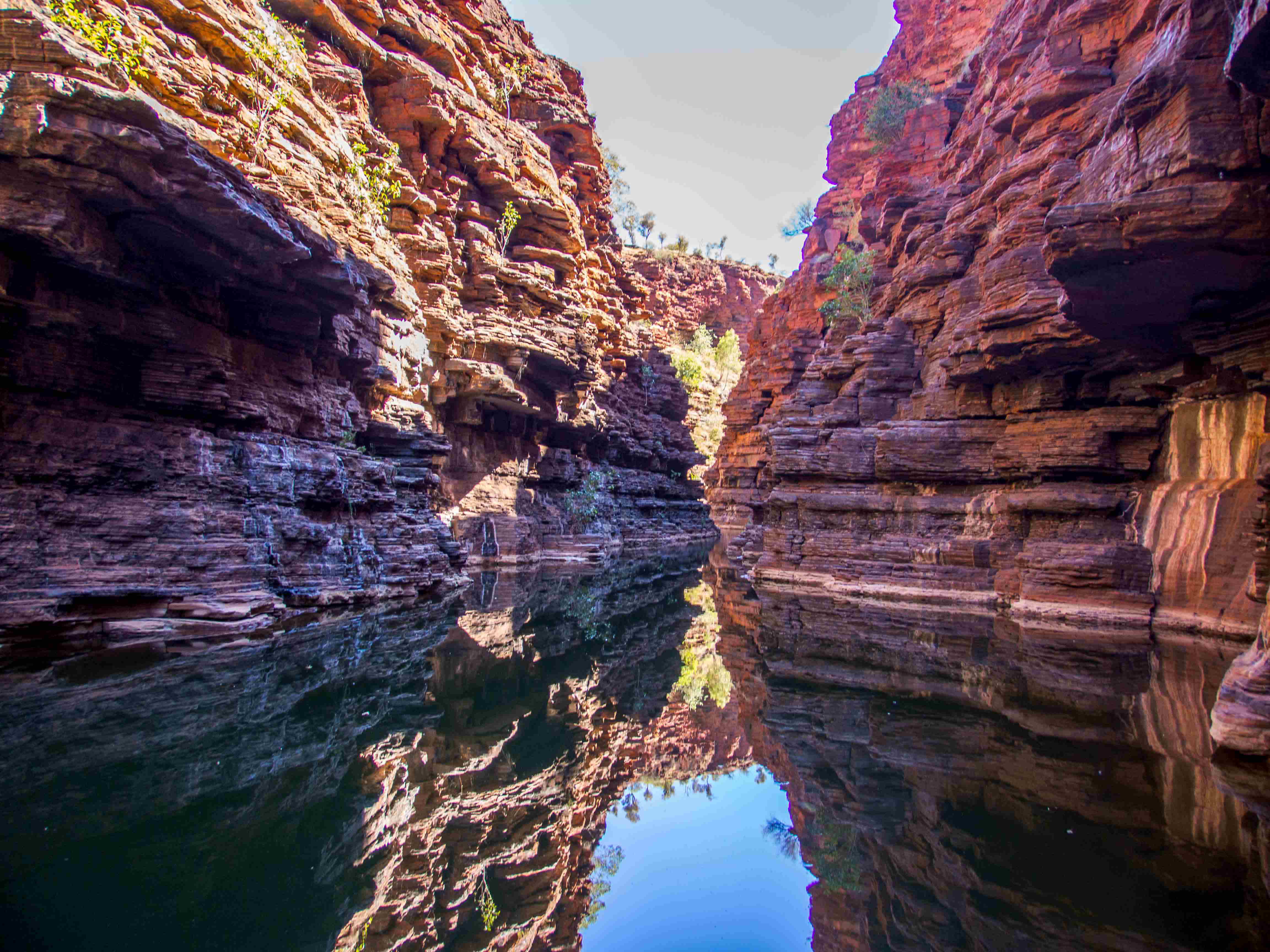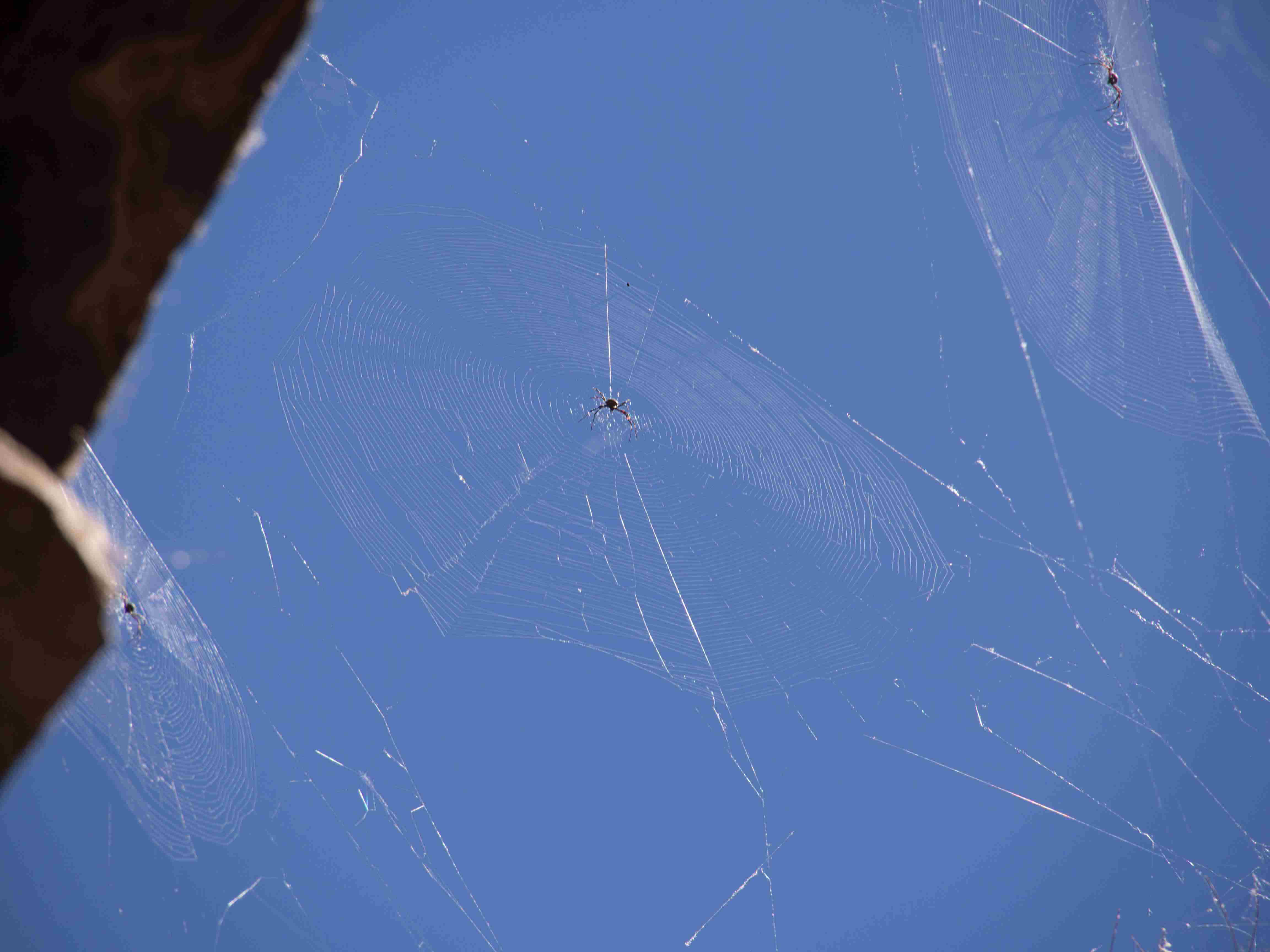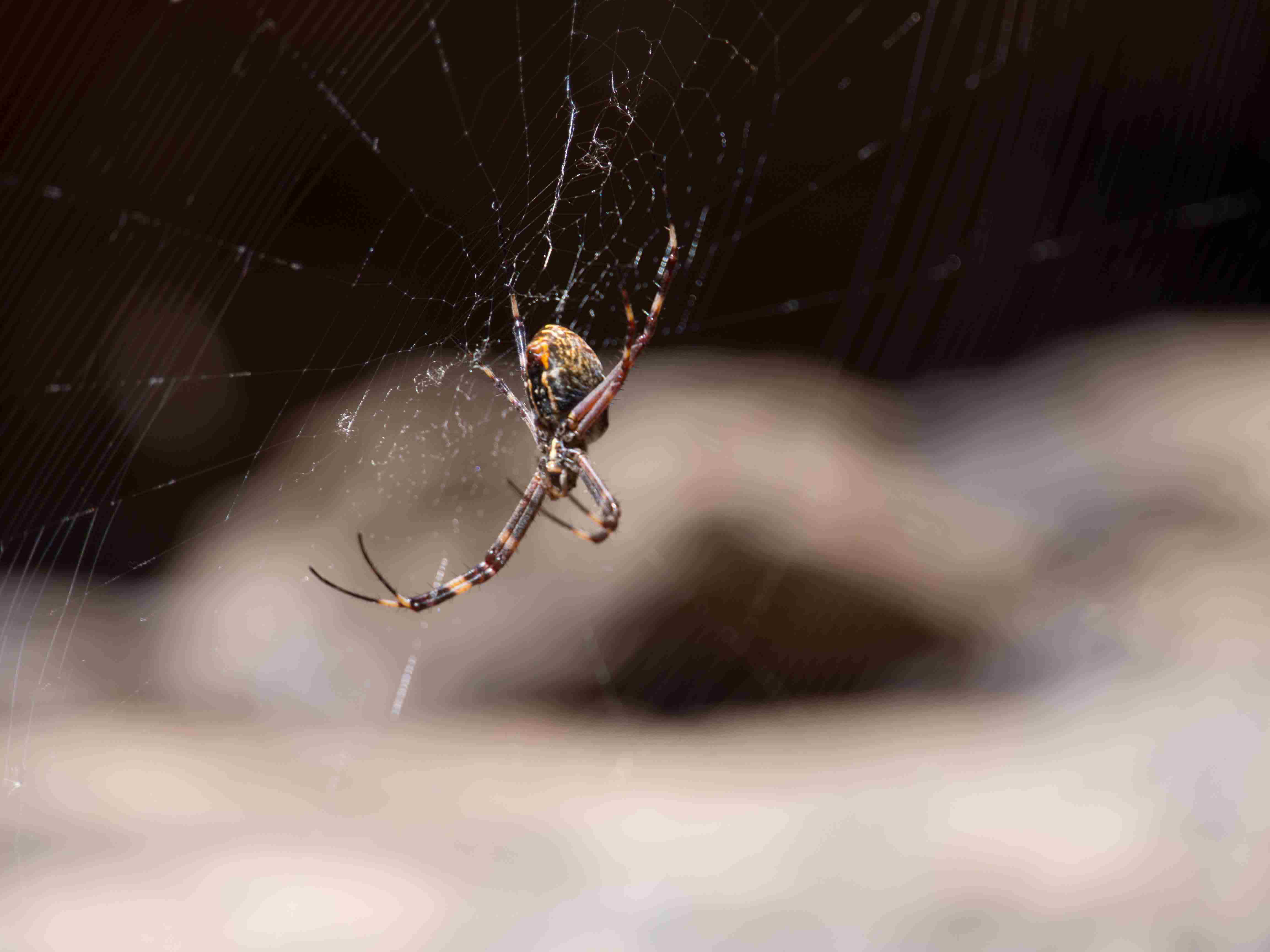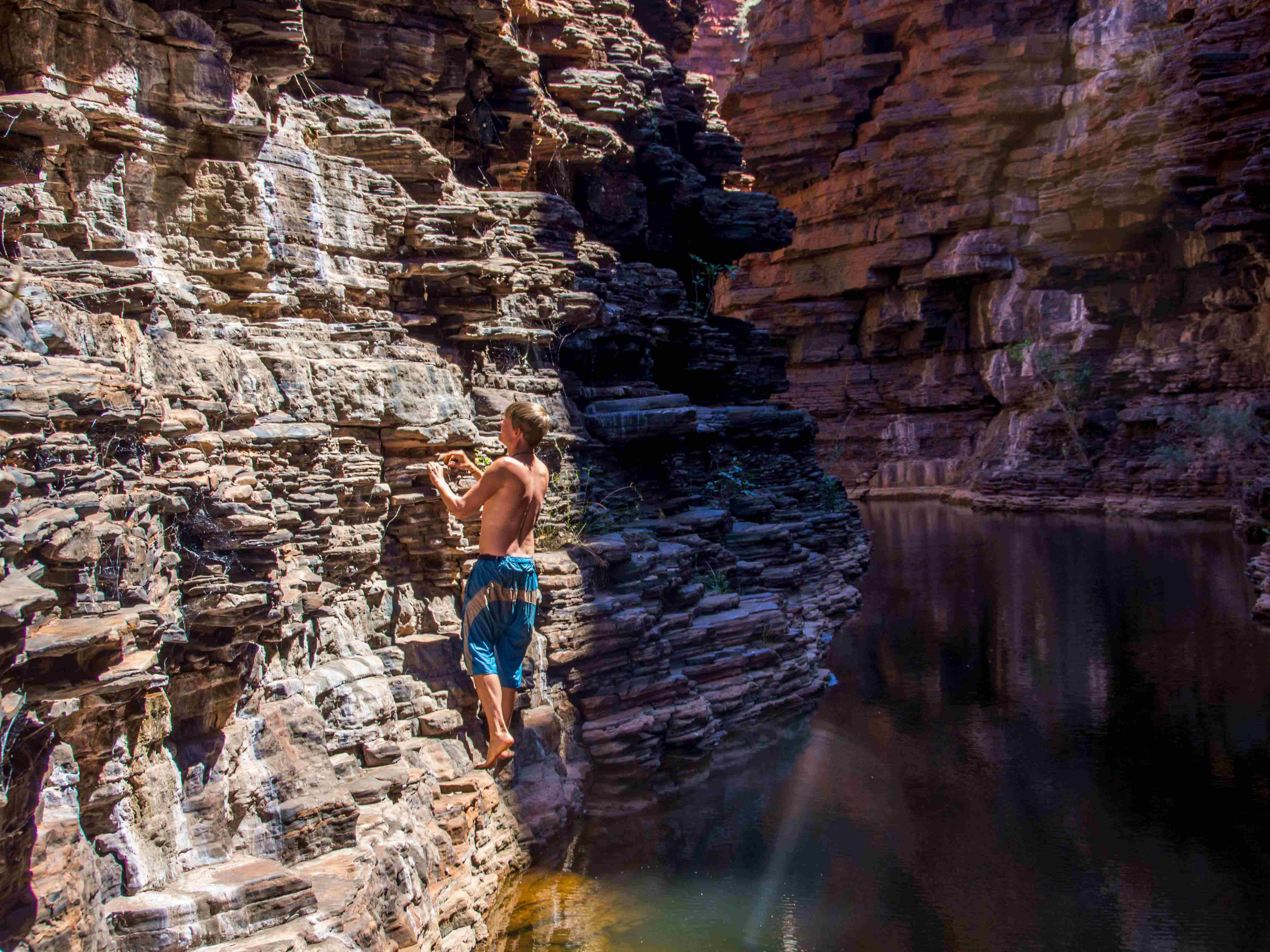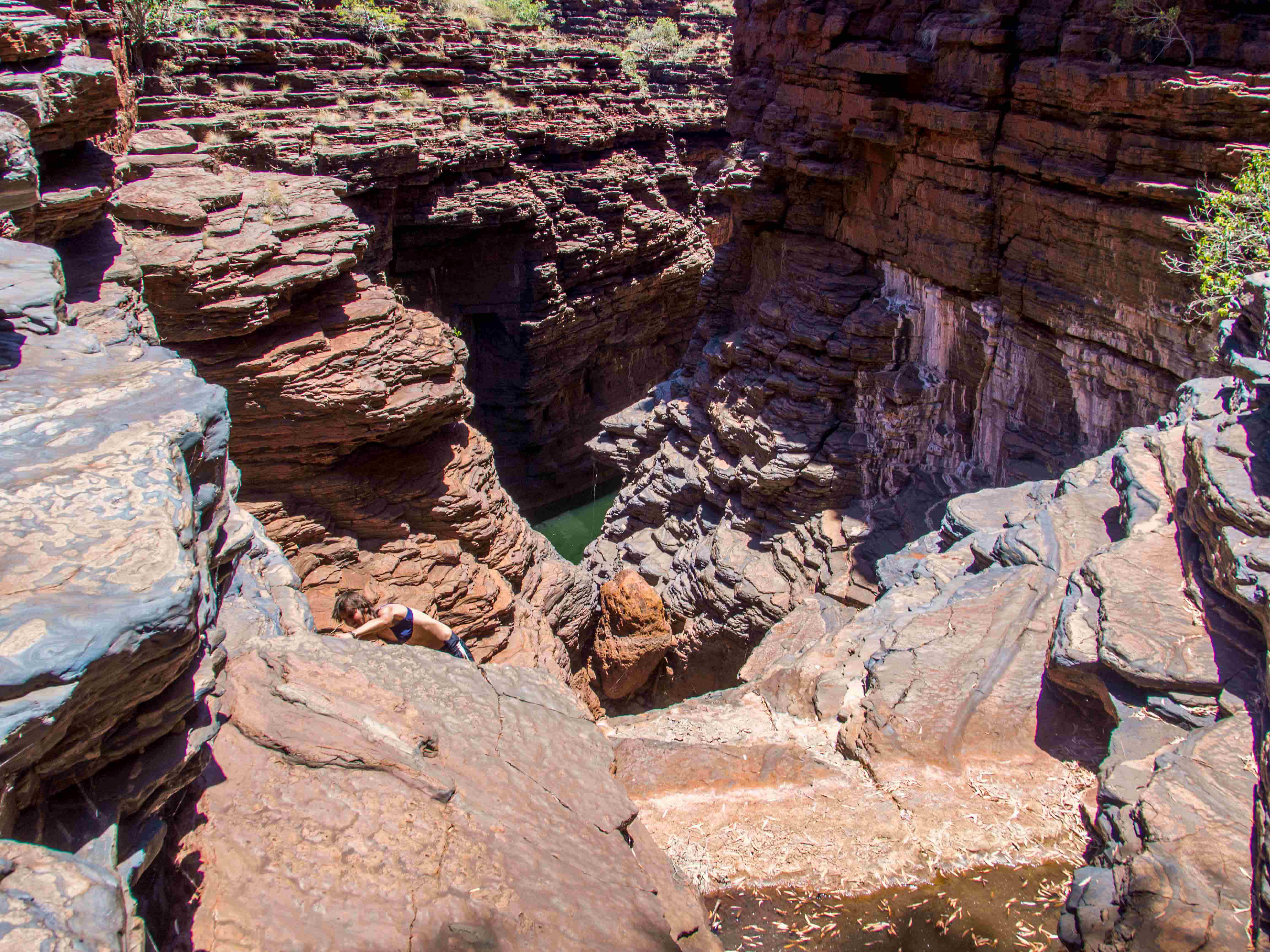 A looooot of spiders in the Karinjini National Park. So take care when you grab around a corner while climbing.
Jeeeede Menge Spinnen im Karinjini National Park. Daher vorsicht wenn man beim Klettern um die Ecke greift.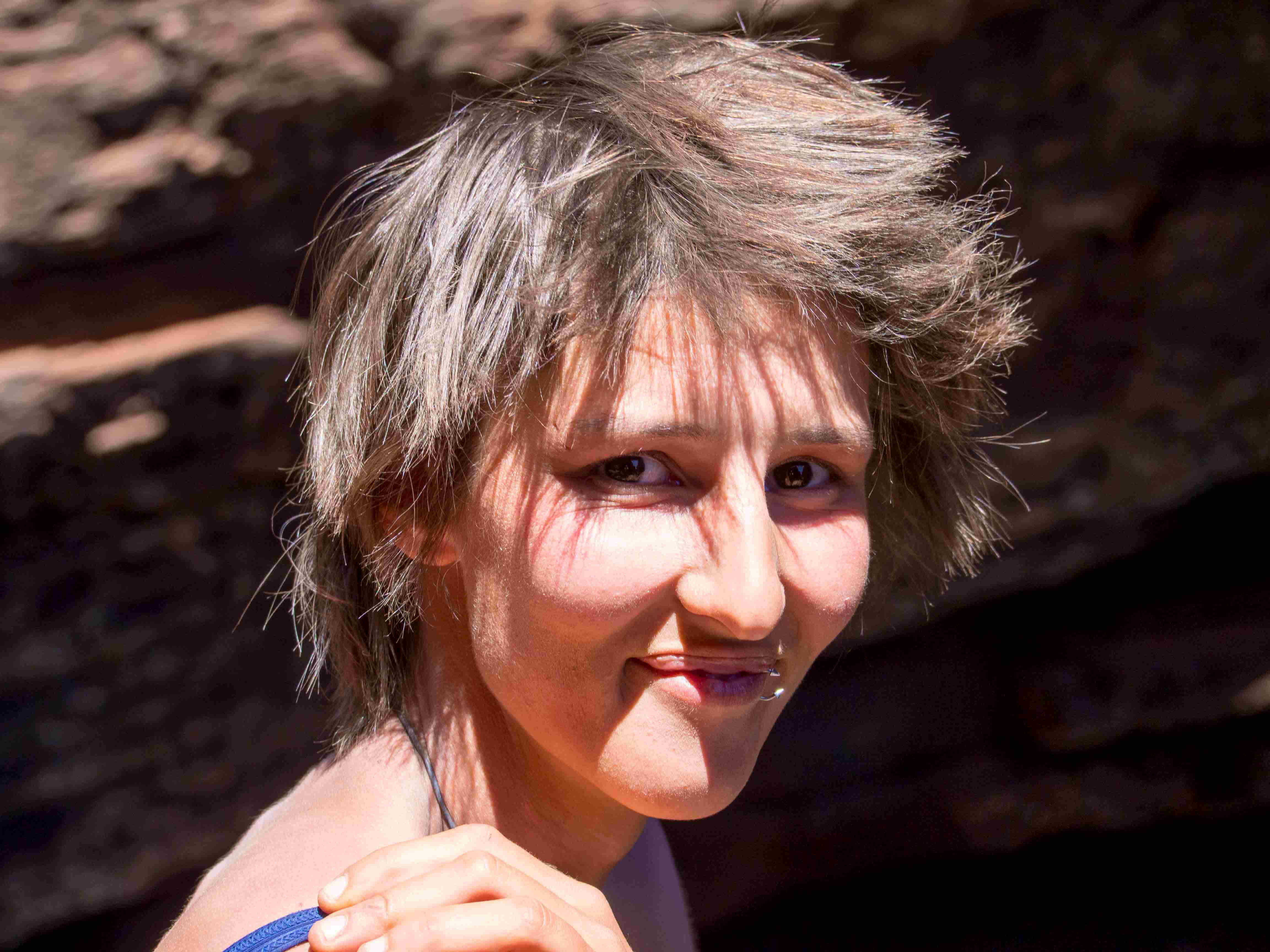 Calypso in the sun :)
Calypso in der Sonne. :)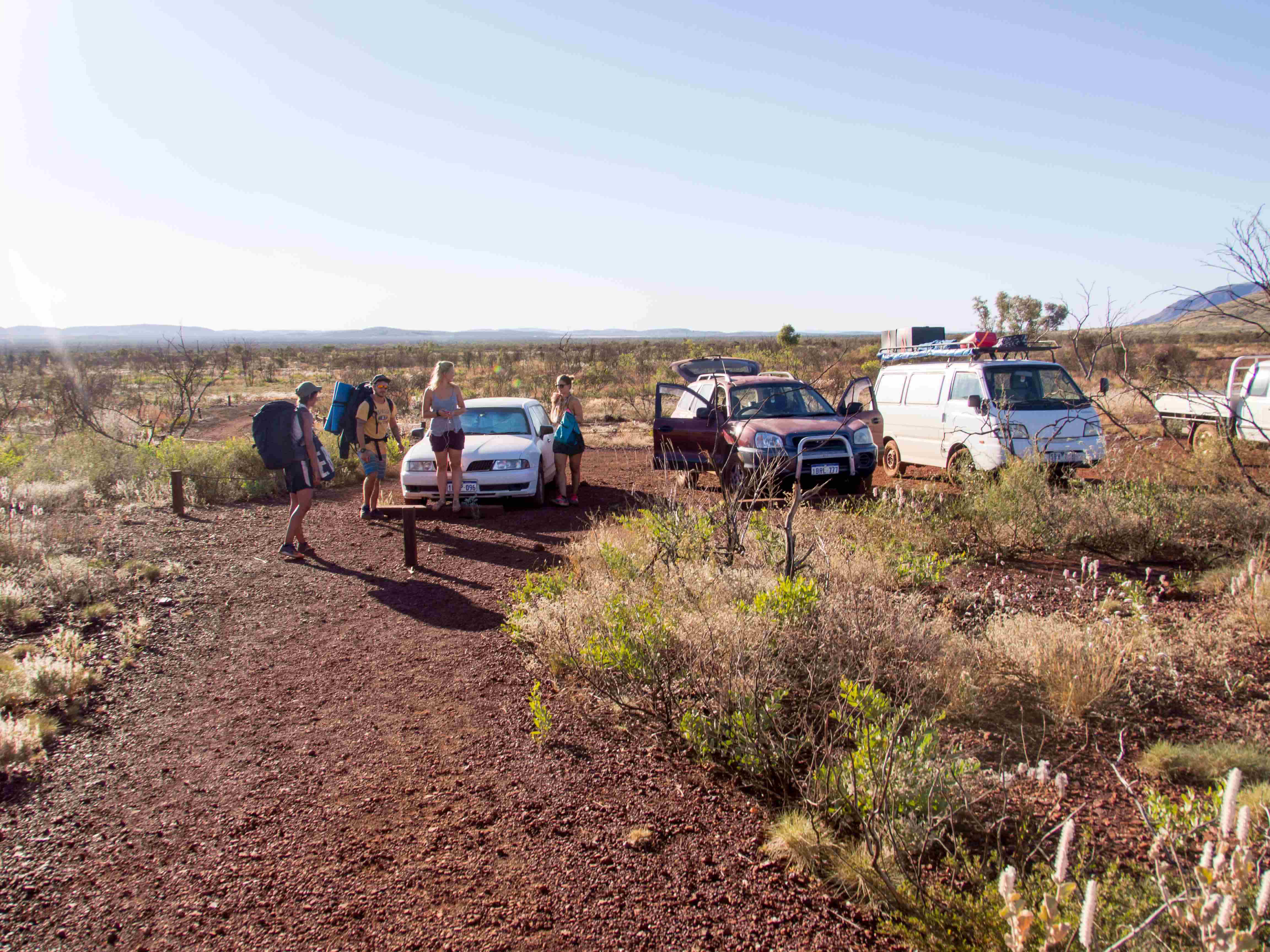 The gang is getting ready for a night on Mount Bruce.
Die Gang macht sich bereit für eine Nacht auf Mount Bruce.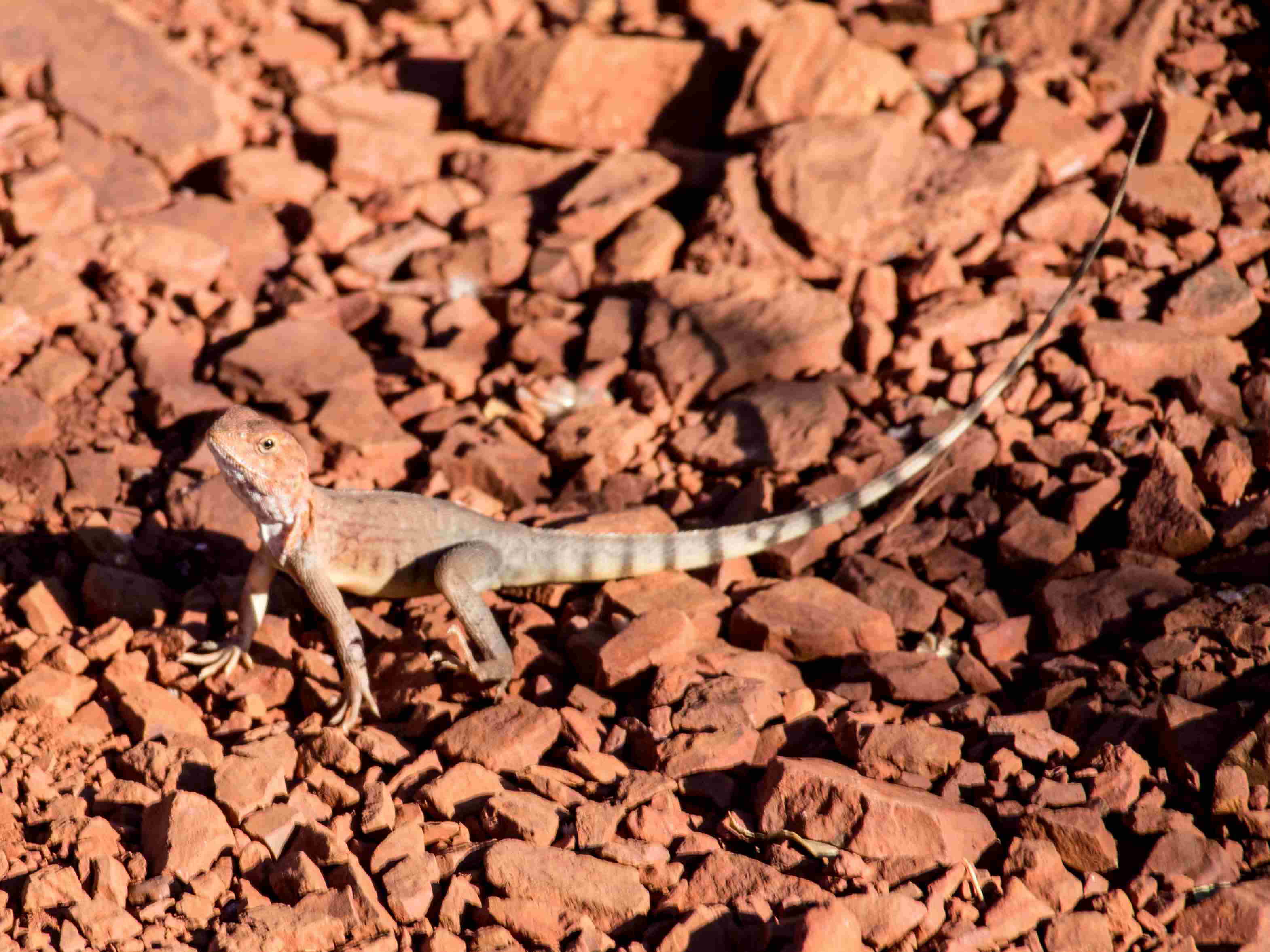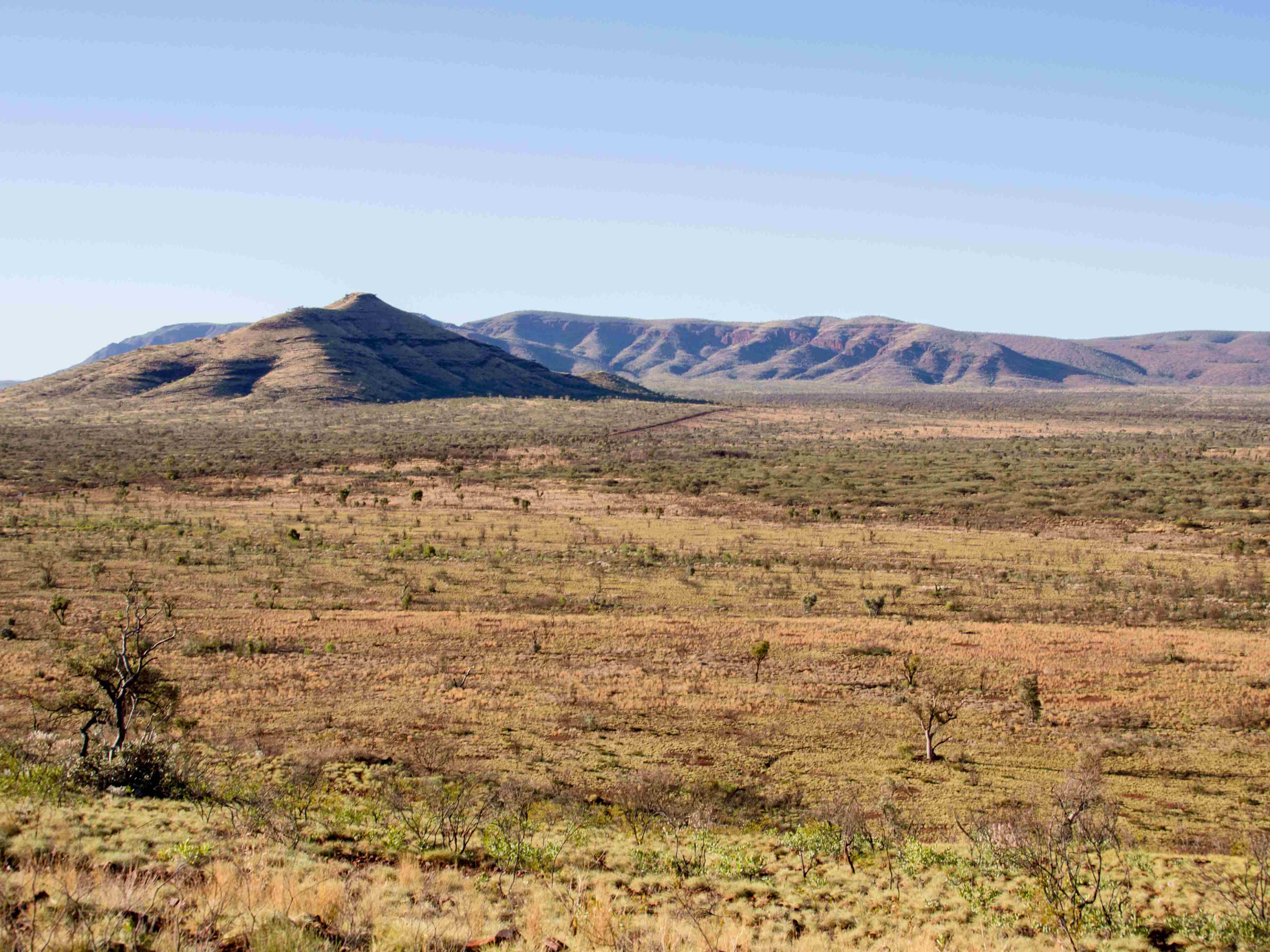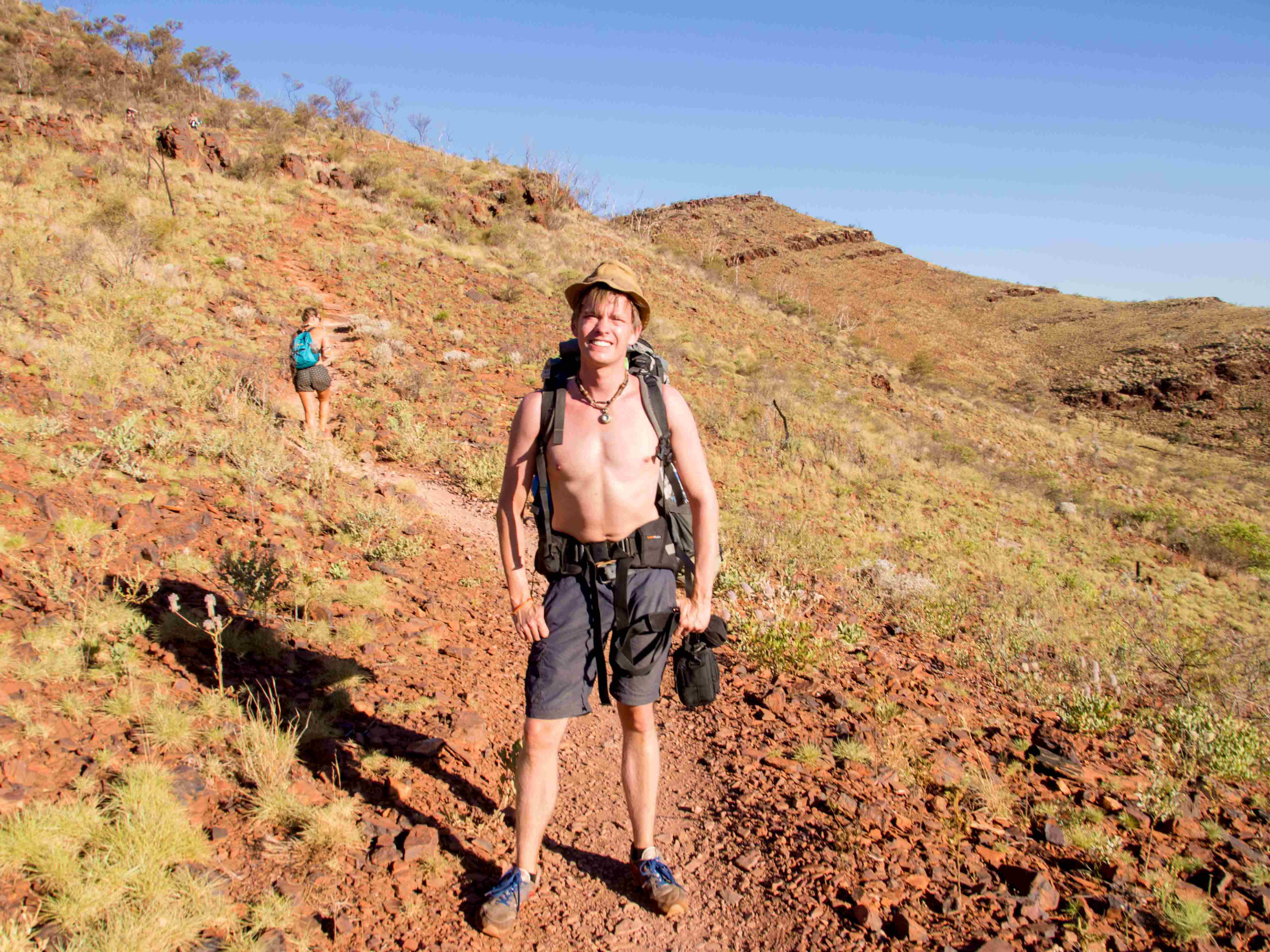 Mount Bruce here we go! :D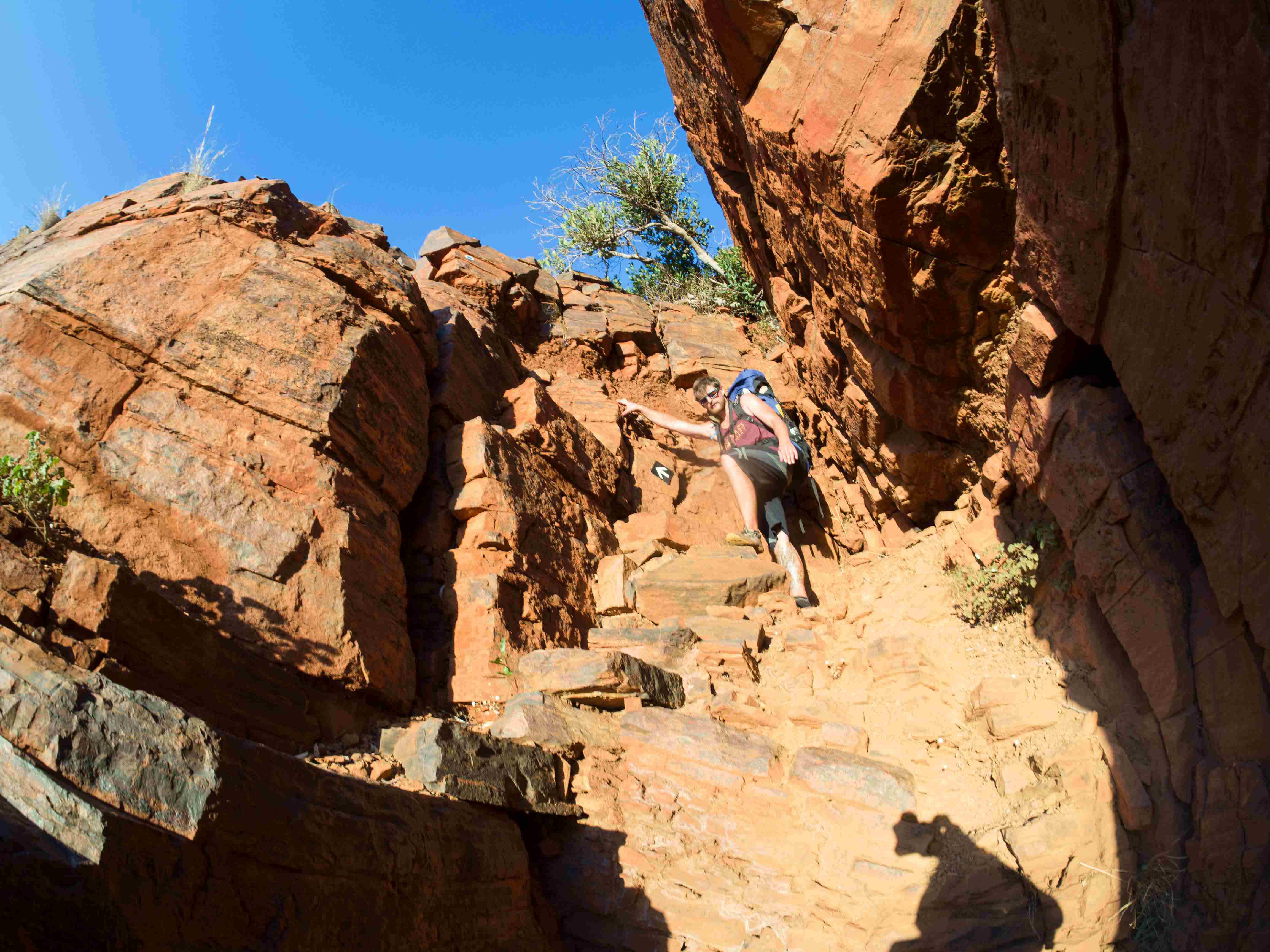 Iain in action!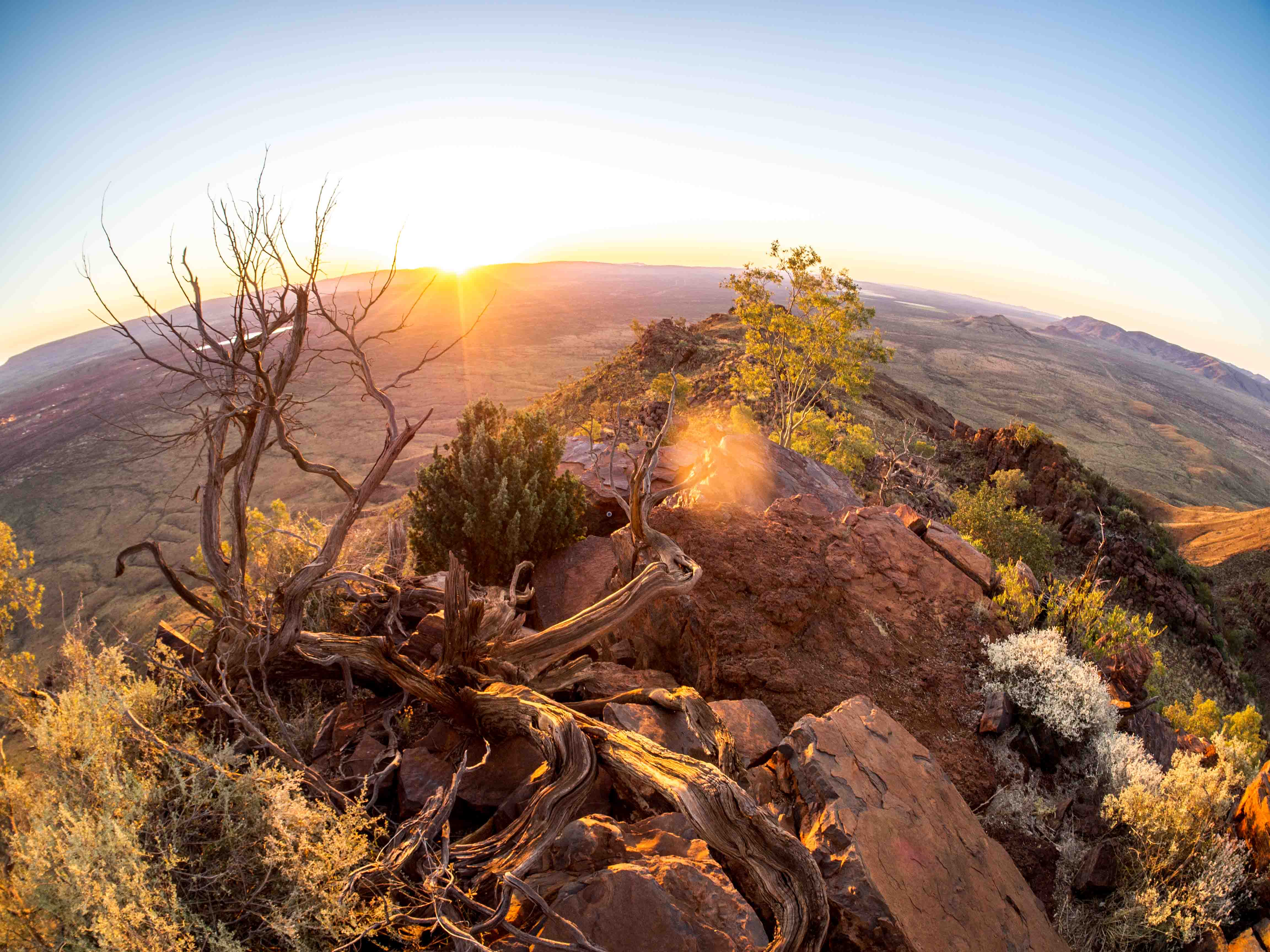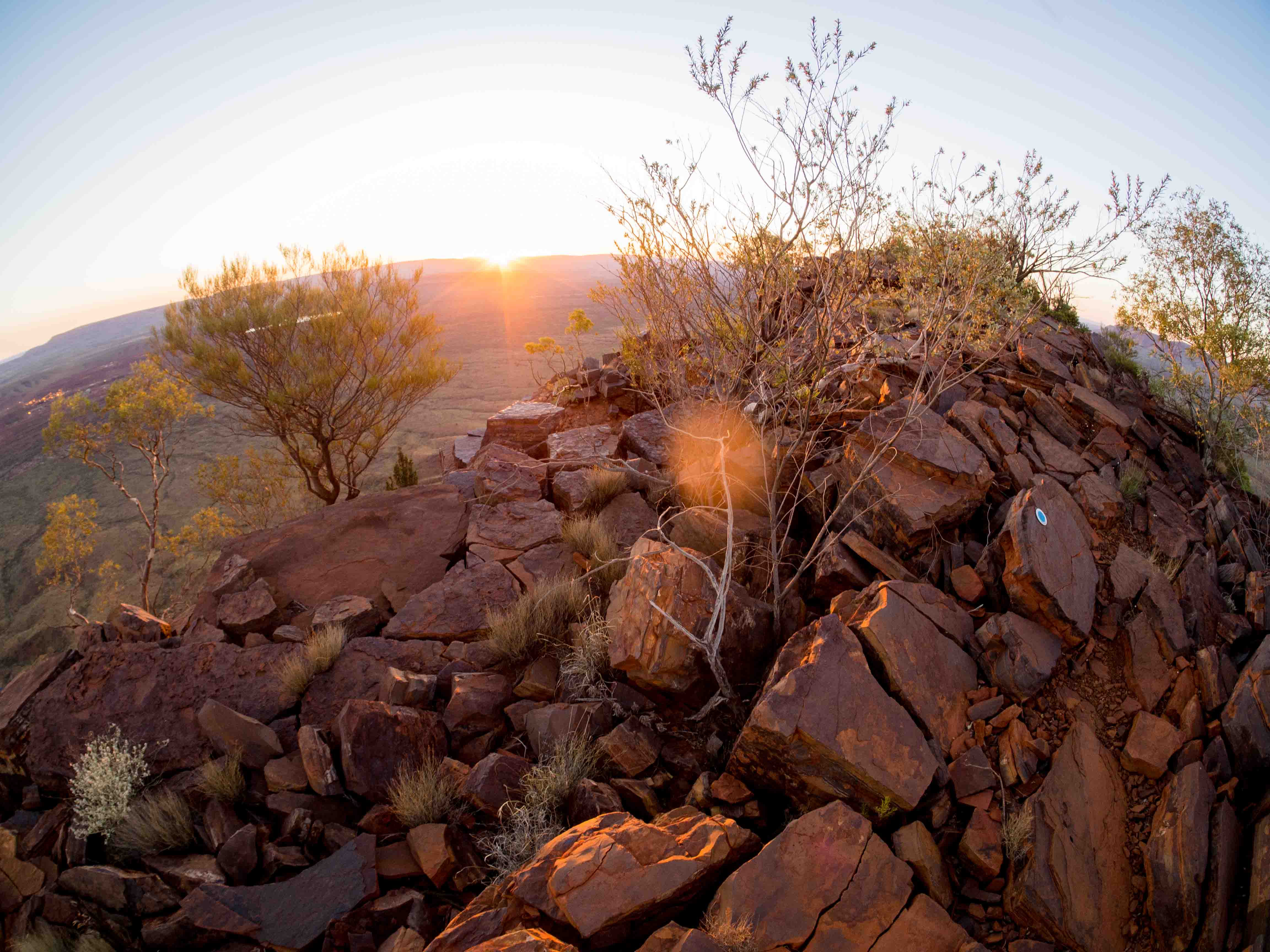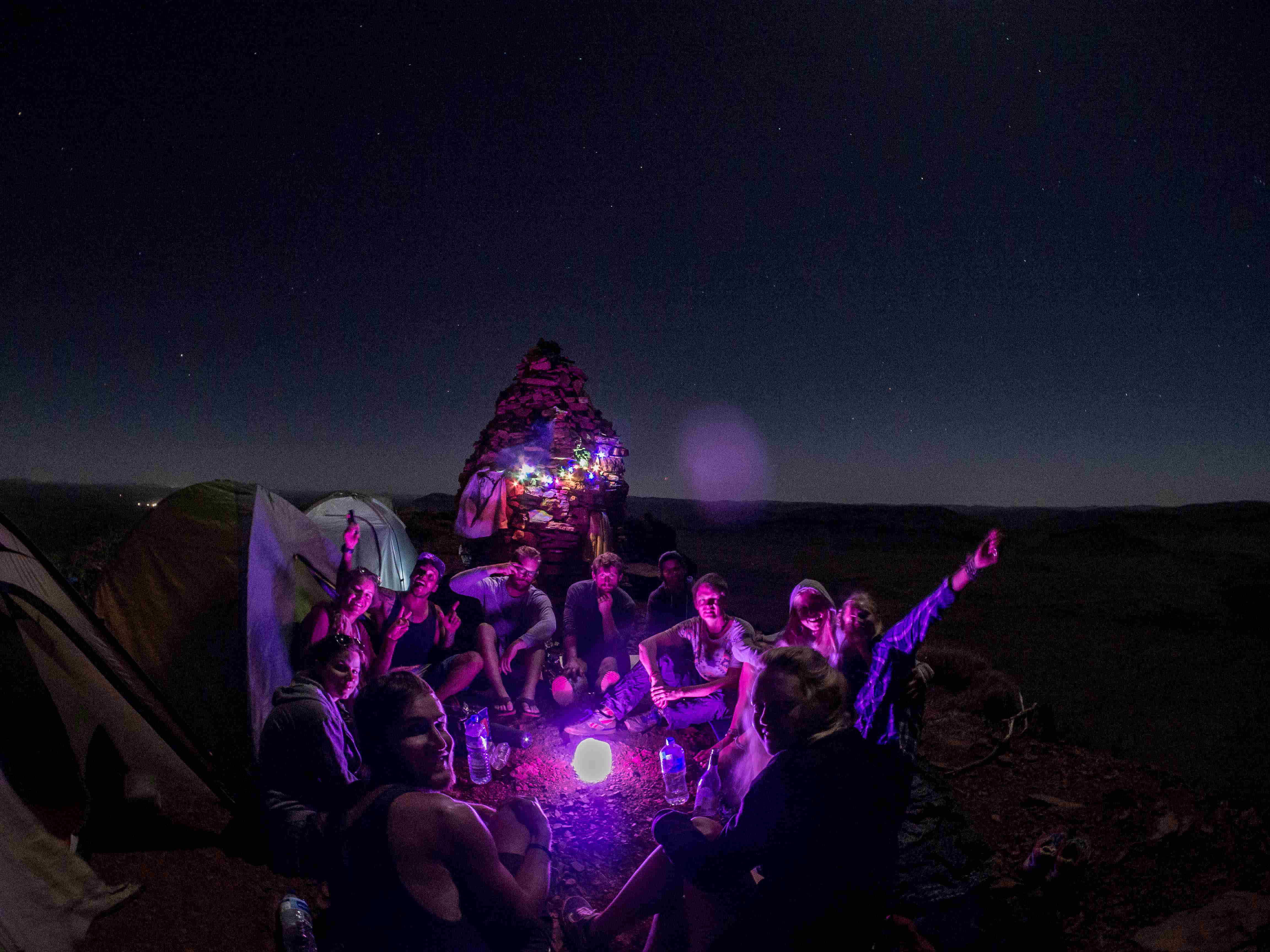 One of the coolest nights on my journey - Under the stars on the top of Mount Bruce, with some cool people, a clear sky and a lot of fun!
Eine der coolsten Nächste meiner Reise - Unter den Sternen auf der Spitze von Mount Bruce, mit super coolen Leuten, einem klarem Himmel und jeder Menge Spass!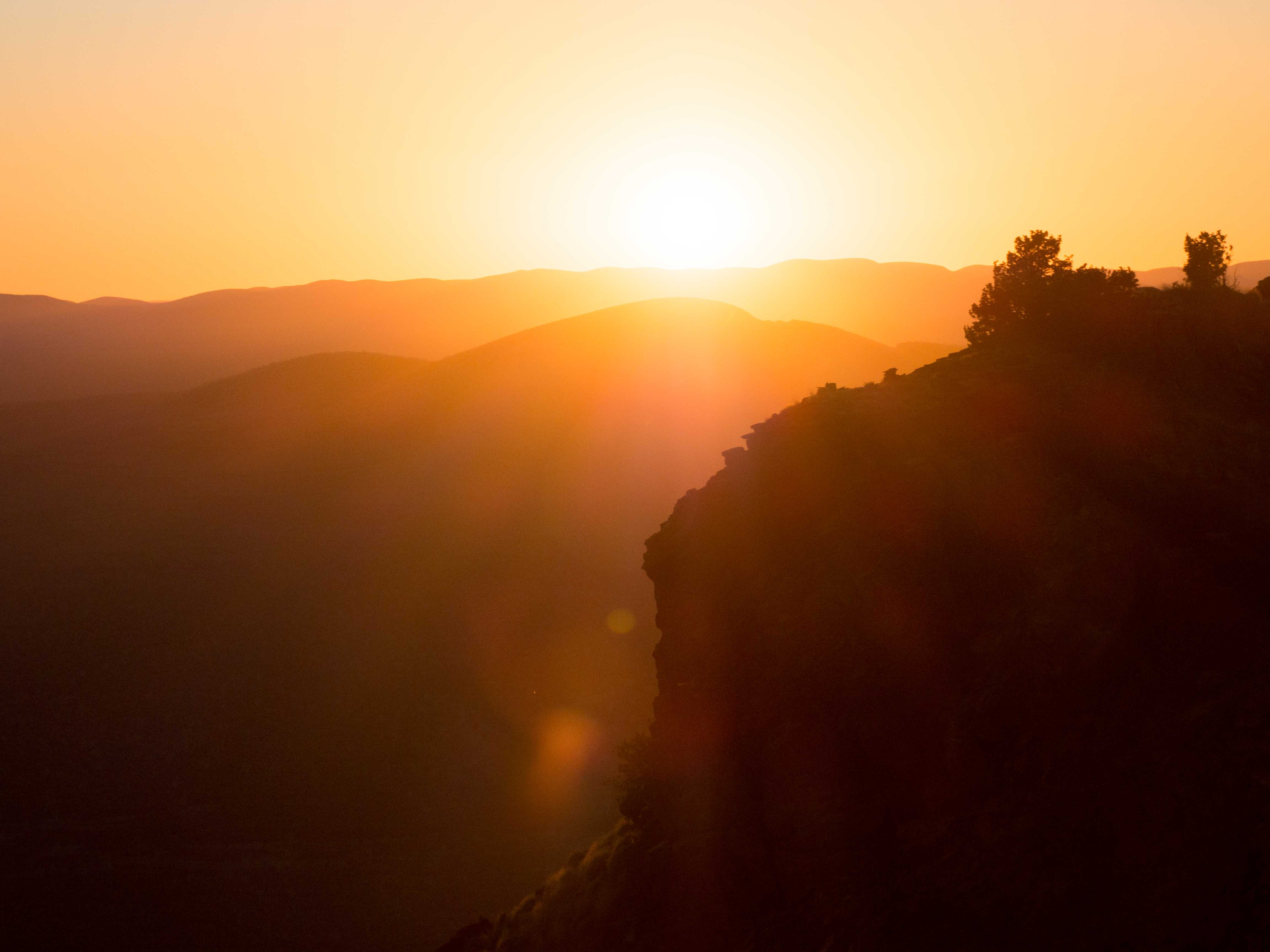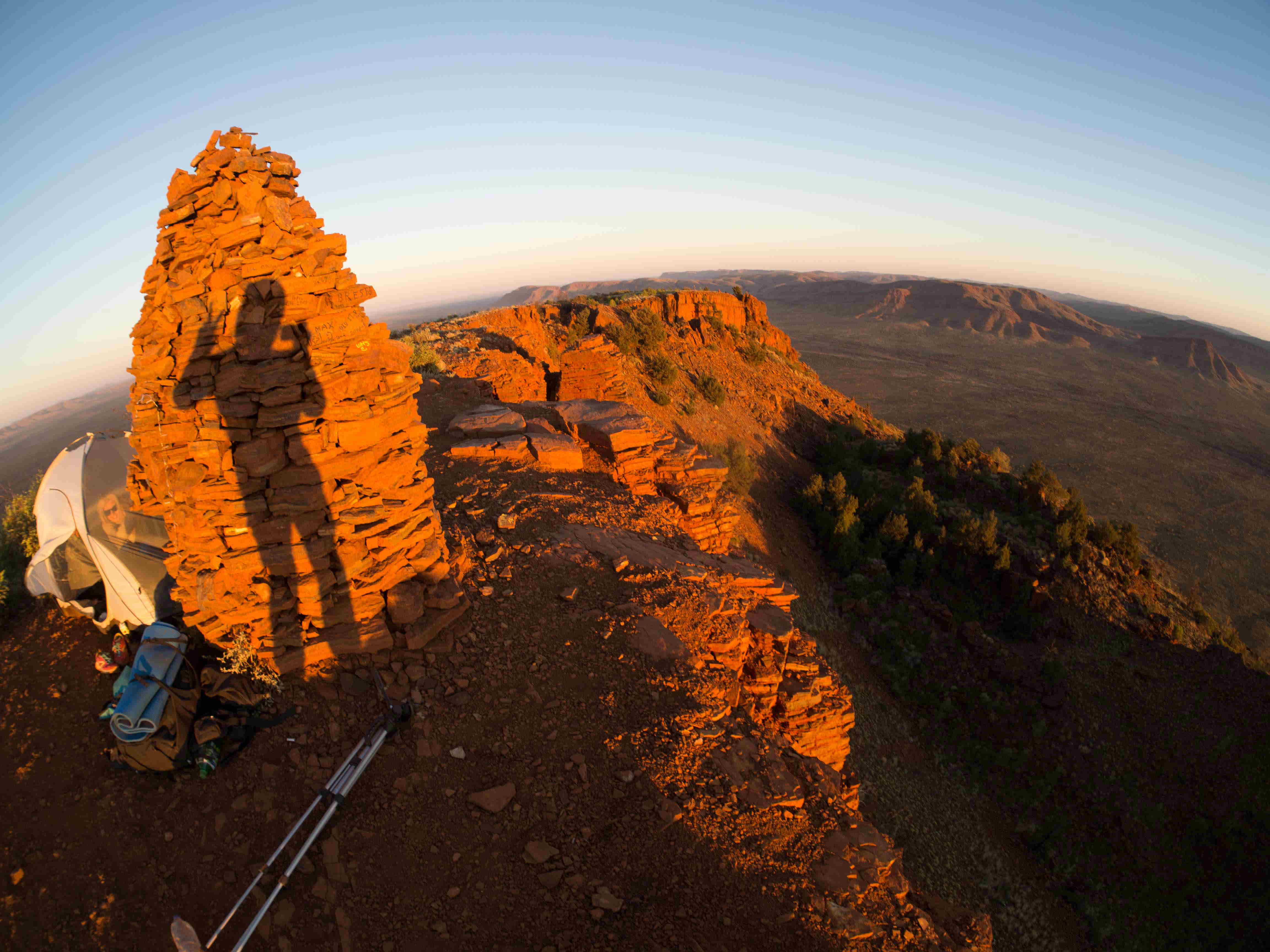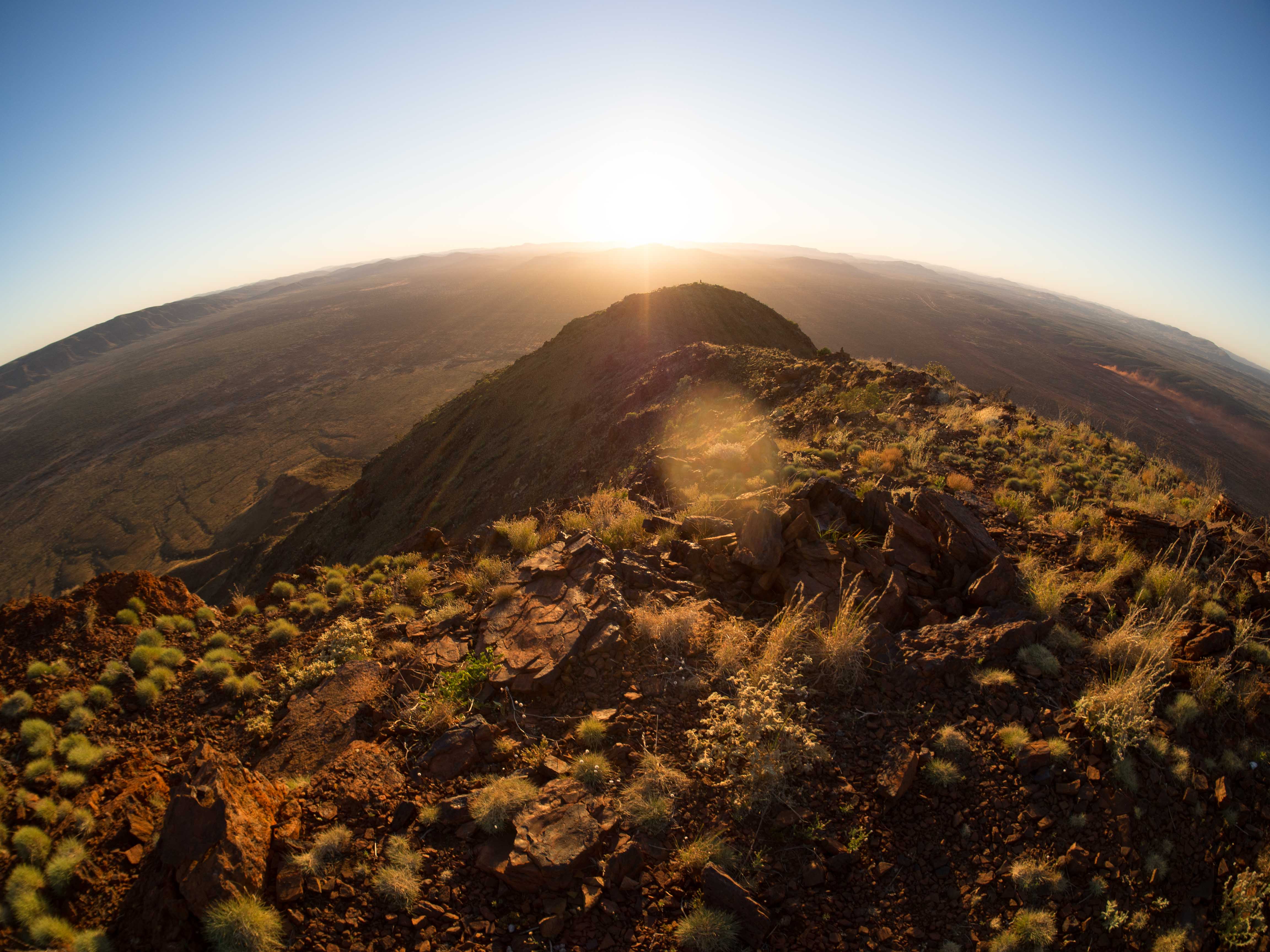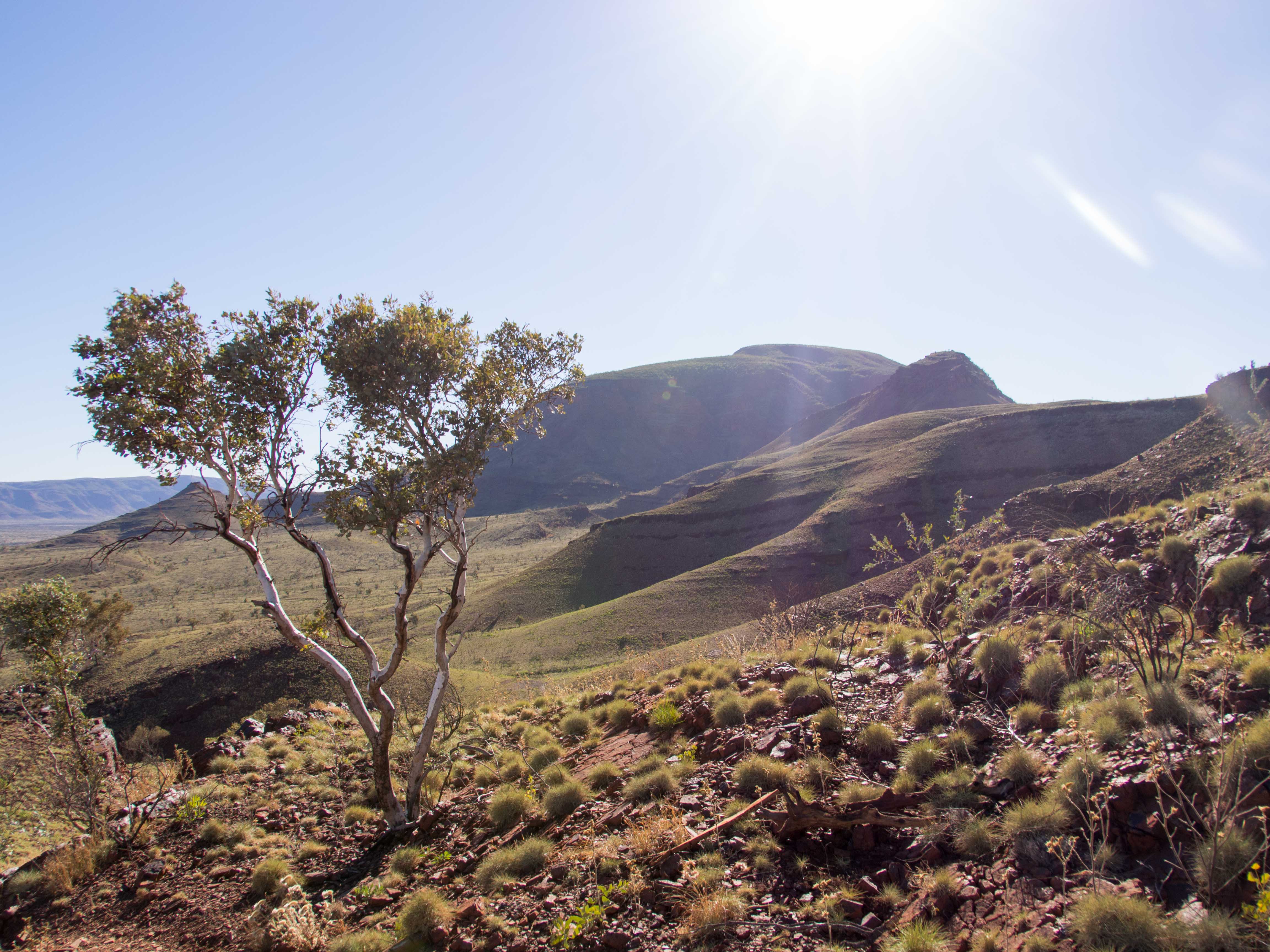 An amazing ending of the time in the Karinjini National Park. For me one of the big highlites on my journey! We said good bye to Iain and made our way to Broome. Thanks for the nice time bro! From now on Nicole joined Anna, Billy and me. :)
Ein beeindruckendes Ende unserer Zeit im Karinjini Nationalpark. Für mich eines meiner Highlites auf meiner Reise! Wir verabschiedeten uns von Iain und machten uns weiter auf den Weg nach Broome. Danke für die geile Zeit Kumpel! Nun stieg Nicole zu Anna, Billy und mir. :)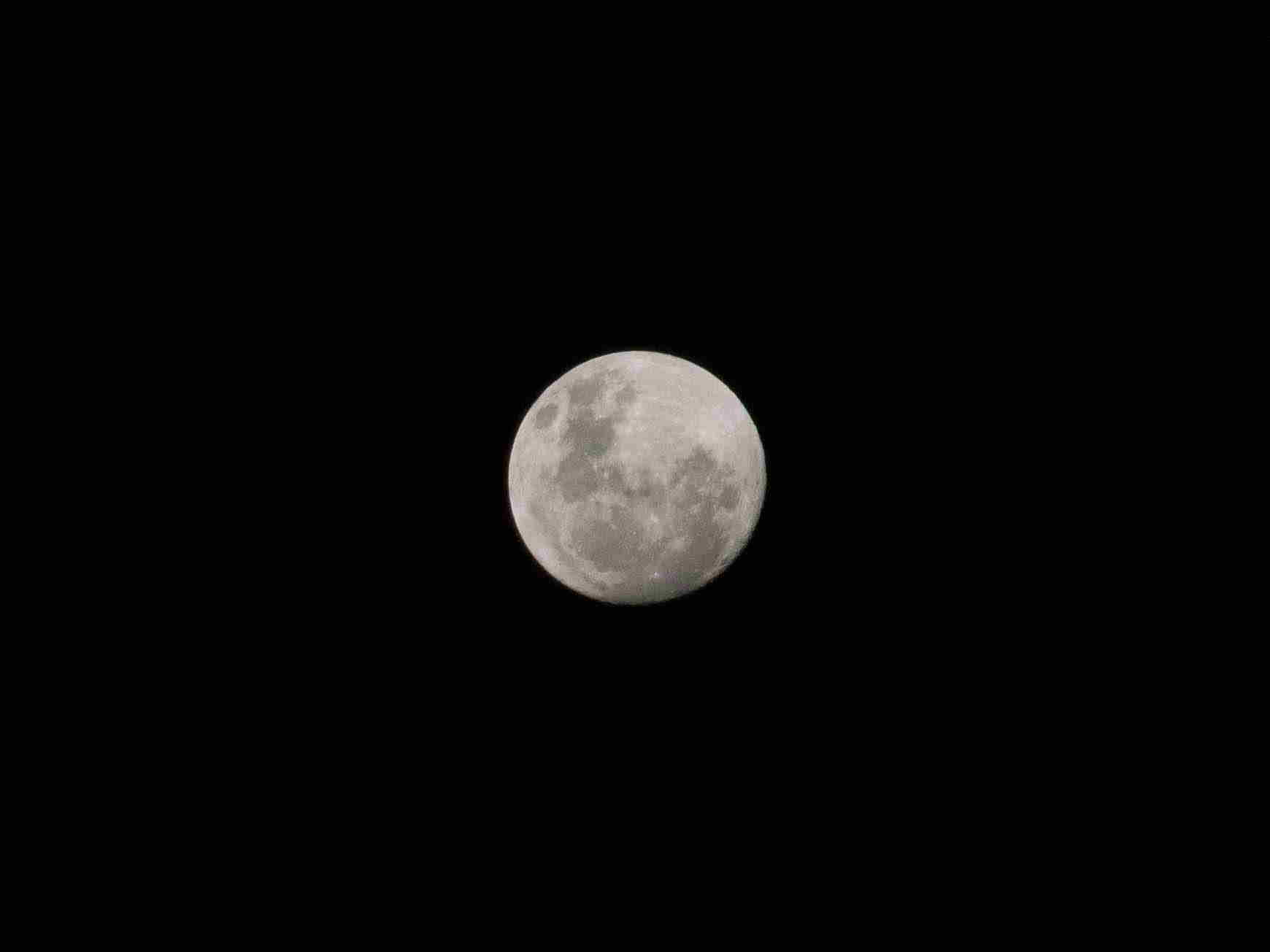 My picture of the super moon. Unfortunately without a tripod, but still not too bad. :)
Mein Bild vom Super-Mond. Leider ohne Stativ, aber trotzem garnicht mal schlecht. :)
Here you can get an impression about the amount of flies in the outback. They try to get in your mouth, your eyes... basically everywhere where is water. Like you maybe saw it in the old western movies. I hit 11 in one strike. Probably the personal record of my life! :D
Hier könnt ihr einen Eindruck gewinnen, welche Mengen an Fliegen es im Outback gibt. Sie versuchen in deinen Mund oder deine Augen zu krabbeln. Im Prinzip überall hin, wo Wasser ist. Wie man es aus den alten Westernstreifen kennt. Ich erwischte 11 auf einen Streich, was vermutlich der Rekord meines Lebens sein wird! :D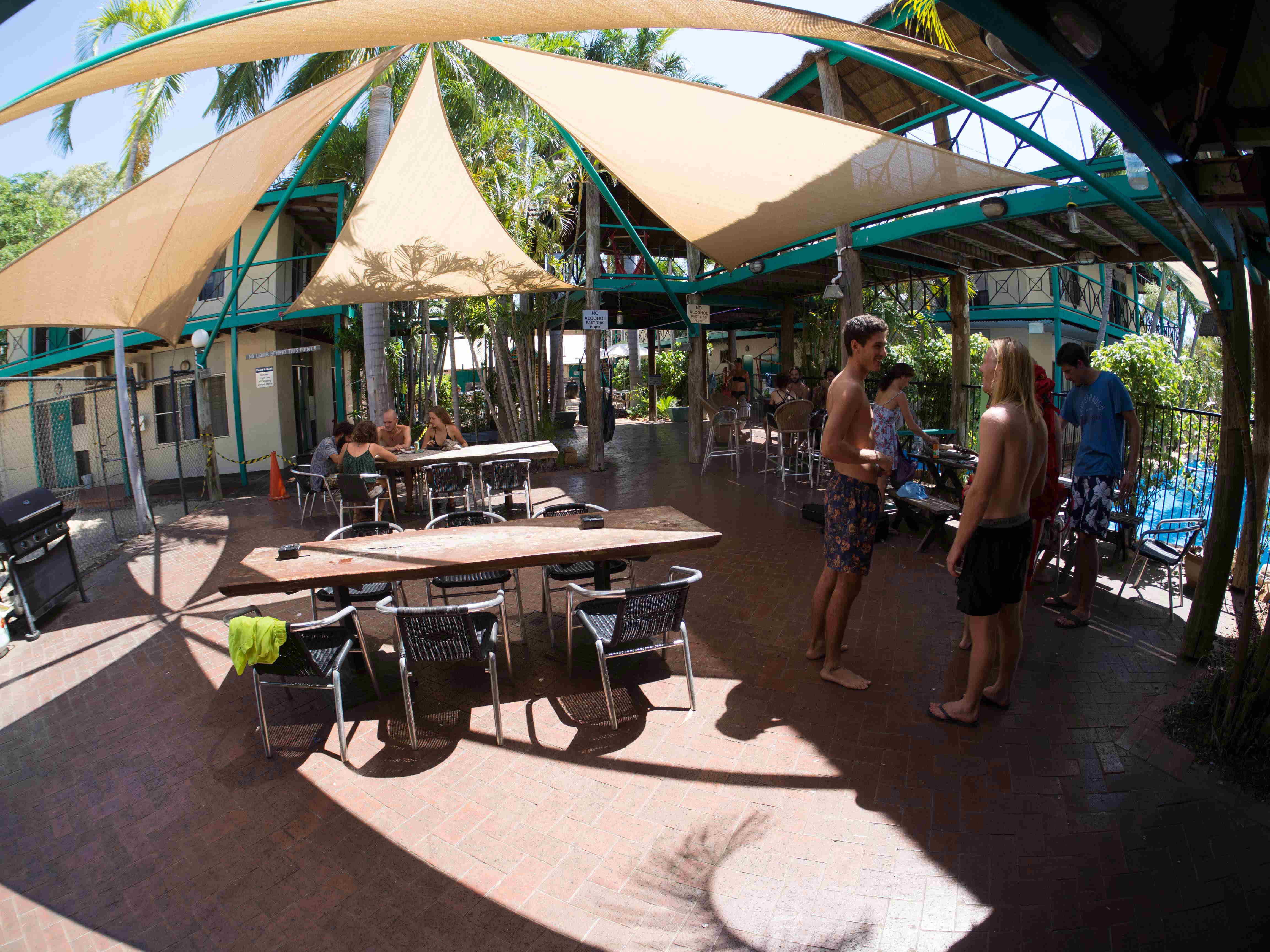 In Broome Anna and me had the last stop together. We went to the Kimberly Klub, a really nice hostel with a lot of good people! :) We had a great time here! Thank you Anna for the nice month we had! Got along SUPER good! :)
In Broome hatten Anna und ich den letzten gemeinsamen Stop. Wir liefen im Kimberly Klub ein, ein schönes Hostel mit wirklich tollen Leuten! :) Wir hatten eine super Zeit. Danke Anna für den schönen Monat den wir hatten! Wir kamen SUPER gut zurecht! :)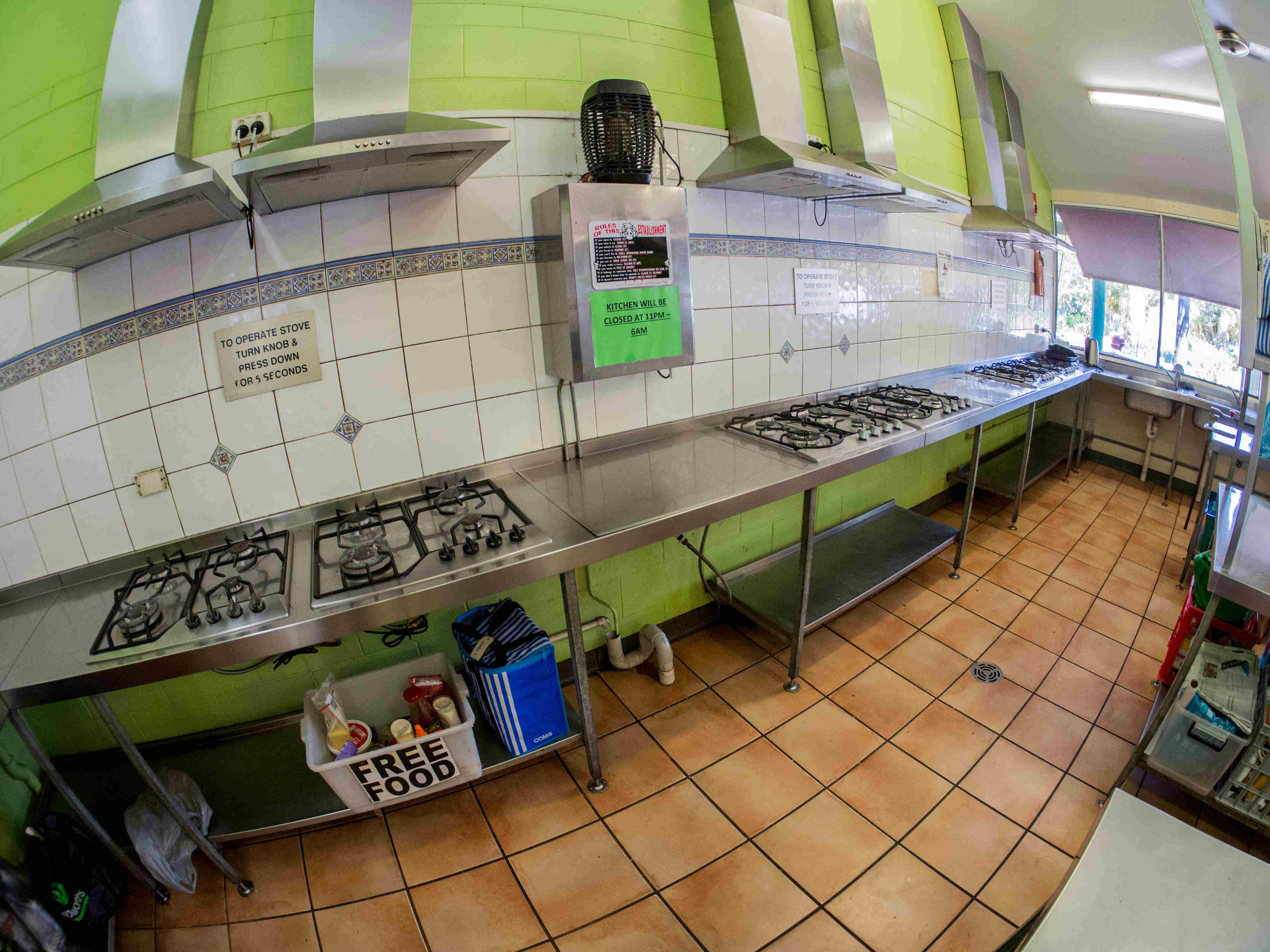 Here the kitchen of the hostel. The best organized kitchen I have seen so far. Enough space for everyone.
Hier die Küche des Hostels. Die best organisierteste Küche die ich bisher gesehen habe in einem Hostel. Genug Platz für jeden.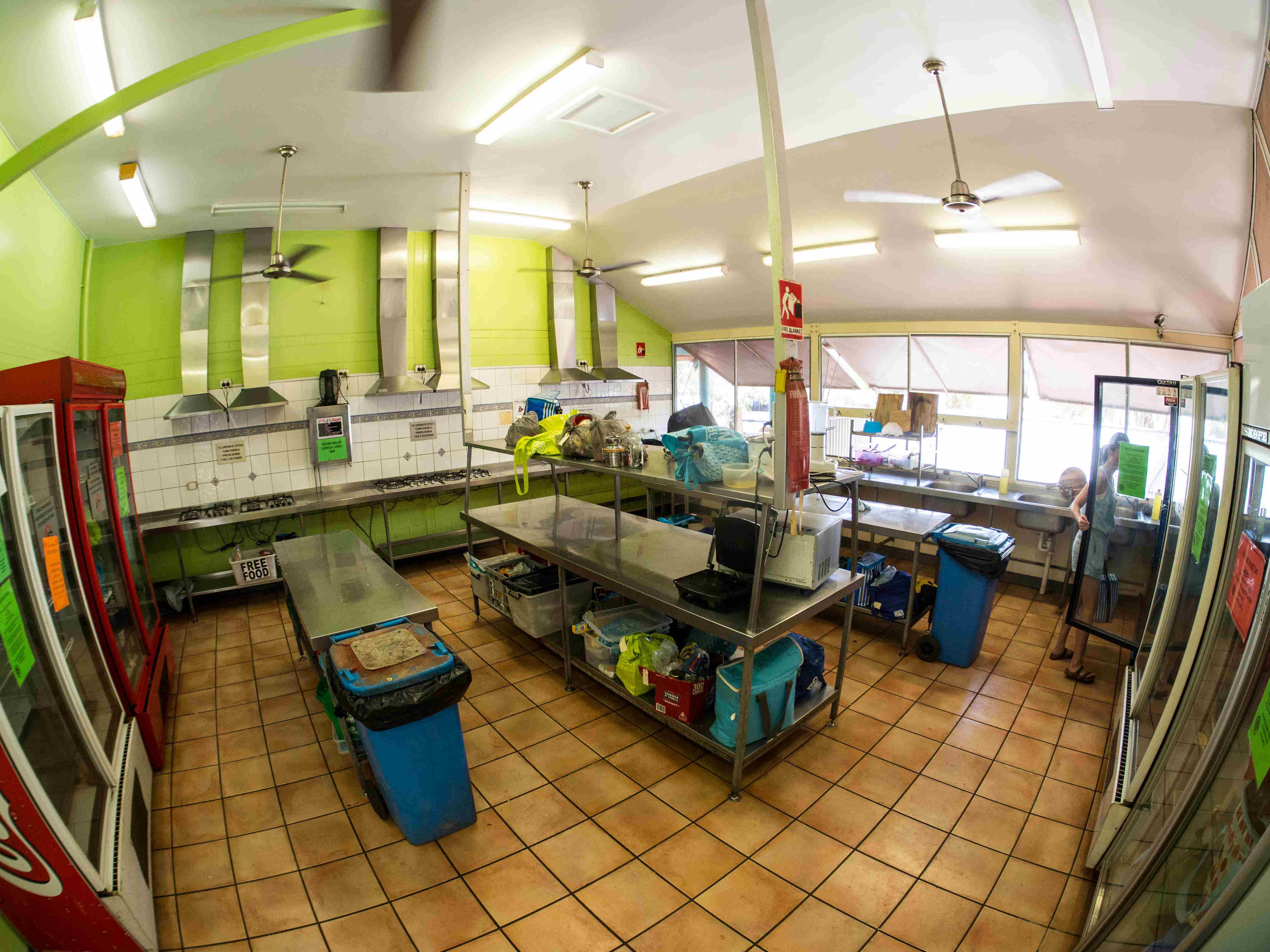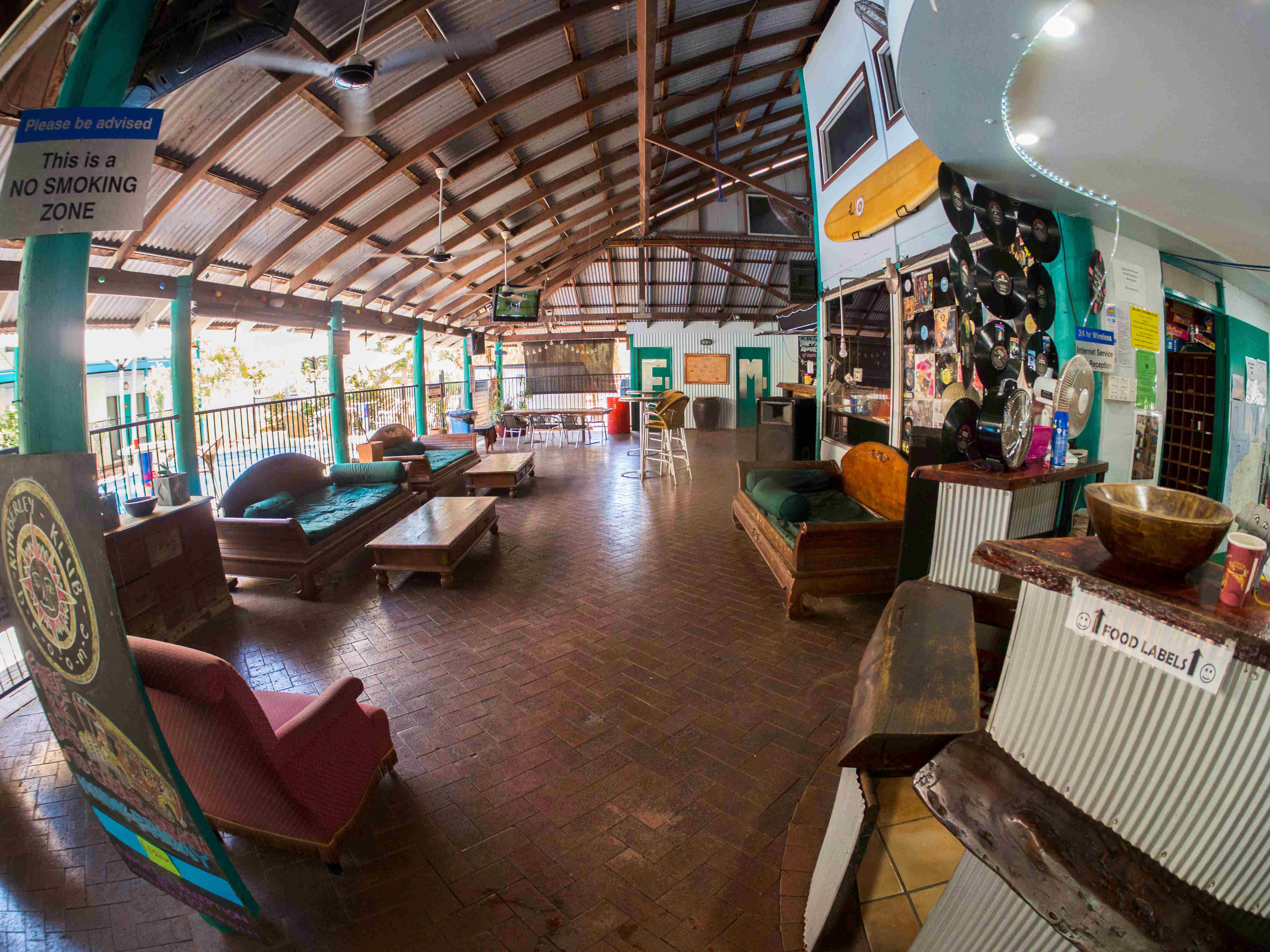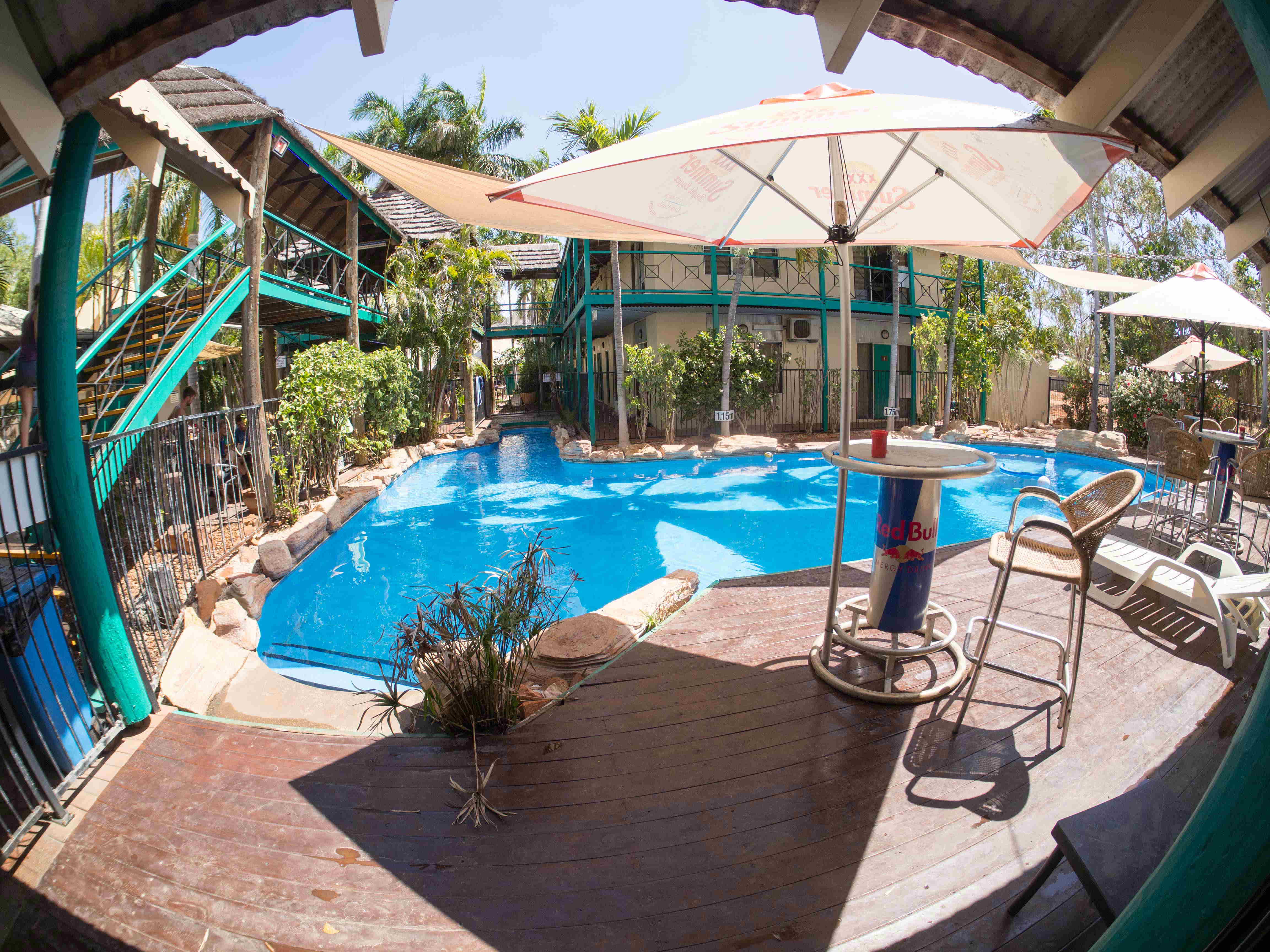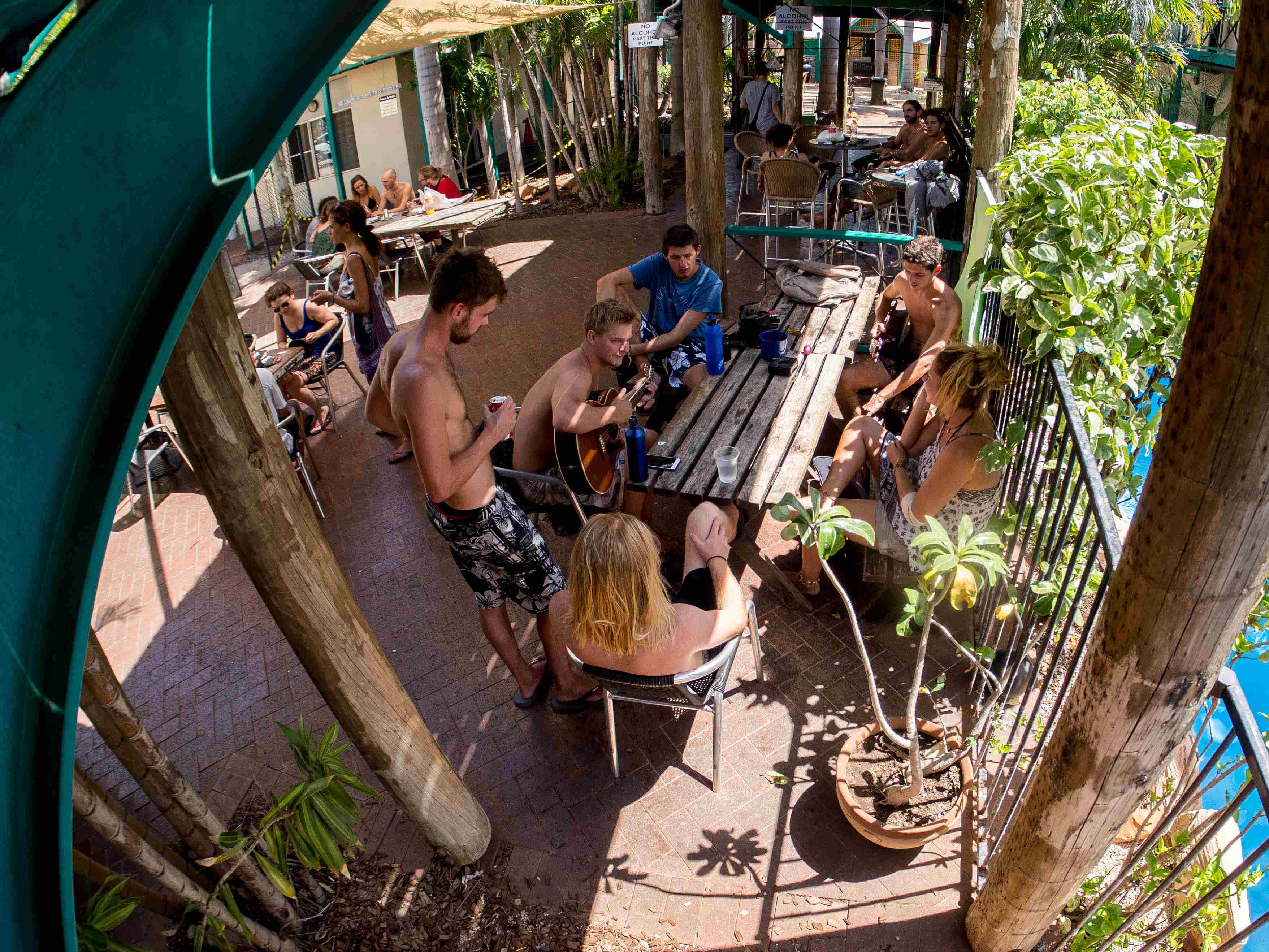 The Broome people enjoying the day :)
Die Broome Leute genießen den Tag :)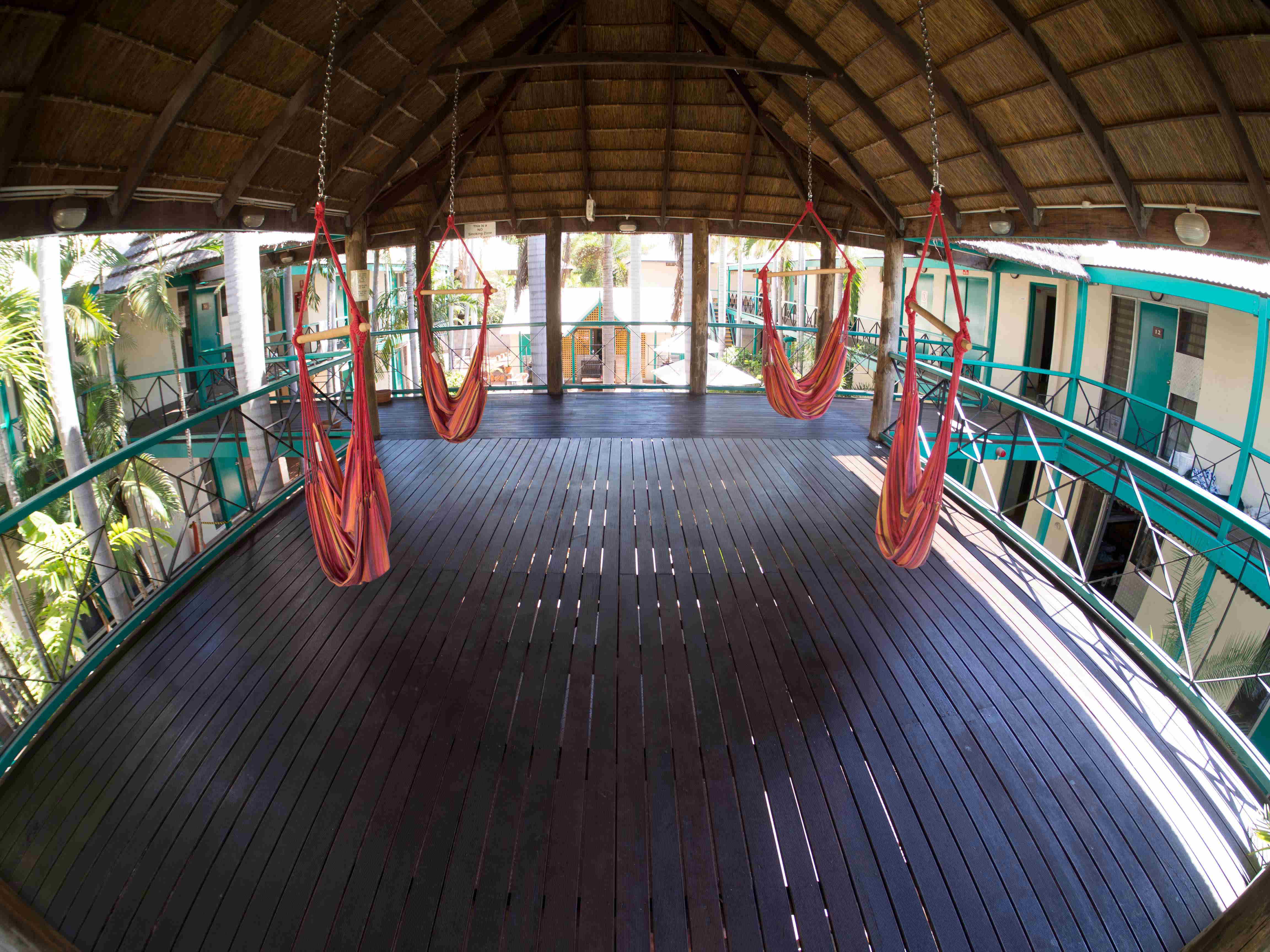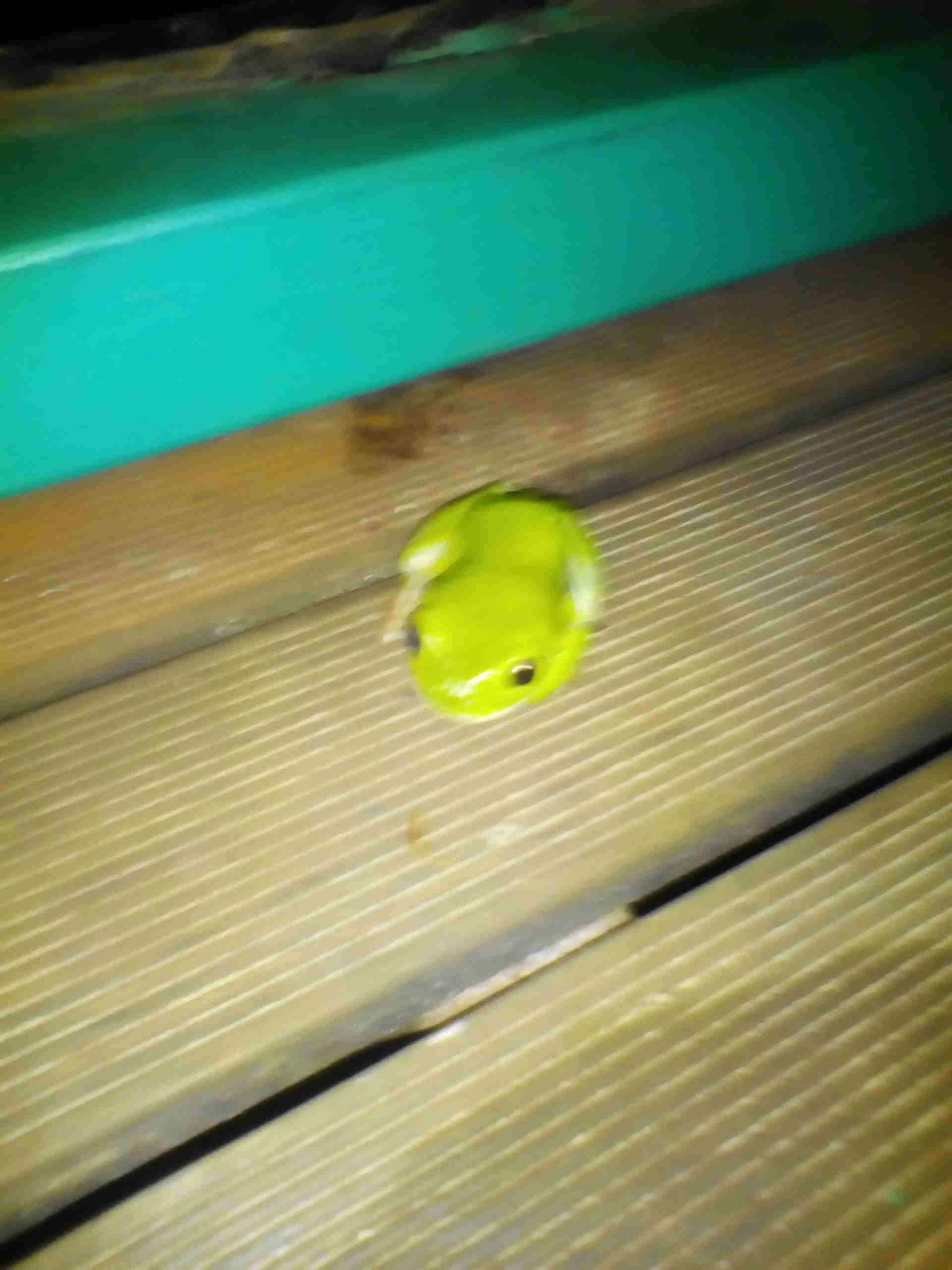 Not sharp but funny. While I passed I thought like "Wow this plastic frog looks sooo real, I have to take a picture!"... than it jumped away...
Nicht scharf aber lustig. Während ich vorbei ging dachte ich mir "Wow dieser Plastikfrosch sieht so echt aus, den muss ich mal fotografieren!". ....dann sprang er davon...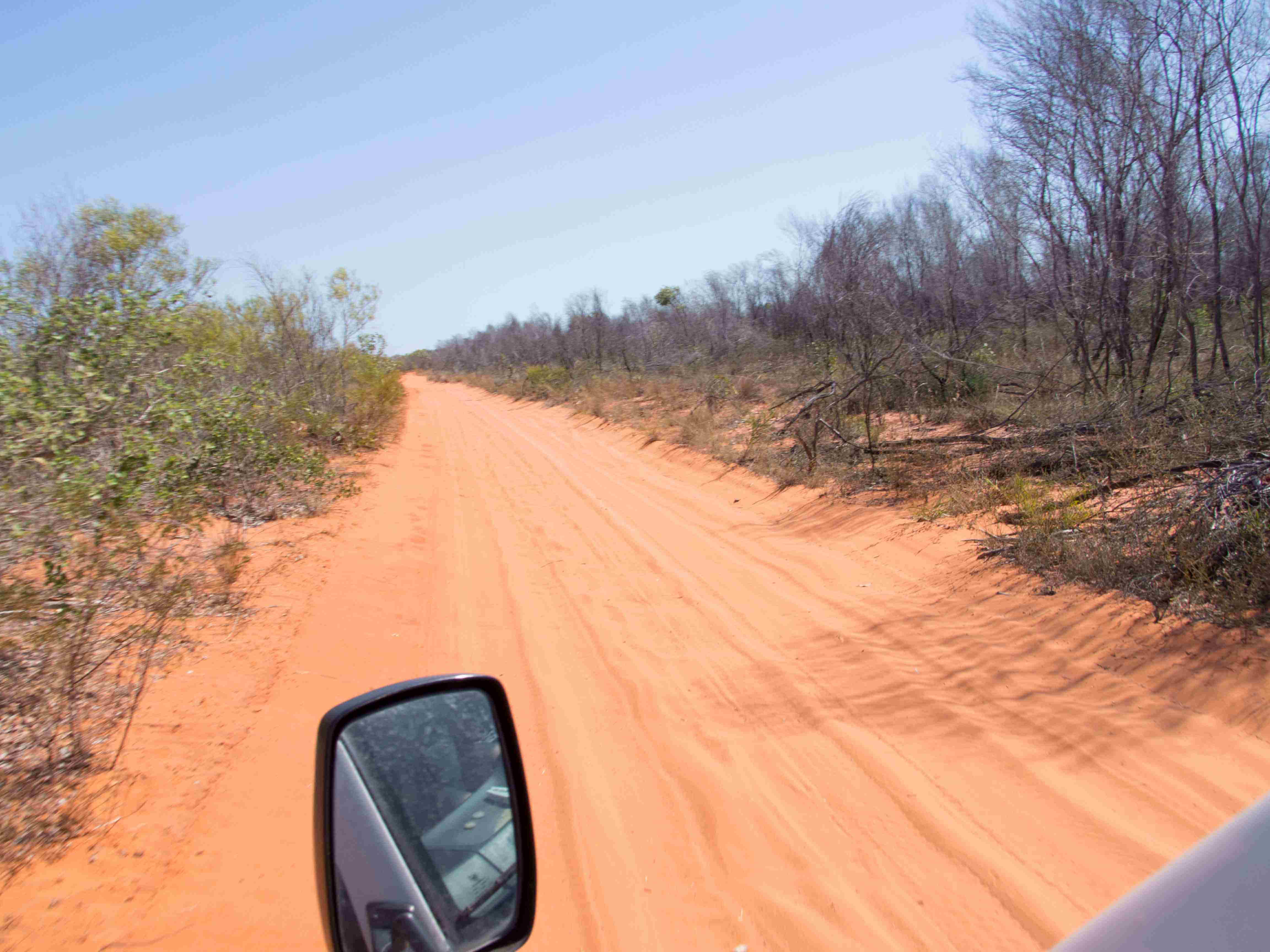 Deep sand with a two wheel drive... the only rule you have to follow: Never stop, doesn't matter what happens! NEVER STOP!!! (Anna managed well to get us through! :) )
Tiefer Sand mit einem Zweiradantrieb... einzige Regel: Niemals anhalten, egal was passiert! NIEMALS ANHALTEN!!!! (Anna hat es super geregelt uns da durch zu bekommen! :) )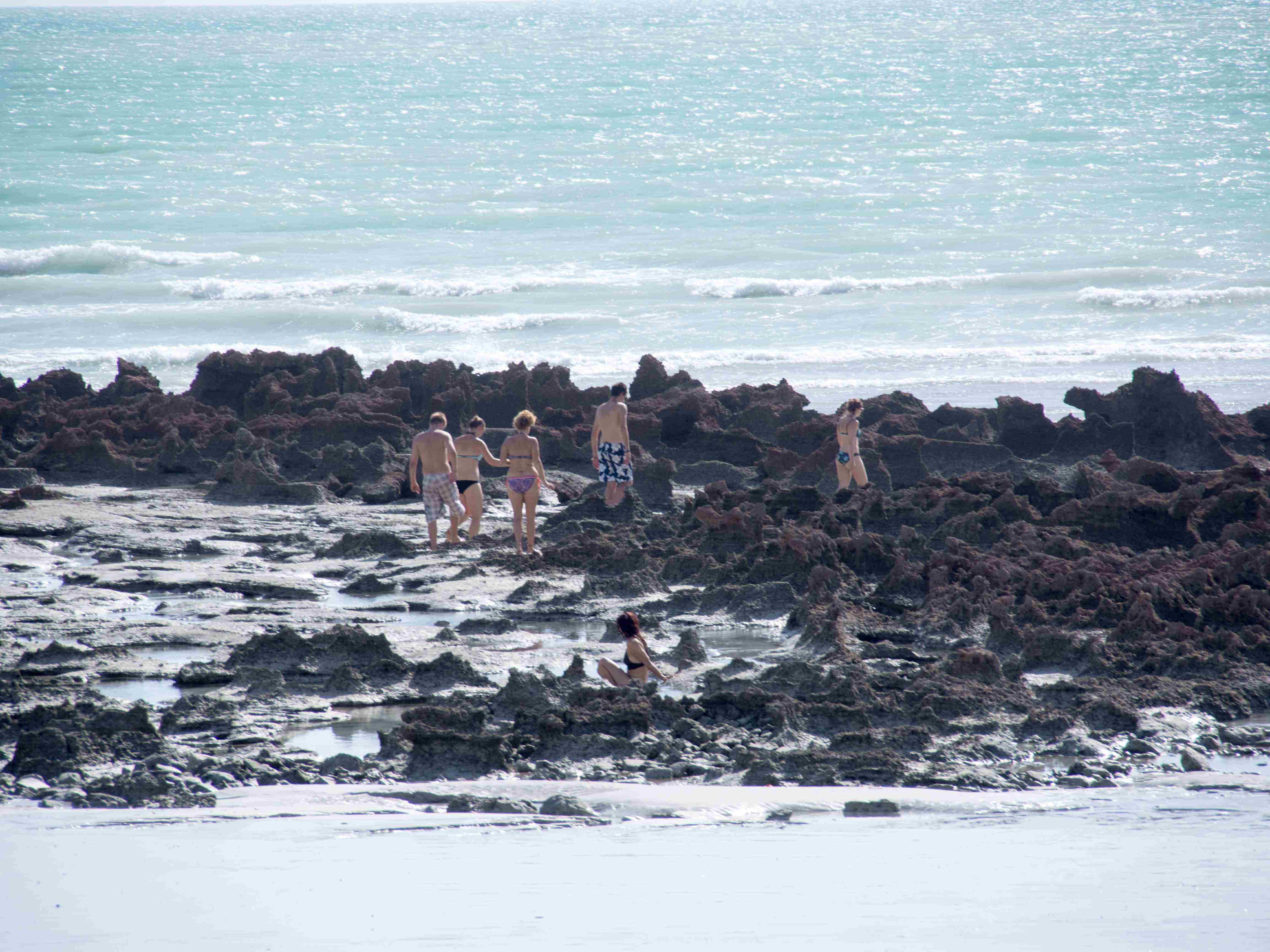 A day at the beach. Here the stone formations had some big holes where during low tide the water stuck and got warm. So we where sitting in our private pools. :D Nice place to kill some time. :D
Ein Tag am Strand. Hier haben Steinformationen große Löcher wo sich während der Ebbe Wasser sammelt und warm wird. So saßen wir in unseren Privatpools. :D Ein schöner Ort um ein bisschen Zeit tot zu schlagen. :D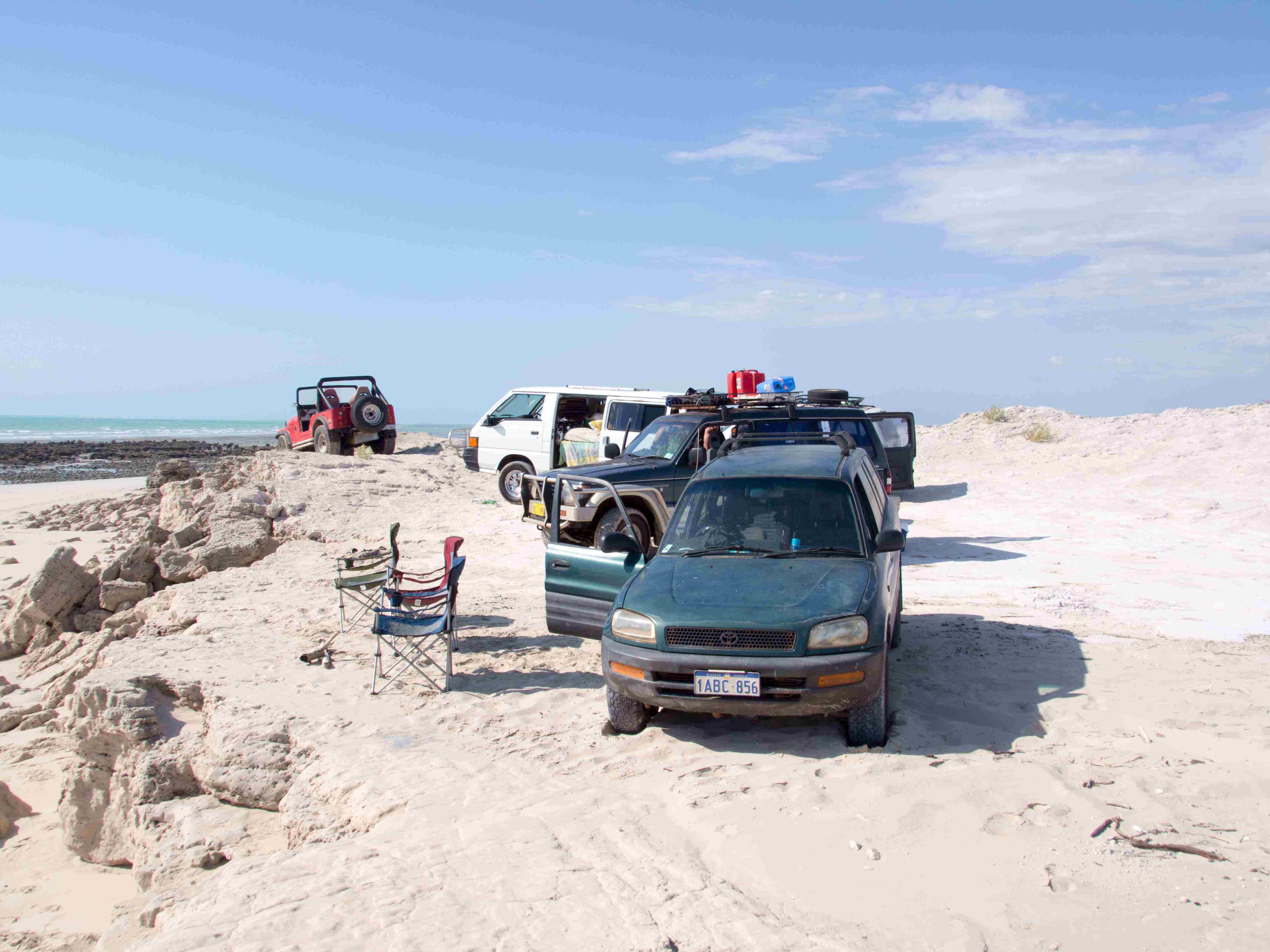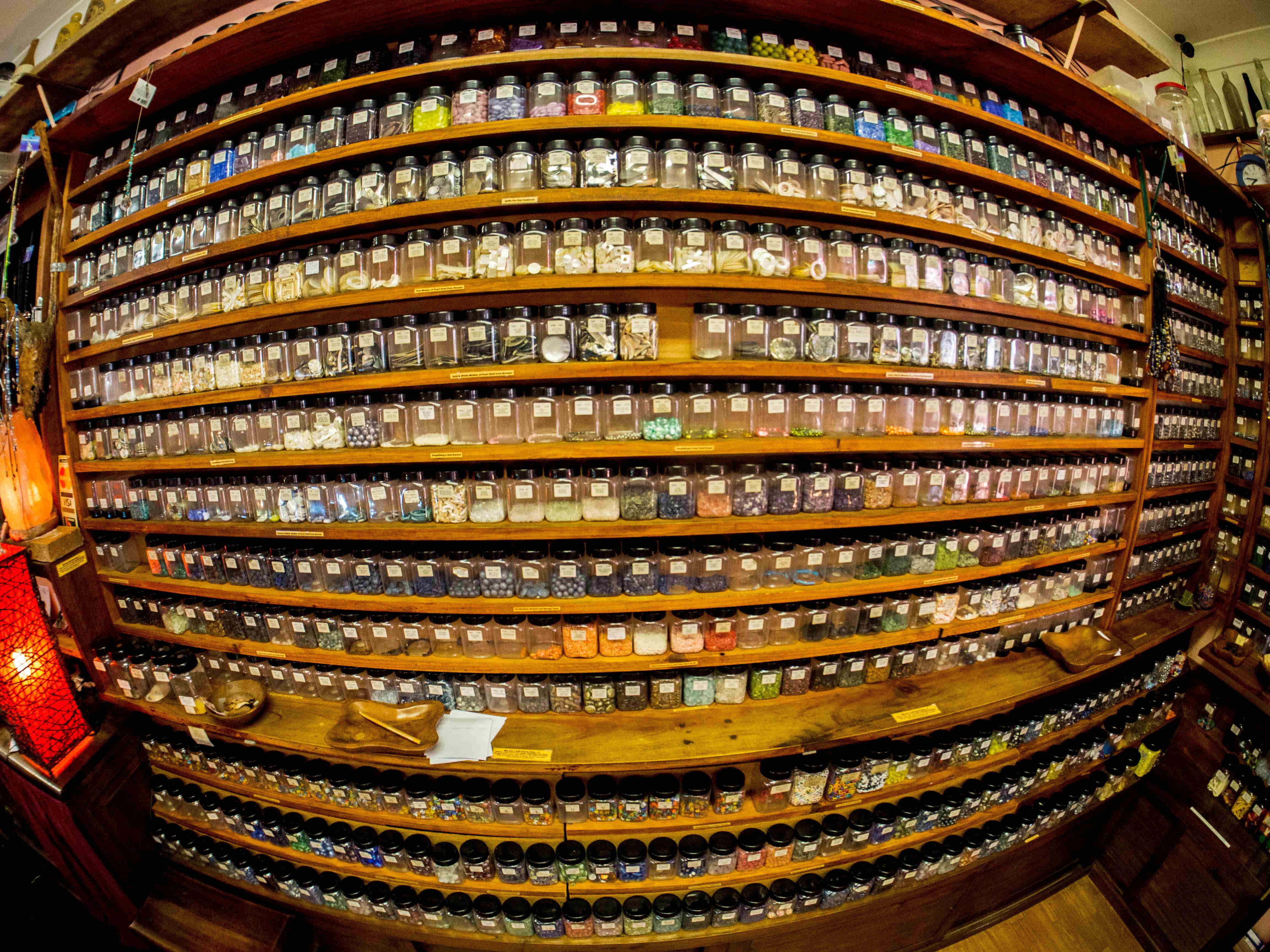 The beads shop in Bromme. A really nice place to follow my new hobby - making necklaces and bracelets . :)
Der Perlenshop in Broome. Ein wirklich schöner Ort um meinem neuen Hobby nachzukommen - Arm- und Halsketten machen. :)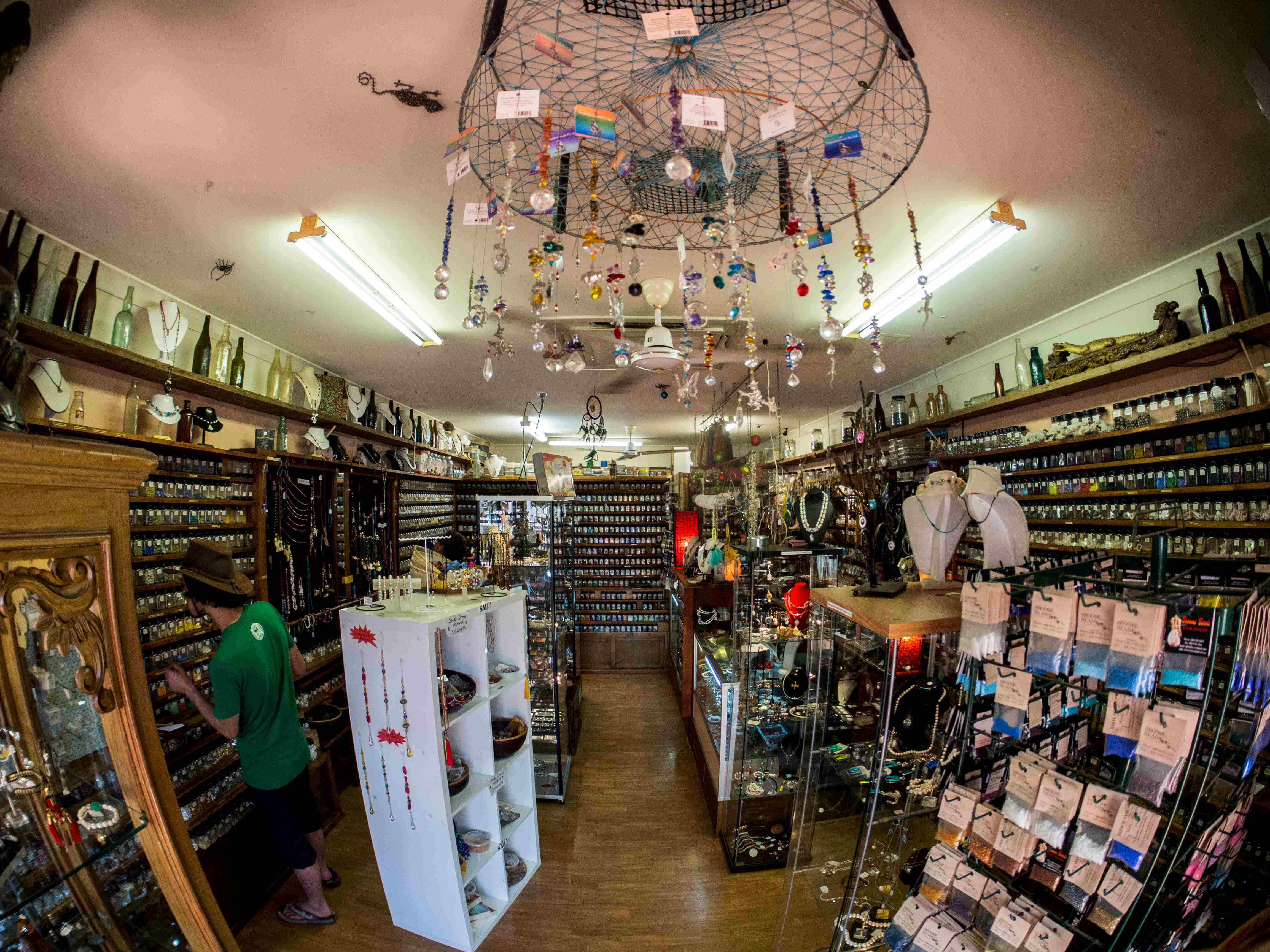 A nice visit - Ken joined the trip from Bromme to Darwin. Here checking the beads to join the nodding. :)
Ein schöner Besuch - Ken stieß dazu zur Reise von Broome nach Darwin. Hier am checken der Perlen um mit zu Knoten. :)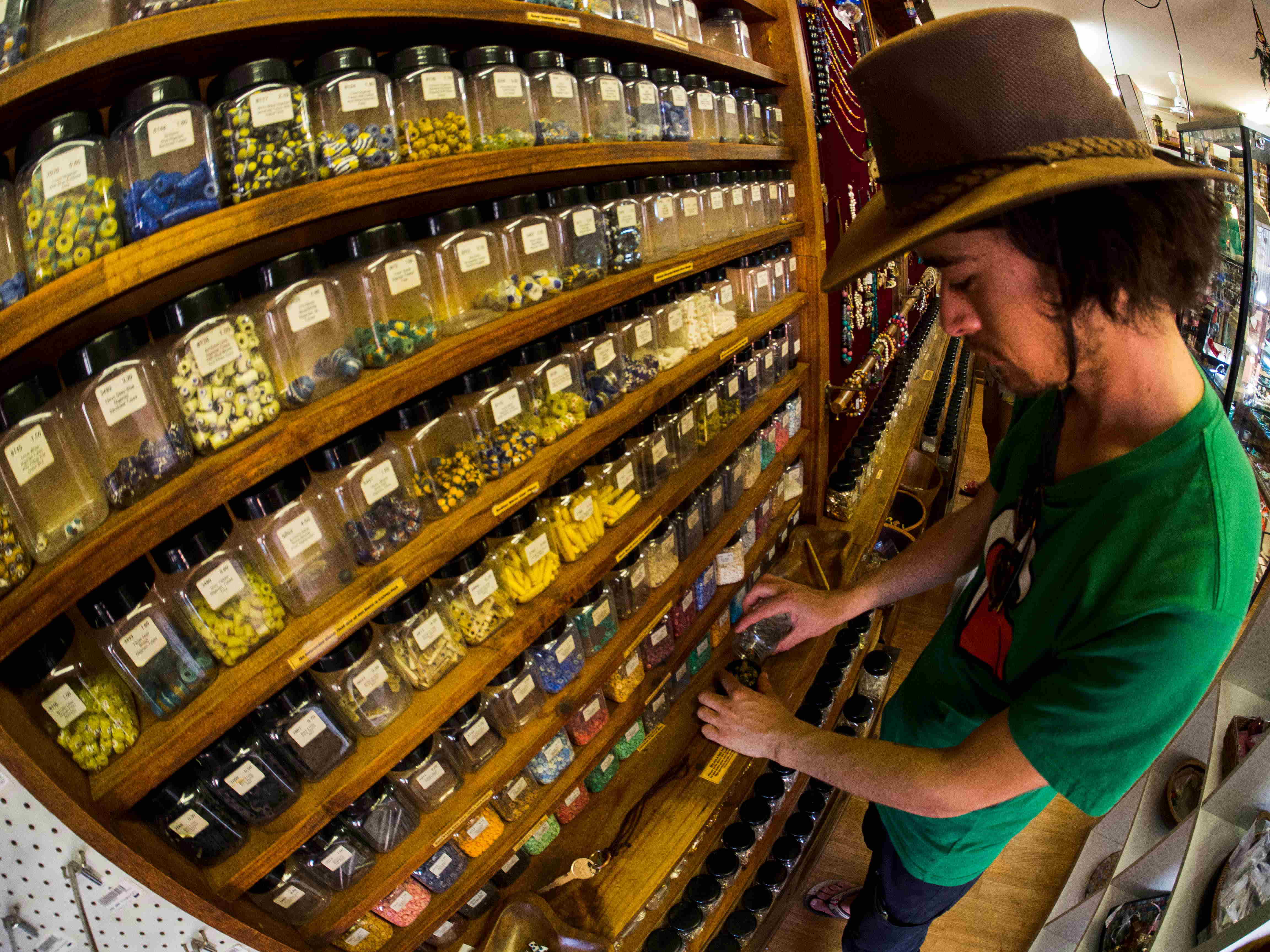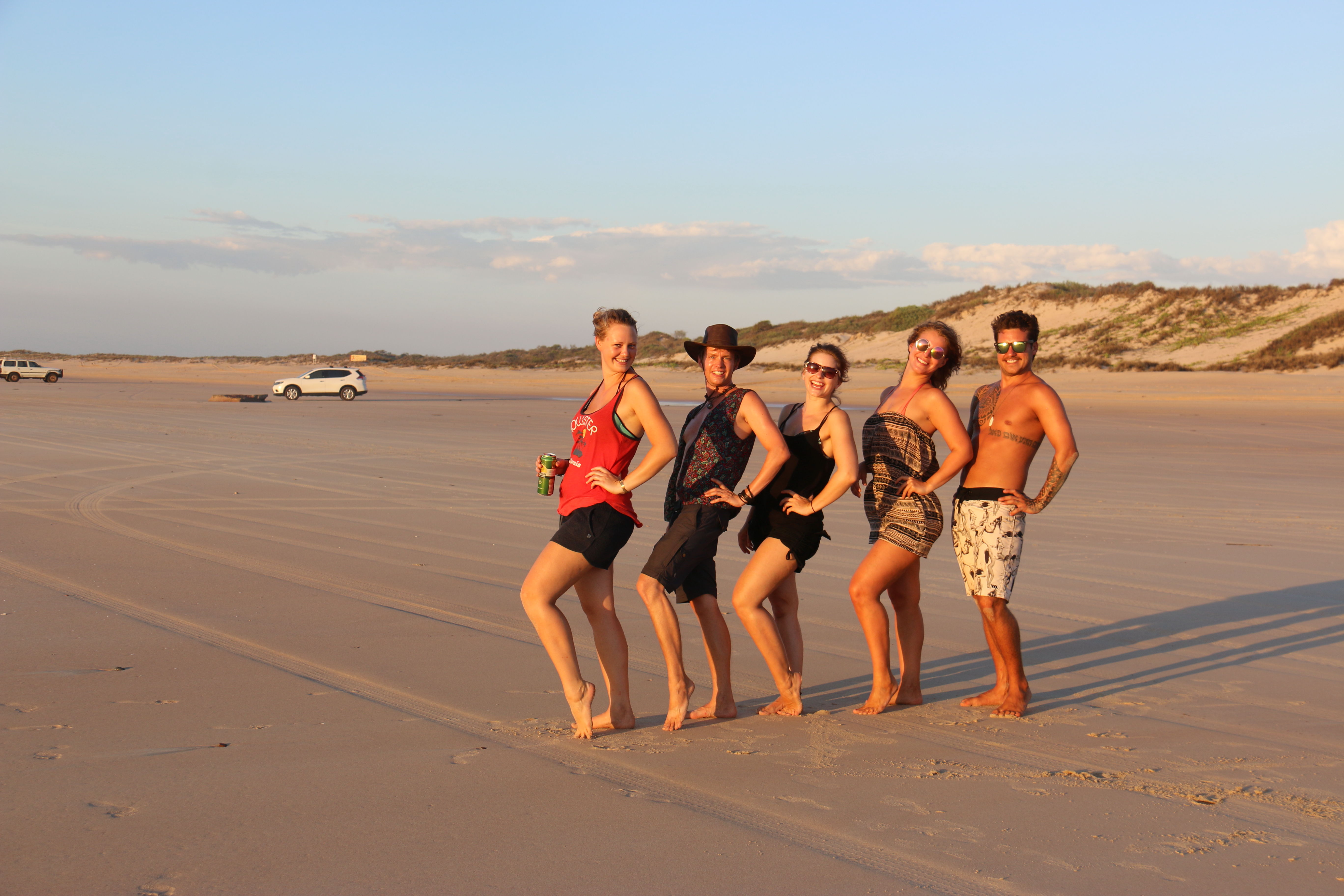 Karinjini Gang posing :D
Karinjini Gang am posieren. :D
Wuhuuuuu! :)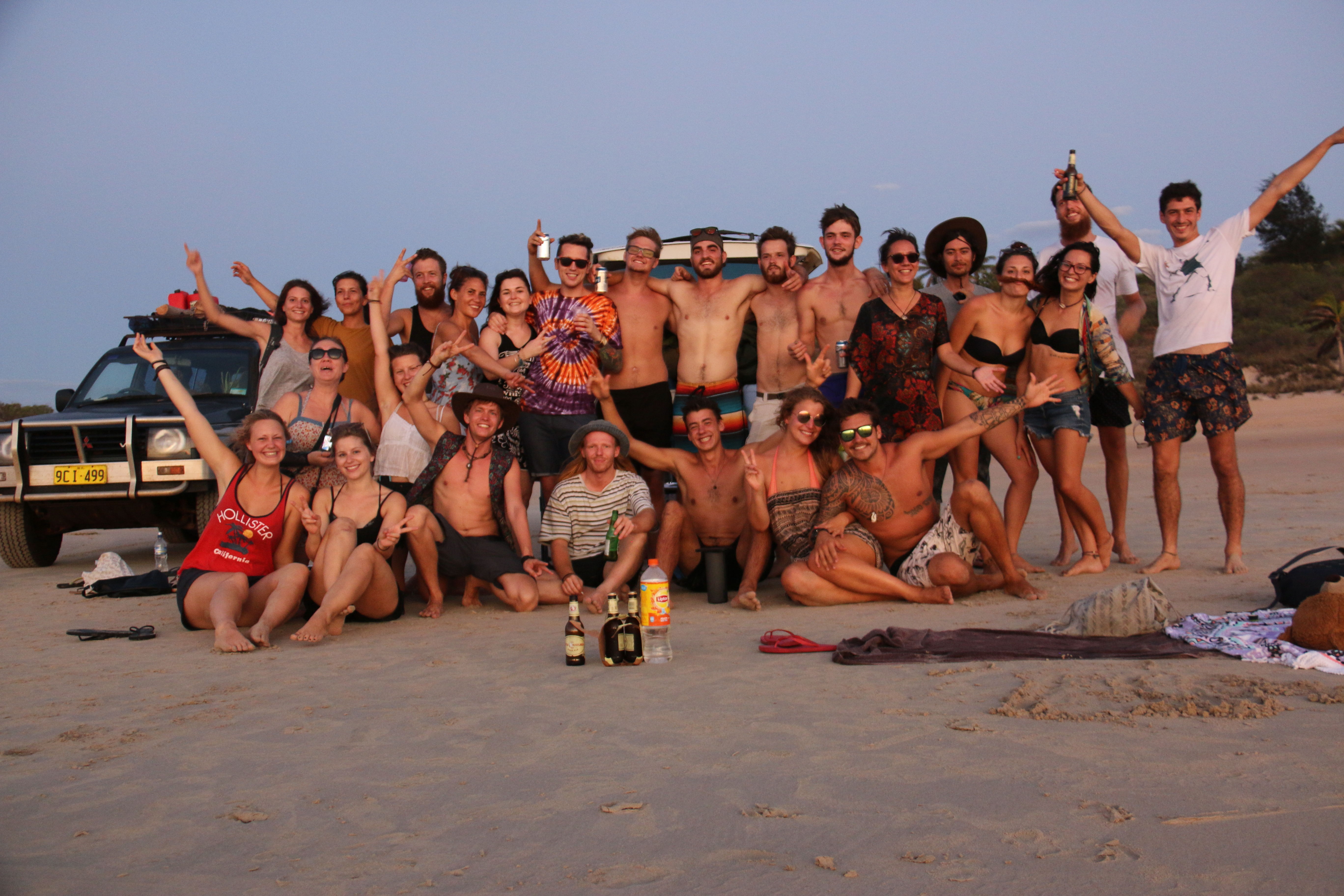 Here the Broome crew at the Cable Beach.
Hier die Broome Crew am Cable Beach.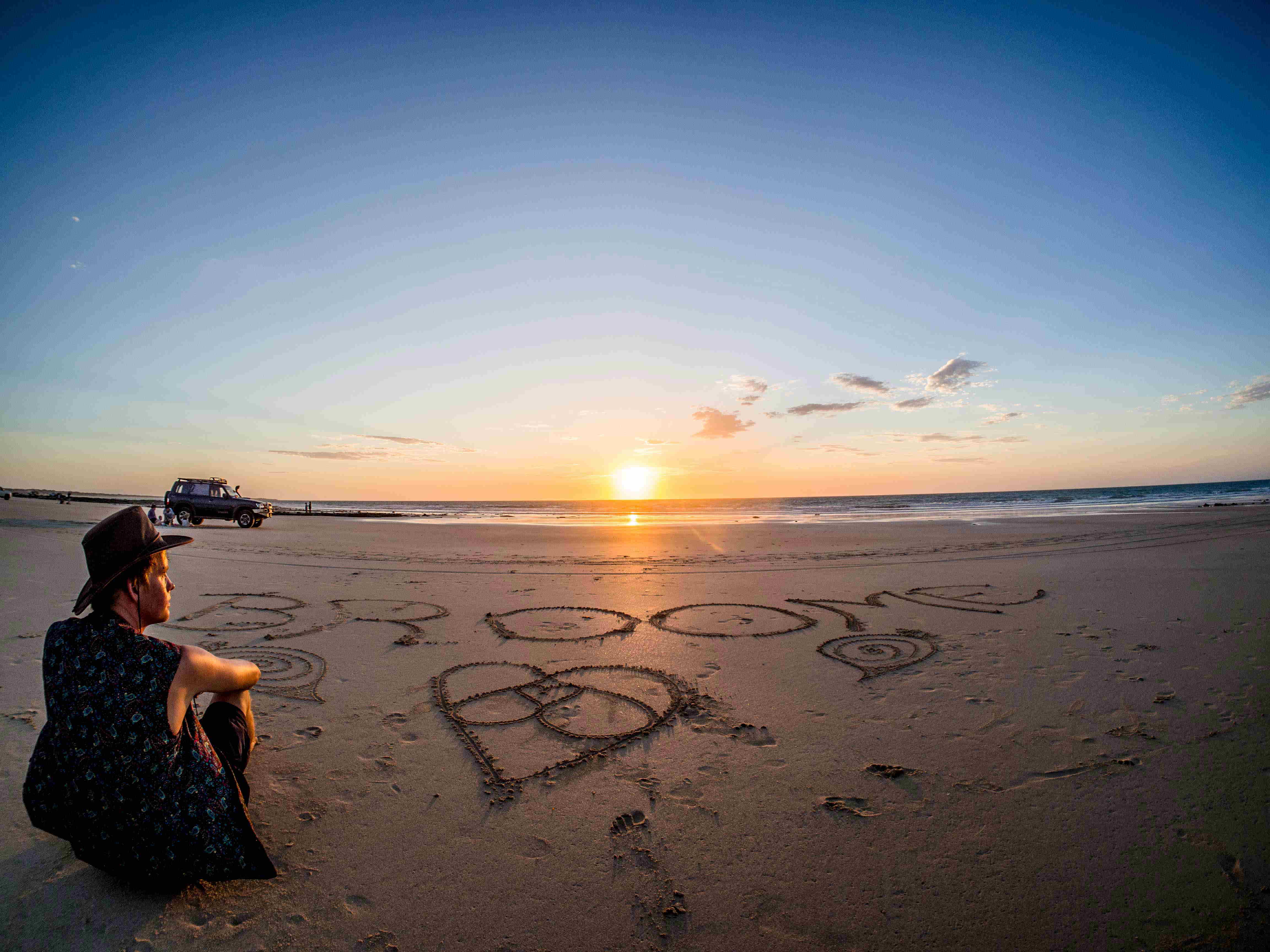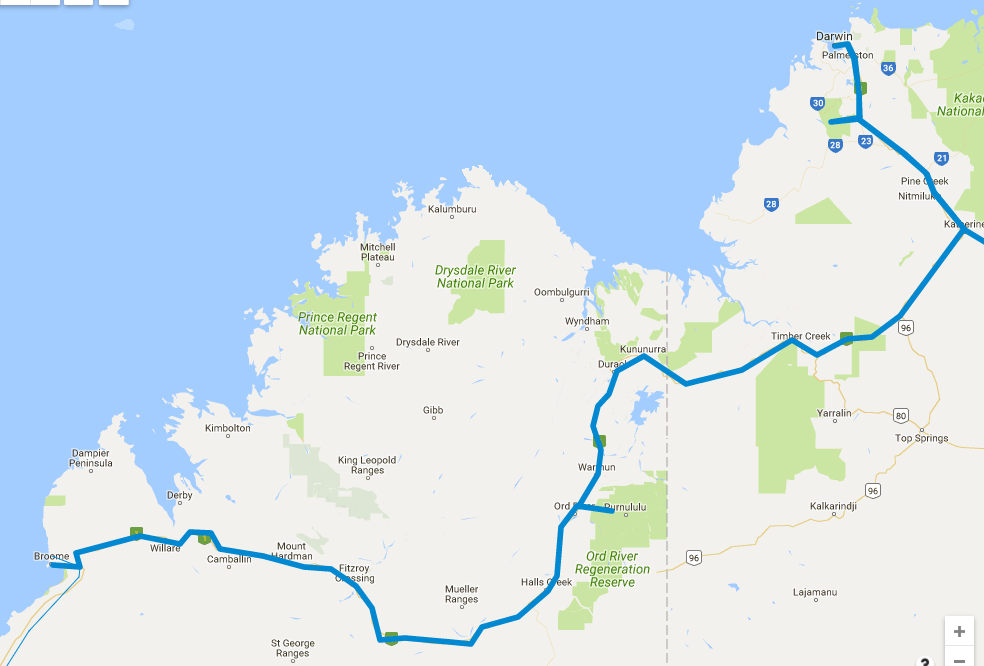 On the road again! Nicole, Ken and me drove with Billy from Broome to Darwin.
Und wieder unterwegs! Nicole, Ken und ich fuhren mit Billy von Broome nach Darwin.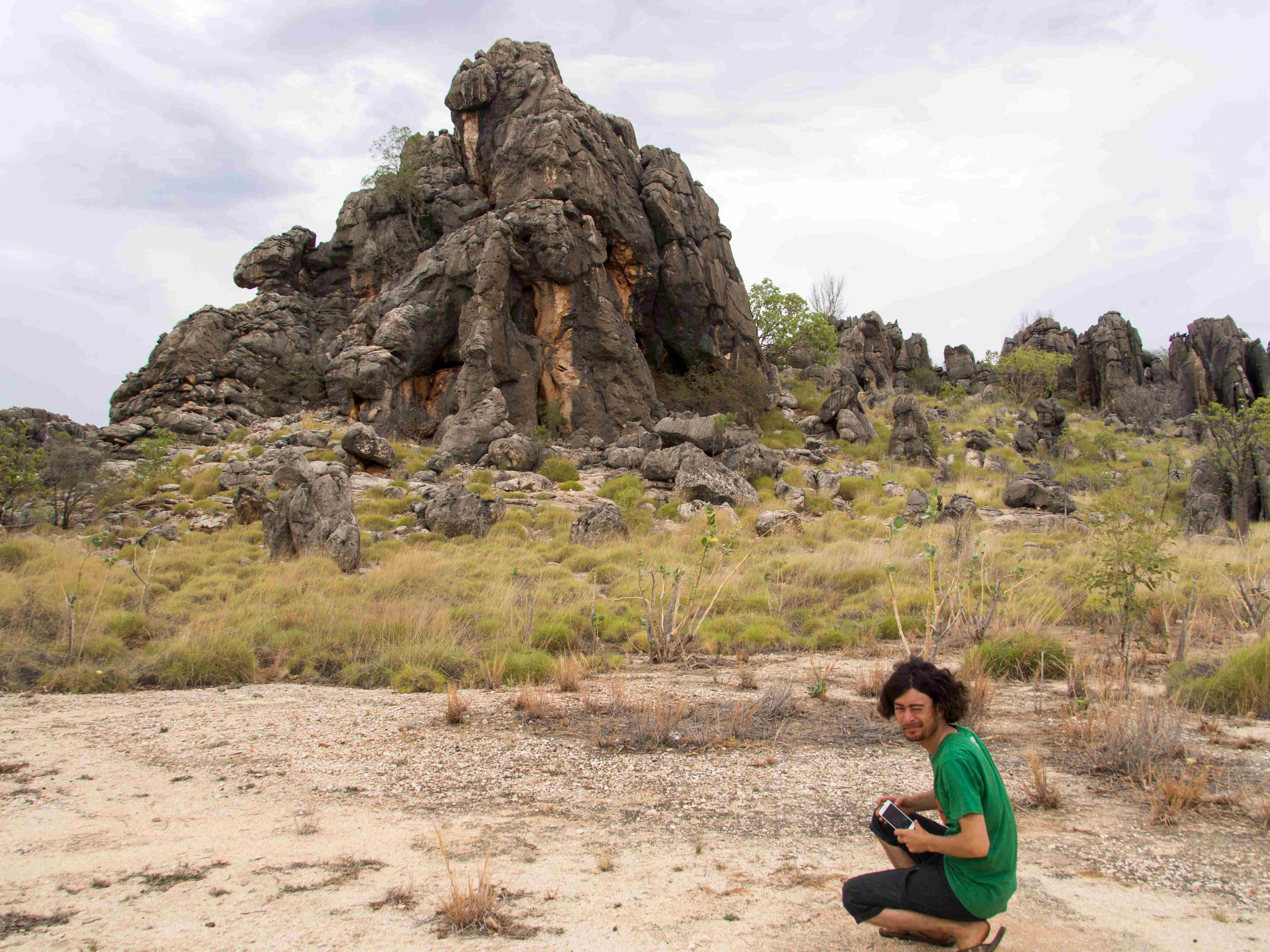 Ken in front of nice stone formations.
Ken vor schönen Felsformationen.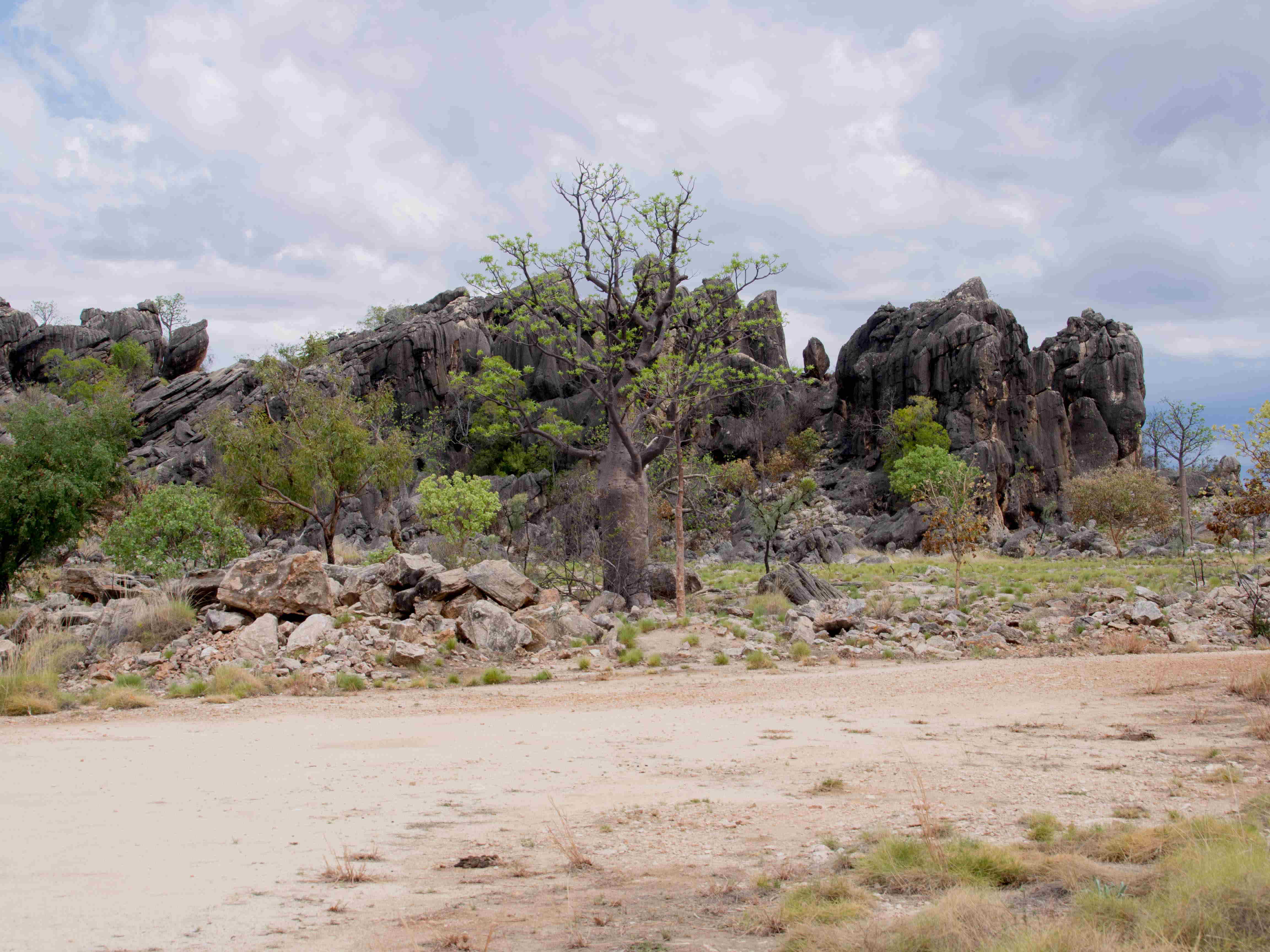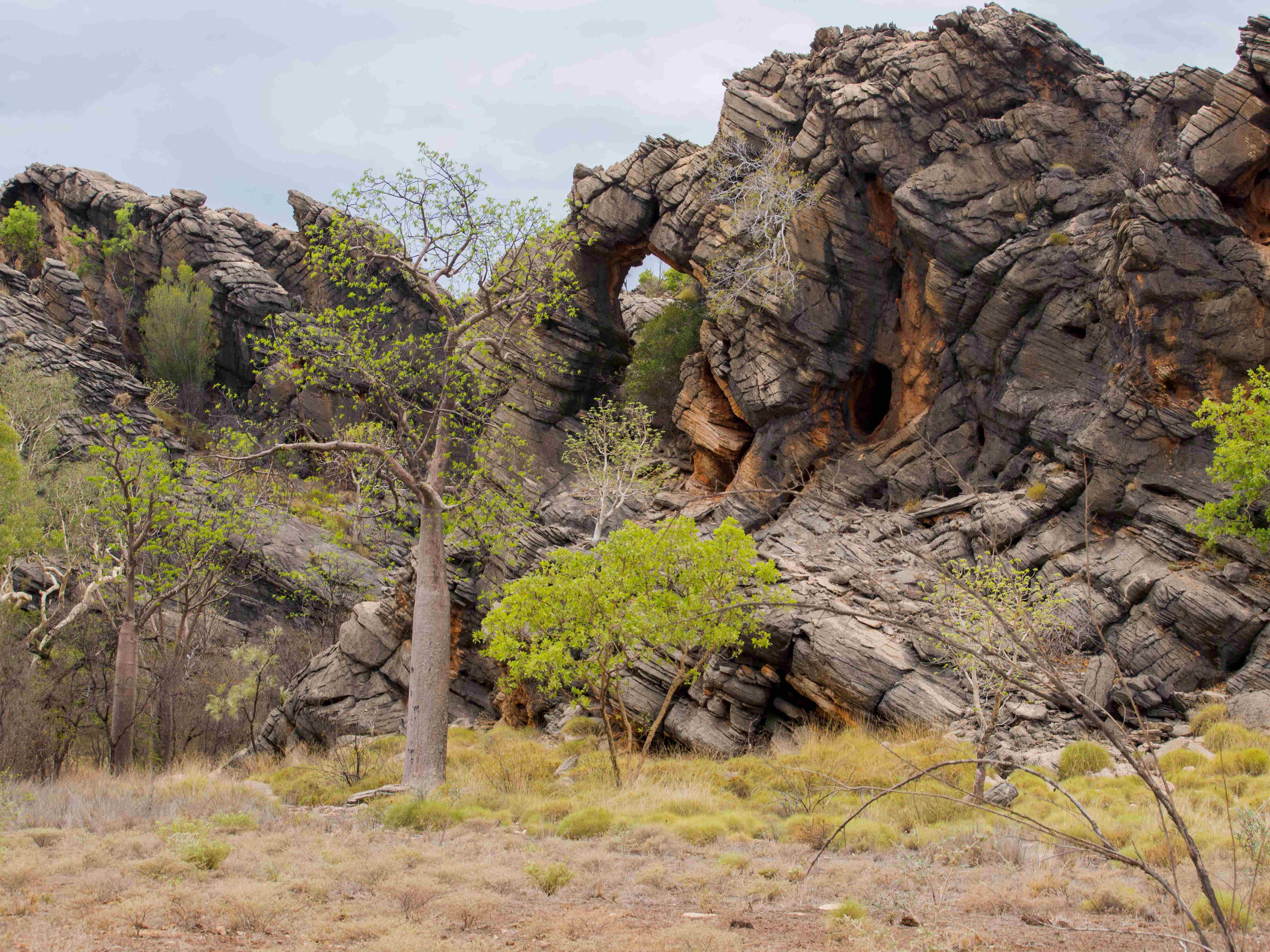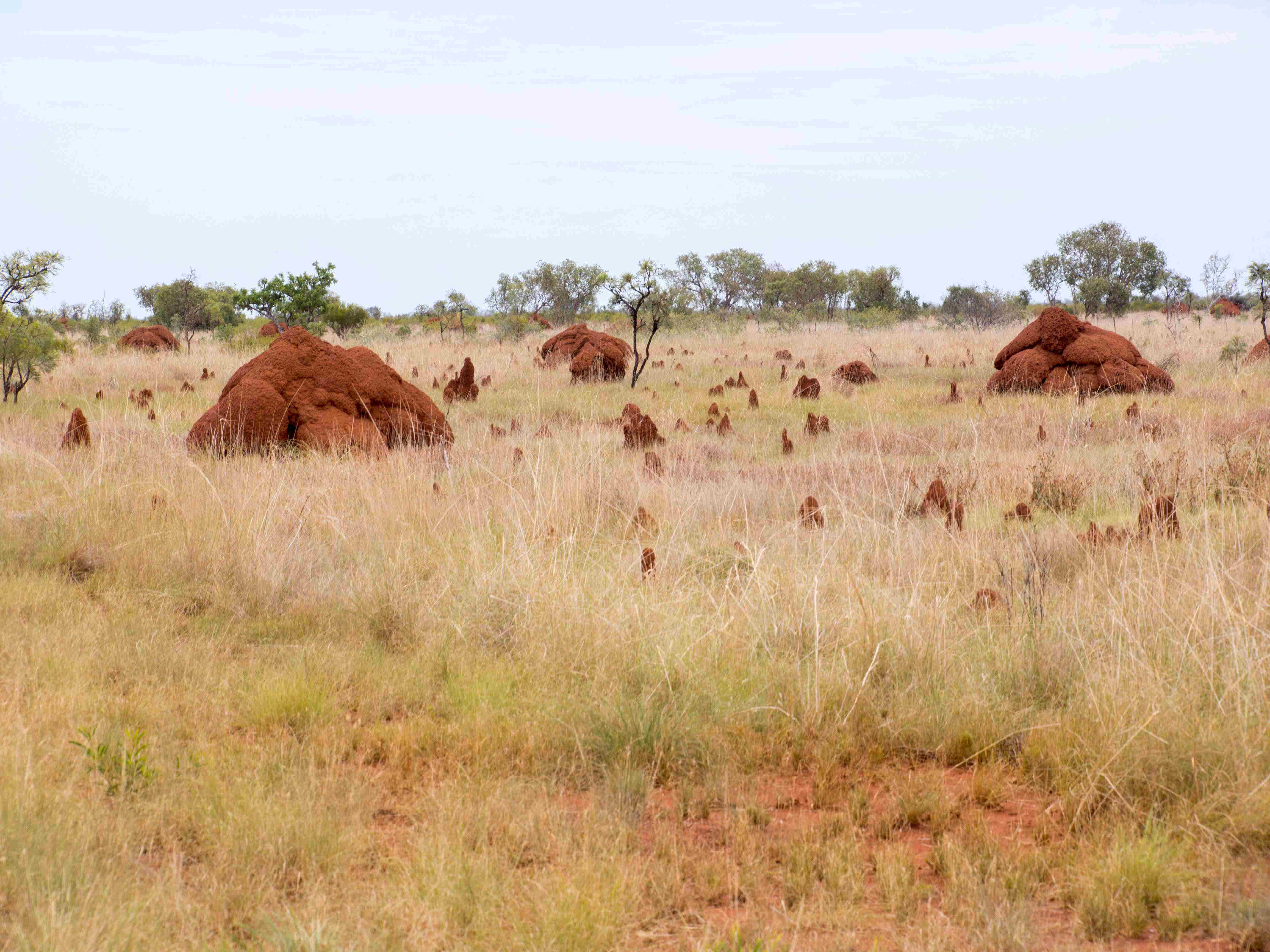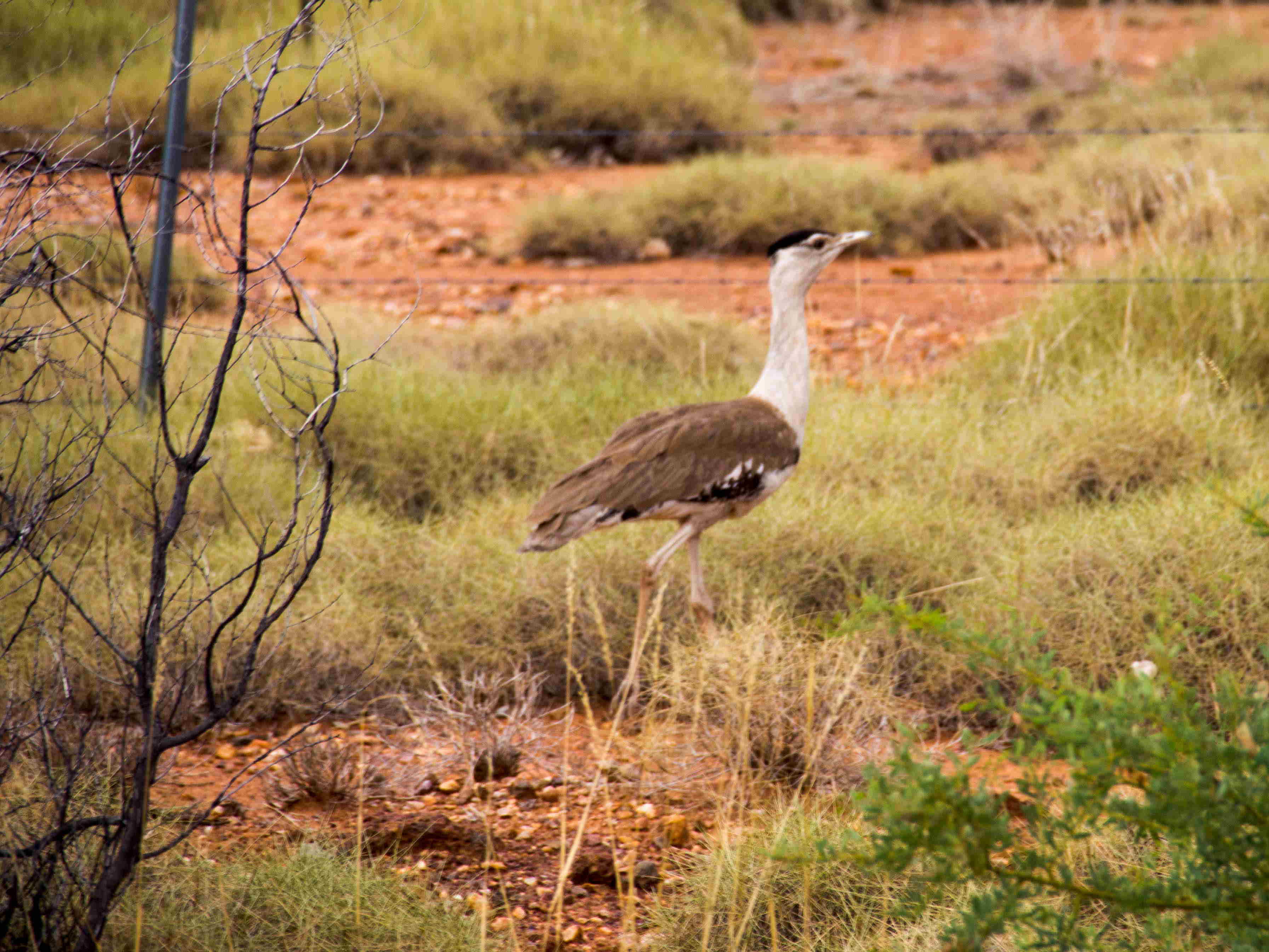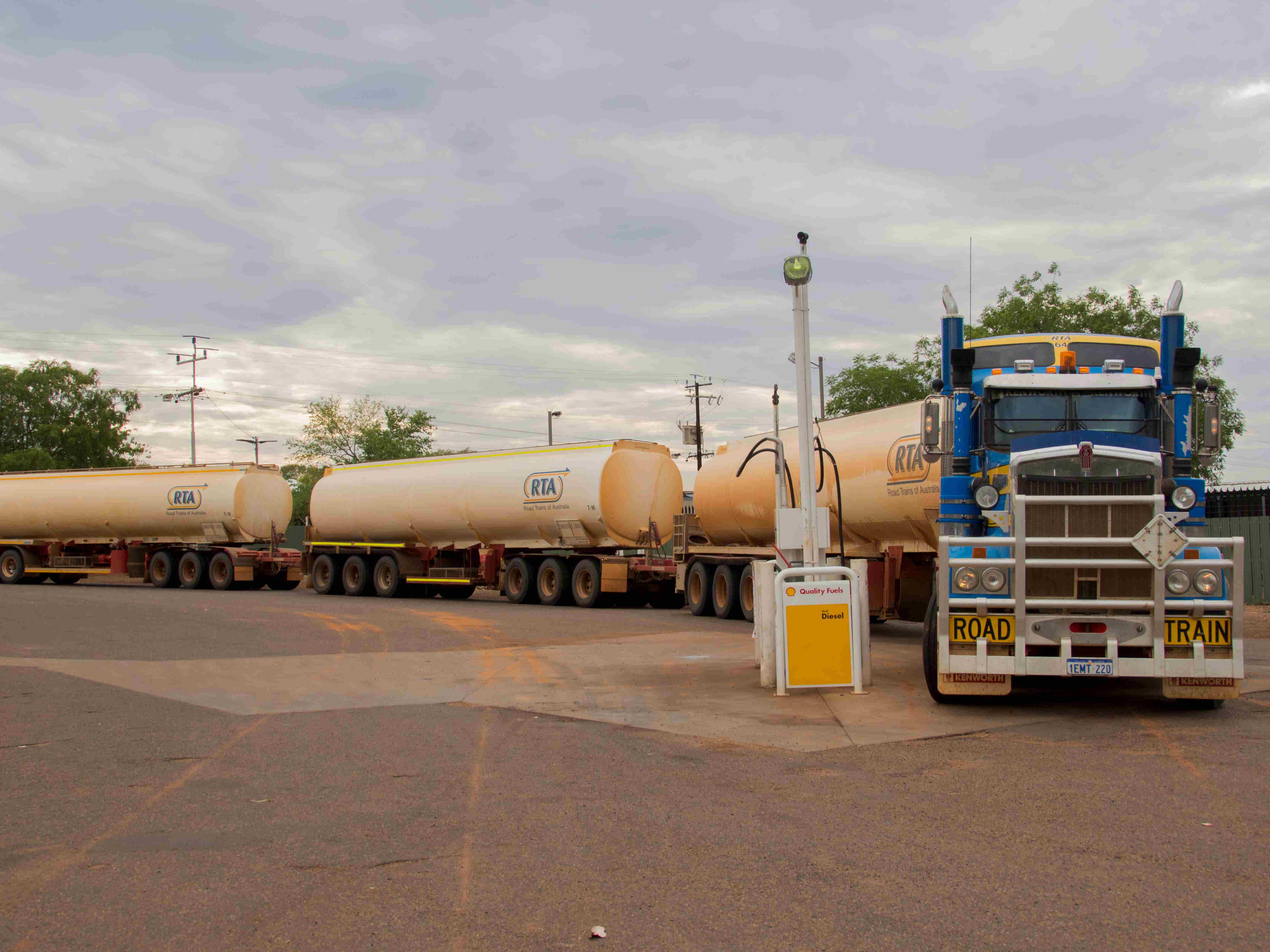 One of the famous road trains in Australia!
Einer der berühmten Straßen-Züge in Australien!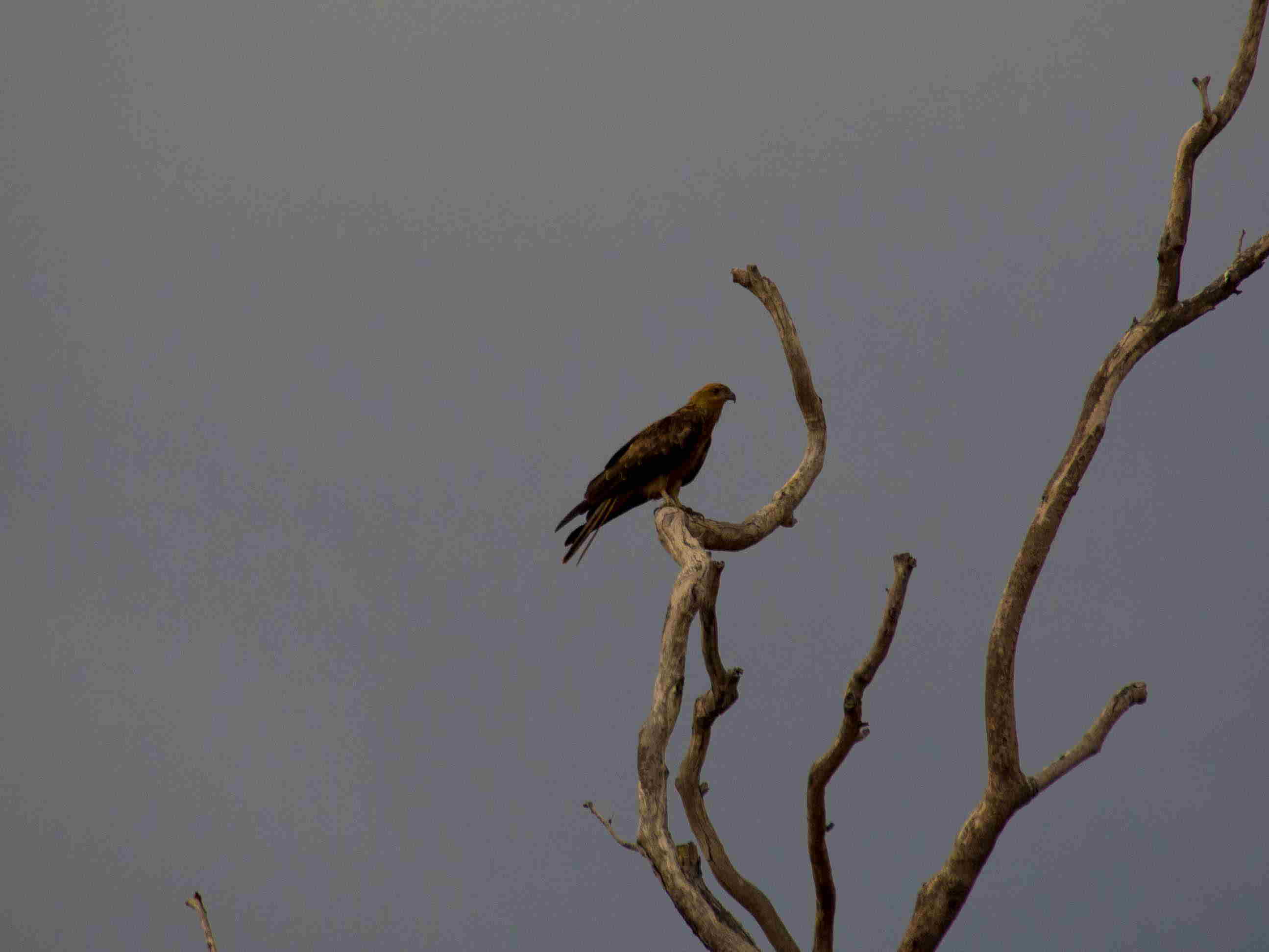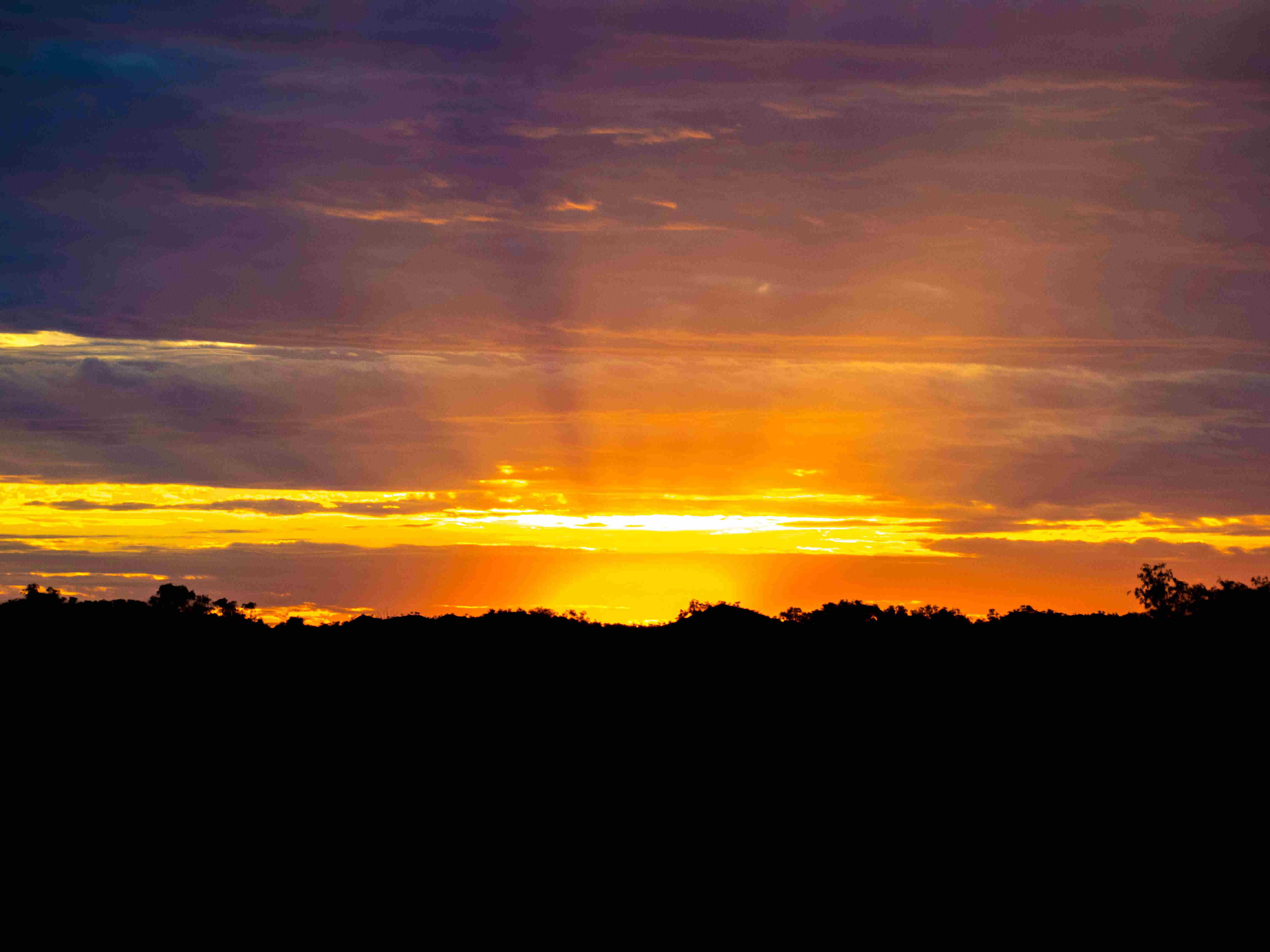 Sunsets are hard to capture in pictures but I try it anyway. This was the best sunset on my journey for now.
Sonnenuntergänge sind schwer auf Bildern festzuhalten, doch versuche ich es trotzdem. Das war der bisher schönste meiner Reise.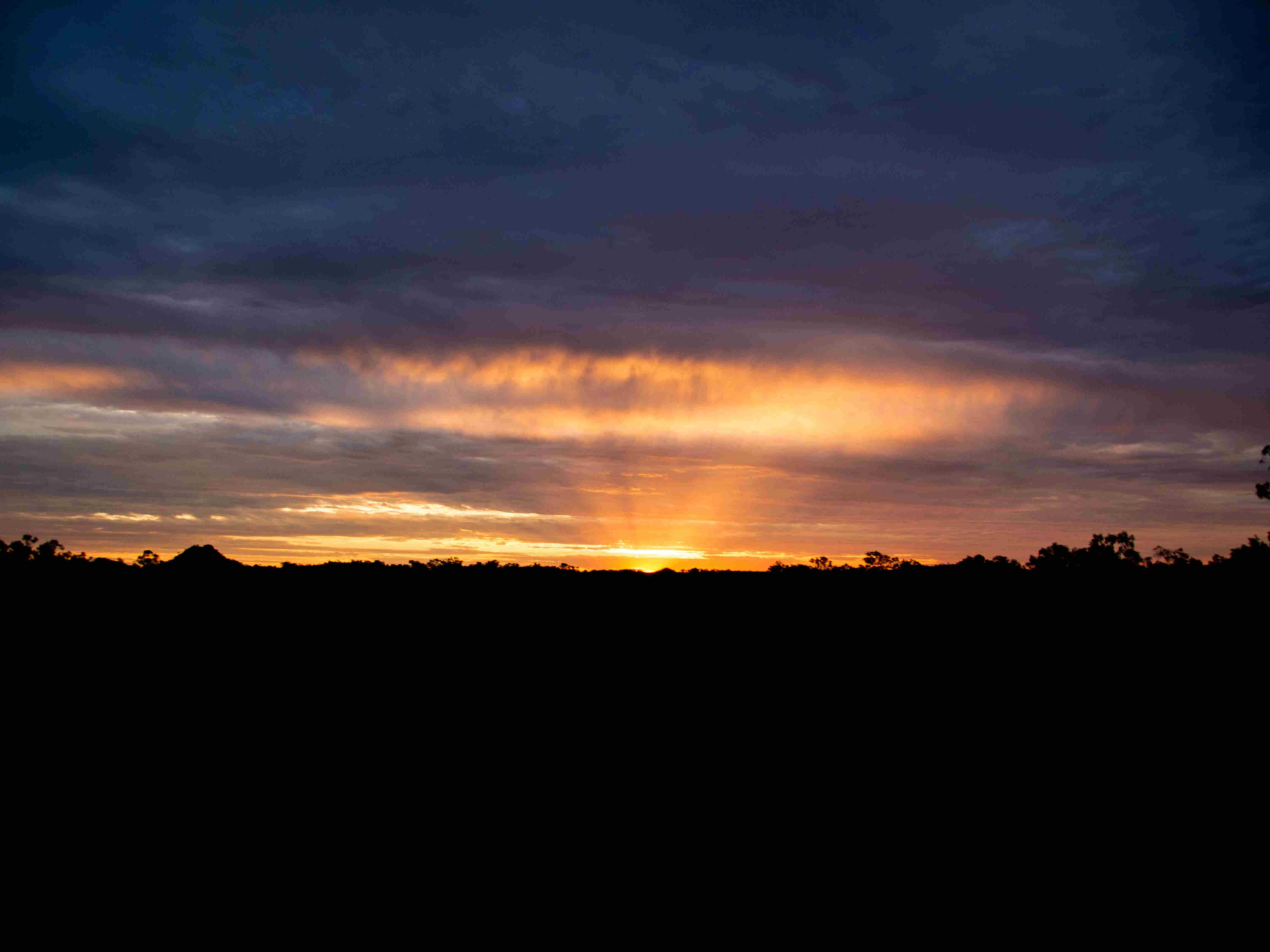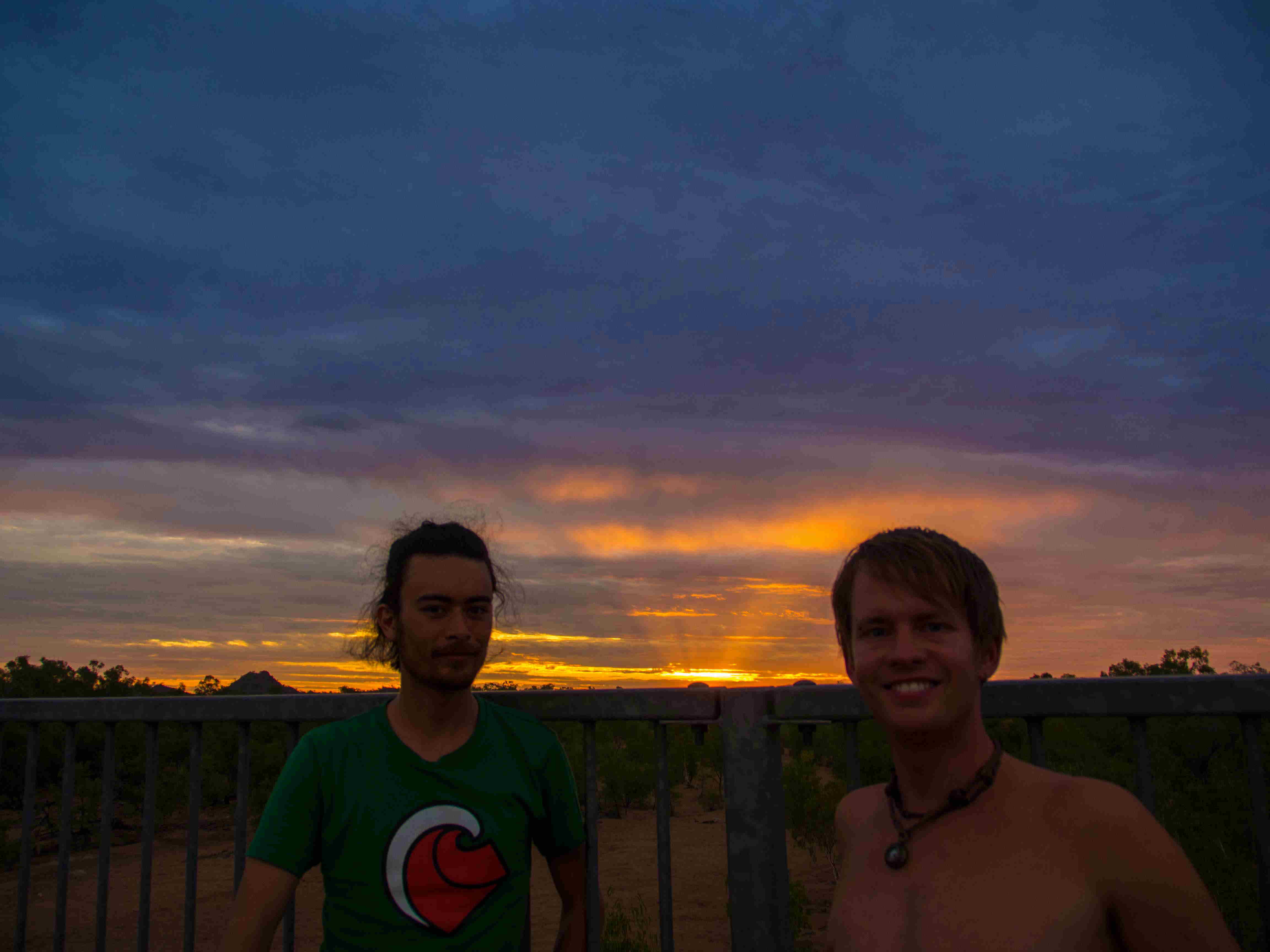 Ken and me infront of the gorgeous sunset.
Ken und ich vor dem atemberaumenden Sonnenuntergang.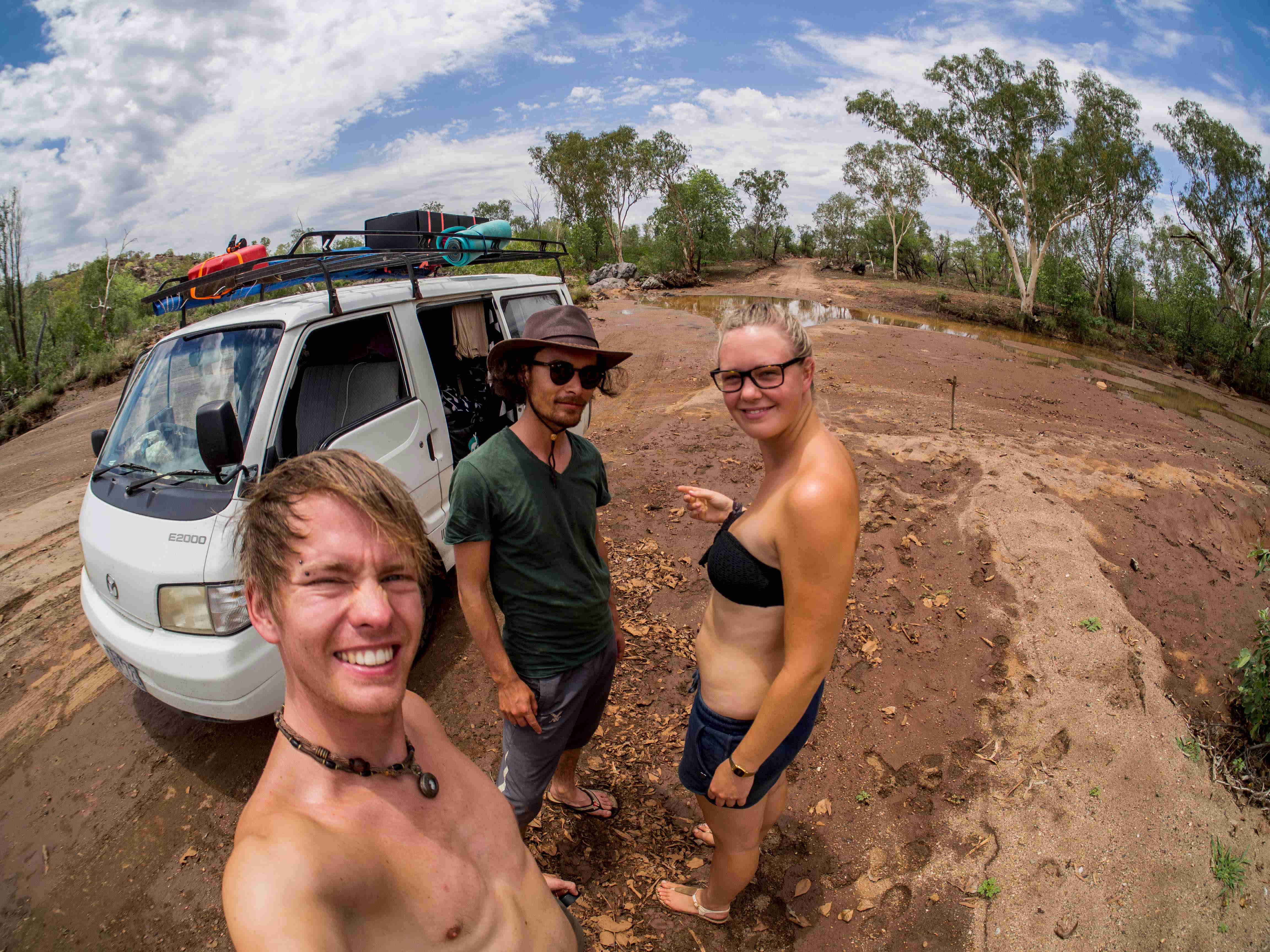 Next stop - Bungle Bungle Range in the Purnululu National Park. Here we had quiet an adventure, as the road is for four wheel drives only! But see what happend....
Nächster Halt - Bungle Bungle Gebirgskette im Purnululu Nationalpark. Hier hatten wir ein ganz schönes Abenteuer, da die Straße nur für Allradantrieb zugelassen ist! Aber seht selbst....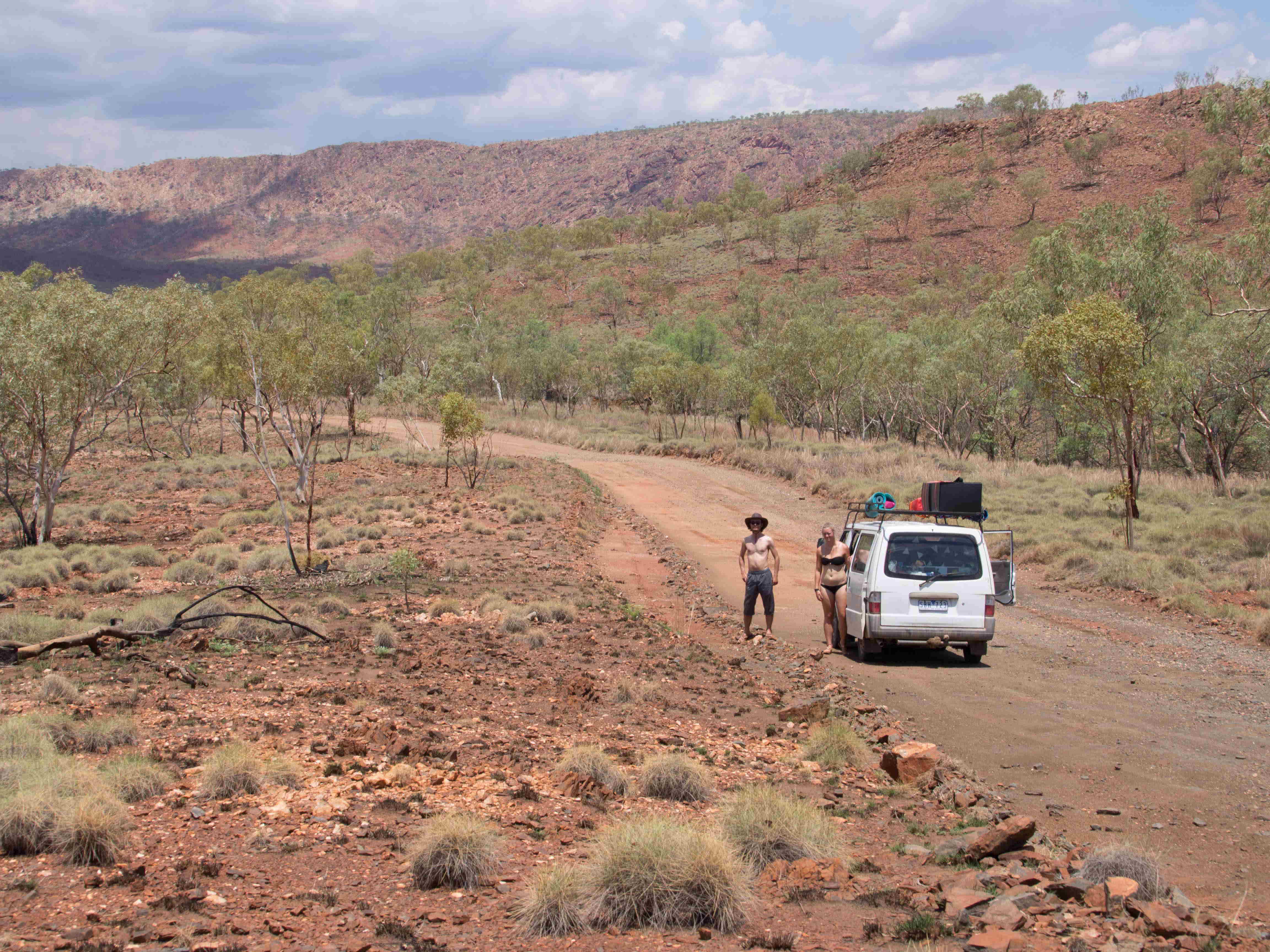 Here still everything was fine.
Hier war noch alles in Ordnung.
Several rivers we passed already, but at this one I made a mistake... but see yourself. Billy didn't start anymore. One o'clock and we where cooking in the midday sun. No mobile reception at all. What to do now?! If we can't drive anyway, we can have a beer! :P So we had a beer and waited. The plan was to wait to let everything dry a bit, use the rest of the power in the battery and if it dosen't work - wait until the sun is not strong anymore and start to walk where we have signal again. A good hour later a vehicle came.
Einige Flüsse hatten wir schon passiert, doch bei diesem machte ich einen Fehler.... aber seht selbst. Billy startete nicht mehr. Ein Uhr und wir kochten in der Mittagssonne. Absolut kein Empfang. Was jetzt?! Warten... Na wenn wir eh nicht fahren können, könne wir auch ein Bier trinken! :P So tranken wir ein Bier und warteten. Der Plan war alles ein wenig trocknen zu lassen und dann mit dem Rest Strom in der Batterie alles zu geben. Wenn das nicht klappte, warten bis die Sonne nicht mehr so stark war und loslaufen bis wir wieder Signal haben. Eine gute Stunde später kam ein Wagen.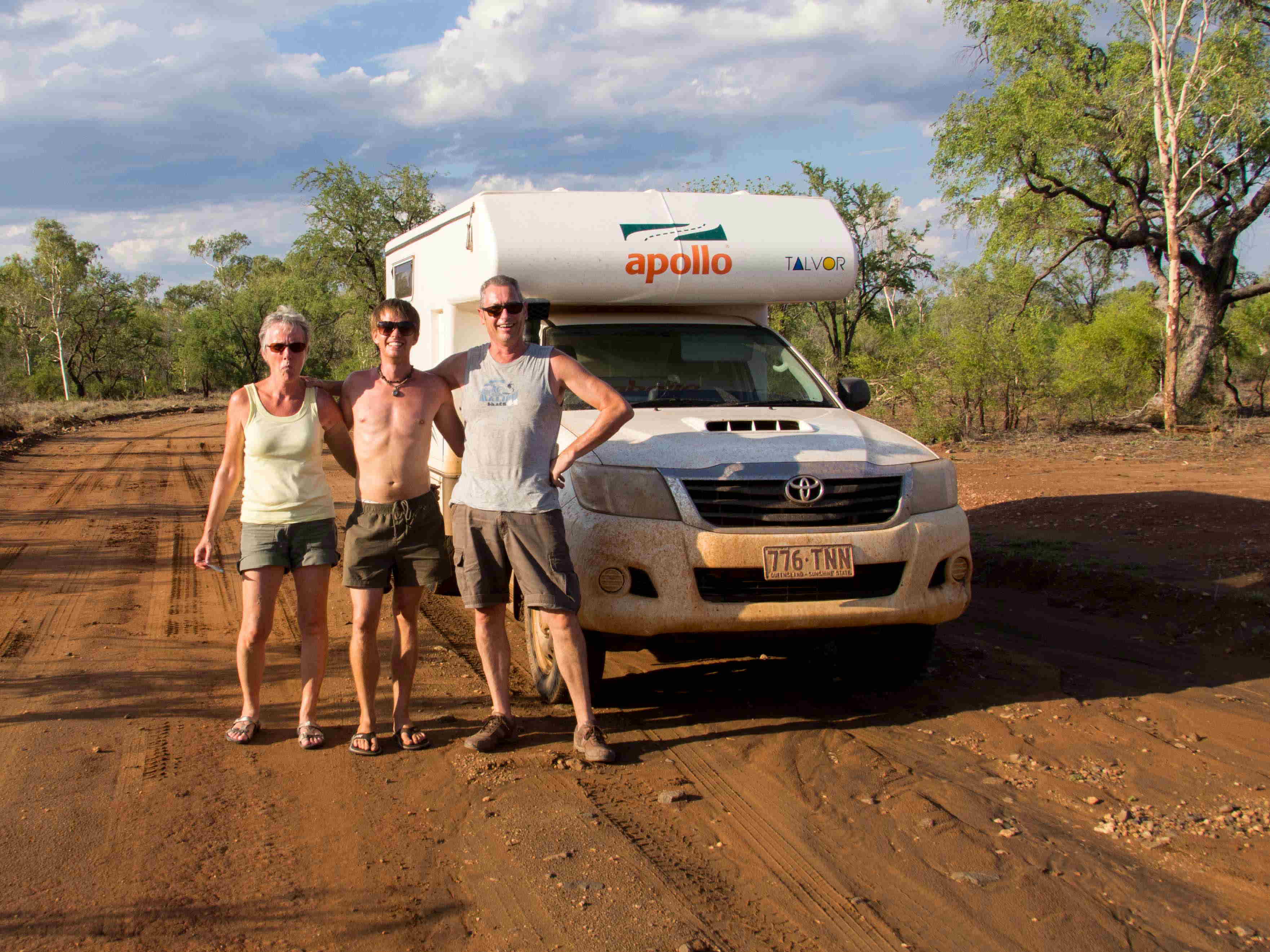 Frank and his wife pulled us up the hill and we could start Billy with it's own batterie again (GOOOOD BOOOOOYYY :D). We drove back throug the same river - this time slow and it worked out - got escortet to see that everything is fine and made our way out of Panululu. Thanks very much for your help guys! Safed our day! :)
Frank und seine Frau zogen uns den Hügel hoch und wir konnten Billy ohne Überbrückung starten (GUUUTER JUNGE :D). Wir fuhren zurück durch den selben Fluss - dieses mal langsam und es ging - wurden begleitet um sicherzustellen, dass alles gut lief und machten uns raus aus dem Punululu. Vielen Dank für eure Hilfe Leute! Ihr habt unseren Tag gerettet! :)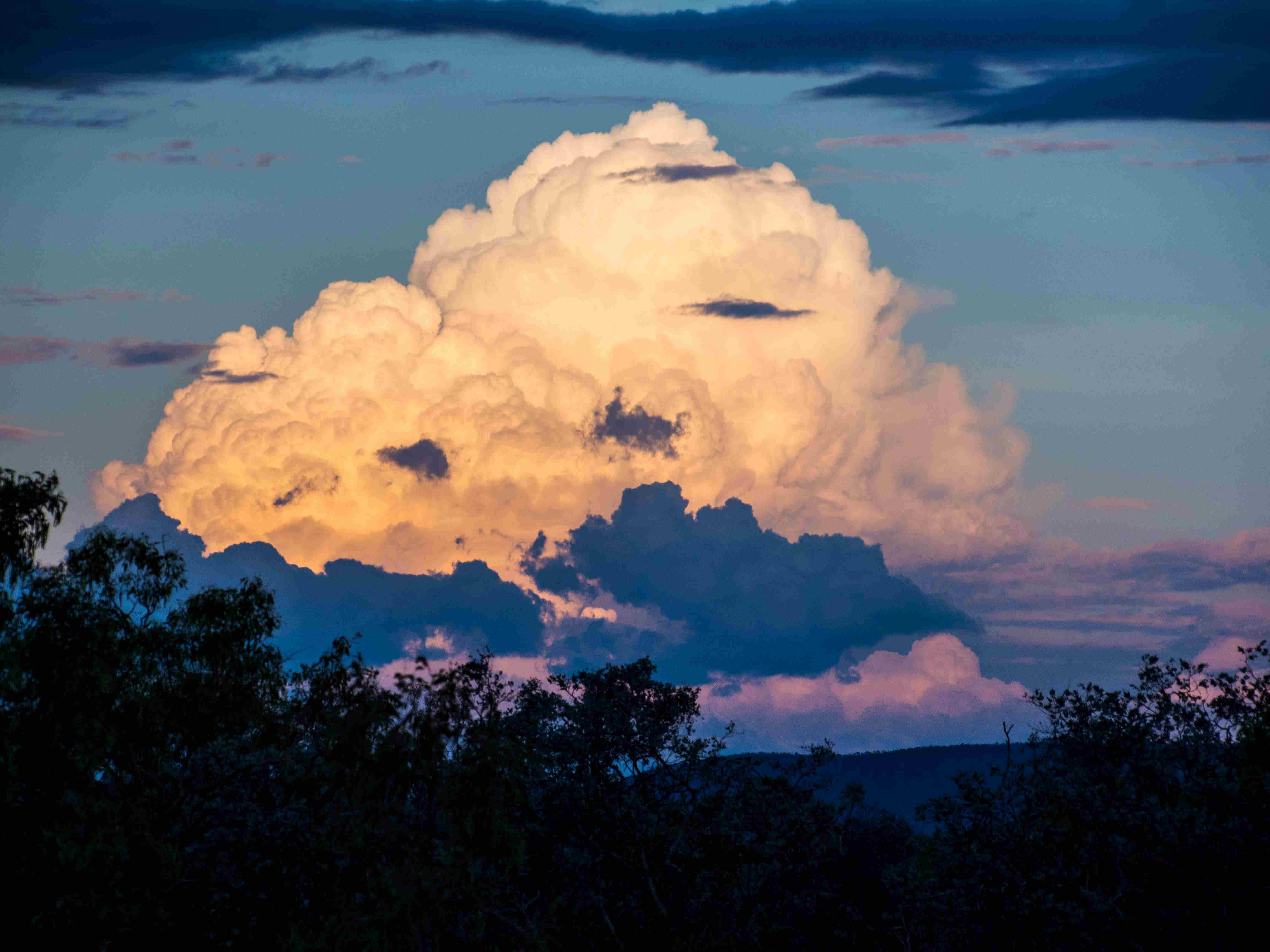 Here one of the awesome cloud formations you see while driving through Australia.
Hier eine der schönen Wolkenformationen die man bei der Fahrt durch Australien sieht.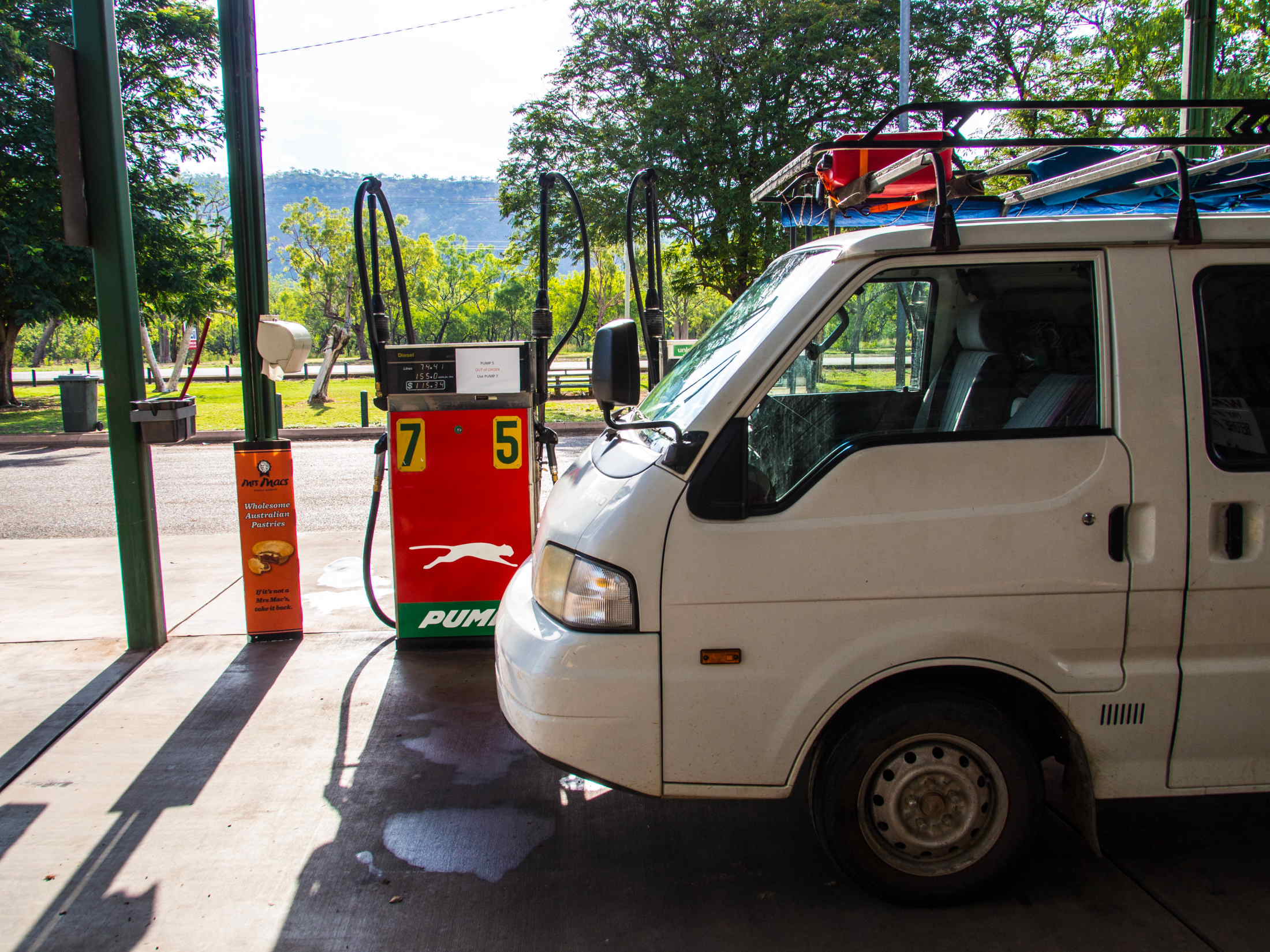 Billy having a drink :)
Billy hat einen Drink :)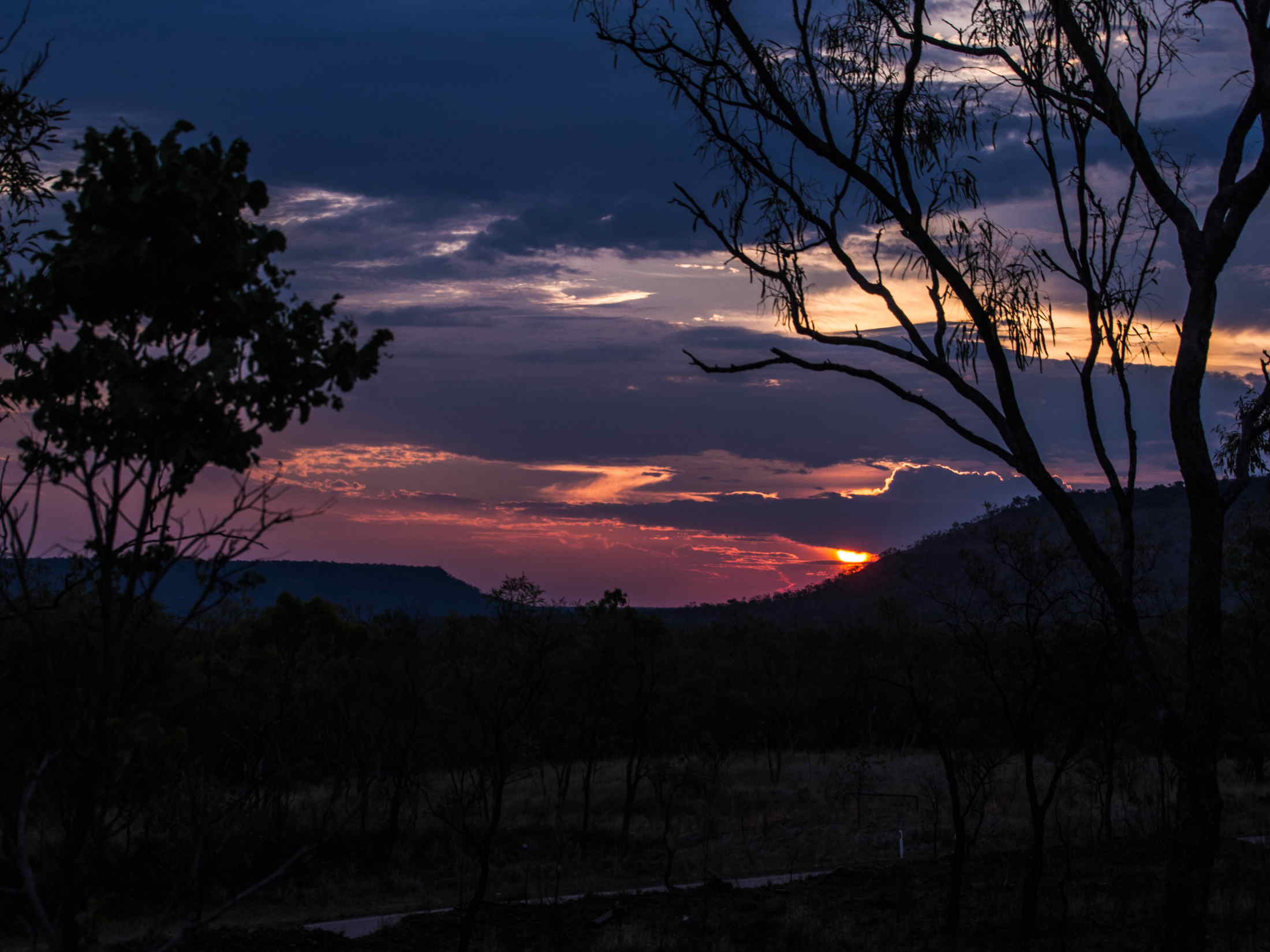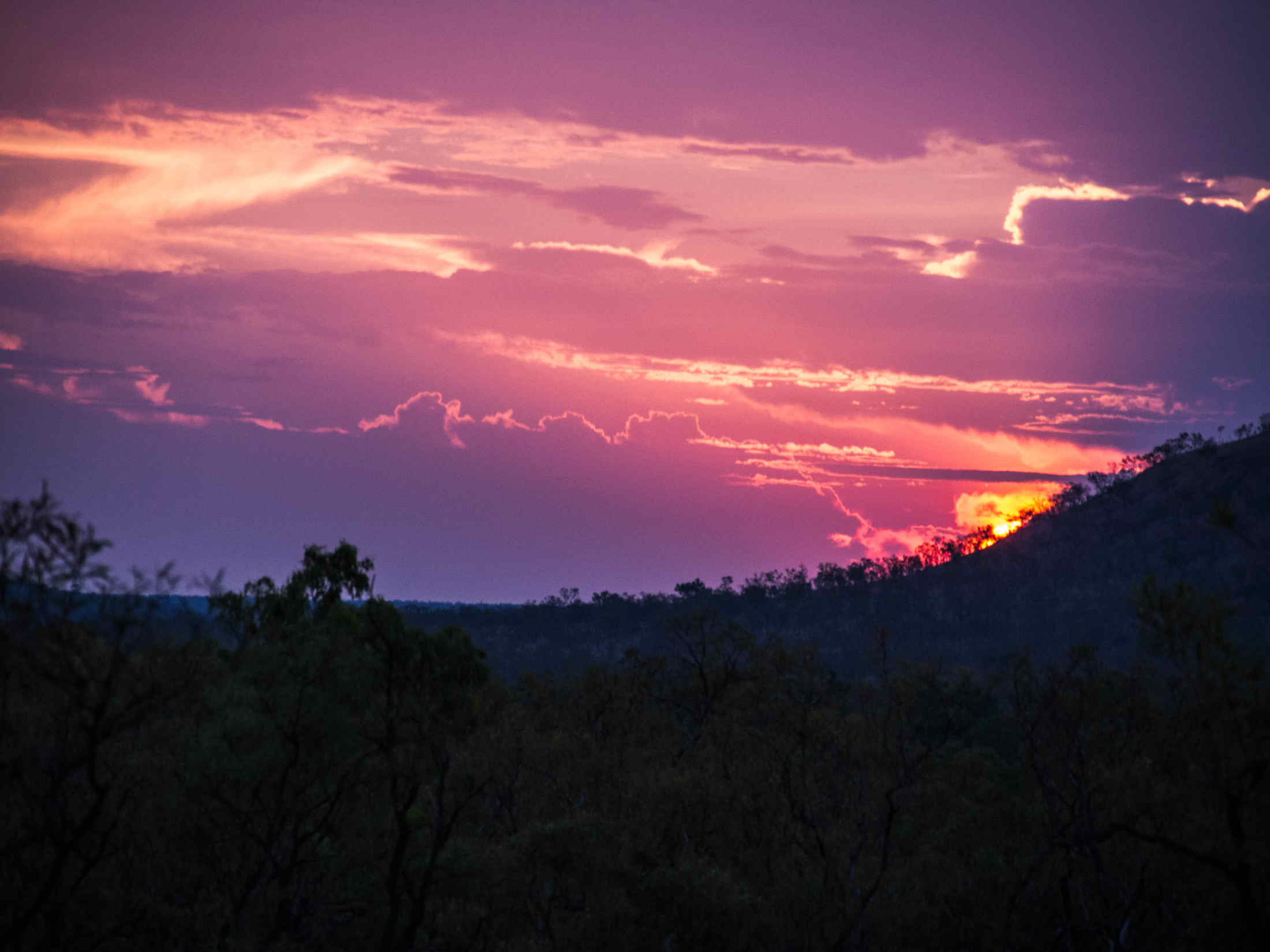 Another sunset in Australia...
Ein weiterer Sonnenuntergang in Australien...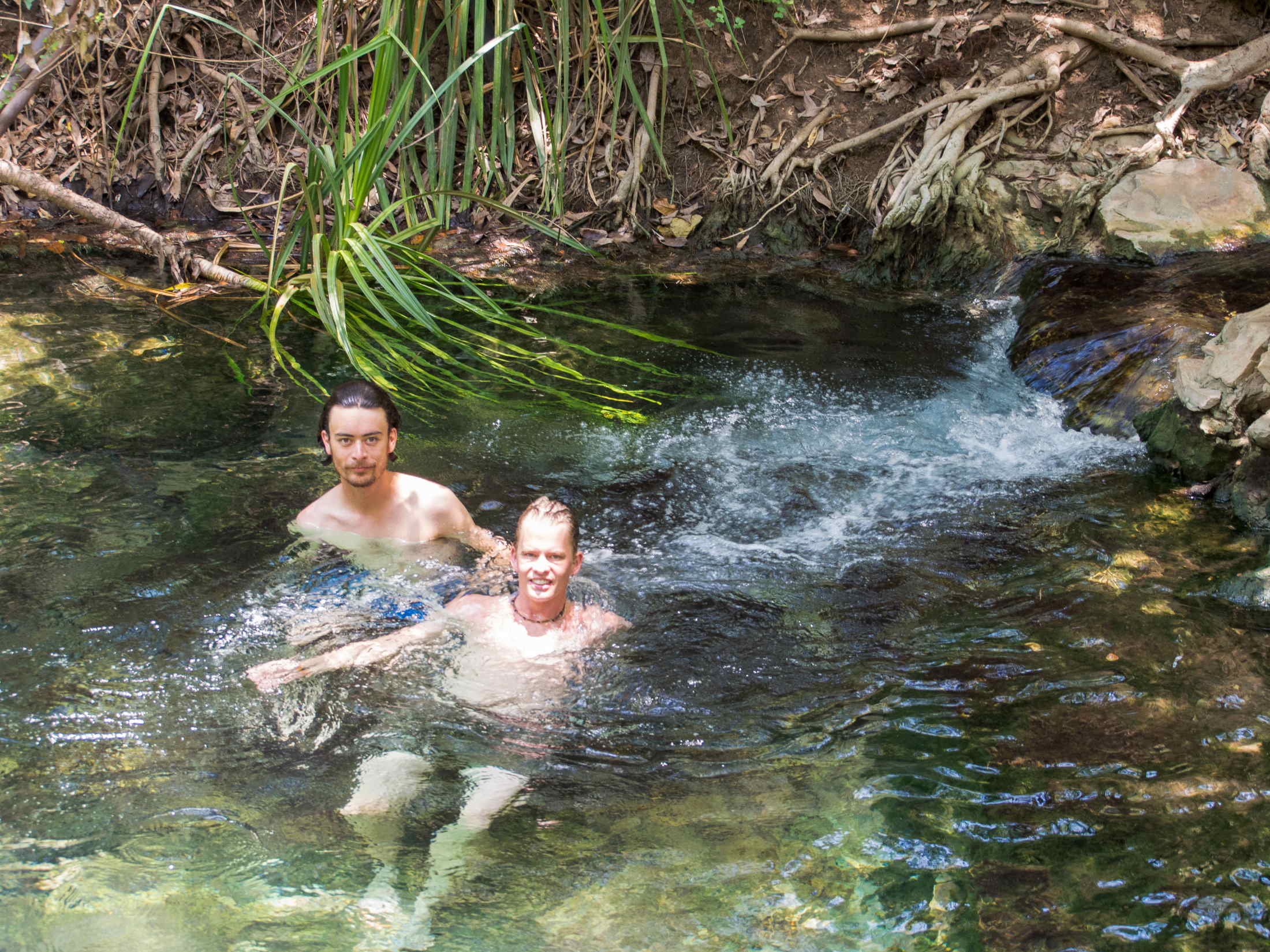 Ken and me in the Katherine Springs.
Ken und ich in den Katherine Springs.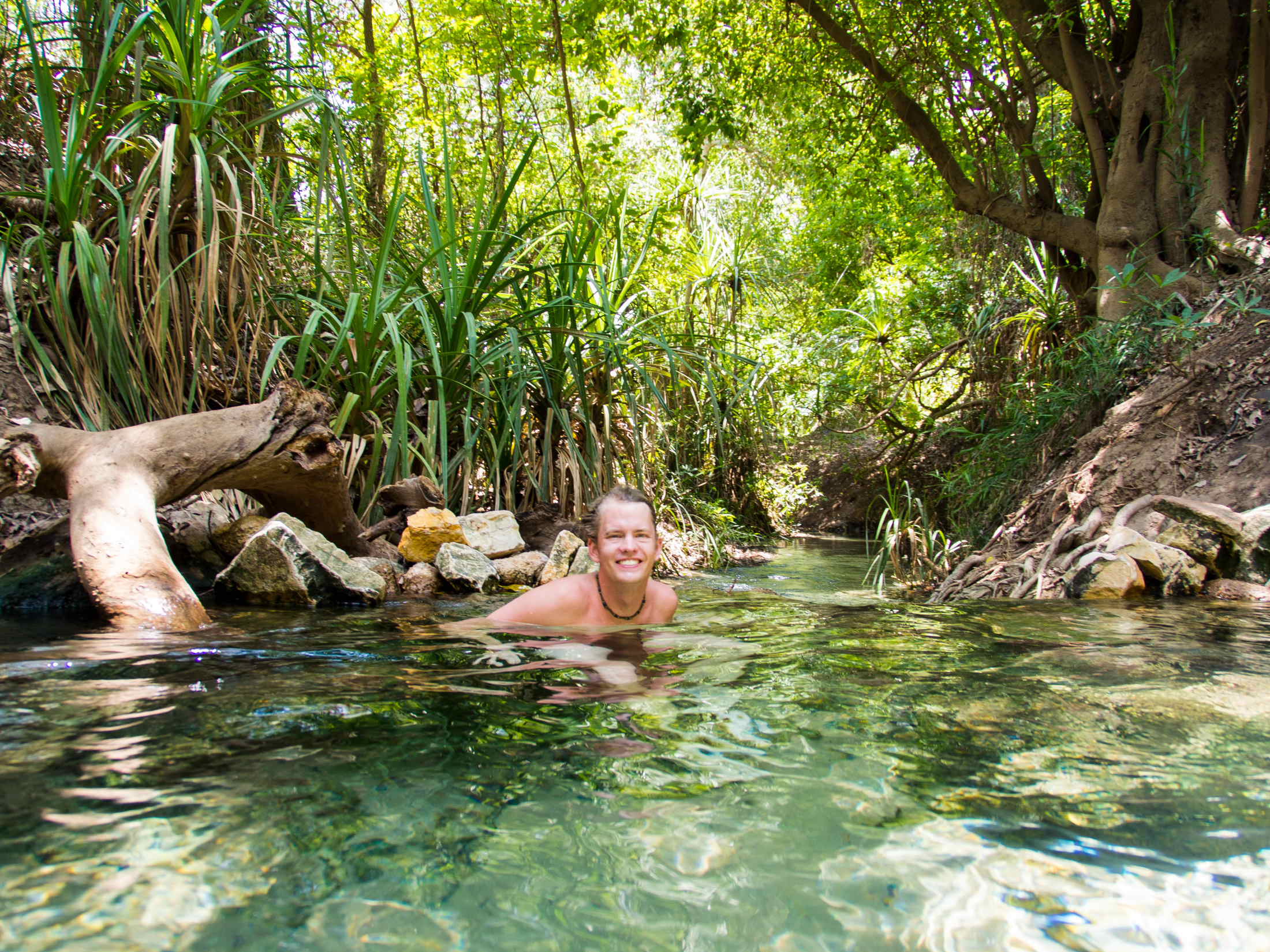 Me at the springs. :)
Ich in den Quellen. :)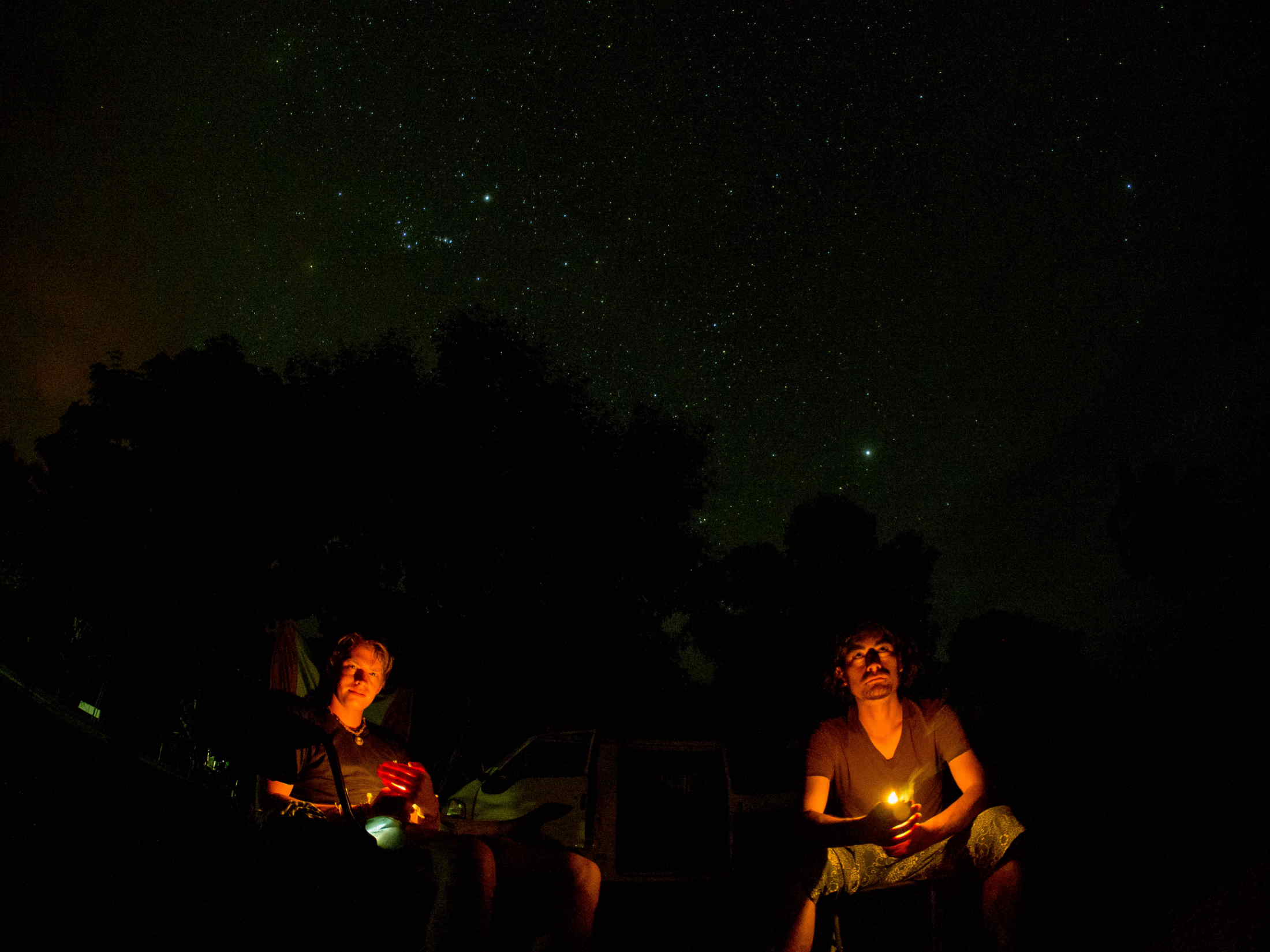 Playing in the darkness.
Finally we made our way to the Lithchfield National Park. Here at the termitariums.
Schließlich schafften wir es zum Litchfield National Park. Hier bei den Termitenbauten.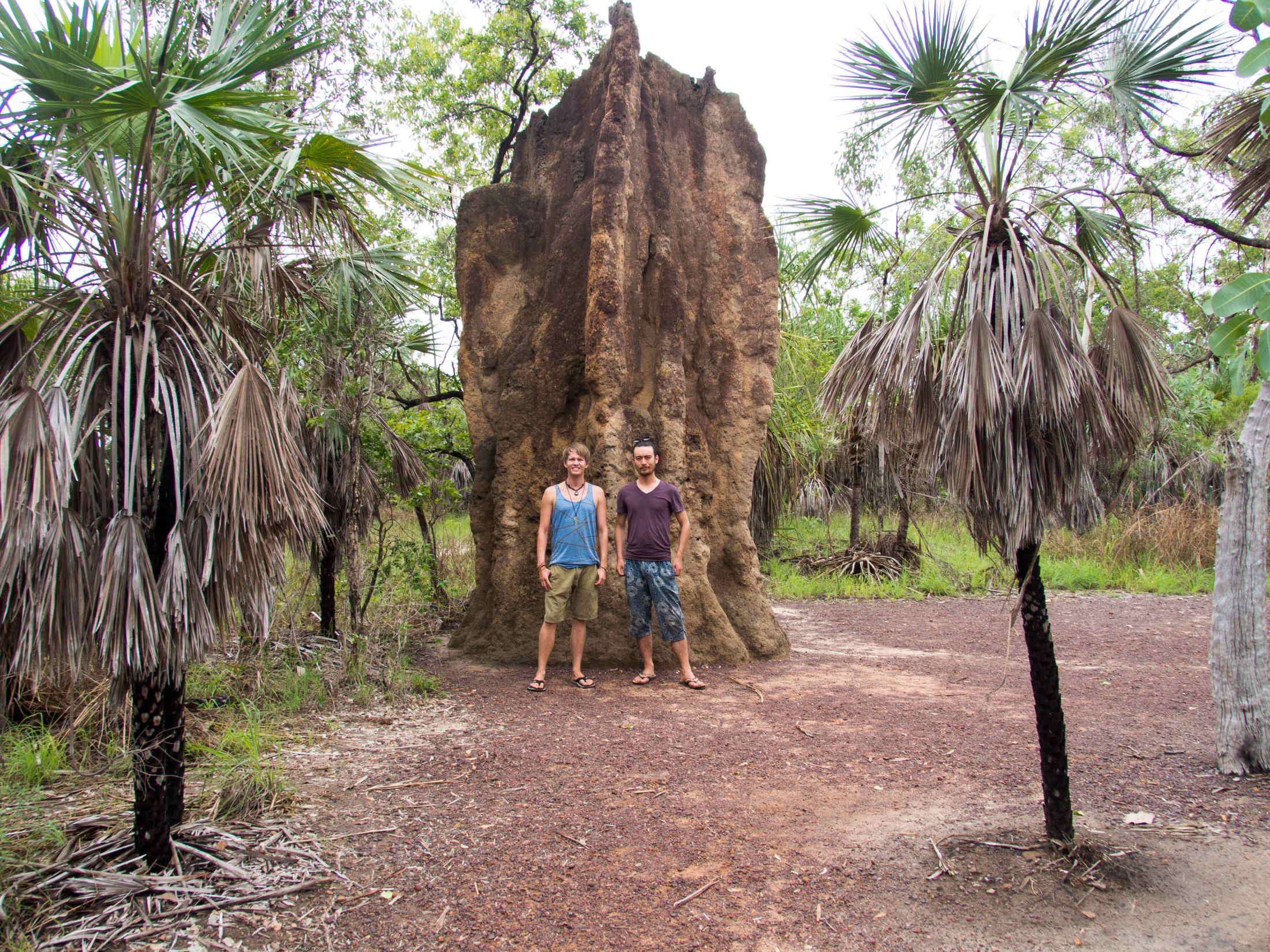 THE MOTHER TERMITARIUM!
DER MUTTER TERMITENBAU!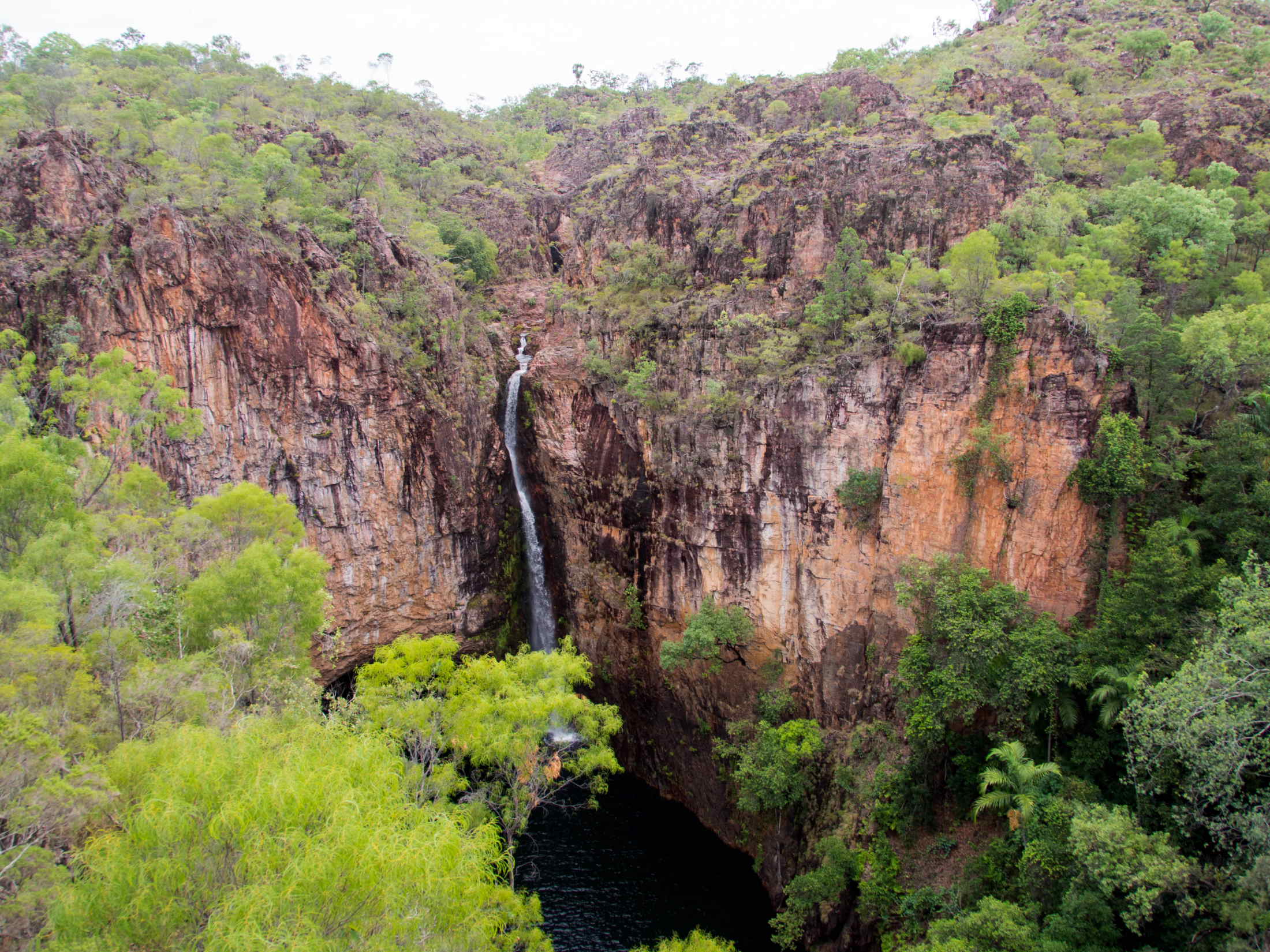 One of the waterfalls in Litchfield.
Eine der Wasserfälle in Litchfield.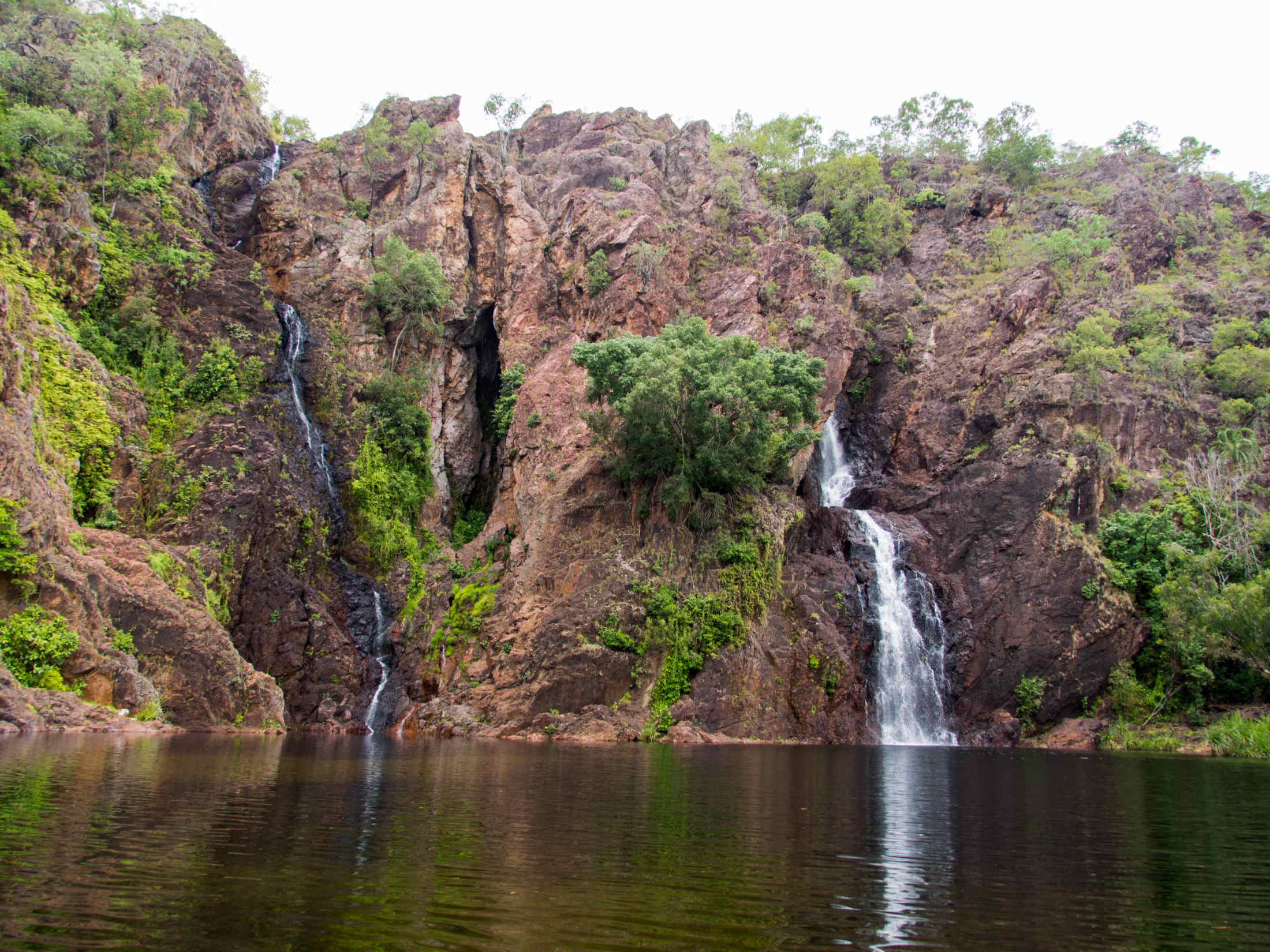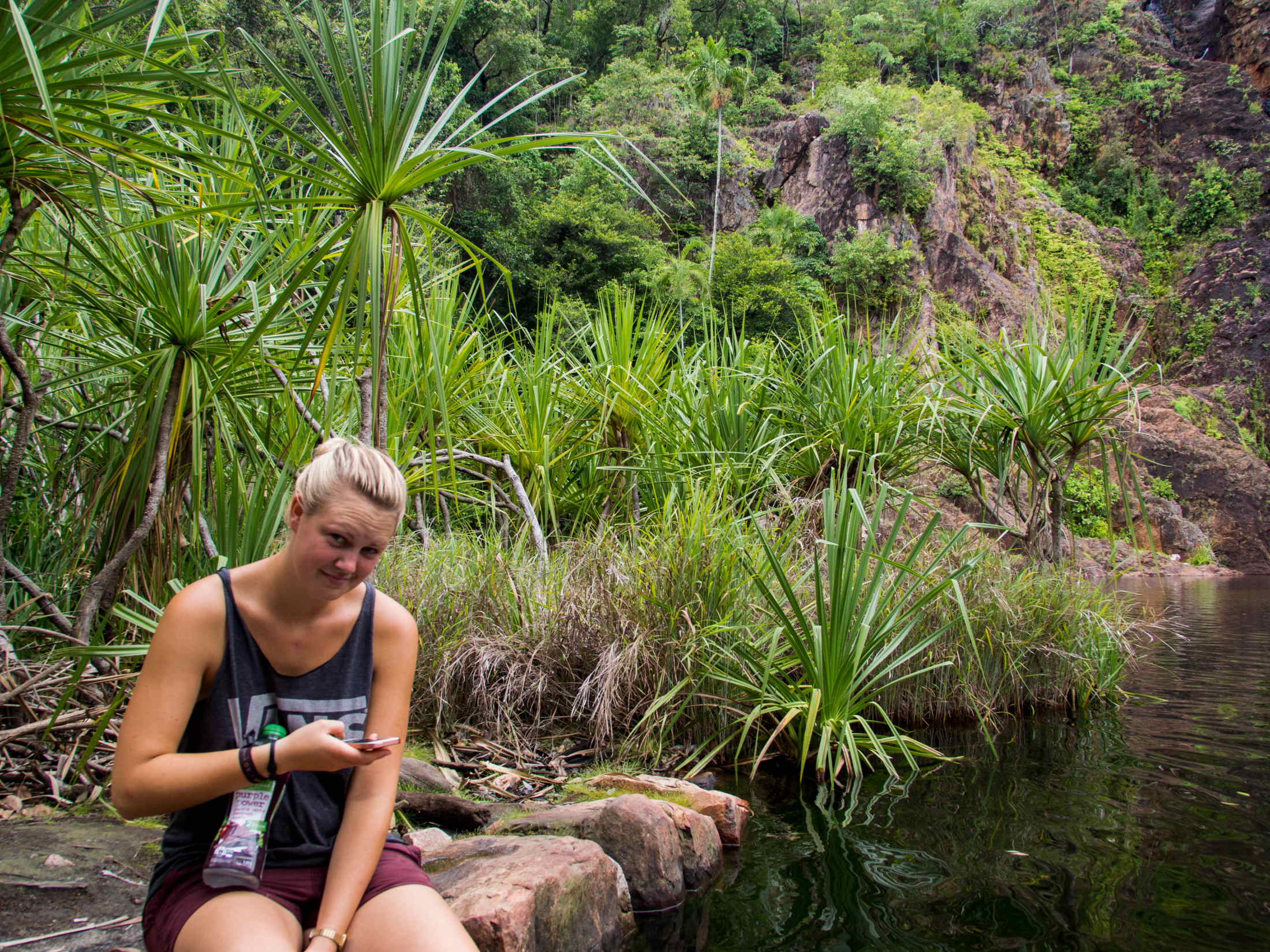 Nicole :)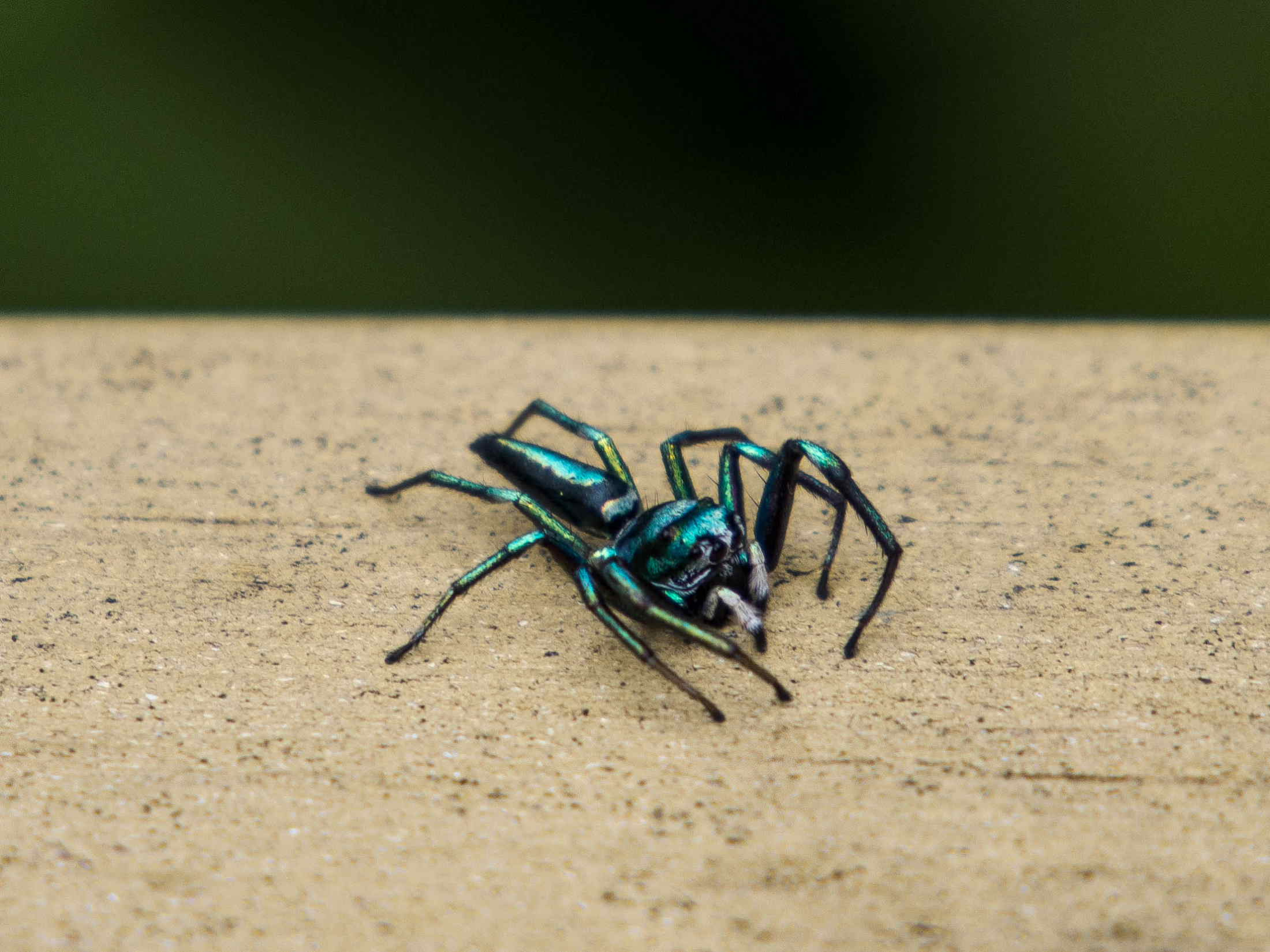 Spider :)
Spinne :)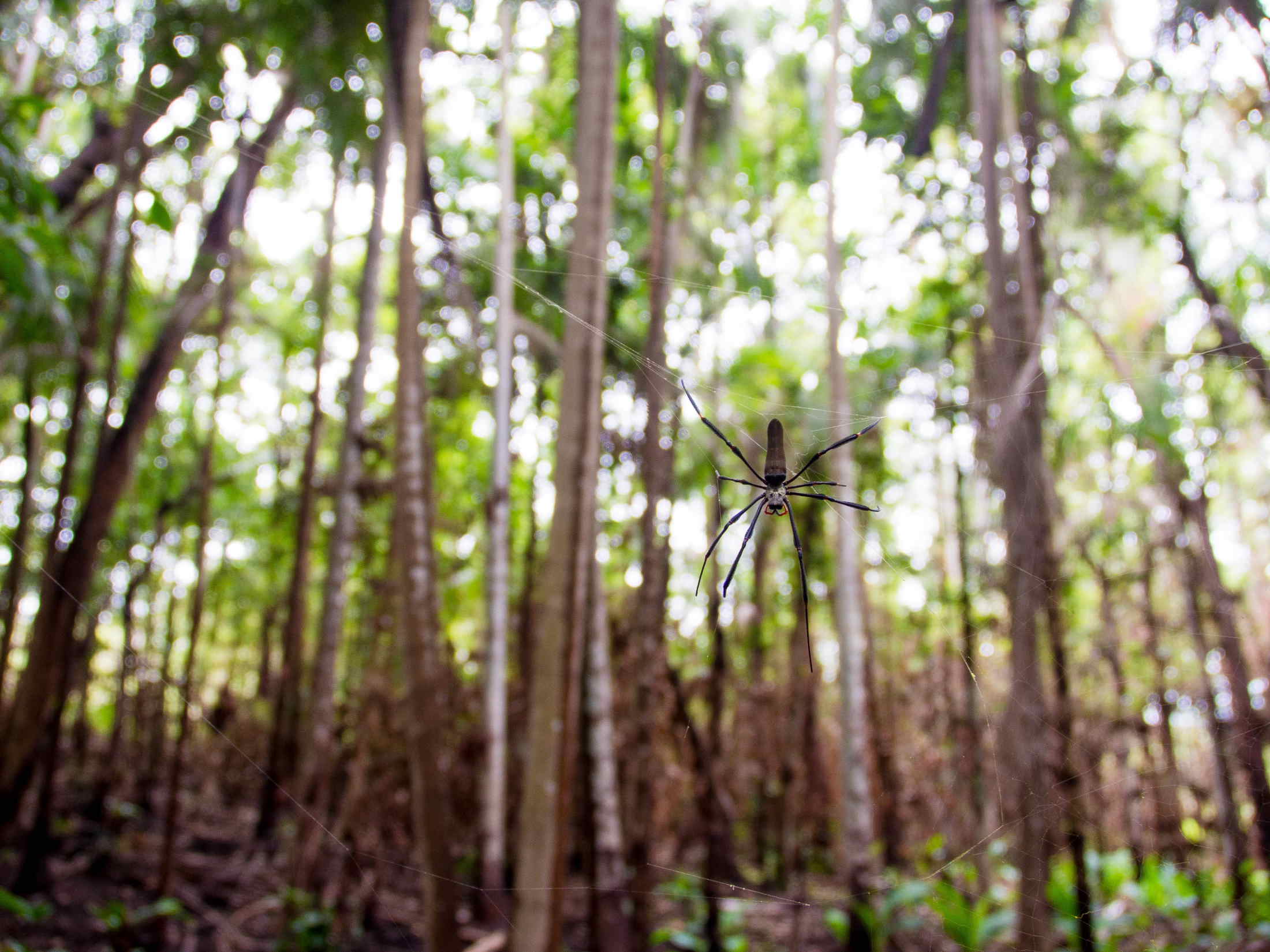 Ken almost got caught in her net. :D
Ken wurde fast gefangen in ihrem Netz. :D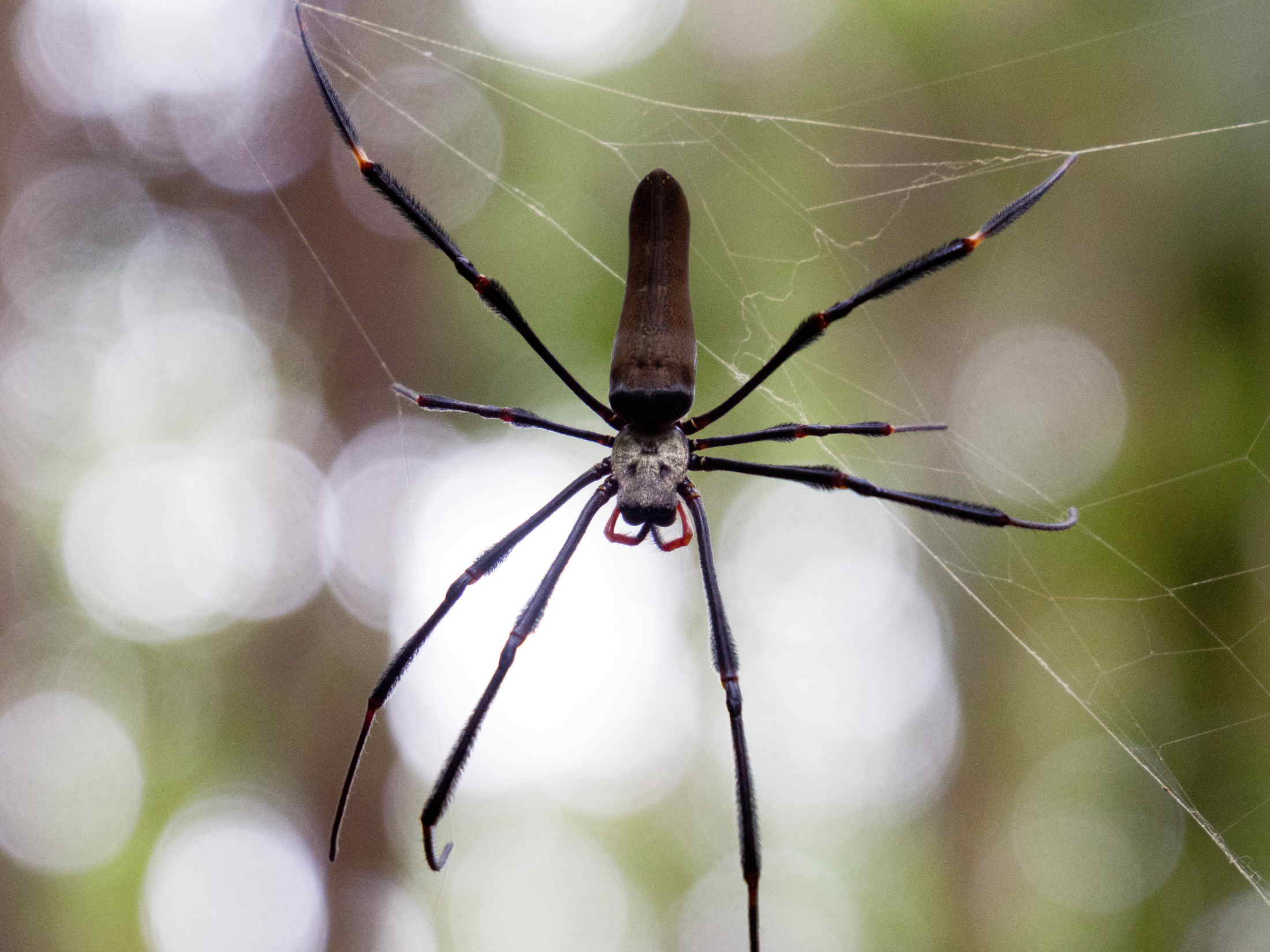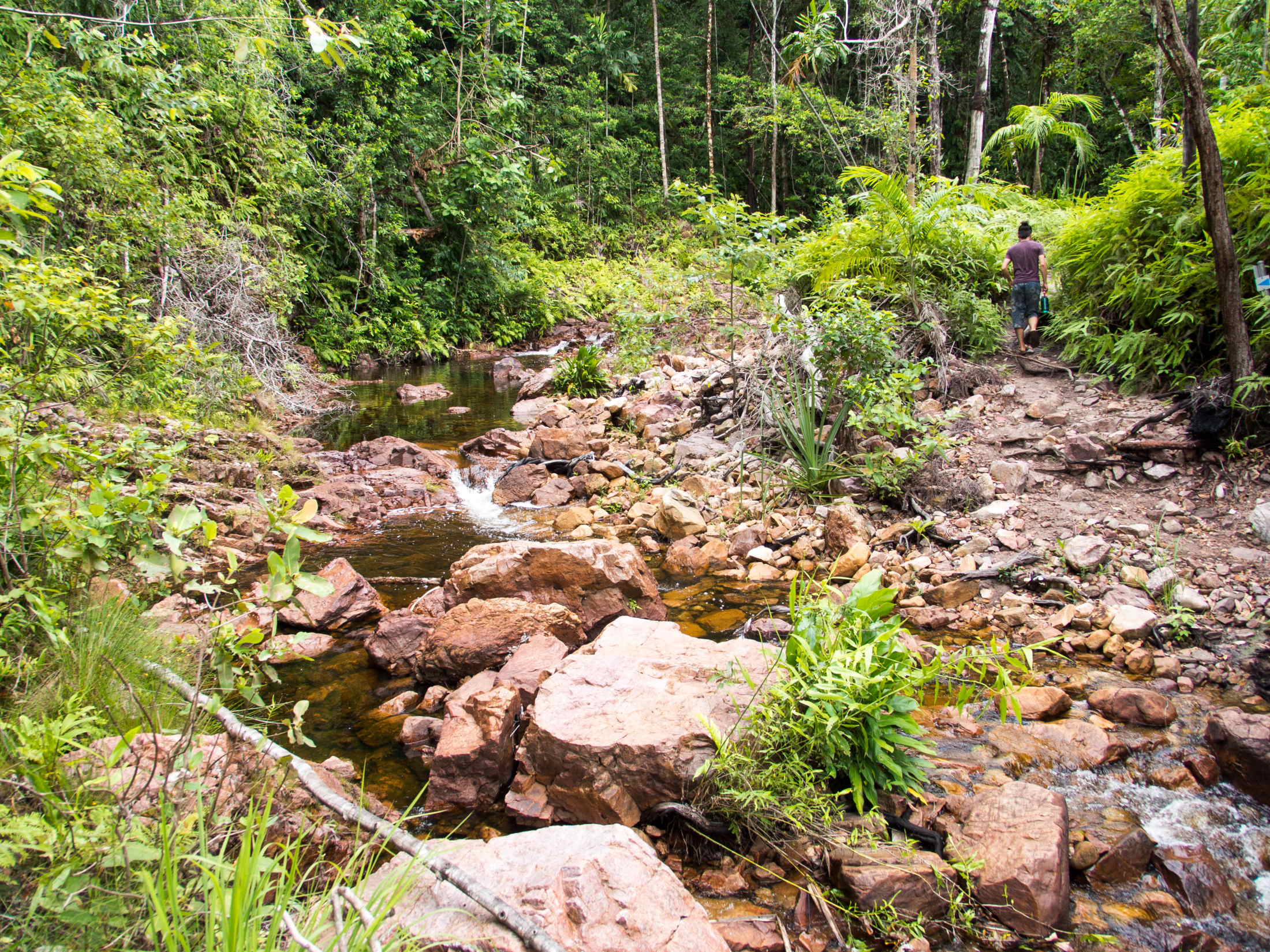 This was the last picture before I felt down on this rocks and broke my left wrist. :(
Dies war das letzte Bild das ich machte bevor ich hinfiel und mir den linken Unterarm gebrochen habe. :(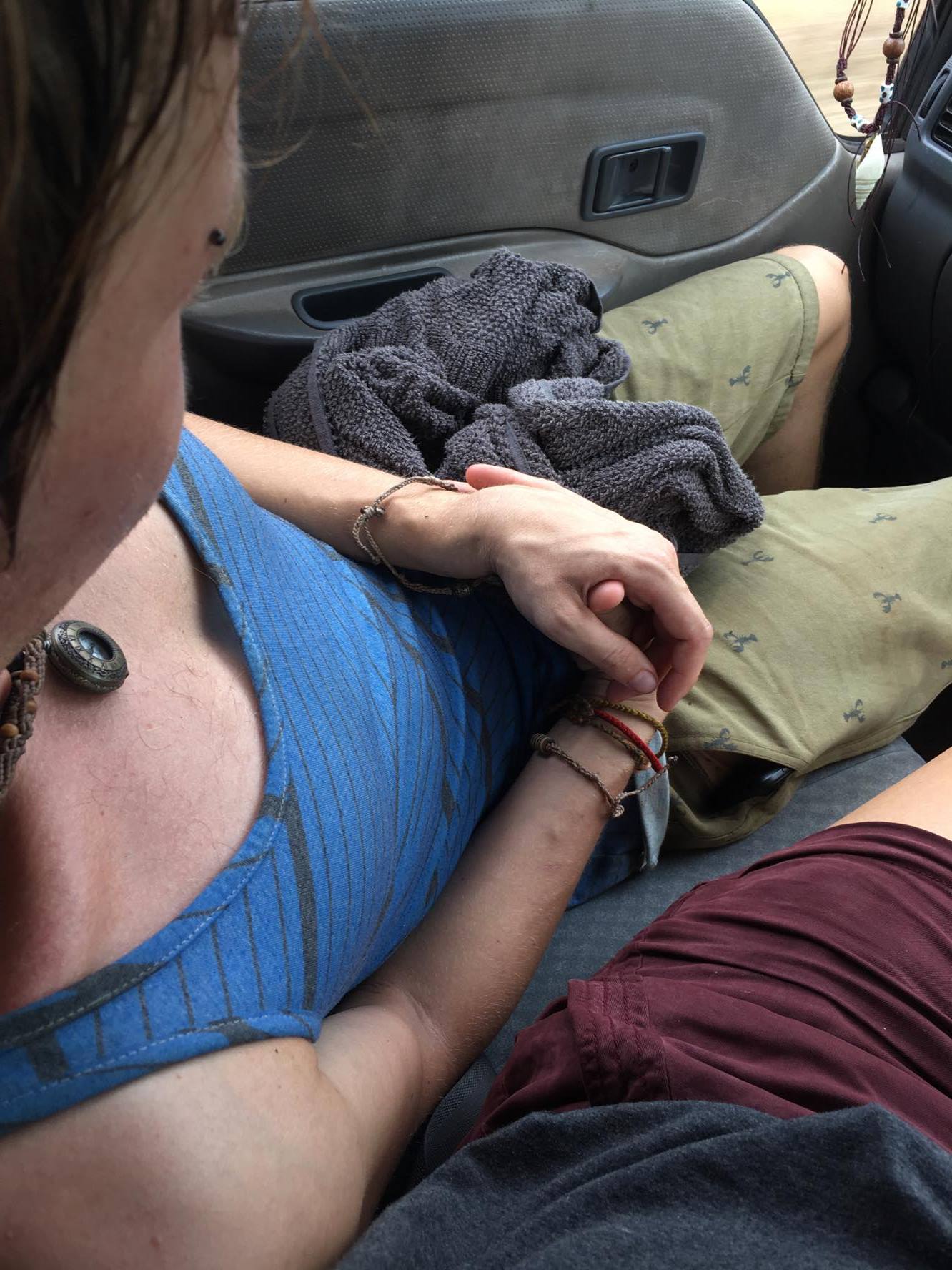 Here you can see the dispositioned wrist. After I felt down we had to walk almost a half an hour back to the car, holding my left arm with my right, that it dosen't snap down. I almost blackedout by I looked at it and we had to go over all the rocks again . For me it was one of the most shoking things I could imagine. Looking at your body and see something displaced badly (ok here it could be worse, but anyway...). Finally we managed to reach the car and had to drive to the emergency spot in Bachelor. Another good hour ride. By this time the adrenaline was gone and the only thing I felt was pain. With every bump in the road and there where many... Arrived at the emergence spot the nurse there told me the only thing we can do here is a preasure bandage. I explained him, that if he puts any kind of preasure on it - we won't become friends! In the end he convinced me and it got better. From Bachelor we had to go to the hospital in Darwin. Another two hours ride. They took some x-rays - complicated fracture. I had to stay four days to wait for my surgery. Finally everything went well. Nicole took care about Billy, I said good bye to Ken. Cheers for joining the trip! Really great to have you on board! Also I meet my new travelmate Kathrin. I got even some visitors - Alina and Julius from my home town said hello, as they where around in the area. :)
Hier kann man das deplatzierte Handgelenk sehen. Nachdem ich fiel mussten wir rund eine halbe Stunde zurück zum Auto laufen, ich hielt meine linke Hand mit meiner Rechten, so dass sie nicht abknickte. Mir wurde schwarz vor Augen, wenn ich auf mein Handgelenk blickte und wir mussten wieder zurück über all die Steine. Für mich war es eine der angsteinflößensten Gedanken. Auf seinen Körper zu sehen und etwas ist schlimm deformiert (ok es geht schlimmer, aber trotzdem). Schließlich schafften wir es zum Auto. Von hier mussten wir eineinhalb Stunden nach Bachelor zum Notfallzentrum fahren. Der Krankenpfleger vor Ort sagte mir, dass er nun einen Druckverband anlegen müsse. Ich erklärte ihm darauf hin, dass wenn er mit irgendetwas druck erzeugt, wir mit Sicherheit keine Freunde würden! Dann überzeugte er mich und es wurde etwas besser. Nun mussten wir zwei Stunden nach Darwin ins Krankenhaus fahren. Sie machten Röntgenbilder - komplizierter Bruch. Ich musste für vier Tage bleiben um auf meine Operation zu warten. Schlussendlich lief alles gut. Nicole kümmerte sich um Billy, ich verabschiedete mich von Ken. Danke das Du ein Teil des Trips warst! Wirklich cool, Dich an Bord zu haben! Ich lernte meine neue Reisebegleitung Kathrin kennen und hatte sogar Besucher - Alina und Julius aus meinem Heimatort sagten kurz hallo, weil sie in der Gegend waren. :)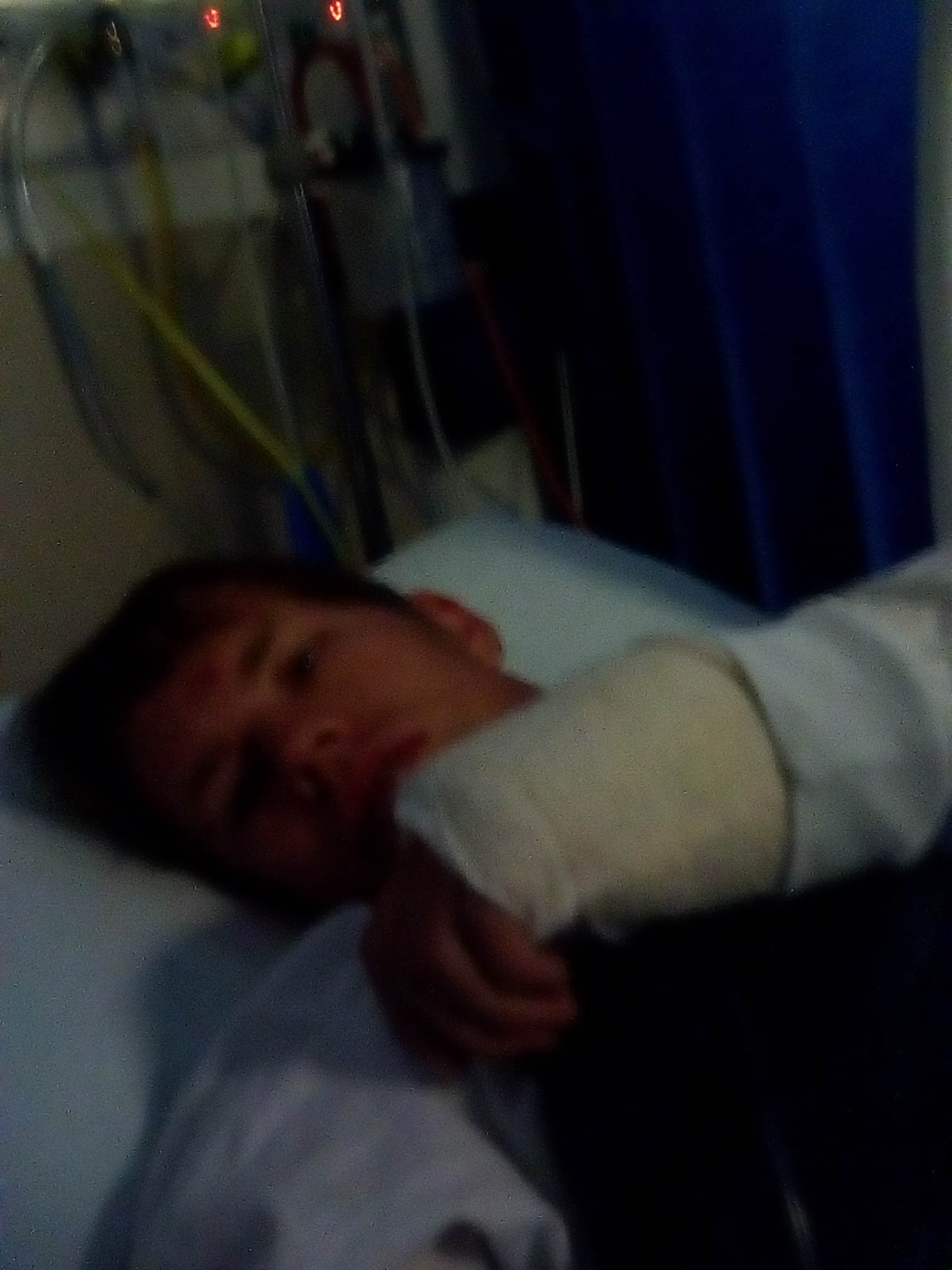 After the surgery I was fine. In the beginning a bit in a bad mode, as I realised that I couldn't drive anymore. But all good, Kathrin would do the job. For the next days I made myself compfortable at the Backpackers Darwin. At this point I wasn't aware about what destiny prepared for me. But more about that in the next post, as this one is long enough already. Was a bloody hell of work, so I hope you liked it! :D
Until next time, yours Jakob :)
Nach der Operation ging es mir gut. Ich war ein wenig niedergeschlagen, als ich realisierte das ich nicht mehr fahren konnte. Doch hatte ich Kathrin, die sich um diesen Job kümmern würde. Für die nächsten Tage machte ich es mir gemütlich im Down Under Hostel Darwin. Zu diesem Zeitpunkt wusste ich noch nicht, was das Schicksal für mich bereit hielt. Doch dazu mehr beim nächsten mal, da dieser Beitrag schon lang genug geworden ist. Das war scheisse viel Arbeit, daher hoffe ich, dass es Euch gefallen hat! :D
Bis zum nächsten Mal, Euer Jakob :)